I have selected for you the ten best movies of the year  to watch at home. 
On the bilingual Movieintheair blog, I do for you a press review every Wednesday and keep the best of national and international audiovisual news.
The ten best movies of the year
to watch on platform or through VoD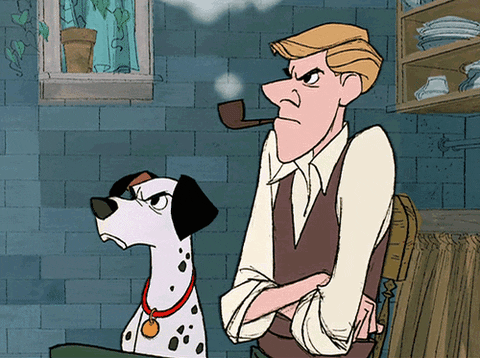 NEWS
We won't go back to the movies. If we do, soon, the homage we will have to pay will be to the movie theaters that are disappearing all over the world….
A new category on this blog dedicated to podcasts: Falafel Cinema, the podcast of Israeli cinema: a journey to the heart of cinema, artists and series. One every two weeks: take a date! And write to me at contact@movientheair.com to tell me what you think about it.
Daisy Ridley (seen in Star Wars) will star in a film about the story of the first woman to cross the Channel.
A bunch of new stuff on Disney Plus which made the buzz this week and increases its subscription price by two euros..: Pinocchio, Lando Calrissian, Rogue Squadron directed by Patty Jenkins (podcast n°1 ) and new Marvels and Star Wars animated series.
DULAC Cinemas has published a book: Pourquoi les cinémas sont essentiels ? Anyone who wishes to contribute can do so too.
A biopic on Fred & Ginger will be directed by Jonathan Entwistle with JAMIE BELL AND MARGARET QUALLEY.
Ben Affleck will play the magician Houdini in a biopic directed by Dan Trachtenberg.
A documentary on Billy Ellish will be available as from February 2021 on Apple TV.
ON LINE FESTIVALS
The European Films Awards: the winners are : Drunk wins 4 awards, including Best Film, Best Screenplay, Best Director for Danish director Thomas Vinterberg and Best Actor for Mads Mikkelsen. The award for Best Actress goes to Paula Beer for her role in Ondine, two films reviewed on this blog.
GIFTS IDEAS (HANOUCCA, CHRISTMAS…)
DVDS, an e-box, books:
DVDS:

For soccer fans and feel-good movies: The Champion : review on this blog
For a beautiful story: Voir Le jour by Marion Laine, with Sandrine Bonnaire and Aure Atika
Summer 85, by François Ozon
Africa Mia by Richard Minier and Édouard Salier as of December 16 (review on this blog)
E-BOX:

For children: Citizen Kid offers you an e-Box : a monthly subscription allows you to enjoy an outing for 1 child + 1 adult to choose among their favorites.
BOOKS:

For fans of Michael Cimino: a book about the director of The deer hunter.
For fans of musicals: a vinyl book published by France Musique available, as from December 11th.
Les Marx Brothers par eux-même by Chantal Knecht published by Robert Laffont.
Le Cinéma ouest-africain francophone. Et pourtant, ils tournent  By Mame Rokhaya Ndoye, on the specificity of Senegalese and Burkinabe cinemas.
Une romance avec Chet Baker :a short movie by  Bertrand Fèvre :book, dvd and vinyl
Here are the ten best movies of the year, new series, advice from film professionals and the best of your TV programs.
TRIBUTE 
JOHN LE CARRÉ
KIM KI DUK
ANN REINKING
ALL YOU WANT TO KNOW
ABOUT YOUR
TEN BEST MOVIES OF THE YEAR 
Movie N°1
(Best movies)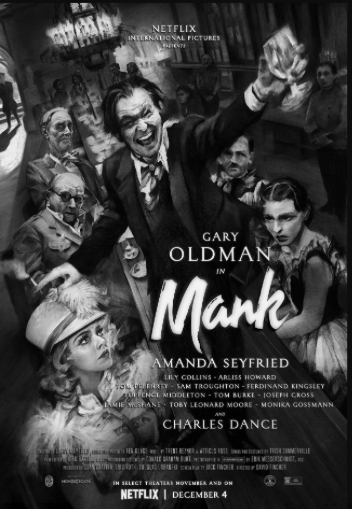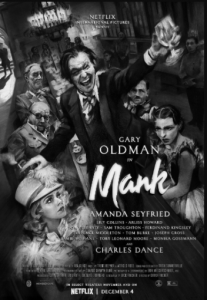 THE PITCH
1940. Herman Mankiewicz, a renowned alcoholic screenwriter, has just had a car accident.
Forced to stay in bed because of his broken leg, Orson Welles, played by Tom Burke, puts him in a clinic in the Mojave Desert and deprives him of alcohol. Only a nurse, Frieda, played by Monika Gossmann, and a secretary, Rita Alexander, played by Lili Collins (Emily in Paris on Netflix), are there to look after his health.  Producer John Houseman comes to see him regularly to oversee the progress of the script.
Herman Manckiewicz is under pressure and needs alcohol to write. Between alcohol, writing and phone calls from Orson Welles, the screenwriter looks back on his past…
THE FINCHER'S TOUCH
The film is shot in black and white, in flash-back.
David Fincher looks back at Herman Mankiewicz's Hollywood debut, just after the Great Depression, where he lives with his second wife Sara Sulamith Aaronson, played by Tuppence Middleton, nicknamed Poor Sara in his circle of friends. His addiction to gambling and alcohol is becoming more and more important in his daily life.
It all begins when Herman Mankiewicz becomes friends with Charles Lederer, Marion Davies's nephew, who was William Hearst's mistress. He then meets Marion Davis and later Hearst, whom he was admired by.
He becomes friends with Marion Davis. Herman Mankiewicz leads a bachelor's life when he wrote. His wife lives in the eastern United States and takes care of their children.  In the evenings, he was the clown jester in parties with Louis B Mayer, boss of the MGM, Marion Davis, William Hearst and his political friends. But he attacked them publicly at the risk of being badly seen at each of his appearances.
And finally, in spite of the pressure, he would finish the script that will give the masterpiece we know, Citizen Kane.
Later, Hearst will have it banned everywhere. Orson Welles will always deny that it was him in the film.
Finally the Oscar for Best Screenplay goes to Orson Welles and Herman Mankiewicz. Both will not attend the Oscars.
Mank would say "I am honored to receive this Oscar for this film the same way it was made, that is without Orson Welles".
He will never write after Citizen Kane again and died aged 55 years because of alcoholism.
David Fincher pays homage to his father, the writers, and all those who make up the film industry.
To be seen of course, absolutely.
MANK – David Fincher- Screenwriter Jack and David Fincher
Movie No 2
(Best movies)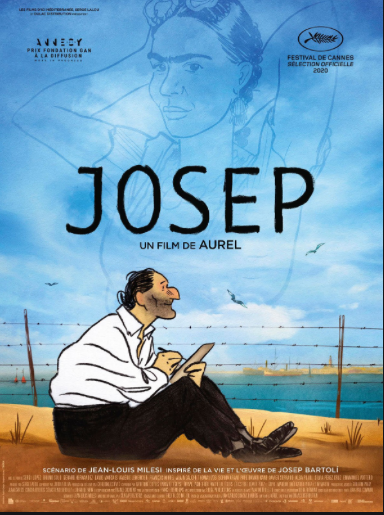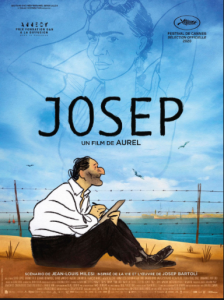 A French, Belgian and Spanish co-production, Josep's story is told, as was Maus, through the story of a grandfather to his grandson. Josep tells the story of the friendship between Josep Bartolí, a Spanish press cartoonist who was a prisoner in the Bram camp, and a French gendarme, through the barbed wire.
The Retirada
Taken prisoner in February 1939 at the time of La Retirada (mass exodus of Spanish resistants after three years of war against Franco), Josep Bartoli  to survive in in the Bram camp, concentration camp built by France to prevent the massive flow of Spaniards fleeing the dictatorship.
In these concentration camps (Barcarès, Rivesaltes, Agde, Bram and Saint-Cyprien), the Spanish, separated men, women and children, fight for their survival, in the cold, hunger, against torture, facing rape of women, as prisoners of the French gendarmes and colonized troops.
Josep Bartoli drew to survive. Art helped him to project himself, to remain human, to bear witness. Thousands of drawings have been recovered from concentration camp survivors and kept at the Shoah Memorial. Josep published Campos de Concentracion and La Retirada after the war.
The power of animation is to allow the truth to appear on the screen. Indeed, when an actor is not in the absolute truth of his(her) part, the truthfulness of the story suffers. These are the limits of real images and fiction in the transmission of memory on screen.
Josep is just the opposite, we are completely immersed in the story of Josep Bartolí, a strong, moving narrative about memory that leaves an indelible mark on us.
Movie No 3
(Best movies)

The Pitch
Four friends decide to put into practice the theory of a psychologist that man should always have 0.5 g of alcohol in his blood.
The main character, Martin, played by the huge actor Mads Mikkelsen, is a teacher and is going through a serious crisis in his relationship and in his professional life. He feels lonely and is criticized at school by students and their parents. Little by little, alcohol is going to give him back his confidence, until it becomes indispensable to his daily life…
The film
Directed by Thomas Vinterberg, Drunk is a magnificent film.
Few good films have been made about alcoholism. The director stated that he had watched Marco Ferreri's movie, La Grande Bouffe many times during the writing process. Besides, the subject is a bit the same. Four friends decide to end it, but through food…
In Drunk, it is about four teachers, who are bored, have no recognition in their professional life and want to rediscover the happiness and joy of their youth. Alcohol gives them back the confidence they had lost, is a source of inspiration and makes them happy.
Martin asks his students what they drink and the amount they drink each week is impressive.  He cites the great alcoholic men in history, such as Hemingway or Churchill, as examples. Churchill used to say "I never drink before breakfast".
A tribute to life and freedom
The way he films each character and the way he drinks says more than all the words.
Thomas Vinterberg shows the danger of the alcohol through its beauty of alcohol – a beauty that does not exist in other drugs – the glasses, the ice cubes, and the color of the alcohol poured into glasses specially designed for alcohol.
But he also shows the ravages of alcohol in a very short period of time. The drinker goes from euphoria to depression.
Drunk also talks about education, friendships and the meaning of life. Mads Mikkelsen's dance celebrates the love of life in a moment of pure magic.
In many of his roles, the actor has used his past as a dancer to act. A gymnast and then a dancer, he became an actor at the age of twenty-eight and can act in seven languages. He has a face and a presence that we do not forget.
Mads Mikkelsen, Thomas Bo Larsen, Lars Ranthe, Magnus Millang, Maria Bonnevie, Susse Wold, Helene Reingaard Neumann
Movie No 4
(Best movies)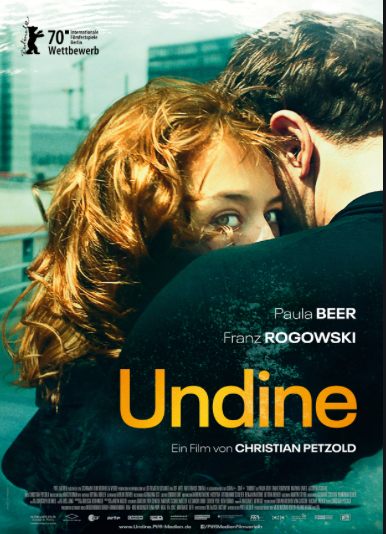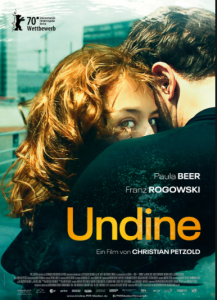 Silver Bear for Best Actress for Paula Beer, International Critics' Grand Prize at the Berlin Festival in 2020, Ondine movie is lived as an experience.
Inspired by Germanic mythology, Ondine are aquatic geniuses, nymphs, they live in running water, fountains, rivers.
If the beginning of Ondine movie seems a little slow, the film ends up hypnotizing us. Between tale and reality, the love between Ondine and Christophe grows until it becomes unfailing, then mythical.
The close shots on Ondine's hair (homage to the mermaid's golden hair), the images filmed underwater participate in this spell. A permanent sensuality hovers. The words spoken by Ondine speak of the past and do not speak of love. In her voice, there is softness and nostalgia.
In Ondine movie, love is only looks and gestures. On the screen, everything is only modesty. Ondine talks to us about love but also about our relationship with the past, those we have lost and the beings we are afraid to lose.
Photography is also sublime. Directed by Hans Fromm, he collaborated on all of Christian Petzold's films.
Christian Petzold has a way of filming that reminds us of Asian filmmakers such as Wong Kar-Waï in In The Mood For Love where everything is only suggested. He recently declared: "Cinema is profoundly romantic no matter what you do" (Le Monde).
His film is about one love, the love of the other.
With Paula Beer, Franz Rogowski, Maryam Zaree, Jacob Matschenz
Movie  N°5
(Best movies)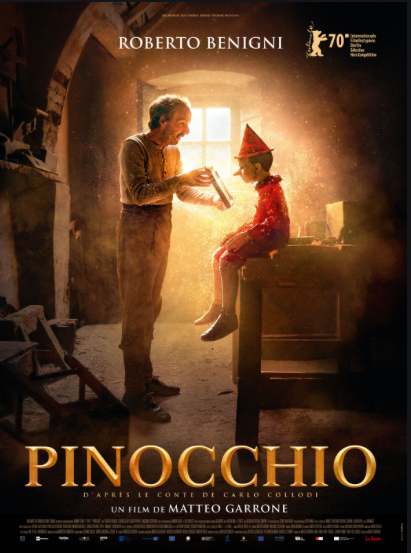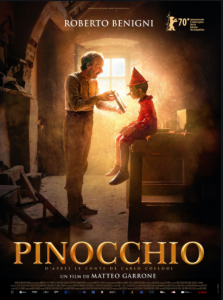 This serial, written par an Italian writer and journalist, in 1881, Carlo Lorenzini (pseudonym Carlo Collodi) is the story of a little boy created by a carpenter, Gepetto.
In the original story, Pinocchio hung himself. Carlo Collodi's friend, Guido Biagi, advised him to change the end. And  Enrico Mazzanti became the first illustrator of Pinocchio.
Adapted by Disney, it is known as one of his best cartoons. I always find it sad and violent but I also always had a fascination for this character so extraordinary.
Pinocchio is a puppet, the clown mocked by the other children (and we can rely his character to Joker. Crooks kidnap him, and take him in world where children are slaves and are being punished harshly when they don't obey.
We know that Pinocchio is doing well at the end. But what about the others ?
Matteo Garrone, director of the great Gomorra (adapted from the novel of Roberto Saviano) and Dogman, committed himself in Pinocchio. Roberto Benigni adapted it himself in 2002.
This movie is again played by Robert Benigni. 
Matteo Garrone reconnects himself with the origins of the story. We can guess he wanted to do a fresco, that denounces violence on the most vulnerable people in our society. This movie is one the most beautiful I 've seen since the beginning of 2020. My deepest regret is that I couldn't watch it in a movie theater. The director did a wonderful movie between the marvelous and terrifying events which happen to Pinocchio. I thought about Fellini for the strangeness of this moving tale where mortality is at the heart of this story.
Movie  N°6
(Best movies)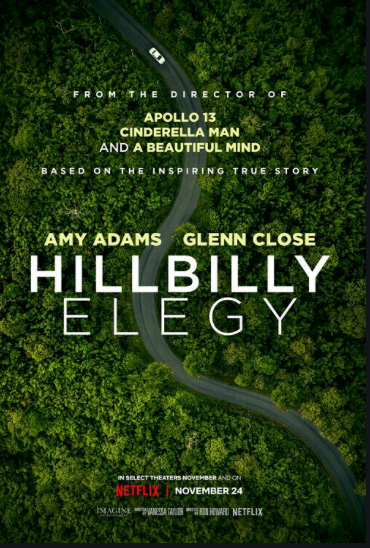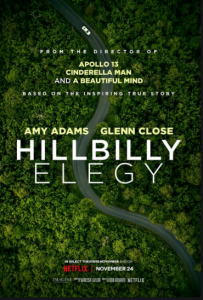 Adapted from memoirs written by J.D. Vance, a famous American businessman, the film tells the story of this man as a child.
He lived in the Appalachian Mountains, that huge region of the United States that experienced both a coal and metal crisis. This film shows the hardships of life for people in the Midwest. Hillbilly is a term like "red-neck". It is a sociological stereotype applied to the people of this region. The elegy is a lyrical and melancholic poem.
The childhood of JD Vance and his sister is marked by the poverty, madness and instability of his addicted mother played by Amy Adams, immense in this role. Gabriel Basso plays the hero, the true revelation of this film.
The pitch
As a Yale law student, JD Vance had to return to the city of his childhood because his mother almost died of a heroin overdose. Built by flash-backs, the director shows us the raw reality of this family, a daily life à la Zola and some scenes are very harsh.
Glenn Close plays the grandmother of J.D. Ron Howard (Apollo 13, Rush, Cocoon, Splash...) gave him one of the most beautiful roles of his career.
Poignant and strangely beautiful, Hillbilly Elegy a film to see. The actors are simply bluffing.
Ron Howard knew how to transcribe all the harshness of the life of this part of the population simply abandoned by the authorities. But above all it is a film about the family and all its shortcomings, which Ron Howard achieves best.
With Amy Adams, Glenn Close, Gabriel Basso, Haley Bennett, Freida Pinto, Owen Asztalos (child JD)
Movie  No 7
(Best movies)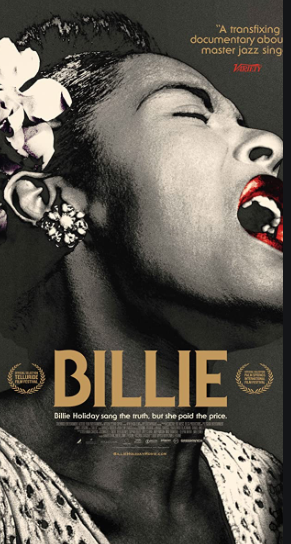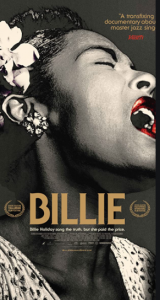 This film retraces the life of jazz singer Billie Holiday and in parallel, the life of a journalist, Linda Lipnack Kuehl. Bewitched by the singer, the journalist investigated in the 1970s for eight years and collected hundreds of hours of interviews recorded on audio cassettes. Dead before she had finished writing the biography she had begun on Billie Holiday, the tapes had never been released to the general public until this film was made.
With the help of his producer, Barry Clark-Ewers, James Erskine found them. It was necessary to choose among the two hundred hours of listening and to rework the sound (this was done in Belgium). James Erskine edited his film for a year and a half, retracing the life of the singer and the one of the journalist Linda Lipnack Kuehl.
The movie
Like the trailing voice of Billie Holiday, James Erskine takes his time to tell us her story. Using recordings and archival footage, we discover Billie Holiday as a free, modern, engaged, bisexual, happy and sad woman, and her life has a sad resonance with current events in the United States with the assassination of George Floyd.
The story of her life is chilling. Raped as a child, prostituted at the age of thirteen, beaten by most of her lovers, she took drugs and went to jail. Yet it emanated from her an infinite love for the world that transcended her suffering.
The colorization of the film makes her even more beautiful. The audio testimonies of the greatest musicians, Count Basie, Jimmy Rowles, Sylvia Sims, Tony Bennet, with songs performed and some composed by Billie Holiday (she gave a modern twist to the singing), take us on a journey through time, when the world was ruthless for the African-Americans, and when jazz geniuses abounded.
His interpretation of Strange Fruit is not only a committed song that causes a scandal, but her interpretation, straight as a soldier, revolutionized the musical world and singers like Edith Piaf has been inspired by her performance. Billie Holiday's voice is extraordinary.
At the end of the documentary, we only aspire to one thing, to listen to her, again and again.
Journalist Linda Lipnack Kuehl, who was still investigating and was under FBI surveillance, died in 1978 under circumstances that have never been elucidated.
Billie Holiday died of a heart attack at the age of forty-four. In jazz, she said, you live a hundred days in one.
Movie N°8
(Best movies)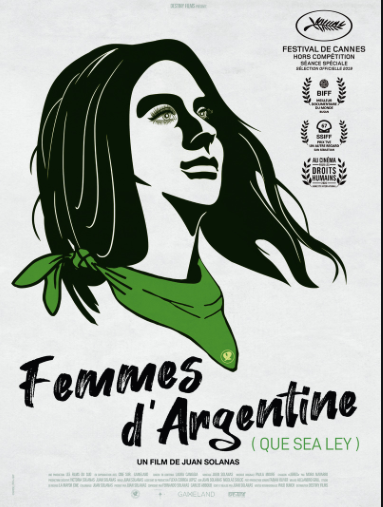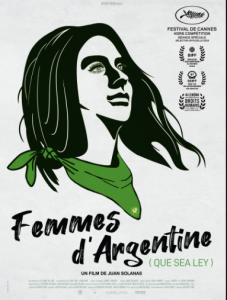 In Argentina, where abortion is prohibited, one woman dies every week as a result of a clandestine abortion. For eight weeks, the bill passed in the House of Parliament was discussed in the Senate. In the streets, tens of thousands of activists demonstrated in defense of this right.
Argentine feminists and their extraordinary mobilization raised hopes for a law that legalizes abortion.
A change in history
In 2018, a women's collective presented a bill for the legalization of abortion for the seventh time. The economic context is particularly difficult. 36% of the population lives below the poverty line and 48% are minors women.
Juan Solanas filmed the demonstrations, the debates in the Senate, and collected numerous testimonies from women who have had clandestine abortions.
Many women are speaking for the first time. Juan Solanas traveled 4000 km across the country to collect their testimonies. Between their speaking, the speeches of senators and – even harder to admit – of women senators opposed to abortion, are very difficult to hear.
In Que sea Ley, the filmmaker confronts us with barbaric facts: raped girls are forced to terminate their pregnancies, young women and mothers who come to the hospital are turned over to the police. One woman was sentenced to seven years in prison for having a miscarriage in the hospital. One family lost both daughters to complications from clandestine abortions and were left abandoned in the hospital.
The Catholic religion, with its strong historical social weight in all of Latin America, the hypocrisy of the medical lobby – which charges a high price for illegal abortions – and the increasing poverty of the Argentinean population are at stake. Women do not have the means to get treatment or to go abroad to have an abortion.
We see them demonstrating dressed in the clothes of The Handmaid's Tale, a novel by Margaret Atwood. In a dystopia, the writer describes a society where women are sexual slaves for reproduction.
More than two million people have demonstrated in favor of abortion…
Frightening figures
In Argentina, it is estimated that there are between 350,000 and 500,000 clandestine abortions per year, or more than one abortion for every two births. That's 29,000 per month, 970 per day, 40 per hour.
In Nicaragua, Honduras, El Salvador, Dominican Republic and Haiti, abortion is totally prohibited.
And in Uruguay, where abortion has been legalized, the maternal mortality rate has fallen to zero. In Argentina, it is 20%, compared to 11% in the whole world.
The younger generation is more mobilized than ever and Argentinean women continue to demonstrate regularly for this right that is denied them.
Everywhere in the world the right to abortion is being challenged: in Italy, Spain, Poland, Brazil, the United States of America, where President Donald Trump has tried everything to make abortion illegal.
An essential documentary
The collection of these testimonies is essential.  Juan Solanas captured a society in full transformation. A woman told the director: "This century will be the century of women's rights". Unfortunately, there is still a long way to go before we get there.
Access to education and contraception are two key factors in the emancipation of the law. Violence against women takes many forms. In addition to the ban on abortion, feminicide still occur all over the world. And in Argentina, a woman dies from beatings every twenty-six hours.
Ruth Bader Ginsburg, Supreme Court Justice, who recently disappeared, defended abortion in this way (source: Philosophy Magazine):
"In my view, the notion of choice should not have emerged from the right to privacy or the rights of doctors, but from the right of women to control their destiny, to be able to make choices without a "Big Brother State" telling them what to do and what not to do," Ruth Bader Ginsburg explained to a fellow jurist.
In Movies
Recently, « Never Rarely Sometimes Always », awarded at La Berlinale told the story of a young woman, 17-year-old, who became pregnant in Pennsylvania, a state with very restrictive abortion laws.
Many films have dealt with the subject of abortion: Une Affaire de Femmes de Claude Chabrol, Juno de Jason Reitman, Vera Drake de Mike Leigh, are among the movies I recommend rather radical on the subject.
September 28th is International Abortion Rights Day.
A demonstration is organized in support of women, including Argentinean women, who are mobilizing for the eighth years.
Que Sea Ley  comes out in movie theaters Wednesday September 30th. A preview is forecast at The Balzac theater in Paris on the evening of September 28th.
Movie N°9
(Best movies)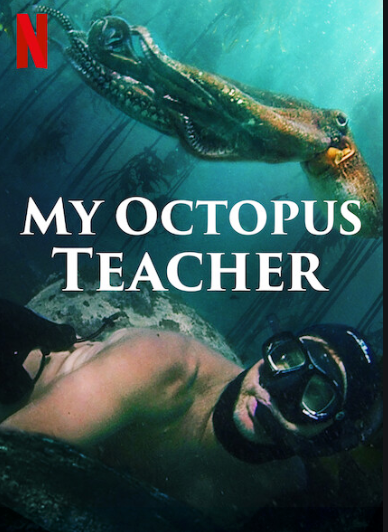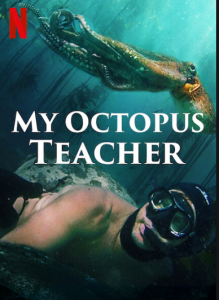 During eight years, filmmaker Craig Foster has been exploring the fauna off the coast of South Africa.
After a burn-out, he decided to go back to the beach of his childhood, Kelp Beach in South Africa, and rediscovered a taste for life thanks to an octopus. In apnea, without a wetsuit, he swam in water at 10°C by 10 to 12 meters deep through a beautiful marine forest in the middle of sharks to get to his friend a female octopus.
During one year Craig Foster, would swim every day with the octopus, and described himself in "a love relationship" with the octopus. He dreamt of the octopus every night and thinks of only one thing, to find her.  His love for his animal took control of his life and he confessed it has been so.
Later he passed his passion for this particular forest to his son.
Pictures of Kelp forest and encounters with the octopus are  pure moments of magic. And My Octopus Teacher was nominated for an Emmy Award.
Then, Craig Foster created the  Sea Change Project foundation.
Directed by Pippa Ehrlich and James Reed, with Roger Horrocks (BBC's 'Blue Planet II') for the subsea camera- Production Ellen Windemith
Movie N°10
(Best movies)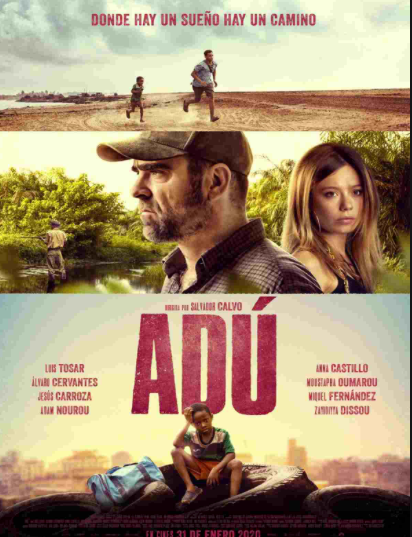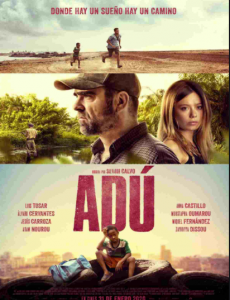 By Salvador Calvo avec Luis Tosar, Anna Castillo, Alvaro Cervantes, Adam Nourou, Moustapha Oumarou (Adú)
Script : Alejandro Hernández
Pitch: crossed fates of characters forced to flee their country.
At night, migrants caught in barbed wire try to cross the border in Melilla. Guards stop them. A man caught in the barbed wire falls and dies.
In Cameroon, in the forest near Yaoundé, Adu and his sister Alika witness the massacre of an elephant, shot by poachers. They are chased and try to reach Europe to escape.
A little further on, in a reserve, Gonzalo, a Spanish zoological warden in charge of protecting elephants, is forced to reconnect with his daughter….
The poverty and harshness of life in West Africa, police brutality wherever they are, the tragic fate of migrants, are all themes addressed in this moving film where the fate of the young boy, Adu, (played by a Beninese actor, Moustapha Oumarou) captivates us from beginning to end.
In 2018, 70 million people were forced to leave their country to survive. Half were children.
Like Styx, this film pays tribute to them. It is strong, and deals in a clear, brutal and uncompromising way with the terrible lives of people forced to flee their country for their survival.
Adu was largely shot in Benin. Melilla is located on the border between Spain and Morocco, where migrants risk their lives every day to try to cross the Strait of Gibraltar.
2. YOUR NEXT  MOVIES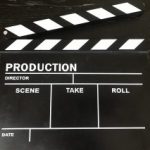 Few trailers : 
Nomadland, with Francis McDormand, by Chloé Zhao
Songbird (VOD today, with  KJ Apa et Sofia Carson by Adam Mason
Farewell Amor by Ekwa Msangi
American skin, by Nate Parker
Loki
Nobody, by  Ilya Naishuller
Louis Van Beethoven, by Niki Stein
3.

GOOD TIPS FROM MOVIE 

PROFESSIONALS
Ettore Scola: Comment diriger un film sans l'avoir écrit ?
Les lettres de cinéma du monde entier
Notes From a Script Reader. In the late 1980s I was a Hollywood… | by Loren Kantor | WritingAndTypin
Jesse Eisenberg dirige Julianne Moore pour son premier film 
Cinéma : MC Godard | Les Echos
4. YOUR EVENING TV PROGRAMS
Wednesday 16
LCP: Mandela, un symbole contre l'apartheid
Arte: The Guilty: à voir absolument !
France 4 : Notre corps, ce réseau social
Star : Mains armées
Thursday 17
Arte: Une si belle famille (série)
France 5: un documentaire sur Le Titanic
M6 : La Planète des Singes : l'affrontement
TMC: Moi, moche et méchant 2
TFX : Le seigneur des anneaux: le retour du roi
Friday 18
Canal+ : La Reine des Neiges II
Gulli : Kirikou et la sorcière
TCM : True Grit
Saturday 19

Arte : Le monde enchanté d'Andersen
Paramount : Duplicity
LCP: L'exercice de l'État
Gulli : Kirikou et la sorcière
Sunday 20

Arte : 18H50: Pavarotti  puis Ben Hur
TF1 : Solo: a Star War story
France 5 : Les routes de l'impossible : la Côte d'Ivoire
TFX: The holiday
6Ter : West Side Story
TCM: The Big Lebowski
Monday 21
Arte : L'homme qui n'a pas d'étoile 
France 3 : L'As des As
M6 : Zootopie
TF1 Séries : La Bûche
Paramount : Indiscret
TMC: Harry Potter et la Chambre des secrets
Tuesday 22
TCM: Le Port de l'Angoisse
Paramount : Raging Bull
Wednesday 23
5. PLATFORMS
Arte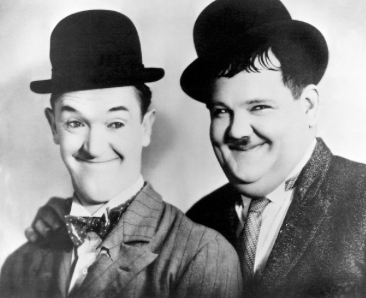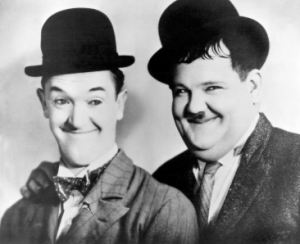 Festival : Artekino festival.com: vote for your favorite movie during the month of December.
DOCUMENTARY
Histoire d'une conteuse : Selma Lagerlof
De Paris à Manille, le monde face à l'urgence climatique
Daniel Hope interprète Max Richter
December 27th : Vivien Leigh 's documentary
On December 29th, an evening special Franck Capra
Movie 
Conte de cinéma de Hong Sang Son
Series
En thérapie, adapted from Be Tipul  as from February 4th, 2021
La Chaîne Parlementaire
LCP offers you a lot of good documentaries: here
La Cinémathèque Française
All retrospectives are postponed.
On Henri plateform, a cult movie everyday
To watch a magical light show here
Best Movies and series  to watch 
on
NETFLIX
Now :
L'incroyable histoire de l' île de la rose. By Sidney Sibilia, with Elio Germano.
The Prom, by Ryan Murphy, with Meryl Streep & Nicole Kidman
Canvas, by  Franck E. Abney III ( a nice short movie) 10′
Tiny pretty things. Created by Michael MacLennan, with  Lauren Holly, Kylie Jefferson…
Home for Christmas (season 2). A feel-good series as from December 18th. 
Ma Rainey's Black Bottom , as from December 18th   with last performance of Chadwick Boseman, produced by Denzel Washington
The Midnight sky, with and by George Clooney, with Felicity Jones, as from December 23rd
 A Ghost story by  David Lowery, as from December 24th
On December 25th
Bridgerton, created by Chris Van Dusen and produced by Shonda Rhimes.
Later
Pieces of a woman, Kornel Mundruczo, as from January 7
Fate The Winx Saga, January 22, Iginio Straffi, Brian Young
The Dig, as from January 29th, by Simon Stone, with  Carey Mulligan, Ralph Fiennes (French trailer), adapted from the eponymous novel written by John Preston.
Outside the Wire, Michale Hafstrom
Best Movies and series to watch on
Prime Video
Now:
Saison 3 Marvelous Mrs Maisel: this season looks amazing !
Uncle Franck, by Alan Ball: a beautiful story on a young women and her affection for her uncle who hides to his family that he is gay. My eleventh 's favorite movie of the year.
Small Axe by Steve McQueen (Shame, Twelve years a slave): now only on BBC…
A podcast interview of the director on The New Yorker by Richard Brody.
<iframe frameborder="0″ src="https://www.wnyc.org/widgets/ondemand_player/thenewyorker/?share=1#file=/audio/json/1072566/" width="100%" height=« 54″></iframe>
The Wilds, by Sarah Streicher: a teenage story who looks like the series Lost,  and with Rachel Griffiths from Six Feet Under .
Palm Springs by Max Barbakow in January 2021
The Secrets We Keep, avec Noomi Rapace, (Millenium). Yuval Adler directed the movie (The Operative) ,and wrote it with actor and screenwriter Ryan Covington.
Best Movies and series to watch on
Canal+
Now:
Port Authority, Danielle Lessovitz
The Traitor by Marco Bellochio
Little Women by Greta Gerwig (review)
Frozen II, as from December 18th
Raised  by Wolves, by Ridley Scott, written with Aaron Guzikowski.
2145. Androids serve humans except for two of them, Father and Mother, who are trying to colonize a planet using human embryos. The story is great. Two episodes every Monday.
L'échappée sauvage, by Benito Zambrano.
Best Movies to watch 
on Starzplay
The Stand
Brave New World , as from December 20th, an adaptation from the novel 1984 written by Aldous Huxley, created by David Wiener (Homecoming) 
Two first episodes directed by Owen Harris. With Alden Ehrenreich, Jessica Brown Findlay
The great, by Tony Mcamara
Mother, father son, by Tom Rob Smith
Normal People, by Lenny Abrahamson & Hettie Macdonald
Vida, Tanya Saracho
Best Movies to watch on Apple TV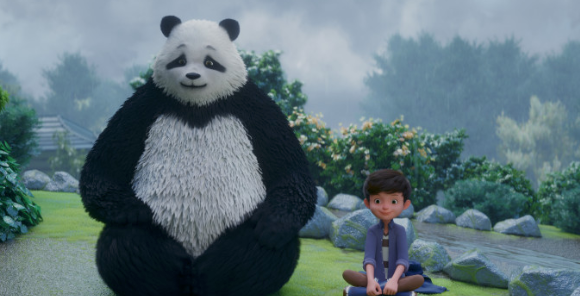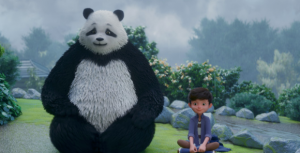 Stillwater , adapted from the famous novels  "Zen Shorts", by Jon J.Muth, as from December 4th
Dads, de Bryce Dallas Howard (now)
Dickinson
Trying
Servant, by Night Shyamalan
Mariah Carey's Magical Christmas Spécial.
Billie Ellish
Movies to watch 
on Disney+
Safety
Hamilton, de Thomas Kail
The Mandalorian, season 2: Great series !
The Falcon and the winter soldier story
For Christmas
Soul, by Pete Docter et Kemp Powers with Jamie Foxx, Tina Fey 's voices
Encanto in 2021…
Wanda Vision
Stay safe !