All women are not acolyte 's James Bond or James Bond Girls. The Operative is inspired by a true story.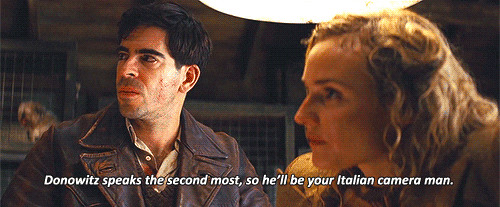 The Operative
A true story ?
Diane Kruger loves tormented characters. After "In the Fade" where she played a bruised mother, keen on revenge, Diane Kruger embodies Rachel, an uncovered agent of the Israeli Mossad, neither really Jew nor Israeli, departed in Iran, at the time when the country develops his nuclear program.
Adapted from the novel "The English Teacher", censored in Israel when it came out, written by Yiftach Reicher Atir, a former spy, this movie is an anti James Bond and has many common features with  "Les Patriotes" by Eric Rochant.  The world of spies is full of rivalries whcih sometimes prevail on the life of their agent.
Yuval Adler shows everyday work of a woman, undiscovered agent and it everything but glamorous and full of stunts.
As in "Les Patriotes", the movie does not encourage you to become an agent who would work for the Mossad.
Diane Kruger, as usual,  played with accuracy and depth and gave herself totally to her character. According to the "Times of Israel", which wrote an article about the author, the writer found his inspiration in two famous spies, Erika Chambers et Sylvia Rafael.
Rachel is sick of being their puppet and has only one win, stop being manipulated. Her liaison officer is Thomas, played by Martin Freeman (Dr Watson in  "Sherlock" with Benedict Cumberbatch). He will try to save her…
This movie is outstanding. The camera sticks to Diane Kruger and we, spectators can put ou selves in her place. Fear, survival love….How living what we are not supposed to live but fake…and the director questioned moral issues in these situation.
There is almost a parallel between the spy adventure and the actor….
This very good movie is now in every good movie theaters. To see this summer.