YOUR BILINGUAL BLOG ON MOVIES

EVERYTHING YOU WANT TO KNOW ABOUT THE MOVIES (WITHOUT DARE TO ASK)

Wondering what movie to watch tonight?
For you, I have created a film review of the best films to see according to your desires: laughter, romance, sadness, fear, horror, ... accompanied by the best film quotes.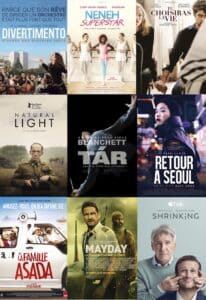 All films as from January 25th what to watch in theaters, the best tv programs, trailers & how to write good stories for movies.
Reviews : Fauda season 4, Lior Ray & Avi Issacharoff and Tu choisiras la vie by Stéphane Freiss.
Festivals Télérama & Dia(s)porama programs.
Subscribe to contact@movieintheair.
Read More »