Since December 4th, Mank is finally on the Netflix platform. Directed by David Fincher and written by his father, Jack Fincher, the film looks back at the life of Herman Mankiewicz and his writing of Citizen Kane.
Why did David Fincher direct Mank?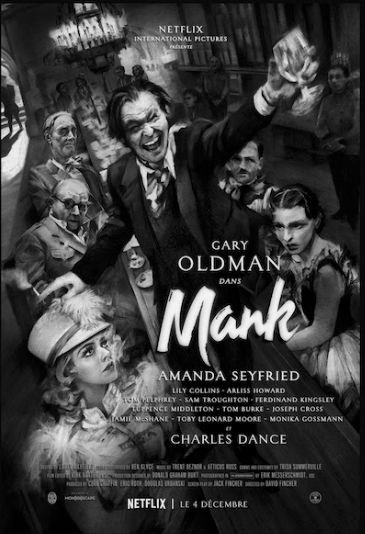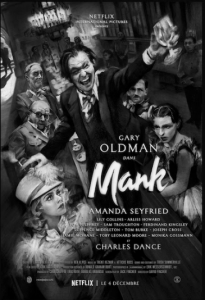 CITIZEN KANE, BY ORSON WELLES, THE BEST FILM IN MOVIE HISTORY
Citizen Kane is considered the best film ever made in the history of cinema.
If you haven't seen it, watch it, it's a masterful classic. It tells the story of William Randolph Hearst, media mogul, entrepreneur and politician.
And who was the screenwriter? Herman Mankiewiecz, known as Mank, a words magician.
Joseph Mankiewicz, his brother, the immense director of Suddenly Last Summer, The Barefoot Countess, which everyone knows, left a greater mark in the history of cinema than Mank, who had difficulty being credited for his screenplays.
A POSTHUMOUS TRIBUTE
David Fincher wanted to pay tribute to Herman Mankiewicz, and to his father, Jack, author of the screenplay for Mank, never produced in his lifetime.
Herman Mankiewicz was born in New York in 1897. His parents were Jewish parents of German origin.
After graduating from Columbia University, he was a film critic in The New Yorker and wrote plays. He was also the press agent for the dancer Isadora Duncan. Two plays contributed to his notoriety, The Good Fellas ) and The Wild Man of Borneo.
A producer hired him in Hollywood.
Between 1929 and 1935, he was the screenwriter of more than twenty films without ever being credited for his work, including Laughter, Monkey Business, Horse Feathers and Million Dollar Legs.
In 1938, he became the screenwriter of The Wizard of Oz, and is not credited for his writing of this cult American film.
According to The New York Times, MGM would have yielded to Joseph Goebbels. At that time, he demanded that the name Mankiewicz be removed from the films in order to be allowed to be screened in Germany.
Then came the screenplay for Citizen Kane.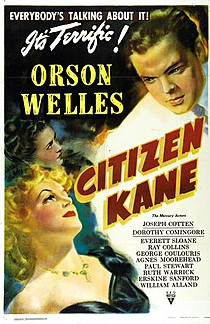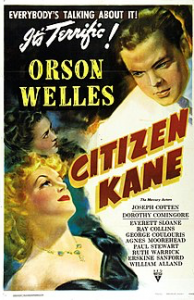 CITIZEN KANE
Orson Welles, who considered Herman Mankiewicz to be the best – which he was – asked him to write a film, giving him carte blanche.
The huge director gets the final cut from RKO (i.e. the last word in editing), which gives Mank complete freedom. But this time again, Mank must not appear in the credits, which he will eventually refuse, arguing that it is the best script he has ever written.
Orson Welles wanted credit for everything, which took away the credit from Mankiewicz.
A polemic that David Fincher ends with Mank.
CITIZEN KANE – Orson Welles- Scénario Herman Mankiewcz
THE SHOOTING OF MANK 
Jack Fincher wrote the screenplay in the early 1990s. The film was almost directed at the time of the shooting of The Game by David Fincher but as he wanted to shoot in black and white, the project was cancelled. His father, alas, died in 2003.
In the meantime he shoots the films we all know:
Alien 3, The Social Network, Gone Girl, Fight Club, Panic Room, Zodiac, Seven, Benjamin Button, Millenium The Man Who Didn't Like Women and for Netflix, some episodes of House of Cards and the series Mindhunters. 
David Fincher directs many music videos for Patti Smith, George Michael, Madonna, The Rolling Stones, Michael Jackson... He even contributes in 2013 to a comic book adaptation of James Ellroy's novel, The Black Dahlia with Matz at Casterman Editions.
Finally, the shooting of Mank is launched in 2019 with Gary Oldman in the title role (Oscar winner for his role in Churchill). Amanda Seyfried plays Marion Davies, William Hearst's mistress and Charles Dance (Alien, Imitation Game, Game Of Throne …) plays William Hearst.
During the shooting of Mank, finished in February 2020, some scenes are replayed up to two hundred times. Gary Oldman is forced to play without makeup for more truth and the rendering is striking.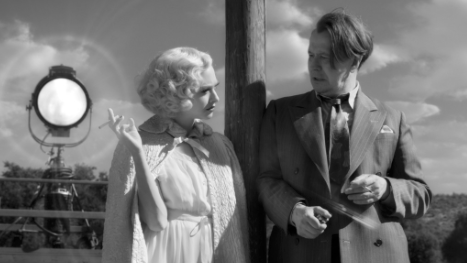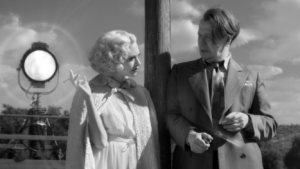 MANK
THE PITCH
1940. Herman Mankiewicz, a renowned alcoholic screenwriter, has just had a car accident.
Forced to stay in bed because of his broken leg, Orson Welles, played by Tom Burke, puts him in a clinic in the Mojave Desert and deprives him of alcohol. Only a nurse, Frieda, played by Monika Gossmann, and a secretary, Rita Alexander, played by Lili Collins (Emily in Paris on Netflix), are there to look after his health.  Producer John Houseman comes to see him regularly to oversee the progress of the script.
Herman Manckiewicz is under pressure and needs alcohol to write. Between alcohol, writing and phone calls from Orson Welles, the screenwriter looks back on his past…
THE FINCHER'S TOUCH
The film is shot in black and white, in flash-back.
David Fincher looks back at Herman Mankiewicz's Hollywood debut, just after the Great Depression, where he lives with his second wifeSara Sulamith Aaronson, played by Tuppence Middleton, nicknamed Poor Sara in his circle of friends. His addiction to gambling and alcohol is becoming more and more important in his daily life.
It all begins when Herman Mankiewicz becomes friends with Charles Lederer, Marion Davies's nephew, who was William Hearst's mistress. He then meets Marion Davis and later Hearst, whom he was admired by.
He becomes friends with Marion Davis. Herman Mankiewicz leads a bachelor's life when he wrote. His wife lives in the eastern United States and takes care of their children.  In the evenings, he was the clown jester in parties with Louis B Mayer, boss of the MGM, Marion Davis, William Hearst and his political friends. But he attacked them publicly at the risk of being badly seen at each of his appearances.
The scene on the rise of Nazism in Europe is one of the strongest in the film.
TROUBLED TIMES
It was a time of drastic cuts in the salaries of "so-called" artists because of the crisis. The unions mobilized to elect a new governor of California. The Democrat, Upton Sinclair, faced Franck Merriam, the Republican, who was favored by the MGM's leaders. Herman Mankiewcz was then the best known of the artists to rise up against the political shenanigans intended to make elect Merriam…
Between alcoholic memories and despite his behavior in society, Mank remains supported by his wife Sara.
And finally, in spite of the pressure, he would finish the script that will give the masterpiece we know, Citizen Kane.
Later, Hearst will have it banned everywhere. Orson Welles will always deny that it was him in the film.
Finally the Oscar for Best Screenplay goes to Orson Welles and Herman Mankiewicz. Both will not attend the Oscars.
Mank would say "I am honored to receive this Oscar for this film the same way it was made, that is without Orson Welles".
He will never write after Citizen Kane again and died aged 55 years because of alcoholism.
REVIEW
For those who know little about the history of American cinema, the film can sometimes seem complicated to follow.
Apart from that, the film is beautiful. Erik Messerschimdt's black and white photography (Fargo, Mindhunter, Gone Girl, Raised by wolves) reinforces the strength and authenticity of the story (like Roma, also on Netflix, and in a different style, directed by Alfonso Cuaron).
In Mank, David Fincher questions us.
Already in the 1930s, in times of crisis, the question arose:
How to make people want to go to the movies?
What is the place of the artist in society? Should he give up glory and work in the shadows? What is the price of success? Irving Thalberg advocated this maxim. As a film producer in the 1930s, nicknamed The Wonder Boy, gifted with an infallible instinct, he said "Credit you give yourself is not worth having".
Jean-Luc Godard said of him: "Irving Thalberg was the only one who, every day, thought of 52 films" (Histoire(s) de cinéma).
Charles Dance, Gary Oldman, Tom Burke (Orson Welles), Arliss Howard (Louis B. Mayer), Tom Pelphrey, Lilly Collins and Tuppence Middleton make up the ideal cast for this film that I have already seen twice.
Kirk Baxter (The Social Network, Benjamin Button) edited this perfectly paced film.
Trent Reznor and Atticus Ross (Birdbox and Soul ) composed the music.
David Fincher pays homage to his father, the writers, and all those who make up the film industry.
To be seen of course, absolutely.
MANK – David Fincher- Screenwriter Jack and David Fincher
JOSEPH MANKIEWICZ
Mank's brother who introduced him to Hollywood, Joseph Mankiewiecz became a screenwriter at Paramount and then moved on to MGM. He met his first success with A Letter to three Wives that I recently saw, a great comedy on gender relations. Linda Darnell, Paul Douglas, Ann Sothern, Jeanne Crain, Kirk Douglas play in this film, also a critic of the American society gangrenous by advertising.
Joseph Mankiewicz chairs the Screen Director Guild, a union that defends the interests of directors. He then shoots Eve, The Cicero Affair, The Barefoot Countess, Suddenly Last Summer… His last film was The Hound in 1973.
He and his brother wanted to keep this freedom in creation, well shown in Mank.
A LETTER TO THREE WIVES. Joseph Mankiewicz – Screenplay written with Vera Caspary