What films to watch as from November 9th
Films as from November 9th
Your news as from November 9th
Poker face, created by Rian Johnson with Natasha Lyonne, Adrien Brody, Joseph Gordon-Levitt, Rian Johnson Series, to be released in January 2023.
Avatar la voie de l'eau, by James Cameron, as of December 14.
"Où que nous allions, cette famille sera notre forteresse."
On January 13th, A man called Otto by Marc Forster (Finding Neverland).
A Man Called Otto stars Tom Hanks (Philadelphia, Forrest Gump, Cast Away), Mariana Treviño (Club the Cuervos), Rachel Keller (Fargo) and Manuel Garcia-Rulfo (The Magnificent Seven).
The screenplay is written by Academy Award® nominee David Magee (Best Adapted Screenplay, Life of Pi, 2012; Best Adapted Screenplay, Finding Neverland, 2004) based upon the best-selling novel "A Man Called Ove" by Fredrik Backman. The film is also based on the Swedish film written and directed by Hannes Holm.
Women talking, by  Sarah Polley, with Rooney Mara, Claire Foy, Jessie Buckley, Judith Ivey, Ben Whishaw, and Frances McDormand.
Tár,  with Cate Blanchett, by Todd Field, on February 22nd,  2023
The best movies since January 2022:
As Bestas, Rodrigo Sorogoyen (review below)
La nuit du 12, Dominik Moll (review below)
Holy Spider, Ali Abbasi (review below)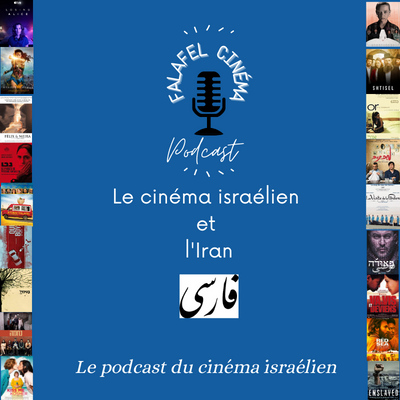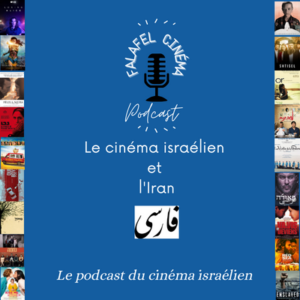 ALL YOU WANT TO KNOW ABOUT  FILMS & SERIES IN THEATERS & AT HOME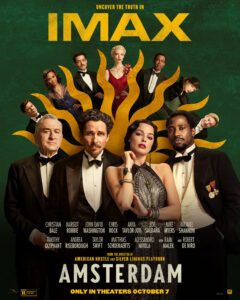 Amsterdam, by David O. Russell
Synopsis
In the 1930s, three friends witness a murder, become suspects themselves and uncover one of the most outrageous conspiracies in American history.
Based on a true story
World War I. France. Burt Berendsen (Christian Bale), a doctor by trade, is sent to the front lines by his middle-class Park Avenue family to prove himself. He meets Private Harold Woodman (John David Washington) who rejects his racist superiors. Just like in Casablanca, this is the beginning of a beautiful friendship, which is joined by nurse Valerie (Margot Robbie) who saves their lives. And all three decide to leave for Amsterdam.
The 1930s. In New York, Burt Berendsen, who lost an eye in the war, has opened a clinic for broken heads and is rejected by his family.
One day, his best friend, Harold, comes to ask him a favor. To perform an autopsy on the father of a friend, Bill Meekings, whose daughter, Liz, suspects that he was murdered.
As Liz is murdered before their eyes, the two men present at the scene of the crime find themselves pursued by the police unless they can prove their innocence.
The interwar period
Conceived as a who donut it (who committed the crime?), the director plunges us into the era of rising extremism and tells us the story of a conspiracy denounced by General Gil Dillenbeck (Robert de Niro in the film), veteran and hero of the First World War, to overthrow President Franklin D. Roosvelt.
David O. Russel mixes genres, between war films, comedy, romance and suspense, and makes Amsterdam is a successful film on the one hand by the narration and truculent dialogues, on the other hand, a dream casting: Christian Bale (Le Mans 66, American Psycho), Margot Robbie (Once Upon a Time in Hollywood, Tonya), John David Washington (Tenet, Blackklansman), Robert De Niro (Taxi driver . .), Rami Malek (Bohemian Rhapsody), Chris Rock, Ana Taylor-Joy (The Queen's Gambit), Zoe Saldana (soon to be seen in Avatar 2) Mike Myers (Austin Powers), Michael Shannon (The Shape of the water) and even Taylor Swift.
The director was in the midst of filming while thousands of radical protesters gather for a demonstration at the invitation of incumbent President Donald Trump, who incites hundreds of rioters to storm the building in an attempt to block the certification of the results of the electoral college vote in the 2020 U.S. presidential election and the victory of President-elect Joe Biden.
While extremism is on the rise, David O. Russel succeeds with humor and empathy, a film that pays tribute to the combatants, those of the first world war but also to the defenders of this fragile democracy.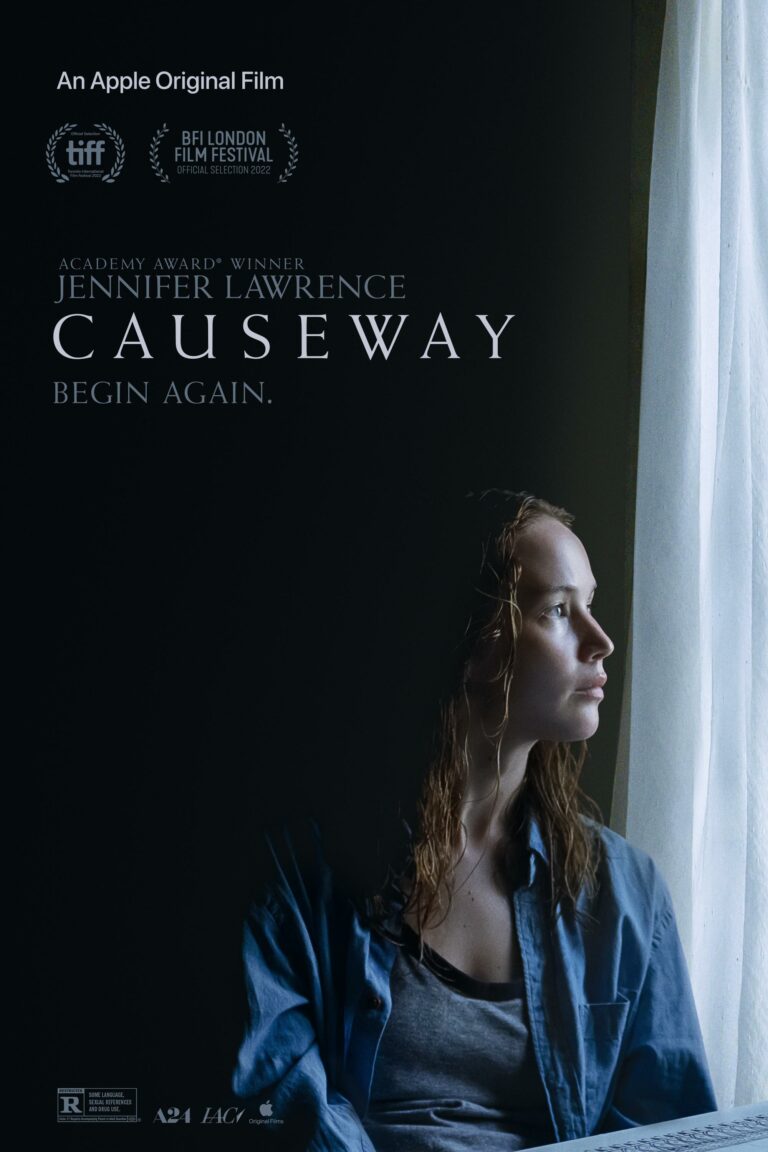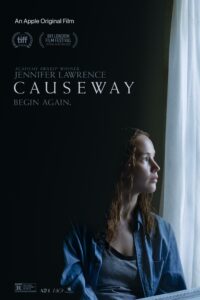 Causeway by Lila Neugebauer
With Jennifer Lawrence et Brian Tyree Henry (seen it Bullet Train)
Synopsis
During a mission in Afghanistan, Lynsey, an army engineer, is injured by an explosive device. Suffering from brain damage, she returns to the United States. She begins a painful and slow recovery during which she relearns to walk and to use her memory, with the support of a caregiver. When she returns to her home in New Orleans, she is faced with painful memories.
Review
The AppleTv platform never ceases to seduce us.
How to rebuild yourself?
This is the theme that director Lila Neugebauer tackles with finesse in Causeway. The script is brilliant, written by Luke Goebel, Ottessa Moshfegh (her novel Eileen won the 2005 Booker Prize).
Lindsay (Jennifer Lawrence) and James (Brian Tyree Henry) form a duo that we can not resist.
The power of cinema is to allow the creation of intimacy between two characters in a matter of seconds. Lindsay and James are both bruised and speak little.
Lindsay wants to rebuild her life and go back to Afghanistan, James lives with his guilt and refuses to leave the city.
Causeway is built around silences and bodies. And in the words, there is hope for healing.
Currently on AppleTV.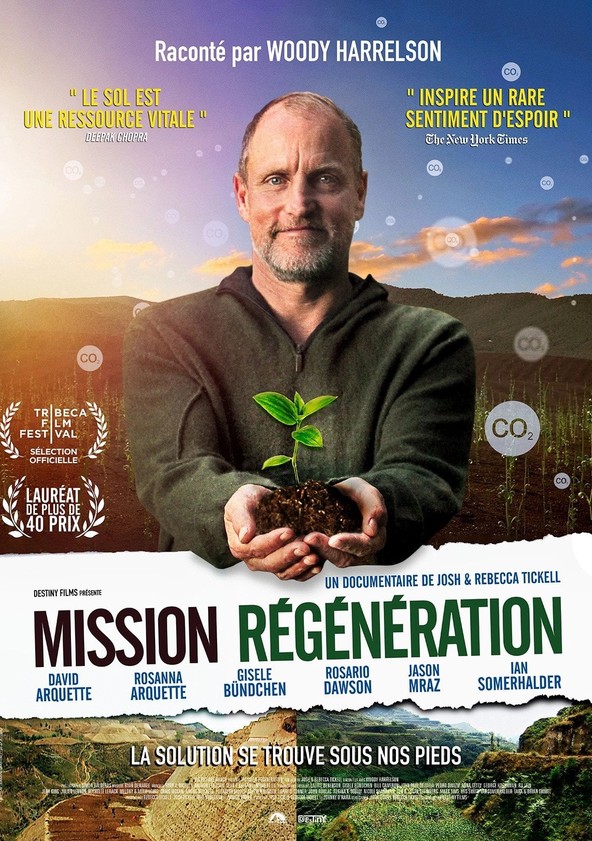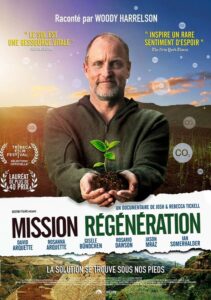 Kiss the ground, by Joshua Tickell & Rebecca Harrell Tickell
Synopsis
The planet's soils are the key to reversing global warming. By regenerating them, we can completely stabilize the Earth's climate, restore lost ecosystems and create abundant food supplies. How can the food you eat turn the tide, heal your body and ultimately save our world?
The documentary
Narrated in voice-over by actor Woody Harrelson, "Kiss the ground" addresses the problem that affects us all: global warming.
It does not take the opposite view but proposes solutions and shows that reversing the global warming curve is possible through soil regeneration. Soils are able to retain the carbon emitted into the atmosphere.
Today the words "regenerative agriculture" are almost completely unknown.
During the seven years of filming, the filmmakers met with hundreds of scientists who are going to educate people in the United States about a different kind of agriculture. For the moment only 5% of the farms are managed in a way that regenerates the soil.
Thus the example of an edible forest in San Diego where it is possible to cultivate everything by simply planting a few trees, or to reduce the pollution produced by livestock by making cows graze on grass instead of feeding them crops that deplete the soil.
Today it is proven that the most profitable agriculture is the healthy agriculture.
The directors give the example of China where 32,000 m2 of soil have been regenerated. 
A worldwide awareness is necessary but above all and as always political action.
This documentary gives hope and brings solutions. The concrete examples are astonishing and the directors have succeeded in their bet, convincing us that there is no fatality.
Today in theaters!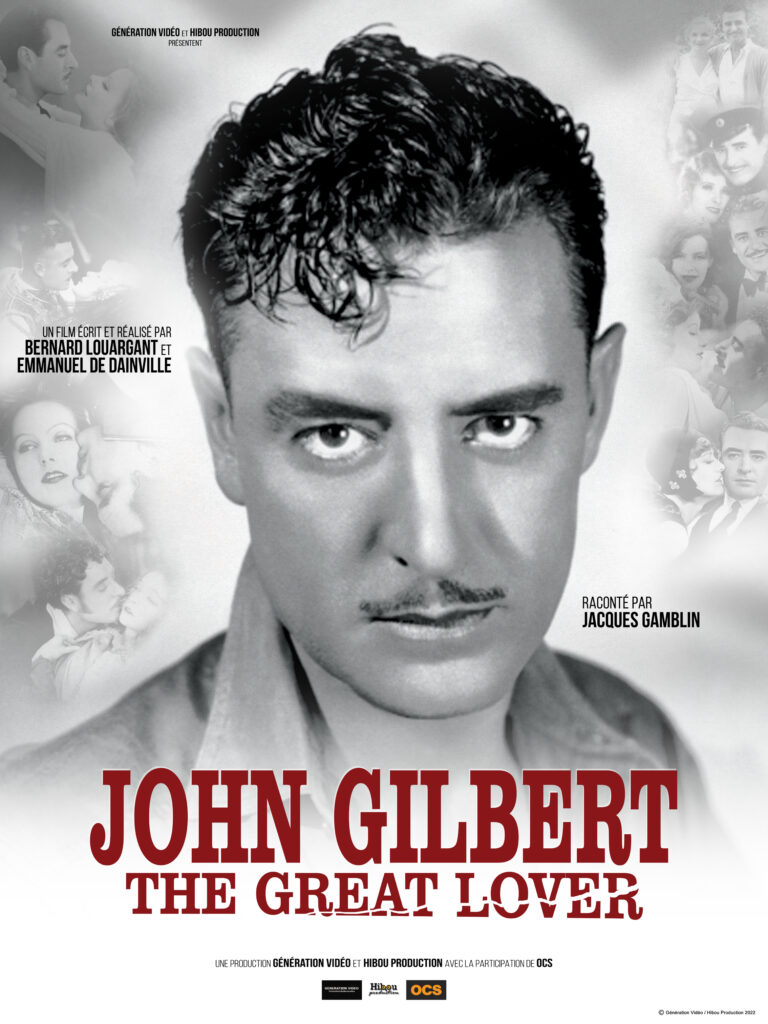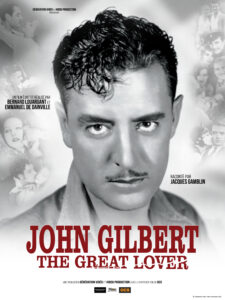 John Gilbert The Great Lover, by Bernard Louargant and Emmanuel de Dainville
FILMS TO WATCH IN YOUR MOVIE THEATERS AS FROM NOVEMBER 9th
This week:
Black Panther Wakanda forever, by Ryan Coogler.
With Letitia Wright, Lupita Nyong'o, Danai Gurira
Queen Ramonda, Shuri, M'Baku, Okoye and the Dora Milaje struggle to protect their nation from interference by other world powers after the death of King T'Challa. As the people struggle to move forward, our heroes will have to unite and rely on the help of mercenary Nakia and Everett Ross.
Armageddon Time, by James Gray.
With Anne Hathaway, Anthony Hopkins, Jeremy Strong
A very personal coming-of-age story about a Queens boy in the 1980s, the strength of family and the generational quest for the American dream.
Charlotte, by Eric Warin, Tahir Rana
With Marion Cotillard, Keira Knightley, Romain Duris
Charlotte Salomon is a young German-Jewish painter whose fate changes on the eve of the Second World War. Faced with the whirlwind of history and the revelation of a family secret, only an extraordinary act can save her. She then begins the work of her life.
Trois nuits par semaine, by Florent Gouelou
With Pablo Pauly, Romain Eck, Hafsia Herzi
Baptiste, 29, is in a relationship with Samia, when he meets Cookie Kunty, a young drag queen of the Parisian nightlife. Driven by the idea of a photo project with her, he immerses himself in a world of which he discovers everything, until he begins a relationship with Quentin, the young man behind the drag queen.
Couleurs de l'incendie, by Clovis Cornillac
With Léa Drucker, Benoît Poelvoorde, Alice Isaaz
February 1927. After the death of Marcel Péricourt, his daughter, Madeleine, must take over the financial empire of which she is the heiress. But she has a son, Paul, who, in an unexpected and tragic move, sets her on the road to ruin and downfall.
Riposte féministe, by Marie Perennès, Simon Depardon
With Marina Foïs
Élise in Brest, Alexia in Saint-Etienne, Cécile in Compiègne and Jill in Marseille: thousands of young women are denouncing the sexist violence, street harassment and macho remarks they suffer on a daily basis.
Pacifiction – Tourment sur les îles, by Albert Serra
With Benoît Magimel, Pahoa Mahagafanau, Matahi Pambrun
On the island of Tahiti, the High Commissioner of the Republic De Roller, representative of the French State, is a man of calculation with perfect manners. In official receptions as well as in illegal establishments, he takes the pulse of a local population from which anger can emerge at any moment.
Seule autour du monde, by  Edouard Mauriat
With Samantha Davies
Samantha Davies, 47 years old, a great sailor, sets out on a race around the world. She almost dies in a serious accident and questions her life as an adventurer. Supported by her team and her family, will she have the strength to set off again despite everything?
Movies to come (and we are looking forward to it):
The Last of Us, Craig Mazin & Neil Druckmann
Swing rendez-vous, by Gérome Barry
The Idol 
Created by Abel "the Weeknd" Tesfaye, Reza Fahim, and Sam Levinson for HBO.
She said, Maria Schrader, with Carrey Mulligan, Zoe Kazan, on November 18th
Houria, Mounia Meddour
The patient official, Joel Fields and Joe Weisberg
God's creature, Saela Davis & Anna Rose Holmer , with Emily Watson, Paul Mescal, & Aisling Franciosi
The Son, Florion Zeller
WEEKLY TIPS & OPINIONS ABOUT MOVIES 
BY  MOVIE DIRECTORS,  WRITERS, SCREENWRITERS, DIRECTORS, COMPOSERS…
Writing and the Creative Life: Boundaries of Space, Boundaries of Time  by Scott Myers 
Celebrate Your Victories. Based on my experiences as a…  by Scott Myers 
TV PROGRAM AS FROM NOVEMBER 9th
Mercredi – Wednesday
France 2 : La vie scolaire
Jeudi – Thursday
Canal Plus : Trigger Point
Arte : Esprit d'hiver (série)
6Ter : Boyhood
Sunday – Dimanche
France 2 : 1917
Arte : Silence
Monday – Lundi
Canal + : Marie Antoinette
Wednesday – Mercredi
Arte : Saint Laurent
France 4  : Sting au château de Chamborg
5. 

BEST DOCUMENTARIES, FILMS & SERIES AS FROM NOVEMBER 9th ON ARTE
In the 80's, the beginnings of French hip-hop are told through the birth of the group NTM, the career of the dancer and graffiti artist Lady V and the DJ Dee Nasty. A social and musical chronicle, the choral series "The World of Tomorrow" follows endearing characters, pioneers of a cultural revolution. Directed by Katell Quillévéré and Hélier Cisterne.
Black Far West – A counter-history of the West
Who knows today that the first cowboys were black? With the help of magnificent archives and historians' testimonies, Cécile Denjean restores the original place of African-Americans in the story of the conquest of the West.
On 20/11 CLINT EASTWOOD
20h50 Sierra Torride
22h45 and on arte.tv from 13/11 to 19/03 Clint Eastwood, the last legend.
FILMS FROM NOVEMBER 2ND
The red tent
With an international cast (Sean Connery, Peter Finch, Claudia Cardinale…) and a powerful lyricism, the Soviet director of "When the storks go by", Mikhaïl Kalatozov, reconstitutes the tragic polar expedition led by the Italian Umberto Nobile in 1928.
ChainedLove Trilogy
Accused of sexually assaulting a minor, Rashi loses his footing as he watches his professional life and his relationship slip away… The first part of the "Love Trilogy" by Israeli director Yaron Shani, which also includes "Beloved" and "Stripped", is a shockingly realistic film.
The Wild Goose Lake
A gangster in search of redemption, target of a manhunt, crosses the path of a prostitute with uncertain intentions… By Chinese director Diao Yinan ("Black Coal"), a sumptuous film noir with virtuoso direction, between homage to the classics, violence and contemplation.
Series as from November 2nd
Pure, by Kirstie Swain with Charly Clive (Marnie), Joe Cole (Charlie). 
A young woman of ordinary appearance, Marnie suffers from an obsessive-compulsive disorder called "Pure O" which spoils her life: in any circumstances – at the doctor's, in the subway, at the office – her brain is assailed by uncontrollable sexual thoughts. A funny and daring English series, carried by young actors, all excellent.
Winter Spirit, Cyril Mennegun
Having just finished her novel, Nathalie feels a mysterious presence in the house.
Gradually, she is haunted by the impression that when her daughter was adopted, something followed her home. The mini-series "Spirit of Winter" is adapted from the novel by Laura Kasischke and stars Audrey Fleurot.
Best series & films as from November 9th 

on 

Netflix
The Crown, season 5, on November 9th
And The Wonder, on November 16th, by Sebastián Lelio, with Florence Pugh
The Swimmers, by Sally El-Hosaini. on November 23
1899, as from November 17th by creators of Dark series,  Baran bo Odar, Jantje Friese.
You saison 4, Greg Berlanti, Sera Gamble. In 2023.
Mathilda, the musical, Matthew Warchus, on December 25th.
Wednesday Adams, Tim Burton, on November 22nd.
White Noise, Noah Baumbach. Adapted from novel by Don DeLillo with Adam Driver & Greta Gerwig, on December 30th.
Slumberland, Jason Momoa, on November 18th.
Best series & films as from November 9th 

on 
Prime Video
The English, by Hugo Blick, with Emily Blunt, on November 11th.
Three Pines, on December 2nd with Alfred Molina
Best series & films as from November 9th 

on Canal+
Marie-Antoinette,  series by Deborah Davis, (The Favorite's screenwriter), now.
Nightmare Alley,  Guillermo del Toro, now.
Mood, (series), now,  by  Nicôle Lecky, with Nicôle Lecky, Jordan Duvigneau, Mohammad Dalmar
Trigger point, on November 10th, by Daniel Brierley with Vicky McClure (Lana Washington), Adrian Lester (Joel Nutkins)
Best series & films as from November 9th 

on Apple TV
The Mosquito Coast, saison 2, now.
Spirited, on November 18th, directed by  Sean Anders & written by Anders & John Morris. This is a modern adaptation of A Christmas Carol by Charles Dickens written in 1843.
Louis Armstrong, now, directed by Sacha Jenkins
The movie honors Armstrong's legacy as a founding father of jazz, one of the first internationally known and beloved stars, and a cultural ambassador of the United States.
It shows how Armstrong's own life spans the shift from the Civil War to the Civil Rights movement, and how he became a lightning rod figure in that turbulent era.
Echo 3, (series) by Mark Boal, on November 23rd with Luke Evans & Michiel Huisman
Best series & films as from 

November 9th 

on Disney Plus
Disenchanted 2, Adam Shankman, on November 17th.
The Mandalorian, saison 3 (2023)
Avalonia, by Don Hall & Qui Nguyen, on November 23rd
Chippendale, by Robert Siegel, on January 11th, 2023
Willow, Jonathan Kasdan & Wendy Mericle, on November 30th.
The Little Mermaid 2, Rob Marshall, forecast on May 2023.
Best series & films as from November 9th on

 

Lionsgate
Dangerous Liaisons, Harriet Warner ;Alice Englert, Nicholas Denton, Lesley Manville, now.
The Serpent Queen, by Justin Haythe : now
An original historical drama that offers a contemporary twist on conventional storytelling to tell the story of Catherine de Medici's (Samantha Morton) rise to power. In the beginning of the series, Catherine's story unfolds through flashbacks as she defends her actions and passes on the lessons she has learned to her new servant, Rahima.
This is an adaptation of the British novel Catherine de Medici: Renaissance Queen of France by Leonie Frieda.