What to watch as from May 11th?
Your audiovisual weekly news
News
Gaumont is expanding its policy of providing access to films for all audiences by launching Gaumont Classique, a subscription video-on-demand (VOD) platform.The platform can be accessed on the internet at gaumontclassique.fr and via applications on smartphones and tablets.With more than 200 titles available for unlimited viewing from its opening on Tuesday 10 May, Gaumont Classique offers the opportunity to (re)discover a selection of must-see French cinema films in black & white for five euros per month, with no commitment, or via an annual offer of fifty euros per year.

 

Starting in June, in addition to musical entertainment, the rooftop of the Hotel Paradiso will offer open-air cinema sessions every Sunday at 10 pm. The Sunday night film will be selected by Hotel Paradiso's partner platforms. From the greatest masterpieces of the 7th art to genre films, Shadowz, Carlotta Films and LaCinetek will guarantee an eclectic program all summer long!Shadowz, the first "screaming" platform, will offer a wide selection of genre films: thrillers and horror will animate the rooftop for chilling evenings! Carlotta Films, film distributor for over 20 years, will show great heritage films, while LaCinetek, a platform of auteur films recommended by the greatest filmmakers, will program a special thematic selection!
Hurlequin is the new genre film club hosted by Nicolas Martin, producer of La Méthode Scientifique on France Culture and film critic.One Thursday a month, (re)immerse yourself in a genre or horror film, whether it's a new film, a cult film, a rare film or a preview! Each month Nicolas Martin will welcome a guest to discuss the film. And the evening will continue at the Arlequin bar with beers and cocktails to continue the discussion!First meeting: Thursday 12 May at 8pm at the Arlequin!On the programme: LORCAN FINNEGAN'S VIVARIUMFirst meeting with Simon Riaux, editor-in-chief of Écran Large and co-host of the podcast Pardon le cinéma !
Hawai'i International Film Festival (HIFF) presented by Halekulani is thrilled to announce that it has been approved by the Academy of Motion Picture Arts and Sciences as a qualifying festival for the Short Film Awards category.Recipients of HIFF's Best Short Film Award and HIFF's Best Made in Hawai'i Short Film Award are now eligible for consideration in the Animated Short Film/Live Action Short Film category of the Academy AwardsⓇ.
Podcast
Follow the Facebook page of Falafel Cinéma, a podcast about Israeli cinema.
ALL YOU WANT TO KNOW ABOUT  FILMS & SERIES IN THEATERS & AT HOME
REVIEWS MAY 4TH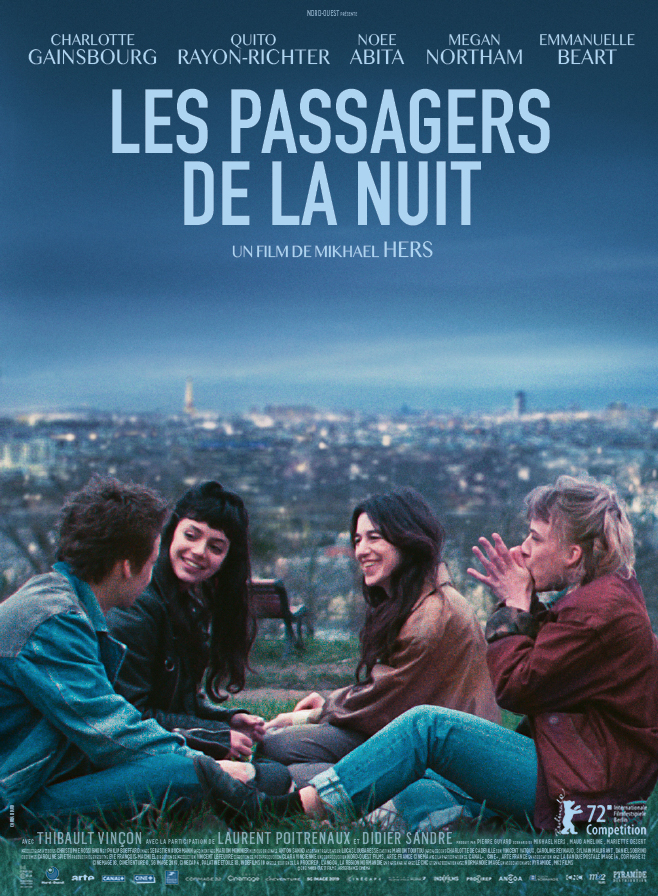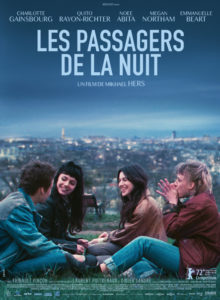 Les Passagers de la nuit, Mikhaël Hers.
Synopsis
Paris, the 1980s. Elisabeth, left by her husband, finds herself alone in providing for her two teenage children. She finds a job in a night radio show and meets Talulah, a young idle outsider which she adopts under her wing. The four of them get to know each other and try to find their own way.
A gentle touch
Some films bring back your own memories.
This was the case with Les Passagers de la nuit, by Mikhaël Hers, who had previously directed Amanda with Vincent Lacoste.
Elisabeth, played by Charlotte Gainsbourg, has to rebuild her life and lives in a flat overlooking the old Hotel Nikko, not far from where I lived.
It is 1981, Mitterrand has just won the elections, and throughout the film, images alternate between scenes of family life and archive footage of the quays of the Seine, the Maison de la Radio, the towers of the 15th arrondissement.
Elisabeth finds a job as a switchboard operator in a night-time radio show run by Vanda, played by Emmanuelle Béart.
Her children react differently to the departure of their father. The young girl gets involved in politics, the young teenager, who writes, skips school and falls in love…
Touched by her situation, Elisabeth takes Talulah in. But everything goes smoothly, everything seems to float and Charlotte Gainsbourg in the role of this woman weakened by life is breathtakingly true and accurate.
Little by little, emotion is born of this atmosphere, and everything passes even if there is no real action. The smile returns, that of Elisabeth, and it is simply beautiful.
With Charlotte Gainsbourg, Quito Rayon Richter, Noée Abita.
In theatres now.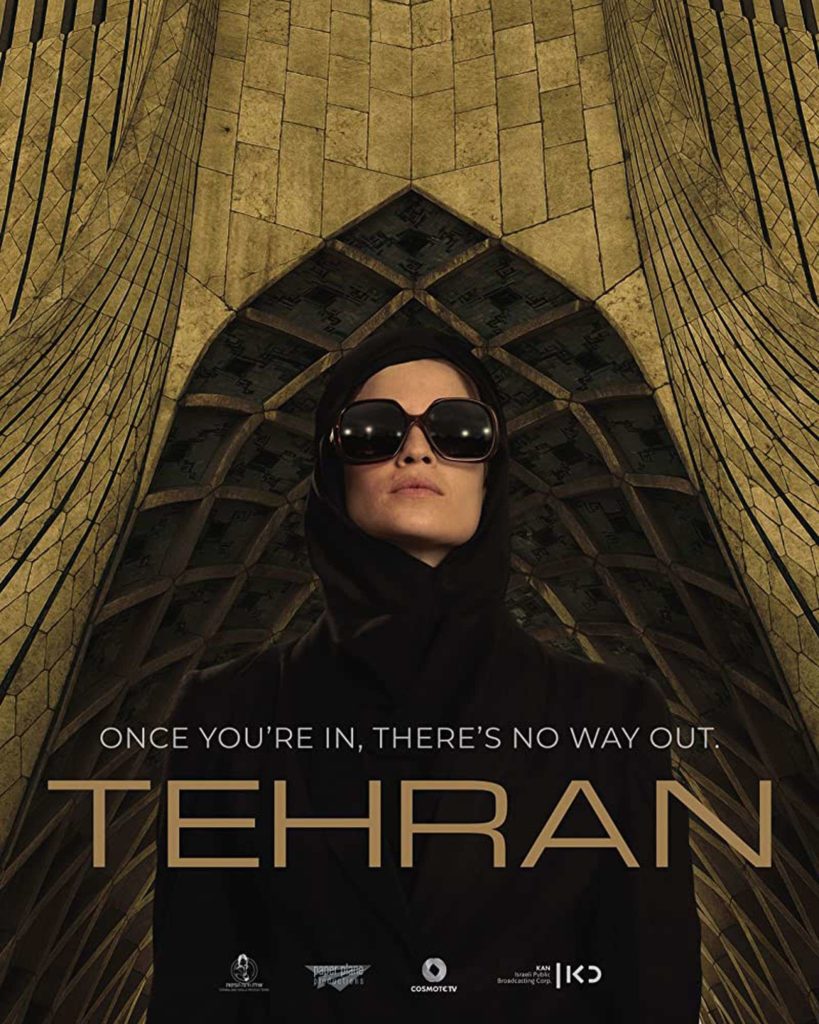 Tehran season 2, by Moshe Zonder Omri Shenhar
Synopsis
Tamar, an Israeli spy based in Tehran, has not succeeded in leaving the country but she has avoided the worst, the death of Israeli pilots. One of them has been taken prisoner. In order to leave the country, she first has to break him out. But there is Milad, her informant with whom she falls in love and who cannot be exfiltrated.
The series
Only two episodes are currently online on the AppleTV platform, which is the best platform for series at the moment.
As thrilling and breathtaking as the first season, the new season opens with Glenn Close.
Nominated eight times for an Oscar, she plays Marjan, an English psychiatrist who has fallen in love with Persian culture and with whom Tamar, played by Niv Sultan, must contend. Two strong women, and in the middle the secret services, Iran and the police.
On the Iranian side, Faraz, played by Shaun Toub, the former police chief, is back on duty. As instinctive as ever, he will not give up on pursuing the spies on his territory.
Created by Moshe Zander, Omri Shenhar and Maor Kohn, who worked on Fauda, the series is directed by Daniel Syrkin, a long-time Israeli director of documentaries, fiction and series.
Tehran won the Best Drama Series Award at the International Emmy Awards 2021.
Watch on AppleTV.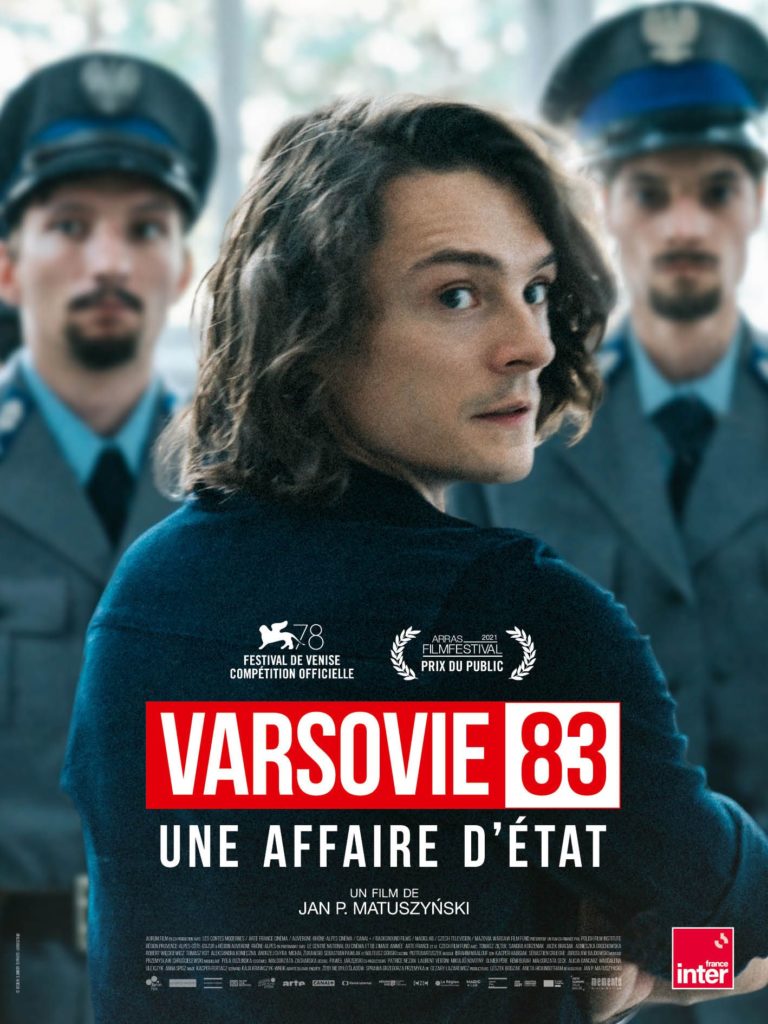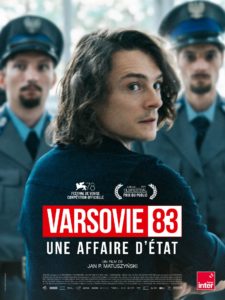 Varsovie 83, une histoire d'état, by Jan P. Matuszyński.
Synopsis
Warsaw, 1983. The son of a Solidarność activist is beaten to death by the police. Lies, threats: the totalitarian regime of General Jaruzelski will try by all means to prevent a fair trial.
Compromise and perversity
Freely inspired by "Leave No Traces. The Case of Grzegorz Przemyk", by Cezary Łazarewicz, this film revisits a period in Poland's violent history.
Every link in the chain of a totalitarian system must obey for it to work. And the director demonstrates relentlessly that at all levels, the men and women who were complicit in this system allowed the values of humanity, freedom and justice to collapse.
Jaruzlski's communist regime was a bloodthirsty regime that shamelessly killed its youth if they did not fit in with its ideas.
History
Grzegorz Przemyk, the young man, son of Barbara Sadowska, an opponent and poet, who died at the hands of the citizens' militia, triggered a state scandal.
It all starts when he and his friend Jurek are about to celebrate their high school graduation. Grzegorz jumped up and down in joy and was arrested for being drunk on the street. He refuses to show his identity papers because a law has been passed which allows every citizen to carry one or not.
Both are taken to the police station. Grzegorz is beaten so badly that at the autopsy a doctor says "you would think two trucks had driven over his body".
The witness, Jurek Popiel, managed to escape and survived.
For a year, he was under pressure from all sides, with everyone protecting their own interests, including his own parents.
False trial
Jurek Popiel testifies at the trial, or rather sham trial. Thus Arkadiusz Denkiewicz, who gave the instruction "hit him but leave no traces", hence the title "Leave no traces" was acquitted. None of the accused men was ever convicted.
Under the leadership of Czesław Kiszczak, the head of the intelligence services, everything possible was done to cover up the case.
Barbara Sadowska, the young man's mother, is slandered, Cezary, a friend of Grzegorz's who was arrested with him and was the main witness to his death, is discredited and then repeatedly threatened.
The decision is taken to blame the ambulance drivers who transported the dying young man, in order to clear the police. "There must be only one version of the investigation: the ambulance drivers," wrote Czesław Kiszczak in a note.
Barbara Sadowska died in 1986 and it is Leopold Pzremyk, Grzegorz's father, who is fighting for their son's memory. A few months before his death, in 2013, he took the case to the European Court of Human Rights, which obliged the Polish state to pay him… 20,000 euros.
Universal
Shot in 16mm, a breathtaking film, played by a host of impeccable actors and actresses, "Warsaw 83" is a historical document. Its director hopes that "by reviving the memory we can hope that history will not repeat itself".
Awards: Venice Festival 2021, competition, Arras Festival 2021, Audience and Press Awards, Pessac Festival 2021, Audience Award.
A must-see. In cinemas.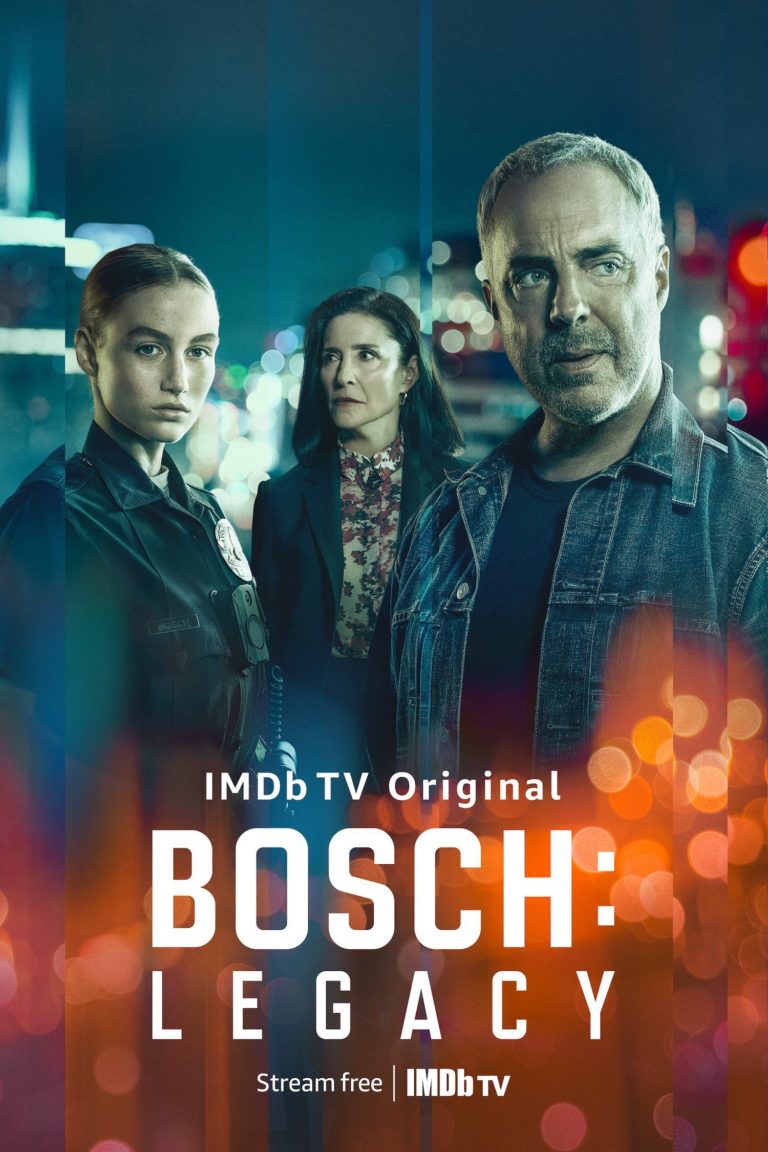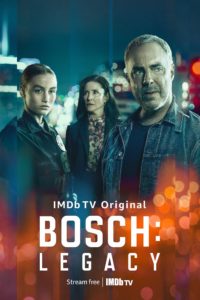 Bosch Legacy, Eric Ellis Overmyer
Synopsis
Bosch begins the next chapter of his career and finds himself working with his daughter, Maddie Bosch, and his lifelong enemy, the talented lawyer Honey Chandler.
The series
This time a private investigator, although he misses the badge a little, Bosch is still looking back at the past and unsolved murders – everybody counts or nobody counts and that's the beauty of this character, played by the brilliant Titus Welliver.
Of course, we find our favourite characters, Maddie, his daughter played by Madison Lintz and Honey Chandler the lawyer trying to overcome her assassination attempt, played by Mimi Rogers.
Michael Connelly's novels have found in Titus Welliver the perfect embodiment of his character.
And then there is Los Angeles and one thinks of James Ellroy, and then there is jazz. Selected pieces of the greatest composers pass without warning in the episodes and the fans will put, like me, Shazam at the beginning of the episode to discover little known pieces.
4 episodes are currently available on Amazon Prime Video. 10 episodes.
FILMS TO WATCH IN YOUR MOVIE THEATERS AS FROM MAY 11TH
This week :
The Northman, by Robert Eggers. With Alexander Skarsgård, Nicole Kidman, Claes Bang
Young Prince Amleth has just become a man when his father is brutally murdered by his uncle who then takes the boy's mother. Amleth flees his island kingdom by boat, vowing to take revenge…
Utama: The Forgotten Land, by Alejandro Loayza Grisi. With José Calcina, Luisa Quisle, Santos Choque
In the immensity of the Bolivian highlands, Virginio and Sisa watch over their herd of llamas. Until now, nothing has been able to divert them from this harsh life, inherited from the traditions: neither their advanced age, nor the departure of the inhabitants of the region, driven out by the drought.
Ima, by Nils Tavernier. With Dadju, Karidja Touré, Djimo
Dadju travels to Kinshasa, the city of his childhood, to give a concert in a few days. Laetitia, one of his biggest fans, dreams of attending but the concert is sold out. She then begs her father to play the connections of his boss Yavan, a powerful and rich businessman, to find her tickets…
Suis moi je te fuis, by Kôji Fukada. With Win Morisaki, Kaho Tsuchimura, Shosei Uno
Undecided in love, Tsuji meets Ukiyo one night and saves her life on a railway crossing. Despite the warnings of his entourage, he is irrevocably attracted to the young woman… who keeps disappearing.
Cœurs vaillants, by Mona Achache. With Camille Cottin, Maé Roudet-Rubens, Léo Riehl
The film traces the odyssey of six Jewish children who were hidden during the war and who went to find refuge where no one thought of looking for them… in the castle and park of the Chambord estate, amidst the hidden works of art of the Louvre. Nothing is impossible for a valiant heart…
The Duke, by Roger Michell. With Jim Broadbent, Helen Mirren, Fionn Whitehead
This true story tells how a harmless pensioner was sought after by all the police forces in Great Britain, accomplishing the first (and only) theft in the history of the museum.
Tourner pour vivre, by Philippe Azoulay. With Jean Dujardin, Anouk Aimée, Sandrine Bonnaire
I found Tintin, he is over 77 years old, he makes movies and travels the world in search of the meaning of life. For 7 years we share the life of a filmmaker and his belief in the incredible fertility of chaos. A unique journey, an artistic adventure, a human and spiritual experience with Claude Lelouch.
Trenches, by Loup Bureau
On the front line of the Donbas, the soldiers of the 30th Battalion of the Ukrainian army confront separatists supported by Russia. The director Loup Bureau plunges us into this war experience, at the level of the men and in the heart of the trenches.
Les Femmes du Pavilion J, by Mohamed Nadif. With Assma El Hadrami, Jalila Talemsi, Imane Elmechrafi
Three patients and a nurse in a psychiatric ward in Casablanca confront their suffering and develop a strong friendship, escaping from themselves in salutary nocturnal trips that gradually bring them back to life. A strong friendship develops between these women who will do everything to get out of their personal confinement…
This much I know to be true, by Andrew Dominik. With Nick Cave, Warren Ellis
Shot on location in London and Brighton, Andrew Dominik's new feature documentary THIS MUCH I KNOW TO BE TRUE reveals the unique creative relationship between Nick Cave and Warren Ellis as they bring to life the songs of their two most recent works.
Later (and we are looking forward to it: 
MRS. HARRIS GOES TO PARIS, July 15, Anthony Fabian
Set in 1950s London, a widowed cleaning lady becomes obsessed with a couture Dior dress and embarks on an adventure to Paris. 
GEORGE MICHAEL FREEDOM UNCUT: an introspective story told by George Michael himself.
The singer had indeed started working on this film before his death in late 2016. So many events told in this exceptional document in which participates an impressive list of artists from Stevie Wonder to Elton John, through top models, Naomi Campbell, Cindy Crawford or Linda Evangelista honored in the famous clip "Freedom! '90". Unmissable.
Candy, a five night event, premiering May 9 on Hulu, by Robin Veith et Nick Antosca, on May 9th.
Candy Montgomery is a 1980 housewife and mother who did everything right—good husband, two kids, nice house, even the careful planning and execution of transgressions—but when the pressure of conformity builds within her, her actions scream for just a bit of freedom.
Starring Jessica Biel, Melanie Lynskey, Timothy Simons, Pablo Schreiber, and Raúl Esparza.
After Yang, produced and directed by Kogonada, is an adaptation of the American short story Saying Goodbye to Yang by Alexander Weinstein.
In the near future, where the fashion is marked by domestic androids in human form that are considered nannies, Jake (Colin Farrell) and his daughter try to save Yang (Justin H. Min), their robot that has become inert.
Release date: June 22, 2022.
Jurassic World Dominion, Colin Trevorrow, June 8th.
Bullet Train, by David Leitch, adapted from the novel Maria Beetle by Kōtarō Isaka.
On July 20, 2022.
Starring Lady Gaga, Sandra Bullock, Andrew Koji, Aaron Taylor-Johnson, Joey King, Shinkansen.
Nope,  Jordan Peele, on August 5th.
With: Daniel Kaluuya , Barbie Ferreira , Michael Wincott , Steven Yeun , Keke Palmer , Brandon Perea , Terry Notary , Andrew Patrick Ralston , Donna Mills , Jennifer Lafleur
Don't worry darling, Olivia Wilde.
WEEKLY TIPS & OPINIONS ABOUT MOVIES 
BY  MOVIE DIRECTORS,  WRITERS, SCREENWRITERS, DIRECTORS, COMPOSERS…
Go Into The Story Resource: Guides to Classic Movies  by Scott Myers 
5 Keys to the Screenwriting Craft  by Scott Myers 
Go Into The Story Resource: Daily Dialogue  by Scott Myers 
The Business of Screenwriting: Movie Stars by Scott Myers 
Go Into The Story Resource: A Screenwriter's Guide to Aristotle's "Poetics" 
Drive to Survive documentary helping bring in new generation of US F1 fans 
4. 

BEST SERIES & FILMS ON TV, AS FROM MAY 11TH
Mercredi- Wednesday
Arte : Snowpiercer, Le Transperceneige
Thursday – Thursday
Arte: En-therapie-saison-2
France 3 : Les Infiltrés
Friday – Friday
Arte : Meurtre à Sandham
France 5 : Un homme et une femme
Chérie 25 : The Constant Gardener
Dimanche – Sunday
Arte : Parasite : In Seoul, a poor family breaks into the home of the wealthy… A darkly humorous social thriller that earned South Korean director Bong Joon-ho ("The Host", "Snowpiercer") an international triumph and a deluge of awards.
Monday – Lundi
Canal Plus : Titane
France 5 : Parlement (série)
Arte : Elle : Raped by a hooded man, Michèle reacts in her own way to this ordeal… Between amoral farce and poisonous thriller, a sulphurous portrait of a woman signed by Paul Verhoeven, with Isabelle Huppert, breathtaking, surrounded by choice partners (Laurent Lafitte, Anne Consigny, Charles Berling…).
Tuesday – Mardi 
France 2 : Sorry we missed you
Arte : The forgotten history of housewives: Through family films and diaries, Michèle Dominici gives voice to those who chose to devote themselves to their families during the 30s. A rare insight into a subject neglected by the social sciences. By Michèle Dominici.
France 4 : Entre les murs
Wednesday- Mercredi
Canal Plus : Flag Day
Arte : 120 battements par minute by Robin Campillo: Between the rage of living, the fury of loving and a sense of urgency, the incandescent chronicle of Act Up's fight against AIDS in the 1990s.
Directed by Robin Campillo ("Les revenants"), a political fresco with feverish realism, starring Adèle Haenel, Aloïse Sauvage, Antoine Reinartz and Arnaud Valois.
5. 

BEST DOCUMENTARIES, SERIES & FILMS AS FROM MAY 11TH ON ARTE
ARTE DOCUMENTARY AS FROM MAY 11TH
Stallone, profession héros by Clélia Cohen and Antoine Coursat
The ups and downs of "Sly" who, like Rocky, his indestructible alter ego, always got up despite the blows. The testosterone-filled portrait of a tough guy who is both touching and humorous.
Leslie Caron, French in Hollywood, American in Paris, by Larry Weinstein
Revealed as a teenager in "An American in Paris", the dancer who embodied the charm of Paname in Hollywood recounts a certain golden age of cinema, and its dark side.
Monk-pannonica-une-histoire-americaine : Jacques Goldstein
How, in a segregated America, Baroness Pannonica de Koenigswarter accompanied Thelonious Monk and other jazz musicians in their fight to impose their art. The story of a fruitful encounter.
FILMS AS FROM MAY 11TH
May 30th : Flee, 3 times nominated for the Academy Awards.
SERIES DES LE 11 MAI
Norway, 1969. In the small coastal town of Stavanger, four young people from very different backgrounds find their lives turned upside down by the discovery of a gigantic oil field. A sentimental drama with a folk-pop soundtrack and elegant direction with an irresistible Mad Men flavour.
Best series & films as from May 11th

on 

Netflix
The Lincoln Lawyer, David E. Kelley, May 13th
The beauty queen of  Jerusalem, Sarit Yishai-Levi, May 20th.
Best series & films as from May 11th

on 
Prime Video
A very British scandal, Stephen Frears.
The series focuses on the divorce of the Duke and Duchess of Argyll, one of the most notorious, extraordinary and brutal legal cases of the 20th Century.
Night Sky, (série) Juan José Campanella,with Sissy Spacek & J.K. Simmons, on May 20th.
The Lord of the rings, Juan Antonio Bayona, on September 2nd.
Best series & films as from May 11th

 

on Canal+
We own this city, now, based on the book by Baltimore Sun reporter Justin Fenton, created by David Simon (The Wire). With Jon Bernthal (Sgt. Wayne Jenkins), Wunmi Mosaku (Nicole Steele).
The Responder (séries), on May 9th, by Tony Schumacher with Martin Freeman (Chris Carson), Adelayo Adedayo (Rachel Hargreaves).
Raised by wolves, season 2, now.
Best series & films as from May 11t

h on Apple TV
The Shining Girls, series by Silka Luisa with Elisabeth Moss (Kirby), Phillipa Soo (Jin-Sook).
They Call Me Magic, Rick Famuyiwa. Music by Terence Blanchard.
The real story of a legend. This four-part documentary event offers an intimate look at the life and legacy of Earvin "Magic" Johnson, premiering now.
The Essex Serpent, by Anna Symon with Claire Danes (Cora Seaborne), Tom Hiddleston (Will Ransome). On May 20th.
Best series & films as from May 11th 

on Disney Plus
Under the banner of heaven: On God's command from the best-seller by Jon Krakauer. With Andrew Garfield, Daisy Edgar-Jones.
Oussekine: Antoine Chevrollier with Sayyid El Alami (Malik Oussekine), Hiam Abbass (Aisha).
35 years ago, on December 6, 1986, Malik Oussekine died. Oussekine, a French original series, on May 11th.
How I met your father, series by Isaac Aptaker & Elizabeth Berger, postponed in May.
Obi-Wan Kenobi, on May 27th.
Mrs Marvel, on June 8th
Best series & films as from May 11th

 

on Starzplay
Becoming Elizabeth, starting June 12.
"Becoming Elizabeth" is created and written by Anya Reiss, award-winning television writer and playwright ("Spur of the Moment," The Acid Test), who is also executive producing, with George Ormond ("National Treasure," "Great Expectations") and George Faber ("Shameless," "The White Queen" on STARZ) of The Forge, and Lisa Osborne ("Little Dorrit," "Man in an Orange Shirt") producing.