Once upon a Time… in Hollywood, by QT is both a tribute to the cinema (Western, Kung-fu, musical "Hair") and -some won't agree- according to me, a tribute to Roman Polanski.
"Once Upon a Time… in Hollywood" – 2019
By Quentin Tarantino (QT). With Leonardi DiCaprio, Brad Pitt, Margot Robbie, Al Pacino, Tim Roth, Kurt Russel, Michael Madsen, Burt Reynolds, Dakota Fanning (2 h 41)
Once upon a time..
Quentin in Hollywood
The story is about Hollywood between reality and imagination.
For our good pleasure, colors sparkle and the actors are so happy to play for QT that we can feel their pleasure on the screen.
We finally meet again with Brad Pitt. He plays Cliff Booth – a stuntman, standing-man, handing man of Rick Dalton, B-Western actor, alcoholic, in the middle of an existential crisis, played by Leonardo Di Caprio.
Actors at their best
Brad Pitt feeds his dog (an iconic scene), Brad Pitt takes off his shirt, Brad Pitt fantasizes beating up Bruce Lee (I've seen very movie with Bruce Lee, and in my opinion, no-one could have beaten-up the kung-fu icon). Leonardo Di Caprio plays with a flame-thrower…
You should see this movie.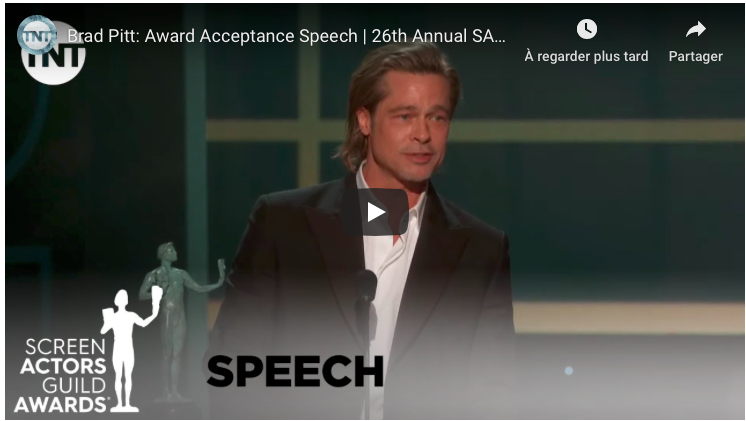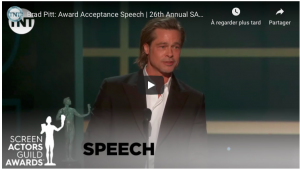 This movie is funny (aren't all Quentin Tarentino movies are ? ). It is tough, tender, violent (so little in comparison with the others), an incredible score (!!!) and has a sublime esthetic.
QT has a unique special way of filming a galloping horse or his actress, Margot Robbie- Sharon Tate, Roman Polanski wife, murdered while she was pregnant- from a low angle view.
As a modern Hitchcock, he knows how to take us in a few seconds in a total anguish…and also likes that good prevails.
His best film, his most personal one
Selected at the Cannes Festival, as  Dolor y Gloria  by Pedro Almodovar, the movie won nothing but a Palm Dog for the Brad Pitt 's dog…a Pitt Bull (genius QT).
How can't we think of Mad Men and the history of America, its golden age, its disillusion ? Quentin is the Don Draper, the adman of the movie industry.
Quentin plays with time. He is the avenger of history. Quentin does not play God. Quentin is God.