What to watch as from March 23rd?
Your audiovisual weekly news
The Academy Awards will take place next March 27th:
In bold police, my predictions:
Oscar du Meilleur film / Best film
Belfast
Coda
Don't Look Up
Drive my car
Dune
La méthode Williams
Licorice Pizza
Nightmare Alley
The Power of the Dog
West Side Story
Oscar du Meilleur acteur / Best Actor
Javier Bardem, Being the Ricardos
Benedict Cumberbatch, The Power of the Dog
Andrew Garfield, Tick tick… BOOM
Will Smith, La méthode Williams
Denzel Washington, The Tragedy of Macbeth
Oscar de la Meilleure actrice / Best actress
Jessica Chastain, The Eyes of Tammy Faye
Olivia Colman, The Lost Daughter
Penélope Cruz, Madres Paralelas
Nicole Kidman, Being the Ricardos
Kristen Stewart, Spencer
Oscar du Meilleur acteur dans un second rôle / Best actor in a supporting role
Ciaran Hinds, Belfast
Troy Kotsur, Coda
Jesse Plemons, The Power of the Dog
J.K. Simmons, Being the Ricardo
Kodi Smit-McPhee, The Power of the Dog
Oscar de la Meilleure actrice dans un second rôle / Best actress in a supporting role
Jessie Buckley, The Lost Daughter
Ariana DeBose, West Side Story
Judi Dench, Belfast
Kirsten Dunst, The Power of the Dog
Aunjanue Ellis, La Méthode Williams
Oscar de la Meilleure réalisation / Best director
Kenneth Branagh, Belfast
Ryusuke Hamaguchi, Drive my car
Paul Thomas Anderson, Licorice Pizza
Jane Campion, The Power of the Dog
Steven Spielberg, West Side Story
Oscar du Meilleur film d'animation / Best animation film
Encanto
Flee
Luca
Les Mitchells contre les Machines
Raya et le dernier dragon
Oscar du Meilleur scénario adapté / Best adapted screenplay
Coda
Drive my car
Dune
The Lost Daughter
The Power of the Dog
Oscar du Meilleur scénario original / Best original screenplay
Belfast
Don't look up
La méthode Williams
Licorice Pizza
Julie (en 12 chapitres)
Oscar du Meilleur documentaire / Best documentary
Ascension
Attica
Flee
Summer of soul
Writing with fire
Short Movies
Oscar du meilleur court-métrage documentaire / Best short documentary
Audible
Lead Home
The Queen of Basketball
Three Songs for Benazir
When We Were Bullies
Oscar du Meilleur court-métrage / Best short movie
Ala Kachuu – take and run
The Dress
The long goodbye
On my mind
Please Hold
Oscar du Meilleur court-métrage d'animation  / Best short animation film:
Affairs of the art
Bestia
Boxballet
The Windshield Wiper
Robin Robin
Festivals as from March 23rd
Rarities of Portuguese silent cinema – Carte blanche to the Portuguese Cinematheque – Cycle of silent films in cine-concert
In 2022, Portugal will be honored as part of the France-Portugal Cultural Season, and the Pathé Foundation is offering the Portuguese Cinematheque carte blanche.
A cycle of some 20 silent films will introduce you to the diversity of this little-known cinema, which ranges from literary adaptations to experiments linked to the European avant-garde movement of the 1920s, while exploring other singular and unclassifiable works.
La cinémathèque : March 16th to July 31st
HAWAII
For over 40 years, HIFF has presented the best in international cinema to Hawai'i cineastes. Join HIFF Selects and have the best international and independent films delivered directly to you for a true film festival experience year-round.
Festival du cinéma israélien : March 21st to March 28th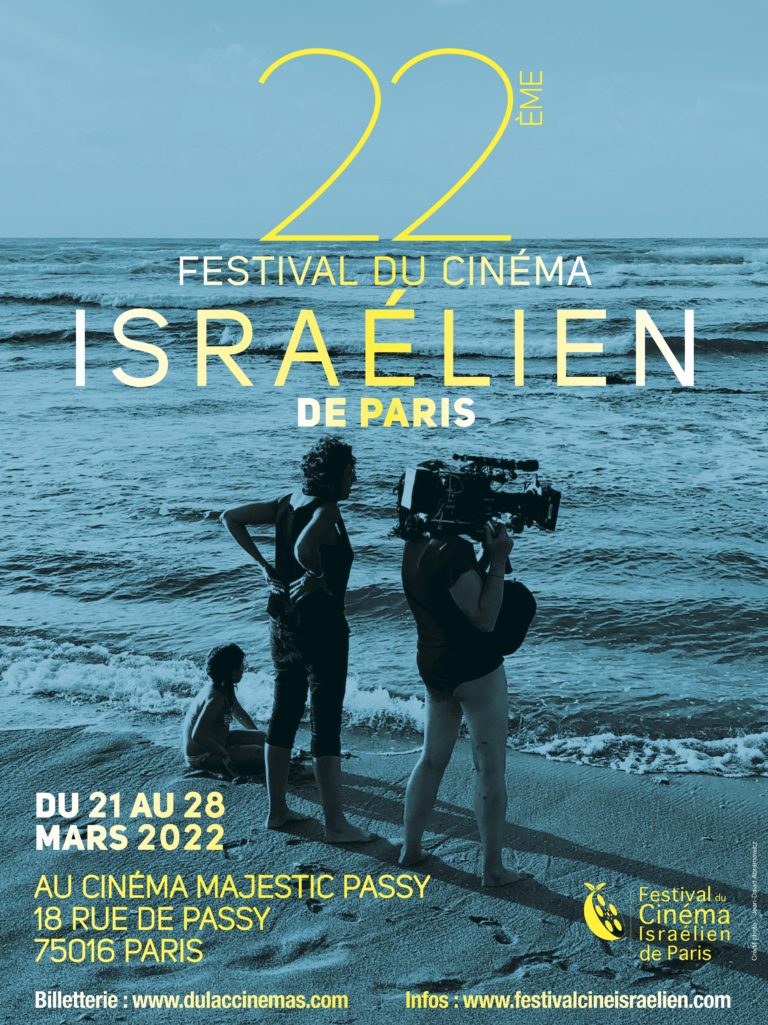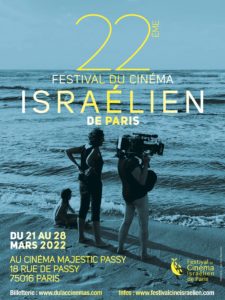 ALL YOU WANT TO KNOW ABOUT  FILMS & SERIES IN THEATERS & AT HOME
REVIEWS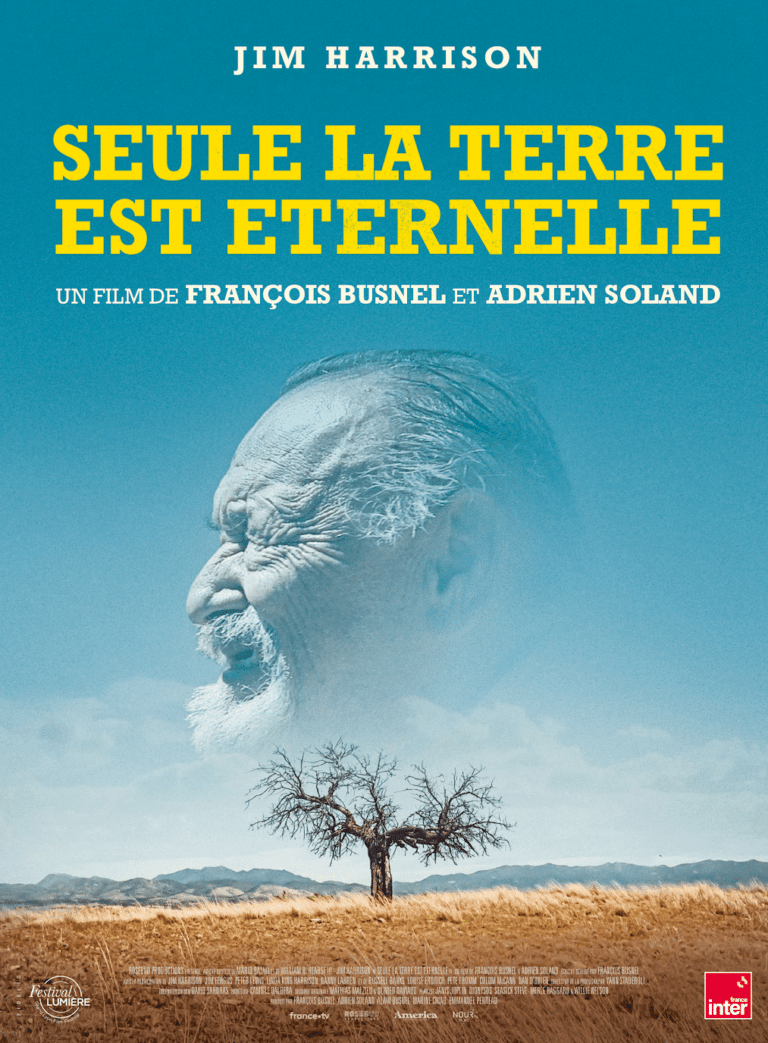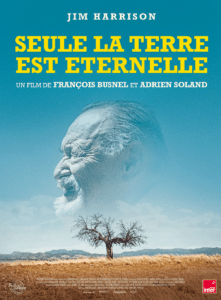 Seule la Terre est éternelle, François Busnel & Adrien Soland
Synopsis
A man returns home to the heart of the great outdoors. He recounts his life, which he has burned at both ends and which reveals another history of America. Through this spiritual and joyful testament, he invites us to return to the essential and to live in harmony with nature. This man is one of the greatest writers… His name is Jim Harrison.
A literary journey
Presenter of La Grande Librairie on France 5, François Busnel, passionate about American authors founded the magazine America with Éric Fottorino in 2017.
As a fan of Jim Harrison, he had the brilliant idea of devoting a documentary to him that is both fascinating and sumptuous, with Adrien Soland, director of La Grande Librairie and several documentaries at his side.
Seule la Terre est éternelle is their first feature film.
In his memoir En Marge, Jim Harrison writes: "I learned that you can't understand another culture as long as you insist on defending your own at all costs. As the Sioux used to say, "Courage, only the earth is eternal".
In theaters today, this documentary is both a tribute to the great writer Jim Harrison and an ode to nature.
The filmmakers take us across the United States from East to West.
Jim Harrison tells us his story. Filmed in close-up, the viewer is both repulsed and fascinated by this face marked by aggression and a dissolute life.
The directors offer us sublime wide shots of desert, rivers, sky and Jim Harrison's home, Montana. Thus, the film takes us closer to one of the greatest Americans of the 20th century.
Jim Harrison speaks with passion about his greatest love, nature (but he survived his wife only a few months).
The poet has always had the feeling of being one with nature. Nature inhabits him and, like the madmen who used to live by the river, it soothes him. Birds, grizzly bears, wolves, snakes and fishing are part of her world.
Many points in common with the Indians to whom he devoted almost all his work.
He tells us about their extermination, by the destruction of their habitat and their means of subsistence in a cruel way, the animals that populated their territory. Archive images show the thousands (17 million) of exterminated buffalos.
The love of nature in his work
He put thousands of words to music in the form of poems or novels.
Unlike Ernest Hemingway, whose magnificent work is full of machismo and death, Jim Harrison preferred stories of lives, broken lives, with extraordinary women as heroines, at the heart of stories bathed in human violence and the indifference of nature.
Jack Nicholson helped him finance his first great success, "Legends of the Fall", later adapted to film, and then he wrote Dalva, his most famous novel.
If we are looking for the answer to the question what is a writer? The directors François Busnel and Adrien Soland gives us a beautiful answer in this literary and cinematographic journey.
About the directors
François Busnel also wrote 11 unpublished prefaces to his works for the publisher 10/18, full of anecdotes and memories (Wolf, Un bon jour pour mourir, Nord-Michigan, Légendes d'automne, Sorcier, Dalva, La route du retour, La femme aux lucioles, En route vers l'Ouest, En marge, De Marquette à Veracruz).
Together, François Busnel and Adrien Soland have written and directed several documentaries for television, including Sur les traces de Gustave Flaubert (France 5, 2021), Philip Roth, biographie d'une œuvre (France 5, 2014); Tolkien, le seigneur des écrivains (France 5, 2013); Les Carnets de route de François Busnel (France 5, 2011 and 2013).
Seule la Terre est éternelle is  in theaters now.
Written by Yaël.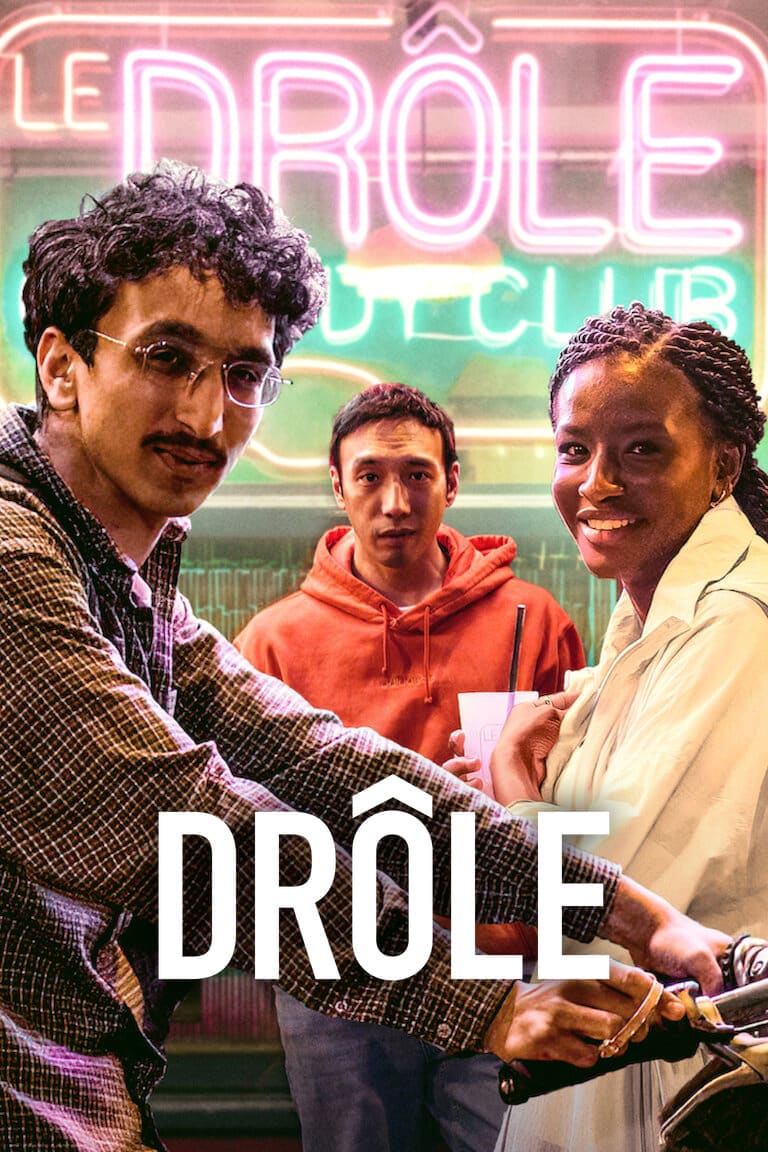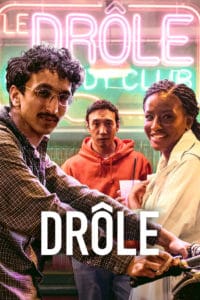 Drôle, Fanny Herrero
After Call my agent, screenwriter Fanny Herrero is back with a new French comedy series with characters that are each more endearing than the last.
The series
We follow the story of four apprentice stand-uppers, all of whom are trying to break into the "Drôle Comedy Club":
Aïssatou (Mariama Gueye), a thirty-something who returns to the stage after putting her career on hold to take care of her daughter, Nazir (Younès Boucif), a young man in the doldrums who makes one Uber delivery after another to take care of his disabled father, Bling (Jean Siuen), a clueless comedian who once made it big and is nostalgic for his former glory, and Apolline (Elsa Guedj), a seemingly well-adjusted art student who would like to break away from her family's hold on her to pursue her dream of stand-up.
The four characters with their intertwined destinies offer us beautiful moments of humor that paint a colorful portrait of French society: from prostatic orgasm to police violence, every aspect of our era is shown, thought about, questioned…
As Aïssatou says to a polemical columnist who declares that we can't laugh about anything anymore: "There have never been so many people who make humor in this country! And then all kinds of people in addition, people that we did not see before!
Drôle is also a series like we never saw before.
The City of Light is also shown in all its facets.
We move between Apolline's fancy sixth arrondissement, whose mother has never seen an Arab except the Uber driver and Saudi princes, and Morsang-sur-Orge, at the end of the B, in the city where Nazir lives.
The picture it paints of the city is much less glamorous than its counterpart Ten Percent, but also much more accurate.
The four actors who play the four characters were, before this series, quite unknown. The excellence of their performance suggests that we have not heard the last of them.
ON NETFLIX NOW
By Déborah.
TO WATCH IN YOUR MOVIE THEATERS AS FROM MARCH 23rd
On March 23rd
Ambulance, Michael Bay.
No hard feeling, Faraz Shariat
The 2020 Berlinale Teddy Award winner is both a sensuous queer love story and a scintillating snapshot of life for LGBTQIA+ migrant youth living in the West.
De nos frères blessés,  Hélier Cisterne, with Vincent Lacoste & Vicky Krieps.
Algiers, 1956. Fernand Iveton, 30 years old, an idealistic independence worker, is arrested for having placed a bomb in a disused room in his factory. He did not kill or injure anyone, but risks the death penalty.
Hélène's life, now the wife of a "traitor", is turned upside down. She refuses to abandon Fernand to his fate.
Le temps des secrets, Christophe Barratier, with Guillaume de Tonquédec, Mélanie Doutey, François-Xavier Demaison, Anne Charrier et Léo Campion.
Bruno Reidal – Confession d'un meurtrier,  Vincent Le Port
Le dernier témoignage, Luke Holland
 A portrait of the last living generation of people who actively participated in Adolf Hitler's Third Reich, ranging from former SS to civilians.
In never-before-seen interviews, they discuss their memories, perceptions and personal assessments of their roles in one of history's greatest crimes.
Compatible, Patrick Attali codirected by  Thibaut Miche with Samir et Hicham Harrag , Laura Chabot & Nouamen Maâmar.
Une mère, Sylvie Audcoeur
Plumes,  de Omar El Zohairy
A passive mother, devoted body and soul to her husband and children.
A simple magic trick goes wrong during her four-year-old son's birthday party, and an avalanche of absurd and improbable catastrophes befalls the family. The magician turns her husband, an overbearing father, into a chicken.
The mother has no choice but to come out of her reserve and assume the role of head of the family.
En Nous,  Régis Sauder
The Kashmir files, Vivek Agnihotri.
Later (and we are looking forward to it: 
Umma, Iris K. Shim, on March 18th in the US.
Aristocrats, Yukiko Sode, March 30th.
Icare, Carlo Vogele, on March 30th.
Candy, a five night event, premiering May 9 on Hulu, by Robin Veith et Nick Antosca, on May 9th.
Candy Montgomery is a 1980 housewife and mother who did everything right—good husband, two kids, nice house, even the careful planning and execution of transgressions—but when the pressure of conformity builds within her, her actions scream for just a bit of freedom.
With deadly results.
Starring Jessica Biel, Melanie Lynskey, Timothy Simons, Pablo Schreiber, and Raúl Esparza.
After Yang, produced and directed by Kogonada, is an adaptation of the American short story Saying Goodbye to Yang by Alexander Weinstein.
In the near future, where the fashion is marked by domestic androids in human form that are considered nannies, Jake (Colin Farrell) and his daughter try to save Yang (Justin H. Min), their robot that has become inert.
Release date: June 22, 2022.
Jurassic World Dominion, Colin Trevorrow, June 8th.
Bullet Train, by David Leitch, adapted from the novel Maria Beetle by Kōtarō Isaka.
Five hitmen find themselves on a high-speed train traveling between Tokyo and Morioka, making very few stops. The five criminals will discover that they are bound by their mission. They wonder who will make it out alive and what awaits them at Morioka Station.
On July 20, 2022.
Starring Lady Gaga, Sandra Bullock, Andrew Koji, Aaron Taylor-Johnson, Joey King, Shinkansen.
Nope,  Jordan Peele, on August 5th.
With: Daniel Kaluuya , Barbie Ferreira , Michael Wincott , Steven Yeun , Keke Palmer , Brandon Perea , Terry Notary , Andrew Patrick Ralston , Donna Mills , Jennifer Lafleur
Downton Abbey a new era, Julian Fellowes , May 20th
WEEKLY TIPS & OPINIONS ABOUT MOVIES 
BY  MOVIE DIRECTORS,  WRITERS, SCREENWRITERS, DIRECTORS, COMPOSERS…
Great Scene: "Get Out". Missy hypnotizes Chris and sends him… | by Scott Myers | Feb, 2022 | Go Into
Sundays with Sidney Lumet's "Making Movies" | by Scott Myers | Feb, 2022 | Go Into The Story
4. 

BEST SERIES & MOVIES ON TV, AS FROM MARCH 23rd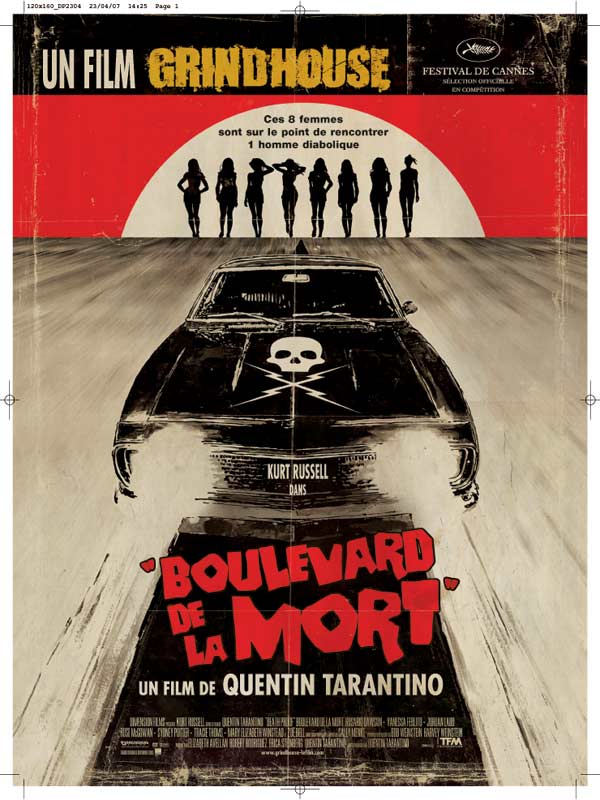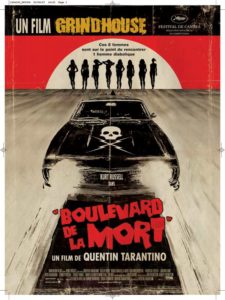 Mercredi- Wednesday
Arte : Doubles Vies
Two friendly couples from the Parisian intelligentsia love each other, cheat on each other and aspire to fulfill themselves in a changing world…
With Juliette Binoche, Guillaume Canet, Vincent Macaigne and Nora Hamzawi, a jubilant comedy by Olivier Assayas.
Jeudi – Thursday
C8 : Guy
Arte : Le tueur de l'ombre : la mort est aveugle :
Investigating a crime that has gone unpunished, profiler Louise Bergstein (Natalie Madueno) races against time to stop a ruthless predator. Set in the Danish countryside, the second season is as dark and effective as ever. By Jonas Alexander Arnby
France 3 : Prête-moi ta main
Chérie 25 : la ligne verte
Vendredi – Friday 
Canal Plus : Kaamelott  premier volet
France 5 : Diabolo menthe
Arte : The Cop and the Informant: Lars Becker: While the Berlin anti-drug unit is investigating a murder, it is endangered by a leak from its own ranks… An effective German crime thriller, by a specialist of the genre, author of "Too early to die".
Chérie 25 : La délicatesse
Samedi – Saturday
France 2 : Sidaction
Arte : L'histoire secrète du carbone
Dimanche – Sunday
France 2 : Deux moi 
Arte : Death Proof:  A stuntman "serial killer" (Kurt Russell) chases young women at the wheel of his speeder… Between unconditional love and savory derision, a jubilant pastiche of the seventies exploitation movies by the maestro Quentin Tarantino.
Lundi – Monday 
Arte: The Last Train to Gun Hill: In pursuit of the two men who raped and killed his Indian wife, Sheriff Matt Morgan arrives in Gun Hill, a town ruled by his old friend Craig Belden… A western by John Sturges, with a duel between Kirk Douglas (the good guy) and Anthony Quinn (the bad guy).
Mardi – Tuesday 
Canal Plus : 5ème set
Arte : Nuclear power, a solution for the planet? A dense investigation on the ecological and economic stakes of nuclear energy, through the crucial question of dismantling and reprocessing of contaminated waste. Ghislaine Buffard
6Ter : Tamara
Mercredi- Wednesday
Arte: Le Garçu: Separated from his girlfriend (Géraldine Pailhas), the unbearable Gérard (Depardieu) is overflowing with love for their young son…
Maurice Pialat's tenth and last film tells of the ambivalence of feelings and the misunderstandings that undermine relationships between people.
5. 

BEST MOVIES & SERIES AS FROM MARCH 23rd ON ARTE
Jim-carrey-l-amerique-demasquee : Thibaut Sève & Adrien Dénouette
L-histoire-de-la-street-dance-: Jean-Alexander Ntivyihabwa & Jamo Franz
Naissance-d-un-heros-noir-au-cinema , Catherine Bernstein & Martine Delumeau. :
In 1971, Melvin Van Peebles shook up the figure of the black hero in American cinema with "Sweet Sweetback's Baadasssss Song".
This documentary traces the genesis of this hard-hitting film, which gave birth to the Blaxploitation movement, from Gordon Parks' "Shaft" to "Jackie Brown", Quentin Tarantino's tribute to the genre.
Katarina-witt-doubles-axels-et-rebondissements : Jobst Knigge
Des-femmes-au-salon-aux-sources-de-l-emancipation-feminine: Carole Wrona
FILM
La vie invisible d'Euridice Gusmao, by Karim Aïnouz
In Brazil in the 1950s, a macho father stands between his two daughters. Spanning several decades, a feminist melo as sensitive as it is technically masterful. "Un certain regard" prize at the 2019 Cannes Film Festival.
Winter Sleep, Nuri Bilge Ceylan
ARTE SERIES
En Thérapie (season 2)
the release of the first confinement in spring 2020. Surrounded by a new team of writers and directors, Eric Toledano and Olivier Nakache deepen their subject, more than ever attentive to the emergence of speech in the ambient disorder.
Watch the two seasons in their entirety on arte.tv from March 30!
Kim Kong, new series: created by Simon Jablonka & Alexis Le Sec, directed by Stephen Cafiero
Sacha, Léa Fazer
Felix Moeller : la-propagande-antisemite
Scenes-de-la-vie-conjugale, by Ingmar Bergman
Les rêves brisés de l'entre deux guerres
ARTE DOCUMENTARY
Robert-Mitchum-le-mauvais-garcon-d-hollywood,  Stéphane Benhamou
Lee Miller, Teresa Griffiths
Le Drame Ouïghour, François Reinhardt
Best movies & series as from March 23rd on 

Netflix
Drôle, Fanny Herrero, now
Bridgerton saison 2, by Shonda Rhimes, on March 25.
Bubble, Tetsuro Araki, on April 28.
Best movies & series as from 

March 23rd 

on 

Prime Video
Deep Water, Adrian Lyne, avec Ben Affleck, Ana de Armas, Tracy Letts, now.
Master, Mariama Diallo, now.
All the old knives, Janus Metz Pedersen, April 8th
The Lord of the rings, Juan Antonio Bayona, September 2nd.
Best movies & series as from 

March  23rd 

on Canal+
Pagan Peak, now, Cyrill Boss & Philipp Stennert.
Kamikaze, by Didier Grousset,now.
The Tower
Best movies & 

series

 as from 

March  23rd on Apple TV
WeCrashed, series created by Lee Eisenberg & Drew Crevello inspired by the podcast WeCrashed : The Rise and Fall of WeWork de Wondery. 
With Jared Leto (Adam Neumann), Anne Hathaway (Rebekah Neumann).
Now.
Tehran season 2, by Moshe Zonder Omri Shenhar, May 6th.
By Daniel Syrkin with Glenn Close
They Call Me Magic, Rick Famuyiwa.
The real story of a legend. This four-part documentary event offers an intimate look at the life and legacy of Earvin "Magic" Johnson, premiering April 22. 
Pachinko 
Based on the New York Times bestseller, Pachinko is a sweeping saga that chronicles the hopes and dreams of a Korean immigrant family across four generations.
Starring Academy Award-winner Yuh-Jung Youn, Lee Minho, Jin Ha, and Minha Kim, Pachinko premieres March 25,
Pachinko is written and executive produced by Soo Hugh ("The Terror," "The Killing"), who created the series and serves as showrunner.
The Last Days of Ptolemy Grey, by Ramin Bahrani, with  Samuel L. Jackson, now.
The Shining Girls, series by Silka Luisa with Elisabeth Moss (Kirby), Phillipa Soo (Jin-Sook), as from April 29th.
Best movies & series as from 

March 23rd 

on Disney Plus
Dans les yeux de Tammy Faye, Michael Showalter, on March 23rd.
Moon Knight, de Jeremy Slater avec Oscar Isaac (Marc Spector / Moon Knight), May El Calamawy, on March 30th.
Better Nate than never,  on April 1st, by Tim Federle.
With Aria Brooks, Joshua Bassett, Michelle Federer,  Rueby Wood as Nate, Norbert Leo Butz & Lisa Kudrow.
How I met your father, series by Isaac Aptaker & Elizabeth Berger, postponed in May.
Para/llèles, on March 23rd
Parallèles tells the story of four friends – Bilal, Romane, Samuel and Victor, whose lives are turned upside down when a mysterious event separates them and propels them into parallel dimensions. They will do everything in their power to understand what happened. And try to go back to their world "before".
Created by Quoc Dang Tran (Dix pour cent, Marianne), co-written by Anastasia Heinzl (Au-delà des apparences) and directed by Benjamin Rocher and Jean-Baptiste Saurel with Thomas Chomel.
Obi-Wan Kenobi, on May 25th.
Mrs Marvel, on June 8th
Best movies & series as from 

March  23rd 

on Starzplay
Gaslit, TV series by Robbie Pickering with Julia Roberts (Martha Mitchell), Sean Penn (John Mitchell).
On April 24th