This week, your films are about struggle.
On the bilingual Movieintheair blog, I do for you a press review every Wednesday and keep the best of national and international audiovisual news.
Your movies and series to watch this week
about struggle and The Oscars
to come during the night of next Sunday
YOUR WEEKLY NEWS:
Movieintheair predictions for the Oscars: (bold characters: my choice; and underlines: click to read the review)
Meilleur film – BEST PICTURE
Nomadland
Mank (NETFLIX)
The Father
Judas and the Black Messiah
Minari
Promising Young Woman
Sound Of Metal
Les Sept de Chicago (NETFLIX)

Meilleur réalisateur – BEST DIRECTOR
Chloé Zhao (Nomadland)
David Fincher (Mank)
Thomas Vinterberg (Drunk)
Lee Isaac Chung (Minari)
Emerald Fennell (Promising Young Woman)
Meilleure actrice – BEST ACTRESS IN A LEADING ROLE
Viola Davis (Le blues de Ma Rainey)
Frances McDormand (Nomadland)
Carey Mulligan (Promising Young Woman)
Vanessa Kirby (Pieces Of A Woman)
Andra Day (The United States vs Billie Holiday)
Meilleur acteur BEST ACTOR IN A LEADING ROLE

Chadwick Boseman (Le blues de Ma Rainey) (NETFLIX)
Anthony Hopkins (The Father)
Riz Ahmed (Sound Of Metal)
Gary Oldman (Mank)
Steven Yeun (Minari)
Meilleur scénario original – WRITING BEST ORIGINAL SCREENPLAY
Les Sept de Chicago (NETFLIX)
Judas and the Black Messiah
Minari
Promising Young Woman
Sound Of Metal
Meilleure scénario adapté WRITING BEST ADAPTED SCREENPLAY
Nomadland
The Father
Borat 2
One Night In Miami (AMAZON PRIME)
Le tigre blanc
Meilleur film d'animation – BEST ANIMATED FEATURE FILM
Soul (DISNEY PLUS)
En avant
Shaun le mouton le film : la ferme contre-attaque
Le peuple loup
Voyage vers la lune
Meilleur film étranger BEST INTERNATIONAL PICTURE
Drunk
Better Days
Collective
L'homme qui a vendu sa peau
Quo Vadis, Aida ?
Meilleur documentaire – BEST DOCUMENTARY (FEATURE)
Collective
Crip Camp
The Mole Agent
My Octopus Teacher (NETFLIX)
Time
Meilleur second rôle féminin – BEST ACTOR IN A SUPPORTING ROLE
Han Ye-Ri (Minari)
Maria Bakalova (Borat 2)
Glenn Close (Une ode américaine) (NETFLIX)
OIivia Colman (The Father)
Amanda Seyfried (Mank)
Meilleur second rôle masculin – BEST ACTOR IN A SUPPORTING ROLE
Daniel Kaluuya (Judas and the Black Messiah)
Sacha Baron Cohen (Les Sept de Chicago)(NETFLIX)
Leslie Odom JR. (One Night In Miami)
Paul Raci (Sound Of Metal)
Lakeith Stanfield (Judas and the Black Messiah)
Meilleure musique – MUSIC (ORIGINAL SCORE)
Soul
Minari
La mission (NETFLIX)
Da 5 Bloods (NETFLIX)
Mank
The International Cannes Film Festival will open with  Annette by Leo Carax with  Adam Driver et Marion Cotillard. Trailer
Downton Abbey 2 made official! The second movie will be released at Christmas 2021 with Dominic West, Nathalie Baye and Hugh Dancy
TRIBUTE
HELEN MCCRORY
MOVIES AND SERIES
ALL YOU WANT TO KNOW
YOUR  FILMS
ABOUT STRUGGLE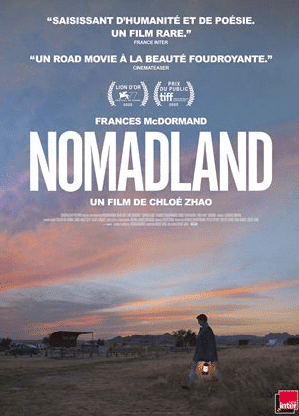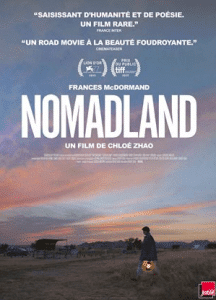 NOMADLAND
Directed by Chloé Zhao, based on the novel by Jessica Bruder
Synopsis
Fern has just lost her husband and her home. Despite the help offered to her by her family, she decides to live in a caravan and wanders through deserted areas, looking for work and solitude.
The film
This is the movie that will probably win the Oscars. At least, I hope so.
Because we are immersed in the soul of this woman, which is basically the soul of today's America, the soul of those left behind, of those who have lost their jobs, or their loved ones, and often both.
In Western societies, everything is done to keep us in the same place.
In Nomadland, people, out of the system because of the economic or human difficulties they have encountered, choose not to live in houses but in caravans and travel sometimes together or alone.
Every year, they meet in the middle of the desert, and form a community of nomads, founded by a generous man who has also suffered his share of tragedy.
The heroine, Fern, (the immense Frances McDormand) is sad, nostalgic, courageous, generous. She does the most difficult, physical, thankless jobs (Amazon among others), is often cold, hungry but always shares what she has with her neighbors.
Social violence is everywhere and people struggle and live day by day..
The strength of this film lies precisely in the combination of the harshness of these lives, the solidarity of these communities with the solitude of the characters in total harmony with nature. And the desert is here a character in its own right.
The beauty of the landscapes, the colors, contrasts with the hardness of the faces, the jobs, and the lives of the characters. The pain of this woman seems to embrace it completely and she can not lock herself in a house.
Francis McDormand
You will remain for a long time impregnated with the look of Francis McDormand.
The director, Chloe Zhao, left China at the age of fifteen and her first films, Songs My Brothers Taught Me, and The Rider were selected at the Sundance Film Festival in 2015 and 2017. She lives in the United States where she is seen by the Chinese regime as a "traitor" to her country.
Chloe Zhao, won the Golden Lion at the Venice Film Festival in 2020 and the Golden Globe for Best Director and Best Drama Film in 2021 for Nomadland and doubled that award at the Bafta (the equivalent of the English Oscars).
She is the second woman director to win this Golden Globe after Barbra Streisand for Yentl in 1984 and the first person of Asian origin to win a Golden Globe.
And she also won the Best Director award for Nomadland at the Satellite Awards.
Of all the films nominated this year, Nomadland is the one that undoubtedly deserves the Oscar for Best Picture.
See you next week for the verdict.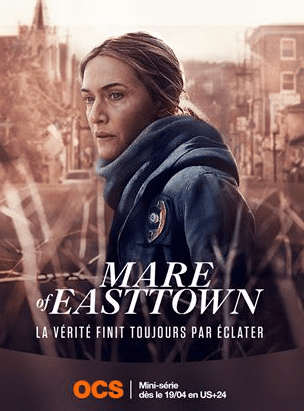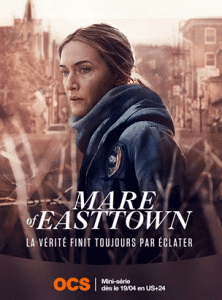 MARE OF EASTTOWN
Directed by Craig Zobel, created by Brad Ingelsby 
Synopsis
Mare (Kate Winslet) is a detective in the small town of Easttown. She is a local hero because she helped win a basketball championship twenty years earlier. She is nicknamed Lady Hawk for this.
We realize that she is more a social worker than a detective in this city where social problems are multiple, whether it is drugs, alcoholism, access to contraception. We learn that a young girl, Katie Bailey, has been missing for a year and that her mother asks that the investigation be reopened.
A few days later, a murder occurs…
The series
This mini-series, of which only one episode is available for the moment on OCS and CANAL PLUS and AMAZON PRIME, plunges us into a very hard and cold atmosphere.
Here Kate Winslet plays an original part, no glamour but a depressive, alcoholic, unpleasant and hateful woman who, we seem to guess, struggles and has suffered the grief of a child.
We are immediately very taken by this series.
Once again, it is thanks to the main character, Mare, a complex woman, cynical and angry, yet full of humanity and with whom we identify.
Kate Winslet is once again prodigious and we can see that its director, Craig Zobel, is a regular in thrillers.
TO WATCH ON OCS, CANAL PLUS and AMAZON PRIME
Now on Netflix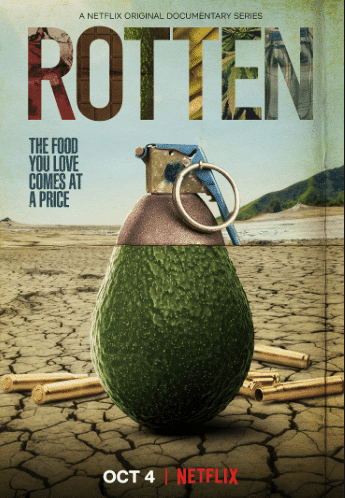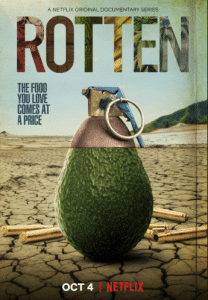 ROTTEN
The second season of this documentary series on Netflix is a must-see.
Produced by Zero Point Zero, it addresses corruption and abuse in the global food supply chain.  Each episode addresses one food product and all the players involved in the process, from wars to condemnations. A question of justice and human rights.
In this season: avocado, wine, bottled water, sugar, chocolate (cocoa from Ivory Coast episode 5 of the second season) and cannabis-based foods.
2. 
YOUR MOVIES
AND SERIES TO COME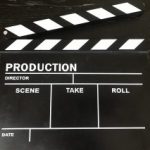 TRAILERS
Villa Caprice, with Patrick Bruel & Niels Arestrup by Bernard Stora
12 mighty orphans, by Ty Roberts, with Luke Wilson, Martin Sheen, Robert Duval, about Rusty Russell
3.
WEEKLY TIPS & OPINIONS
FROM 

PROFESSIONALS
 WRITERS, SCREENWRITERS, DIRECTORS, COMPOSERS…
Senegal movie industry developmen
He's going in search of Orson Welles' missing film – Director Joshua Grossberg has announced plans to travel to Brazil in the fall of 2021, where he hopes to track down this film from "The Splendor of the Ambersons."
Two books about the movie industry in France by Frédéric Sojcher
One, Main basse sur le film, is the reissue of a 2002 book and the second, Je veux faire du cinéma, subtitled Petit manuel de survie dans le 7e art, seems to clarify and complete it some twenty years later.
Through the testimonies of actresses and actors who talk about their profession, the documentary "Les Acteurs" tells the story of theater, passion, emotion, with the Avignon Festival as a backdrop. A beautiful tribute proposed on the INA website. 
Sundays with Stephen King's "On Writing" |by Scott Myers
4.
YOUR WEEKLY PROGRAM
APRIL 21st TO APRIL 28th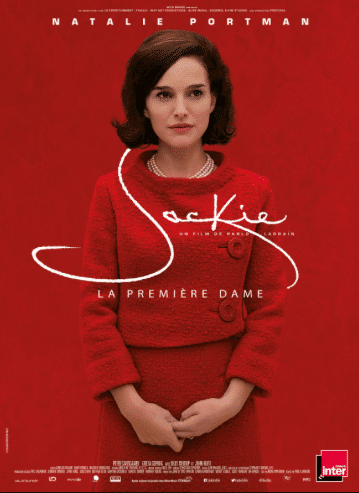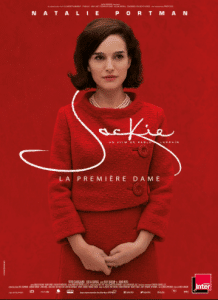 DOCUMENTARY: "The secret life of the garden", or when nature takes back its rights
In the countryside of Normandy, a man leaves his house and his garden to himself: it is then that, in front of the camera, a whole small population is emboldened and reveals itself in its diversity. A magnificent documentary that has been acclaimed by the public, to be (re)seen on France 3 Normandie – Samuel Guiton, in collaboration with Pascal Cardeilhac.
Wednesday 21
LCP : Sugar Man
6Ter : L'âge de glace: Le temps des dinosaures
RMC: Alien Theory
LCP : Sugar Man
6Ter : L'âge de glace: Le temps des dinosaures
RMC: Alien Theory
Thursday ,22
TMC : Black Panther
Friday 23
Arte : Toute la vérité dans une autre vie
TMC: L'arme fatale
6ter: Indochine
Saturday 24
Arte : Les visages oubliés de Palmyre
Sunday  25
Arte  : Jackie by Pablo Larrain
Monday 26 
France 5 : Les chariots de feu
TMC: Le monde perdu Jurassic Park
Tuesday 27
Canal + : Judah and the Black Messiah (critique ici)
Wednesday 28
5.
ON YOUR PLATFORMS
(struggle)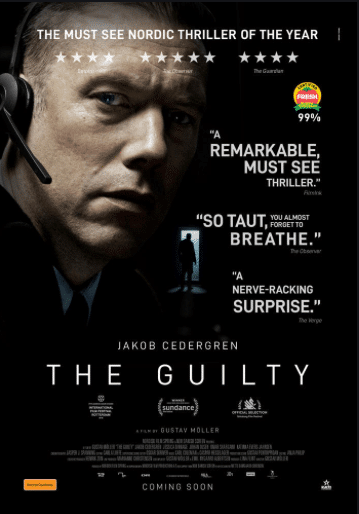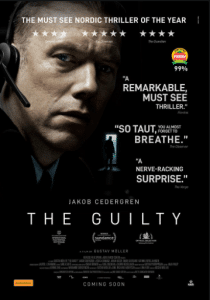 ARTE
DOCUMENTARY
Bernadette Lafont, et Dieu créa la femme libre
Libres : une série sur les femmes
Tout savoir sur le Docteur Jivago
SERIES
Baghdad Central – Avec Waleed Zuaiter (Homeland, Omar) et Corey Stoll (House of Cards). Nouvelle série, adaptée du roman d'Elliot Colla et réalisé par Stephen Butchard
MOVIE 
The Guilty : a must-see movie !
La Chaîne Parlementaire
LCP offers you a lot of good documentaries: here
La Cinémathèque Française
All retrospectives are postponed.
On Henri plateform, a cult movie everyday
Your movies and series 

to watch
 on NETFLIX
(struggle)
(CLICK ON THE LINK TO WATCH THE TRAILER)
Not a game, by Jose Gomez
The Irregulars, by Tom Bidwel
Blade Runner 2049, by Denis Villeneuve
Shadow and bone, on April 23rd
Stowayway, by Joe Penna, with Anna Kendrick, Toni Colette, on April 22nd
Professor Marston and the wonder women,now,, by Angela Robinson
Zéro, on April 21st, by Kevin Smith
Yasuke, the story of an African Samouraï , by Takeshi Koike on April 29th
Monster, by Anthony Mandler, starring Kelvin Harrison, adapted from the novel of the same name by Walter Dean Myers, opens May 7.
Ferry, on May 14th, Undercover 's spin off, by Cecilia Verheyden
Your movies and series

to watch
on Prime Video
(struggle)
The Underground railroad, by Barry Jenkins, on May 14th
Without remorse, by Stefano Sollima, with Michael B. Jordan, on April 30th
Belgravia, by Julian Fellowes, as from April 27th
Your movies and series

to watch
on Canal+
(struggle)
The Handmaid's Tale, season 4, on April 29th
A teacher , by Hannah Fidell, as from Thursday
La Guerre des Mondes, Chapitre II, created by Howard Overman, in May
Bloodlands, on May 3rd, by Chris Brandon
The Flight Attendant, at last, on April 27th, series adapted from Chris Bohjalian's novel.
Your movies and series  to watch on

 
Starzplay
(struggle)
Death and Nightingales, by Allan Cubitt
We are who we are (review here), by Luca Guadagnino.
The Luminaries, adapted from the eponymous novel by Eleanor Catton with Eva Green
Your movies and series

 to watch on
Apple Tv
(struggle)
The year earth changed, by David Attenborough, directed by Tom Beard
Mosquito Coast, on April 30th, by Neil Cross.
Dickinson, by Alena Smith
Your m

ovies and series 

to watch on
DISNEY+
(struggle)
In May
Big Shot, created by David E Kelley (The Big Sky, Pretty Little Liars…) with John Stamos
Sweetbitter , created by Stephanie Danler (now and an expected season 2)
Cruella, by Craig Gillespie, with Emma Stone
The Falcon and the winter soldier, by Kari Skogland 
Malcolm Spellman, writer of the series "Empire" about the rap industry is the writer of the new Marvel series, "Falcon and the Winter Soldier".
Loki, created by Michael Waldron, with Tom Hidelston & Owen Wilson
Stay safe !
Subscribe to the weekly newsletters to keep up !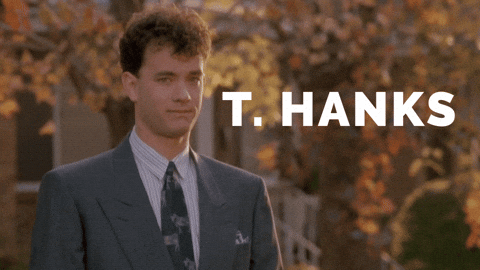 [contact-form to="contact@movieintheair.com" subject="Subscribe to the newsletters"][contact-field label="Subscribe here : Name" type="name"][contact-field label="Email address" type="email"][/contact-form]