This week, five movies and series about acceptance to watch safe at home.
On the bilingual Movieintheair blog, I do for you a press review every Wednesday and keep the best of national and international audiovisual news.
Five films & series about acceptance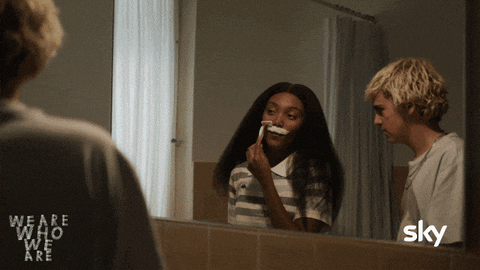 This week, the films and series I've seen talk about acceptance: acceptance of self, acceptance of the other, acceptance of a nation, acceptance of a destiny, acceptance of the end.
NEWS
Guy Ritchie to direct a film about the WWII. While still working on Five Eyes, an action thriller with Jason Statham and Hugh Grant, the director has just signed with Paramount for the adaptation of Damien Lewis' novel Ministry of Ungentlemanly Warfare. The film will follow the adventures of a secret operation unit, formed at the request of Churchill in 1939.
ONLINE FESTIVALS
The international documentary film festival proposes a specific and federative form on CANALRÉEL. A new dematerialized festival experience, with live and simultaneous films, debates and meetings every day.
At the Festival Luchon 2021 from March 10th to March 14th: Aïssa Maïga and Rosalie Varda will respectively preside over the fiction and documentary juries of the event.
43rd edition of the International Women's Film Festival of Créteil to be held from 2 to 11 April 2021.
10th anniversary of the Festival Le Temps Presse, April 6 to 11, 2021 
The Cannes Film Festival will take place from July 7 to 15 as well as other festivals: La Semaine de la Critique, l'Acid, La Quinzaine des Réalisateurs
The 10th anniversary edition of the Champs-Élysées Film Festival will take place from September 14 to 21, 2021.
 78th Golden Globe Awards, which usually are the same as the Oscars, have been revealed: best movies & best series : all critics on this blog.
The Best moments :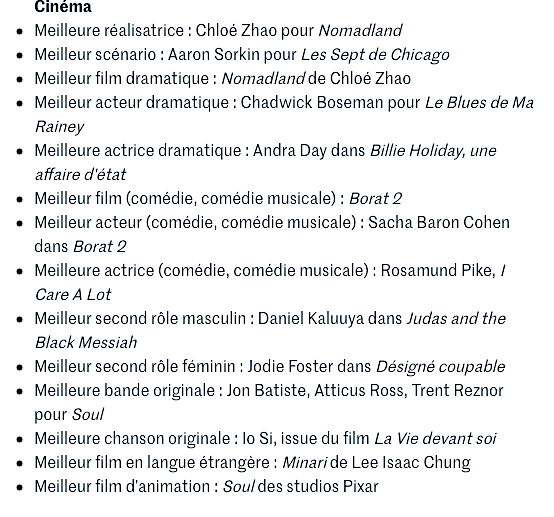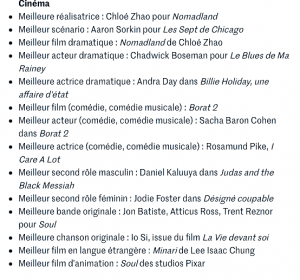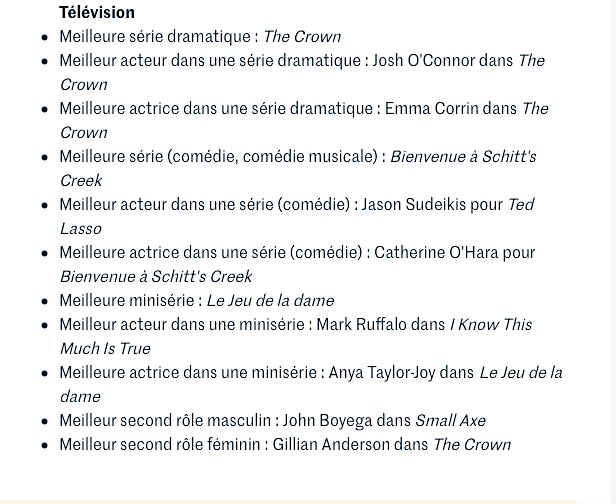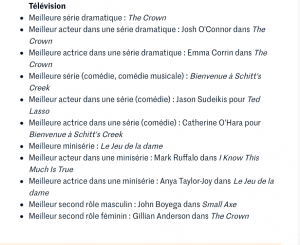 Source : Le Monde
MOVIES AND SERIES ABOUT ACCEPTANCE
ALL YOU WANT TO KNOW
ABOUT 
1.
IMITATION OF LIFE
DOUGLAS SIRK
ACCEPTANCE OF FATE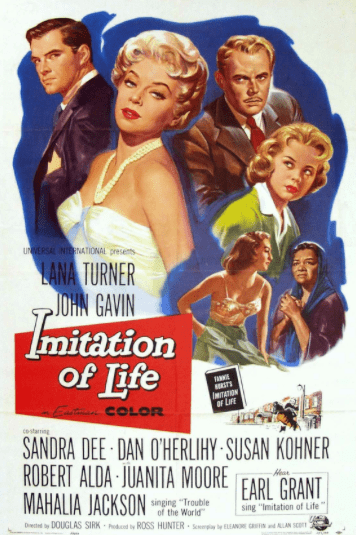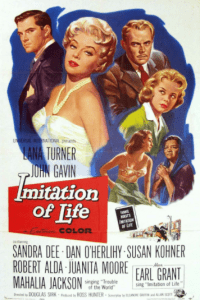 THE PITCH 
In New York City, Lora Meredith, played by Lana Turner, a young widow and mother of a little girl, Susie, wants to start an acting career.
By chance, she meets on a beach another woman, black, in the same situation, Annie Johnson, played by Juanita Moore, whose daughter, Sarah Jane, is white.
Lora befriends Annie and soon Annie takes care of the children while Lora looks for work as an actress and struggles every day to get a role. She occasionally sees a photographer who is in love with her and wants to marry her…
THE FILM
Imitation of Life  tells us two stories, that of a white woman to whom everything will succeed and that of a black woman who will work hard all her life.
Lora's goal will be to thrive while Annie's goal will be to work for Lora to provide for her daughter, Sarah Jane, moving Susan Kohner, a white woman who is ashamed to have a black mother.
Not once did Lora wonder if Annie would want to do anything other than serve her.
Annie would probably want to leave – the question isn't even suggested on the screen – but black and a single mother in a deeply racist America, she takes refuge in a Baptist church.
And when Lora is astonished that she has so many friends, Annie, the extraordinary Juanita Moore, replies "You never asked". And that says it all. Lora has never been interested in anything but herself…
It's about racism, women's emancipation and acceptance: acceptance of oneself, of one's roots, of one's desire to succeed, to be a good mother and to accept one's destiny.
Women live in two very opposite worlds, one lives in a form of imitation of life and the second faces real life a life of suffering and injustice, a life of servitude.
This shocking film with such a cynical ending, where at that moment the whole story makes sense, was a colossal success, thanks in part to the scandal that occurred when it came out, as Lana Turner's daughter killed her mother's lover.
AN ADAPTATION
Lana Turner, Hollywood star at the time, very involved in the film, played for free but asked for 50% of the profits of the film, a first for the time and which put her away for the rest of her life. It was, by the way, the penultimate film she shot.
Directed by Douglas Sirk and released in 1959, it is the second adaptation of the novel by Fannie Hurst, who comes from a Jewish family, and is a prolific short story writer who grew up in Missouri where she certainly witnessed the racism that reigned at that time.
Fannie Hurst wrote extensively on racism and the status of women and fought for the rights of African-Americans.
With Lana Turner, Sandra Dee (dubbed by Françoise Dorléac in French), John Gavin, Juanita Moore, Susan Kohner and the great singer Mahalia Jackson.
2.
WE ARE WHO WE ARE
LUCA GUADAGNINO
ACCEPTANCE OF YOURSELF

THE PITCH 
Fraser taps his finger on the "Lost and found" counter. His suitcase was sent to another destination. 
His mother, in a couple with a woman, is named Colonel at the military base of Chioggia in Italy. 
As a teenager with hyperoxidized blond hair and a passion for fashion, he refuses this way of life and hates his mother and wife who forced him to leave New York where he had to leave Mark .
Caitlin is the daughter of the Colonel who will be replaced. Her mother is Nigerian and her father African-American. The mother met her husband when she already had a son. Caitlin is her father's favorite, obsessed with guns.
The two teenagers look for each other, meet young soldiers who are a bit hot-headed, party, play dangerous games, face death…
THE SERIES
After Call me by your Name, in which Timothée Chalamet was revealed, Luca Guadagnino remains in the theme of desire and acceptance, self-discovery and death.
Teenagers live in a vacuum on this base where everything is the same regardless of the country, they are bored, they make the 400 blows, and the parents, soldiers, live the war by youth interposed.
Caitlin, played by the great Jordan Kristine Seamon wonders if she wouldn't be better off as a boy.
Fraser played beautifuly by Jack Dylan Grazer, doesn't mix with the military, except for his crush on the handsome Jonathan, his mother's aide-de-camp, played by Tom Mercier (seen in Synonyms of Nadav Lapid).
Telling the story of a woman Colonel in a couple with a woman on a military base with a majority of men is to accept that we live in a modern world.
Military wives get bored, they are unfortunately often figurative in couples, even when it comes to Sarah, the Colonel, played by an amazing Chloë Sevigny and his wife Maggie, played by Alice Braga.
The whole thing is filmed against the backdrop of an election campaign, the one that contributed to the election of Donald Trump. 
In addition to the question of genre and its acceptance, Luca Guadagnino films in a dazzling and nuanced way, this lost youth, free, and full of life and desire, in total fusion with music.
With
Chloë Sevigny (Big Love), Kid Cudi (Westworld and How to Make It in America), Jack Dylan Grazer (It), Alice Braga (Queen of the South), Spence Moore II (All American)Jordan Kristine Seamon, Faith Alabi, Francesca Scorsese, Ben Taylor, Corey Knight, Tom Mercier et Sebastiano Pigazzi.
TO WATCH ON MARCH 7 ON STARZPLAY & CANAL+ 
3.
LOCO POR ELLA (CRAZY FOR HER)
DANI DE LA ORDEN
ACCEPTANCE OF THE OTHERS

THE PITCH
Adri, a disillusioned young journalist who writes content that makes no sense for a platform, meets an original young woman in the evening who takes her out partying all night long …then disappears. What usually suits him intrigues him and he tries to find the young woman. He discovers that she lives in a psychiatric hospital and escapes from time to time.
Adri then decides to pretend to be depressed and gets locked up to see her and eventually write a good story.
THE MOVIE
Loco por Ella is a light film. It tackles a subject that is much less so, that of normality. Patients suffering from schizophrenia or bipolarity have found it difficult to accept themselves and the society that hides them.
In this story, the only evil to heal is in fact sadness, linked to the look of others.
The sparkling Susanna Abaitua and the funny Álvaro Cervantes form the duo of this romantic comedy, rather subtle in its treatment, which can be seen at the moment on Netflix.
4.
MISHIMA
ACCEPTANCE OF A LIFE FOR ART
PAUL SCHRADER

THE PITCH
It is an attempt to tell the life of the immense Japanese writer Yukio Mishima, divided into four chapters.
THE MOVIE
Directed in 1985 by Paul Schrader, (author of Taxi Driver scenario) and produced by George Lucas and Francis Ford Coppola, the film returns to three great novels of the writer interpreted by the immense actor Ken Ogata.
The director mixes episodes from his life with a staging of three of his novels, The Golden Pavilion, The House of Kyoko, Escaped Horses.
As a child, Yokio Mishima was separated from his mother and raised by his grandmother who exercised total power over him until he was twelve years old when he was reunited with his mother. He stuttered and then realized the power of words over the world. He decides to dedicate his life to them.
The film begins on November 25, 1970, the day he decided, with four other soldiers, to take the General Commander-in-Chief of the Self-Defense Forces hostage. He addressed a garrison of 800 soldiers in favor of the Emperor and died according to the Seppuku ritual (disemboweling by sword).
Then the film alternates between black and white and color, depending on the story, whether it is about his life (in black and white), or his novels (in color).
We follow the writer's torments, his homosexuality, his desire to have a perfect athletic body and his love for physical suffering (chapter three of the film) which he speaks about in the whole range of his work composed of more than forty novels, short stories, plays.
WITH THE DIRECTOR
Filmed in a dazzling way, with the light of John Bailey, this fascinating film plunges us into a dreamlike universe with the masterful music composed by Philip Glass (who recently composed for the Boston Opera) and the tragic music of Yokio Mishima, a megalomaniacal and nationalist writer who dedicated his life to words and a certain conception of life and death.
The voice of the American narrator is that of the actor Roy Scheider.
To be seen on ARTE.TV. 
Script: Chieko Schrader, Leonard Schrader (his brother) Paul Schrader with Jun Shiragi.
Mishima, a life in four chapters by Paul Schrader
5.
PELÉ
DAVID TRYHORN ET BEN NICHOLAS
ACCEPTANCE OF A PEOPLE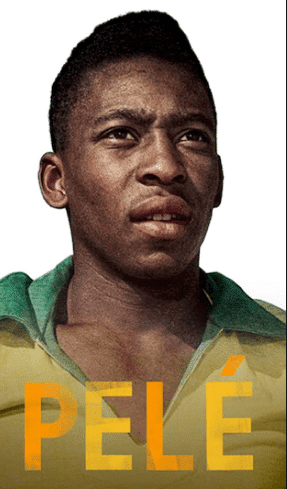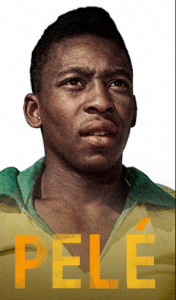 THE PITCH
Pelé is a documentary that looks back at the life of the footballer, from his beginnings to the present day.
THE DOCUMENTARY
He walks with a walker and smiles. Then he sits down and talks. He is the legend Pelé, born Edson Arantes do Nascimento, now 80 years old and whose father was also a great footballer.
The Brazilian soccer player with more than a thousand goals and the only footballer to have been world champion three times, in 1958 (the first World Cup won at only seventeen years old), 1962 and 1970, tells us about his life.
Directors David Tryhorn and Ben Nicholas tell the story of Brazil, a dictatorship regime under which Pele played.
Pelé's family, friends and coaches testify. Many people reproach him for not having denounced the dictatorship that reigned during those years, telling him that he knew. But that he was driven above all by his passion for the sport.
The fullness of his talent explodes in this film.
Brazil's victory in the various soccer World Cups made Brazilians proud of their country, whereas before they envied the European countries.
And Pelé contributed to the birth of a feeling of acceptance of their identity in relation to the rest of the world, an identity made of suffering, slavery and interbreeding.
He was the first to introduce soccer to the United States. Today he is an ambassador for the United Nations and UNESCO for Education, Ecology and the Environment.
Now on  NETFLIX.
2. 
YOUR MOVIES
AND SERIES TO COME ABOUT ACCEPTANCE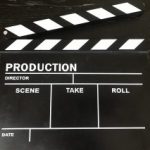 TRAILERS
Voyagers, by Neil Burger, with Lili Rose-Depp, Tye Sheridan
Created by executive producers  Mike Mildon and Jackson Rowe ("Trophy Husbands"), FOR HEAVEN'S SAKE blends comedy and crime documentary formats for a unique take on uncovering the truth.
The series will follow the search for Harold Heaven, who mysteriously disappeared from his remote cabin in Ontario, Canada, in the winter of 1934. Local police searched the nearby woods and dredged the adjacent lake, but Harold was never found nor heard from again.
The case was unceremoniously closed as a likely suicide. 85 years later, his great-great-nephew, Mike, attempts to solve this coldest of cold cases, with the help of his extended family and true-crime-obsessed best friend, Jackson.
New Amsterdam
The daily life of the New Amsterdam Hospital, an underfunded public institution in Manhattan, is turned upside down by the arrival of a new director, Dr. Max Goodwin, who is determined to make a difference.
Created by David Schulner and based on the book Twelve Patients: Life and Death at Bellevue Hospital by Eric Manheimer
The Handmaid 's Tale, Season 4: the famous series adapted from Margaret Atwood 's novel.
And : The Sinner, Season 3: created by Derek Simonds, based on the eponymous novel by Petra Hammesfahr, with Bill Pullman & Jessica Biel
Long Weekend
Romantic comedy-drama film written and directed by Steven Basilone. It stars Finn Wittrock, Zoë Chao, Casey Wilson, Jim Rash, and Damon Wayans Jr.
The Exception, by Jesper W. Nielsen
Sous le ciel d'Alice, by Chloé Mazlo, with Alba Rohrwacher (sister of Alice who did  Lazzaro Felice, awarded Best Script at the Cannes Film Festival in 2018 ), Wajdi Mouawad.
Supernova, by Harry Macqueen, with Stanley Tucci et Colin Firth
The Mauritanian, by Kevin Macdonald (director of Life in a Day on Youtube), with Jodie Foster & Tahar Rahim ( Golden Globes nomination this year).
Land, by Robin Wright
Atlantic Crossing, by Alexander Eik & Janic Heen, with Kyle Maclachlan  &Sofia Helin
Nomadland, by Chloé Zhao
French Exit, by Azazel Jacob, with Michelle Pfeiffer, from Patrick DeWitt's novel.
Judah & The Black Messiah, by Shaka King, with Daniel Kaluuya
Coby & Stephen are in love, by Carlo Narcisse & Luca Yuanyuan Yang
3.

WEEKLY TIPS & OPINIONS
FROM 

PROFESSIONALS
 WRITERS, SCREENWRITERS, DIRECTORS, COMPOSERS…
2021 Zero Draft Thirty March Challenge: Story Prep — Script Diary by Scott Myers 
How To Write Stuff Real Good. Never trust a writing "expert"  by Sara Benincasa 
Adverbs = Bad Writing?. A seemingly innocuous Stephen King…  by Scott Myers 
« ALFRED HITCHCOCK PRESENTS », ENTRE TÉLÉVISION ET CINÉMA, L'INVENTION D'UNE FORME : LECTURE BY  JEAN-FRANÇOIS RAUGER
Sundays with Stephen King. A new series featuring reflections on… by Scott Myers 
4. YOUR WEEKLY PROGRAM
(MOVIES AND SERIES ABOUT ACCEPTANCE)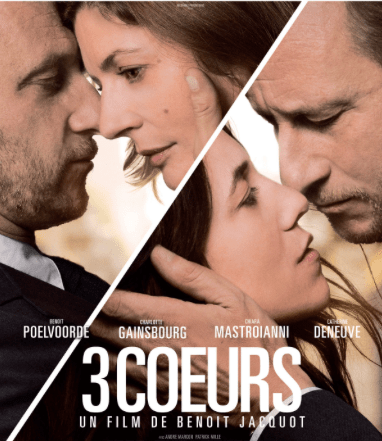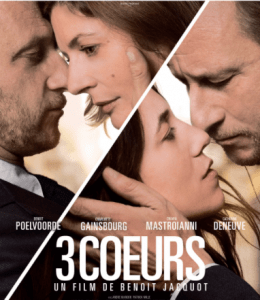 Wednesday 3rd
Arte : Un coeur en hiver by Claude Sautet, followed by Perfect sense
Un coeur en hiver
The heart of Camille (Emmanuelle Béart), a passionate violinist, balances between two violin makers, Maxime (André Dussollier) and Stéphane (Daniel Auteuil)… Claude Sautet delivers a melancholic and restrained film about the confusion of feelings.
Perfect sense
This love story with Eva Green and Ewan McGregor holds up a striking mirror to our present. A film of anticipation directed in 2010 by the British David Mackenzie ("Comancheria").
Thursday 4
France 3 : Interstellar by Christopher Nolan
France 4 : Être et avoir
Friday 5
Arte : Faites l'amour pas la guerre, de Petra Lüschow
Chérie 25 : Trois coeurs de Benoît Jacquot
Saturday 6
Arte : Ethiopie, Le mystère des mégalithes.
Sunday 7
Grandeur et décadence d'une ambitieuse écrivaine à succès dans l'Angleterre postvictorienne… François Ozon adapte le roman d'Elizabeth Taylor dans une fresque cruelle. Avec Romola Garai, Lucy Russell, Michael Fassbender et Charlotte Rampling.
TF1 : Lucy
France 2 : Les Frères Sisters
6Ter: Divergentes
Monday 8
France 5 : Woman
C8 : LOGAN
W9: Indiana Jones et la dernière croisade
Tuesday  9
Arte: Les dessous de la mode à bas prix
Canal+ : Tout simplement noir
France 5 : Inceste que justice soit faite
Wednesday 10
Canal + : La fille au bracelet
5. ON YOUR PLATFORMS
(ACCEPTANCE)
ARTE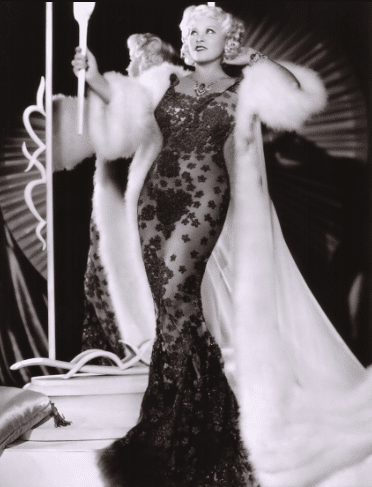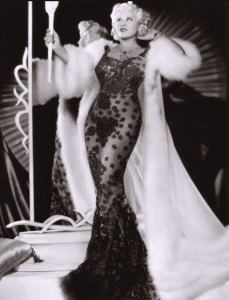 DOCUMENTARY
John Ford-l-homme-qui-inventa-l-amerique/
A woman who was film historian and film critic, and who founded the Cinémathèque française with Henri Langlois in 1936.
ROCKFIELD, LE ROCK'N ROLL EST DANS LE PRÈS,  by Hannah Berryman: the place where all rock'n roll festivals took place.
Mae West-une-star-sulfureuse de Sally Rosenthal et Julia Marchesi
Vincent-Peirani-le-nouveau-souffle-du-jazz
MOVIE 
After the disappearance of a young woman of Kurdish origin, Chief Inspector Caroline Goode leads the investigation. This breathtaking fiction recounts a tragic news story that shook Great Britain in 2006.
By Richard Laxton avec Keeley Hawes (Caroline Goode).
Falafel Sauce Atomique by Dror Shaul
AFTER THE WEDDING, by Susanne Bier with Mads Mikkelsen
SERIES
House of Cards (la première version, anglaise) 
Two strangers who suffer from psychological disorders decide to participate in a pharmaceutical trial to heal their cracks. Unfortunately, the side effects are numerous and things don't go as planned.
La Chaîne Parlementaire
LCP offers you a lot of good documentaries: here
La Cinémathèque Française
All retrospectives are postponed.
On Henri plateform, a cult movie everyday
Your movies and series about
acceptance
to watch

 on 

NETFLIX
(CLICK ON THE LINK TO WATCH THE TRAILER)
Lady Bird, by Greta Gerwig, as from March 3rd.
Call me by your Name, by Luca Guadagnino, as from March 4.
Sky Rojo, three prostitutes on the run. By the creator of  La Casa de Papel, Alex Pina &Esther Martinez Lobato, as from March 19th. 2 seasons of eight episodes.
A week away, musical inspired by Dirty Dancing, directed by Roman White with Bailee Madison, Sherri Shepherd, starting March 26th.
The Irregulars, created by Tom Bidwell, with Harrison Osterfield, on the work of Sir Arthur Conan Doyle, working for Dr. Watson saving London from supernatural element, starting March 26th.
Army of the dead, by Zack Synder, as from May 21st
Shadow and Bone
Created by Eric Heisserer and 21 Laps Entertainment for Netflix and scheduled to premiere on April 23, 2021. It is based on the Grisha trilogy and Leigh Bardugo's Six of Crows duology.
Paper Lives, by Can Ulkay, as from March 12th
Your movies and series about
acceptance
to watch on 

Prime Video
Now:
L'Internat: Las Cumbres, by Laura Belloso
WITHOUT REMORSE, de Stefano Sollima, avec Michael B. Jordan (April 30)
Your movies and series about
acceptance
 to watch on 

Canal+
Tout Simplement Noir, by Jean-Pascal ZADI et Tom Wax, as from March 9
Été 85 , by François Ozon, as from March 16
The Perfect candidate, by Haifaa Al Mansour with Mila Alzahrani.
Le casse-coeur, directed by Peter Facinelli, with Milo Gibson, Jordan Hinson, Adam Huber, Joaquim de Almeida, Justine Wachsberger, James Kyson Lee, Lily Anne Harrison, Cecile Cubilo, Colin Ferguson, John Hinson, Hermann Ludovick Pattein.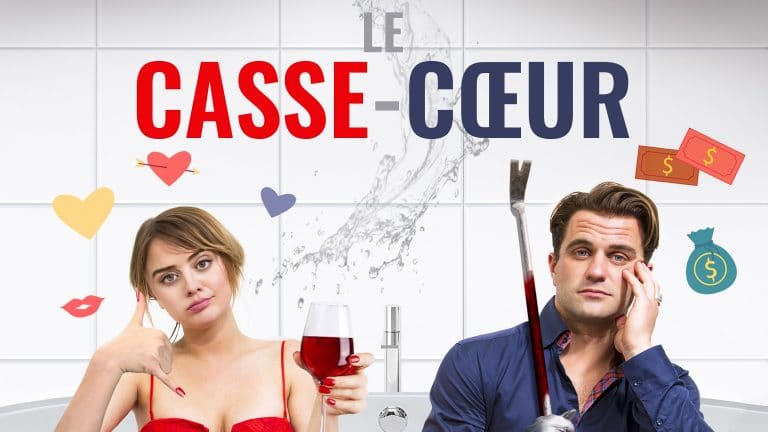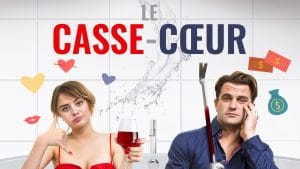 Deux moi  (review on the blog), by Cédric Klapisch
Judy   Judy Garland biopic by Rene Zellweger who won an Oscar, as from February 23rd 
Blackkklansman, by Spike Lee, as from February 28, with John David Washington (Tenet, Malcom & Marie) – Adam Driver (Marriage Story, Star Wars, The Report, The Dead Don't Die…)
Jojo Rabbit, as from March 2nd, by Taika Waititi, with Roman Griffin Davis, Thomasin McKenzie & Scarlett Johansson
Your movies and series about acceptance
 to watch 

on 

Starzplay
The Luminaries, adapted from the eponymous novel by Eleanor Catton with Eva Green
The Attaché, as from March 14, series created by Eli Ben David
Your movies and series about
acceptance
 

to watch on
Apple TV
Cherry, by brothers Russo, with Tom Holland on Apple TV, on March 12th
Billie Ellish
Palmer , by  Fisher Stevens,  Justin Timberlake, Juno Temple, Alisha Wainwirght
The Mosquito Coast, mini série adaptée du roman de Paul Theroux, (et déjà adaptée par Peter Weir, avec Harrison Ford),  dès le 30 avril, de Neil Cross et Tom Bissel, avec Justin Theroux et Mélissa George.
 Velvet Underground documentary this summer, directed by Todd Haynes ( Carol)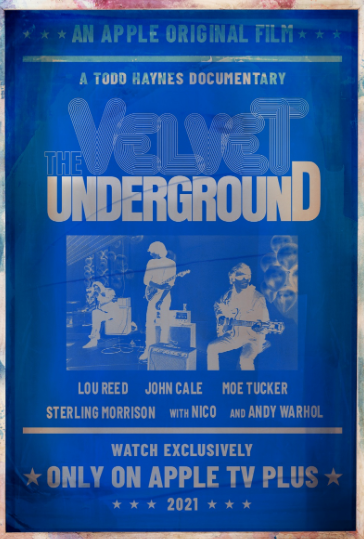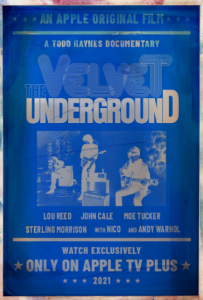 Your m

ovies and series about
acceptance
to watch on
DISNEY+ 
The Mighty Ducks: on ice hockey, created by Steven Brill
Luca 
Big Sky, by David E. Kelley.
Raya & the last dragon (on March 3rd in France)
"Us Again", by Zach Parrish & dance by  Keone & Mari, on March 5th.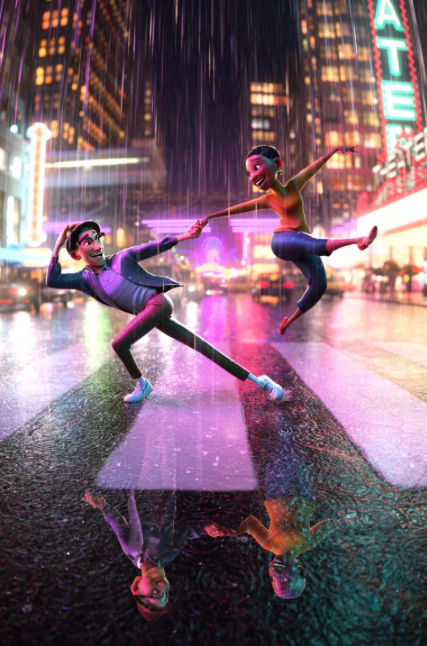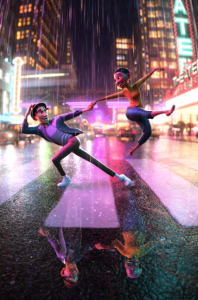 All March movies 
Wandavision
 Created by
Jac Schaeffer
 Matt Shakman &

Kevin Feige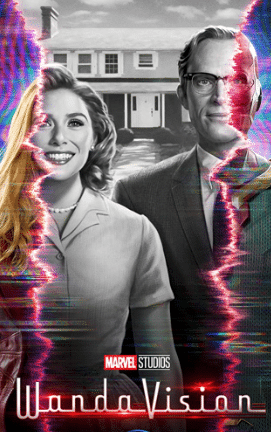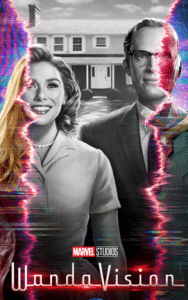 If you have seen Bewitched by Sol Saks with Elizabeth Montgomery and Dick York, and you liked this style of humor then you will love Wandavision.
The story is about a witch, Wanda Maximoff, (red witch in Marvel) married to a man who is none other than a robot superhero, Vision. But of course he changes his appearance when he goes to work.
The sketches are in the same vein of Bewitched  but a mystery hovers in this suburb.The characters evolve in a black and white setting and Wanda perceives color at times.
Funny, this light-hearted series is easy to watch.
Produced by Marvel Studios, we are expecting discoveries in the next episodes (there are 9 in all).
Both actors are sensational.
Currently on Disney+ (9 episodes) – Every Friday at 9. A.M
With Elisabeth Olsen et Paul Bettany
Trailer
To keep on reading : The 2020 ten best movies
Stay safe !
Subscribe to the weekly newsletters to keep up !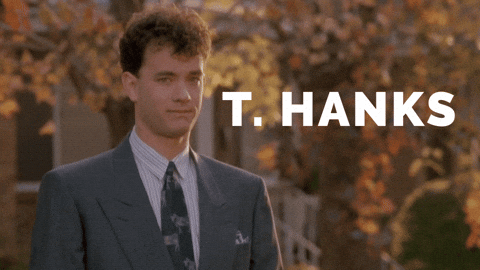 [contact-form to="contact@movieintheair.com" subject="Subscribe to the newsletters"][contact-field label="Subscribe here : Name" type="name"][contact-field label="Email address" type="email"][/contact-form]