As I write, we still don't know the results of the American elections. We hope in Joe Biden's victory in the American elections.
A special American elections special this week, with four films and two series that speak to us about history, freedom of expression, political struggles, universal subjects.
Obviously a tribute to one of the last giants of cinema was obvious, I named Sean Connery, and I have chosen for you a few excerpts from the films he shot throughout his successful career. Here is an actor who knew how to choose his films and play with his image, between James Bond and The Offence, he is unrecognizable.
And a review of Sofia Coppola's latest film, On the Rocks, the Israeli series Tehran and the first episode of The Mandalorian, a spin off from the Star Wars saga.
On the bilingual Movieintheair blog, I do for you a press review every Wednesday and keep the best of national and international audiovisual news.

The news of the week:
The disappearance of Sean Connery, one of the last legends of the cinema.
Samuel Jackson alongside an Israeli director to tell the story of slavery
The odyssey of writing told on Arte
An animated series on De Gaulle every night on Arte
France TV broadcasts movies during the confinement on the platform.
Many films are released in cinemas, new series on your platforms.
So here are the new movies at the cinema, the movies to see in theaters, the new series, the best of your TV programs and all the news of the festivals.
A TRIBUTE TO SEAN CONNERY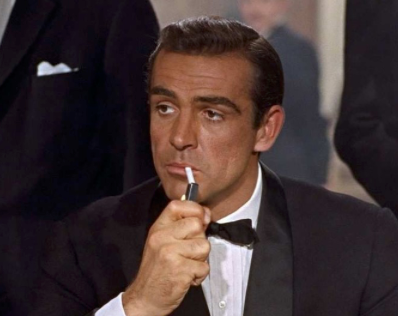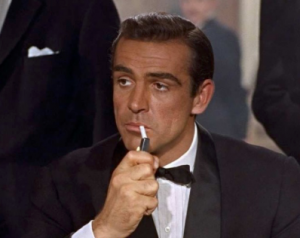 A Scottish actor, a former sportsman, who became the incarnation of glamour, a machismo associated with a certain elegance and a way of speaking and dressing that belonged only to him.
He is also the symbol of a certain era, the Hollywood years, the time of a certain nonchalance, glamorous, nonchalant life, before the acceleration of the rhythms of life in the years to come.
He knew how to choose his films better than anyone else, and he brought to each one of them a je-ne-sais-quoi of assurance and distinction, even in his darkest roles.
One of his last outstanding roles was that of a teacher, in Finding Forrester, a role offered by Gus Van Sant in which, once again, he was wonderful.
Sean Connery least famous film
Cocktail recipe of James Bond, the Vodka Martini
This great interview found in INA footage 
The Hill
Robin and Marian, avec Audrey Hepburn:
IMDB' Tribute (Internet Movie Data Base)
Within his family
A FOCUS ON AMERICAN ELECTIONS
1. CRITIQUES
ALL YOU WANT TO KNOW ABOUT
PRESIDENTIAL AMERICAN ELECTIONS IN THE USA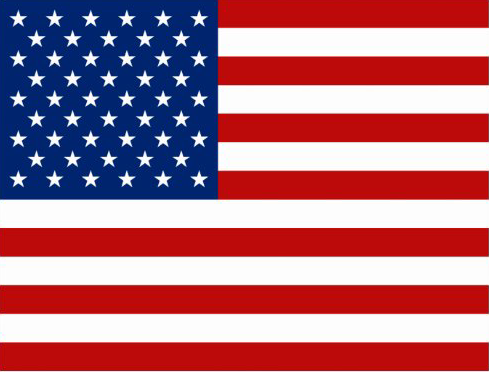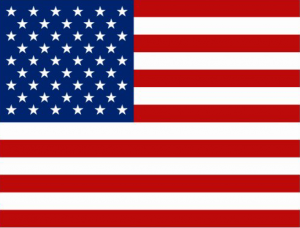 DOCUMENTARY
CNC: movies to watch to understand American elections 
Blow-up, Arte show: : American Presidents in movies
Susan, a series which had forecast Donald Trump 's election.
SERIES ABOUT AMERICAN ELECTIONS
HOUSE OF CARDS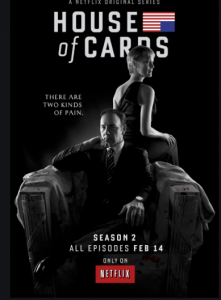 This series created by Beau Willimon dissects American politics via his two heroes, the Underwoods, a couple whose main objective is to gain power in the White House by any means possible.
Played by Kevin Spacey and Robin Wright as Francis and Claire and in a third role, advises him, Douglas Stampler played by Michael Kelly (currently in THE COMEY RULE on CANAL+), HOUSE OF CARDS is a political thriller that cynically and realistically depicts the motivations of men and women in politics when the American elections are at stake.
All are likely to give up one of their values when it comes to power. And love does not resist. And love doesn't exist without ulterior motives.
Talented directors have succeeded one another according to the episodes, including DAVID FINCHER, JODIE FOSTER, ROBIN WRIGHT herself.
The series received 8 nominations at the Golden Globe Awards, where Robin Wright won the award for Best Actress in a TV Drama Series in 2014 and Kevin Spacey for Best Actor in a TV Drama Series the following year.
Initially English, adapted from a novel by Michael Dobbs, the series was so successful that it was adapted in the United States. It won numerous awards and is available on NETFLIX. 
THE COMEY RULE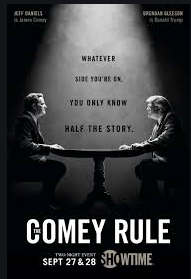 Currently broadcast on CANAL+, THE COMEY RULE recounts the months leading up to the election of Donald Trump as seen through the prism of FBI Director James COMEY, appointed by his predecessor BARAK OBAMA. James Comey must investigate the leak of Hillary Clinton's emails from her personal mailbox and its potential dangerousness.
While the campaign is in full swing, he discovers at the same time the interference of the Russians in the election campaign (interference proven again this year) but cannot yet demonstrate it.
When Donald Trump is elected, he asks the FBI Director to be loyal to him until he is fired because the FBI Director refuses his interference.
Even though we know the outcome of the elections four years ago, the series is exciting.
An impeccable casting and direction
Jeff Daniels is brilliant in the role of James COMEY, constantly tormented between his role as Director of the FBI and his role in the elections (he was once the most hated man in the United States) and Brendan Gleeson, scary in the role of Donald Trump.
Michael Kelly, on the bright side this time, (unlike HOUSE OF CARDS in which he played a henchman ready for anything) is remarkable. He displays an impressive hardness and intransigence and still marks by his presence and charisma.
Also adapted from a book, A Higher Loyalty: Truth, Lies, and Leadership, written by the Director of the FBI himself, THE COMEY RULE is brilliantly directed by Billy Ray. It is frightening in the sense that it is a very credible depiction of Donald Trump's personality and his willingness to control everything, so much so that some people around him think he's crazy.
Conducted in four episodes, The Comey Rule is played by:
Jeff Daniels, Holly Hunter, Brendan Gleeson, Jennifer Ehle, Michael Kenny, Oona Chaplin, Steve Zissis.
AMERICAN ELECTIONS MOVIES
I have selected four movies and two series about American elections:
LINCOLN  by Steven Spielberg, VICE by Adam McKay,  THE TRIAL OF THE CHICAGO 7 by Aaron Sorkin, BORAT, by Jason Woliner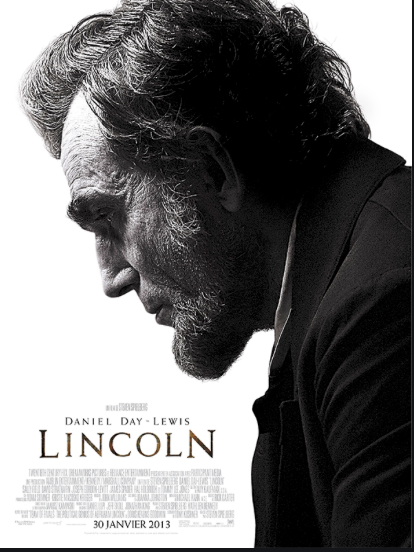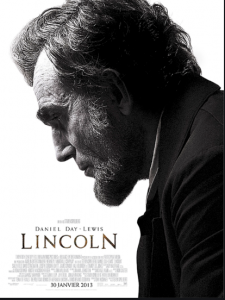 LINCOLN
Steven Spielberg directed LINCOLN in 2012, adapted from Doris Kearns Goodwin novel,  Team of Rivals: The Political Genius of Abraham Lincoln is more topical than ever and reminds us of the history of the United States, a young country with complicated elections.
A 12-time Oscar nominee, played by Daniel Day-Lewis, who received an Oscar for the role, Lincoln tells the story of the last months of the life of Abraham Lincoln, the 16th President of the United States, during the Civil War, as he tries to pass the Thirteenth Amendment to the U.S. Constitution, which calls for the abolition of slavery.
Abraham Lincoln dies in an assassination attempt.
This film is a masterpiece. It shows both a country at war and a man who seeks to build, who struggles for a new world, in the midst of chaos.
The music composed by John Williams is sumptuous.
With also: Sally Field, Tommy Lee Jones,
VICE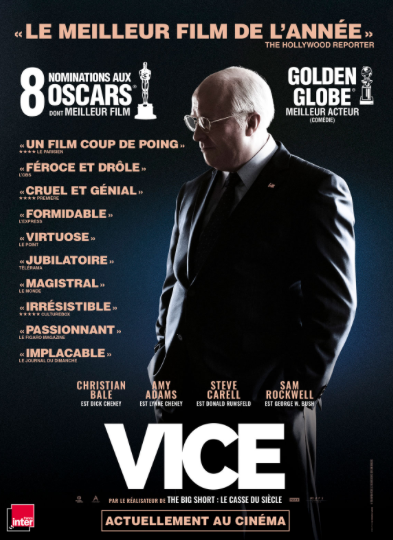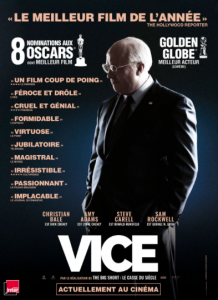 Directed by Adam McKay, Vice tells the story about the rise of Dick Cheney, George Bush's Vice President in power.
It shows how the deputy voted, after the elections, almost full powers in all areas, taking advantage of the legal loopholes of the American system.
Dick Cheney is brilliantly played by Christian Bale, who received a Golden Globe for this part.
Vice is available on CANAL+.
THE TRIAL OF CHICAGO 7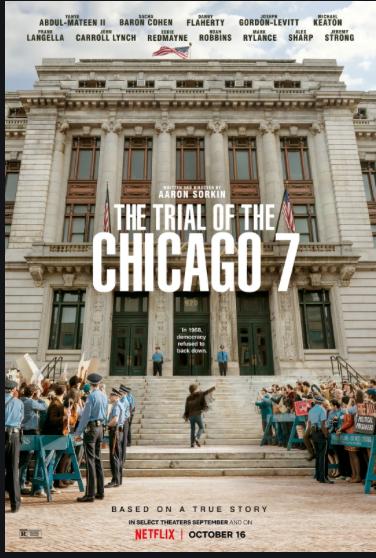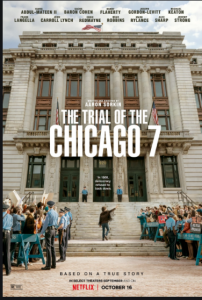 I told you about it a little while ago, The Trial of The Chicago 7, written and directed by Aaron Sorkin, the screenwriter of A Few good men, The Social Network, Molly's Game, made a hard-hitting film about the future and the threats to individual freedoms.
In 1968, the Democratic National Convention was held in Chicago to nominate his candidate for the U.S. presidential election. Demonstrations were organized to protest against the Vietnam War and Lyndon B's policies. Johnson's policies.
One evening, police repression was particularly bloody and in 1969, seven men, nicknamed the "Chicago Seven" were tried and prosecuted by the U.S. government for conspiracy.
These men were Abbie Hoffman, Jerry Rubin, David Dellinger, Tom Hayden, Rennie Davis, John Froines and Lee Weiner. The eighth, Bobby Seale, co-founder of the Black Panthers, is also on trial, but without a lawyer .
To watch on Netflix now. 
With Sacha Baron Cohen,Joseph Gordon-Levitt, Frank Langella, Eddie Redmayne, Mark Rylance, Jeremy Strong, Yahya Abdul-Mateen II, Michael Keaton, William Hurt, John Carroll Lynch & Alex Sharp.
BORAT 2, by  Jason Woliner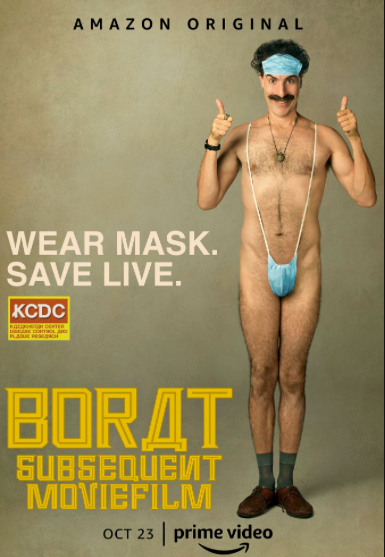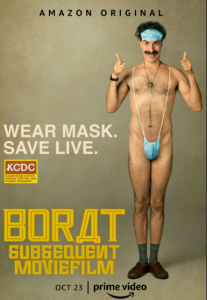 False-parody documentary directed by Jason Woliner , the full title is Borat Subsequent Moviefilm: Delivery of Prodigious Bribe to American Regime for Make Benefit Once Glorious Nation of Kazakhstan.
Sacha Baron Cohen is everywhere. From THE SPY to THE TRIAL OF THE CHICAGO 7, he puts all his energy into defending freedom, even if it means risking his life.
In the sequel to BORAT, (adventure of the fictitious journalist Borat Sagdiyev in the United States) Sacha Baron Cohen must offer a gift (a monkey) to a high dignitary of the American administration, Mike Pence, the Vice President of the United States, to restore the image of his country.
The gift having disappeared (I do not reveal the details), he replaces it by his daughter.
It is about women and power. With the complicity of his so-called daughter, played by Maria Bakalova, he denounces sexual abuse and abuse of power. He also tackles taboo subjects such as rules and feminine pleasure.
The SACHA BARON COHEN style
Sacha Baron Cohen speaks in Hebrew for most of the film. No one has spoken about it, yet it seems to me that it is relevant since everything he does, he does on purpose. With his daughter, and when he speaks of love and freedom, he does so in Hebrew.
At times heavy, vulgar, his words are passed over because he takes, a bit like Michael Moore (in a more serious style), people in flagrante delicto of odious words and deeds, or of lack of reaction in the face of atrocities.
Sacha Baron Cohen denounces the negationist statements on Facebook, the fake news related to COVID and the conspiracy theories.
One scene is really terrifying when he infiltrates an extreme right-wing community and stays several days with two of them, lost in the middle of nowhere, and these men are convinced that democrats drink the blood of babies.
He has thus trapped the former Mayor of New York, Rudy Giuliani as he prepares to sleep with Tutar, the fifteen-year-old girl who is the co-hero of the film.
In the midst of the American elections, his film is a cry of alarm against the reigning stupidity.
To be seen on Amazon Prime right now.
2. YOUR  MOVIES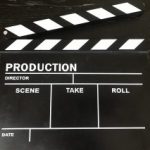 I will come back to you with movie news when movie theaters will be opened again.
Meanwhile, a trailer of Stardust, David Bowie' biopic:
3.

GOOD TIPS FROM MOVIE 

PROFESSIONALS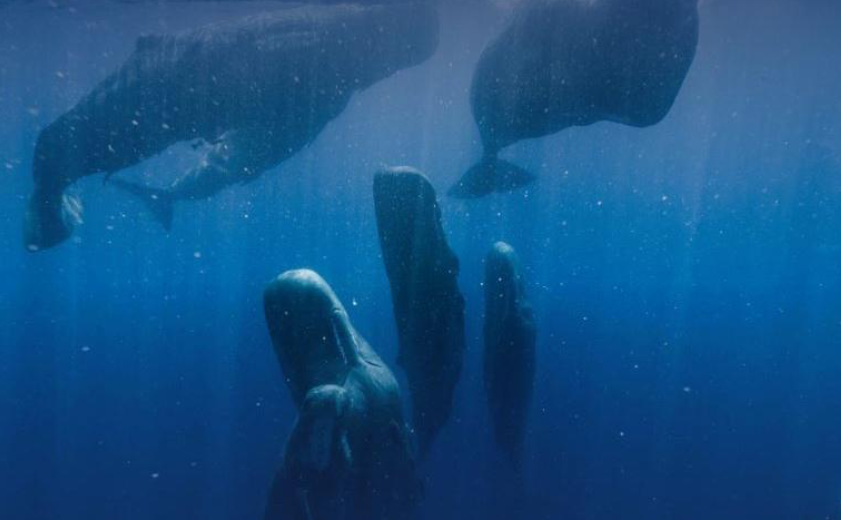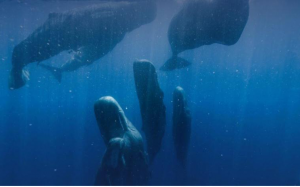 Diving in a documentary about sperm whale (INTERVIEW by CNC)
The story of a trailer creator
How James Brown Helped Introduce Chadwick Boseman to Black Panther 
10 Books That Will Make You a Better Writer | by Shaunta Grimes 
Is My Screenplay Big Enough to Be a Movie? | by Scott Myers 
Dumb Little Writing Tricks That Work: Adopt a Different Writing Persona | by Scott Myers 
4. 

YOUR EVENING TV PROGRAM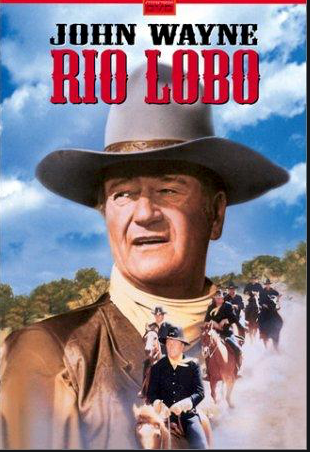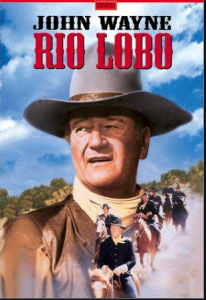 On France.tv, we can see the first movies of fourteen directors who are famous today: Bruno Podalydès, Valérie Donzelli, Xavier Dolan, and Alice Winocour, Vincent Mariette…
To remember : as from November 16th at 9PM, on France 2, Bodyguard, Netflix series created by Jed Mercurio, with Richard Madden (Game Of Throne) et Keeley Hawes. Directed by John Strickland & Thomas Vincent: a must-see series.
Wednesday 4
France 2: Dix pour cent (Sigourney)
Arte : Ava suivi de Toni Morrison et les fantômes de l'Amérique
France 4 : Microcosmos
6Ter : Mr & Mrs Smith:  when Brad Pitt and Angelina Jolie fall in love.
TFX: Game Night
Thursday 5
France 3 : Les sept mercenaires
TMC: Split
TF1 Series : Bad Boys
Chérie 25 : Le Prestige
Arte: Géométrie de la mort: like every Thursday, a thriller series on Arte.
Friday 6
Arte : The Bookshop:
Canal + : Knives out : a must see movie
Saturday 7
Arte : Sauveurs d'espèces: un espoir pour notre planète
Sunday 8

Arte : Rio Lobo
TFX: Polisse
TF1 Series : O'Brother
Monday 9
Arte: Transit, by Christian Petzold, director of awarded Ondine
France 2: une série sur De Gaulle
TMC: Star Wars – L'attaque des Clones
C8: Rambo
France 5 : La Reine Margot
Tuesday 10
Arte: Nous, otages des SS de Christian Fey
C8: Wolverine
France 4 : Les Minions
Wednesday 11
Arte: La Prière de Cédric Kahn
France 2: Dix pour cent
Ushuaia tv programme as from November 10
5. PLATFORMS
Arte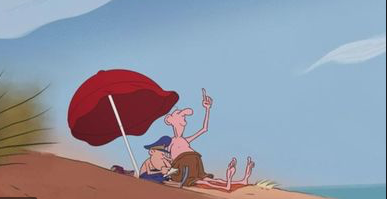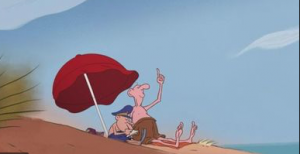 Documentary
De Gaulle, un géant aux pieds d'argile
Les artistes et les élections américaines 
Trump – Biden: quel président pour l'Amérique ?
Le jeu de cartes de David Bowie
Animation
La fête de l'animation en ligne !
Série animation sur De Gaulle à la plage 
Music
Film
Lazzaro Felice, primé à Cannes pour le meilleur scénario.
La Chaîne Parlementaire
LCP offers you a lot of good documentaries: here
La Cinémathèque Française
All retrospectives are postponed.
On Henri plateform, a cult movie everyday
Movies and series to watch 
on

NETFLIX
Many movies with Jean-Paul Belmondo will be on line as from November 1st, and I love very much one of them directed by Claude Lelouch:
Un homme qui me plaît 
Now:
Move, by Thierry Demaizière & Alban Teurlai
Bronx, by Olivier Marchal, as from Friday
The Crown, seaon 4, as from November 15th, by Peter Morgan
Live by Night, de Ben Affleck, as from November 18th
Much Loved, by Nabil Ayouch, the story of four prostitutes in the Morrocan society
As from December 1st
The Midnight sky, by and with George Clooney & Felicity Jones
The Prom, by Ryan Murphy, avec Meryl Streep & Nicole Kidman, as from December 11th
Mank, by David Fincher, as from December 4th
Ma Rainey's Black Bottom , as from December 18th,  last movie played by Chadwick Boseman, produced by Denzel Washington
On December 25th
Les Chroniques de Bridgerton, created by Chris Van Dusen and produced by Shonda Rhimes.
Adapted from Julia Quinn novels, which followed the lifestyles of London's high society.
A young woman, Daphne, played by Phoebe Dynevor (seen in Snatch) must find a husband. A woman then spreads slander on the young girl, attracted by the only hardened bachelor in London, the Duke of Hasting, played by Regé-Jean Page (seen in the mini-series Roots and ABC for the people).
With:
Julie Andrews pour la voix de Lady Whistledown, Golda Rosheuvel, Jonathan Bailey, Luke Newton, Luke Thompson, Claudia Jessie, Nicola Coughlan, Ruby Barker, Sabrina Bartlett, Ruth Gemmell, Adjoa Andoh, Polly Walker, Bessie Carter et Harriet Cains.
Films, series & documentaries
on  
Prime Video
Borat 2
A nice romance :
Films star don't die in Liverpool, by Paul Mc Guigan, with  Annette Bening, Jamie Bell, Vanessa Redgrave
Movies & series 
by 
Canal+
Now:
Another series about American elections:
The West Wing, about the White House, created by Aaron Sorkin (who has directed The Trial of the 7 of Chicago)
Dark Waters, by Todd Haynes, with Mark Ruffalo and Ann Hathaway
Et si Les femmes comptaient à Hollywood, by Tom Donahue & produced by Geena Davis
Knives out, by Rian Johnson, as from November 6th
As from November 2nd, Possessions, French & Israeli production, created by  Shachar Magen & directed by Thomas Vincent. I saw the first two episodes, which are intriguing.
Movies and series to watch 
on Apple TV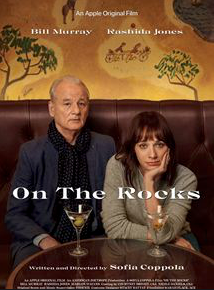 On the rocks, by Sofia Coppola, with Bill Murray, Rashida Jones & Marlan Wayans
Director of photography : Philippe Le Sourd (worked with Wong Kar Waï and Ridley Scott)
Chet Baker's voice opens this bittersweet comedy.
A young woman, Laura, played by Rashida Jones, a mother of two young children, juggles between writing her novel and an overfilled daily life. The repeated absences and the distant attitude of her husband worry her. Her father, Felix, played by Bill Murray, then offers to help her…
Beautifully filmed, the story takes its time, as Sofia Coppola's films often do (and those of her father Francis Ford Coppola as well). The places and the cars are sublime. The director tells the omnipresence of a father when she is an adult but who was absent in her childhood (is it autobiographical?).
Rashida Jones and Bill Murray
She said she chose Rashida Jones because she knows what it's like to walk into a room and be non-existent because her father is there. Indeed, Rashida Jones' father is none other than Quincy Jones (music producer, living legend, by the way a very good documentary to see about him is on Netflix).
The most beautiful places in New York are shown and we sometimes think of Woody Allen, also by the tone of the story. We discover the restaurant, the Club 21  (former Speakeasy of prohibition) and the table (30) where Humphrey Bogart proposed to Lauren Bacall …
Bill Murray plays, as usual, with a certain phlegm and that half sad half amused smile. In this film, he plays an old seducer still full of preconceived ideas about monogamy, men and women. But he is adorable, funny, takes care of his daughter and is willingly forgiven for his linguistic shortcomings.
Rashida Jones is perfect in the role of Laura, a character entangled in her daily life as a mother, writer and model daughter. The question that arises is: is it possible to get out of it?
I advise you to watch this film right now on the platform.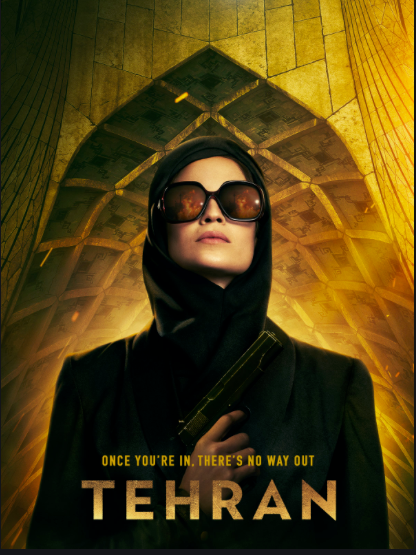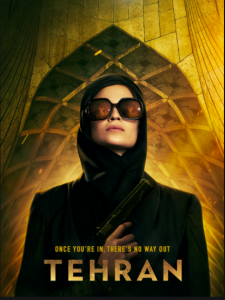 Tehran
Tehran, by FAUDA 's screenwriter, Moshe Zonder.
Like The Operative , a film directed by Yuval Adler, the Israeli series created by Moshe Zonder and Omri Shenhar, is marked by the realism and credibility of the situations encountered by Tamar, the Mossad spy based in Tehran.
The pitch
Tamar grew up in Iran but had to leave her country when Khomeini arrived in 1979.
We see Mossad in action, ready to do anything to counter Iran's nuclear programme. But the Iranian and Israeli characters are endearing. The themes of exile and love of Israel are at the center of the Tehran series, as is often the case in Israeli series that show us a nuanced world.
Directed by Daniel Syrkin, the eight episodes, set against the backdrop of the Israeli-Iranian conflict, follow one another at a hectic pace (like the series FAUDA, written by Moshe Zonder), and we can't wait to see what happens next.
Wolfwalkers, by Tomm Moore & Ross Stewart, as from December 16th
Movies and series to watch 
on Disney+
Raya and the last dragon. Date of release not given yet.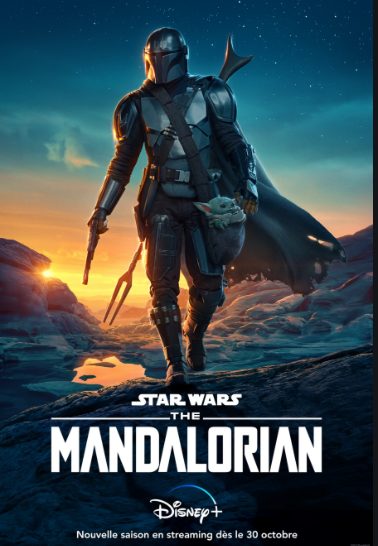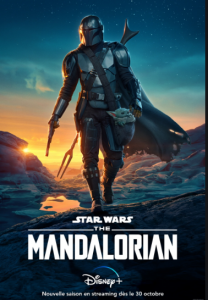 The Mandalorian, season 2
Jon Favreau succeeds once again in his bet. From the very first episode, he draws us into this very special universe that he was able to create on the fringe of Star Wars.
This time, we follow The Mandalorian in his journey to find the people of Baby Yoda.
On the planet Tatouine, in a futuristic western setting, he meets a man wearing the same armor as him, Cobb Vanth, played by Timothy Olyphant (seen in Once upon a Time in Hollywood, Snowden, the series Damages and Deadwood).
Christmas
Soul, by Pete Docter et Kemp Powers with Jamie Foxx, Tina Fey 's voices
6. AUDIOVISUAL 

NEWS 
The Israeli Film Festival in Paris will take place from November 25th till November 29th on line on La Vingt-cinquième heure platform.
Stay safe !