What films to watch as from November  30th
Films as from November 30th
New trailer
1923, Taylor Sheridan, with Harrison Ford & Helen Mirren.
Babylon, by Damien Chazelle, with Brad Pitt & Margot Robbie.
Inside, by Vasilis Katsoupis with Willem Dafoe
CHRISTMAS MOVIES!
NETFLIX
The Claus Family 2, now 
Falling for Christmas on November 10th
Christmas with you, on November 17th
The Noel Diary, on November 24th
Scrooge, a Christmas Carol,on December 2nd
Pinocchio, by Guillermo del Toro & Mark Gustafson, on December 9th
Emily in Paris season 3, on December 21st
Mathilda, the musical, Matthew Warchus, on December 25th.
APPLE TV
Spirited on November 18th, directed by  Sean Anders & written by Anders & John Morris. This is a modern adaptation of A Christmas Carol by Charles Dickens written in 1843.
DISNEY PLUS
The Santa Clauses, on November 16th
The Guardians of the Galaxy Holiday Special on November 25th
Disenchanted 2, by Adam Shankman, on November 18th
In Movie theaters
I wanna dance with somebody, by Kasi Lemmons, written by Anthony McCarten. With Naomi Ackie, Stanley Tucci, Ashton Sanders, Tamara Tunie, Nafessa Williams et Clarke Peters.
23 décembre,  on November 25
Violent Night, on December 2nd
Vivre, by Oliver Hermanus, on December 28, by author of The Remains of the Day & adapted from Akira Kurosawa's masterpiece.
With Bill NIGHY
.
The best movies since January 2022:
As Bestas, Rodrigo Sorogoyen (review below)
La nuit du 12, Dominik Moll (review below)
Holy Spider, Ali Abbasi (review below)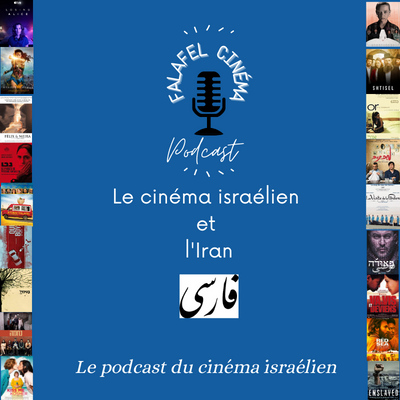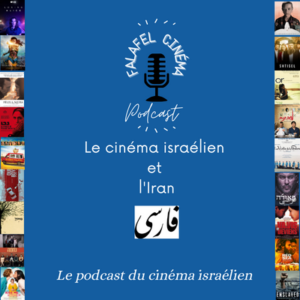 ALL YOU WANT TO KNOW ABOUT  FILMS & SERIES IN THEATERS & AT HOME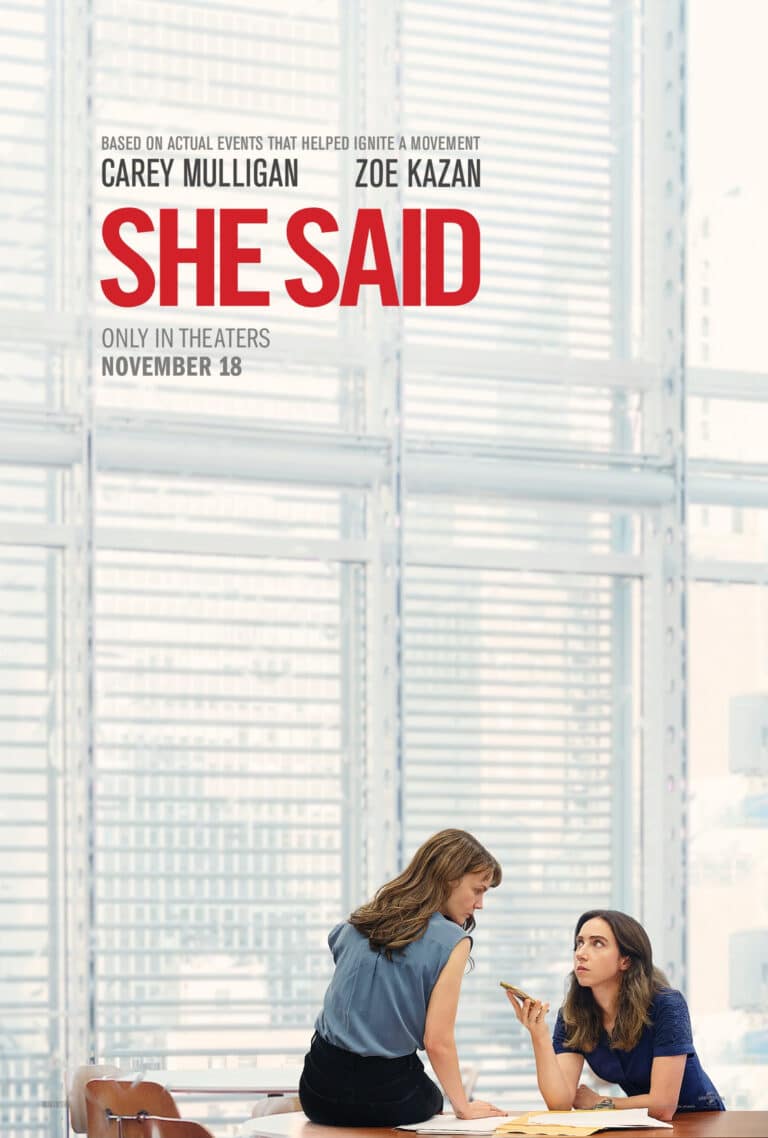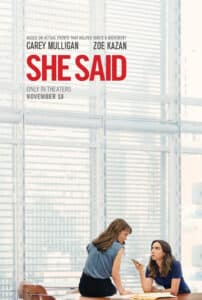 She said, Maria Schrader
With Carrey Mulligan, Zoe Kazan
Synopsis
New York Times reporters Megan Twohey and Jodi Kantor publish a report that exposes allegations of sexual abuse against powerful Hollywood producer Harvey Weinstein. The shocking story also serves as a launching pad for the #MeToo movement, breaking decades of silence around the topic of sexual assault and harassment.
These journalists changed the face of the world
Directed by Maria Schrader (the director of the very good series Unorthodox, on Netflix, with Shira Haas), She Said is written by Rebecca Lenkiewicz who received an Oscar nomination for the very beautiful film Ida by Pawel Pawlikowski. 
So this film started with assets.
From the very beginning of the film, the camera focuses on the women, all the women from all social categories and from all over the world, who walk in the streets of New York.
And that is the strength of She Said. Beyond the Weinstein Affair, director Maria Schrader films their busy lives between children and work, and their relationship to motherhood.
Unlike a "Wikipedia" film, She Said shows us the inner workings of journalism and the credit that goes to these fighting journalists, who did everything they could to see their investigation through to the end, and overcame all obstacles.
The film begins with Donald Trump being accused of rape by several women, an accusation that would not prevent him from being elected. Then the journalists hear about sexual harassment in Hollywood. Everyone knew and it is a whole system, led by men, which protects him.
Their investigation will lead to much more since laws have been put in place everywhere to protect women from this kind of behavior even if there is still a lot to do, these journalists have really contributed to change the world and its vision.
Exciting until the end, which we know, carried by two great actresses, Carey Mulligan and Zoe Kazan (Elia Kazan's granddaughter no less).
IN THEATERS NOW – GO FOR IT!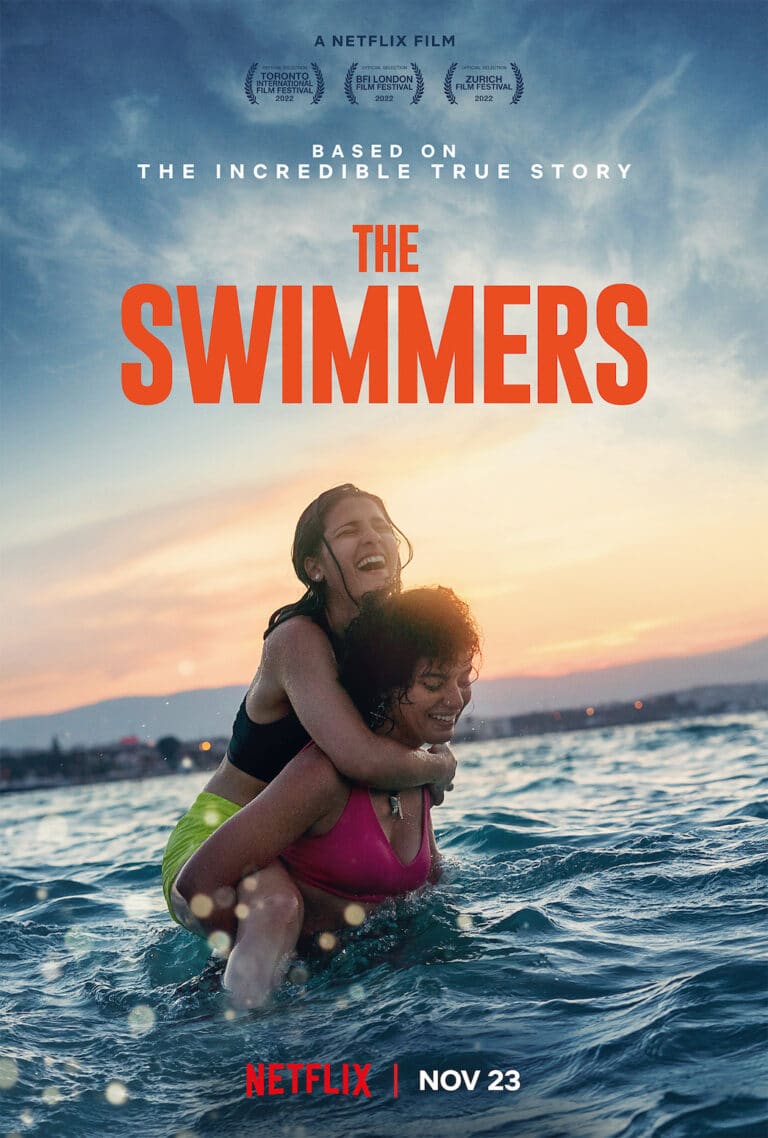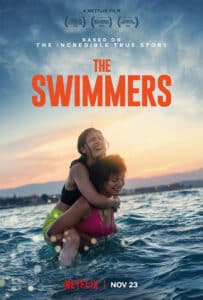 The Swimmers, de Sally El-Hosaini
Synopsis
Two sister swimmers, Yusra and Sarah Mardini, left their home in war-torn Syria for a new life in Europe and the chance to compete in the 2016 Summer Olympics.
Based on a true story
The war in Syria seemed far away at times, but for sisters Yusra and Sarah Mardini, it changed their lives.
Professional swimmers in their country before the war, on their way to the Olympics, they are forced to leave. This is the fate of the migrants we see every day from the comfort of our living room.
The Mardini sisters fled by sea, suffered all the horrors of wandering on the roads of Europe to get out.
This very strong film plunges us into the daily reality of people who flee for their survival. But not only that, at the heart of this story, there is swimming, a strong symbol that will save them.
The Swimmers is written by Sally El-Hosaini from a script she co-wrote with Jack Thorne (Enola Holmes series).
The film stars real-life sisters Nathalie Issa and Manal Issa, played beautifully by the Mardini sisters, Ahmed Malek, Matthias Schweighöfer, Ali Suliman, Kinda Alloush, James Krishna Floyd and Elmi Rashid Elmi.
Today Sarah Mardini is accused by Greece of espionage, aiding illegal immigration and belonging to a criminal organization because she was helping migrants.
Her sister Yusra, a professional swimmer and ambassador to UNESCO, has published an autobiographical account of her journey, called Butterfly.
Beautiful!
ON NETFLIX RIGHT NOW.
SUR NETFLIX EN CE MOMENT.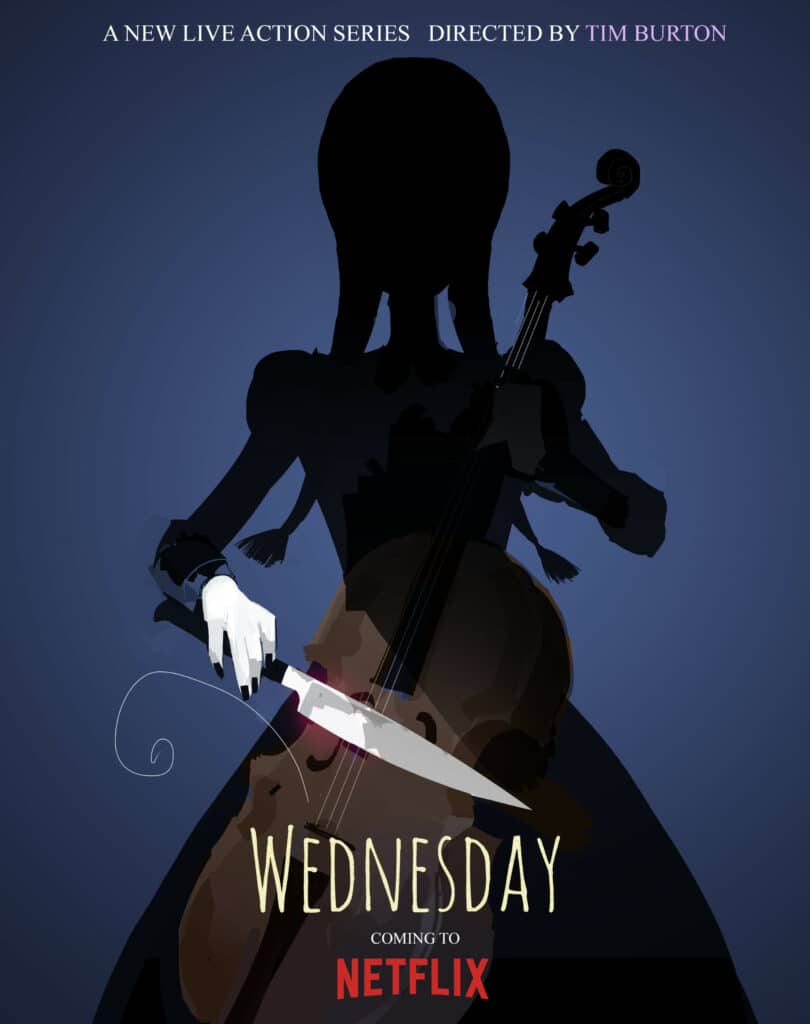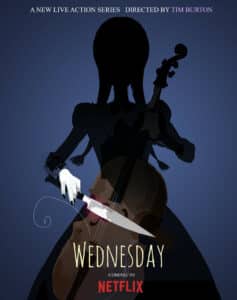 Wednesday Adams, Tim Burton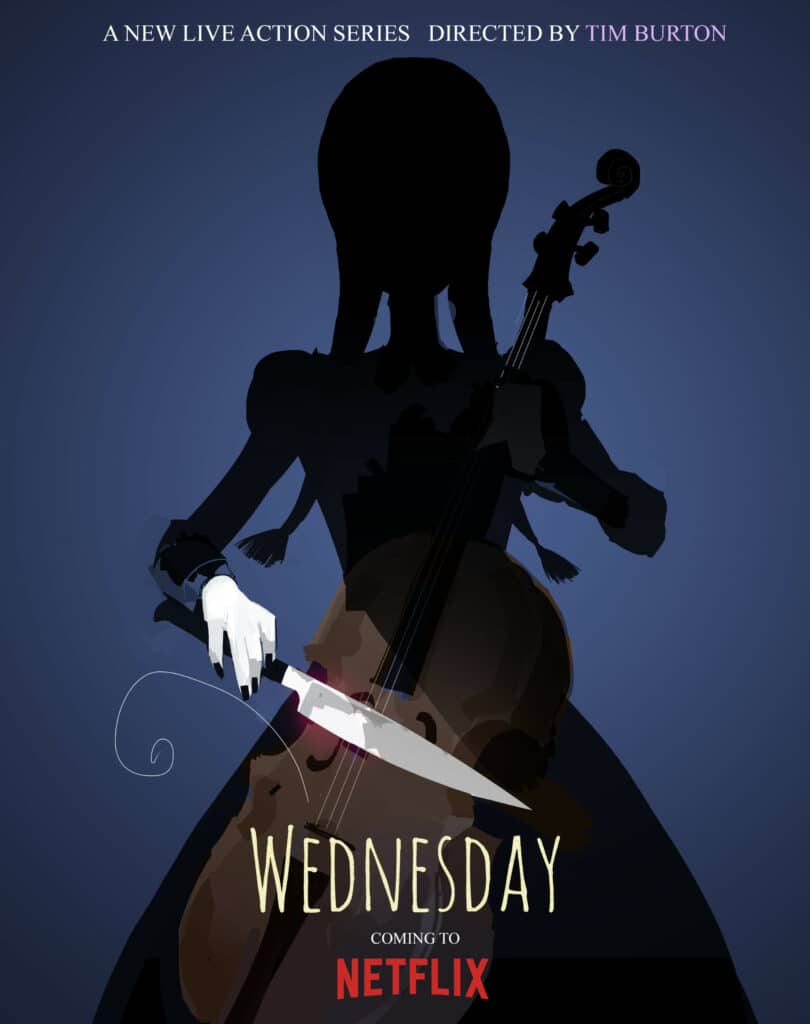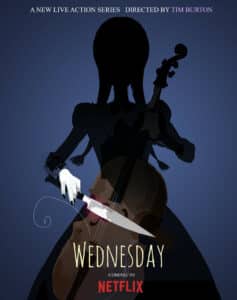 Wednesday Adams, Tim Burton
Synopsis
Now a student at the unique Nevermore Academy, Wednesday Addams tries to fit in with the other students while investigating a series of murders that are terrorizing the town.
..
The series
Branded as Tim Burton's latest series, Wednesday has generated more views than the 4th season of Stranger Things.
Like other series for a so-called "teenage" audience, Wednesday deals with many themes, sexual orientation, difference, marginality, loneliness and rites of passage. These elements are very important in the work of Tim Burton, who confessed to have spent a large part of his life misunderstood.
The character of Wednesday Addams looks like him of course. But she, played wonderfully by Jenna Ortega, (who for the casting did not blink, something that was asked throughout the shooting, I close the parenthesis) does not care about the look of others and takes everything against the grain and that's what we love in the series. We are always surprised by her lines.
Another theme, the writing. Tim Burton worships the imagination and has always allowed it to be free. Wednesday too. She writes every day, at a fixed time and this temporality reminds me of the wise advice given by Stephen King in his book Writing.
But there are also adults, stupid, racist, tormented, bitter or in love, Wednesday's speech is merciless towards them (and I'm not even talking about the shrinks!).
Tim Burton is also a big kid and that's how he still manages to fascinate us today and stay in the air of time.
Dreams and nightmares, that's what it's all about.
MORE INFORMATION
Created by Alfred Gough and Miles Millar, based on the work of Charles Addams. Directed by Tim Burton (episodes 1 to 4), Gandja Monteiro (episodes 5 and 6), James Marshall (episodes 7 and 8)
Jenna Ortega (Wednesday) began her career at the age of eight and became known as one of the four actresses to play Jane Villanueva as a child in the series Jane the Virgin.
Also starring: Gwendoline Christie, Catherine Zeta-Jones, Percy Hynes White, Luiz Guzman, Emma Myers, Riki Lindhome, Joy Sunday, Hunter Doohan, Christina Ricci (a tribute because she played Wednesday in Barry Sonnenfeld's 1991 film The Addams Family).
ON NETFLIX RIGHT NOW. Go for it! 8 episodes.
FILMS TO WATCH IN YOUR MOVIE THEATERS AS FROM NOVEMBER 30th
This week:
Annie Colère,  Blandine Lenoir
With Laure Calamy, Zita Hanrot, India Hair
February 1974. Because she finds herself accidentally pregnant, Annie, a worker and mother of two children, meets the MLAC – Movement for the Freedom of Abortion and Contraception – which practices illegal abortions in the eyes of all.
Le Torrent, Anne Le Ny
With José Garcia, André Dussollier, Capucine Valmary
When Alexandre discovers that his young wife, Juliette, is cheating on him, a violent argument breaks out. Juliette runs away in the night and falls to her death. The next day, torrential rains wash away her body…
Le Lycéen, Christophe Honoré
With Paul Kircher, Juliette Binoche, Vincent Lacoste
Lucas is 17 years old when his adolescence suddenly shatters. With the help of his brother, who has gone to Paris, and his mother, with whom he now lives alone, he must fight to learn to hope and love again.
Mes rendez-vous avec Leo, Sophie Hyde
With Emma Thompson, Daryl McCormack, Les Mabaleka
Nancy Stokes, a retired school teacher, has lived a wise and unexciting life. After the death of her husband, she is seized by an unbearable desire for adventure. She then offers herself the services of a young escort boy, Leo Grande.
She Will, Charlotte Colbert
With Alice Krige, Kota Eberhardt, Malcolm McDowell
Veronica goes to recover in the Scottish countryside with her young nurse, Desi, after undergoing a double mastectomy. The two women develop a special bond as mysterious forces cause Veronica to question her past traumas and how to avenge them.
Révolution SIDA, Frédéric Chaudier
What does AIDS mean today? The new pandemics remind us how AIDS was a turning point. AIDS Revolution takes an uncompromising look at what this disease has caused and is still inflicting, from South Africa to China, from Russia to Thailand.
Violent Night, Tommy Wirkola
With David Harbour, John Leguizamo, Alex Hassell
On Christmas Eve, when a group of mercenaries break into a wealthy family's home and take them hostage, they face an unexpected adversary: Santa Claus is in the house and he's going to show them that good old St. Nicholas has more than one trick up his sleeve.
Cow,  Andrea Arnold
COW invites us to take another look at cows, to get closer to them, to contemplate their beauty but also the reality of their life. Unvarnished. This is the story of a reality, that of a dairy cow, and a tribute to the immense service she renders us.
Days,  Tsai Ming-liang
With Lee Kang-sheng, Anong Houngheuangsy
Overwhelmed by illness and treatments, Kang wanders the streets of Bangkok to stave off his loneliness. He meets Non who, in exchange for money, gives him massages and comfort. Tsai Ming-liang's latest masterpiece patiently allows all that is called love to creep in, giving rise to an emotion of unpredictable intensity.
Museum,  Yonathan Levy
During a visit to the Auschwitz-Birkenau museum, anonymous visitors discover the atrocities of the crimes and abuses that took place within these walls.
Neil Young: Harvest Time, on December 1st in theaters, directe by Neil Young
Created in 1971, this docu-film takes us on an intimate journey into the heart of the Harvest album, with never-before-seen scenes from shows, recordings and rehearsals.
Movies to come (and we are looking forward to it):
The Last of Us, Craig Mazin & Neil Druckmann
Swing rendez-vous, by Gérome Barry
The Idol 
Created by Abel "the Weeknd" Tesfaye, Reza Fahim, and Sam Levinson for HBO.
Houria, Mounia Meddour
The patient official, Joel Fields and Joe Weisberg
God's creature, Saela Davis & Anna Rose Holmer , with Emily Watson, Paul Mescal, & Aisling Franciosi
The Son, Florion Zeller
WEEKLY TIPS & OPINIONS ABOUT MOVIES 
BY  MOVIE DIRECTORS,  WRITERS, SCREENWRITERS, DIRECTORS, COMPOSERS…
Reader Question: Where do you go for inspiration when the words just aren't coming?  by Scott Myers
How to Handle Blocks of Scene Description by Scott Myers
TV PROGRAM AS FROM NOVEMBER 30th
Mercredi – Wednesday
France 3 : Les Invisibles
Arte : Pour une femme
TMC : Contagion
Jeudi – Thursday
Canal Plus : Rogue Heroes
Arte : Life (series)
Friday – Vendredi
Canal Plus : Ambulance
France 5 : Philadelphia
Sunday – Dimanche
Arte : Les trois jours du Condor
Monday – Lundi
Canal Plus : This England
Arte : The Duchess
M6 : Pretty Woman
Wednesday – Mercredi
TF1 : Titanic
Arte : Le patient anglais
5. 

BEST DOCUMENTARIES, FILMS & SERIES AS FROM NOVEMBER 30th ON ARTE
In the 80's, the beginnings of French hip-hop are told through the birth of the group NTM, the career of the dancer and graffiti artist Lady V and the DJ Dee Nasty. A social and musical chronicle, the choral series "The World of Tomorrow" follows endearing characters, pioneers of a cultural revolution. Directed by Katell Quillévéré and Hélier Cisterne.
Black Far West – A counter-history of the West
Who knows today that the first cowboys were black? With the help of magnificent archives and historians' testimonies, Cécile Denjean restores the original place of African-Americans in the story of the conquest of the West.
FILMS FROM NOVEMBER 30th
The red tent
With an international cast (Sean Connery, Peter Finch, Claudia Cardinale…) and a powerful lyricism, the Soviet director of "When the storks go by", Mikhaïl Kalatozov, reconstitutes the tragic polar expedition led by the Italian Umberto Nobile in 1928.
ChainedLove Trilogy
Accused of sexually assaulting a minor, Rashi loses his footing as he watches his professional life and his relationship slip away… The first part of the "Love Trilogy" by Israeli director Yaron Shani, which also includes "Beloved" and "Stripped", is a shockingly realistic film.
The Wild Goose Lake
A gangster in search of redemption, target of a manhunt, crosses the path of a prostitute with uncertain intentions… By Chinese director Diao Yinan ("Black Coal"), a sumptuous film noir with virtuoso direction, between homage to the classics, violence and contemplation.
Series as from November 30th
Pure, by Kirstie Swain with Charly Clive (Marnie), Joe Cole (Charlie). 
A young woman of ordinary appearance, Marnie suffers from an obsessive-compulsive disorder called "Pure O" which spoils her life: in any circumstances – at the doctor's, in the subway, at the office – her brain is assailed by uncontrollable sexual thoughts. A funny and daring English series, carried by young actors, all excellent.
Winter Spirit, Cyril Mennegun
Having just finished her novel, Nathalie feels a mysterious presence in the house.
Gradually, she is haunted by the impression that when her daughter was adopted, something followed her home. The mini-series "Spirit of Winter" is adapted from the novel by Laura Kasischke and stars Audrey Fleurot.
Best series & films as from November 30th 

on 

Netflix
Troll,  Roar Uthaug, on December 1st
L'Amant de Lady Chatterley, Laure de Clermont-Tonnerre, on December 2nd
With Emma Corrin, Jack O'Connell, Matthew Duckett, Joely Richardson, Ella Hunt, Faye Marsay, Nicholas Bishop
Glass Onion, Rian Johnson, on December 23rd.
White Noise, Noah Baumbach. Adapted from novel by Don DeLillo with Adam Driver & Greta Gerwig, on December 30th.
Stranger Things 5
Best series & films as from November 30th 

on 
Prime Video
Three Pines, on December 2nd with Alfred Molina
Best series & films as from November 30th 

on Canal+
355, as from November 25, by Simon Kinberg
This England, The Boris Johnson Years is a TV series by Michael Winterbottom starring Kenneth Branagh (Boris Johnson), Ophelia Lovibond (Carrie Symonds). Starting November 28.
Madeleine Collins, on November 29, by Antoine Barraud
SAS : ROGUE HEROES, de Steven Knight, dès le 1er décembre
Best series & films as from November 30th 

on Apple TV
Spirited, now, directed by Sean Anders, adaptation from A Christmas Carol by Charles Dickens published in 1843.
Echo 3, (series) by Mark Boal, on November 23rd with Luke Evans & Michiel Huisman
Best series & films as from 

November 30th 

on Disney Plus
Avalonia, by Don Hall & Qui Nguyen, on November 23rd
Chippendale, by Robert Siegel, on January 11th, 2023
Willow, Jonathan Kasdan & Wendy Mericle, on November 30th.
The Mandalorian, saison 3 (2023)
The Little Mermaid 2, Rob Marshall, forecast on May 2023.
Best series & films as from November 30th on

 

Lionsgate
Dangerous Liaisons, Harriet Warner ;Alice Englert, Nicholas Denton, Lesley Manville, now.
CHRISTMAS UNDER WRAPS– CURRENTLY AVAILABLE
A brilliant intern, Lauren has applied to be a surgeon at a prestigious Boston hospital. When her application is rejected, she is forced to move to a small town in Alaska, where the inhabitants live in seclusion and haven't seen a doctor in a year. Lauren falls in love with Andy, whose father bears a striking resemblance to Santa Claus. Frank owns a reindeer, elves run around his yard and he runs a mysterious transportation company…
With : Candace Cameron Bure, David O'Donnell, Robert Pine.
KRAMPUS– CURRENTLY AVAILABLE
When Max sees his less-than-ideal family fighting in the run-up to Christmas, the boy decides to ignore the celebration, not realizing that this breach of tradition will provoke the wrath of Krampus, an ancestral demon hell-bent on punishing those who do not. The situation goes to hell when the Christmas figures come monstrously to life, storming Max's house and forcing his family to help each other if they hope to save their lives.
Starring: Toni Collette, Adam Scott, David Koechner…