What films to watch as from November 2nd
Films as from November 2nd.
Your news as from November 2nd
Poker face, created by Rian Johnson with Natasha Lyonne, Adrien Brody, Joseph Gordon-Levitt, Rian Johnson Series, to be released in January 2023.
Avatar la voie de l'eau, by James Cameron, as of December 14.
"Où que nous allions, cette famille sera notre forteresse."
On January 13th, A man called Otto by Marc Forster (Finding Neverland).
A Man Called Otto stars Tom Hanks (Philadelphia, Forrest Gump, Cast Away), Mariana Treviño (Club the Cuervos), Rachel Keller (Fargo) and Manuel Garcia-Rulfo (The Magnificent Seven).
The screenplay is written by Academy Award® nominee David Magee (Best Adapted Screenplay, Life of Pi, 2012; Best Adapted Screenplay, Finding Neverland, 2004) based upon the best-selling novel "A Man Called Ove" by Fredrik Backman. The film is also based on the Swedish film written and directed by Hannes Holm.
Women talking, by  Sarah Polley, with Rooney Mara, Claire Foy, Jessie Buckley, Judith Ivey, Ben Whishaw, and Frances McDormand.
Tár,  with Cate Blanchett, by Todd Field, on February 22nd,  2023
Black Panther 2, by Ryan Coogler, on November 9th
The best movies since January 2022:
As Bestas, Rodrigo Sorogoyen (review below)
La nuit du 12, Dominik Moll (review below)
Holy Spider, Ali Abbasi (review below)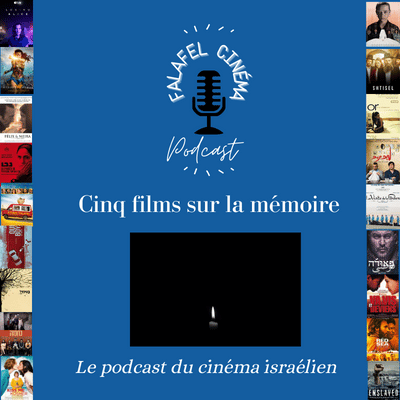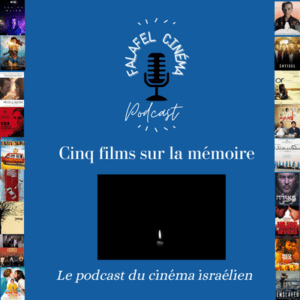 ALL YOU WANT TO KNOW ABOUT  FILMS & SERIES IN THEATERS & AT HOME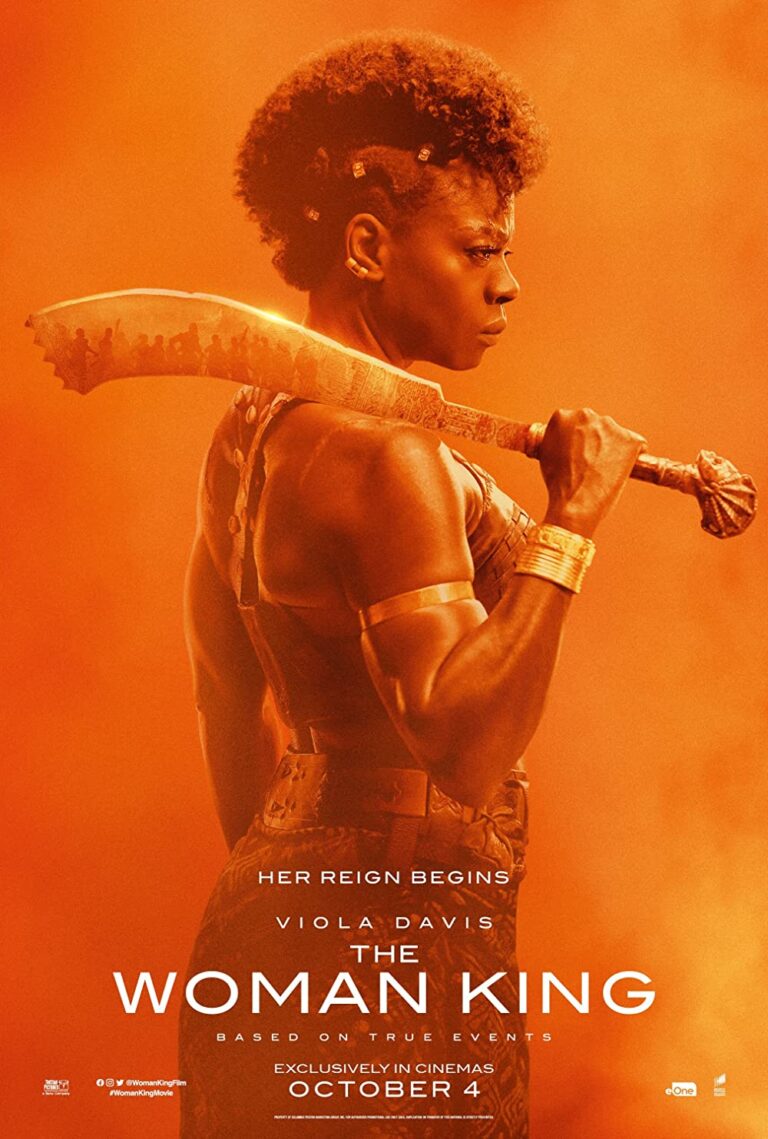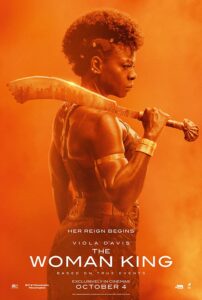 The Woman King, by Gina Prince-Bythewood
A story by Maria Bello & Dana Stevens, script by Dana Stevens, music by Terence Blanchard.
Synopsis
Inspired by true events, The Woman King follows the epic story of General Nanisca (Academy Award winner Viola Davis) as she trains a new generation of recruits and prepares them for battle against an enemy determined to destroy their way of life. There are values worth fighting for…
About the movie
The title and the poster were appealing for several reasons: first of all, the story that was going to be told was that of a woman, and not just any woman, a warrior, or at least a queen who reigned in West Africa over the Agojié women warriors.
The Woman King unfolds in three parts.
In the story told by Maria Bello and Dana Steven, filmed by Gina Prince-Bythewood (The Old Guardavailable on Netflix), General Nanisca, brilliantly played by Viola Davis, wants to put an end to the submission of the people of Dahomey to the kingdom of Oyo, to which he must pay an annual tribute and put an end to slavery, which enriches them.
The General has to fight against its enemies outside and inside. Nanisca seeks to convince the Ghezo king, John Boyega, that the system must change, that the people must no longer surrender theirs to the Europeans – in this case the Portuguese – and that wealth can come from elsewhere, through agriculture for example, and the sale of palm oil.
At the same time, Nawi, played by Thuso Mbedu, a young recruit who stands out for her systemic rebellion against the general, joins the army of female warriors alongside other young women. They are trained to fight their enemies, the Oyo people, who are allied with the people of old Nigeria and who are marching towards their land in order to destroy them.
On the Portuguese side, a young half-breed named Malik, Jordan Bolger, whose mother was captured and sold in Europe, lands with his best friend, a slave trader, Santo Ferreira, Hero Fiennes-Tiffin, on the African continent in search of a return to his roots. They both go to the palace of King Ghezo.
There is little downtime in The Woman Kingand that's a good thing. The best scenes are the action scenes, whether they are rescuing their Agojié sisters, attacking their enemies or killing slavers.
Some of the dialogues are funny and I particularly liked two secondary characters, two charismatic women: Amenza, played by Sheila Atim (the wise advisor of the General) and Izogie played by Lashana Lynch (great warrior and mentor of Nawi).
The few flaws in the script do not detract from our enjoyment of the story of their exploits, nor do they detract from the reworking of the story that I learned after writing this review.
Indeed, these warriors never sought to free their people from the slavery that continued for over a century.
But that was the dehumanization of the practice of slavery, as it was in the Holocaust, pushing the victims to denounce their own people.
The Woman Kingis a source of deep joy, by its staging and the highlighting of African women warriors, who are not victims, but fighters and courageous women, which they still are today.
Stay after the end credits.
Director Gina Prince-Bythewood pays tribute to all female warriors, those of the past and present.
She mentions the name of Breonna Taylor, a 26-year-old paramedic who died in her home from six bullets in the belly in 2020, murdered by police officers in the wrong place. "Say her name" became the slogan that followed her death. The trial is still ongoing.
Some history
The Mino or Amazons of Dahomey are an ancient all-female Fon military regiment of the Kingdom of Dahomey (now Benin) that existed until the end of the 19th century. They are so called by Western settlers and historians because of their similarities to the mythical Amazons of ancient Anatolia.
At the time of King Ghézo (who ruled from 1818 to 1858), Dahomey became increasingly militarized. Ghézo gave great importance to the army, increased its budget and improved its structure. The Mino were trained, provided with uniforms and equipped with Danish rifles (obtained through the slave trade). At this time, the Mino numbered between 4,000 and 6,000 women and represented about one-third of the Dahomey army.
The last known survivor of the Mino is a woman named Nawi. 
In 1978, while reporting from the village of Kinta, a Beninese historian met Nawi, who said she had fought the French in 1892. Nawi died in November 1979, aged over 100.
Read more:
Pamela Toler, author of Women Warriors: An Unexpected History
Sylvia Serbin, author of Reines d'Afrique, a reference book on women warriors.
With Thuso Nokwanda Mbedu (The Underground Railroad), Lashana Lynch (Doctor Strange in the Multiverse of Madness,  No Time to Die), Sheila Atim (The Underground Railroad).
Still in theaters, go for it!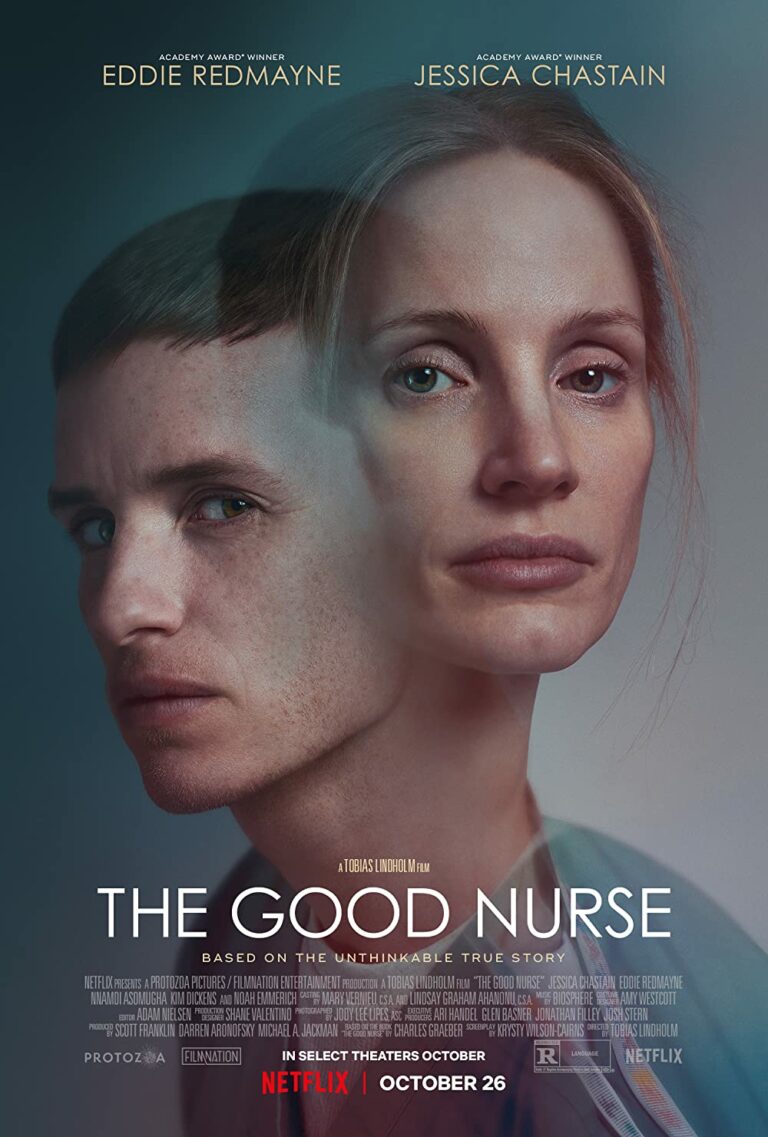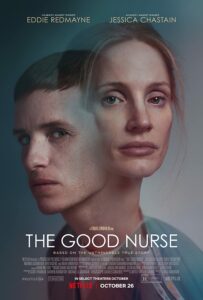 The good nurse, Tobias Lindholm
Synopsis
Amy Loughren, an overworked intensive care nurse, enlists the help of a new and dedicated colleague, Charles Cullen, until a patient dies unexpectedly and arouses her suspicions.
Review
When you know that this is a true story, it is chilling.
Amy, the nurse who put an end to Charles Cullen's actions, is still alive today. At the time of the facts, patients were dying for no apparent reason, single mother of two little girls, she was suffering from cardiac myopathy and could not risk stopping work because she did not have enough seniority to receive health insurance.
Jessica Chastain plays with subtlety (as always) and gentleness this woman who is increasingly weakened by her illness. When a nurse, Charles Cullen, played by Eddie Redmayne, arrives, he relieves her work and helps her in her daily life.
Well directed, this film intelligently shows the complexity of human relationships and the fragility of the American hospital system.
We are shown how Charles Cullen managed to kill 400 people without being pursued by any hospital that turned a blind eye. Why did he do it? For reasons of money? Insurance reasons? No hospital was ever sued.
And when Charles Cullen was asked why he killed, he reportedly said, "Because I could."
With Eddie Redmayne, Jessica Chastain, Noah Emmerich, Nnamdi Asomugha, Kim Dickens
Currently on Netflix.
​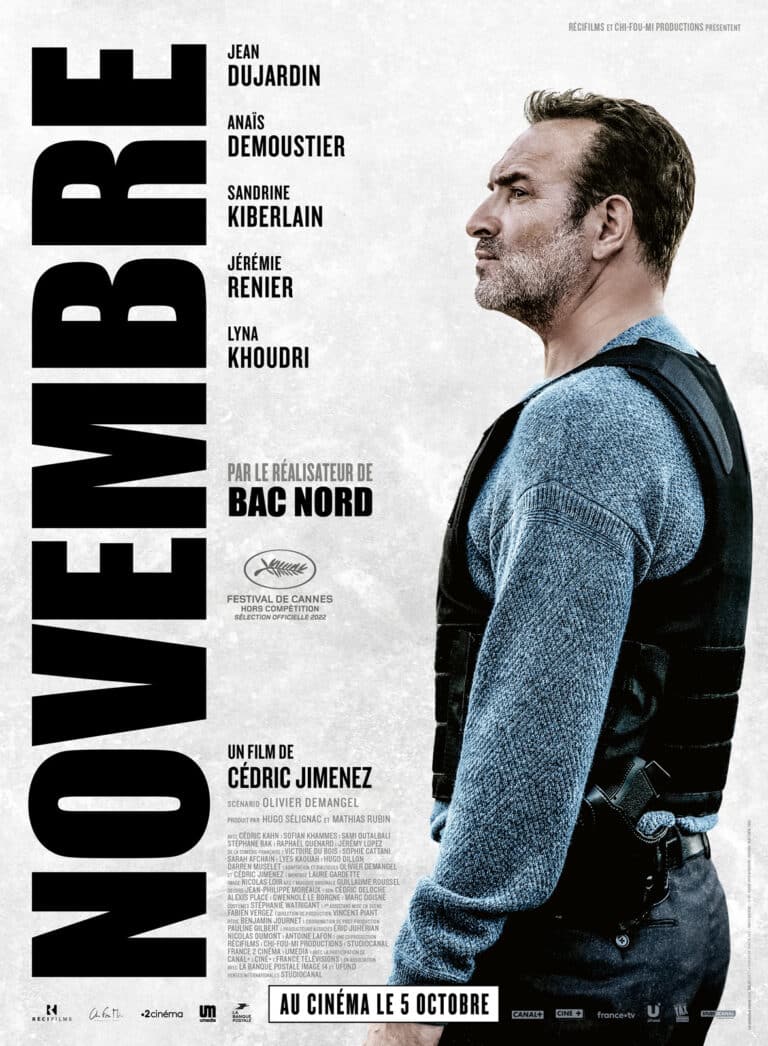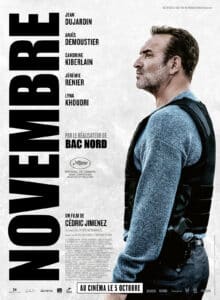 Novembre, by Cédric Jimenez
Screenplay by Olivier Demangel
Synopsis
Fred is a policeman in an anti-terrorist group in charge of finding the most wanted fugitives in France. During a mission in Greece, Fred and his men unfortunately lose track of a suspect. Ten months later, France is hit by a series of terrorist attacks.
Criticism
Like the Americans, French directors are tackling recent French history. "See Paris Again," next week's "You Won't Have My Hate," these films look back at the attacks of November 13, 2015.
These attacks are still present in our minds and this no doubt explains the interest of the directors in this dramatic moment of history. Was there a before and after?  It is not sure.
After Bac Nord, Cédric Jimenez and screenwriter Oliver Demangel worked for three years to make a film stuck to reality even if the characters were fictional.
This fiction about the tracking down of terrorists during the five days and nights that followed the attacks of November 13, 2015 is breathtaking from start to finish.
Here, no pathos, but women and men engaged night and day to get their hands on the terrorists who had managed to escape during the attacks they had perpetrated a few days earlier.
A host of great French actors play in this film that shows us a reality, that of the powerlessness of the police facing men and women ready to do anything to kill as many Westerners as possible.
Fascinating from beginning to the end and very well interpreted, there is just one drawback to this film, the representation of "Sonia", the woman who allowed the police to get their hands on the terrorists hidden in St Denis, played by Lyna Khoudri, who brought the case to court because she was represented veiled on the screen, a fact that was absolutely wrong and which earned the production to add a card to warn its viewers about this false information.
With Jean Dujardin, Anaïs Demoustier, Sandrine Kiberlain, Jérémie Renier, Lyna Khoudri.
Currently in theaters.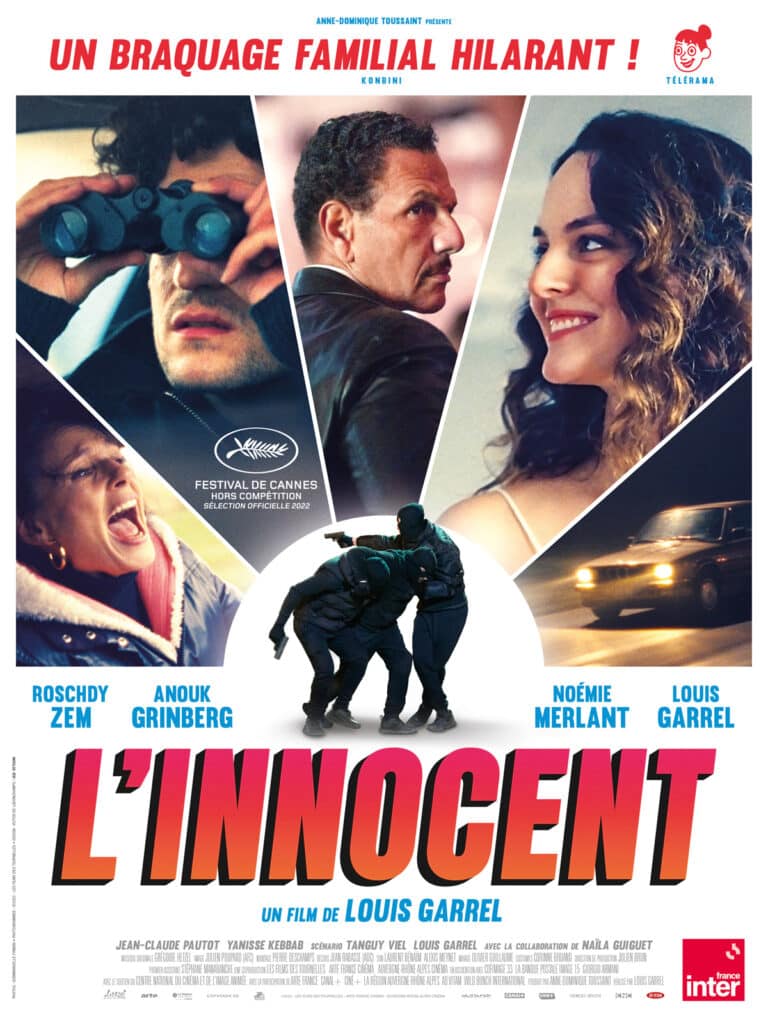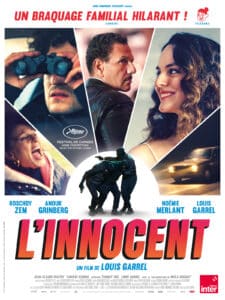 L'Innocent, by Louis Garrel
Synopsis
Abel panics: he has just learned that his mother Sylvie, in her sixties, is about to get married to a man in prison. With the help of his best friend Clémence, he does everything he can to protect her.
Review
This film is a UFO in French cinema. Comedy, thriller, mix of genres (we also think of comics), L' Innocentshows us the talent of Louis Garrel, whose mother spent much of her life working in prisons.
Noémie Merlant has remarkable comic potential and all of them, along with Anouk Grinberg and Roschdy Zem, both as actors and characters, challenge us on acting and its role in cinema and in life (are we all amateur liars?) the passion of theater and of course, love.
Shot in Lyon (for a change!), Louis Garrel pays here tribute to his mother (who saw and apparently appreciated the film) and also speaks to us of grief and loss.
L'Innocentis his fourth feature film.
We will soon see him in Les Amandiersby Valeria Bruni Tedeschi as Patrice Chéreau and in two films: Coma by Bertrand Bonello and The Three Musketeers: D'Artagnan by Martin Bourboulon as Louis XIII.
His godfather, Jean-Pierre Léaud, can be proud of him.
The soundtrack is also a treat. Go for it!
In theaters now.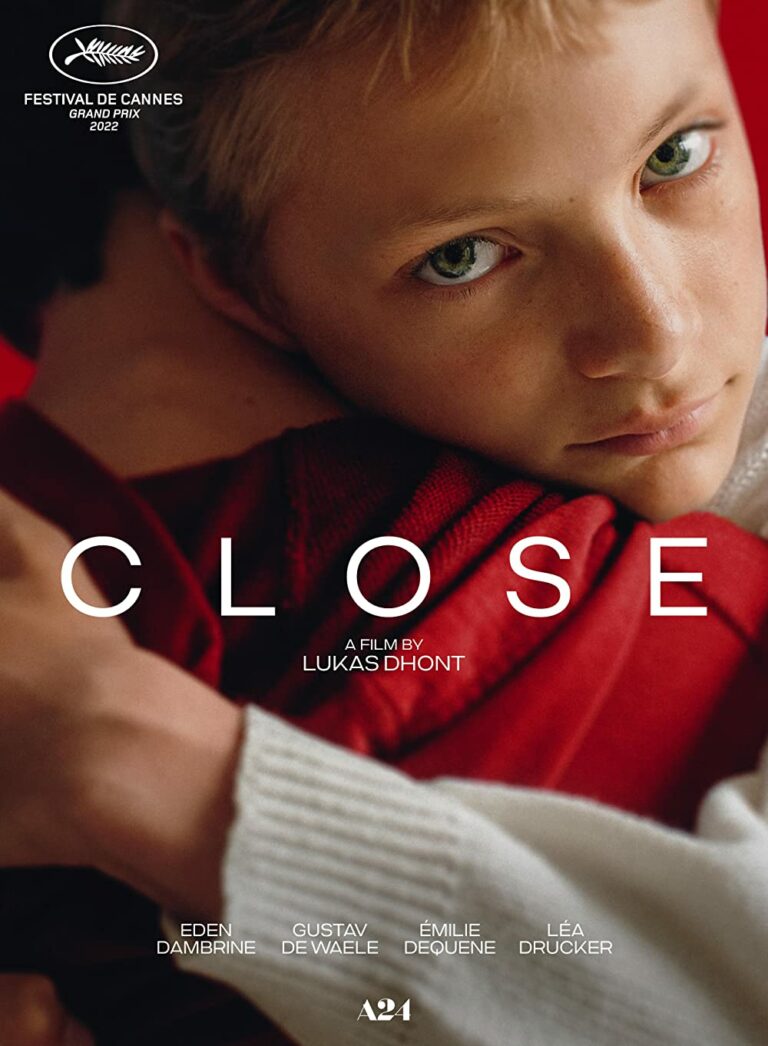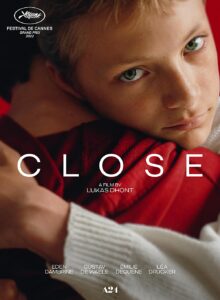 Close, by Lucas Dhont
Synopsis
Léo and Rémi, 13 years old, have always been friends. Until an unthinkable event separates them. Léo gets closer to Sophie, Rémi's mother, to try to understand…
Review
Intimacy vs. outside perception. After Girl, Caméra d'Or at the Cannes Film Festival in 2018, Lucas Dhont takes us to the heart of a story of very strong friendship between two boys, Leo and Remi whose past is unknown. They sleep together and almost never leave each other.
But at school, after being questioned about their relationship, Léo is afraid to be seen as a homosexual and distances himself from his friend. Then he chooses a manly sport, ice hockey. When he returns home, Léo helps his family in the flower fields while Rémi practices the clarinet.
The fact that we don't know Léo's and Rémi's back-story reinforces the mystery of their relationship even more.
The first part of the film is very intense and the director succeeds perfectly in making us share the world of Rémi and Léo, their games, their dreams, their stories.
Then there is the other side of the coin, the world of the outside world, of the gaze of others, of the so-called normality of the school and without much dialogue, the guilt.
It is in the silence that Lucas Dhont takes us, the inner silence of Léo, Léo, that the camera almost never leaves throughout the film.
Émilie Dequenne and Léa Drucker brilliantly play the respective mothers of the two young adolescents. Kevin Janssens in the role of Rémi's father is also brilliantly genuine.
The title "Close" chosen by the director comes from "close friendship." It's an essential word to evoke the very close friendship between these two boys" says Lucas Dhont.
We are witnessing the birth of two great actors: Eden Dambrine (Leo) and Gustav De Waele (as Remi).
Go to the theater to discover this magnificent film.
In theaters today.
FILMS TO WATCH IN YOUR MOVIE THEATERS AS FROM NOVEMBER 2ND
This week:
Mascarade, on November 1st, by Nicolas Bedos
With Pierre Niney, Isabelle Adjani, François Cluzet
When a young gigolo falls for a beautiful hustler, it's the beginning of a Machiavellian plan under the hot sun of the French Riviera. Are the two lovers ready to do anything to give themselves a dream life, even if it means sacrificing that of a former movie star and a real estate agent?
Amsterdam, on November 1st, by David O. Russell
With Christian Bale, Margot Robbie, John David Washington in first roles but also Chris Rock, Anya Taylor-Joy, Zoe Saldana, Mike Myers, Michael Shannon, Taylor Swift, Rami Malek & Robert de Niro.
Le Serment de Pamfir, by Dmytro Sukholytkyy-Sobchuk
With Oleksandr Yatsentyuk, Stanislav Potiak, Solomiya Kyrylova
In a rural region on the edge of Ukraine, Pamfir, a true force of nature, is reunited with his wife and child after many months of absence. When his son is involved in an arson attack, Pamfir is forced to repair the damage.
X, by Ti West
With Mia Goth, Jenna Ortega, Martin Henderson
In the late 70's, a film crew takes over an isolated house in the depths of Texas to make an X-rated film. At nightfall, the owners of the house catch the amateur filmmakers in the act. The filming suddenly turns into a nightmare.
Vous n'aurez pas ma haine, by Kilian Riedhof
With Pierre Deladonchamps, Zoé Iorio, Camélia Jordana
The true story of Antoine Leiris, who lost his beloved wife Hélène during the Bataclan attacks in Paris. Antoine counters the hatred of the terrorists with his love for his young son and his missing wife.
Seule la joie, by Henrika Kull
With Katharina Behrens, Adam Hoya, Nele Kayenberg
Sascha has been working in a brothel in Berlin for many years. Maria, a newcomer, is independent, non-conformist and queer. Sascha is immediately attracted by this otherness, Maria in turn is fascinated by Sascha's supreme ease.
Harka, by Lotfy Nathan
With Adam Bessa, Salima Maatoug, Ikbal Harbi
Ali, a young Tunisian dreaming of a better life, leads a solitary existence, selling smuggled gasoline on the black market. When his father dies, he has to take care of his two younger sisters, who are left to fend for themselves in a house from which they will soon be evicted.
Une robe pour Mrs. Harris, by Anthony Fabian
With Lesley Manville, Isabelle Huppert, Lambert Wilson
In post-war London, Ada Harris earns her living by cleaning houses. She leads a very lonely life since the death of her husband Eddie, who was killed in action. But Ada is not the type to complain or even to dwell on her fate.
Comedy Queen, by Sanna Lenken
With Sigrid Johnson, Oscar Töringe, Anna Bjelkerud
In life, there are two categories of people: those who are naturally funny and those who can learn to be funny… Sasha, 13 years old, belongs to the second category. In order not to be like her mother who was always sad, she decides to become a stand-up queen and make her father laugh again!
Piggy, by Carlota Martínez-Pereda
With Laura Galán, Richard Holmes (II), Carmen Machi
For Sara, summer in the hot sun is synonymous with the harassment she endures from the other young people in her small town. When a mysterious stranger decides to attack three of her bullies, everything stops. Sara knows more than she is willing to admit and is faced with a dilemma: to talk and to save these girls.
Movies to come (and we are looking forward to it):
The Last of Us, Craig Mazin & Neil Druckmann
Armageddon Time, on November 9th, by James Gray
Swing rendez-vous, by Gérome Barry
The Idol 
Created by Abel "the Weeknd" Tesfaye, Reza Fahim, and Sam Levinson for HBO.
She said, Maria Schrader, with Carrey Mulligan, Zoe Kazan, on November 18th
Houria, Mounia Meddour
The patient official, Joel Fields and Joe Weisberg
God's creature, Saela Davis & Anna Rose Holmer , with Emily Watson, Paul Mescal, & Aisling Franciosi
The Son, Florion Zeller
WEEKLY TIPS & OPINIONS ABOUT MOVIES 
BY  MOVIE DIRECTORS,  WRITERS, SCREENWRITERS, DIRECTORS, COMPOSERS…
Reader Question: Do you have any suggestions to warm up for writing?  by Scott Myers
TV PROGRAM AS FROM NOVEMBER 2nd
Mercredi – Wednesday
Arte : Match Point
France 4 : Shine a light
Jeudi – Thursday
Canal Plus : The Staircase
Arte : Pride, Matthew Warchus ; Summer 1984: the union between Welsh miners and a group of gay and lesbian activists in London against Margaret Thatcher's austerity policy… With a wild Dominic West ("The Wire"), a touching social comedy, set to the hits of the mid-1980s, led by Bronski Beat.
Friday – Vendredi
Arte: Far From Heaven, Todd Haynes, 
In the polite America of the 1950s, a woman to whom everything seems to smile sees her happiness crack… Both a film buff's homage and a militant film, Todd Haynes' "Far from Heaven" plays with the codes of Douglas Sirk's great melos and gives Julianne Moore one of her most beautiful roles.
Chérie 25 : Le nom des gens
Saturday – Samedi
Canal + : Si on chantait
Sunday – Dimanche
TF1 : Tenet
France 2 : Au-revoir là-haut
Arte : Le pianiste
W9 : The impossible
TF1 Series : Dalida
Monday – Lundi
France 3 : Inglourious basterds
Arte :  Robin Hood, Michael Curtiz and William Keighley: In the year 1191, the archer Robin of Loxsley and a few companions organize the resistance against the authority of the usurper John Earthless… In Technicolor, a classic cloak-and-dagger film full of verve and breath, with the leaping Errol Flynn.
TMC : Joker
Tuesday – Mardi 
TF1:  Black Panther
5. 

BEST DOCUMENTARIES, FILMS & SERIES AS FROM NOVEMBER 2nd ON ARTE
In the 80's, the beginnings of French hip-hop are told through the birth of the group NTM, the career of the dancer and graffiti artist Lady V and the DJ Dee Nasty. A social and musical chronicle, the choral series "The World of Tomorrow" follows endearing characters, pioneers of a cultural revolution. Directed by Katell Quillévéré and Hélier Cisterne.
Black Far West – A counter-history of the West
Who knows today that the first cowboys were black? With the help of magnificent archives and historians' testimonies, Cécile Denjean restores the original place of African-Americans in the story of the conquest of the West.
On 20/11 CLINT EASTWOOD
20h50 Sierra Torride
22h45 and on arte.tv from 13/11 to 19/03 Clint Eastwood, the last legend.
FILMS FROM NOVEMBER 2ND
The red tent
With an international cast (Sean Connery, Peter Finch, Claudia Cardinale…) and a powerful lyricism, the Soviet director of "When the storks go by", Mikhaïl Kalatozov, reconstitutes the tragic polar expedition led by the Italian Umberto Nobile in 1928.
ChainedLove Trilogy
Accused of sexually assaulting a minor, Rashi loses his footing as he watches his professional life and his relationship slip away… The first part of the "Love Trilogy" by Israeli director Yaron Shani, which also includes "Beloved" and "Stripped", is a shockingly realistic film.
The Wild Goose Lake
A gangster in search of redemption, target of a manhunt, crosses the path of a prostitute with uncertain intentions… By Chinese director Diao Yinan ("Black Coal"), a sumptuous film noir with virtuoso direction, between homage to the classics, violence and contemplation.
Series as from November 2nd
Pure, by Kirstie Swain with Charly Clive (Marnie), Joe Cole (Charlie). 
A young woman of ordinary appearance, Marnie suffers from an obsessive-compulsive disorder called "Pure O" which spoils her life: in any circumstances – at the doctor's, in the subway, at the office – her brain is assailed by uncontrollable sexual thoughts. A funny and daring English series, carried by young actors, all excellent.
Best series & films as from October 26th 

on 

Netflix
All quiet onthe Western front, now, Edward Berger from best-sellers by Erich Maria Remarque.
Young Royals, season 2, now.
The Crown, season 5, on November 9th
And The Wonder, on November 16th, by Sebastián Lelio, with Florence Pugh
The Swimmers, by Sally El-Hosaini. on November 23
1899, as from November 17th by creators of Dark series,  Baran bo Odar, Jantje Friese.
You saison 4, Greg Berlanti, Sera Gamble. In 2023.
Mathilda, the musical, Matthew Warchus, on December 25th.
Wednesday Adams, Tim Burton, on November 22nd.
White Noise, Noah Baumbach. Adapted from novel by Don DeLillo with Adam Driver & Greta Gerwig, on December 30th.
Slumberland, Jason Momoa, on November 18th.
Best series & films as from November 2nd 

on 
Prime Video
The Peripheral, now by Jonathan Nolan, Lisa Joy.
My Policeman, Michael Grandage with Harry Styles, Emma Corrin (The Crown), on November 4th.
The English, by Hugo Blick, with Emily Blunt, on November 11th.
Three Pines, on December 2nd with Alfred Molina
Best series & films as from November 2nd 

on Canal+
Now : The White Lotus, season 2
Marie-Antoinette, on October 31st, series by Deborah Davis, (The Favorite's screenwriter).
Nightmare Alley,  Guillermo del Toro, on November 2nd
Le secret de la cité perdue, by Aaron Nee & Adam Nee  with Sandra Bullock, Channing Tatum.On November 4th
Mood, (series)  on November 7th by  Nicôle Lecky, with Nicôle Lecky, Jordan Duvigneau, Mohammad Dalmar
Trigger point, on November 10th by Daniel Brierley with Vicky McClure (Lana Washington), Adrian Lester (Joel Nutkins)
Best series & films as from November 2nd 

on Apple TV
Causeway, Lila Neugebauer, with Jennifer Lawrence & Brian Tyree Henry, on November 4th.
The Mosquito Coast, saison 2, on November 4th
Spirited, on November 18th, directed by  Sean Anders & written by Anders & John Morris. This is a modern adaptation of A Christmas Carol by Charles Dickens written in 1843.
Louis Armstrong, now, directed by Sacha Jenkins
The movie honors Armstrong's legacy as a founding father of jazz, one of the first internationally known and beloved stars, and a cultural ambassador of the United States.
It shows how Armstrong's own life spans the shift from the Civil War to the Civil Rights movement, and how he became a lightning rod figure in that turbulent era.
With the full support of the Louis Armstrong Educational Foundation, the filmmakers have access to a treasure trove of rare archival materials, including hundreds of hours of audio recordings, film footage, photographs, personal diaries, and a life's worth of ephemera for exclusive use in the first significant documentary dedicated entirely to his life.
Echo 3, (series) by Mark Boal, on November 23rd with Luke Evans & Michiel Huisman
Best series & films as from 

November 2nd 

on Disney Plus
Disenchanted 2, Adam Shankman, on November 17th.
The Mandalorian, saison 3 (2023)
Avalonia, by Don Hall & Qui Nguyen, on November 23rd
Chippendale, by Robert Siegel, on January 11th, 2023
Willow, Jonathan Kasdan & Wendy Mericle, on November 30th.
The Little Mermaid 2, Rob Marshall, forecast on May 2023.
Best series & films as from November 2nd

 

Lionsgate
Dangerous Liaisons, Harriet Warner ;Alice Englert, Nicholas Denton, Lesley Manville, on November 6th
The Serpent Queen, by Justin Haythe : now
An original historical drama that offers a contemporary twist on conventional storytelling to tell the story of Catherine de Medici's (Samantha Morton) rise to power. In the beginning of the series, Catherine's story unfolds through flashbacks as she defends her actions and passes on the lessons she has learned to her new servant, Rahima.
This is an adaptation of the British novel Catherine de Medici: Renaissance Queen of France by Leonie Frieda.