What films to watch as from December 7th
Films as from December 7th
I download below my December calendar of films & series by platforms.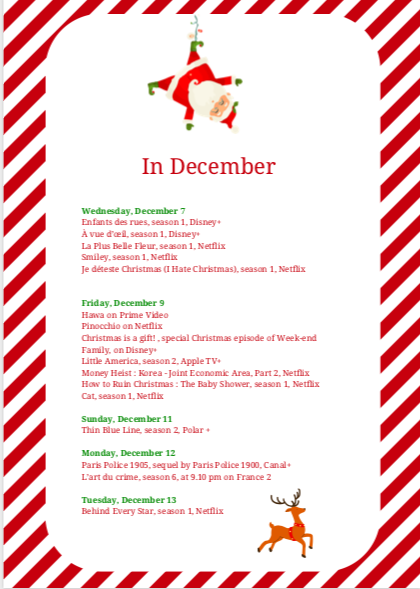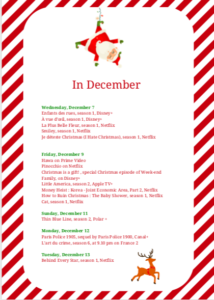 New trailers
Indiana Jones and the Dial of Destiny, James Mangold ("Ford v Ferrari," "Logan").
With Phoebe Waller-Bridge ("Fleabag"), Antonio Banderas ("Pain and Glory"), John Rhys-Davies ("Raiders of the Lost Ark"), Shaunette Renee Wilson ("Black Panther"), Thomas Kretschmann ("Das Boot"), Toby Jones ("Jurassic World: Fallen Kingdom"), Boyd Holbrook ("Logan"), Oliver Richters ("Black Widow"), Ethann Isidore ("Mortel") and Mads Mikkelsen ("Fantastic Beasts: The Secrets of Dumbledore").
Music by John Williams, expected June 30th
1923, Taylor Sheridan, with Harrison Ford & Helen Mirren.
The three Musketeers, byMartin Bourboulon with François Civil, Vincent Cassel, Romain Duris, Pio Marmaï & Eva Green.
In April 2023.
Babylon, by Damien Chazelle, with Brad Pitt & Margot Robbie.
Inside, by Vasilis Katsoupis with Willem Dafoe
CHRISTMAS MOVIES!
NETFLIX
The Claus Family 2, now 
Falling for Christmas on November 10th
Christmas with you, on November 17th
The Noel Diary, on November 24th
Scrooge, a Christmas Carol,on December 2nd
Pinocchio, by Guillermo del Toro & Mark Gustafson, on December 9th
Emily in Paris season 3, on December 21st
Mathilda, the musical, Matthew Warchus, on December 25th.
APPLE TV
Spirited on November 18th, directed by  Sean Anders & written by Anders & John Morris. This is a modern adaptation of A Christmas Carol by Charles Dickens written in 1843.
DISNEY PLUS
The Santa Clauses, on November 16th
The Guardians of the Galaxy Holiday Special on November 25th
Disenchanted 2, by Adam Shankman, on November 18th
In Movie theaters
I wanna dance with somebody, by Kasi Lemmons, written by Anthony McCarten. With Naomi Ackie, Stanley Tucci, Ashton Sanders, Tamara Tunie, Nafessa Williams et Clarke Peters.
23 décembre,  on November 25
Violent Night, on December 2nd
Vivre, by Oliver Hermanus, on December 28, by author of The Remains of the Day & adapted from Akira Kurosawa's masterpiece.
With Bill NIGHY
The best movies since January 2022:
As Bestas, Rodrigo Sorogoyen (review below)
La nuit du 12, Dominik Moll (review below)
Holy Spider, Ali Abbasi (review below)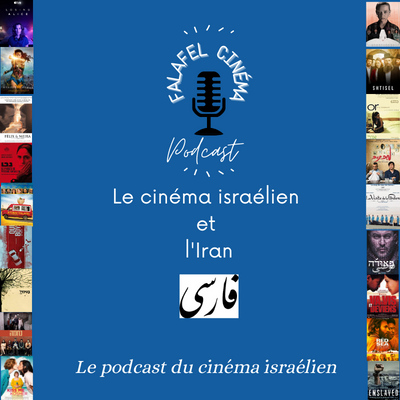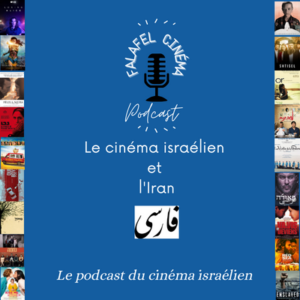 ALL YOU WANT TO KNOW ABOUT  FILMS & SERIES IN THEATERS & AT HOME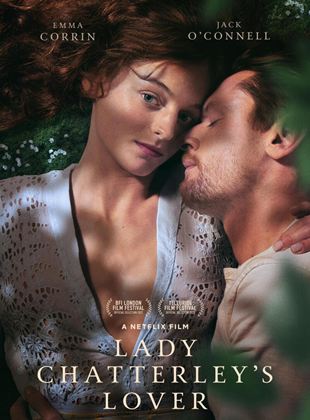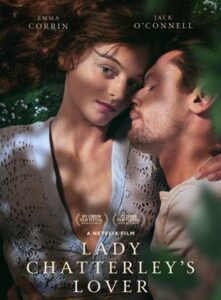 Lady Chatterley's Lover, Laure de Clermont-Tonnerre
Synopsis
The young Constance Reid married Sir Clifford Chatterley in England. The aristocratic military lieutenant in the British army is wounded in the war. He returns paralyzed, sexually impotent and withdraws into himself.
Cut off from the London life she is used to, she wanders in the forest around her and meets the gamekeeper, Oliver Mellors. The two of them begin an affair.
A tribute to love
Laure de Clermont-Tonnerre, the director of The Mustang with Matthias Schoenaerts, produced by great Robert Redford, signs this time the adaptation of the famous novel of the same name by D.H. Lawrence. 
It is the political film behind the romance that made her want to direct it and the possibility of showing another look at female pleasure, "the revitalization of the being through nature and the body".
Published in Florence in 1928, the novel could not be printed in the UK until 1960, long after the author's death (1930). D.H. Lawrence had planned to call his book Tenderness, and he made significant changes in the original manuscript to make it more accessible to readers.
The publication of the book caused a scandal because of the explicit scenes of sexual intercourse, its vocabulary considered coarse and the fact that the lovers were a working-class man and an aristocrat. A lawsuit for obscene text won by the publishers set a precedent for greater freedom of expression in the country.
Lady Chatterley's Lover is an ode to love, and to all that is beautiful about it. 
David Magee (in 2023: Rob Marshall's The Little Mermaid, co-writer with Jane Goldman, and screenwriter of Neverland and Pi's Odyssey) wrote the script and infused magic and something pure and evanescent into Constance and Oliver's story.
Golden Globe winner Emma Corrin and Jack O'Connell play the two lovers. Emma Corrin played the role of Lady Di in season 4 of The Crown. The camera does not leave her much throughout the film and shows us her personality, her modernity but especially her transformation. 
The director of photography Benoît Delhomme magnifies this love filmed in nature.
One thinks of the photographs by Sarah Moon. Constance and Oliver evolve in the forest, the plains and the meadows in all weathers like the only beings on earth, an Adam and an Eve. When they are together, they are simply unaware that others exist. 
The director has also made this a film about sisterhood. Constance can count on her husband's nursemaid to keep their love from getting dirty, and the local women become her ally.
Jack O'Connell, currently starring in SAS: Rogue Heroes on Canal + and an actor in the series Skin, plays an older man. He is only thirty-two years old in reality.
The beautiful love scenes were handled by an intimacy coordinator, Ita O'Brien, a pioneer in this new profession. 
You have now all the reasons to watch this movie.
Laure de Clermont-Tonnerre is definitely a director to behold.
On Netflix  now.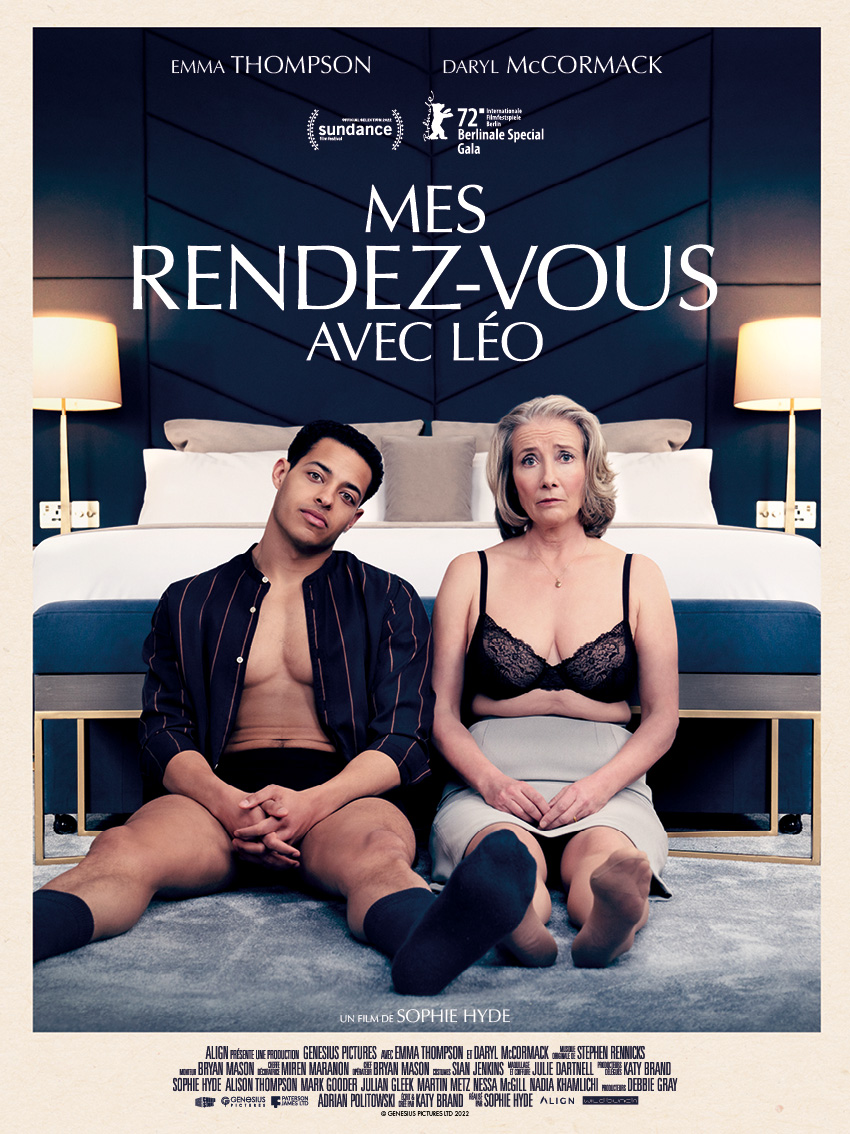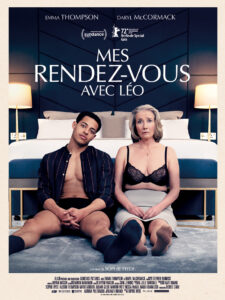 Good luck Leo Grande, Sophie Hyde
Synopsis
Nancy Stokes, a retired widow, hires a handsome young sex worker, Leo Grande, in hopes of enjoying a night of pleasure and self-discovery after an unsatisfying married life.
Pleasure of women
Emma Thompson, recently seen in the role of Cruella by Craig Gillespie and known for her roles in Return to Howards End, The Remains of the Day, Sense and Sensibility or Nanny McPhee chose a total different kind of fil.
She is part of a generation of women who were taught that sex was dirty, degrading and something reserved for men, like dysfunctional animals. Thousands of women have spent their lives having no pleasure, feeling guilty about wanting it, but finally giving it up because it was taboo.
In Good Luck Leo Grande written and produced by Debbie Gray and directed by Sophie Hyde, young women change the paradigm. Nancy Stokes, a woman in her sixties, hires a young man, Leo Grande, to introduce her to sexual pleasure. Embittered, sad, angry, Nancy has a hard time letting go.
The film questions our view of prostitution, education, social pressure on women to marry and have children.
The beginning is reminiscent of a play, and the actress is facing a very good actor, Daryl McCormack, known for his roles in the BBC series Peaky Blinders and the Apple TV+ series Bad Sisters. 
But the script gets lost along the way and it's too bad.
Nevertheless, it remains an act, political and committed, the actress exposes herself. 
This kind of act helps to decomplex the look we have on our body and that of others on the so-called elderly.
In theaters now.
FILMS TO WATCH IN YOUR MOVIE THEATERS AS FROM DECEMBER 7TH
This week:
Nos frangins, Rachid Bouchareb
With Reda Kateb, Lyna Khoudri, Raphaël Personnaz
On the night of December 5-6, 1986, Malik Oussekine died following a police intervention. The Ministry of the Interior is all the more inclined to hush up this affair, since another Frenchman of Algerian origin was killed the same night by a police officer.
Maestro(s), Bruno Chiche
With Yvan Attal, Pierre Arditi, Miou-Miou
The Dumars are conductors from father to son: François is finishing a long and brilliant international career while Denis has just won yet another Victoire de la Musique Classique. When François learns that he has been chosen to conduct La Scala, his ultimate dream, he can't believe his ears.
Les Pires, Lise Akoka, Romane Gueret
With Mallory Wanecque, Timéo Mahaut, Johan Heldenbergh
A shooting will take place in Cité Picasso, in Boulogne-Sur-Mer, in the north of France. During the casting, four teenagers, Lily, Ryan, Maylis and Jessy are chosen to play in the film. In the neighborhood, everyone is astonished: why did they take only "the worst"?
Sous les figues, Erige Sehiri
With Ameni Fdhili, Fide Fdhili, Feten Fdhili
In the northwest of Tunisia, young women work at harvesting figs. Under the gaze of older workers and men, they flirt, tease and argue. Throughout the day, the orchard becomes a theater of emotions, where the dreams and hopes of each one are played out.
Les Bonnes Étoiles,  Hirokazu Kore-eda.
After The Truth, this is his second film made outside his native Japan.
On a rainy night, a young woman abandons her baby. The baby is illegally retrieved by two men who are determined to find a new family for it. During an unusual and unexpected journey through the country, the destiny of those who meet this child will be profoundly changed.
Falkon Lake, by Charlotte Le Bon
Movies to come (and we are looking forward to it):
The Last of Us, Craig Mazin & Neil Druckmann
Swing rendez-vous, by Gérome Barry
The Idol 
Created by Abel "the Weeknd" Tesfaye, Reza Fahim, and Sam Levinson for HBO.
Houria, Mounia Meddour
The patient official, Joel Fields and Joe Weisberg
God's creature, Saela Davis & Anna Rose Holmer , with Emily Watson, Paul Mescal, & Aisling Franciosi
The Son, Florion Zeller
WEEKLY TIPS & OPINIONS ABOUT MOVIES 
BY  MOVIE DIRECTORS,  WRITERS, SCREENWRITERS, DIRECTORS, COMPOSERS…
"Haunt: Screenplay & Filmmaker Diaries"  by Scott Myers
Don't stand in water where you should be fishing  by Scott Myers 
TV PROGRAM AS FROM DECEMBER 7th
Mercredi – Wednesday
TF1 : Titanic
Arte : Le patient anglais
Jeudi – Thursday
Canal Plus : Rogue Heroes
Arte : Life (series)
Friday – Vendredi
France 5 : Jerry McGuire
Arte : Mon mari, cet assasin
Sunday – Dimanche
Arte : Catch me if you can
TF1 : Love Actually
6Ter : À propos d'Henry
Monday – Lundi
Canal Plus : Paris Police 1905
France 3 : La Favorite
Arte : Le Tigre du Bengale
Tuesday- Mardi
Canal + : Les Promesses
Wednesday – Mercredi
Arte : Manon des Sources
5. 

BEST DOCUMENTARIES, FILMS & SERIES AS FROM DECEMBER 7TH ON ARTE
Jewish happiness
A poor Odessa Jew dreams of "marrying off" the community's beautiful parties… A Soviet silent film from 1925, this chronicle of a vanished world is inspired by a classic of Yiddish literature, with intertitles by Isaac Babel. Presented in a restored version, with a new musical score.
Series as from December 7th
One meter twenty
Juana, 17 years old, wants to experience her first time. And her wheelchair is not going to stop her. In her new high school in Argentina, she gets involved in the fight for sex education and becomes a spokesperson. The series explores the diversity of bodies, a consensual sexuality, the pride of finding one's place. The story is also told in VR on YouTube
Best series & films as from December 7th 

on 

Netflix
Emily in Paris, season 3, on December 21st.
The Recruit, on December 16th
A CIA lawyer becomes embroiled in a dangerous case of international politics when a former agent threatens to reveal the nature of his long-standing relationship with the agency.
Pinocchio, by Guillermo del Toro & Mark Gustafson with the voices of Gregory Mann, Ewan McGregor as of December 9th.
Glass Onion, Rian Johnson, on December 23rd.
White Noise, Noah Baumbach. Adapted from novel by Don DeLillo with Adam Driver & Greta Gerwig, on December 30th.
Stranger Things 5
Best series & films as from December 7th 

on 
Prime Video
Three Pines, now, with Alfred Molina
Hawa,  Maïmouna Doucouré, as of December 9th.
Music by Oumou Sangaré.
The film focuses on the coming of age of Hawa, a teenager in France who lives with her grandmother.
Best series & films as from December 7th 

on Canal+
This England, The Boris Johnson Years is a TV series by Michael Winterbottom starring Kenneth Branagh (Boris Johnson), Ophelia Lovibond (Carrie Symonds). Starting November 28.
SAS : ROGUE HEROES, by Steven Knight, now
Paris Police 1905, as of December 12th
Les promesses, as of December 13th
Top Gun Maverick as of December 22nd
Best series & films as from December 7th 

on Apple TV
Spirited, now, directed by Sean Anders, adaptation from A Christmas Carol by Charles Dickens published in 1843.
Echo 3, (series) by Mark Boal, now, with Luke Evans & Michiel Huisman
Shrinking, Jason Segel and Bill Lawrence & Brett Goldstein, as of January 27th
Best series & films as from 

December 7th 

on Disney Plus
Avalonia, by Don Hall & Qui Nguyen, now.
Chippendale, by Robert Siegel, on January 11th, 2023
Willow, Jonathan Kasdan & Wendy Mericle, now.
The Mandalorian, saison 3 (2023)
The Little Mermaid 2, Rob Marshall, forecast on May 2023.
Best series & films as from December 7th on

 

Lionsgate
Dangerous Liaisons, Harriet Warner ;Alice Englert, Nicholas Denton, Lesley Manville, now.
CHRISTMAS UNDER WRAPS– CURRENTLY AVAILABLE
A brilliant intern, Lauren has applied to be a surgeon at a prestigious Boston hospital. When her application is rejected, she is forced to move to a small town in Alaska, where the inhabitants live in seclusion and haven't seen a doctor in a year. Lauren falls in love with Andy, whose father bears a striking resemblance to Santa Claus. Frank owns a reindeer, elves run around his yard and he runs a mysterious transportation company…
With : Candace Cameron Bure, David O'Donnell, Robert Pine.
KRAMPUS– CURRENTLY AVAILABLE
When Max sees his less-than-ideal family fighting in the run-up to Christmas, the boy decides to ignore the celebration, not realizing that this breach of tradition will provoke the wrath of Krampus, an ancestral demon hell-bent on punishing those who do not. The situation goes to hell when the Christmas figures come monstrously to life, storming Max's house and forcing his family to help each other if they hope to save their lives.
Starring: Toni Collette, Adam Scott, David Koechner…