What films to watch as from July 20th
Your films as from July 20th :
The best movies since January 2022:
As Bestas, Rodrigo Sorogoyen (review below)
La nuit du 12, Dominik Moll (review below)
Holy Spider, Ali Abbasi (review below)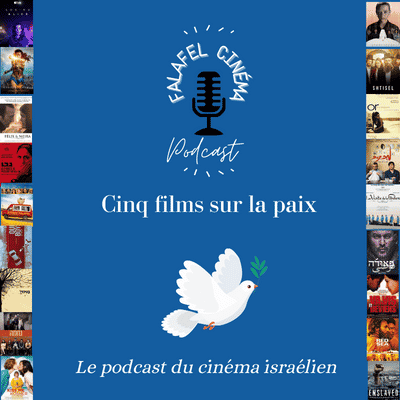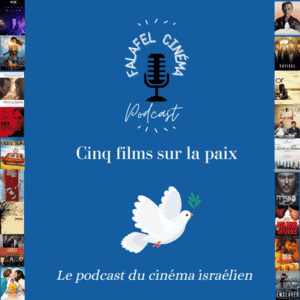 ALL YOU WANT TO KNOW ABOUT  FILMS & SERIES IN THEATERS & AT HOME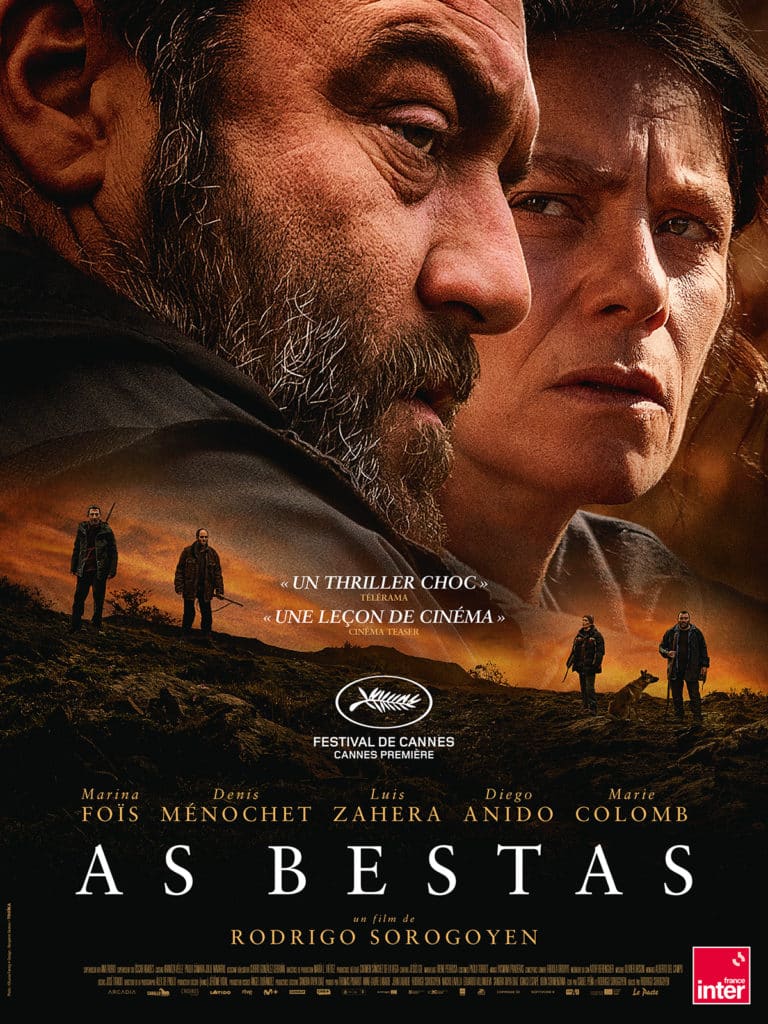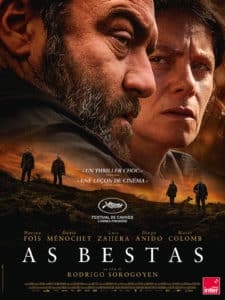 As Bestas, Rodrigo Sorogoyen
Synopis
Antoine and Olga, a French couple, have been living in a small village in Galicia for a long time. They have a farm and are restoring abandoned houses to facilitate repopulation.
Everything should be idyllic, but a serious conflict with their neighbors raises the tension to the point of irreparability…
Review
Two worlds opposed by everything. 
Antoine and Olga arrive from the city and want at all costs to settle in with the villagers, to whom they wish to breathe life into their lives.
But for the peasants of the village, it is quite different.
Xan and his brother Lorenzo have worked hard all their lives and do not take kindly to the arrival of these Frenchmen, foreigners, who want to change the way things work.
If there is a conservative environment, it is the rural environment that functions in a closed world and that, unless supported, refuses any evolution.
Antoine and Olga grow organic produce, renovate old houses and, above all, refuse to vote in favor of the installation of windmills that would provide money to the whole village.
Are the two worlds condemned to clash because of a lack of communication?
As usual, Rodrigo Sorogoyen knows perfectly how to breathe tension into this modern film and makes it a very good thriller.
He has written the film with Isabel Peña.
After serial killers, maternity, migrants and politics (Que Dios nos perdone, Madre, Antidisturbios, El Reino), the director tackles the rural world and once again his film rings true, always in tune with its time.
The casting is perfect.
Marina Foïs plays Olga, a courageous woman, self-effacing in appearance but who does not give up.
Rodrigo Sorogoyen offers her with this film probably one of his best roles.
Denis Ménochet is perfect in the role of Antoine, this determined man who wants to change things.
As for Luis Zahera and Diego Anido in the roles of the Spaniards, enemies of this couple, they are simply perfect.
Luis Zahera had already played in "Que Dios nos perdone" and "El Reino".
Go see what is for me, one of the best films of the year.
In theaters today July 20th.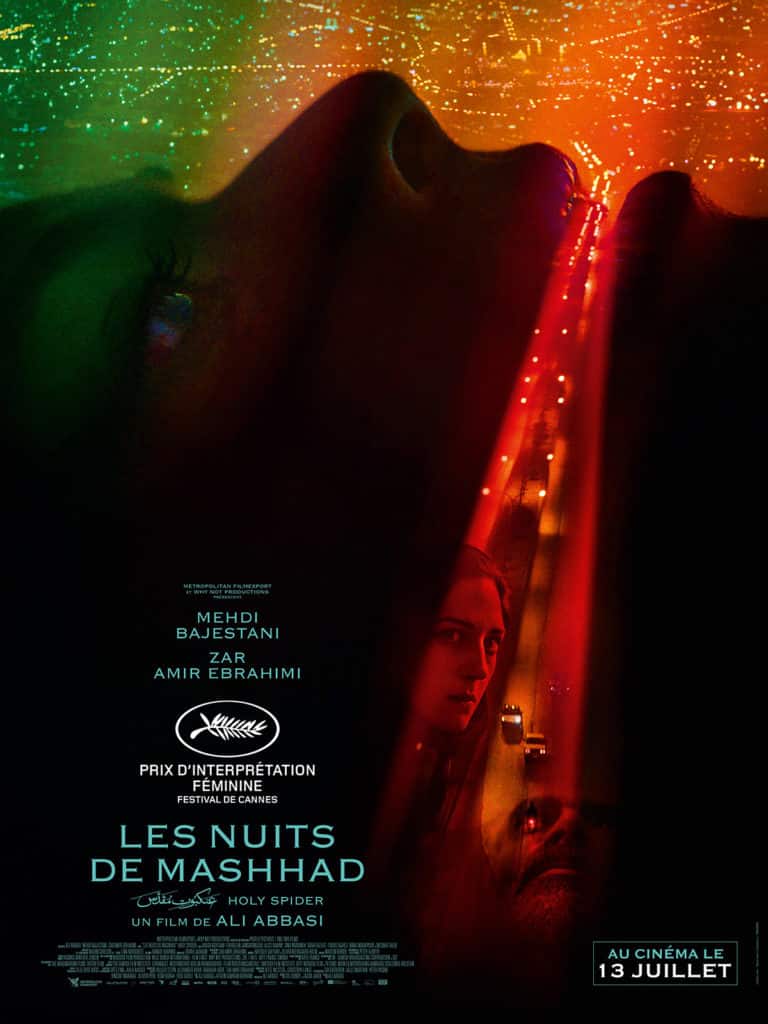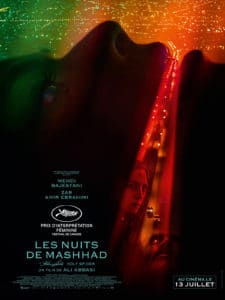 Holy Spider, Ali Abbasi
Synopis
Iran 2001, a journalist from Tehran dives into the most notorious suburbs of the holy city of Mashhad to investigate a series of feminicides.
She soon finds out that the local authorities are in no hurry to solve the case. These crimes are the work of a single man, who claims to be purifying the city of its sins by attacking prostitutes at night.
Review
There are films that mark you: Une affaire de femmes, by Claude Chabrol, The Accused by Jonathan Kaplan and then there will be, if you go to see it Holy Spider by Ali Abbasi.
Its lead actress, Zar AMIR EBRAHIMI, won the Best Actress Award at the Cannes Film Festival this year.
"Holy Spider" has been condemned by the Iranian regime and banned from broadcasting in the country. The filming could not be done in Iran or Turkey but in Jordan.
From the beginning, we know who the culprit is, Saeed Hanaei, one of the most famous serial killers in Iran. We follow him throughout the film and rather than just following the journalist's investigation, we witness his daily life, that of a married killer, father of a family, who plays with his children.
From the very first sequence, you will be caught up in the violence of the murders, filmed as close as possible to the women, so much so that we feel as if we are in the room next to them, but it is obvious that we can do nothing to help them. The realism of the scenes makes them terrifying.
The hatred of women
These poor women, who take drugs and prostitute themselves, are, as everywhere, pointed out by society, but in Iran, it is even worse, their crimes are legitimized by society because they do not respect the radical Islamism that is the law in the country.
This man was celebrated as a hero in public opinion and this made Ali Abbasi want to make a film about him.
From birth, a distinction is made between girls and boys. They have the right to life and death over women, period.
"I was still living in Iran in the early 2000s, when Saeed Hanaei was attacking prostitutes in the holy city of Mashhad. He managed to kill 16 women before he was arrested and then tried. It was during the trial that his story really resonated with me.
In a normal world, it is obvious that a man who murdered 16 human beings would be considered guilty. But in Iran, it was different: a part of the public opinion and the most conservative media started to praise Hanaei as a hero. They were convinced that he had only fulfilled his religious duty to clean up the streets – in other words, to murder these "unclean" women. That's when I got the idea to make a film about it." Says Ali Abbasi, who speaks of a "tradition of hatred towards women."
A city at the heart of the murders
These crimes occurred in the city of Mashhad, the second most populous city in Iran and home to an ultra-conservative religious center.
Second most important holy city in the world, Mashhad attracts more than 20 million tourists and pilgrims every year, most of whom come to worship at the mausoleum of Imam Reza, the largest mosque in the world, described as "the heart of Shiite Iran.
Prostitution is everywhere and the police turn a blind eye for tourist reasons.
A perfect casting
Mehdi Bajestani, in the role of the serial killer is impressive by his talent. He is part of a theater group Naqshineh Theatre which works on the theater of the absurd. He has played in plays by Brecht, Beckett, Ionesco or Yasmina Reza and has taken a great risk in playing this role because he lives in Iran.
From the investigation courageously led by the journalist Rahimi to the denouement, Ali Abbasi denounces a corrupt system where the police can do whatever they want, especially to single women, condemned by society.
"I had a feeling that this case was not just about Saeed – it was about misogyny."
Speaking of women, he adds:
"They have been stripped of their humanity and reduced to creatures without their own existence whose faces are wrapped in cloth.Also, as someone who has been working on this case for more than a decade, I find it fundamentally unfair that the families of Saeed Hanaei's victims are almost never mentioned.
A tragic injustice has been done to the women who were murdered: they have become numbers and no one has thought about them, let alone their families. Yet they were human beings in their own right, and by telling their story accurately, their loved ones can remember them as real people."
The photography, the editing and the music, everything is successful.
A must-see, in theaters now.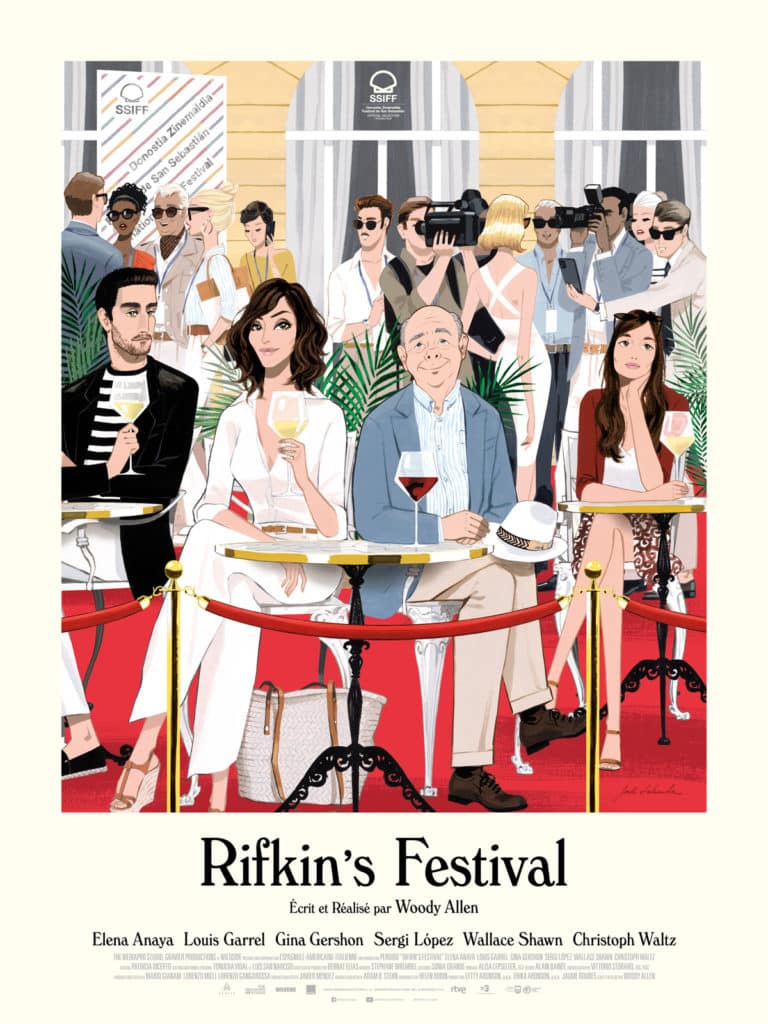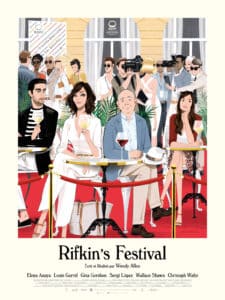 Rifkin's Festival, Woody Allen
Synopis
An American couple attends the San Sebastian Film Festival and gets caught up in the magic of the festival, the charm of Spain and the cinema.
She has an affair with a French director and he falls in love with a beautiful Spanish woman.
Review
Released in 2019 in the United States, Rifkin's Festival is finally out in France. It's currently playing at Le Balzac cinema in Paris, where I saw it.
The voice of Wallace Shawn, aka Mort, (what a Woody Allen-worthy name) questions his marriage as he accompanies his wife Sue, aka Gina Gershon, to the Film Festival in the beautiful seaside town of San Sebastian.
Hypochondriac, aged, he questions everything: the new pretentious and superficial cinema, the meaning of life, art, writing and its importance…
Pure Woody Allen, except that this time he pays tribute, for real, to the great masters of cinema that he cherishes through several scenes as the great masters would have filmed them.
And it is absolutely funny: Fellini, Godard with "Breathless", Bergman, "The Seventh Seal" with a hilarious Christoph Walz, Truffaut with "Jules and Jim", Buñuel, Lelouch, "A Man and a Woman" offer as many pretexts for scenes to Woody Allen.
The story is not complicated and can be seen, as usual, with happiness. We feel a Woody Allen, rather peaceful despite all his concerns.
Woody Allen tackles, and this is rather rare, the question of peace between Israel and the Arab countries, science fiction according to his main character, Mort.
Philippe Garel as a pretentious director plays right, as well as the Spanish actress Elena Anaya in Dr. Jo Rojas. Note the presence of Georgina Amorós, young actress from the series "Elite".
To be seen at the cinema Le Balzac at the moment and in all good cinemas.
4/5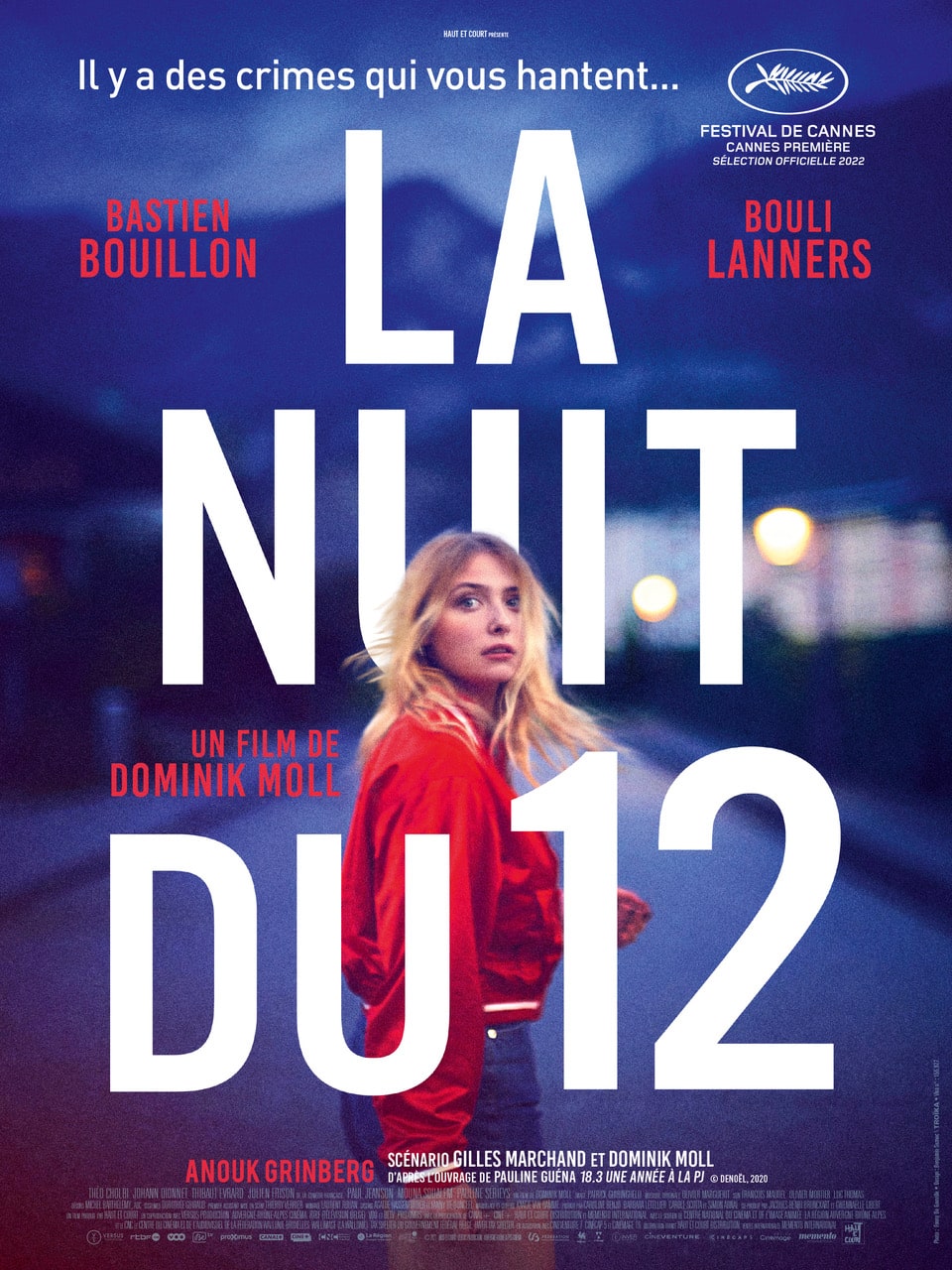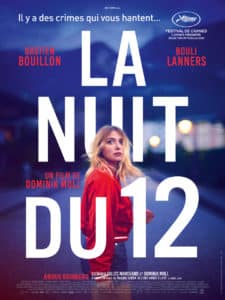 The Night of the 12th, Dominik Moll
Synopis
Every investigator in the detective division comes across a crime that he or she cannot solve and that haunts them. For Yohan, it's Clara's murder.
The interrogations follow one another, there is no shortage of suspects, and Yohan's doubts keep growing. Only one thing is certain, the crime took place the night of the 12th.
Review
Clara is a young woman who was burned alive when she returned home one night after a night out with friends. Within the P.J. team, the young Yohan tries at all costs to find the culprit, helped by his partner, Marceau.
The investigation reveals that she had many boyfriends. All of them could have killed her…
"La Nuit du 12" is adapted from one of the stories written in "18.3 – une année à la PJ" by Pauline Ghena, who spent a year immersed in the Versailles Police Department. She relates a daily routine made of routine and trying situations.
Not so long ago, women were still burned, accused of witchcraft (read the excellent "Sorcières" by Mona Chollet) and this continues, women are stigmatized according to their clothing and their rights are still threatened, whether it is this year's terrible news on abortion in the United States or education and women's rights in countries dominated by radical Islam.
In France, feminicides continue and no progress is observed.
In this film, as its director, Dominik Moll, states: "The relationship between men and women is at the center of the film. It is its red thread."
He adds:
"What haunted me in this story is the mystery. And precisely the fact that the more you look for the more the mystery thickens.
When we don't know the name of the culprit, we finally see more things, we are more with the investigators who are questioning, who are groping, we feel their doubts and we perceive their growing anguish. The mystery reveals the institutional and human functioning much more than the resolution."
The Judicial Police who have to fight against this violence are almost exclusively male. Even if some films and series show, in a commendable way, female investigators at work, in reality it is still today "a world of men" as the young Nadia (played by the brilliant Mouna Soualem) says so well.
Misogyny, always
Bastien Bouillon (Yohan) and Bouli Lanners (Marceau) form an investigative duo worthy of the best detective stories.
One is young, who wants to, and for whom his job is a vocation. The second, close to retirement, who no longer sees the usefulness of his work, and who wants poetry. Their performance is great and gives height to this film with a perfect rhythm.
We also want to believe that the culprit of Clara's murder will be found.
Dominik Moll and his co-writer Dominique Marchand also talk to us about language and its importance both in writing reports and in the language we use towards others, and especially towards women.
He denounces the intrinsic misogyny present in the police force.
Nanie, played by the brilliant Pauline Serieys embodies it perfectly. "Why is it so important for him (Yohan) to know if Clara has slept with so-and-so? What difference does it make?"
We don't see much of the mother played by Charline Paul and Lula Cotton Frapier who plays Clara, but their presence on screen is striking.
And then there is the judge played by Anouk Grinberg. The question "what's wrong between men and women" plays a key role in the film.
A must-see.
In your theaters now.
4,5/ 5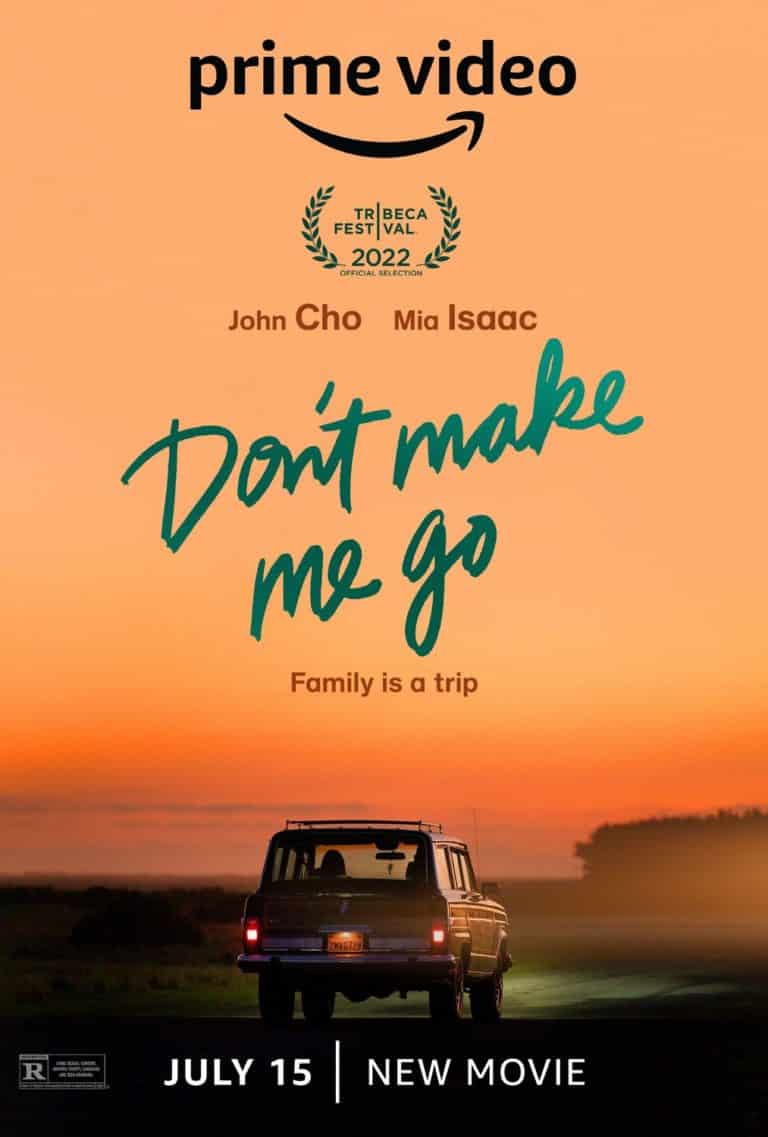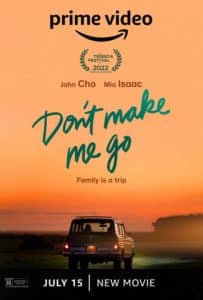 Don't Make me Go, Hannah Marks
Synopis
Max, a single father, takes his teenage daughter Wally across the United States to find her estranged mother.
When Max is diagnosed with a nearly inoperable brain tumor, he struggles to teach Wally about life in the time he has left.
Review
Few films deal with the subject of single fathers and their children.
In this lovely film directed by Hannah Marks and written by Vera Herbert over the past twelve years, it's about that, but not only.
What can an adult give to a child, apart from a good education?
What if children teach us more about ourselves than the other way around?
Vera Herbert, best known for her work on the world-famous emotional drama, "This is Us," has drawn on her own experiences to enrich the father-daughter relationship.
The acting duo, John Cho and Mia Isaac work perfectly in this lovely film that will keep you entertained.
3/5 .
On Prime Video now
FILMS TO WATCH IN YOUR MOVIE THEATERS AS FROM JULY 20TH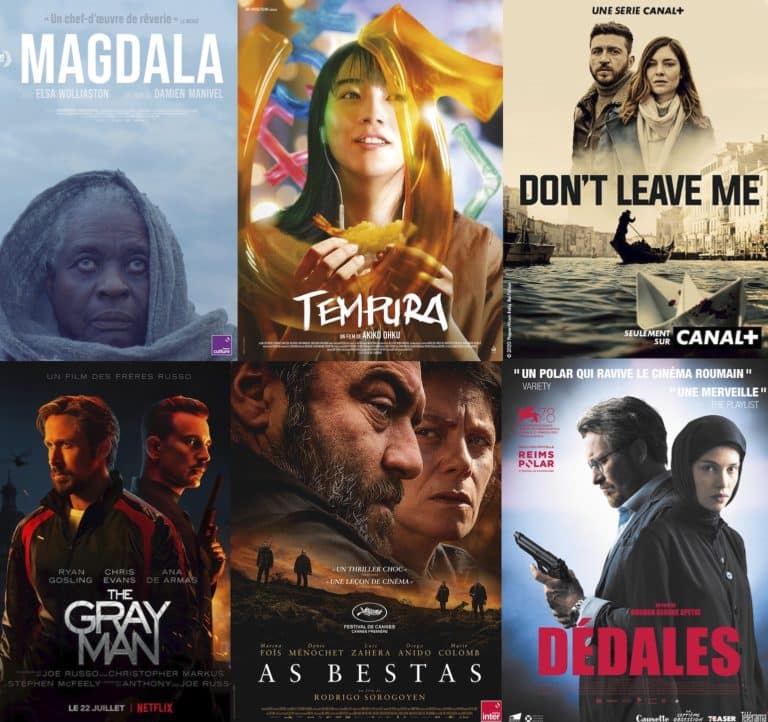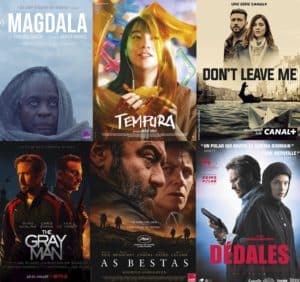 This week
Dédales, Bogdan George Apetri
With Ioana Bugarin, Emanuel Parvu, Cezar Antal
A 19-year-old novice leaves her monastery in secret to settle an urgent matter in town. That same evening, on her way home, her fate changes. Marius, the police inspector in charge of the investigation, is determined to solve the enigma by all means, but the case quickly turns into an obsession.
Tempura, Akiko Ohku
With Non, Kento Hayashi, Ai Hashimoto
Mitsuko has always lived in a bubble. In the heart of a Tokyo too big for her, she devotes herself with passion to cooking recipes that she perfects from her small apartment.
As a single woman, she sets herself new challenges every day, until the unprecedented one… to invite a boy to dinner!
Magdala, Damien Manivel
With Elsa Wolliaston, Aimie Lombard, Olga Mouak
Since the death of Jesus, Mary Magdalene has retired from the world. Her hair has turned white, she eats berries, drinks rainwater and sleeps among the trees. Alone in the heart of the forest, she remembers her lost love. She searches for a way to find him.
Best movies of the summer & later (and we are looking forward to it) : 
Le Rapport Auschwitz, on July 27th, Noël Czuczor, Peter Ondrejička, John Hannah
Beast, by Baltasar Kormákur, on August 19th, with Idris Elba
Là où chantent les écrevisses, Olivia Newman, with Daisy Edgar-Jones, on August 17th,
Nope,  Jordan Peele, on August 5th.
With: Daniel Kaluuya , Barbie Ferreira , Michael Wincott , Steven Yeun , Keke Palmer , Brandon Perea, Terry Notary, Andrew Patrick Ralston , Donna Mills , Jennifer Lafleur
Houria, Mounia Meddour
The woman king, Gina Prince-Bythewood      
Remarkable story of the Agojie, the all-female unit of warriors who protected the African Kingdom of Dahomey in the 1800s with skills and a fierceness unlike anything the world has ever seen.
Inspired by true events, The Woman King follows the emotionally epic journey of General Nanisca (Oscar®-winner Viola Davis) as she trains the next generation of recruits and readies them for battle against an enemy determined to destroy their way of life. Some things are worth fighting for…
Screenplay by Dana Stevens and Gina Prince-Bythewood
Simone Le Voyage du siècle, Olivier Dahan  
With  Elsa Zylberstein, Rebecca Marder, Élodie Bouchez, Judith Chemla, Olivier Gourmet, Mathieu Spinosi. And also Sylvie Testud & Philippe Torreton.
Three thousand years of longing, George Miller, on August 24th
House of the dragon, George R. R. Martin & Ryan Conda, on August 21st
The handmaid's Tale saison 5 : 14 septembre
The patient official, Joel Fields and Joe Weisberg
WEEKLY TIPS & OPINIONS ABOUT MOVIES 
BY  MOVIE DIRECTORS,  WRITERS, SCREENWRITERS, DIRECTORS, COMPOSERS…
The Teacher Who Changed How We Teach Writing | The New Yorker
Paul McCartney on Writing "Eleanor Rigby" | The New Yorker
Etgar Keret on Writing as Anger Management | The New Yorker
TV PROGRAM AS FROM JULY 20TH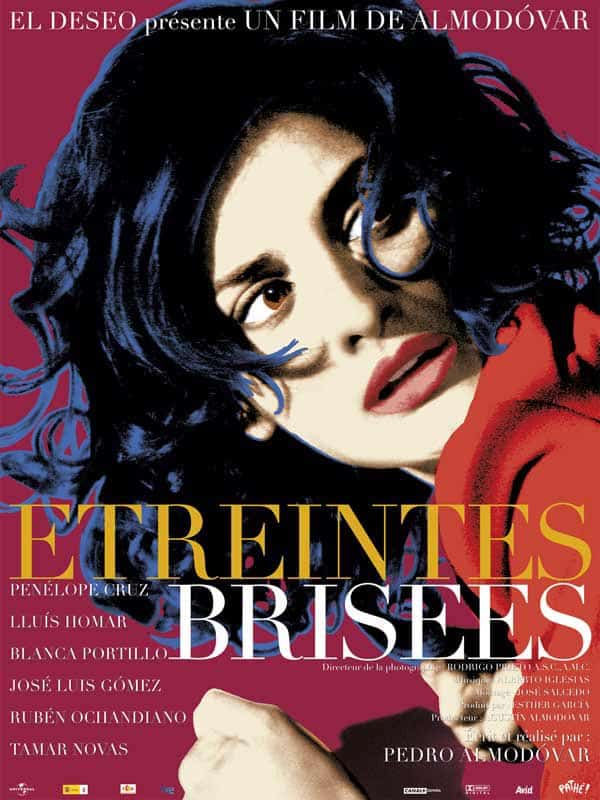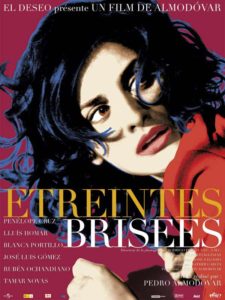 Wednesday – Mercredi
Arte : La belle saison
Thursday – Jeudi
Arte : Berlin 63
Sunday – Dimanche
Arte: Love Story
Monday – Lundi
Arte : Fatale
Canal Plus : Les Olympiades
Wednesday – Mercredi
Arte : Partir
5. 

BEST DOCUMENTARIES, FILMS & SERIES AS FROM JULY 20TH ON ARTE
Documentary
The James Webb telescope or the after Hubble
The new space telescope, James Webb, was successfully launched on December 25, 2021 from the Kourou space center. With its 6.5 m diameter mirror, JWST is the largest space telescope ever developed for a scientific mission. 100 times more sensitive than its elder brother Hubble, it promises significant advances in the physics of galaxies and the study of exoplanets.
Films
Taxi Tehran
Prohibited from filming by the Iranian regime, director Jafar Panahi improvised himself as a cab driver and filmed Tehran, its inhabitants and daily life under the dictatorship. A tender and subversive docu-drama that won the Golden Bear at the 2015 Berlinale.
And then we will dance
In Tbilisi, a young dancer discovers his homosexuality in a society that represses it. Delicate and necessary, the first openly LGBTQIA+ film shot in Georgia.
Series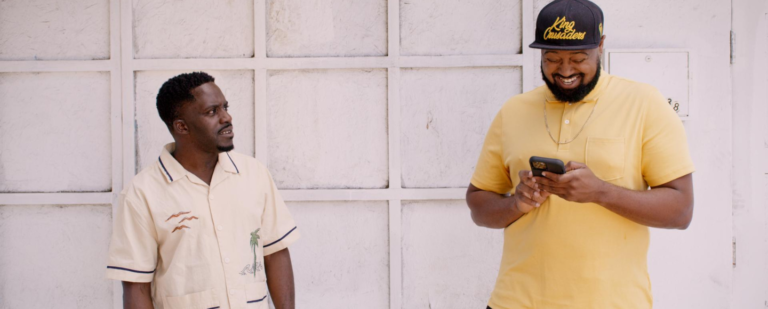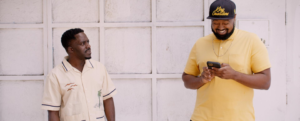 Lost in California by Mathieu Rochet
After "Lost in Traplanta", a new chapter opens for this series, between fiction and documentary, exploring with humor the hip hop culture. This time, Larry (Kody Kim) investigates in Los Angeles, to unearth a mythical and long-awaited album by Dr. Dre.
Larry, a Frenchman living in Los Angeles, takes us into the culture of Gangsta Rap by following in Dr. Dre's footsteps.
Real Humans
In a world close to ours, a new generation of robots that look like humans: the hubots (human robot) replace them in domestic tasks. But some humanoids dream of freedom and in this changing society, the tension rises…
Swedish anticipation series, "Real Humans" is considered a model of its kind.
Best series & films as from July 20th 

on 

Netflix
The Gray Man, by Russo brothers, with Ryan Gosling, Ana de Armas & Chris Evans, on July 22nd.
Persuasion, Carrie Cracknell, with Dakota Johnson, on July 15th.
Blondes, with Ana de Armas by Andrew Dominik.
Mathilda, the musical, Matthew Warchus
Best series & films as from July 20th

 

on 
Prime Video
Prizefighter, Daniel Graham, le 22 juillet
​
The Terminal List, Antoine Fuqua, Ellen Kuras : now
My Policeman, Michael Grandage with Harry Styles, Emma Corrin (The Crown). This fall.
Harry Palmer : The Ipcress File, John Hodge
6 épisodes
Berlin, 1960s. The criminal Harry Palmer settles in Germany. An intelligence officer offers him a way to avoid confinement by becoming a spy. His first case is the Ipcress file, an undercover mission.
Starring Joe Cole (Harry Palmer), Lucy Boynton (Jean Courtney) A new adaptation of the 1962 novel by Len Deighton.
Paper Girls, Brian K. Vaughan, on July 29th
The Lord of the rings, Juan Antonio Bayona, on September 2nd.
Best series & films as from July 20th 

on Canal+
Olympiades, Jacques Audiard, now.
Conversation with friends, directed by Lenny Abrahamson and Leanne Welham, adapted from the novel written by Sally Rooney (Normal People), in August: 12 episodes of 30 minutes.
Adapted for television by Alice Birch, Mark O'Halloran, Meadhbh Mchugh and Susan Soon He Stanton
Don't leave me, Leonardo Fasoli & Maddalena Ravagli with Vittoria Puccini (Elena Zonin), Alessandro Roja (Daniele). On July 25th. (series)
Best series & films as from July 20th 

on Apple TV
Physical saison 2 created by Annie Weisman.
Loot – Alan Yang, Matt Hubbard with Maya Rudolph, MJ Rodriguez, Nat Faxon, now
Surface, on July 29th, by Sam Miller, with Gugu Mbatha-Raw (« The Morning Show »)
Best series & films as from July 20th 

on Disney Plus
On July 27th, Light & Magic, Ron Howard & Lawrence Kasdan
The Princess​, Le-Van Kiet
Willow, Jonathan Kasdan & Wendy Mericle, on November 30th.
Pinocchio, Robert Zemeckis, on September 8th.
Best series & films as from July 20th 

on Starzplay
Becoming Elizabeth, now, is created and written by Anya Reiss.
The Girl from Plainville, with Elle Fanning, now.
Queer as folk, by Stephen Dunn, on July 31st