Movies and series, what's new ?
On the bilingual Movieintheair blog, I do for you a press review every Wednesday and keep the best of the national and international audiovisual news.
This week, many events have taken place in the audiovisual world.
Today begins The Mostra of Venice, with Cate Blanchett as President of the Jury,  with its selection of films, one of the most beautiful film festivals in the world, one of the reason is the beauty of the city that hosts it.
The death of Chadwick Boseman has shaken the world's cinema.
The first episodes of certain series, as well as certain films, are available without the user having to create an account on NETFLIX. 
MK2: Mk2 cinemas will host MK2 Institute in partnership with France Culture, dedicated to conferences on the history of cinema, the history of art, meetings with great writers including the immense Erri de Luca to begin with, cycles of cult films, animation and short films. All the program here
Masks are mandatory in theaters for the duration of the films. Let's hope that this will not slow down viewers, who, except for Tenet (more than 800,000 admissions in France in less than a week), have trouble getting back to the theaters.
Many films are coming out in cinemas, new series on your platforms and new ways for movie theaters to fight against Covid 19.
So here are the new movies in theaters, films to see in your movie theaters, new series, the best of your TV programs and all the news from the festivals.
Movies and series 
TRIBUTE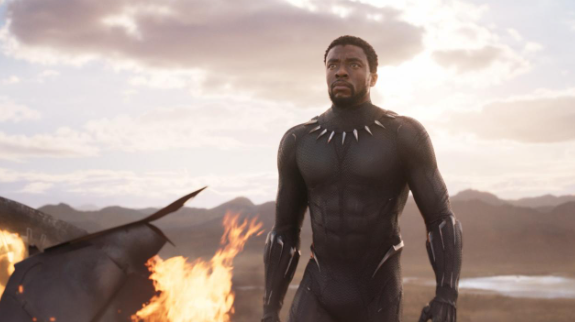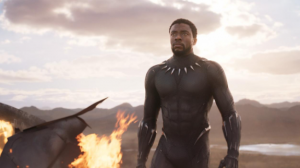 The death of Chadwick Boseman, movie star of  Black Panther and Get on up because of the consequences of colon cancer at only forty-three years of age cast a shadow over the start of the film season and many tributes were paid to him.

I remember his great performance as James Brown (Get on up) and the physical strength he showed in Black Panther. He didn't look like he was sick and yet he had been fighting this disease for several years.es.
Tribute : Barack Obama, Joe Biden, Samuel L. Jackson, Angela Bassett, Dwayne Johnson….(source: France Info)
In Première magazine, a tribune to his performance in Get on Up.
New York Times tribute: a portrait of the actor  and a link to watch his movies
1. IN YOUR MOVIE THEATERS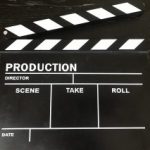 I have chosen for you:
Never rarely sometimes always, by Eliza Hittman, Grand Prix of the  Jury at the 2020 Berlinale
Tenet ! De Christopher Nolan.
Review here
Les Citoyens du Monde, by Gianni Di Gregorio
Effacer l'historique by Gustave Kervern and Benoît Delépine
Dans un jardin qu'on dirait éternel, by Tatshushi Omori
In September
As from September 2nd
Your movie
Ema, de Pablo Larrain, le rapport brûlant d'une jeune danseuse à la maternité et à la féminité
And as well: 
Police, by Anne Fontaine, with Virginie Efira and Omar Sy
Enorme by Sophie Letourneur
Antigone by Sophie Deraspe
As from September 9th
Rocks, by Sarah Gavroln
La Daronne, by Jean-Paul Salomé,
Sole by Carlo Sironi. To listen, this interview on France Culture, with the director
Antebellum, by Gerard Bush & Christopher Renz (horreur)
As from September 16th
Honeyland
As from September 30th
L'ordre moral, de Marrio Barroso, avec Maria de Medeiros
Wonder Woman, by Patty Jenkins
Josep, by Aurel
Billie, by James Arskin
2. REVIEWS
ALL YOU WANT TO KNOW ABOUT
MADRE 
BY RODRIGO SOROGOYEN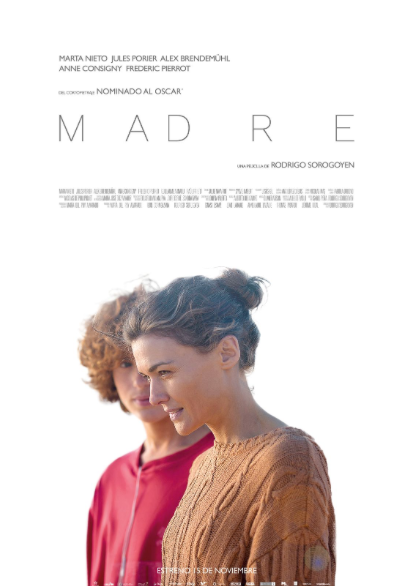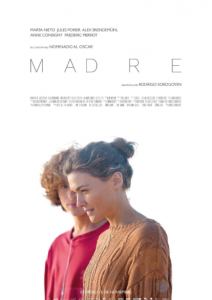 Some movies make you feel like you're being punched. This was the case for Madre, finally seen in the cinema Le Balzac today.
The beginning of Madre is as strong as the beginning of Foxtrot and the spectator finds it hard to catch his breath. This is the strength of Rodrigo Sorogoyen, director of El Reino and Que Dios nos perdone.
PITCH
Ten years have passed since Elena's son, then 6 years old, disappeared. Ten years since that phone call where alone and lost on a beach in the Landes, he told her that he could no longer find his father. Today, Elena lives and works there in a seaside restaurant. Devastated, her life follows its course. One day, she sees a sixteen-year-old boy who looks strangely like her son….
THE MOVIE
After a chilling beginning, the film unfolds slowly. Elena runs a restaurant by the sea, walks for hours on the beach, meets her friend but is unfathomably sad. Elena oscillates between madness and sorrow.
Her eyes, her looks, even her body are sad. The director plunges us into her distress, and the wide shots of her wandering on the beach constantly send us back to her son's call for help, except when she finds Jean. Jean is the teenager for whom she takes affection, whom she wants to protect and who gradually brings her back to life.
Does Elena have the impression of finding her son in Jean? Does Jean fall in love with her fragility? We don't know what is going on between them, just as we don't know what happened to her son…
Marta Nieto won the Goya for Best Actress in this film and the Orizzonti Prize for Best Actress at the Venice Film Festival last year. The film has won a series of awards, including the Goya for Best Film.
Rodrigo Sorodoyen directed a sublime film about the impossible mourning of a mother. A hard and strong story about being a mother, a situation that cannot be undone.
WITH
Marta Nieto : Elena
Jules Porier : Jean
Alex Brendemühl : Joseba, le fiancée d'Elena
Anne Consigny : Lea, la mère de Jean
Frédéric Pierrot : Gregory, le père de Jean
Guillaume Arnault : Benoit
Álvaro Balas : Iván
Blanca Apilánez : la mère d'Elena
Alexandre Pagani : Benjamin
NETFLIX
SERIES
OCCUPIED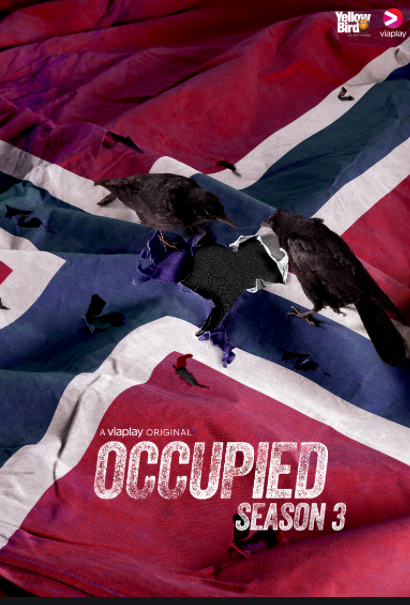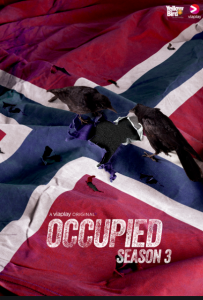 By Erik Skjoldbjærg & Karianne Lund
Sometimes reality sadly joins fiction. Currently, Denmark and NATO deplore the intrusion of a Russian fighter plane into Danish airspace. And this week, I have chosen to tell you about the Norwegian series Occupied.
Pitch
In the near future, Russia occupy Norway with the consent of the European Union to appropriate its oil.
The series
Everything is gradually being put in place. And as in the past, Europe is letting go of one of its own in the face of difficulties.
The subject this time is oil. For fear of running out of it, Europe asks Russia to put pressure on Norway to continue producing its famous fossil energy. The Prime Minister, elected to implement clean energy, gives in because he is alone against Europe, the United States and Russia. And then the situation is getting worst.
The main characters are faced with radical choices: a bodyguard, a lawyer, a restaurateur, a chief of staff, a Prime Minister, an ambassador…
During the episodes and the seasons, the country is invaded, the men corrupt themselves, betray their commitment, the women fight…. This series so realistic (we have a little example of it today) is simply fascinating.
Between geopolitics and their daily life, the heroes fight for their conviction or let them go.  To watch now on Netflix.
With
Enrik Mestad : Jesper Berg, Premier ministre de Norvège
Eldar Skar : Hans Martin Djupvik
Ingeborga Dapkūnaitė : Irina Sidorova
Ane Dahl Torp:  Bente Norum
Vegar Hoel : Thomas Eriksen
Ragnhild Gudbrandsen : Wenche Arnesen
Veslemøy Mørkrid : Ingrid Bø
Janne Heltberg : Anita Rygg
Lisa Loven Kongsli : Astrid Berg
Selome Emnetu : Hilde Djupvie
Øystein Røger : Dag Ottesen
Sondre Larsen : Stefan Christensen
Hippolyte Girardot: le commissaire européen français
Stig Ryste Amdam : Harald Vold
3.

GOOD TIPS FROM MOVIE 

PROFESSIONALS
European Film Factory, a new plateform to promote education on movies (CNC)
How to restore a movie ? (CNC)
Olivier Adam writer and the movies (Marianne)
The challenge of being a woman in the movie industry in Africa (BRUT)
Click to read the entire article:
50 Things About Screenwriting. Some observations about the craft I've… | by Scott Myers | Aug, 2020
Great Scene: "Duck Soup". As much of a fan of movies as I am, I'm… | by Scott Myers | Aug, 2020 | Go
Sherlock vs. Sherlock: A Study in Visual Storytelling | by Livia Camperi | Storius Magazine | Medium
4. YOUR EVENING TV PROGRAM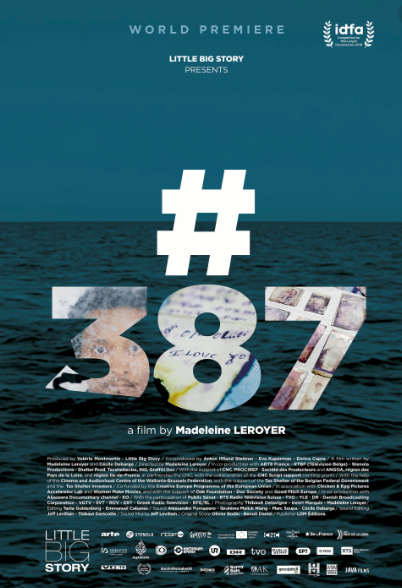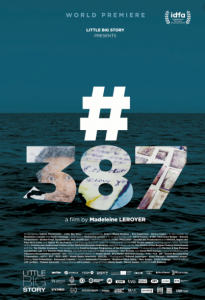 Wednesday 2
Arte: Adieu Berthe, de Bruno Podalydès
M6: Indiana Jones et le Temple Maudit
TCM: La Planète des singes
TFX: I Robot
Thursday 3
France 5: Devenir Extra-Terrestre
TMC: Captain America : First Avenger
TF1 Séries : Matrix
Chérie 25 : La Proie
Arte: The Killing (série)
Friday 4
France 3 : Elle s'appelait Grace Kelly de Serge de Sampigny
TCM : Speed
Arte : Tout contre elle de Gabriel Le Bomin
Et un documentaire sur Aretha Franklin, de France Swimberge, l'autre documentaire après Amazing Grace
Saturday 5

Paramount : Flight
C+ Cinema : Le Mans 66
Arte : documentaire : enquête au coeur des zoos humains….
Sunday 6
TCM: There will be blood, de Paul Thomas Anderson
Arte : La poursuite impitoyable, De Arthur Penn, avec Marlon Brando, Paul Newman
TFX : le goût de la vie
Monday 7
TCM: La Bataille de Midway
France 5 : Serpico
LCP : Truffaut-Godard : le scénario d'une rupture
Arte : Ça commence aujourd'hui de Bertrand Tavernier
Tuesday 8
TCM: Dans la vallée d'Elah
C8: Le diable s'habille en Prada
W9: Le jour d'après
TFX: Man of Steel
NRJ12: Didier
LCP: MalcomX et la naissance de l'Afro-Américanisme
Arte : Un documentaire fort sur les migrants: numéro 387 disparu en Méditerranée
Wednesday 9
Arte: Madame Hyde de Serge Bozon
TFX: Je suis une légende
4. PLATFORMS
Arte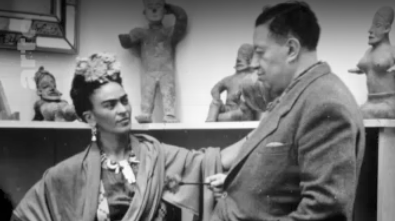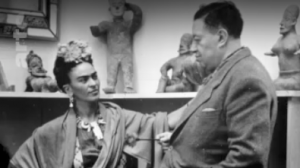 Short-movie
 Shlomo et le rabbin by Julien David
Documentary
Numéro 387 disparu en Méditerranée, a documentary about migrants: on September 8th on ARTE
Citizen Jane: a documentary about Jane Fonda
Movie
Le secret de la Chambre noire by Kiyoshi Kurosawa
Jan Masaryk, histoire d'une trahison, de Julius Sevcik 
Soon The Virtues on Arte platform:
La Chaîne Parlementaire
LCP offers you a lot of good documentaries: here
La Cinémathèque Française
On Henri plateform, a cult movie everyday
Movies and series to stream on 
Netflix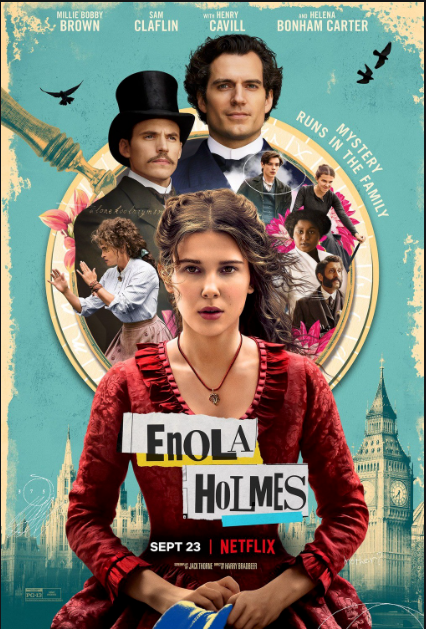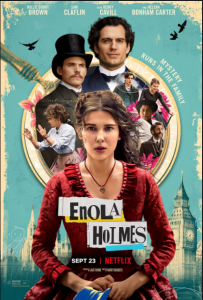 Today:
Four movies by Jean-Luc Godard
Rising Phoenix, by Ian Bonhôte, Peter Ettedgui
The Beguiled, by Sofia Coppola, with Nicole Kidman, Kirsten Dunst, Elle Fanning, Colin Farrell
The young Wallander, as from September 3rd, with Benjamin Harris, adapted from Henning Mankell's novels.
A short series, The Spy, as from September 7th,  by Gideon Raff, with Sacha Baron Cohen: the true story of Eli Cohen, an Israeli spy,  who became the adviser of the Minister of Defense in the 60's .
Ratched,
as from September 18th, by Evan Romansky.  The series is inspired by Ken Kesey's novel, One Flew over the Cuckoo's Nest adapted on screen by great director Milos Forman, with Jack Nicholson . The series explores the youth of the cruel nurse Mildred Ratched.
Produced by Jacob Epstein, Michael Douglas, Ryan Murphy (Hollywood). With  Sarah Paulson, Sharon Stone.
Enola Holmes, by Harry Bradbeer, as from September 23rd
Movies and series to stream on
PRIME VIDEO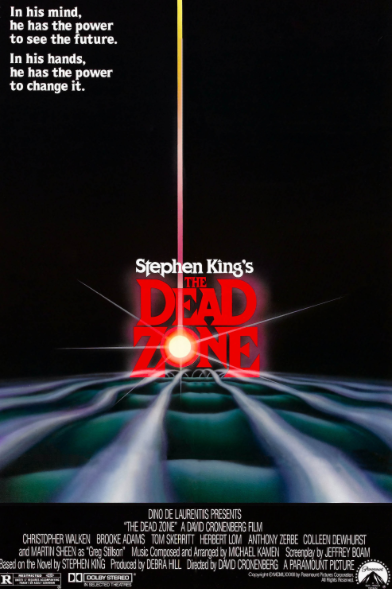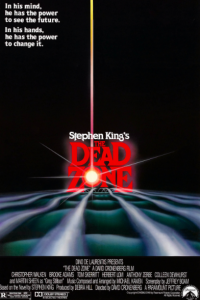 The Dead Zone, de David Cronenberg
Hud, by Martin Ritt
The Boys, by Eric Kripke (series)
The Americans (series)
Movies and series to stream on
Canal+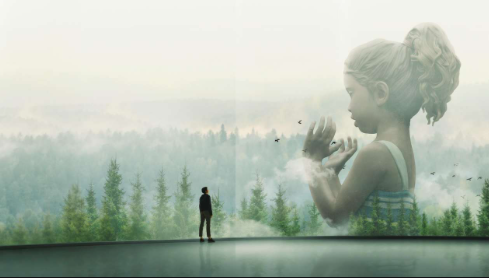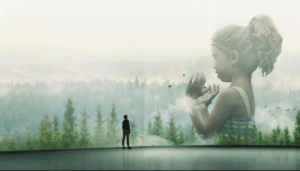 Pen 15, a teenage series. Review here on France Info
Devs, first series directed by Alex Garland
Engrenages (season 8) in September
I lost my body (VOD), by Jeremy Clapin
Parody of The Bachelor,  with Jonathan Cohen, La Flamme (série)
The Mule, by Clint Eastwood
Rocky, by Sylvester Stallone
Alice et Le Maire, by Nicolas Pariser
You deserve a lover,  first movie of Hafsia Herzi
Movies to watch 
on 
Disney+
Big, by Penny Marshall, with Tom Hanks
4.

NEWS FROM THE MOVIE INDUSTRY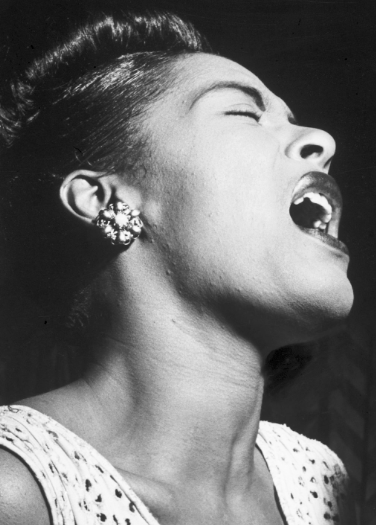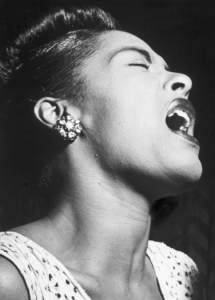 Rodrigo Sorogoyen shot Antidisturbios,  a series about immigration police broadcast on Movistar+ as from October 16th?
A documentary about  Donald Trump and the FBI soon on your screen: Trump at war with the FBI: Trailer
Ten series to watch according to  Les Échos
Valérie Lemercier plays Céline Dion in a new movie that she directed.
Netflix : Meryl Streep and Nicole Kidman in a Christmas movie by Ryan Murphy
As from September 18th on Arte : No man's land: created by Maria Feldman & Amit Cohen (False flag) Ron Leshem, Eitan Mansuri
A documentary about The Mediterranean sea, "Deep Méditerranée" directed by Laurent Ballesta will be broadcast as from September 19th  20h 50 on Arte.: four divers are getting isolated during four months at 120 beneath the sea 
HBO will adapt Sphere novel in a new series
Billie Holiday biopic release date  forecast for February 2021, withTrevante Rhodes, Garrett Hedlund, Natasha Lyonne and Da'Vine Joy Randolph
HBO launches a new series broadcast as from September 14th: We are who we are, by Lucas Guadagnino (Call me by your name) end Sean Conway
Bill and Ted face the music, by Dean Parisot, with  Keanu Reeves and  Alex Winter, date of release not given yet.
[vc_video link='https://youtu.be/1gPGeAYo3yU'
Ai Weiwei signed a documentary on the lockdown.
5. MOVIE EVENTS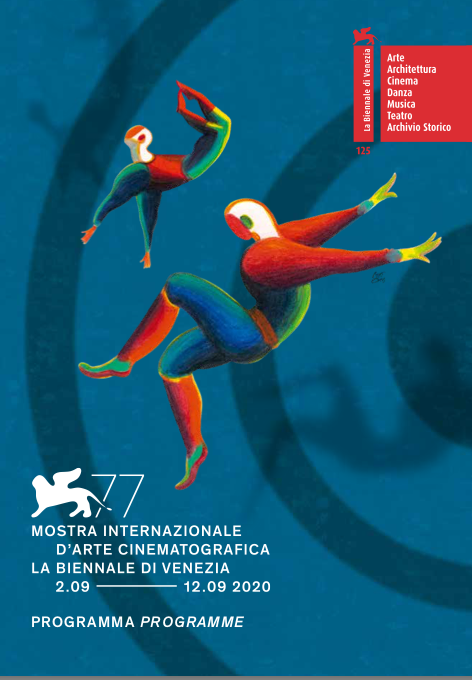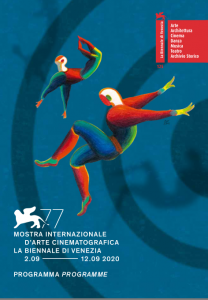 Opening today of  La Mostra of  Venice
18 movies selected:
– Le sorelle Macaluso d'Emma Dante (Italie)
– The world to come de Mona Fastwold (Etats-Unis)
– Nuevo orden de Michel Franco (Mexique/France)
– Amants de Nicole Garcia (France)
– Laïla in Haifa d'Amos Gitaï (Israël/France)
– Dear comrades d'Andreï Kontchalovsky (Russie)
– Les amants sacrifiés de Kiyoshi Kurosawa (Japon)
– Sun children de Majid Majidi (Iran)
– Pieces of a woman de Kornel Mundruczo (Canada/Hongrie)
– Miss Marx de Susanna Nicchiarelli (Italie/Belgique)
– Padrenostro de Claudio Noce (Italie)
– Notturno de Gianfranco Rosi (Italie/France/Allemagne)
– Never gonna snow again de Malgorzata Szumowska et Michal Englert (Pologne/Allemagne)
– The disciple de Chaitanya Tamhane (Inde)
– And tomorrow the entire world de Julia von Heinz (Allemagne/France)
– Quo vadis, Aïda ? de Jasmila Zbanic (Bosnie-Herzégovine)
– Nomadland de Chloé Zhao (Etats-Unis)
– In between dying de Hilal Baydarov (Azerbaïdjan)
The Vogue magazine 's choice : movies of La Mostra
Festival de la Fiction:  September 16 to 18 : 22nd edition with SERIEMANIAS ' program.
Marseille séries stories, as from November 19 to 22.
CINEMED, Montpellier, préside by Grand Corps Malade, from October 16 to 24 
Opening of the Festival of Amercian films in Deauville as from September 4th.
"L'Afrique fait son cinéma"  is the International African and Afro-descendant Film Festival of Paris during which various filmmakers meet in a friendly atmosphere to present the best productions of the moment, with competitions in a few categories.
The 2nd edition will be held at the cinema Lincoln – Champs Elysees on 21, 22, 23 and 24 October 2020.
Movie theaters are fighting against Covid
A flotting movie theaters in Tel-Aviv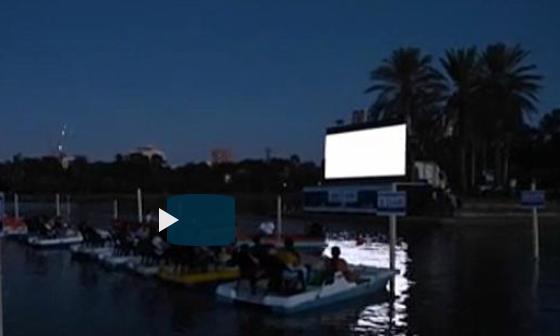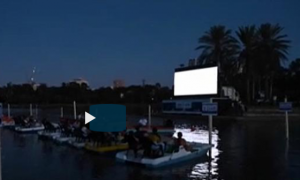 Supporting a short movie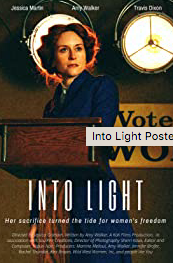 Into Light, by Jessica Graham with Amy Walker : a short film about Inez Milholland Boissevain's fight for women's suffrage in the United States, acquired in 1920 (Kali Productions).
Go and watch movies !