Woody Allen, aged 84 years old, did with A rainy day in New York, one of the best movies of his carrier.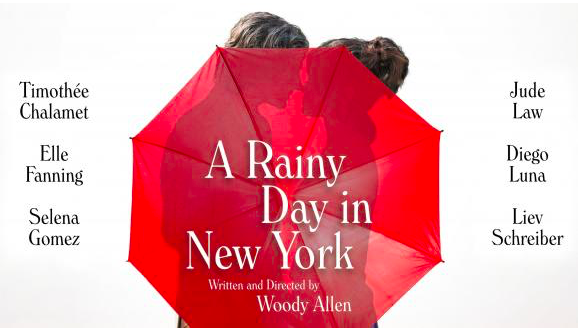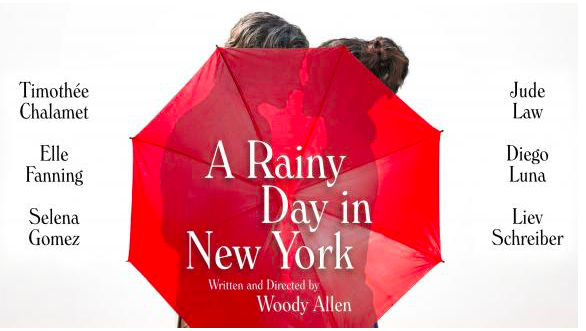 A rainy day in New York
A brillant comedy
I found A rainy day in New York a modern version of Manhattan. For Woody Allen, New York is romantic in all kind of weathers and this movie is a tribute to his born city.
The movie begins with the piano music of Errol Garner and takes us immediately in Woody Allen' universe. Timothée Chalamet, Elle Fanning and Selena Gomez are the characters we always meet in his movies: the lover, the girlfriend and the new young woman (or new young man).
The pitch
Ashleigh (played by Elle Fanning), young student of the Yardley University has an interview in New York with her favorite director, Rolland Pollard (played greatly by Live Schreiber).
Her boyfriend,  Gatsby (played by Timothée Chalamet) sees the opportunity to spend a romantic week-end with her. But when she get there, well nothing happens as it was supposed to…
While he is alone and bored, Gatsby meets the sister of a former girlfriend he had in school, Shannon.
Nostalgia, comedy and jazz
This movie is funny, romantic and nostalgic. Each character, line or shot, reminds us of his best older movies: for example Gatsby' love of New York :
Stardust Memories (when Charlotte Rampling wants to go to the countryside),
The living artistic crisis of Rolland Pollard  (in Hollywood Ending Woody Allen becomes blind while he has to shoot a movie),
A man cheated on by his wife and his best friend (Manhattan)
A young character, who looks like exactly the same as the young Woody Allen (who wants to reinvent the film noir)
The romantic rain (last line of Owen Wilson in Midnight in Paris).
Many references
The movie is also about:
Coincidence (The Curse of the Jade Scorpion…),
Funny references to judaism ("we should establish fellatio at the bar mitzvah"),
Fear of death and disease:  « I certainly spit my lungs when I turn forty ». In Manhattan, Woody Allen says that to survive he has to feed himself like Gandhi during a year.
Literature i.e. : Gatsby, Timothée Chalamet (obvious reference to Scott Fitzgerald). Elle Fanning, Ashleigh (Gone with the wind, the coward hero), the carriage ride (Margot Hemingway in Manhattan).
Relationships of the hero with his mother. This time, the woman is an old and beautiful woman played by Cherry Jones who looks like Gena Rowlands in one of his most original movies The other woman.
Finally, besides the wandering in New York, taxis, rain under the sun (there was not a single day of rain during the shooting), the perfect performance of the actors, Vittorio Storario beautiful light (Wonder Wheel, Café Society), and the music,  the sequence of  little events like musical notes of a jazz score made this movie an enchantment.
Written and directed by Woody Allen
With : Timothée Chalamet, Selena Gomez, Elle Fanning, Jude Law, Rebecca Hall, Kelly Rohrbach, Diego Luna, Liev Schreiber, Cherry Jones, Suki Waterhouse, Annaleigh Ashford, Griffin Newman, Taylor Gildersleeve, Kathryn Leigh Scott, Will Rogers, Edward James Hyland, Olivia Boreham-Wing, Liz Celeste, Jacob Berger, Catherine LeFrere, Natasha Romanova.
To listen on France Musique
https://www.francemusique.fr/emissions/cine-tempo/il-etait-une-fois-en-pologne-75821 via @francemusique
Woody Allen and death or Woody Allen and sport