What films to watch as from November 23rd
Films as from November 23rd
Your news as from November 23rd
CHRISTMAS MOVIES!
NETFLIX
The Claus Family 2, now 
Falling for Christmas on November 10th
Christmas with you, on November 17th
The Noel Diary, on November 24th
Scrooge, a Christmas Carol,on December 2nd
Pinocchio, by Guillermo del Toro & Mark Gustafson, on December 9th
Emily in Paris season 3, on December 21st
Mathilda, the musical, Matthew Warchus, on December 25th.
APPLE TV
Spirited on November 18th, directed by  Sean Anders & written by Anders & John Morris. This is a modern adaptation of A Christmas Carol by Charles Dickens written in 1843.
DISNEY PLUS
The Santa Clauses, on November 16th
The Guardians of the Galaxy Holiday Special on November 25th
Disenchanted 2, by Adam Shankman, on November 18th
In Movie theaters
I wanna dance with somebody, by Kasi Lemmons, written by Anthony McCarten. With Naomi Ackie, Stanley Tucci, Ashton Sanders, Tamara Tunie, Nafessa Williams et Clarke Peters.
23 décembre,  on November 25
Violent Night, on December 2nd
Vivre, by Oliver Hermanus, on December 28, by author of The Remains of the Day & adapted from Akira Kurosawa's masterpiece.
With Bill NIGHY
.
The best movies since January 2022:
As Bestas, Rodrigo Sorogoyen (review below)
La nuit du 12, Dominik Moll (review below)
Holy Spider, Ali Abbasi (review below)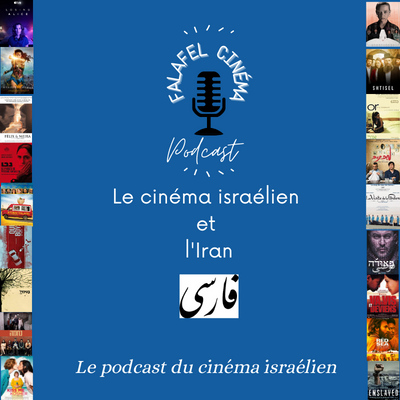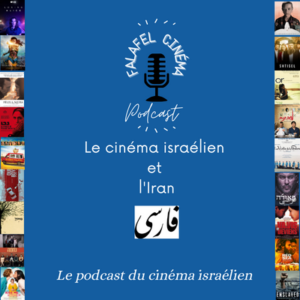 ALL YOU WANT TO KNOW ABOUT  FILMS & SERIES IN THEATERS & AT HOME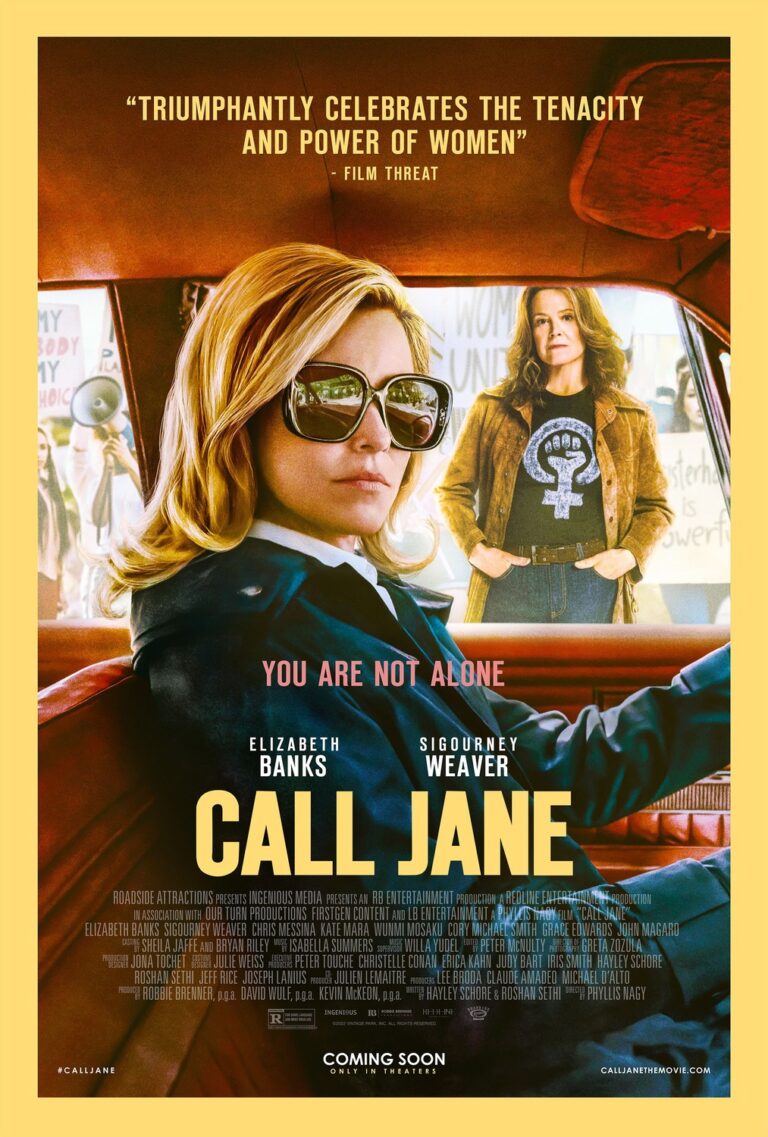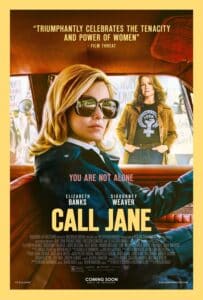 Call Jane, Phyllis Nagy
Synopsis
Chicago, 1968.
Joy, married with a grown daughter, is faced with an unexpected and life-threatening pregnancy. When medical institutions refuse to help her, she turns to the "Janes", a group of women who meet secretly to perform clandestine abortions.
Years before the practice was legalized by Roe v. Wade, Joy joins the group to fight for women's rights.
Review
There are many ways to talk about abortion in film.
Phyllis Nagy, (an Oscar nominee for best adapted screenplay for the film Carol, Phyllis Nagy, friend of Highsmith) chose to set her film in the 1960s.
Joy, played by Elisabeth Banks, a housewife who writes her husband's speeches, is a fighter. Despite the law and the refusal of the doctors who forbid her to have an abortion, she will, at first, have an abortion and join the group of Janes led by Virginia (Sigourney Weaver). She then realizes that she could have studied…
This intelligent film is as good as Audrey Diwan's The Happening. It shows that abortion is something that can be done, and can be part of a woman's life without being a psychological or physical tragedy.
The film was released just as Roe v. Wade was being re-passed.
And that's the tragedy. That we live in a time when women still have to get permission from men to dispose of their own bodies.
The fight goes on.
With Elizabeth Banks, Sigourney Weaver, Chris Messina, Kate Mara, Wunmi Mosaku, Cory Michael Smith, Grace Edwards.
Currently on Canal Plus.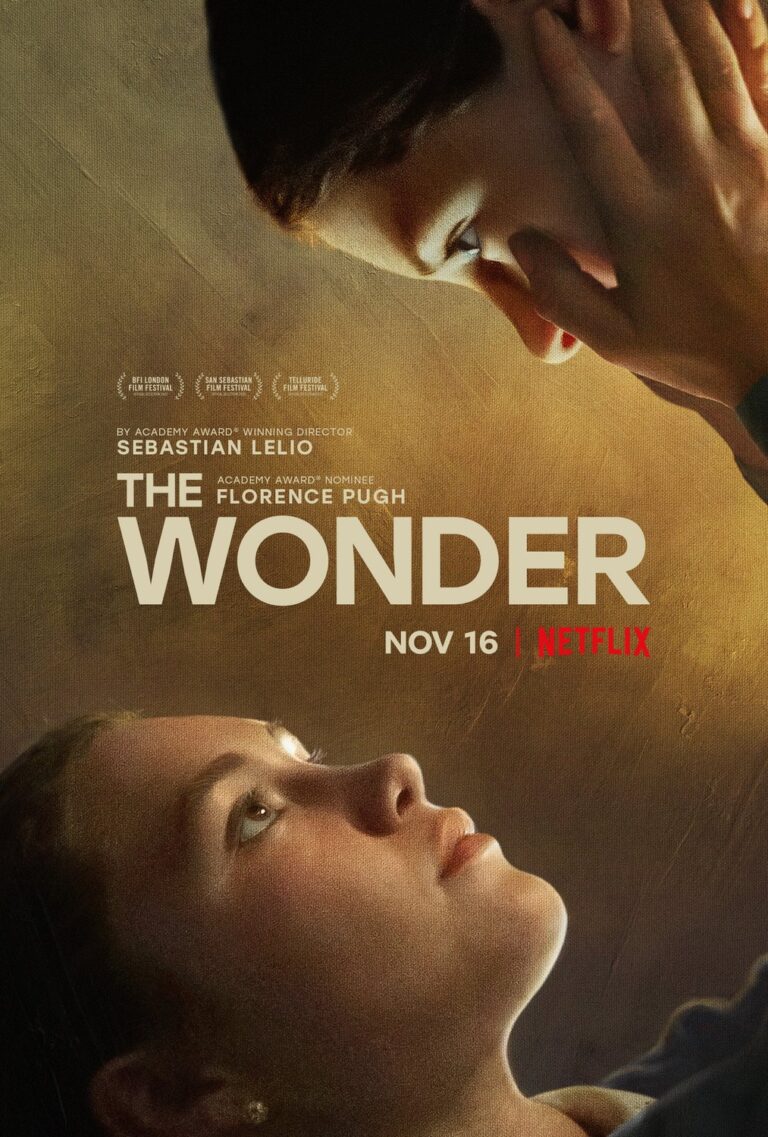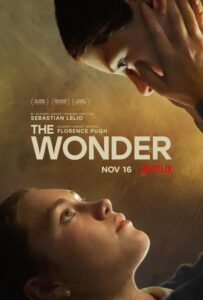 The Wonder, Sebastián Lelio
Synopsis
Ireland, 1862.
An English nurse, Lib Wright, is summoned to a tiny village to observe what some claim is a medical anomaly or miracle: a young girl has survived without food for months.
Review
It is adapted from the eponymous novel by Emma Donoghue.
Terrifying and fascinating, the story filmed by Sebastian Lelio, director of Gloria and A Fantastic Woman, takes us to the heart of a region where religious obscurantism prevails over reason, since the famine destroyed entire villages, the causes of which are attributed to England. England had bet everything on the potato (monoculture) and a disease destroyed all the fields, which generated a terrible famine.
This theme of food is beautifully portrayed in The Wonder.
Lib, played by Florence Pugh (revealed in Little Women), likes to eat and shows it. Her attitude shocks the family that takes her in, as she is also English. But she hides a painful past.
Anna O'Donnell, beautifully played by Kíla Lord Cassidy, is a young girl of 11 years old, who claims to have survived for months without eating. But how? Thanks to "manna from heaven", she says.
To observe Anna, Lib is assisted by Sister Michael, who observes Anna during the day.
Both must report their findings to a council consisting of Dr. McBrearty, the parish priest, Father Thaddeus, the town elder, Sir Otway, and the local landlord, John Flynn.
Lib manages to find the loophole and is desperate to save the child. Will the councilors listen to him?
This film is reminiscent of Jane Campion's The Piano in its power and darkness, as well as its faith in life, which is stronger than anything else.
The Wonder is magnificent.
Now on Netflix.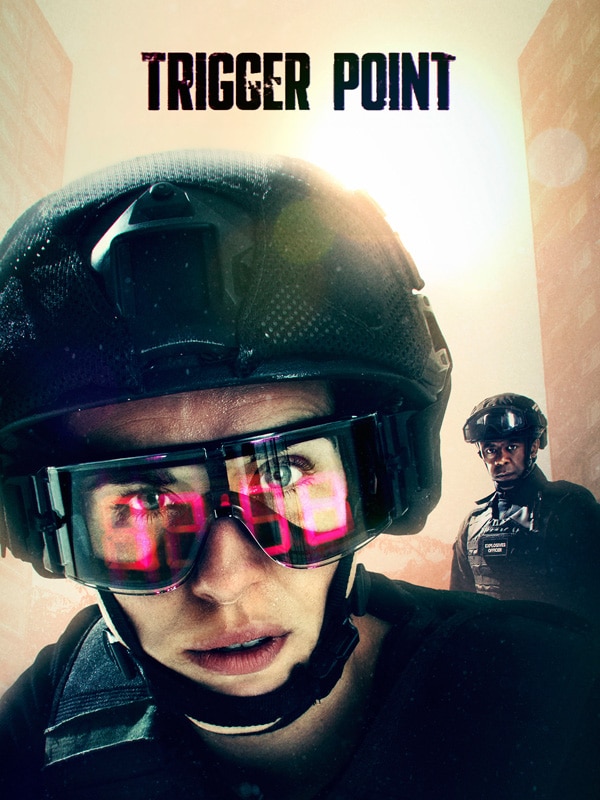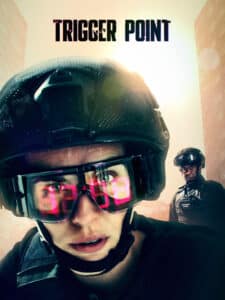 Trigger Point, Jed Mercurio (Line of Duty, Bodyguard) & Daniel Brierley
Synopsis
Trigger Point follows the daily life of Lana Washington, a member of a London police bomb disposal team.
This former military veteran is a master of bomb disposal and explosives defusion and can count on the support of Joel Nutkins, who served alongside her in Afghanistan.
When a series of terrorist attacks hits the British capital, Lana and her team find themselves on the front lines trying to protect the population, risking their lives.
Review
Vicky McClure, known for her roles as Detective Kate Fleming in the BBC series Line of Duty and Lol Jenkins in the Shane Meadows film This Is England, plays Lana.
Lana is a woman who lives alone, haunted by the war where she served in Afghanistan and which serves as a thread throughout the series. She and her partner Joel Nutkins, aka Nut (the great actor Adrian Lester), form a bomb disposal team….
This series has received many rave reviews across the Atlantic. And for good reason.
The character of Lana is endearing both by her behavior, she must impose herself within a profession essentially male, her flaws, and the difficulty of the job she does, she is in contact with death every day. We also discover all the jobs that contribute to the resolution of an investigation, and we realize that it is a real teamwork.
You too, go for it in this series. You won't regret it.
Currently on Canal Plus.
FILMS TO WATCH IN YOUR MOVIE THEATERS AS FROM NOVEMBER 23rd
This week:
The Menu, Mark Mylod
With Ralph Fiennes, Anya Taylor-Joy, Nicholas Hoult
A couple travels to a remote island to dine at one of the hottest restaurants of the moment, along with other select guests. The chef's tasty menu will surprise them in ways that are both surprising and radical…
Bones and All,  Luca Guadagnino
With Timothée Chalamet, Taylor Russell, Michael Stuhlbarg
Maren goes in search of her mother and meets Lee, a teenage drifter who takes her on a fiery road trip through the American heartland. Will their budding love be strong enough to resist their demons, their past and the gaze of a society that considers them monsters?
Les Miens, Roschdy Zem
With Roschdy Zem, Maïwenn, Sami Bouajila
Moussa has always been gentle, selfless and present for his family. This is in contrast to his brother Ryad, a famous TV presenter who is criticized for his selfishness by those around him. Only Moussa defends him, who has great admiration for his brother. One day Moussa falls and hits his head violently.
Aucun ours, Jafar Panahi
With Jafar Panahi, Mina Kavani, Vahid Mobasheri
In an Iranian village near the border, a director witnesses one love story while filming another. Will tradition and politics get the better of both?
She Said, Maria Schrader
With  Carrey Mulligan, Zoe Kazan
Two New York Times reporters, Megan Twohey and Jodi Kantor, work together to bring to light one of the most important scandals of their generation. At the root of the #Metoo movement their investigation broke decades of silence around the issue of sexual assault.
Saint Omer, Alice Diop
With Kayije Kagame, Guslagie Malanda, Valérie Dréville
Rama, a young novelist, attends the trial of Laurence Coly at the Saint-Omer court of assizes. She is accused of having killed her 15-month-old daughter by abandoning her on a beach in northern France.
Inu-Oh, Masaaki Yuasa
With Avu-chan, Mirai Moriyama, Tasuku Emoto
Inu-oh, a cursed creature, was born with a physical characteristic that forces him to hide every part of his body. His life as a lonely outcast changes when he meets Tomona, a blind Biwa player. Together, they create a unique duo that fascinates the crowds and becomes Japan's first celebrity.
Mauvaises Filles, Émérance Dubas
Insubordinate, rebellious, misunderstood or simply unloved. Like so many other women, Édith, Michèle, Éveline and Fabienne were placed in a reformatory as teenagers. Today, each one tells her story and reveals the shocking fate reserved for these "Bad Girls" until the end of the 1970s in France.
Holy Emy, Araceli Lemos
With Abigael Loma, Hasmine Kilip, Michalis Syriopoulos
When their mother is forced to return to the Philippines, sisters Emy and Teresa lead a quiet life in their tight-knit Catholic community in Athens. However, when Teresa becomes pregnant, Emy is increasingly drawn to other, more mysterious forces that live within her
Movies to come (and we are looking forward to it):
The Last of Us, Craig Mazin & Neil Druckmann
Swing rendez-vous, by Gérome Barry
The Idol 
Created by Abel "the Weeknd" Tesfaye, Reza Fahim, and Sam Levinson for HBO.
She said, Maria Schrader, with Carrey Mulligan, Zoe Kazan, on November 18th
Houria, Mounia Meddour
The patient official, Joel Fields and Joe Weisberg
God's creature, Saela Davis & Anna Rose Holmer , with Emily Watson, Paul Mescal, & Aisling Franciosi
The Son, Florion Zeller
WEEKLY TIPS & OPINIONS ABOUT MOVIES 
BY  MOVIE DIRECTORS,  WRITERS, SCREENWRITERS, DIRECTORS, COMPOSERS…
Character Type: Healer. "Educated and intelligent, combined… by Scott Myers 
TV PROGRAM AS FROM NOVEMBER 23rd
Mercredi – Wednesday
France 3 : Les Invisibles
Arte : La Taupe
TMC : Contagion
Jeudi – Thursday
Canal Plus : Trigger Point
Tmc : A star is born
Friday – Vendredi
Canal Plus : 355
Chérie 25 : Mange,prie, aime
Sunday – Dimanche
Arte The Immigrant
TMC : Jurassic World
Monday – Lundi
Canal Plus : This England
Arte : Le ciel peut attendre
M6 : Pretty Woman
Tuesday – Mardi
Canal Plus : Madeleine Collins
Gulli : Willow
Wednesday – Mercredi
France 2: Les invisibles
Arte : Pour une femme
5. 

BEST DOCUMENTARIES, FILMS & SERIES AS FROM NOVEMBER 23rd ON ARTE
In the 80's, the beginnings of French hip-hop are told through the birth of the group NTM, the career of the dancer and graffiti artist Lady V and the DJ Dee Nasty. A social and musical chronicle, the choral series "The World of Tomorrow" follows endearing characters, pioneers of a cultural revolution. Directed by Katell Quillévéré and Hélier Cisterne.
Black Far West – A counter-history of the West
Who knows today that the first cowboys were black? With the help of magnificent archives and historians' testimonies, Cécile Denjean restores the original place of African-Americans in the story of the conquest of the West.
FILMS FROM NOVEMBER 23rd
The red tent
With an international cast (Sean Connery, Peter Finch, Claudia Cardinale…) and a powerful lyricism, the Soviet director of "When the storks go by", Mikhaïl Kalatozov, reconstitutes the tragic polar expedition led by the Italian Umberto Nobile in 1928.
ChainedLove Trilogy
Accused of sexually assaulting a minor, Rashi loses his footing as he watches his professional life and his relationship slip away… The first part of the "Love Trilogy" by Israeli director Yaron Shani, which also includes "Beloved" and "Stripped", is a shockingly realistic film.
The Wild Goose Lake
A gangster in search of redemption, target of a manhunt, crosses the path of a prostitute with uncertain intentions… By Chinese director Diao Yinan ("Black Coal"), a sumptuous film noir with virtuoso direction, between homage to the classics, violence and contemplation.
Series as from November 23rd
Pure, by Kirstie Swain with Charly Clive (Marnie), Joe Cole (Charlie). 
A young woman of ordinary appearance, Marnie suffers from an obsessive-compulsive disorder called "Pure O" which spoils her life: in any circumstances – at the doctor's, in the subway, at the office – her brain is assailed by uncontrollable sexual thoughts. A funny and daring English series, carried by young actors, all excellent.
Winter Spirit, Cyril Mennegun
Having just finished her novel, Nathalie feels a mysterious presence in the house.
Gradually, she is haunted by the impression that when her daughter was adopted, something followed her home. The mini-series "Spirit of Winter" is adapted from the novel by Laura Kasischke and stars Audrey Fleurot.
Best series & films as from November 23rd 

on 

Netflix
The Swimmers, by Sally El-Hosaini, on November 23rd
Wednesday Adams, Tim Burton, on November 23rd
White Noise, Noah Baumbach. Adapted from novel by Don DeLillo with Adam Driver & Greta Gerwig, on December 30th.
Best series & films as from November 23rd 

on 
Prime Video
Three Pines, on December 2nd with Alfred Molina
Best series & films as from November 23rd 

on Canal+
355, as from November 25, by Simon Kinberg
This England, The Boris Johnson Years is a TV series by Michael Winterbottom starring Kenneth Branagh (Boris Johnson), Ophelia Lovibond (Carrie Symonds). Starting November 28.
Madeleine Collins, on November 29, by Antoine Barraud
Best series & films as from November 23rd 

on Apple TV
Spirited, now, directed by Sean Anders, adaptation from A Christmas Carol by Charles Dickens published in 1843.
Echo 3, (series) by Mark Boal, on November 23rd with Luke Evans & Michiel Huisman
Best series & films as from 

November 23rd 

on Disney Plus
Avalonia, by Don Hall & Qui Nguyen, on November 23rd
Chippendale, by Robert Siegel, on January 11th, 2023
Willow, Jonathan Kasdan & Wendy Mericle, on November 30th.
The Mandalorian, saison 3 (2023)
The Little Mermaid 2, Rob Marshall, forecast on May 2023.
Best series & films as from November 23rd on

 

Lionsgate
Dangerous Liaisons, Harriet Warner ;Alice Englert, Nicholas Denton, Lesley Manville, now.
CHRISTMAS UNDER WRAPS– CURRENTLY AVAILABLE
A brilliant intern, Lauren has applied to be a surgeon at a prestigious Boston hospital. When her application is rejected, she is forced to move to a small town in Alaska, where the inhabitants live in seclusion and haven't seen a doctor in a year. Lauren falls in love with Andy, whose father bears a striking resemblance to Santa Claus. Frank owns a reindeer, elves run around his yard and he runs a mysterious transportation company…
With : Candace Cameron Bure, David O'Donnell, Robert Pine.
KRAMPUS– CURRENTLY AVAILABLE
When Max sees his less-than-ideal family fighting in the run-up to Christmas, the boy decides to ignore the celebration, not realizing that this breach of tradition will provoke the wrath of Krampus, an ancestral demon hell-bent on punishing those who do not. The situation goes to hell when the Christmas figures come monstrously to life, storming Max's house and forcing his family to help each other if they hope to save their lives.
Starring: Toni Collette, Adam Scott, David Koechner…