What films to watch as from October 19th
Your news as from October 19th
Women talking, by  Sarah Polley, with Rooney Mara, Claire Foy, Jessie Buckley, Judith Ivey, Ben Whishaw, and Frances McDormand.
The White Lotus, season 2, Mike White, on October 30th
Tár,  with Cate Blanchett, by Todd Field, on February 22nd,  2023
Black Panther 2, by Ryan Coogler, on November 11th
The best movies since January 2022:
As Bestas, Rodrigo Sorogoyen (review below)
La nuit du 12, Dominik Moll (review below)
Holy Spider, Ali Abbasi (review below)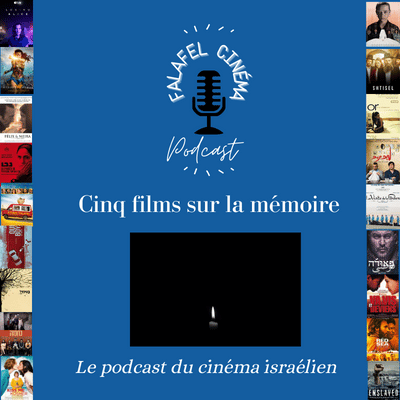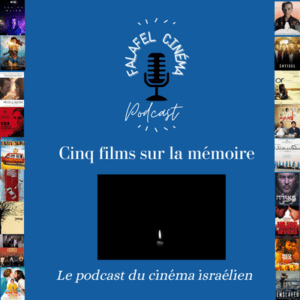 ALL YOU WANT TO KNOW ABOUT  FILMS & SERIES IN THEATERS & AT HOME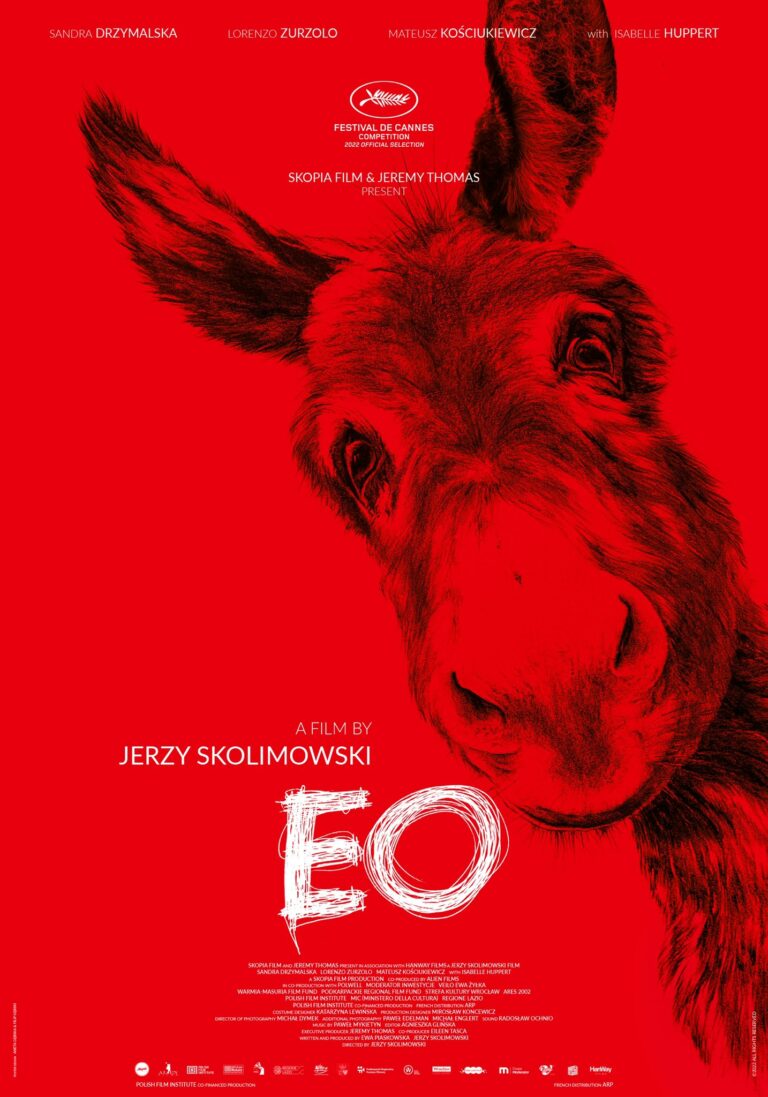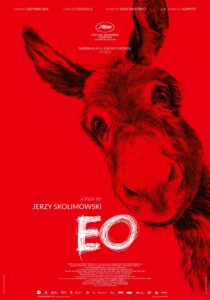 E.O, directed by Jerzy Skolimowski
⁠ ⁠ The world is a mysterious place, especially seen through the eyes of an animal. ⁠ On his way, EO, a grey donkey with melancholic eyes, meets good and bad people, experiences joy and sorrow, and the wheel of fortune turns his luck into disaster and his despair into unexpected happiness. ⁠ But never, at any moment, does he lose his innocence.⁠ ⁠
How E.O. was born?
Ten years ago, Jerzy Skolimowski declared in an interview given to Cahiers du Cinéma magazine that the only film that made him cry was Robert Bresson's Au Hasard Balthazar (1966), which follows the life of a donkey born in a Polish circus.
This emotion was the basis for the film E.O.
Renowned Polish filmmaker and child of resistance fighters and "justes", Jerzy Skolimowski fled his country for the United States before returning in the 2010s.
Jerzy Skolimowski began his career as a screenwriter and shot Polanski's first film, The Knife in the Water. Then he ended up directing his own films.
He directed Walkower, Deep End and Essential Killing. In Poland, he is at the origin of the so-called New Wave films and directed Robert Duval and Jeremy Irons.
The director said about E.O.: "With my donkey, the only way to make him do anything was tenderness. Words whispered in his ear and some friendly petting. Raising your voice, showing impatience or nervousness would have been the shortest route to disaster.
For the choice of the donkey, he worked with a Sardinian breed, the donkeys are grey with white spots around the eyes. 
Six donkeys were cast for the role. The hero's name is Taco but he had understudies: "Sola, Marietta, Etoré, Roco, and Mela".
Jerzy Skolimowski thanked his six donkeys during the award ceremony in Cannes and challenges all spectators to look at his cell phone during the film.
The review
Does the domestic animal have a life? A few minutes are enough for Jerzy Skolimowski's camera to suggest this question to us.
Do horses locked up for our pleasure, donkeys, cows, all these animals that man has domesticated have a life of their own?
The answer is simply no.
Animals live only to serve man and suffer their lives.
For an hour and twenty minutes, we follow the journey of E.O., a circus donkey torn away from the trainer with whom he is the star and sold by force to an association, then regularly changing owners. He wanders by day and night in the city and in the forest, before being caught by man.
Jerzy Skolimowski makes us aware of the importance of the life of this donkey and of all the others.
Who is innocent? Except for the children and the animals?
Here again, Jerzy Skolimowski underlines the absolute innocence of the animal in front of the world that surrounds him. His faith in the man who feeds him and who will perhaps abandon him or kill him.
Like humans, animals are afraid of death and feel when it approaches.
Living in the country since 2008, Jerzy Skolimowski, who is also a painter, makes films about outsiders.
In E.O. he declares his love for nature and films the violence of human beings in the face of the intrinsic freedom and beauty of animals. At the award ceremony in Cannes, he thanked his actors, the donkeys and the donkeys,
E.O. is captivating from a scenic and cinematographic point of view. And also of an immeasurable sadness.
A masterpiece.
E.O. received the Jury Prize at the last Cannes Film Festival.
Cannes Soundtrack Award: Golden disc for Paweł Mykietyn
With Sandra Drzymalska, Tomasz Organek, Mateusz Kosciukiewicz, Isabelle Huppert.
In theaters today October 19th.
⁠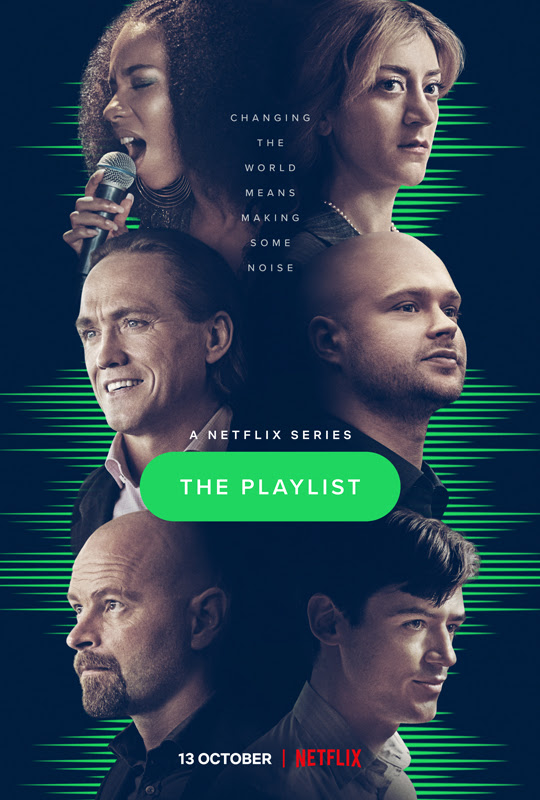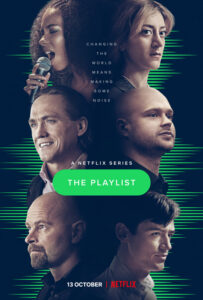 The Playlist, by Per-Olav Sørensen
(director Royalteen : the heir,  Nobel a series about Swedish soldiers based in Afghanistan, & especially Home for Christmas)
Synopsis
In this fictionalized story, a Swedish entrepreneur and his partners aim to revolutionize the music industry through a legal streaming platform.
About the series
In six episodes, the series looks at the creation of Spotify and its impact on the music industry.
The Playlist is based on Spotify Untold, a book written by journalists Sven Carlsson and Jonas Leijonhufvud that describes the rise of Spotify at a time when piracy was at its worst.
Created by computer geniuses including Daniel Ek, now 39, a millionaire at 22, and Martin Lorentzon on the financial side, Spotify was created in Sweden to stop pirate downloads and help artists make a living from their music.
But creating this platform was a fight against the record companies, then finally against the artists who demanded a reform of the remuneration system.
Great action
Well shot and well acted (great Swedish actors), and filmed from the point of view of all the protagonists, from its creator to the coders, to the record companies, and the artist, we travel to the heart of the creation of this platform which is now worth 62 billion Euros and is used by more than 345 million people in the world.
In order to democratize the data related to the remuneration of artists and lift the veil on the economics of streaming, Spotify has opened the online platform Loud & Clear in the fall of 2021.
Made by the creator of Home for Christmas, it shows us how difficult it can be to create something new when others don't have the same vision as you.
With  Christian Hillborg, Gizem Erdogan (Kalifat, Love & Anarchy), Edvin Endre (The Vicking), Severija Janušauskaitė, Hanna Ardéhn, Agnes Kittelsen.
Now on Netflix. Go for it!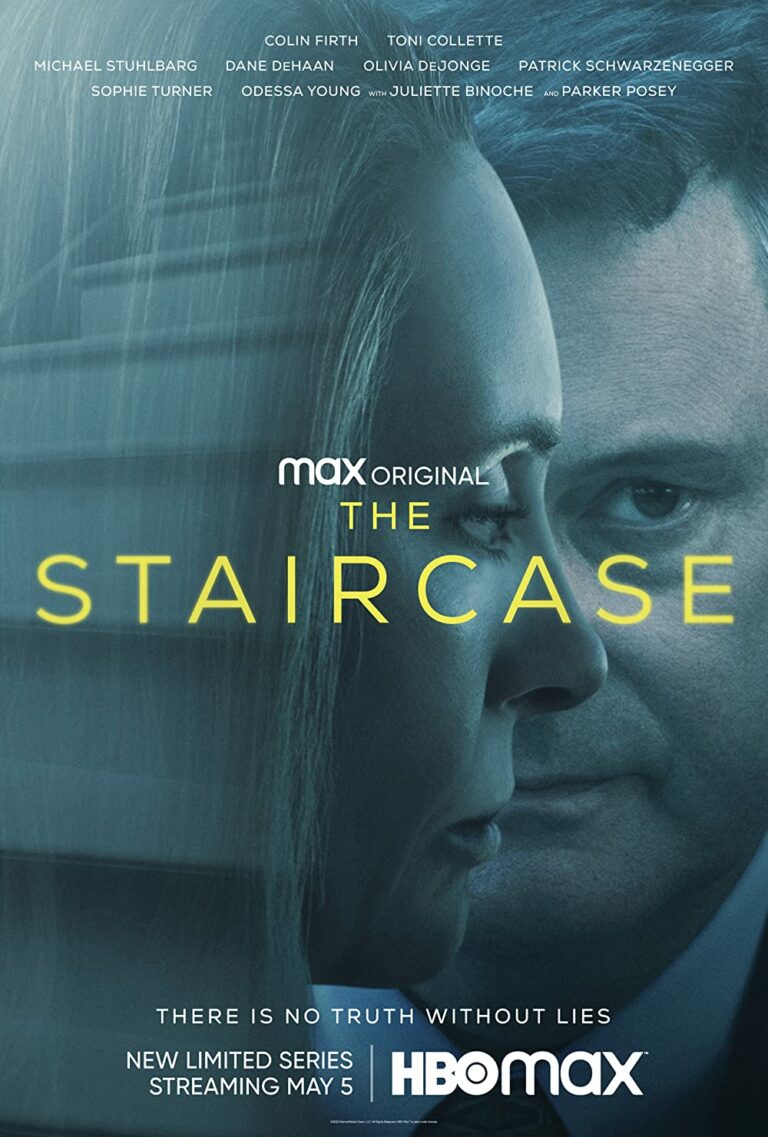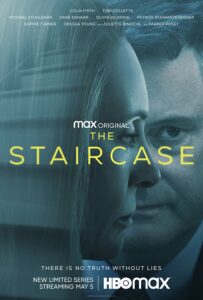 The Staircase, by Antonio Campos (Devil all the Time sur Netflix) & Maggie Cohn (American Crime Story, Narcos : Mexico)
Synopsis
Michael Peterson, a writer, has just found his wife Kathleen unconscious at the bottom of the stairs. The prosecutor brings murder charges against him. The case finds itself at the heart of a media storm full of twists and turns.
Is it worth watching it?
It's the show of the week and if you only have to watch one, then this is it.
Starring the brilliant Colin Firth as Michael Peterson and the brilliant Toni Collette as Kathleen, his wife, The Staircase follows the death of Kathleen Peterson who fell – or didn't fall? – from a staircase.
A true story brought to light by documentary filmmaker Jean-Xavier de Lestrade, who followed Michael Peterson from the beginning of the trial to its very end, the series tells the story of this man who claims his innocence until the end despite appearances.
Author of detective novels before running for mayor of Durham, North Carolina, is Michael Peterson lying when he says he found his wife dead at the staircase in his house?
His dubious past, his suspicious and egocentric behavior certainly do not play in his favor.
But is he guilty?
Only you and only you will be able to make up your mind whether Michael Peterson is guilty or not.
I have made up my mind. Write me in mp (contact @movieintheari.com) if you want to talk about it after seeing it.
What about you? What do you think of it?
You should also see the documentary series "Soupçons" on Canal +.
For the little story Colin Firth and the scriptwriter Maggie Cohn fell in love on the shooting.
More information about The Staircase
On Canal +. A must see!
Now on Canal Plus. Go for it!
FILMS TO WATCH IN YOUR MOVIE THEATERS AS FROM OCTOBER 19TH
This week:
Hallellujah, les mots de Leonard Cohen, by Dan Geller & Dayna Goldfine
With Leonard Cohen, Bob Dylan, Jeff Buckley
He created one of the most mythical songs in history. At the end of the 60s, Leonard Cohen signed, like Bob Dylan, to Columbia, and became a legend. But his career will take an unexpected turn.
EO,  Jerzy Skolimowski. Prix du Jury Festival de Cannes 2022.
With Sandra Drzymalska, Tomasz Organek, Mateusz Kosciukiewicz
The world is a mysterious place, especially seen through the eyes of an animal. On his way, EO, a grey donkey with melancholic eyes, meets good and bad people and experiences joy and sorrow, but never, at any moment, loses his innocence.
Un couple, Frederick Wiseman
With Nathalie Boutefeu
Leo and Sophia Tolstoy were an extraordinary couple: 36 years of marriage, 13 children, intense arguments, passionate moments of reconciliation… In the expressive nature of a wild island, Sophia confides in us about her admiration and her fear for the author of War and Peace, about the joys and sorrows of their life together.
Bros, Nicholas Stoller
With Billy Eichner, Luke MacFarlane, TS Madison
The story of two men whose relationship could, perhaps, turn into a great love story.
Le Pharaon, le Sauvage et la princesse, Michel Ocelot
With Oscar Lesage, Claire de La Rüe du Can, Aïssa Maïga
3 tales, 3 eras, 3 universes: an epic from ancient Egypt, a medieval legend from the Auvergne, an 18th century fantasy in Ottoman costumes and Turkish palaces, to be carried away by contrasting dreams.
Belle et Sébastien : Nouvelle génération, Pierre Coré
With Michèle Laroque, Robinson Mensah-Rouanet, Alice David
Sébastien, 10, reluctantly spends his vacations in the mountains with his grandmother and aunt. He has to help out in the sheepfold, which is not very exciting for a city boy like him… But that's without counting on his meeting with Belle, a huge dog mistreated by her master.
R.M.N. , Cristian Mungiu
With Marin Grigore, Judith State, Macrina Bârlădeanu
A few days before Christmas, Matthias is back in his native, multi-ethnic Transylvanian village after leaving his job in Germany. When the factory his ex-girlfriend runs decides to recruit foreign employees, the peace of the small community is disturbed.
Movies to come (and we are looking forward to it):
The Last of Us, Craig Mazin & Neil Druckmann
Amsterdam, on November 1st, by David O. Russell
With Christian Bale, Margot Robbie, John David Washington in first roles but also Chris Rock, Anya Taylor-Joy, Zoe Saldana, Mike Myers, Michael Shannon, Taylor Swift, Rami Malek & Robert de Niro.
Armageddon Time, on November 9th, by James Gray
Swing rendez-vous, by Gérome Barry
The Idol 
Created by Abel "the Weeknd" Tesfaye, Reza Fahim, and Sam Levinson for HBO.
She said, Maria Schrader, with Carrey Mulligan, Zoe Kazan, on November 18th
Houria, Mounia Meddour
The patient official, Joel Fields and Joe Weisberg
God's creature, Saela Davis & Anna Rose Holmer , with Emily Watson, Paul Mescal, & Aisling Franciosi
The Son, Florion Zeller
WEEKLY TIPS & OPINIONS ABOUT MOVIES 
BY  MOVIE DIRECTORS,  WRITERS, SCREENWRITERS, DIRECTORS, COMPOSERS…
Handling Rejection. It can motivate… debilitate… or take a… by Scott Myers 
TV PROGRAM AS FROM OCTOBER 19th
Mercredi – Wednesday
TMC: Le dîner de cons
Jeudi – Thursday
Arte : Le monde de demain (série doc)
Canal Plus : The Staircase (série, critique ci-dessus)
W9 : Démineurs
Friday – Vendredi
Arte : 7500 (critique ici) : à ne manquer sous aucun prétexte !
Sunday – Dimanche
Arte : USS Alabama
Monday – Lundi
Arte : Le salaire de la peur
Tuesday – Mardi
C8 : Le Train sifflera trois fois
Wednesday – Mercredi
Arte : Burn after reading
5. 

BEST DOCUMENTARIES, FILMS & SERIES AS FROM OCTOBER 19th ON ARTE
In the 80's, the beginnings of French hip-hop are told through the birth of the group NTM, the career of the dancer and graffiti artist Lady V and the DJ Dee Nasty. A social and musical chronicle, the choral series "The World of Tomorrow" follows endearing characters, pioneers of a cultural revolution. Directed by Katell Quillévéré and Hélier Cisterne.
Black Far West – A counter-history of the West
Who knows today that the first cowboys were black? With the help of magnificent archives and historians' testimonies, Cécile Denjean restores the original place of African-Americans in the story of the conquest of the West.
CYCLE HOLLYWOOD STARS
Marilyn Monroe, Brad Pitt, Jamie Lee Curtis, Denzel Washington, Sean Connery and Clint Eastwood through six never-before-seen documentary portraits, offered with five feature films, ARTE goes on a journey to meet the extraordinary destinies of Anglo-Saxon cinema.
23/10 DENZEL WASHINGTON
20:50 USS Alabama
22:50 and on arte.tv from 16/10 to 20/01 Denzel Washington: an American model
28/10 JAMIE LEE CURTIS
22:25 and on arte.tv from 21/10 to 25/04 Jamie Lee Curtis, a cry for freedom in Hollywood
30/10 SEAN CONNERY
20h50 No spring for Marnie
22h55 and on arte.tv from 23/10 to 28/12 Sean Connery vs James Bond
On 20/11 CLINT EASTWOOD
20h50 Sierra Torride
22h45 and on arte.tv from 13/11 to 19/03 Clint Eastwood, the last legend.
FILMS FROM OCTOBER 19th
The red tent
With an international cast (Sean Connery, Peter Finch, Claudia Cardinale…) and a powerful lyricism, the Soviet director of "When the storks go by", Mikhaïl Kalatozov, reconstitutes the tragic polar expedition led by the Italian Umberto Nobile in 1928.
ChainedLove Trilogy
Accused of sexually assaulting a minor, Rashi loses his footing as he watches his professional life and his relationship slip away… The first part of the "Love Trilogy" by Israeli director Yaron Shani, which also includes "Beloved" and "Stripped", is a shockingly realistic film.
The Wild Goose Lake
A gangster in search of redemption, target of a manhunt, crosses the path of a prostitute with uncertain intentions… By Chinese director Diao Yinan ("Black Coal"), a sumptuous film noir with virtuoso direction, between homage to the classics, violence and contemplation.
Series as from October 19th
Pure, by Kirstie Swain with Charly Clive (Marnie), Joe Cole (Charlie). 
A young woman of ordinary appearance, Marnie suffers from an obsessive-compulsive disorder called "Pure O" which spoils her life: in any circumstances – at the doctor's, in the subway, at the office – her brain is assailed by uncontrollable sexual thoughts. A funny and daring English series, carried by young actors, all excellent.
Best series & films as from October 19th 

on 

Netflix
Heroes of the Empire, by Tom Long, now streaming.
The Wonder, on November 16th, by Sebastián Lelio, with Florence Pugh
You saison 4, Greg Berlanti, Sera Gamble. In 2023.
Mathilda, the musical, Matthew Warchus, on December 25th.
Wednesday Adams, Tim Burton, on November 22nd.
Cabinet of curiosity, Guillermo del Toro, on October 25
White Noise, Noah Baumbach. Adapted from novel by Don DeLillo with Adam Driver & Greta Gerwig, on December 30th.
Slumberland, Jason Momoa, on November 18th.
The Crown, saison 5, on November 9th
Best series & films as from October 19th 

on 
Prime Video
The Peripheral, on October 21st, by Jonathan Nolan, Lisa Joy.
My Policeman, Michael Grandage with Harry Styles, Emma Corrin (The Crown), on November 4th.
Orelsan, montre jamais ça à personne, partie 2, now.
Run, sweetheart run, Shana Feste, on October 28th
The English, by Hugo Blick, with Emily Blunt, on November 11th.
Best series & films as from October 19th 

on Canal+
En corps, by Cédric Klapish, on October 18th
Nightmare Alley,  Guillermo del Toro, on November 2nd
Best series & films as from October 19th 

on Apple TV
Shantaram, Steve Lightfoot,now.
Causeway, Lila Neugebauer, with Jennifer Lawrence & Brian Tyree Henry, on November 4th.
Raymond & Ray, Charles Bradley, on October 21st
The Mosquito Coast, saison 2, on November 4th
Spirited, on November 18th, directed by  Sean Anders & written by Anders & John Morris. This is a modern adaptation of A Christmas Carol by Charles Dickens written in 1843.
Louis Armstrong, on October 28 , directed by Sacha Jenkins
The movie honors Armstrong's legacy as a founding father of jazz, one of the first internationally known and beloved stars, and a cultural ambassador of the United States.
It shows how Armstrong's own life spans the shift from the Civil War to the Civil Rights movement, and how he became a lightning rod figure in that turbulent era.
With the full support of the Louis Armstrong Educational Foundation, the filmmakers have access to a treasure trove of rare archival materials, including hundreds of hours of audio recordings, film footage, photographs, personal diaries, and a life's worth of ephemera for exclusive use in the first significant documentary dedicated entirely to his life.
Best series & films as from October 19th 

on Disney Plus
The old man, Jonathan Stein & Robert Levine avec Jeff Bridges (Dan Chase), John Lithgow (Harold Harper), now.
Disenchanted 2, Adam Shankman, on November 17th.
The Mandalorian, saison 3 (2023)
Willow, Jonathan Kasdan & Wendy Mericle, on November 30th.
The Little Mermaid 2, Rob Marshall, forecast on May 2023.
Best series & films as from October 19th 

on 

Lionsgate
Dangerous Liaisons, Harriet Warner ;Alice Englert, Nicholas Denton, Lesley Manville, on November 6th
The Serpent Queen, by Justin Haythe : now
An original historical drama that offers a contemporary twist on conventional storytelling to tell the story of Catherine de Medici's (Samantha Morton) rise to power. In the beginning of the series, Catherine's story unfolds through flashbacks as she defends her actions and passes on the lessons she has learned to her new servant, Rahima.
This is an adaptation of the British novel Catherine de Medici: Renaissance Queen of France by Leonie Frieda.