Cannes 2021, your films and series.
On the bilingual Movieintheair blog, I do for you a press review every Wednesday and keep the best of national and international audiovisual news.
Cannes film festival

What are you going to watch ?

NEWS
The 74th Cannes Film Festival presided over by Spike Lee opened yesterday with the screening of the film Annette by Léos Carax after the awarding of the Palme d'honneur to Jodie Foster by Pedro Almodovar and the natural speech of Doria Tillier, Master of the opening ceremony.
Day by day program of the Cannes Film Festival
All about the Cannes Film Festival
Adam Driver (by Blow Out)
Cannes: only four movies on 24 in the competition directed by women 
Apple TV will adapt the novel City on Fire by Garth Risk Hallberg.
Tribute
Richard Donner
Vladimir Menchov
 Moscou ne croit pas aux larmes, Oscar of Foreign movie in 1981
Dilip Kumar
YOUR SERIES & YOUR FILMS
ALL YOU WANT TO KNOW IN THEATERS AND AT HOME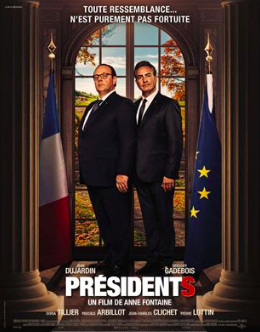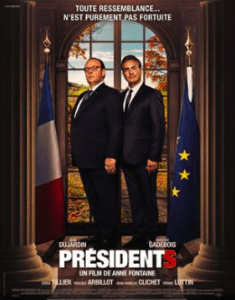 Presidents, directed by Anne Fontaine
Synopsis
Nicolas (Sarkozy) is running around in circles while his wife, an opera singer, is often away on tour.
For his part, François (Hollande) lives more or less reclusively in the countryside with his veterinarian wife.
One day, Nicolas realizes that the extreme right can win the presidential elections. He decides to propose the unthinkable: an alliance with François…
The movie
The plot takes place most of the time in the countryside and gives a particular atmosphere to the film.
Stamped Cannes Festival 2020, the two main actors, Jean Dujardin and Gregory Gadebois play well their roles of disappointed politicians, depressed to be no longer part of political life. The two actors already knew each other, having worked together on Roman Polanski's Dreyfus.
Their companions, Carla Bruni and Julie Gayet, played by Dora Tillier (Mistress of Ceremonies at the opening of the 74th Cannes Film Festival last night) and Pascale Arbillot, playing women, who for once, are not just stand-ins but full-fledged women, intelligent and subtle.
If the jokes are funny, the period well felt, (the rise of the extremes, the role of women in politics), and the story original, there are some lengths and lacks sometimes of rhythm.
What remains is this film directed by Anne Fontaine (whose Perfect Mothers I loved), a civic and committed act, and a call to awaken the consciences of citizens, who if they don't vote, can't complain about the result.
Currently in theaters.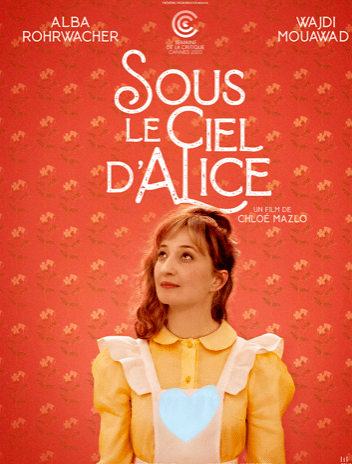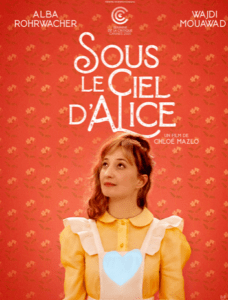 Skies of Lebanon, by Chloé Mazlo
Synopsis
In the 1950s, Alice leaves her family and the narrow world of Switzerland for Lebanon, where she is hired as a nurse.
There, she meets Joseph, an astrophysicist who dreams of sending the first Lebanese to the moon.
It was love at first sight.
But alas, war is not far off.
The film
Selected in Cannes at the Critics' Week, Skies of Lebanon is a marvel.
The two actors, Alba Rohrwacher and Wajdi Mouawad, are both great.
Chloé Mazlo, the director, studied art and made animated films, trying different techniques.
In this story, she knew how to mix marvelously the genres by mixing stop-motion and real images, in the manner of Wes Anderson and Foxtrot by Samuel Maoz.
In fact, this film is a bit like him: absurdity of war, absurd deaths, inextricable political situation.
However, it is much softer, and full of poetry. Family, the warmth of the Middle East and love are scattered throughout the story.
Go see this film, it is original, strong and at the same time, full of hope.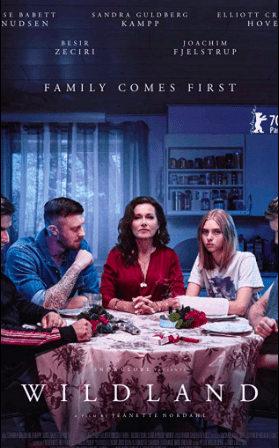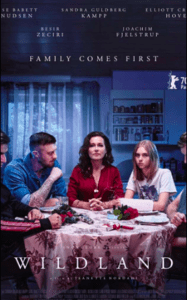 Wildland, by Jeanette Nordahl
Synopsis
Following the death of her mother in a car accident, young Ida is forced to go and live with her aunt Bodil.
She discovers that her aunt is the head of a mafia business and runs her sons with an iron fist, who are involved in racketeering and drug trafficking.
The film
Available now on Canal Plus, Wildland is a film about violence, both societal and family violence at its most cruel.
It was selected at the Berlinale 2020, it is the first film, again, of the young director Jeanette Nordahl.
The young actress Sandra Guldberg Kampp plays wonderfully the role of this teenager, in mourning, confronted with violence and finally prisoner of this new family.
Can she denounce her violence?
The aunt, played by the prodigious Sidse Babett Knudsen, (heroine of the series Borgen, among others, a series that I recommend to you by the way), is magnificent in this role of single mother, distraught, loving and violent at the same time.
Wildland is also about women, their condition, from adolescence to adulthood, and becoming a mother, young, with what it implies.
Currently on Canal Plus.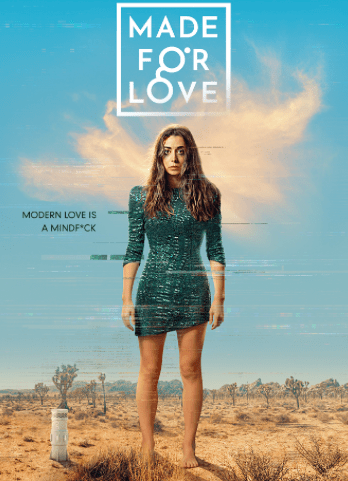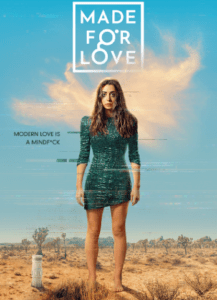 Made for Love,  by Alissa Nutting & Dean Bakopoulos
Synopsis
In a future world, Hazel Green meets a computer genius Byron Gogol. She falls in love with him but soon finds herself trapped in a hub where everything is virtual and possible but nothing ever happens. One day Byron decides to invent a chip that will allow the couple to merge completely, by thought.
Hazel then decides to run away…
The series
Cristin Milioti (The Wolf of Wall Street, How I Met Your Mother, Palm Springs) has a real comic potential. Both funny and touching, she wonderfully interprets the role of this woman who seeks to escape a deadly boring and banal world.
Ray Romano, is moving in his role of father, in couple with an inflatable doll …
Billy Magnussen, also plays in a very intelligent way the role of this man, sociopath, and who loves his wife as one loves a precious object.
Adapted from the eponymous novel written by Alissa Nutting, this comic series shows us the absurdity of a world that relies on a man named Gogol (Google is not far away).
Of course there is an explanation to everything, and I let you discover it on these eight episodes available now on Canal Plus.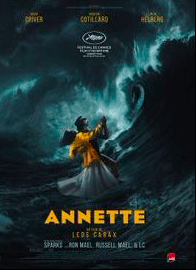 Annette, by Leos Carax
Synopsis
Henry, a stand-up star, and Ann, a famous singer, fall in love. Everything goes well until the birth of their daughter Annette.
The film
Presented last night at the Opening of the 74th Cannes Film Festival presided over by Spike Lee, Annette was awaited by the entire audience after the awarding of the Palme d'honneur to the immense actress, director and producer Jodie Foster.
I have seen it at a Premiere at the UGC Normandie. 
Brilliantly interpreted by Adam Driver and Marion Cotillard, this film is, as Fanny Ardant would say in one of her films, "a joy and a suffering".
Leos Carax, to whom we owe  weird films such as Les amants du Pont Neuf and Holly Motors, has made one more.
Sung from the beginning to the end, with a sensational soundtrack, Annette wants to denounce everything and the film is finally very heavy: sexually abused women in the cinema, the representation of child stars, the denunciation of the show business society, the ordeal of the fall of the famous men and all this is too much and it spoils the story.
Yes but…
Moreover, it is once again, a film of men.
Adam Driver has the lead role, far ahead of Marion Cotillard, who finally doesn't have such a great role.
His charisma as a master of stand-up who arrives on stage like a boxer, in a robe and that we see constantly shirtless, is, once again, undeniable (Star Wars, Blackklansman, Marriage Story, The Dead don't die …). It seems that the director was shooting near gyms where the actor was exercising every day for the role.
Their singing performance is impressive. Both actors sing and if a singer sings Marion Cotillard's opera parts, the actress does quite well. A third actor is impressive.
It is Simon Hellberg (The Big Band Theory,Florence Foster Jenkins), prodigious in the role of a pianist and conductor.) The key scene in which we see him is a memorable one.
Finally…
Annette is also multi-referenced. A dream project of Ron and Russel Mael from the Sparks (whose documentary will be released at the end of the month, trailer below), Léos Carax has taken it over, multiplying the references: The Phantom of the Opera, Chucky, A star is born, Lalaland, Les Parapluies de Cherbourg.
The soundtrack and the main song Love never dies (musical directed by Andrew Lloyd Weber) will not leave you indifferent. This song has been used in the films of Abbas Kiarostami, (24 Frames, retrospective in Paris at the moment).
So there are moments of lightning in Annette, especially linked to the music, and moments of heaviness.  I was bored and not moved.
I only liked the musical and visual parts of the film and I expected more from the story.
What is certain, and everyone will make their own opinion, is that it is to be seen, at least as an unidentified cinematographic object.
In theaters today.
2.
Cinema
Today
Helmut Newton, by Gero von Boehm
Black Widow, by Cate Shortland with Scarlett Johansson, Florence Pugh and Rachel Weisz. The story of Natasha Romanoff, aka Black Widow before the Avengers.
Benedetta, by Paul Verhoeven, adapted from the book by Judith C. Brown, "Sister Benedetta, between saint and lesbian" with Charlotte Rampling, Virginie Efira , Hervé Pierre. The story of a homosexual nun in 17th century Italy.
Selected at the Cannes Film festival this year. On July 9th
Fisherman's Friends, by Chris Foggin. With Daniel Mays, Tuppence Middleton and James Purefoy.
Moffie, by Oliver Hermanus (The Endless River, Shirley Adams). With Kai Luke Brummer, Mark Elderkin and Michael Kirch.
On Hulu
Summer of Soul, by Ahmir Khalib Thompson
Later
In July
The Mauritanian, by Kevin Macdonald, with Tahar Rahim, Jodie Foster and Benedict Cumberbatch, the story of Mohamedou Ould Slahi, a Mauritanian who spent years in Guantanamo.
On July 14th
Bergman Island, by Mia Hansen-Love, on July 14th
Old, by M. Night Shyamalan, on July 21st
La Loi de Téhéran, by Saeed Roustayi, on July 28th
The Sparks Brothers, by Edgar Wright, on July 28th
In September
Sopranos prequel: Many Saints of Newark, by David Chase &Alan Taylor
Les fantasmes, by David &Stéphane Foekinos, with Karin Viard, Jean-Paul Rouve, Ramzy, Monica Bellucci
Serre moi fort, Mathieu Amalric, on September 8
Tromperie, d'Arnaud Desplechin, on September 22
In November & in compétition at the Cannes film festival this year 
Where is Ann Franck!, by Ari Folman
HBO: Succession, season 3
3.
WEEKLY TIPS & OPINIONS
FROM 

PROFESSIONALS
 WRITERS, SCREENWRITERS, DIRECTORS, COMPOSERS…
Pound Out That First Draft!. Go from FADE IN to FADE OUT in my… | by Scott Myers | Jul, 2021 | Go In
The Alien Movies Are Deeply Political, No Matter What Conservatives Say | by John DeVore | Humungus
Screenwriting "Hats". Sometimes when a writer is writing a… | by Scott Myers | Jun, 2021 | Go Into T
The Theology of Cinema: Predestination | by Scott Myers | Jun, 2021 | Go Into The Story
More Storytellers Should Know About This (Free) Resource | by Jason Schwartzman | Creators Hub | Jun
Deep Work vs. Shallow Work. As writers, we need to protect time for… | by Scott Myers | Jul, 2021 |
Character Introductions: Part 10. Think there's nothing to introducing… | by Scott Myers | Jun, 2021
4. AT HOME
Your films and series 
July  7th to 14th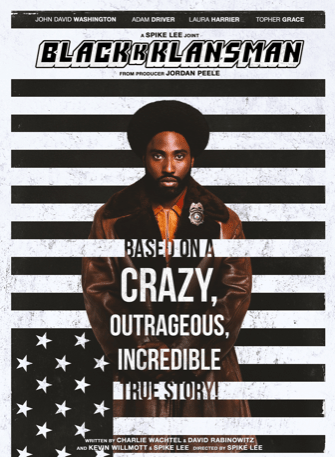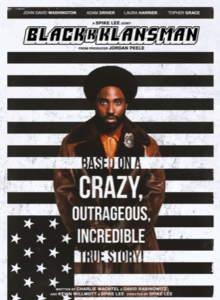 Mercredi- Wednesday
Canal Plus : Ammonite
Jeudi – Thursday
TF1 : tous les jeudis – every Thursday: Harry Potter – La Chambre des secrets
Canal Plus : Made for love
Vendredi – Friday
Samedi – Saturday
Arte : Les Alpes à travers les âges
Dimanche – Sunday
Lundi – Monday
France 3 : Everybody knows
Mardi – Tuesday
Mercredi- Wednesday
On TF1 series : 
A million little things by D.J. Nash
5.
AT HOME
ON YOUR PLATFORMS
Your films and series 
ARTE
Soon on Arte, Hamishim, 50,  by Yaël Hedaya with Ilanit Ben-Yaakov (Les méduses, Your Honor).
As July 16th
Series: Les séries
Cannes Film Festival : Cannes
FILM
SERIES
DOCUMENTARY
CONCERT
melody-gardot-au-chateau-d-herouville
La Chaîne Parlementaire
LCP offers you a lot of good documentaries: here
La Cinémathèque Française
Tribute to  Wang Bing, Chinese movie maker 
Your films and series 
 on NETFLIX
(CLICK ON THE LINK TO WATCH THE TRAILER)
New Amsterdam, season 1
Young Royals, by Lisa Ambjörn
ATYPICAL season 4 on July 9th 
NEVER HAVE I saison 2, on July 15th
PERFECT, by James Bridges, on July 15th
TWELVE YEARS A SLAVE, by Steve MacQueen, on July 22nd
Your films and series 
on Prime Video
Jolt, with Kate Beckinsale, on July 23th
Le Bal des Folles, by Mélanie Laurent, on September 17
Dreamland, by Miles Joris-Peyrafitte, with Margot Robbie
Your films and series 
on Canal+
ADN, by Maïwenn
L'enfant rêvé, by Raphaël Jacoulot (now)
A good woman, by Abner Pastoll (series)
Garçon Chiffon, by Nicolas Maury
The White Lotus, on July 12th
Your films and series 
Starzplay
Death and Nightingales, de Allan Cubitt
We are who we are (review here), by Luca Guadagnino.
Your films and series 
Apple TV
Foundation, on September 24, adapted from Isaac Asimov 's novel by David S. Goyer, with  Jared Harris (Mad Men), Lee Pace, Lou Llobell, et Leah Harvey
Schimagadoon!  By Cinco Paul & Ken Daurio with Cecily Strong (Melissa), Keegan-Michael Key (Josh), on July 16th
A parody of the 1947 Broadway musical Brigadoon.
Coda, remake from La Famille Bélier, on August 13th
Invasion , by Simon Kingberg et David Weil, October 22
The Morning Show, season 2, September 17
Your films and series 
DISNEY PLUS
Monstres & Cie at work, today
She Hulk 
The Chi
Stay safe !
Subscribe to the weekly newsletters to keep up !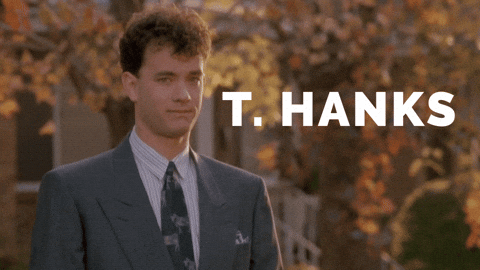 [contact-form to="contact@movieintheair.com" subject="Subscribe to the newsletters"][contact-field label="Subscribe here : Name" type="name"][contact-field label="Email address" type="email"][/contact-form]