Marriage Story, The Irishman, Klaus on Netflix.
Every Monday, strike or rainy day, apart from listening to a little bossa nova, or jazz, if you feel like watching a movie, Netflix offers three of them, all different, magnificent and unmissable masterpieces.
Marriage Story, The Irishman, Klaus on Netflix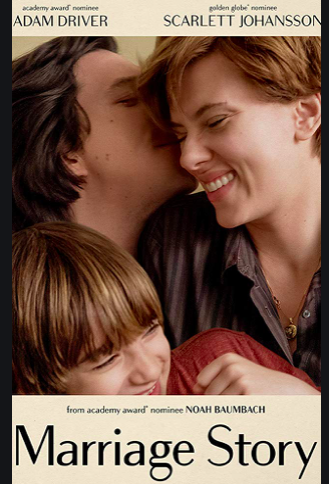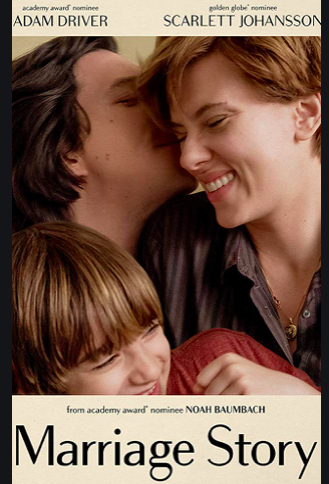 Marriage story
What I love about Nicole……….What I love about Charlie
Separations don't always give good stories.
After shooting The Meyerowitz Stories and divorcing Jennifer Jason Leigh (their son's name is Rohmer Emmanuel, how can we not think of the French director in his work? , Jennifer Jason Leigh is the actress of David Cronenberg and Robert Altman, and plays now the mother in Atypical series on Netflix), Noah Baumbach (Greta Gerwig's companion, on the cover of the last Vogue, photographed by Annie Leibovitz, director of the upcoming Little Women ) has drawn on his personal story to make his best film.
Accustomed to the theme of the couple, separations and family, he offers Adam Driver (Patterson, Silence, Blackkklansman, Star Wars, The dead don't die...) and Scarlett Johansson (Lost in Translation, Match Point, Lucy, Her...) strong, tragic, true roles, to tell the story of the separation of a couple with, in the heart, a little boy.
Kramer contre Kramer is remembered. We think of Woody Allen and all his movies dedicated to gender relations, and especially to a theatrical and intimate approach to the American films of the 1950s. The scenes are beautifully filmed. I noticed at first, this way of approaching the camera to Scarlett Johansson's face like on Judy Garland's face in A star is born.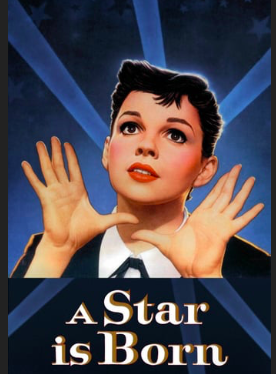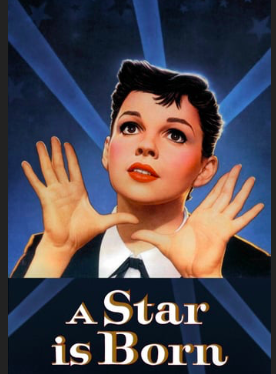 ADAM DRIVER & THE OTHERS
The director has his favorite actors. He had already directed Adam Driver in three other films, including While we were young.
The supporting roles are beautifully performed by Ray Liotta, Laura Dern (David Lynch's actress – Sailor and Lula, from Twin Peaks and Big little lies…), Merritt Wever (Welcome to Marwen by Robert Zemeckis, previously directed by Noah Baumbach in Greenberg and recently as a cop in the excellent Unbelievable series on Netflix) and Wallace Shawn, fetish actor of Woody Allen's films.
Robbie Ryan ' photography and Randy Newman's music are sublime.
The film is dramatic and Adam Driver once again gives poetry to his role. He has a unique way of acting, he knows how to do everything, and has the charisma of the greatest.
The New Yorker  was right about that and wrote a review on him.
Adam Driver will soon be Star Wars, et Report avec Jon Hamm (Mad Men). He's not an actor you want to let go….
This film is to be watched with a person of good company (my daughter that evening), tissues, a good glass of wine and/or an ice cream jar. It is one of the top ten films of the year according to The New York Times.
Adam Driver interview by The Rolling Stone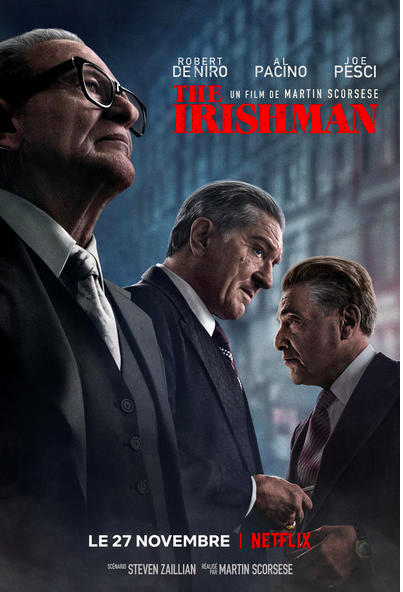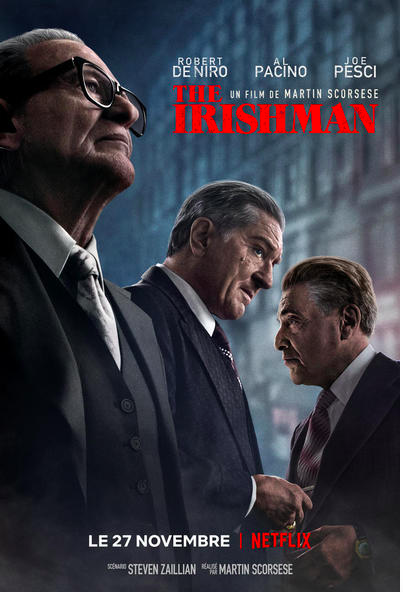 THE IRISHMAN
The Irishman (2019) by Martin Scorsese 
With Robert De Niro Al Pacino, Joe Pesci, Harvey Keitel, Ray Romano, Bobby Cannavale, Anna Paquin
Producers : Martin Scorsese, Robert De Niro
Screenplay by Steven Zaillian (Schindler's List).
HIS FAVORITE ACTORS
The more time goes by, the better are Martin Scorsese and Robert de Niro, Joe Pesci, and for the first time Al Pacino.
In addition to Netflix, Robert de Niro was involved in the production of his friend Martin Scorsese's film.
These three great actors make us forget that they have already played in more than fifty films, as mobsters and as famous Trade unionist, Jimmy Hoffa.
The movie is adapted from I Heard You Paint Houses: Frank'The Irishman' Sheeran and the Inside Story of the Mafia, the Teamsters, and the Final Ride by Jimmy Hoffa by Charles Brandt, The Irishman.

Robert De Niro is Franck Sheeran, the Irish named by the Mafia.
This historical epic on the United States is strongly related of  American Tabloid by the great writer James Ellroy.
The photography by Rodrigo Prieto and the score by Randall Poster are sublime. And we attend a first and incredible collaboration between Martin Scorsese and Al Pacino, whose performance literally explodes this acting part.
This film noir is absolutely to be seen, for its actors and the others too, Harvey Keitel, Bobby Cannivale  (whom I loved in Vinyl, a rock series produced by Mick Jagger and Scorsese, and brilliant in Brooklyn Affairs), a masterful production and in Martin Scorses' top ten films (including Means Street, Raging Bull, Taxi Driver, New York New York New York, La Valse des Pantins, Les Affranchis, La Dernière Tentation du Christ, The Aviator, Shutter Island).
As a reminder, Danny DeVito did Hoffa in 1992 with Jack Nicholson in the leading part, certainly to be watched again.
Follow the links below: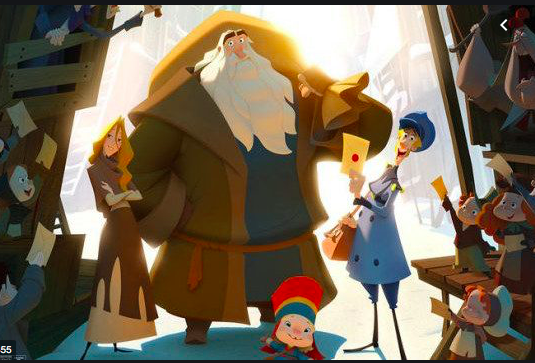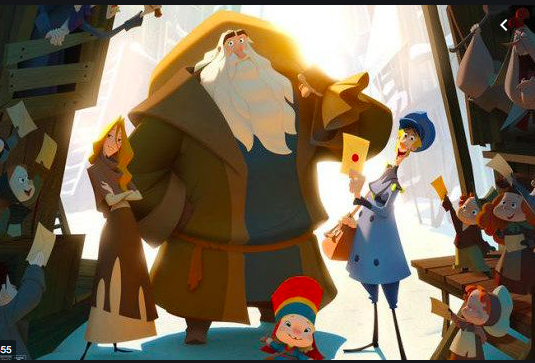 KLAUS – Sergio Pablos
Where does Santa Claus come from?
That's what all children ask themselves… This cartoon is a marvel both in the story and in the aesthetics. There is a real dramaturgy in the story of this postman sent to the other side of the world.
The director and screenwriter, Sergio Pablos, owns his studio ( Despicable Me). He has worked with Zach Les and Jim Mahoney. They have created a wonder, a film to watch over and over with pleasure to feel like a child again.