What films to watch as from October 5th?
All films as from October 5th.
Your news as from October 5th
Mascarade, November 1st, Nicolas Bedos
SAG Rogue Heroes, Steven Knight, Connor Swindells, Dominic West
The best movies since January 2022:
As Bestas, Rodrigo Sorogoyen (review below)
La nuit du 12, Dominik Moll (review below)
Holy Spider, Ali Abbasi (review below)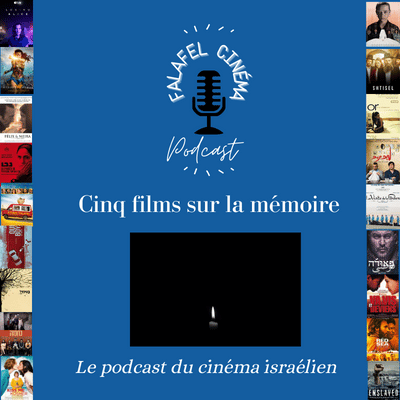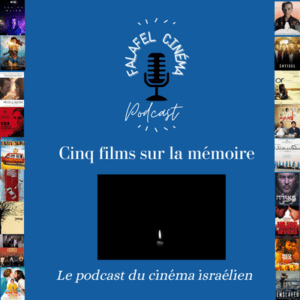 ALL YOU WANT TO KNOW ABOUT  FILMS & SERIES IN THEATERS & AT HOME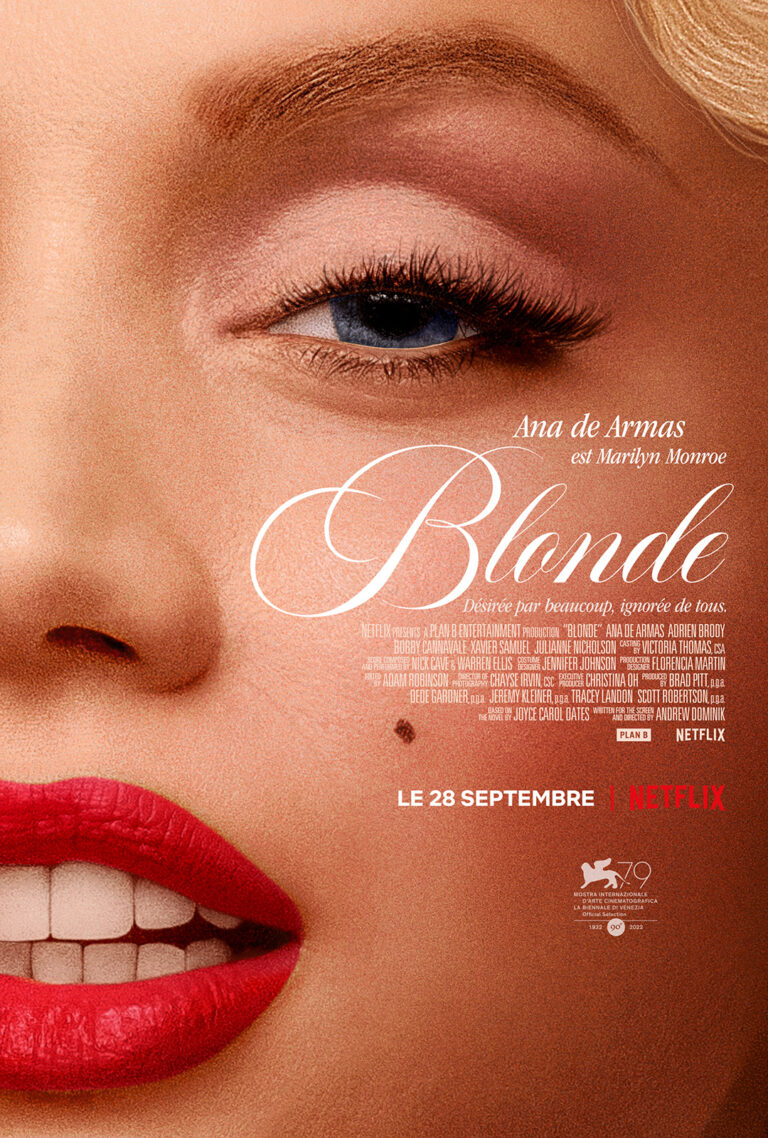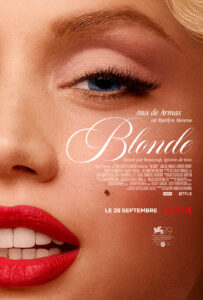 Blonde, by Andrew Dominik
Synopsis
Adapted from the best-selling book by Joyce Carol Oates, "Blonde" is a daring retelling of the life of Marilyn Monroe, one of Hollywood's most famous icons. From her tumultuous childhood to her meteoric rise, "Blonde" blurs the line between fact and fiction to explore the widening gap between her public persona and the person she was in private.
Review
Freely inspired by the novel by the famous author Joyce Carol Oates, "Blonde" is above all a fiction.
If everything has been filmed, written, assumed around the actress and singer Norman Jeane Baker who became Marilyn Monroe, she remains a mystery, even after seeing "Blonde".
Born on June 1, 1926, she was raised by her mother, Gladys Pearl Baker Mortenson Monroe, editor in the film industry. She does not know her father and her mother locked up for schizophrenic disorder, she is placed in foster homes, then raised in part by her grandmother's neighbors and then by one of her mother's best friends.
Norma Jeane Baker married young and during World War II worked on fireproofing aircraft and drone wings and inspecting parachutes for the Radioplane Company. This is how she was spotted by military photographers and then made the career that we know.
The first fifteen minutes of "Blonde" are of a darkness and a beauty that reminds us of David Lynch's films. Throughout the film, the actress Ana de Armas, is sublimated by a polished photography and a sensational makeup and we would take her, to be mistaken, to the star she embodies.
But the film is raw and at times, at the limit of what is bearable. 
In an understandable will to denounce the Hollywood predators who surrounded her and who raped and harassed all the actresses who simply wanted to try their luck, the director gets lost in pornographic scenes that can only please some men.
Marilyn Monroe was a tormented woman because of her life and her past, but with her own willing, she had built herself alone. Very intelligent, cultivated, she made everything to succeed and to escape the tragic fate of her mother. 
She took classes at the Actor's Studio with Lee Strasberg, the actress of whom he was most proud ("I've worked with hundreds of actors and actresses, and there are only two who are better than the rest. The first one is Marlon Brando, and the second one is Marilyn Monroe" he is said to have declared).
The film shows us with accuracy what we know of her, an unstable Marilyn Monroe, who would have done everything to be loved but that the whole world loved only for her physique. She never received an Oscar.
Her acting, her voice, except for "Some like it hot" film for which she received a Golden Globe, were never recognized.
Died at 36 years in unclear circumstances, Marilyn Monroe is still sixty years after his death as alive in our minds.
If Andrew Dominik's film is partly unsuccessful, Ana de Armas deserves an Oscar for this role. 
Too bad it wasn't playing in theaters.
To watch now on Netflix.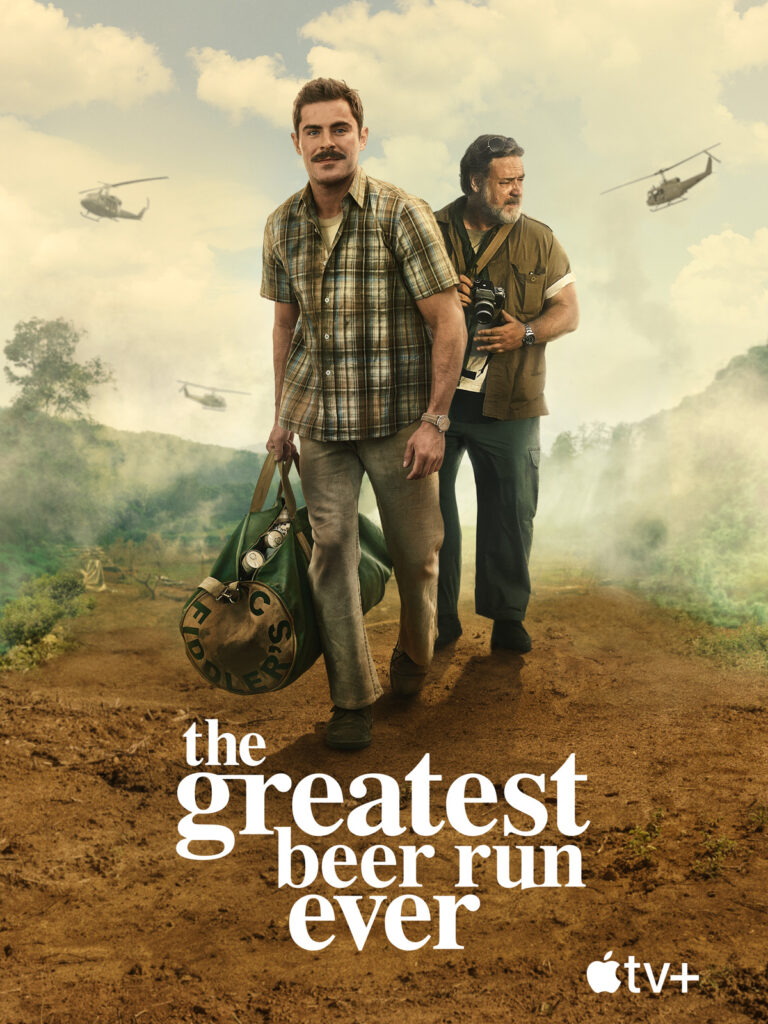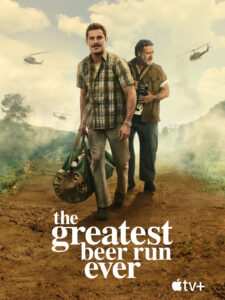 The Greatest beer run ever, Peter Farrelly
Synopsis
In 1967, John Donohue leaves New York for Vietnam to meet up with his childhood friends and share a few beers with them while they are on the front lines.
About the film
If you've seen Barry Levinson's "Good Morning Vietnam", then you'll love this film based on the true story of John Donohue.
Played by Zac Efron, the film asks the question of commitment. Besides this incredible story, bringing American beers to cheer up his friends who went to war, The Greatest beer run ever is both a funny and moving film. It speaks to us about guilt, freedom of the press, and what makes a cause right or wrong.
Naïve, it seems that this is what saves him, John is tired of being taken for the lazy one of the family. A patriot, he has several friends whom he meets every day in a bar run by a World War II veteran (played by the great Bill Murray).
When he learns of the death of some of them in Vietnam, he decides, as the anti-war demonstrations begin, to go and cheer them up.
Of course the reality on the ground is not what he imagined. Embarked as a sailor, he has three days to give the famous beers to his friends…
On the spot, the journalists, including Russel Crowe who plays a war reporter, make fun of him. But finally his determination will prevail…
Watch this funny and touching movie, as was "The Green Book" script by Peter Farrelly, director of this movie, which won the Oscar for Best Screenplay.
Now on AppleTV.
FILMS TO WATCH IN YOUR MOVIE THEATERS AS FROM OCTOBER 5TH
This week:
Ticket To Paradise,  Ol Parker
With George Clooney, Julia Roberts, Kaitlyn Dever
A separated couple is reunited to try to prevent their daughter from making the same mistake they once made: falling in love at first sight.
Un beau matin, Mia Hansen-Løve
With Léa Seydoux, Pascal Greggory, Melvil Poupaud
Sandra, a young mother raising her daughter alone, often visits her sick father, Georg. As she and her family embark on a journey to get him treated, Sandra meets Clément, a long lost friend.
Novembre, Cédric Jimenez
With Jean Dujardin, Anaïs Demoustier, Sandrine Kiberlain
A dive into the heart of Anti-Terrorism during the 5 days of investigation that followed the November 13 attacks.
L'Origine du mal, Sébastien Marnier
With Laure Calamy, Doria Tillier, Dominique Blanc
In a luxurious seaside villa, a modest young woman finds a strange family: an unknown and very rich father, his whimsical wife, his daughter, an ambitious businesswoman, a rebellious teenager and a disturbing maid. Someone is lying. Between suspicions and lies, the mystery takes hold and evil spreads.
Une femme de notre temps, Jean Paul Civeyrac
With Sophie Marceau, Johan Heldenbergh, Cristina Flutur
Juliane, a police commissioner in Paris, is a woman of great moral integrity. But the discovery of her husband's double life will suddenly lead her to commit acts she never thought herself capable of.
Tori et Lokita, Luc Dardenne, Jean-Pierre Dardenne
With Pablo Schils, Joely Mbundu, Alban Ukaj
In Belgium today, a young boy and a teenage girl who have come alone from Africa pit their invincible friendship against the difficult conditions of their exile.
La Combattante, Camille Ponsin
Marie-José Tubiana, 90 years old, is a retired ethnologist, a specialist in Darfur. Every day, she meticulously collects the testimonies of refugees to authenticate their stories and complete their asylum applications.
Movies to come (and we are looking forward to it):
The Last of Us, Craig Mazin & Neil Druckmann
Amsterdam, on November 1st, by David O. Russell
With Christian Bale, Margot Robbie, John David Washington in first roles but also Chris Rock, Anya Taylor-Joy, Zoe Saldana, Mike Myers, Michael Shannon, Taylor Swift, Rami Malek & Robert de Niro.
Armageddon Time, on November 9th, by James Gray
Swing rendez-vous, by Gérome Barry
The Idol 
Created by Abel "the Weeknd" Tesfaye, Reza Fahim, and Sam Levinson for HBO.
She said, Maria Schrader, with Carrey Mulligan, Zoe Kazan, on November 18th
Houria, Mounia Meddour
Simone Le Voyage du siècle, Olivier Dahan  
With  Elsa Zylberstein, Rebecca Marder, Élodie Bouchez, Judith Chemla, Olivier Gourmet, Mathieu Spinosi. And also Sylvie Testud & Philippe Torreton.
The patient official, Joel Fields and Joe Weisberg
Black Panther : Wakanda Forever, Ryan Coogler, on November 9th
God's creature, Saela Davis & Anna Rose Holmer , with Emily Watson, Paul Mescal, & Aisling Franciosi
The Son, Florion Zeller
WEEKLY TIPS & OPINIONS ABOUT MOVIES 
BY  MOVIE DIRECTORS,  WRITERS, SCREENWRITERS, DIRECTORS, COMPOSERS…
Writing Advice from Matt Stone and Trey Parker  by Scott Myers 
TV PROGRAM AS FROM OCTOBER 5th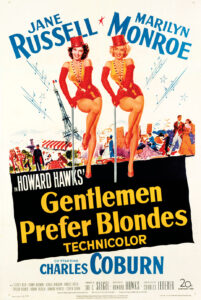 Mercredi – Wednesday
Arte : Les femmes du 6ème étage
Jeudi – Thursday
Arte : Les Falaises, le vent et la mort
Canal Plus : Tokyo Vice (série)
Friday – Vendredi
Arte : Ma soeur a disparu
France 5 : Bienvenue à Gattaca
Canal Plus : Uncharted
Sunday – Dimanche
Arte : Les hommes préfèrent les blondes
Monday – Lundi
Arte : Soleil vert
France 3 : Il faut sauver le soldat Ryan
Tuesday – Mardi
Canal Plus : Un autre monde
Wednesday – Mercredi
Arte : Un divan à Tunis
5. 

BEST DOCUMENTARIES, FILMS & SERIES AS FROM OCTOBER 5th ON ARTE
Marilyn Monroe, Brad Pitt, Jamie Lee Curtis, Denzel Washington, Sean Connery and Clint Eastwood through six never-before-seen documentary portraits, offered with five feature films, ARTE goes on a journey to meet the extraordinary destinies of Anglo-Saxon cinema.
CYCLE HOLLYWOOD STARS
9/10 MARILYN MONROE
8:50 pm Men Prefer Blondes
10:20 pm and on arte.tv from 2/10 to 6/4 Becoming Marilyn
16/10 BRAD PITT
20:50 Légendes d'automne
23h and on arte.tv from 9/10 to 14/11 Brad Pitt, the revenge of a blond
23/10 DENZEL WASHINGTON
20:50 USS Alabama
22:50 and on arte.tv from 16/10 to 20/01 Denzel Washington: an American model
28/10 JAMIE LEE CURTIS
22:25 and on arte.tv from 21/10 to 25/04 Jamie Lee Curtis, a cry for freedom in Hollywood
30/10 SEAN CONNERY
20h50 No spring for Marnie
22h55 and on arte.tv from 23/10 to 28/12 Sean Connery vs James Bond
On 20/11 CLINT EASTWOOD
20h50 Sierra Torride
22h45 and on arte.tv from 13/11 to 19/03 Clint Eastwood, the last legend.
FILMS FROM OCTOBER 5
The red tent
With an international cast (Sean Connery, Peter Finch, Claudia Cardinale…) and a powerful lyricism, the Soviet director of "When the storks go by", Mikhaïl Kalatozov, reconstitutes the tragic polar expedition led by the Italian Umberto Nobile in 1928.
ChainedLove Trilogy
Accused of sexually assaulting a minor, Rashi loses his footing as he watches his professional life and his relationship slip away… The first part of the "Love Trilogy" by Israeli director Yaron Shani, which also includes "Beloved" and "Stripped", is a shockingly realistic film.
Series as from October 5th
Pure, by Kirstie Swain with Charly Clive (Marnie), Joe Cole (Charlie). 
A young woman of ordinary appearance, Marnie suffers from an obsessive-compulsive disorder called "Pure O" which spoils her life: in any circumstances – at the doctor's, in the subway, at the office – her brain is assailed by uncontrollable sexual thoughts. A funny and daring English series, carried by young actors, all excellent.
Best series & films as from October 5th 

on 

Netflix
Mr Harrigan's phone, on October 5th, Ryan Murphy
The crown saison 5, Peter Morgan.
You saison 4, Greg Berlanti, Sera Gamble.
Mathilda, the musical, Matthew Warchus
Wednesday Adams, Tim Burton
Cabinet of curiosity, Guillermo del Toro, on October 25
Best series & films as from October 5th 

on 
Prime Video
The Peripheral, on October 21st, by Jonathan Nolan, Lisa Joy.
Darknet sur mer, on October 7th, by Remy Four & Julien War.
My Policeman, Michael Grandage with Harry Styles, Emma Corrin (The Crown), on November 4th.
Best series & films as from October 5th 

on Canal+
The Eternals, Chloe Zhao, on September 30th.
West Side Story, Steven Spielberg, on October 4th
Un autre monde, Stéphane brisé, on October 11th
The Batman, Matt Reeves, on October 14th
Best series & films as from October 5th 

on Apple TV
Five Days of Memorial, now, John Ridley et Carlton Cuse avec Vera Farmiga (Dr. Anna Pou), Adepero Oduye (Karen Wynn).
The Greatest Beer Run Ever, Peter Farrelly, Brian Currie and Pete Jones, on September 31st.
Sidney, produced by Oprah Winfrey& directed by Reginald Hudlin, now !
Raymond & Ray, Charles Bradley, on October 21st
Best series & films as from October 5th 

on Disney Plus
The old man, Jonathan Stein & Robert Levine avec Jeff Bridges (Dan Chase), John Lithgow (Harold Harper), now.
Hocus Pocus 2, Kenneth John Ortega, on September 30th.
Disenchanted 2, Adam Shankman, on November 24th.
The Mandalorian, saison 3 (2023)
Willow, Jonathan Kasdan & Wendy Mericle, on November 30th.
The Little Mermaid 2, Rob Marshall, forecast on May 2023.
Best series & films as from October 5th 

on Lionsgate
Dangerous Liaisons, Harriet Warner ;Alice Englert, Nicholas Denton, Lesley Manville , November 6th
The Serpent Queen, by Justin Haythe : now
An original historical drama that offers a contemporary twist on conventional storytelling to tell the story of Catherine de Medici's (Samantha Morton) rise to power. In the beginning of the series, Catherine's story unfolds through flashbacks as she defends her actions and passes on the lessons she has learned to her new servant, Rahima.
This is an adaptation of the British novel Catherine de Medici: Renaissance Queen of France by Leonie Frieda.