What to watch as from May 25th?
Your audiovisual weekly news
For you, the best films to watch as from May 25th.
News as from May 25th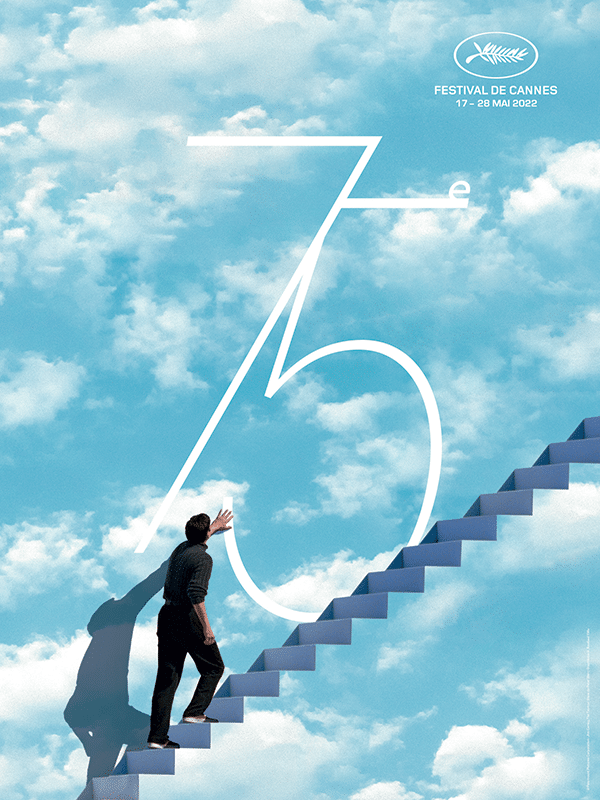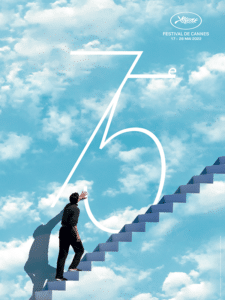 All the films day by day, during the festival:  Festival schedule
New episode : Cinq films à la plage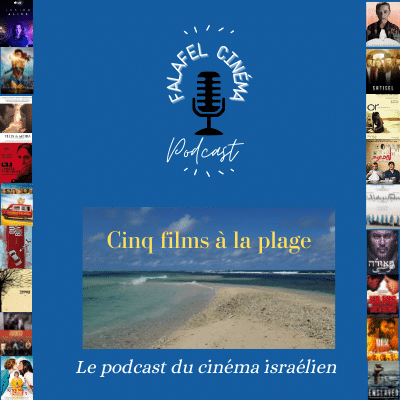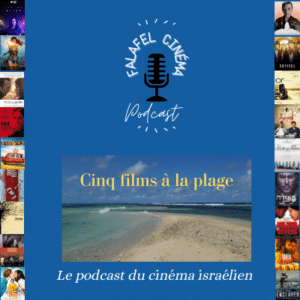 Music & Theater
New ACOUSTIQUE event, a musical dialogue dedicated to authors, composers and performers. 
This Thursday, May 26th at 8:30 pm, you will have the opportunity to meet Alex Beaupain – among others, Christophe Honoré's faithful composer – for a Master class punctuated by acoustic piano performances of his most beautiful scores. 
ALL YOU WANT TO KNOW ABOUT  FILMS & SERIES IN THEATERS & AT HOME
REVIEWS MAY 25TH
Critiques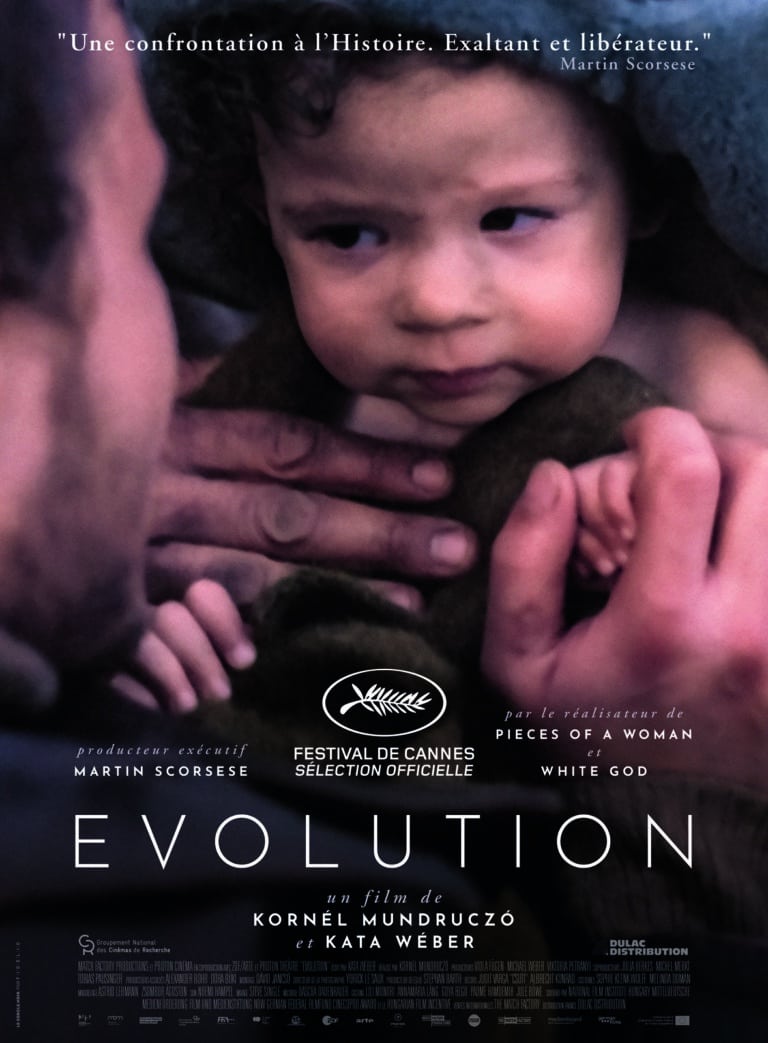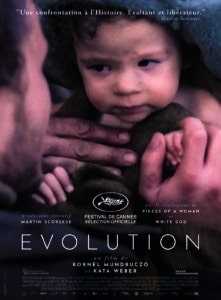 Evolution, 

Kornél Mundruczó & Kata Wéber
Synopsis
From a fantasized memory of the Second World War to contemporary Berlin, Evolution follows three generations of a family marked by history. The pain of Eva, the child miraculous of the camps, is transmitted to her daughter Lena, then to her grandson, Jonas. Until the latter breaks, with a gesture of love, the mechanics of the trauma.
Memory in the skin
The film opens with a long sequence shot. In a few seconds, we understand that we are in a gas chamber and Red Army soldiers are cleaning the walls… The camera turns and we are caught in a spiral… Shortly afterwards the cries of a child… It is a little girl, Eva.
Second part
The little girl, now a grandmother, is sitting with her back to a kitchen table. Stooped over, she is surprised to see her daughter, Lena, arrive, ready to go to a medal ceremony. But Eva refuses. Lena searches the drawers in vain for their birth certificates to prove that they are Jewish… Mother and daughter argue….
Part Three
Jonas, her grandson goes to school in Germany. One understands very quickly that he undergoes anti-Semitic attacks that the direction keeps silent for fear of scandal. He doesn't want to hear anything, and thinks only of a girl with very short hair who, when she arrives in his city, has to wear a veil…
Review
This long story in three parts disgusts, shocks and surprises. The director of Pieces of a Woman (available on Netflix), in which he spoke of childbirth and already mentioned the Shoah, deals this time with the weight of memory, the weight of the transmission of horror, an imposed heritage that prevents the descendants from realizing themselves in their own lives, forced to live in the past.
But it also speaks to us of liberation, by the new generations, who want to melt into the mass and think only of the present, even if, sometimes, the events catch up with them.
A tough but essential film.
About the film
Produced by Martin Scorsese, the film was shot in thirteen days.
The director says:
"My mother had five different birth certificates, all of them false. I was already questioning these things, and when we went to Germany, it raised a whole new set of questions. We discovered that there was a kind of fear around this subject in contemporary German society. We didn't want to take a perspective that looks for answers in the past but in the present. The guideline of the film is: what is the identity that we pass on to the next generation, that of our children" (extract from the press kit).
With Lili Monori, Annamária Láng, Goya Rego
Now in theaters.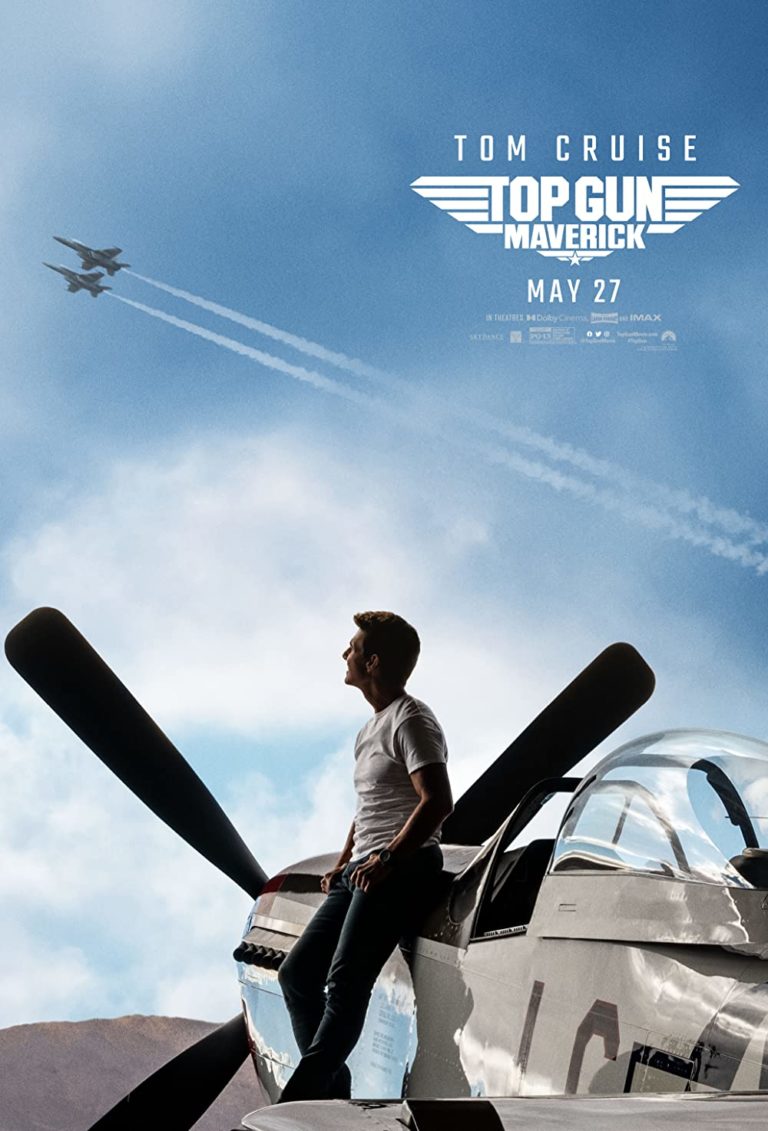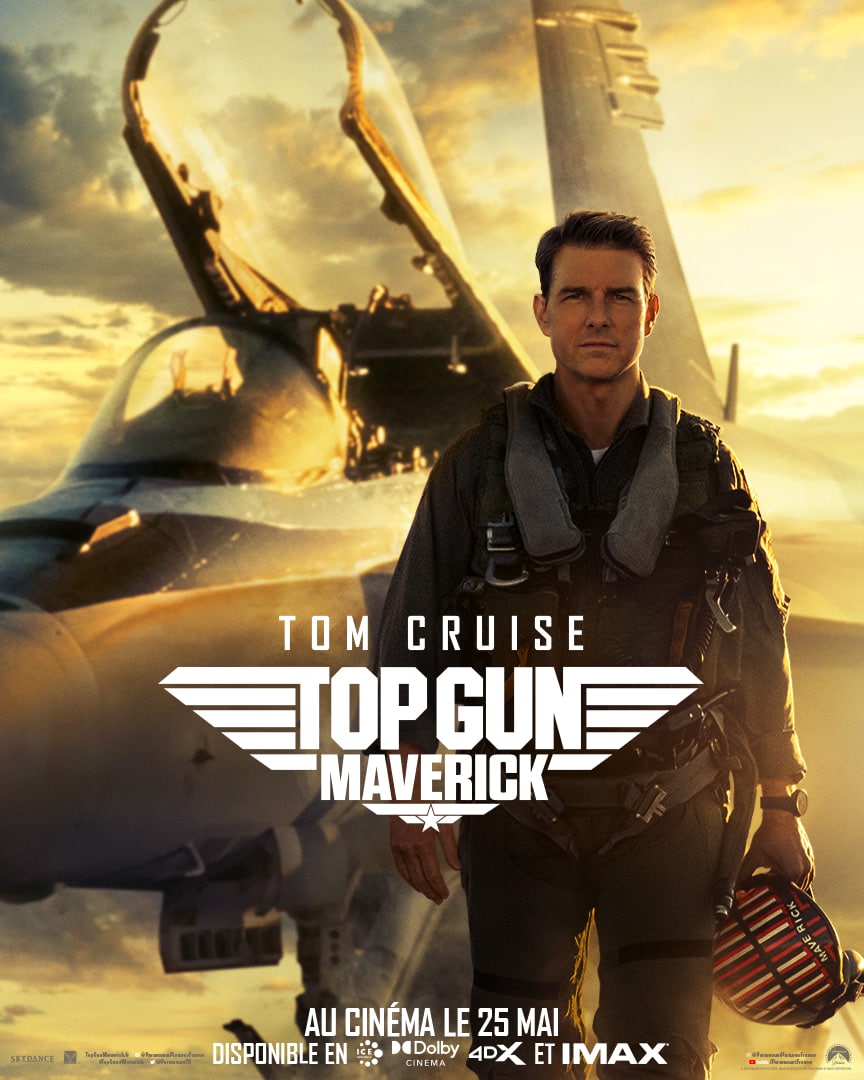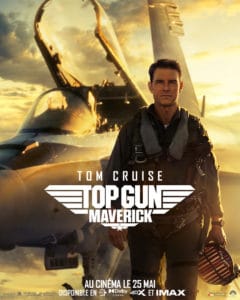 Top Gun: Maverick, de Joseph Kosinski
Synopsis
After more than three decades as one of the U.S. Navy's top fighter pilots, Pete "Maverick" Mitchell (Tom Cruise) continues to push his limits as a test pilot. He refuses to move up in rank because it would force him to give up flying.
He is tasked with training a detachment of young Top Gun graduates for a special mission that no pilot would ever imagine.
On this mission, Maverick meets Lieutenant Bradley "Rooster" Bradshaw (Miles Teller), the son of his late friend, navigator Nick "Goose" Bradshaw.
Facing an uncertain future, haunted by his ghosts, Maverick will have to confront his worst nightmares in a mission that will require the greatest sacrifices.
What is Top Gun?
The Navy Fighter Weapons School, or Top Gun, is the most famous American flight school in the world, thanks in part to the movie of the same name that popularized the TOMCAT around the world.
36 years later
The sequel of Top Gun released in 1986 directed by Tony Scott (Ridley Scott's brother) was expected for more than two years.
Top Gun Maverick directed by Joseph Kosinski is dedicated to him. And the film is finally released in theaters. Tom Cruise said that for nothing in the world, he would have let this film be released on a platform.
And so much the better! Choose your seats well, Top Gun Maverick is a total experience!
It must be said that Paramount and its producer Jerry Bruckheimer have left nothing to chance: to the music, Lady Gaga and Hans Zimmer, with the resumption of the musical theme of the first part.
Then required by Tom Cruise, actors trained to fly, real F18, in which the actors and actresses were subjected to breathtaking aerial stunts.
Everyone remembers the stunt where the two Migs were on top of each other, one being upside down in Top Gun.
36 years later, with the help of progress, the stunts are even more impressive, and the fun total.
Did Tom Cruise fly?
The Navy refused to let him fly F18s (at 70 million dollars a plane, we understand them), Tom Cruise has, despite everything, stubborn like his character, insisted that all can be filmed in flight. The scenes were all shot with the help of Navy pilots.
According to producer Bruckheimer, Tom Cruise flies a P-51 propeller fighter plane, as well as some helicopters.
Director Joseph Kosinski said, "We had a prototype of a new camera from Sony, the Rialto. It's a tiny camera that captures iMax quality images. We put six of them per cockpit. They filmed everything the actors did in the air. They couldn't cheat their emotions. They were really feeling the speed and the audience can really feel what it's like to be a Top Gun pilot.
In the movie, the plane is supposed to go up to mach 10.
What is this unit?
Mach is the speed of an aircraft relative to the speed of sound in the air, Mach 1 being the speed of sound. This unit is named after the Austrian physicist, Ernst Mach, who invented it.
Mach 10 would thus be equivalent to 12348 kms/hour according to the physical elements.
The actors followed three months of intensive training, to be able to absorb the g (The g ("g" being the initial of "gravity") is a unit of acceleration corresponding approximately to the acceleration of the gravity on the surface of the Earth. ) once in flight in fighter jets with astounding performance.
A program by Tom Cruise, which led the actors to apprehend the pilot's mission first on single-engine planes, then on L-39 jets, allowing them to test the aerial acrobatics necessary for the movements they were going to perform with the flagship of the US Navy: the F-18 Super Hornet fighter, the final stage of the Top Gun training.
The video training
The script
Maverick (Tom Cruise) finds his old girlfriend, played by Jennifer Connelly, a single mother who never gives up and owns a sailboat and a Porsche (only by running a bar). 
He doesn't accept orders from his superior, played by Jon Hamm, and finds his enemy turned friend, Iceman, in a very touching scene, with Val Kilmer suffering from throat cancer (see a wonderful documentary on the life of this actor on Amazon Prime). A story of indirect paternity adds emotion to the story with the presence of Miles Teller that you know from Whiplash.
It's also the battle of technology vs. men yet between fighter pilot and drone pilot, the technology must be advanced.
Tom Cruise is 59 years old. He is beautiful. The photography is sublimed and the charismatic actor proves once again that he can do anything. He embodies a modern John Wayne, a patriotic and virtuous America.
In July 2023 comes out a new part of Mission Impossible, Mission Impossible Dead Reckoning.
Tom Cruise is a man who never stops.
With Tom Cruise, Jennifer Connelly, Miles Teller, Jon Hamm, Monia Barbaro, Glen Powell, Ed Harris
In theaters today!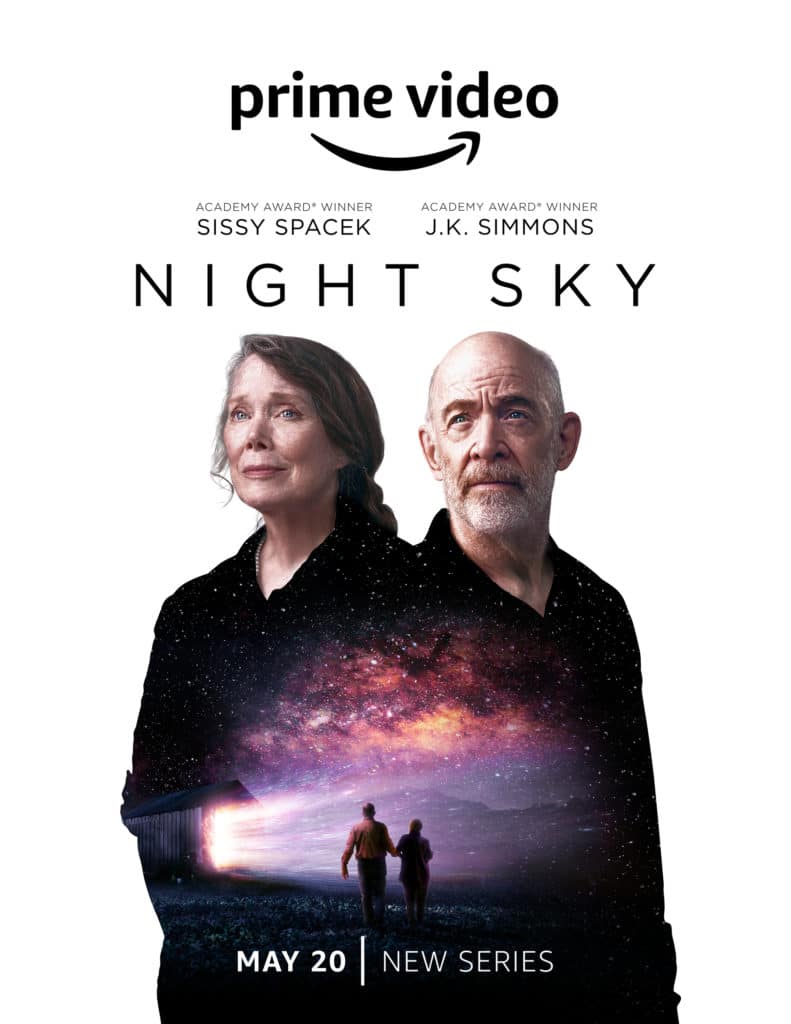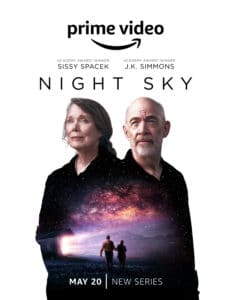 Night Sky,  Juan José Campanella
Synopsis
Franklin and Irene York discovered, years ago, a buried antechamber in their garden that leads to a strange desert planet. Since then, they have carefully guarded their secret. When an enigmatic young man enters their lives, the Yorks' quiet existence is quickly disrupted…
Looking towards the stars
This science fiction series takes us into the lives of a couple, who, we guess, are still very much in love despite the suicide of their son.
The arrival of this stranger brings back old pains.
Each episode shows us heroes that we are not used to seeing: old people, with their health problems, their naivety, their character but above all their stubbornness, marginalized people and disoriented people who no longer have any purpose in their lives.
Beyond science fiction, it is a journey to the heart of the human being, its secrets and its dreams.
Sissy Spacek (the heroine of Carrie, Oscar winner for the role) & J.K. Simmons (the famous "not quite my tempo" of "Whiplash") are sensational.
On Prime Video now.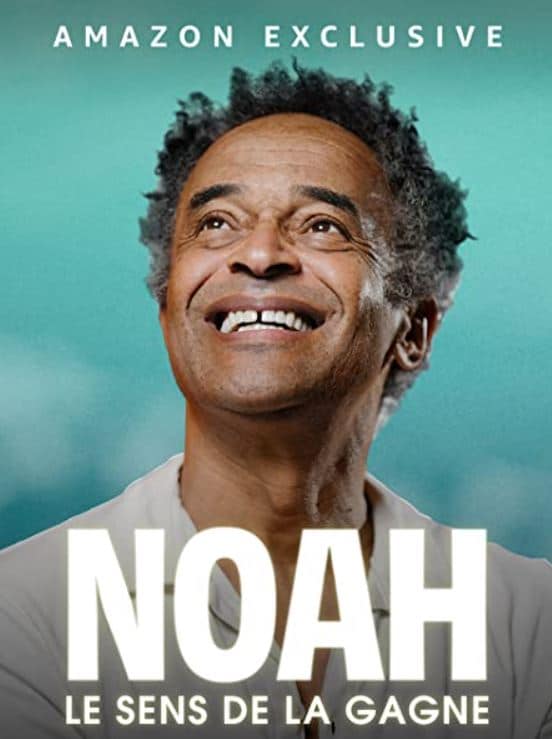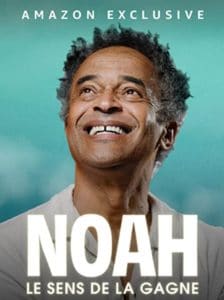 Noah, le sens de la gagne, Delphine Jaudeau et Vladimir de Fontenay
Synopsis
Yannick Noah, the man with 473 victories, shares the techniques and tactics that have made the difference throughout his career, while revealing untold personal stories. This documentary traces 4 decades of tennis, from the golden age of the 1980s to the present day.
A free man
This magnificent documentary starts in Cameroon and goes back to the childhood of the tennis player who managed to reconvert himself into music, until he played at the Stade de France.
As beautiful as a god, even today at 62, Yannick Noah had the chance to meet Arthur Ashe, his mentor, who spotted him in Yaoundé and allowed him to join the sport-study section of Nice where, by dint of rage and willpower, he will do everything to win.
Whether it is tennis or soccer, he will even coach the PSG team, Yannick Noah likes to pass on and share.
With his mother Marie-Claire, he created the association Les Enfants de la Terre, so that children from the suburbs can learn to play tennis.
In Cameroon, where he lives today in Etoudi (his father's village), he helps a little girl, Uma, a promising tennis player, as well as her whole family.
The tennis archive images and the testimonies of all these great players (Lendl, Leconte, Forget…) and the beautiful voice of Yannick Noah are captivating.
The ones from Africa are magnificent, and for personal reasons moved me a lot.
Now on Amazon Prime.
FILMS TO WATCH IN YOUR MOVIE THEATERS AS FROM MAY 25TH
This week :
Hommes au bord de la crise de nerfs, by Audrey Dana. With Thierry Lhermitte, Ramzy Bedia, François-Xavier Demaison
Seven men, from 17 to 70 years old, who have nothing in common except being on the verge of a nervous breakdown, find themselves embarked on a group therapy in the wilderness. This mysterious course, "exclusively for men", is supposed to work miracles.
Crimes of the Futur, by David Cronenberg. With Viggo Mortensen, Léa Seydoux, Kristen Stewart
As the human race adapts to a synthetic environment, the human body is subject to new transformations and mutations. With the complicity of his partner Caprice, Saul Tenser, famous performer, stages the metamorphosis of his organs in avant-garde shows.
Les Basilischi, by Lina Wertmüller. With Antonio Petruzzi, Stefano Satta Flores, Luigi Barbieri
Antonio, son of a notary in a small town in southern Italy, is 20 years old and spends his days bored with his friends Francesco and Sergio. The days go by, endlessly similar, filled with the same discussions and the same lack of activity. One day, Antonio is offered the opportunity to live in Rome…
Ça tourne à Saint-Pierre et Miquelon, by Christian Monnier – With Céline Mauge, Philippe Rebbot, Jules Sitruk.
Céline, a famous actress, is hired by a famous director, Milan Zodowski, to go and shoot a film in Saint-Pierre et Miquelon about which she knows almost nothing.
When she arrives on location, there is only a sound engineer and a stage manager and Milan stubbornly refuses to leave the cabin where he has locked himself up to "create".
Will the great "liar on stage", adept at cinéma vérité, make Céline shoot or did he bring her to the archipelago for something else?
Later (and we are looking forward to it: 
MRS. HARRIS GOES TO PARIS, July 15, Anthony Fabian
Set in 1950s London, a widowed cleaning lady becomes obsessed with a couture Dior dress and embarks on an adventure to Paris. 
GEORGE MICHAEL FREEDOM UNCUT: an introspective story told by George Michael himself.
The singer had indeed started working on this film before his death in late 2016.
So many events told in this exceptional document in which participates an impressive list of artists from Stevie Wonder to Elton John, through top models, Naomi Campbell, Cindy Crawford or Linda Evangelista honored in the famous clip "Freedom! '90". Unmissable.
After Yang, produced and directed by Kogonada, is an adaptation of the American short story Saying Goodbye to Yang by Alexander Weinstein.
In the near future, where the fashion is marked by domestic androids in human form that are considered nannies, Jake (Colin Farrell) and his daughter try to save Yang (Justin H. Min), their robot that has become inert.
Release date: June 22, 2022.
Jurassic World Dominion, Colin Trevorrow, June 8th.
Bullet Train, by David Leitch, adapted from the novel Maria Beetle by Kōtarō Isaka. On July 20, 2022.
Starring Lady Gaga, Sandra Bullock, Andrew Koji, Aaron Taylor-Johnson, Joey King, Shinkansen.
Nope,  Jordan Peele, on August 5th.
With: Daniel Kaluuya , Barbie Ferreira , Michael Wincott , Steven Yeun , Keke Palmer , Brandon Perea , Terry Notary , Andrew Patrick Ralston , Donna Mills , Jennifer Lafleur
Don't worry darling, Olivia Wilde.
Mission Impossible Dead Reckoning, Christopher McQuarrie
Three thousand years of longing, George Miller, on August 24th
WEEKLY TIPS & OPINIONS ABOUT MOVIES 
BY  MOVIE DIRECTORS,  WRITERS, SCREENWRITERS, DIRECTORS, COMPOSERS…
Writing and the Creative Life: "The hard is what makes it great" by Scott Myers 
Screenwriting Mantra: Minimum Words, Maximum Impact  by Scott Myers 
Go Into The Story Resource: The Story Behind Script Coverage  by Scott Myers 
4. 

BEST SERIES & FILMS ON TV, AS FROM MAY 25TH
Mercredi- Wednesday
Arte :  La loi du marché
France 4 : Party Girl, by Marie Amachoukeli, Claire Burger, Samuel Theis
Thursday – Thursday
Arte : La Montagne aux secrets by Markus Goller :
After a tragedy in the high mountains, a group of reintegrated young people organize themselves to survive independently. Between thriller and social psychology experiment, a breathtaking series that questions the strength of determinism.
France 4 : Whiplash
Chérie 25 : Money Monster
Canal Plus : Julie en 12 Chapitres
Friday – Vendredi
Canal PLus : Aline de Valérie Lemercier
Arte : Diplomatie
Saturday – Samedi
France 2 : Palmarès du Festival de Cannes
Sunday – Dimanche
TF1 : Jurassic World
Arte : Lady Chatterley
6 Ter : Grease
Monday – Lundi
France 5 : Parlement
Arte : Flee
TMC : The rise of Skywalker
Tuesday – Mardi 
Canal Plus : Promising Young Woman
Wednesday- Mercredi
Arte : Van Gogh
5. 

BEST DOCUMENTARIES, SERIES & FILMS AS FROM MAY 25TH ON ARTE
ARTE DOCUMENTARY AS FROM MAY 25TH
Making Waves, the magic of sound in cinema by Midge Costin:
Nourished by interviews with Spielberg, Lynch or Lucas, a revelation of the powers of sound in cinema. This immersion in the Hollywood studios tells the story of the most outstanding sound designers: Walter Murch ("Apocalypse Now"), Ben Burtt ("Star Wars") and Gary Rydstrom ("Saving Private Ryan").
Barbra Streisand, birth of a diva, by Nicolas Maupied
With an incredible pugnacity, Barbra Streisand has had all the successes without ever denying herself. From her difficult childhood in Brooklyn to the Broadway musicals, from "Funny Girl" to "Yentl", this is the story of her irresistible rise.
Stallone, profession héros by Clélia Cohen and Antoine Coursat
The ups and downs of "Sly" who, like Rocky, his indestructible alter ego, always got up despite the blows. The testosterone-filled portrait of a tough guy who is both touching and humorous.
Leslie Caron, French in Hollywood, American in Paris, by Larry Weinstein
Revealed as a teenager in "An American in Paris", the dancer who embodied the charm of Paname in Hollywood recounts a certain golden age of cinema, and its dark side.
Monk-pannonica-une-histoire-americaine : Jacques Goldstein
How, in a segregated America, Baroness Pannonica de Koenigswarter accompanied Thelonious Monk and other jazz musicians in their fight to impose their art. The story of a fruitful encounter.
FILMS AS FROM MAY 25TH
Parasite, by Bong Joon-ho ("The Host", "Snowpiercer"), 4 Oscars and 1 Palme d'Or in Cannes.
Little Joe, Jessica Hausner
Designer of a flower with miraculous properties, a geneticist sees her creature escape her… A psychological thriller with a cold aesthetic, starring Emily Beecham, awarded at Cannes in 2019.
May 30th : Flee, 3 times nominated for the Academy Awards.
SERIES AS FROM MAY 25TH
Norway, 1969. In the small coastal town of Stavanger, four young people from very different backgrounds find their lives turned upside down by the discovery of a gigantic oil field. A sentimental drama with a folk-pop soundtrack and elegant direction with an irresistible Mad Men flavour.
Best series & films as from May 25th

on 

Netflix
The beauty queen of  Jerusalem, Sarit Yishai-Levi, May 20th.
Ricky Gervais, Supernature, on May 23rd.
The dead don't die, Jim Jarmush, on May 25th
Stranger Things, season 4, created by brothers Matt  & Ross Duffer, on May 27th.
Demain, by Cyril Dion & Mélanie Laurent, on June 6th.

The Gray Man, by Russo brothers, with Ryan Gosling, Ana de Armas & Chris Evans, on July 22
Best series & films as from May 25th

on 
Prime Video
The Lord of the rings, Juan Antonio Bayona, on September 2nd.
Best series & films as from May 25th

 

on Canal+
The Time Traveler's Wife,now, by Steven Moffat adapted from Audrey Niffenegger's novel.
A Chicago librarian capable of time travel has no control over this power, however, which complicates his relationship with his wife.
Julie (en 12 Chapitres), on May 26th, de Joachim Trier.
Aline, by Valérie Lemercier, on May 27th
Promising Young Woman, by Emerald Fennell, on May 31th
Best series & films as from May 25t

h on Apple TV
The Shining Girls, series by Silka Luisa with Elisabeth Moss (Kirby), Phillipa Soo (Jin-Sook).
The Essex Serpent, by Anna Symon with Claire Danes (Cora Seaborne), Tom Hiddleston (Will Ransome).
Physical saison 2, as from June 3rd, created by Annie Weisman.
Sheila Rubin (Rose Byrne) has successfully launched her first fitness video, but she encounters new and bigger obstacles along the way. She's torn between her loyalty to her husband (Rory Scovel) and the values he represents, and a dangerous attraction to someone else.
A new episode every Friday,10 episodes in total.
Best series & films as from May 25th 

on Disney Plus
Under the banner of heaven: On God's command from the best-seller by Jon Krakauer. With Andrew Garfield, Daisy Edgar-Jones.
How I met your father, series by Isaac Aptaker & Elizabeth Berger, now.
Obi-Wan Kenobi, on May 27th.
Mrs Marvel, on June 8th
Best series & films as from May 25th

 

on Starzplay
Becoming Elizabeth, starting June 12.
"Becoming Elizabeth" is created and written by Anya Reiss, award-winning television writer and playwright ("Spur of the Moment," The Acid Test), who is also executive producing, with George Ormond ("National Treasure," "Great Expectations") and George Faber ("Shameless," "The White Queen" on STARZ) of The Forge, and Lisa Osborne ("Little Dorrit," "Man in an Orange Shirt") producing.
The Girl from Plainville, with Elle Fanning, on July 10th