This week, your movies and series about choice to watch safely home.
On the bilingual Movieintheair blog, I do for you a press review every Wednesday and keep the best of national and international audiovisual news.
Your movies & series
about choice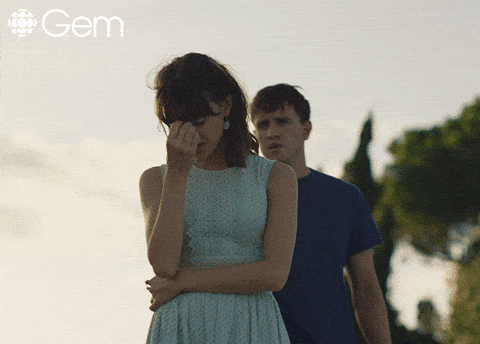 NEWS
NETFLIX

has 200 million of subscribers
Reshet 13 launches its studio,Three projects on going:  Find Me Somebody to Love, the drama series Blackspace, and Kings of the Kitchen.Reshet 13's move echoes that its chief broadcast competitor in Israel, Keshet, which launched Keshet International in 2012 and has helped co-produce a number of English-language adaptations of its local formats.
Among its biggest hits are the BBC series The A Word, based on its Israeli show Yellow Peppers, and it is now producing Apple TV series Suspicion, based on its thriller False Flag, with Uma Thurman starring.US streamer HBO Max has picked up exclusive US right for BBC's drama "The Trial of Christine Keeler" from distributor Keshet International.A 6×60' period drama about the infamous Profumo Affair sex scandal that rocked British politics in the 1960s (source: Hollywood Reporter).
Water get no enemy, by Damien Castera & Arthur Bourbon, a movie about child soldier and resilience in surf.
Interview with director Arthur Bourbon :
Fashion is working with movie director.
Matteo Garrone (Gomorra, Pinocchio – on this blog, Dogman) directed this short movie for Dior.
Making-Of
ONLINE FESTIVALS
 TRIBUTES TO
 LARRY KING
NATHALIE  DELON 
RÉMI JULIENNE
YOUR MOVIES AND SERIES
ALL YOU WANT TO KNOW
ABOUT 
LOSING ALICE
SIGAL AVIN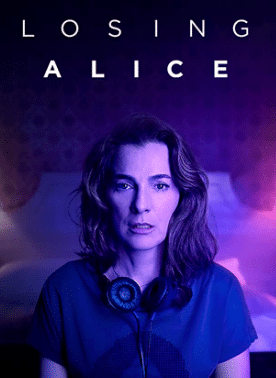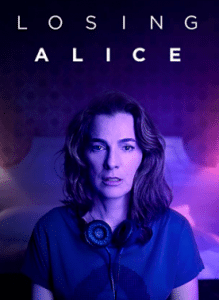 THE PITCH
On her way back from a trip, Alice, a famous director, is approached in the subway by a young woman, Sophie, who in the discussion tells her that she has sent a script to her husband, David, a famous actor.
David, who is thrilled with the script, has agreed to be in the film. A team is already ready and a director has already been chosen.
Running out of inspiration, in a house in the middle of renovation work, noises prevent her from writing, and Alice is jealous of her husband, headliner of a movie coming out and future star of this movie Room 209  written by the young Sophie.
This scenario, perverse erotic thriller  which looks like a David Lynch movie revives in her the desire to create.
Alice no longer loves herself. She is anxious and frustrated by the absence of desire. Desire of the public, desire of her own body, and she feels she no longer exists.
But the director chosen for Room 209 dies in troubling circumstances.
Sophie asks Alice to direct the film.  Alice sees it as an opportunity for creation and rebirth…
THE SERIES
In an oppressive atmosphere, this psychological thriller tackles the phenomenon of "starification".
Created by Sigal Avin, this Israeli mini-series (8 episodes) available on Apple TV talks about celebrity and temporality, and reminds us of David Cronenberg's film Map to the Stars.
Stars have a "limited" lifespan, especially for women. And what is well shown is the weight that society puts on women, from the moment they become mothers.
Sigal Avin had already addressed this subject in a previous comedy series, Bilti Hafich (Irreversible), about the upheaval that the birth of a child in a couple brings about.
Brilliantly played by Ayelet Zurer (the character of Elisheva in the Shtisel,  seen in Munich and Be Tipul) the actress finally plays a role where she has the star, which allows us to see the full extent of her acting.
The young Sophie, played by Lihi Kornowski, subtly embodies this character who oscillates between gentleness and cruelty.
Starring Ayelet Zurer, Shai Avivi, Yossi Marshek, Lihi Kornowski, Gal Toren
In Shtisel series: 
THE WHITE TIGER
Ramin Bahrani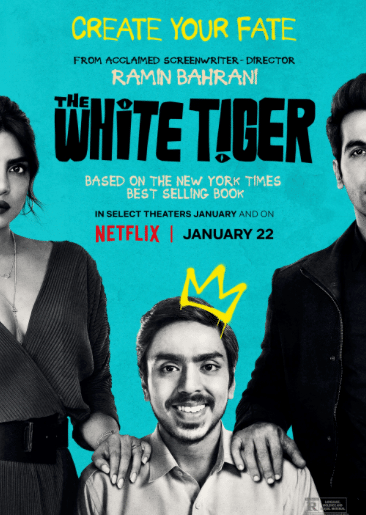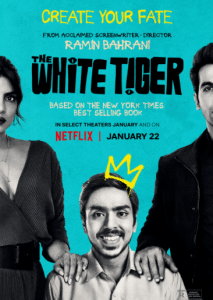 Adapted from the book by Indian writer and journalist Aravind Adiga, The White Tiger is a bestseller and its author is the winner of the Booker Prize 2008.
THE PITCH
On the eve of the visit of the Prime Minister of China Wen Jiabao, Balram Halwai wrote him an email to meet him, tell him about his journey and especially about India.
India, a country where cows are more sacred than women, where there is no sewerage system and where 98% of the population lives in a caste system that he compares to chickens trapped in a "rooster coop" system, that is to say, an eternal system of breeding in servitude with no possibility of escape.
Balram comes from a caste destined to remain poor forever, and although qualified as a  White Tiger by his teacher because of his success at school, and his abilities, he cannot continue his studies and must, according to family tradition, break stones all day long that will allow the cooking of tea leaves.
A rich Indian family visiting the village gives him the opportunity to become a cab driver.
He leaves his village and serves as a driver for a young couple whose wife is American. But dramatic circumstances will be a revelation of how precarious his situation is and Balram wants to get out of it at all costs.
EXILE OR VIOLENCE
This film about one man's success denounces the brutality of a society in which the only hope of escape lies in exile or violence.
Brilliantly played by Adarsh Gourav (also singer), Priyanka Chopra Jonas (Indian actress and producer who now works for UNICEF and lives in the United States), and Rajkummar Rao, The White Tiger, a contrario of Lion or Slumdog Millionaire, does not sink into misery.
Balram's voice-over addresses the viewer along the film and leaves us perplexed as to what his hero did to get out of it. Indeed, did he have a choice?
With Adarsh Gourav, Rajkummar Rao.
TO WATCH ON NETFLIX 
YOUR HONOR
Peter Moffat – Michelle King – Robert King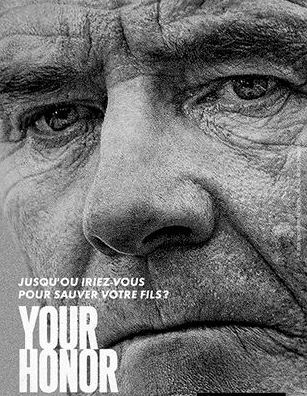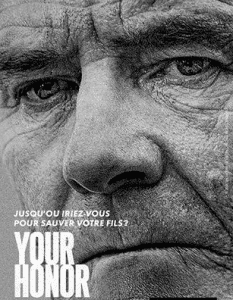 Your Honor, adapted from  Israeli series  Kvodo, by Peter Moffat – Michelle King – Robert King
With tremendous actor of  Breaking Bad, Bryan Cranston
Can we say of an actor that he plays well when we see him running from the back?
Bryan Cranston is one of those actors. 
THE PITCH
In the series Your honor, created by Peter Moffat – Michelle King – Robert King, Bryan Cranston plays a judge, Michael Desiato, widower and father of an asthmatic teenager, Adam (this fact is important for the following events).
Both have had a difficult time grieving. They speak very little to each other, each one lives on his own side and on the anniversary of the death of the judge 's wife and mother, a tragedy occurs. 
Adam accidentally kills a 17-year-old teenager by car. He panics and runs away. The father and son are about to surrender but the judge discovers that the young boy was the son of a local mafia godfather.
And that's when the plot begins. 
BRYAN CRANSTON, A TOURMENTED CHARACTER
There is an obviously a connection to Breaking Bad 's character in this series: thugs, drugs, fear of vendetta and throughout the series, Michael makes sure that the real culprit is not discovered. 
To do so, he chooses to give up everything, and the phrase "Your Honor" addressed to a judge takes on its full meaning.
What will he have  at the end? Will he keep his honor or will he have lost everything? 
This series is masterfully produced, adapted from the Israeli series Kvodo, Your Honor is like a roller coaster ride.
A permanent tension reigns.
Bryan Cranston is once again sensational, the mobster and grieving father played by Michael Stuhlbard is extraordinary (one would think of  De Niro), as for the son played by Hunter Doohan, he plays the hyper fragility and the lie in a remarkable way.
Isiah Whitlock Jr, plays with finesse the role of Michael's best friend and politician who is also ready to do anything to succeed.
A series where the main roles are played by men and where women have secondary and determining roles as they are manipulated by Judge Michael Desiato. But they haven't said their last word…
Will Michael and Adam make it?
One season, ten episodes.
Watch it on Canal+ on January 28th.
NORMAL PEOPLE
Lenny Abrahamson et Hettie Macdonald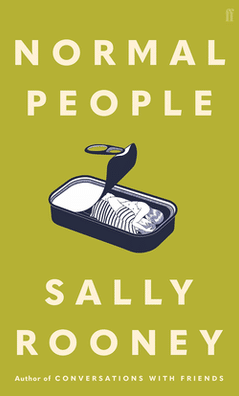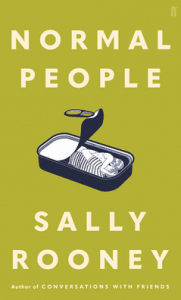 Many films and series have been made about teenage love stories but rarely treated in such a realistic way. 
Marianne and Connell fall in love at a high school in a small town in Ireland. But both are complicated and the relationships between them and in their social life have struggled to harmonize.
We follow both of them through twelve episodes during their teenage and adult lives…
THE DIFFICULTY OF LOVE
This series, very soft and very hard at times, shows us how difficult it is to be well together at any age. The reasons? Sometimes social pressure, but also our own brakes linked to education or simply to what we are intrinsically, this small part of us that never changes and that we will never deviate from.
The two actors, Daisy Edgar-Jones and Paul Mescal, in this series are disturbing in their truth and authenticity. The photography and the music, very beautiful, make Normal People , amongst other things, an original and atypical story staged in the world of series and that I highly recommend. 
Created by Lenny Abrahamson & Hettie Macdonald, adapted form eponymous novel of Sally Rooney, and with Daisy Edgar-Jones & Paul Mescal.
On Prime Video
EN THERAPIE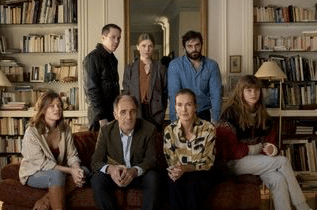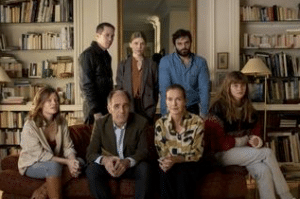 DECEPTION
While I was preparing the podcast on Hagai Levi, the creator of the series The Affair, Our Boys and BeTipul, (En Thérapie), I had high expectations for the production and the new French adaptation of BeTipul series.
On Monday, January 25, Les Films du Poisson screened the first five episodes in preview of this series co-produced and broadcast on Arte and renewed (already!) for a second season and which includes 35 episodes, to be seen in any order you wish.
But I admit I was disappointed. In spite of the presence and the very good play of Frédéric Pierrot, I was not caught by this series and it's a pity.  
I found the dialogues flat, and the episode I liked was the one with the couple but it is especially Pio Marmaï who wins. 
The rest seems forced, and even if it's well done, it's above all the writing that's not working. Where is the dramaturgy? I didn't get attached to the characters and didn't want to know more about what they were going to become (By the way, there is a grammar mistake in the dialogue, is it on purpose? After that = indicative).
BUT : PSYCHOLOGY ON SCREEN FOR THE FIRST TIME IN FRANCE
This series has a merit: for once on the screen in France, we talk about psychology and it's probably the end of a taboo. 
French films often tend to talk a lot without much coming out of it (I didn't understand the enthusiasm for Les Choses qu'on dit les choses qu'on dit les choses qu'on fait by Emmanuel Mouret either). But showing the work of a psychologist is an act in itself.
From January 28th online on Arte.tv and live on the channel from February 4th to make up your own mind.
CREW
Initiated by Yaël Fogiel, Laetitia Gonzalez, Eric Toledano & Olivier Nakache
Script : David Elkaïm & Vincent Poymiro with Pauline Guéna, Alexandre Manneville, Nacim Mehtar & Eric Toledano & Olivier Nakache
Adapted from Be Tipul by Hagai Levi
Directed by Eric Toledano & Olivier Nakache, Mathieu Vadepied, Pierre Salvadori et Nicolas Pariser
Direction artistique : Mathieu Vadepied
With Frédéric Pierrot, Carole Bouquet, Mélanie Thierry, Reda Kateb, Clémence Poésy, Pio Marmaï, Céleste Brunnquell
2. 
YOUR MOVIES AND SERIES TO COME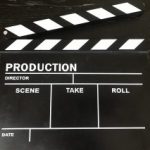 Avatar 2, by James Cameron
La troisième guerre, by Giovanni Aloi
Superman & Loïs, by Greg Berlanti
Hope,by Maria Sodahl, Oscar 2021 Norwegian film selection. A woman learns the day before Christmas that she has a brain tumor and she has three months left to live. Inspired by true story of the director.
Sophie Calle's movie: No sex last night 
La Jauria (La Meute), by Enrique Videla, produced by Pablo Larrain (Ema, Jackie…)
King Kong vs Godzilla, by Adam Wingard
At the Boston Lyric Opera
Stop motion film adaptation by Philip Glass The Fall of the House of Usher, written by Edgar Poe
As from January 29th on the Boston Lyric Opera  website 
Breaking & Exciting (Casse-Coeur), by Peter Facinelli, on all platforms, as from February 10th
With Jordan Hinson, Milo Gibson, James Kyson Lee
Production: Cecile Cubilo – Jordan Danger (as Jordan Hinson) – Martine Melloul
3.

WEEKLY TIPS & OPINIONS
FROM 

PROFESSIONALS
 WRITERS, SCREENWRITERS, DIRECTORS, COMPOSERS…
Les différents formats d'image (CNC)
Bernard TANNENZAPF, projectionniste (France Culture)
Le cinéma s'arrache d'anciens du Mossad 
Screenwriting Mantra: Minimum Words, Maximum Impact  by Scott Myers
How to Watch a Movie Like a Writer  by Shaunta Grimes
4. YOUR WEEKLY PROGRAM (MOVIES AND SERIES)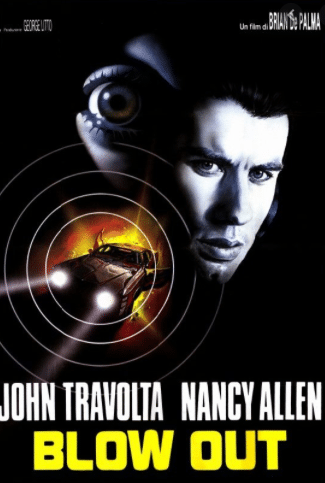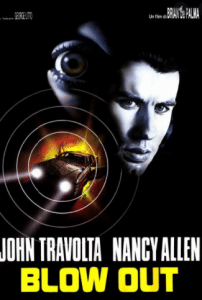 Wednesday 27
TCM : La ruée vers l'Ouest
Paramount : Silent running
RTL9: Zero Dark Thirty
Arte :
Alceste à Bicyclette
Canal + : Brothers in Arms (bande annonce plus bas)
Thursday 28
France 3 : Appaloosa
Arte : Mystery Road
TF1 Séries : I, robot
Friday 29
C8 : Premier Contact
TCM : Un château en enfer
Saturday 30
TCM: Tootsie
Sunday 31

France 2 : Mission : Impossible, Rogue Nation
France 4 : Charlie Chaplin, le génie de la liberté
Arte: The Lost city of Z
6Ter: La Rafle
Monday 1
France 5 : Blow Out
Arte: La petite voleuse
Tuesday  2
Arte : Les coulisses de l'histoire
Canal+ : Le cas Richard Jewell
Wednesday 3
Arte : Girl
5. ON YOUR PLATFORMS
ARTE

DOCUMENTARY
Née à Auschwitz: réalisation Eszter Cseke
La légalisation de l'avortement dans le monde
Frantz Liszt : la première rock star
MOVIE 
La vie aquatique, de Wes Anderson, avec Bill Murray et Owen Wilson
Canal + : Brothers in Arms (trailer below)
Arte : Le souvenir de toi, d'Anna Justice, scénario de Pamela Katz, avec
Alice Dwyer (Hannah Silberstein 1944)
Mateusz Damiecki (Tomasz Limanowski 1944)
Dagmar Manzel (Hannah Levine 1976)
Shantel VanSanten (Rebecca Levine)
David Rasche (Daniel Levine)
Lech Mackiewicz (Tomasz Limanowski 1976)
SERIES
En thérapie, adapted from Be Tipul  as from February 4th, 2021
La Chaîne Parlementaire
LCP offers you a lot of good documentaries: here
La Cinémathèque Française
All retrospectives are postponed.
On Henri plateform, a cult movie everyday
Your movies and series

of
to watch

 on 

NETFLIX
Don't look up! Adam McKay will tell the story of two astronomers.
A hallucinating casting :
Leonardo DiCaprio, Jennifer Lawrence, Rob Morgan, Meryl Streep, Cate Blanchett, Jonah Hill, Timothée Chalamet, Ariana Grande, Kid Cudi, Matthew Perry, Tomer Sisley.
Meanwhile, you may watch n

ow:
Your heart engraved herein, by Liu Kuang-Hui, the love story of two teenagers
Penguin Bloom, by Glendyn Ivin, with Naomi Watts & Andrew Lincoln (Walking Dead…)
Then
The Dig, as from January 29, by Simon Stone with Ralph Fiennes, Carey Mulligan. A movie about mourning & memory.
Malcom & Marie, by Sam Levinson, as from February 5, with John David Washington & Zendaya
Pole Dance, as from February 5
To all the boys always and forever as from February 12
I care a lot, de J. Blakeson, avec Rosamund Pike, as from February 19
Fireflane, Katherine Heigl, Sarah Chalke, as from February 3rd
Claude Chabrol movies as from February 15
Madame Bovary
Merci pour le chocolat
La cérémonie
Betty
La Fleur du Mal
L'Enfer
Un affaire de femmes
Rien ne va plus
Phantom Thread, by Paul Thomas Anderson. Masterpiece with Daniel Day-Lewis.A must-see movie as from February 19
News of the world by Paul Greengrass, with Tom Hanks, as from February 10 : a western : the story of a postman who finds a little girl kidnapped by Indians and who will bring her home.
Sky Rojo, three prostitues on the run. By the creator of  La Casa de Papel, Alex Pina &Esther Martinez Lobato, as from March 19th. 2 seasons of eight episodes.
Your movies and series 
to watch on 

Prime Video
Now:
Paradise Hill, now, by Alice Waddington
Now: The Personal history of David Copperfield, by Armando Iannucci, with Dev Patel
The Lie, by Veena Sud
Film: The Vast of night, by Andrew Patterson
Movie: The Big sick, by Michael Showalter
Palm Springs, as from February 12, by Max Barbakow
The map of tiny pretty things, as from February 12, by Ian Samuels
Songbird, by Adam Mason, with  K.J. Apa, Sofia Carson, Demi Moore, Alexandra D'Addario, Peter Stormare
Bliss, Owen Wilson, Salma Hayek, as from February 5
Génération Brut, as from January 29
 Your movies and series 
 to watch on 

Canal+
Brothers in arms, by Henry Alex Rubin avec Jai Courtney, Nat Wolff, today
Underwater, William Eubank, with Vincent Cassel & Léa Seydoux
The Keeper, by  Marcus H. Rosenmüller
The Goya Murders, by Gerardo Herrero
The Knick, by Jack Amiel et Michael Begler, directed by Steven Soderbergh
Rectify, as from January 28th, by Ray McKinnon, one of the favorite series quoted by Hagai Levi, creator of Be Tipul, The Affair & Our Boys
As from February 2nd
Richard Jewell, by Clint Eastwood: review
As from February 9:
The Nest: to watch for Jude Law, annoying character but a movie a bit boring at the end.
Your movies and series of
 to watch 

on 

Starzplay
Brave New World , as from December 20th, an adaptation from the novel 1984 written by Aldous Huxley, created by David Wiener (Homecoming) 
Two first episodes directed by Owen Harris. With Alden Ehrenreich, Jessica Brown Findlay
The Stand, adapted from Le Fléau by Stephen King, directed by Josh Boone &  Benjamin Cavell, with James Marsden, Amber Heard
The Luminaries, adapted from the eponymous novel by Eleanor Catton with Eva Green
Your movies and series

 

to watch on
Apple TV
Cherry, by brothers Russo, with Tom Holland on Apple TV, on March 12th
Servant, by Night Shyamalan
Billie Ellish
Palmer, by  Fisher Stevens,  29 January 2021,  Justin Timberlake, Juno Temple, Alisha Wainwirght
Your m

ovies and series

to watch on
DISNEY+ 
Raya & the last dragon (on March 3rd in France)
La légende de Manolo
To keep on reading : Israeli movies & series
Stay safe !