Amazing Grace. I was very lucky to see this incredible documentary which has been seldom distributed in Paris (only two movie theaters !) and all the shows were sold out unless you booked it at least one day before.

The Lady of Music
A documentary by Sidney Pollack (at first) and then edited later by Alan Elliott.
With : Aretha Franklin, Reverend James Cleveland,, Southern California Community Choir, C.L. Franklin
Alexander Hamilton, Bernard Pretty Purdie, Chuck Rainey, Clara Ward, Mick Jagger, Sydney Pollack, Charlie Watts
Producers : Joe Boyd , Alan Elliott , Rob Johnson, Spike Lee, Sabrina V. Owens, Angie Seegers, Tirrell D. Whittley , Joseph Woolf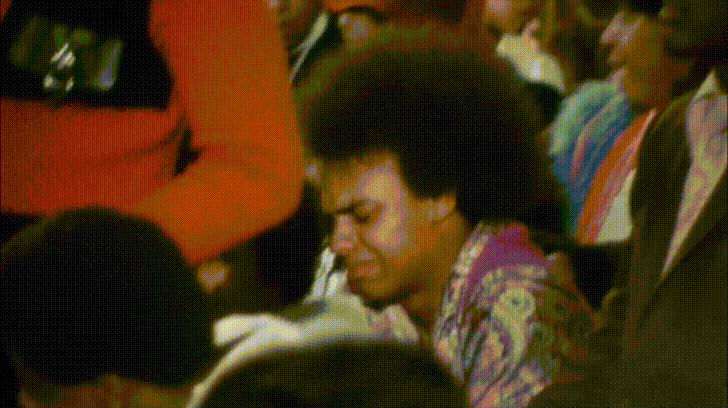 The film was not released in 1972 because of the difficulties of syncing the audio and the visual print.
Alan Elliott discovered the rush in 2007. According to "The Guardian",  Sidney Pollack was fighting a cancer and he told him  "You know this movie better than I do. You finish it."
We can see Aretha at the height of her success. She has already won five Grammys (she will won eighteen Grammys during her carrier) and hers songs have been on the Top of the charts eleven times.
Forty-six years later…
The scene is filmed and recorded in January 1972, in the New Bethel Baptist Church in Watts, in Los Angeles. Sidney Pollack (famous director of "The way we were", "Out of Africa", "Tootsie"….), nominated for the Oscar for "They Shoot Horses, Don't They?" is the director of the documentary, requested by the Warner.
It takes place during two evening and the second night we can see Mick Jagger dancing at the back of room. Everybody is dancing, some men and women go into a transe, the atmosphere is electric.
Aretha is better than ever.
She's here to perform a concert dedicated to her origins, the gospel. Religious songs are interpreted in the Aretha way and the Reverend James Cleveland (who taught her to sing) and the Southern California Choir give all their passion and joy to these concerts which give birth to one album "Amazing Grace", one of the gospel album the most sold in the world with two million albums. Her father makes a speech, acknowledging her a divine gift.
Aretha is here, like a little and shy girl energy and her voice are contrasting with her excessive talent . The song "Amazing Grace " last almost eleven minutes !
In the movie theatre, people applauded after each song and her voice gave us a special thrill. This night, Aretha was alive.