This week, in your movie theaters, many great films to watch !
On the bilingual Movieintheair blog, I do for you a press review every Wednesday and keep the best of national and international audiovisual news.
Four films to watch in your movie theaters
and series to watch this week
YOUR WEEKLY NEWS:
Movie theaters have reopened. Your movie program: Programme in your movie theater on May 26th
More than 300,000 tickets were sold on the first day of the reopening of theaters. "This is the level of a normal day before Covid," says Marc-Olivier Sebbag, the federation's general delegate. France Info point of view
Streaming: Amazon could buy the MGM studio (James Bond) for 9 billion dollars
With AFP While WarnerMedia and Discovery have just announced their merger to create a new giant of video streaming, Amazon intends to keep its place and is ready to put its hand in the pocket. The American giant would indeed be in talks with the Californian studio MGM, which holds a library of more than 4,000 films and 17,000 episodes of series, including the "James Bond" and "The Hobbit" franchises, in order to acquire it for no less than 9 billion dollars, according to several American media including The Information. The Wall Street Journal had already mentioned at the end of 2020 that the group was looking for a buyer.
This takeover could allow Prime Video to stand out from Netflix, Disney+ or HBO Max, which are struggling to keep their subscribers and attract an ever-growing audience. Amazon's platform still has room to grow, unlike Netflix, which, after experiencing a golden pandemic, has seen the number of its subscribers stagnate. Faced with the hegemony of Netflix, which spent $17 billion on content in 2020, the competition is rebelling with the arrival of a new player born from the merger of WarnerMedia (HBO Max, CNN) and Discovery (Eurosport), which between them spend about $20 billion a year on content. For comparison, Prime Video has bet $11 billion in 2020 for its content against $19 billion for Disney+ in 2019.
PROJECTS
Season 5 of La Casa de Papel is to be released in two parts. The Title is Money Heist, and the dates are September 3rd and December 3rd.
Friends actors gather for an special episode broadcast on HBO, Salto and on TF1, on May 27th.
Schweppes: The film, directed by Romain Chassaing and produced by SOLAB, is inspired by the codes of cinema and takes us through several stories. The short film first features what seems to be Italian mafiosi, then a chess tournament and finally the restaurant's kitchens. A Latin music is added to this warm atmosphere, it is the iconic song I Like It Like That covered by Vanny Jordan.  (source : La réclame)
ONLINE FESTIVAL
Festival du Film Policier 2021: the official online selection of the festival will take place online from May 26 to 30 and Sunny Side of the Doc will take place online as well from June 21 to 24.
The selection for the Cannes Film Festival will be announced on June 3rd.
TRIBUTE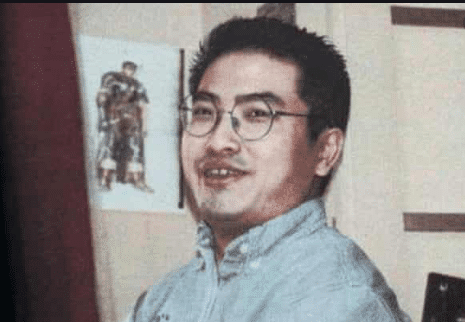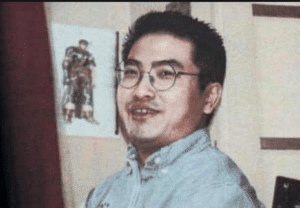 Kentaro Miura, creator of Manga Bersek 
MOVIES AND SERIES
ALL YOU WANT TO KNOW THIS WEEK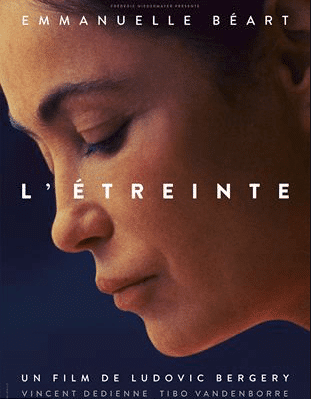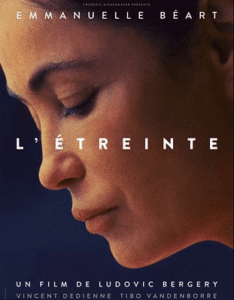 L'étreinte, by Ludovic Bergery, with Emmanuelle Béart, Vincent Dedienne,Tibo Vandenborre, in movie theaters now
Synopsis
Margaux has lost her husband and is starting a new life. She moves into her sister's house and enrolls at the university to study German literature. She meets a group of students, is attracted to her professor and is looking for love at any price.
The film
Filmed with great modesty, Ludovic Bergery, an actor, and whose first film as a director, tells a modern love story. Margaux is looking for something she has lost, the love of a man, sensuality, to feel alive, whatever the cost.
In the streets, day and night, loneliness sticks to her skin.
Emmanuelle Béart is masterful and embodies to perfection this sad woman, in search of strong emotions, with Vincent Dedienne, always so right, in the role of Aurélien, her friend, also a little lost.
Served by a very beautiful photography (Martin Roux), L'Étreinte is in your movie theaters now.
In movie theaters.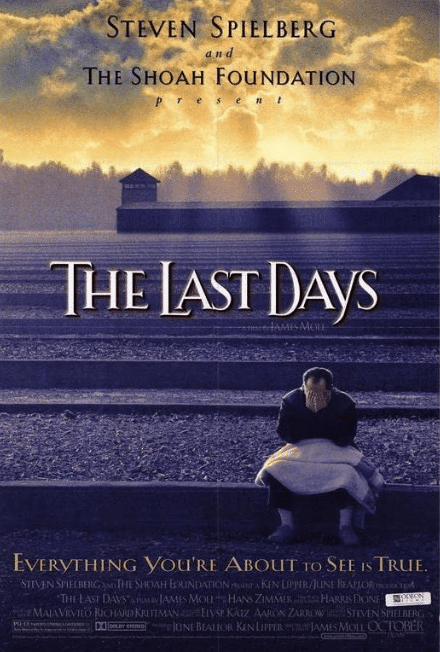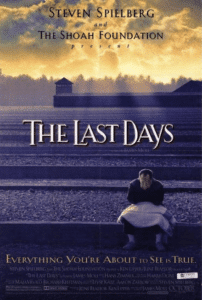 "The Last Days," , by James Moll,  produced by Spielberg
Five Hungarian Jews who survived Shoah testify.
One of them is Tom Lantos, who was to become a member of the California Congress from 1981 to 2008.
In late 1944, as the Germans were losing the war, Hungarian Jews were the last community to be exterminated by the Germans who focused their effort on the extermination of the Jews.
For an hour and a half that seems like an eternity, we listen to the stories of each individual, and each person has an extraordinary story to tell.
The horror is called the Shoah. 
Not all of the men and women responsible for this abomination have been brought to justice, and we have, sadly, the example of one of them in this heartbreaking documentary.
The Last Days, was produced by Steve Spielberg by the Shoah Foundation, and won the Oscar for best documentary film in 1998.
Essential, watch it on Netflix right now.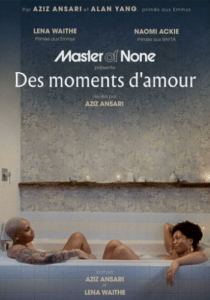 Master of None Moments in Love (saison 3) by Aziz Ansari & Lena Waithe 
Synopsis
In the first two seasons, created by Aziz Ansari, his lead actor, Dev Shah's life was a bit chaotic, both in terms of his desire to break through as an actor and his love life.
In this season, we find his best friend, Denise, a successful actress, in a relationship with Alicia, who is now an interior designer.
They live in the country in a beautiful house.
At first glance, everything is perfect, except that…
The series
The title Moments in Love fits the series and the qualitative leap is impressive. 
If there is humor, it is much lighter than in the other seasons. 
This time it is about love, desires, desire for artistic and professional success, desire for children when you are a woman of more than thirty-five years and moreover homosexual (which complicates the possibility of having some because of the way the system is made), desire for a great couple.
The direction is sublime. Few words but chiseled, magnificent dialogues, reflections and scenes that remind us of some Woody Allen films. 
Lena Waithe and Naomi Ackie are both magnificent. 
This mini-series (in five épisodes), which can be seen without having seen the two previous ones, is committed, intimate, full of poetry, moving, until the end, which is also perfectly successful.
Now on Netflix
2. FOUR 
 FILMS TO WATCH IN YOUR MOVIE THEATERS 
AND NEW TRAILERS  
On May 26th in your movie theaters :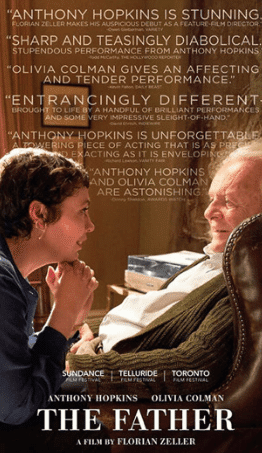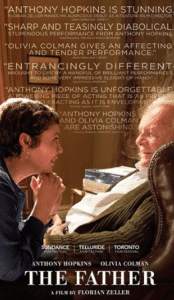 THE FATHER, BY FLORIAN ZELLER,  (adapted from his own play) & SCRIPT BY FLORIAN ZELLER AND CHRISTOPHER HAMPTON
SYNOPSIS
Anthony (Anthony Hopkins) is almost eighty and lives alone in his large London apartment. His daughter Anne (Olivia Colman) takes care of him as he rejects sick day after sick day. One day, she tells him that she has met a man and is moving to Paris…
THE MOVIE, THE PLAY
Like Richard Glatzer and Wash Westmoreland's movie Still Alice and Amour by Michael Hanecke's, The Father deals with Alzeihmer's disease but from a totally different point of view.
It doesn't take long to realize that we don't understand anything because we are immersed in Anthony's brain with all that this implies in terms of loss of memory, meaning and connection with the world.
This film is adapted from the play by Florian Zeller (whose plays are performed all over the world) who states in an interview with Le Monde:
"The complexity of my plays has the will to reach something very simple. He knows how to find a combination, like for a safe. I wish to put the spectator in an active position in order to solve himself what he does not understand at first sight. It's a feeling I had when I saw David Lynch's film Mulholland Drive: an incomplete narrative to get the viewer to find the meaning of the story himself."
That's exactly what it feels like to see The Father which won the Oscar for Best adapted screenplay.  
Of course, the performance of Anthony Hopkins (and whose hero's first name – Andre – has been changed) who is also called Anthony in the film is extraordinary. The actor of the film Silence of the Lambs (among others) is at the height of his art and the Academy has not been mistaken in awarding him this year the Oscar for Best Actor.  He is completely overwhelming.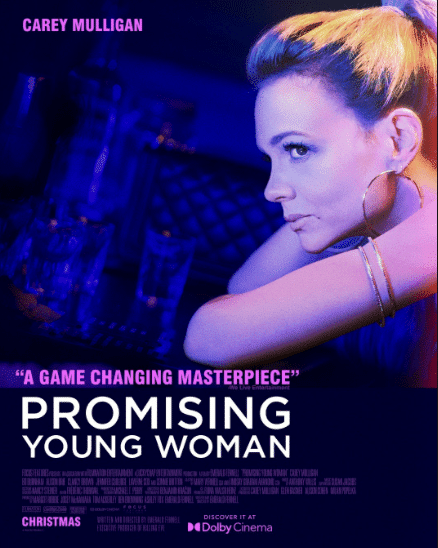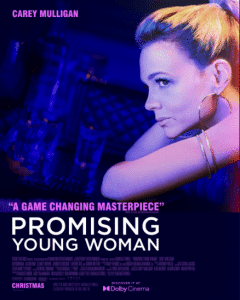 Promising Young Woman, by Emerald Fennell (2020)
Cassie Thomas (Carey Mulligan) is a 30-year-old woman living in Ohio with her parents.
We learn that she dropped out of medical school years earlier after her best friend Nina Fisher was raped by their classmate Al Monroe and the school and legal system abandoned her. At night, Cassie goes out to clubs and feigns drunkenness to get a man to take her home. She waits for them to try to take advantage of her then reveals her sobriety and confronts them.
This role earned her an Oscar nomination for Best Actress this year.
The movie is about tape culture and Carey Mulligan embodies all the women victims from the men's violence.
In the meantime she can be seen in a thriller series on Netflix,  Collateral (click to see the trailer), created by David Hare and directed by S.J. Clackson, already  broadcast in 2018 in England, in which she plays a police captain.
Voyagers, by Neil Burger, with Lili Rose-Depp and Colin Farrell
Sons of Philadelphia, by Jérémie Guez, with Matthias Schoenaerts & Paul Schneider
And on June 2nd in your movie theaters :
Minari, by Lee Isaac Chung and starring Steven Yeun, Yeri Han, Alan Kim, Noel Kate 
Petite Maman, by Celine Sciamma
All my life, by Marc Angels
Mission Paradis, by Richard Wong
Billie Holiday, une affaire d'État, by Lee Daniels
Playlist, by Nine Autico
Later
Respect, de Liesl Tommy, avec Jennifer Hudson, Forrest Whitaker
The Mandalorian saison 3
In November:
The Eternals, by Chloe Zhao (Nomadland), with Angelina Jolie, Gemma Chan, Richard Madden
Last Night in Soho, by Edgar Wright
3.
WEEKLY TIPS & OPINIONS
FROM 

PROFESSIONALS
 WRITERS, SCREENWRITERS, DIRECTORS, COMPOSERS…
Arte : Leçon de cinéma avec John Boorman
John Krasinski and the Tense Wait for 'A Quiet Place Part II' – The New York Times
My Writing Workshop Schedule. Two online workshops this summer… my… | by Scott Myers | May, 2021 | G
10 Screenwriting Skills and Traits You Need | by Scott Myers | Apr, 2021 | Go Into The Story
Le cinéma selon Jean-Pierre Melville de Rui Nogueira ressort à nouveau en librairie – Bilan
Screenwriting 101: John Milius. "A writer's greatest fear now is not… | by Scott Myers | May, 2021
Movie's interview of Karmitz brothers
Interview with director of movie Slalom (cnc)
4.
YOUR WEEKLY PROGRAM
 May 26th to June 2nd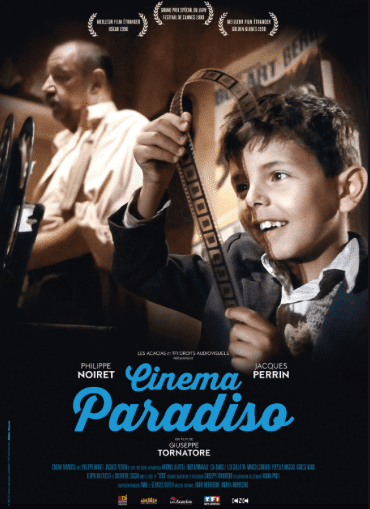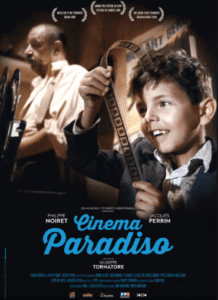 Wednesday 26
Arte: Une-affaire-de-famille –  Review on the blog here
C8: Cinema Paradiso
C+ : Les Apparences
Thursday 27
M6 : Chernobyl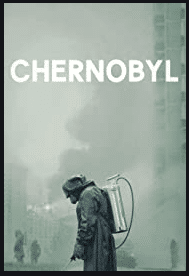 Friday 28
Arte : À l'abordage de Guillaume Brac
6Ter : La couleur des sentiments
Chérie 25: Monsieur et Madame Adelman
Canal + Cinéma : Teen Spirit
Saturday 29
Chérie 25 : Orgueil & Préjugés
Canal Plus Cinéma : Le Cas Richard Jewell
Sunday  30
France 2 : The Shape of Water
Canal Plus Cinema: Play
Arte : Papillon de Franklin J. Schaffner – Scénario :Dalton Trumbo, avec Steve McQueen et Dustin Hoffman
Monday 31
Canal Plus : Les Figures de l'Ombre
TMC: Seul sur Mars
Arte : Le canardeur, De Michael Camion, avec Clint Eastwood, Jeff Bridges
Tuesday 1rst
France 4 : Le Lac des cygnes
Arte : Violences-sexuelles-dans-le-sport-l-enquete
Wednesday 2nd
C8: Ben Hur
LCP: Sugar Man
Arte : Amin, de Philippe Faucon, avec Emmanuelle Devos
5.
ON YOUR PLATFORMS
ARTE

DOCUMENTARY
Indiana Jones: À-la-recherche-de-l-age-d-or-perdu
Homothérapies, les conversions forcées
Les chevaux sauvages de Namibie
SERIES
Maroni, the ghosts of the river S02 – Arte.tv and May 20 on ARTE
Chloe is a young gendarme appointed to Cayenne in French Guiana. Her teammate is Joseph Dialo, a native of French Guiana who is familiar with the culture and traditions of this territory. While Dialo is introducing Chloe to the specificities of this department, a metropolitan couple is found brutally murdered on a sailboat adrift on the Maroni River. Their 9 year old son has disappeared. Chloe and Dialo investigate. The only witness is a young Bushinengué. 
MOVIE 
De rouille et d'os, de Jacques Audiard
Zardoz, de John Boorman, avec Sean Connery et Charlotte Rampling
Kanal, ils aimaient la vie de (by) Andrzej Wajda
Trois-visages de Jafar Panahi
Arte: Une-affaire-de-famille –  Critique sur le blog
The Rider, de Chloé Zhao (Nomadland)
La Chaîne Parlementaire
LCP offers you a lot of good documentaries: here
La Cinémathèque Française
Carte blanche Le cinéma américain de Bertrand Tavernier – La Cinémathèque française
Rétrospective et exposition Louis de Funès – La Cinémathèque française
On Henri plateform, a cult movie everyday
Your movies and series 

to watch
 on NETFLIX
(CLICK ON THE LINK TO WATCH THE TRAILER)
Hit and run: A new series from "Fauda" star Lior Raz and his co-creator and co-writer Avi Issacharoff of "Times of Israel" : in May (date not given yet)
Blue miracle on May 27
The incredible true story of Casa Hogar, a Mexican home for boys whose team competed in the world's largest fishing tournament to save their orphanage.
The Kominsky Method, on Friday, May 28
Without Alan Arkin, who left the show last year. And that's a shame.
With Kathleen Turner, as well as Sarah Baker and Lisa Edelstein, Emily Osment, Graham Rogers, Ann-Margret, Jay Leno, Patti LaBelle, Ashleigh LaThorpe, and Jane Seymour and Paul Reiser.
Ghost Lab: After witnessing a haunting in their hospital, two doctors become dangerously obsessed with obtaining scientific proof that ghosts exist. On May 26th.
Carnaval: After a breakup, an influencer takes her friends on a free trip to Bahia's vibrant Carnival, where she learns life's not just about social media likes. On June 2nd.
Skater Girl, on June 11th, by Manjari Makijany
Fatherhood, on June 18th
Your movies and series

to watch
on Prime Video
Belgravia, by Julian Fellowes
Solos, 7 stories, by David Weil, with Anne Hathaway Morgan Freeman, Helen Mirren
Dreamland, by Miles Joris-Peyrafitte, with Margot Robbie
Your movies and series

to watch
on Canal+
La Guerre des Mondes Chapitre II, created by Howard Overman
Possessor, horror movie directed by  Brandon Cronenberg (David Cronenberg's son)
The Interpreter, by Sydney Pollack
Alex Rider, on June 8th (series), adapted from Anthony Horowitz's novel , created by  Guy Burt, with Otto Ferrant
Your movies and series  to watch on

 
Starzplay
Death and Nightingales, de Allan Cubitt
We are who we are (review here), by Luca Guadagnino.
Your movies and series

 to watch on
Apple Tv
1971: The Year that Music Changed Everything, a series produced by Asif Kapadia and James Gay-Rees
For James Gay-Rees, the year 1971 was also a turning point for fashion, marked in particular by the birth of Ziggy Stardurst, Bowie's double for one album and a glam-rock icon for decades.
Physical, created by Annie Weisman with  Rose Byrne, on June 18th
Fathom, by Dr Ellen Garland & Dr Michelle Fournet
Lisey's Story, adapted from the novel by Stephen King. The story of a woman, recently widowed, who becomes the object of a stalker obsessed with her husband's work.
On June 4. Directed by Pablo Larrain (Jackie) with Julianne Moore, Clive Owen, Jennifer Jason Leigh…
Your m

ovies and series on 
DISNEY PLUS
Cruella: today –  Director : Craig Gillespie
Screenwriter: Tony McNamara, Aline Brosh McKenna, Kelly Marcel, Jez Butterworth, Dana Fox, Steve Zissis avec Emma Stone, Emma Thompson.
Raya and The Last Dragon, on June 4th
Loki, created by Michael Waldron, with Tom Hidelston & Owen Wilson on June 6th
The Mysterious Benedict Society, on June 25th
Stay safe !
Subscribe to the weekly newsletters to keep up !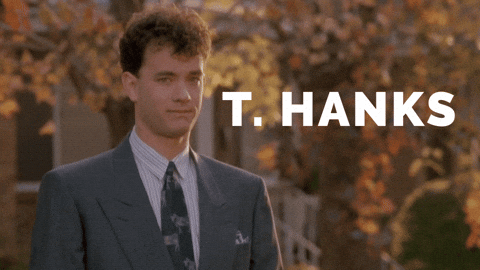 [contact-form to="contact@movieintheair.com" subject="Subscribe to the newsletters"][contact-field label="Subscribe here : Name" type="name"][contact-field label="Email address" type="email"][/contact-form]