Your weekly program as from March 15th
All the best films as from March 15th:
Oscars winners
◦Best animated feature:  
Guillermo del Toro's Pinocchio

Best supporting actor
:  Ke Huy Quan, Everything Everywhere All at Once


Best supporting actress:  
Jamie Lee Curtis, Everything Everywhere All at Once

Best documentary feature
:  Navalny
◦Best live-action short:
 An Irish Goodbye
◦Best cinematography
: All Quiet on the Western Front 
◦Best makeup and hair
 :The Whale 
◦Best costume design: 
Black Panther: Wakanda Forever 
◦Best international film
: All Quiet on the Western Front
◦Best documentary short
:  The Elephant Whisperers
◦Best animated short
:  The Boy, the Mole, the Fox and the Horse
◦Best production design: 
 All Quiet on the Western Front
◦Best original score
:  All Quiet on the Western Front
◦Best visual effects:  
Avatar: The Way of Water 
◦Best original screenplay: 
 Everything Everywhere All at Once
◦Best adapted screenplay:
 Women Talking
◦Best sound
: Top Gun: Maverick
◦Best original song:  
Naatu Naatu, RRR
◦Best editing
: Everything Everywhere All at Once
◦Best director
: Daniel Kwan and Daniel Scheinert, Everything Everywhere All at Once
◦Best actor
: Brendan Fraser, The Whale
◦Best actress
: Michelle Yeoh, Everything Everywhere All at Once
◦Best picture: 
Everything Everywhere All at Once
Best Film : La Nuit du 12, (

review here

) Dominik Moll
Best Director : Dominik Moll,  La Nuit du 12
Best Actress: Virginie Efira,  Revoir Paris (review here)
Best Actor: Benoît Magimel, Pacifiction – Tourment sur les îles
Best Supporting Actress: Noémie Merlant L'Innocent (review here)
Best Supporting Actor : Bouli Lanners, La Nuit du 12
Most Promising Actress: Nadia Tereszkiewicz, Les Amandiers
Most Promising Actor : Bastien Bouillon La Nuit du 12
Best First Movie : Saint Omer, Alice Diop
Best Original Script: Louis Garrel, Tanguy Viel, Naïla Guiguet, L'Innocent
Best Foreign Movie : As Bestas,  Rodrigo Sorogoyen
Best Adaptation : Gilles Marchand & Dominik Moll, La Nuit du 12
Best Animation Movie: Ma famille afghane, Michaela Pavlatova
Series, films, all the best of 2022 : Click: Best of 2022
Series, films, what to expect in 2023 : Click: 2023 most expected films and series
FESTIVAL
Festival International de Films de Femmes de Créteil from March 24th to April 2nd
ALL YOU WANT TO KNOW ABOUT  FILMS & SERIES IN THEATERS & AT HOME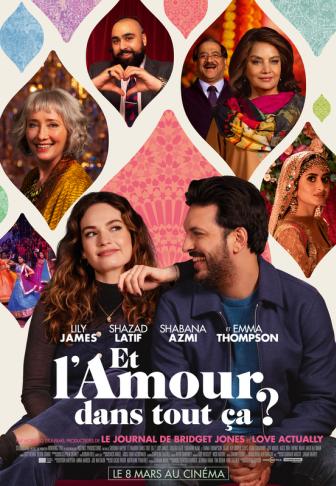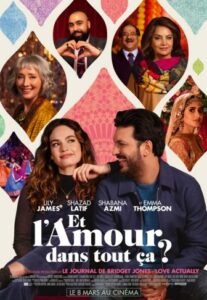 What's love got to do with it? Shekhar Kapur
With Lily James, Shazad Latif, Shabana Azmi
Synopsis
How to find true love in today's world?
Zoe, a documentary filmmaker addicted to dating apps, goes on a lot of random dates, much to the dismay of her eccentric mother Cath. For her childhood friend – and neighbor – Kaz, the answer is obvious: just follow her parents' example…
Should you watch this movie?
Yes!
If the beginning is a bit conventional and at times very average, the scenario takes its time and the emotion settles in little by little while we suspect the end. 
The characterization of the characters is a big part of it. And the director transmits his modern vision of the relationships today and it is so much better. Traditions and social pressures have had their day across the globe. 
Go see this film which is adorable. 
Currently in theaters.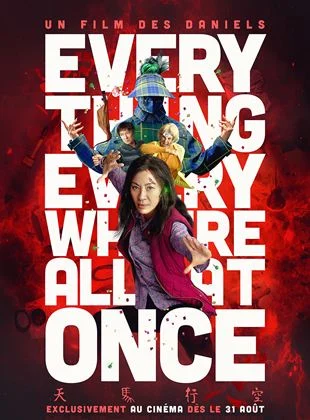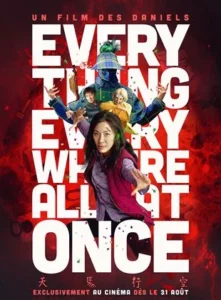 Everything Everywhere All at Once, Daniel Scheinert, Daniel Kwan
With Michelle Yeoh, Ke Huy Quan, Jamie Lee Curtis
Synopsis
Evelyn Wang is exhausted: she no longer understands her family, her job and is drowning in taxes… Suddenly, she finds herself plunged into the multiverse, parallel worlds where she explores all the lives she could have led.
What happened?
Indeed? What happened to make this film win seven Oscars, ahead of The Fabelmans, Women Talking, Elvis, or Tár?
First of all, its main interpreter, Michelle Yeoh, who must be one of the most googled names at the moment, became at the age of 60 the first Asian actress to win this award in the history of the Oscars.
Actress who practices the martial art of kung fu, she played a James Bond girl in Tomorrow Never Dies before moving on to Crouching Tiger, Memoirs of a Geisha, Crazy Rich Asians and Shang-Chi and the Legend of the Ten Rings. She is also a producer. 
It was her time this year, in this role of a mother at the end of her couple and her life as a manager of a laundromat, she will travel in metaverse universes in order to save herself and … her family. 
If the story is at times bizarre, funny and we don't understand much, the actors are sensational. It's a tribute to genre films, to marginal films and that's probably what won this year's award. 
Jamie Lee Curtis (daughter of Tony Curtis #Somelikeithot and Janet Leigh #Psycho), the genre film actress par excellence, won the Oscar (which her parents never won, that's saying something) for Best Supporting Actress. It must be said that she is hilarious.
Finally, there is the moving speech of Ke Huy Quan, revealed as a youngster in Indiana Jones, awarded the Oscar for Best Supporting Actor, fantastic in Everything Everywhere All At Once, crying in the arms of Harrison Ford, with whom he started out.
If you haven't seen it, go ahead.
Unlike other critics, I think it deserves to be seen.
It's original, you'll get a kick out of it, but it's full of references and most importantly, emotion and creativity.
After all, that's what we look for when we go to the movies.  
In theaters right now.
All films as from March 15th
La Chambre des merveilles, Lisa Azuelos
Starring Alexandra Lamy, Muriel Robin, Hugo Questel Thelma's perfectly planned life takes a tragic turn when an accident puts her 12-year-old son in a coma. 
Determined to wake him up by any means necessary, she makes the crazy bet to accomplish, one by one, the "10 things to do before the end of the world" that he had written in his diary. 
Crazy Bear, Elizabeth Banks
Starring Keri Russell, Alden Ehrenreich, O'Shea Jackson Jr. After a 500-pound black bear consumes a significant amount of cocaine and goes on a drug-fueled rampage, an eccentric gathering of cops, criminals, tourists, and teenagers converge in a Georgia forest.
65 – la Terre d'avant, Scott Beck, Bryan Woods
With Adam Driver, Ariana Greenblatt, Chloe Coleman
After a horrific crash on an unknown planet, pilot Mills soon discovers that he was actually stranded on Earth… 65 million years ago.
Houria, Mounia Meddour
With Meriem Medjkane, Lyna Khoudri, Rachida Brakni
Algiers. Houria is a young and talented dancer. After an attack, her dreams of a career as a ballerina are shattered. She must accept and love her new body. Surrounded by a community of women, Houria will find meaning in her life.
Toute la beauté et le sang versé, Laura Poitras
Nan Goldin has revolutionized the art of photography and reinvented the notion of gender and definitions of normalcy. An immense artist, Nan Goldin is also a tireless activist, who for years has been fighting against the Sackler family, responsible for the opioid crisis in the United States and around the world.
Emily, Frances O'Connor
With Emma Mackey, Fionn Whitehead, Oliver Jackson-Cohen
As enigmatic as she is provocative, Emily Brontë remains one of the world's most famous authors. EMILY imagines the initiatory journey of this rebellious and marginal young woman, which will lead her to write her masterpiece Wuthering Heights.
Un Varón, Fabián Hernández
With Felipe Ramirez, Juanita Carrillo Orti, Diego Alexander Mayorga
Carlos lives in a shelter in the center of Bogotá, a refuge where life is a little less violent than outside. When he leaves the shelter, he is confronted with the harshness of the streets in his neighborhood. He will have to choose between adopting these codes of aggressive masculinity or embracing his inner nature.
À Pas Aveugles, Christophe Cognet
In the concentration and extermination camps of the Second World War, a handful of deportees risked their lives to take clandestine photographs and attempt to document the hell that the Nazis were hiding from the world.
Bienveillance paysanne,  Oliver Dickinson
Green algae, deforestation, global warming… And so many other evils attributed to animal husbandry! Documentary filmmaker Oliver Dickinson travels across France to meet farmers who are committed to environmentally friendly practices.
Movies to come (and we are looking forward to it):
De Grandes espérances, Sylvain Desclous
With Rebecca Marder, Benjamin Lavernhe, Emmanuelle Bercot
Madeleine, a brilliant and idealistic young woman from a modest background, is preparing for the ENA oral exam at Antoine's vacation home in Corsica. One morning, on a small deserted road, the couple is involved in an altercation that turns into a drama.
 TIPS ON MOVIES 
The Business of Screenwriting: Everybody gets rewritten in Hollywood | by Scott Myers | Mar, 2023 |
The Business of Screenwriting: Going to the Movies | by Scott Myers | Mar, 2023 | Go Into The Story
FILMS PROGRAM AS FROM MARCH 15th
Dimanche – Sunday 19
Arte : A bridge too far
The hell of war a few months before its end… With a dazzling cast (Michael Caine, Sean Connery, Dirk Bogarde, Robert Redford, Anthony Hopkins…), Richard Attenborough denounces the sacrifice of men on the altar of the generals' pride.
TF1 : Wonder Woman 1984
Lundi – Monday 20
Arte : La dentellière : A shy young hairdresser falls in love with a student, who leaves her… Based on the novel by Pascal Lainé (Goncourt Prize 1974), Claude Goretta directs a discreet tragedy told with delicacy. And offers Isabelle Huppert her first major role.
Canal + : Happy Valley (watch trailer below)
Mardi – Tuesday 21
Canal + : Les volets verts
Mercredi- Wednesday  22
Arte : Trois jours et une vie : Involved in the disappearance of a child, Antoine, 12 years old, chooses to remain silent… A dark and cruel psychological thriller about the weight of secrecy, adapted from the novel by Pierre Lemaitre. Sandrine Bonnaire, Charles Berling and Philippe Torreton surround the young Pablo Pauly.
​
AS FROM MARCH 15th

 FILMS & SERIES ON ARTE
FILMS
My Left Foot
The painful struggle of a man trapped in his body to emancipate himself… Retracing the life of the painter Christy Brown, Jim Sheridan ("In the name of the father") delivers a moving plea in favor of the difference, served by Daniel Day-Lewis, masterly.
Jack
Placed in a foster home, Jack runs away, picks up his little brother and feverishly searches for their mother, who has abandoned them… A poignant child's quest filmed with tremendous vitality by Edward Berger, the director of "Nothing New in the West", which has just won four Oscars
DOC
Marimekko & Maija Isola – Finnish design conquers the world
A look back at the atypical career of Maija Isola, a free spirit of Finnish design, intimately linked to the Marimekko brand.
Series
Manayek, betrayal in the police, by Alon Zingman director of Shtisel (series available on Netflix : listen to the podcast here
Blackport, Gísli Örn Garðarsson et Björn Hlynur Haraldsson
All films as from March 15th

 

on Netflix
Luther : Soleil déchu, with Idris Elba, now.
Ad Astra, as of March 18, review here 
Fubar,  ARNOLD. IS. BACK. As of May 25
All films as from 

March 15th

 

on 
Prime Video
Daisy Jones & the six, Scott Neustadter et Michael H. Weber, as of March 3rd
Swarm, Donald Glover & Janine Nabers, as of March 17
The Power, Naomi Alderman, as of March 31
Salade Grecque, series created by Cédric Klapisch, as of April 14.
20 years after l'Auberge Espagnole, the story goes on.
All films as from March 15th 
on Canal+
Revoir Paris, Alice Winocour,  now.
Kompromat, Jérôme Salle, now.
Tulsa King, Taylor Sheridan
Happy Valley, Sally Wainwright
Rogue agent, Declan Lawn & Adam Patterson, as of March 18th
Minx, Ellen Rapoport, as of March 21
The English, Hugo Blick, as of March 31
Yellowjackets season 2
All films as from March 15th

on Apple TV
Sharper, on February 18th, by Benjamin Caron and starring Julianne Moore, Sebastian Stan, Justice Smith, Briana Middleton, and John Lithgow
Liaison, on February 24. Screenplay by Virginie Brac. Director: Stephen Hopkins
Contemporary thriller that shows how the mistakes of the past can destroy the future. It mixes action with a captivating plot in which espionage and political machinations clash with a passionate and tenacious love story.
Ted Lasso, season 3, as of March 15 on AppleTV
Extrapolation, Scott Z. Burns, avec Meryl Streep, Sienna Miller,as of March 17.
Tetris,Jon S. Baird, as of March 31.
All films as from March 15th on Disney Plus
The Mandalorian season 3, now.
Unprisoned, Tracy McMillan, as of March 10
L'étrangleur de Boston, Matt Ruskin, as of March 17
Prom Pact, Anya Adams, as of March 31
Peter Pan & Wendy, as of April 28th.
The Little Mermaid 2, Rob Marshall, forecast on May 2023.
Guardians of the Galaxy, as of May 3rd on Disney+.