On July 14th, all your films and series.
On the bilingual Movieintheair blog, I do for you a press review every Wednesday and keep the best of national and international audiovisual news.
July 14th in Cannes, at home, in your theaters.
What are you going to watch?
NEWS
CANAL PLUS :
ON THE VERGE, the new original creation will be broadcast in September on Canal+ and also myCANAL. 
Composed of 12 episodes of 30 minutes, this series draws an original, funny and impertinent portrait of the American society through the eyes of an expatriate. 
ON THE VERGE takes us to a pre-Covid Los Angeles, where four friends in the midst of a midlife crisis try to juggle their family and professional lives. For Justine, a French chef in a trendy restaurant, Anne, a busy stylist, Ella, with her three children from three different fathers, and Yasmin, who is trying to get out of a 12-year maternity leave, everyday life is a balancing act that is often rock'n'roll. 
With JULIE DELPY, ELISABETH SHUE, SARAH JONES, ALEXIA LANDEAU, MATHIEU DEMY, GIOVANNI RIBISI…
Emmys Awards have been revealed: most nominated : The Mandalorian, The Crown, The Handmaid's Tale, Wanda Vision, Ted Lasso.

Cannes began on July 6th.
Three good reasons to watch Irma
The 74th Cannes Film Festival presided over by Spike Lee will end on Saturday with OSS 117: Alerte Rouge en Afrique Noire by Nicolas Bedos.
YOUR SERIES & YOUR FILMS
ALL YOU WANT TO KNOW IN THEATERS AND AT HOME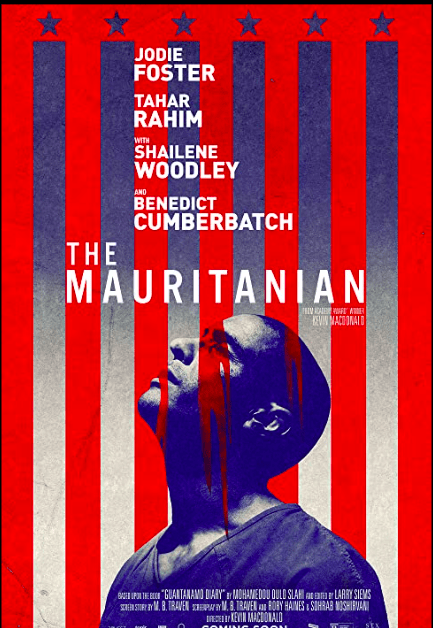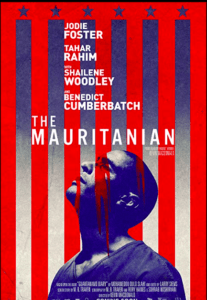 The Mauritanian, directed by Kevin McDonald
SYNOPSIS
This film is adapted from Mohamedou Ould Slahi's Guantanamo Diary, a Mauritanian man kidnapped in Mauritania and handed over to the Americans, who was held prisoner at Guantanamo for more than fourteen years without ever having been charged.
THE FILM
Kevin Macdonald is a documentary filmmaker. He is known for having directed this year Life in a Day, produced by Ridley Scott and available on Youtube. Or how millions of people filmed a few moments of a single day in 2020.
In The Mauritanian, what surprises, apart from the quality of the actors and actresses, Tahar Rahim, Jodie Foster and Benedict Cumberbatch, is the realism of the scenes. Kevin Macdonald focused on the details and on one subject: the life of this man tortured for so many years. How to fix this?
The whole film rests on the shoulders of Tahar Rahim, who plays Mohamedou Ould Slahi. He is literally inhabited by the role.
Jodie Foster, who plays Nancy Hollander, his lawyer, is also remarkable. She has also detached herself from the private history of the character to focus on the defense of this man, the search for truth.
And if there is truth, shouldn't there be reparation?
This film denounces the omnipotence of a state in a state of panic and asks the question of forgiveness. How is this possible?
Essential, then. To be seen today in theaters.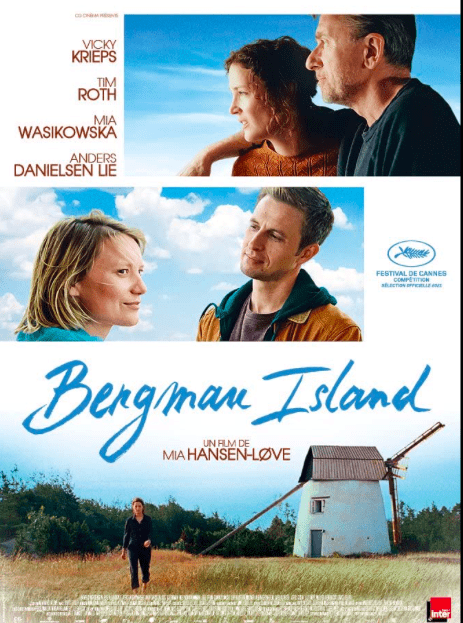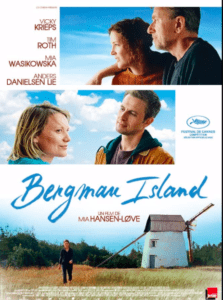 Bergman Island, by Mia Hansen-Love
SYNOPSIS
Tony and Chris, a couple of filmmakers, settle down to write for a summer on the Swedish island of Fårö, where the immense filmmaker Ingmar Bergman lived.
Every afternoon, they isolate themselves in the house to write. On the island, they visit the places dear to the filmmaker, but Chris has trouble finding inspiration.
THE FILM
Seen in preview at the cinema Le Balzac, Bergman Island is currently in competition at the Cannes Film Festival.
Despite the beautiful landscapes, which make you want to go there, Mia Hansen-Love tells two stories, one real and the other fictional, without either one really coming to fruition.
There remains a light tone, very good actresses and actors, the question of doubts linked to writing and the difficulty of writing, and the film has a real charm because it never lapses into drama. The director keeps a distance from her characters, and you almost think she is afraid of them.
This film would be inspired by her past life with Olivier Assayas. I recommend it despite this feeling of unfinished business, which is not so unpleasant after all.
With Mia Wasikowska, Tim Roth, Vicky Krieps, Anders Danielsen Lie, Joel Spira.
Starting today in theaters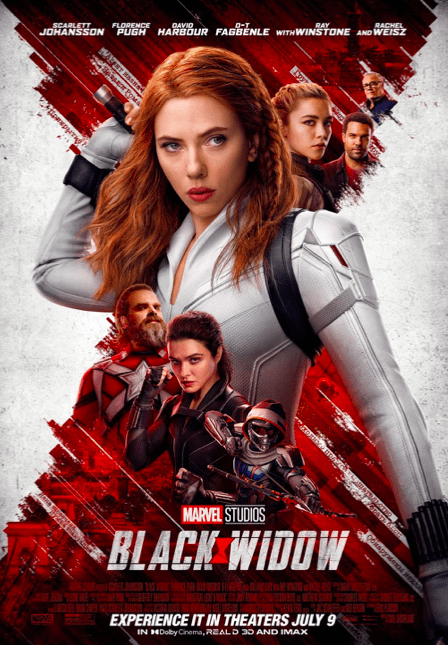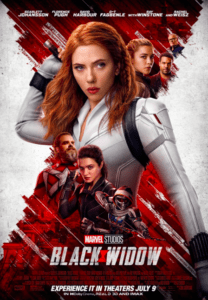 BLACK WIDOW, by Cate Shortland
Screenplay: Eric Pearson, based on a story by Ned Benson and Jac Schaeffer and the character created by Stan Lee, Don Rico and Don Heck
SYNOPSIS
This Marvel is a prequel. It returns to the past of Natasha Romanoff, aka Black Widow before she joined the Avengers.
THE FILM
Honestly, maybe it's because I saw it the day after Léos Carax's Annette (read my review last week), but Black Widow made me feel good.
Of course the movie is entertaining and the scenario not complicated. But the dialogues are funny and Black Widow denounces, through this story, the hold of a thousand-year-old patriarchy and therefore, she says, it's high time to wake up! 
It is also a question of blended family (that's an understatement) and of badly lived virility, an interesting point of view in a Marvel.
The actresses, Scarlett Johansson, Florence Pugh (Dr. March's daughters by Greta Gerwig) and Rachel Weisz have an obvious complicity on screen.
Cate Shortland has succeeded in her bet. Stay until the end of the credits, a surprise awaits you.
Black Widow is in theaters since one week.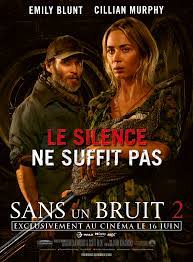 A QUIET PLACE 2,  BY JOHN KRASINSKI
SYNOPSIS
Alien creatures have killed a large part of the earth's population.
For the spectators who have not seen the first one, as soon as a human being makes the slightest sound, a creature that is half spider and half alien appears and kills them.
The story follows a family including mother Evelyn, her hearing-impaired daughter Regan, her son Marcus, and her newborn baby.
Having discovered that broadcasting high-frequency audio waves made the creatures vulnerable, young Regan improvises a kit to transmit the ultrasound emitted by her cochlear implant through a microphone and speaker, so that she can more easily challenge and take down the creatures.
A light attracts his attention. What if there are other survivors?
THE FILM
Brilliantly acted by Emily Blunt, Millicent Simmonds, Noah Jupe, A quiet place 2 is almost all audience. It is the perfect movie to be scared just enough and unlike other movies with a more elaborate scenario, we are surprised and startled several times.
The tension of this film is perfectly mastered by John Krasinski.
This ruthless world, where isolation is the norm and solidarity defeats the aliens, has something familiar with the one we live in today and gives us, as horror movies often do, a renewed sense of optimism.
In theaters now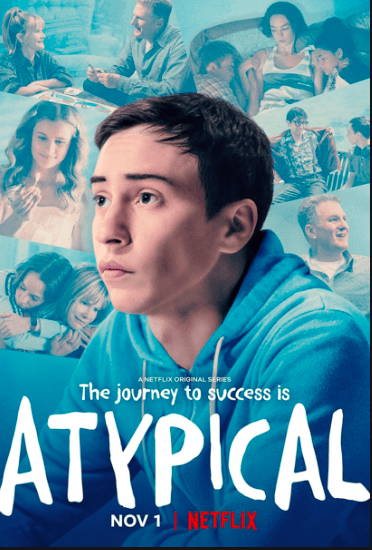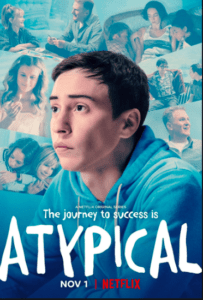 Atypical, season 4, by Robia Rashid
SYNOPSIS
There is Sam (Keir Gilchrist), an eighteen year old autistic boy, his best friend, Zahid (Nik Dodani), a funny and wild boy, his girlfriend, Paige (Jenna Boyd), his older sister Casey, a long distance runner (Brigette Lundy-Paine). And then the parents, the mother, Elsa (played and produced by Jennifer Jason Leigh) and Doug (played by Michel Rapaport).
THE SERIES
Watch this feel-good series if you have the chance, it's pure pleasure. This family is ideal because they face each problem one by one and always come out on top. The dialogue is well-written and the lines flow.
Each character evolves in a coherent way. In this season, Sam becomes independent and dreams of going to Antarctica, Casey has doubts, Elsa worries and Paige questions herself.
Jessica Paré, Megan in Mad Men, has a small part. I let you find out when.
And then there's Zahid, a character I love, played by Nik Dodani with impressive comic potential.
In short, it's a series full of emotional moments. Season 4 is more irregular in the rhythm but when we have already watched the three seasons, they are like our family.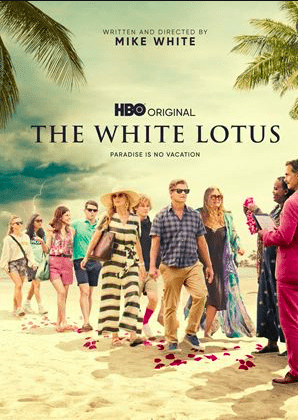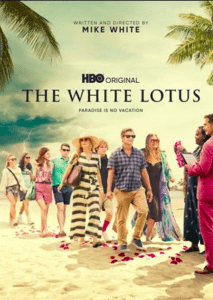 THE WHITE LOTUS, BY MIKE WHITE
SYNOPSIS
Rich Americans arrive at a luxury hotel, the White Lotus, in Hawaii.
From the beginning, we learn that a crime has been committed.
There is a couple on their honeymoon, a family on the verge of breaking up, a lonely and sad woman and the hotel manager.
THE SERIES
For the moment, only one episode both cruel and funny, is online. Nothing goes as planned. Jennifer Coolidge, as an American Brigitte Bardot, radiates in this first episode.
With Connie Britton, Steve Zahn, Jennifer Coolidge…
On OCS right now. One episode per week, six episodes in all.
2.
Cinema as of July 14th
Today
Titane by Julia Ducournau
Space Jam : Nouvelle Ère, by Malcolm D. Lee
Animation : Ainbo princesse d'Amazonie by Richard Claus, Jose Zelada
Journal de Tûoa, by Miguel Gomes & Maureen Fazendeiro
Memoria, by Apichatpong Weerasethakul, with Tilda Swinton, on July 15th
NEXT WEEKS 
Old, by M. Night Shyamalan, on July 21st
La Loi de Téhéran, by Saeed Roustayi, on July 28th
Drive my car, co-written & directed by Ryusuke Hamaguchi,from Haruki Murakami 2014 's novel Men Without Women. On August 18th (maybe a Palm ?).
France, by Bruno Dumont, on August 25th
Le genou d'Ahed (Ha'Berech) by Nadav Lapid, on September 15th
HBO: Scene from a marriage, by Hagai Levi (Be Tipul, Our Boys, The Affair )  with Jessica Chastain &Oscar Isaac
Les Olympiades, de Jacques Audiard, on October 27th
Lingui, Les liens sacrés, by Mahamat Saleh Haroun, on November 10th
3.
WEEKLY TIPS & OPINIONS
FROM 

PROFESSIONALS
 WRITERS, SCREENWRITERS, DIRECTORS, COMPOSERS…
"The cave you fear to enter holds the treasure you seek"  by Scott Myers 
Reader Question: How to raise the stakes in the plot?  by Scott Myers 
The Disunity State of Clarice Starling | by Scott Myers 
Three Things About Screenplay Structure | by Scott Myers
Writing Monologues. Don't do it… unless your character… by Scott Myers 
4. AT HOME
Your films and series 
July 14th to July 21st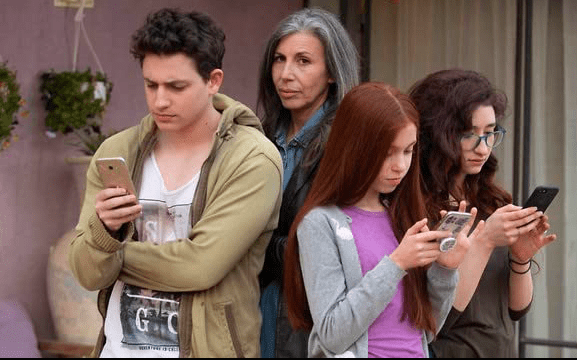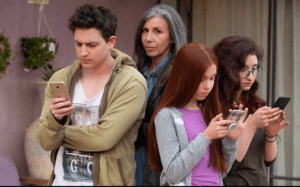 Mercredi- Wednesday
TMC: Space Jam
Jeudi – Thursday
Arte : Jeux-d-influence-1-6
TF1 : Harry Potter et le prisonnier d'Azkaban
Canal Plus: Smother
Vendredi – Friday 
Arte : Volare
Samedi – Saturday 
Arte :Japon-aux-racines-du-soleil
Canal Plus: Samedi 17 Juillet
19H30  CÉRÉMONIE DE CLÔTURE DU 74E FESTIVAL DE CANNES  EN DIRECT, EN CLAIR ET EN EXCLUSIVITÉ incarnée par Doria Tillier.
Then,Once upon a time in Hollywood
France 4 : Jazz à la Philharmonie, Charlie Parker
Dimanche – Sunday 
Arte : Florence Foster Jenkins
Lundi – Monday 
Mardi – Tuesday 
Arte : Covid-19-la-course-aux-vaccins
Arte: Nike, la victoire à tout prix
Mercredi- Wednesday
Arte : L'insulte
France 2: L'amie prodigieuse (série)
5.
AT HOME
ON YOUR PLATFORMS
Your films and series as of July 14th
ARTE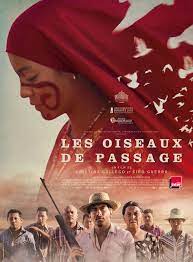 Series: Les séries
Cannes Film Festival : Cannes
FILM
SERIES
Soon on July 16th, Hamishim, 50,  by Yaël Hedaya with Ilanit Ben-Yaakov (Les méduses, Your Honor).
DOCUMENTARY
Blow-up-nanni-moretti-en-10-minutes/
CONCERT
melody-gardot-au-chateau-d-herouville
La Chaîne Parlementaire
LCP offers you a lot of good documentaries: here
La Cinémathèque Française
Tribute to Paul Verhoeven
Your films and series as of July 14th
 on NETFLIX
(CLICK ON THE LINK TO WATCH THE TRAILER)
NEVER HAVE I EVER saison 2, on July 15th
PERFECT, by James Bridges, on July 15th
TWELVE YEARS A SLAVE, by Steve MacQueen, on July 22nd
Hit & Run, by Lior Raz & Avi Issacharoff (Fauda), on August 6th
The Swarm, by Just Phillippot, on August 6th
Your films and series as of July 14th
on Prime Video
Val, by Leo Scott & Ting Pool , on July 23rd
Jolt, by Tanya Wexlerwith Kate Beckinsale, on July 23rd
Dreamland, by Miles Joris-Peyrafitte, with Margot Robbie
Your films and series as of July 14th
on Canal+
INTRIGO: DEATH OF AN AUTHOR, a thrilling thriller by the director of MILLENNIUM 2 and 3, by Swedish director Daniel Alfredson
With Ben Kingsley, Benno Fürmann, Tuva Novotny.
Deutschland 83
The Stasi sends a spy to West Germany to infiltrate the West German army in order to discover its strategic forecasts. The young man discovers a new world.
Deutschland 86
In 1986, an East German secret agent goes back to work and takes part in several missions that lead him from Berlin to Angola via Paris.
Deutschland 89
November 1989, in East Germany, the demonstrations shake the power and Martin, a Stasi agent, feels that things will quickly change.
Eden by Vanessa Gazy and Bryan Elsley (co-creator of Skins)
Smother, by Dervla Kirwan, on July 15th
Your films and series as of July 14th
Starzplay
Death and Nightingales, by Allan Cubitt
We are who we are (review here), by Luca Guadagnino.
Your films and series as of July 14th
Apple TV
Schimagadoon!  By Cinco Paul & Ken Daurio with Cecily Strong (Melissa), Keegan-Michael Key (Josh), on July 16th
A parody of the 1947 Broadway musical Brigadoon.
Mr Corman, de Joseph Gordon-Levitt, on August 6th
Coda, remake from La Famille Bélier, on August 13th
Your films and series 
DISNEY PLUS
Monstres & Cie at work, today
Encanto, this fall
Turning Red (March 2022)
Stay safe !
Subscribe to the weekly newsletters to keep up !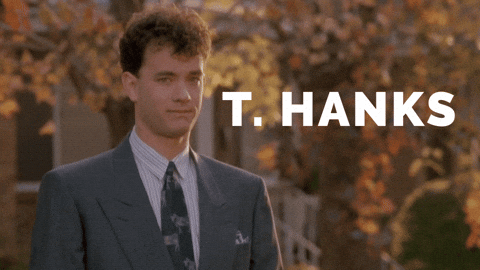 [contact-form to="contact@movieintheair.com" subject="Subscribe to the newsletters"][contact-field label="Subscribe here : Name" type="name"][contact-field label="Email address" type="email"][/contact-form]