June 's films and series to watch in movie theaters and on your platforms.
On the bilingual Movieintheair blog, I do for you a press review every Wednesday and keep the best of national and international audiovisual news.
What are your new series ?
What's new in the theaters ?
NEWS
The actress and director

Jodie Foster,

special guest of the Opening Ceremony and Palme d'or of honor of the 74th Cannes Film Festival

for her artistic career and her commitment.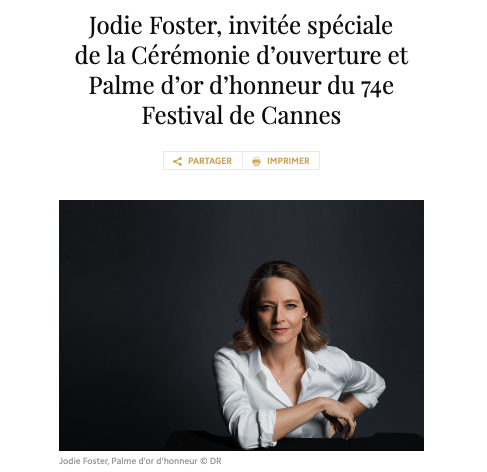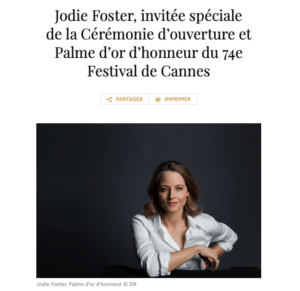 La Quinzaine des réalisateurs: press file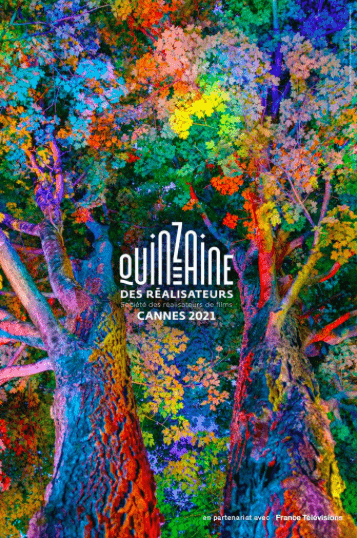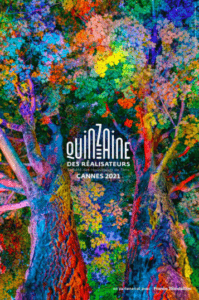 The temporary cinema Cinéma Paradiso Louvre is back at the Louvre, with the majestic Cour Carrée as its setting.
Some 1,500 seats are available each day, with reservations required. A musical program and a range of catering services will round out this exceptional year, organized with the strictest respect for sanitary conditions.
"I May Destroy You »The Bafta, British awards dedicated Sunday night June 6 to television, crowned the British series I May Destroy You and its director Michaela Coel for its interpretation. Arabella, a successful black author, in her reconstruction after being a victim of rape.To watch on Canal Plus now.
EVENTS AND ONLINE FESTIVAL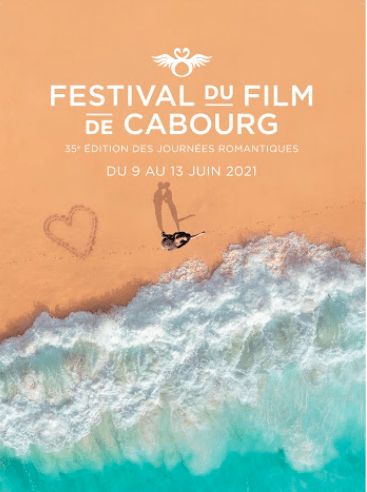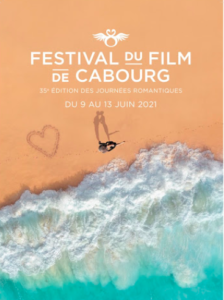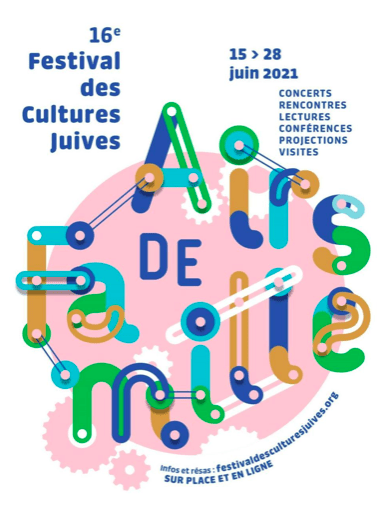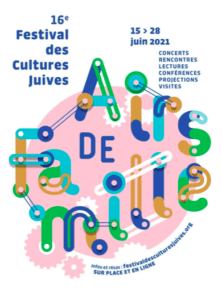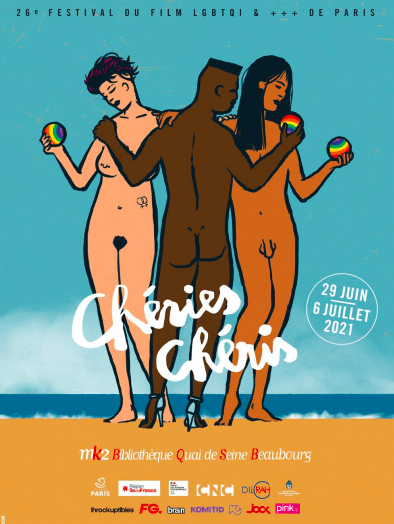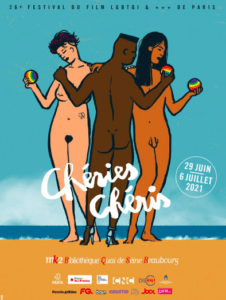 TRIBUTE
BUDDY VAN HORN
Clint Eastwood stunt
YOUR SERIES & YOUR FILMS
ALL YOU WANT TO KNOW IN JUNE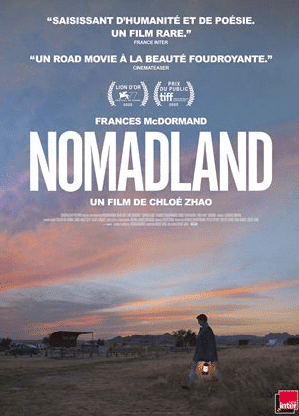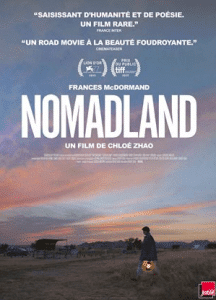 Nomadland by Chloé Zhao (today in your movie theaters)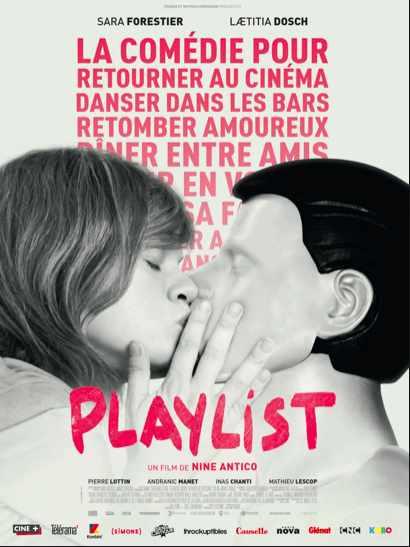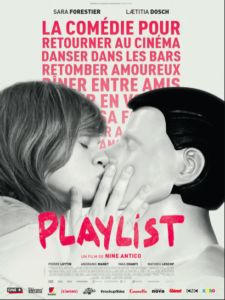 Playlist, by Nine Antico
Synopsis
Sophie (Sara Forestier) is a young woman of 26 who dreams of breaking into comics. She accepts a fixed-term contract in a publishing house known for its elitism in order to build a network.
At the same time, on a personal level, her love affairs are getting tangled up and nothing goes as planned with her lovers.
The  film
This black and white comedy talks about love, freedom and passion with a quirky humor between Denis Podalydès and Almodovar. 
Sara Forestier and Laetitia Dosch play two free-spirited young women who seek to make a living from their passion, and have unlikely encounters.
Sophie listens to Daniel Johnston, who sings that "True Love will find you in the end" and Nana Mouskouri who sings "Les yeux pour pleurer" composed by Serge Gainsbourg and wanders from man to man without really knowing what she is looking for.
Bertrand Belin's voice-over reinforces the tragi-comic aspect of Playlist.
This light comedy will make you smile and put you in a good mood if you need it.
It is a real success in this very rich cinematographic season and with The Father, Young Promising Woman, and Nomadland, it is my fourth favorite. 
Music by Lispector.
To watch and listen since June 2nd in movie theaters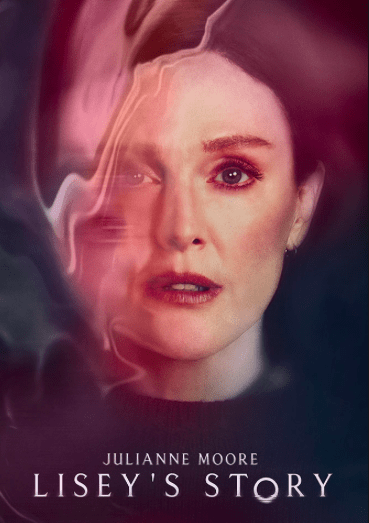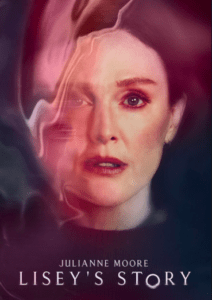 Lisey's Story, by Pablo Larrain
Synopsis
Lisey (Julianne Moore) is the widow of a famous writer (Clive Owen) who inspired generations. She is unable to grieve, and constantly delves into her past life with this man, whom she discovers after his death.
She must relearn to live and compose while one of her sisters has suicidal tendencies (she regularly slashes her wrists) and a psychopath seeks to recover her husband's unpublished writings.
The series
Lisey's story is a series adapted from the novel by Stephen King and he also participated in the script. For the first time the adaptation is very close to the novel.
The border between real and imaginary almost invisible, madness, the past and the secrets of a couple are all themes dear to the great writer that we find in this series both scary and fascinating directed by Pablo Larrain and produced by J.J. Abrams.
Very polished, very colorful too, red and green are mixed wonderfully, this series plunges us into the atmosphere of Stephen King's novels. 
Julianne Moore wonderfully embodies this lost woman, tested by grief and who no longer trusts anyone. As for Clive Owen, it is without a doubt one of his greatest roles.
The novel
Stephen King wrote this story after returning from a month in the hospital with pneumonia.
When he came home, his wife had repainted and transformed his office.
Thinking that this is what the room would look like when he died, he began to reflect on all that his wife, Tabitha, would have to deal with after his passing and wrote this book, dedicating it to her.
The writer would consider this novel to be his best book. Critics have called it his most personal and powerful work.
With Julianne Moore, Clive Owen, Jennifer Jason Leigh, Joann Allen, & Dane DeHaan
On Apple TV now (two episodes online, one by week, 8 episodes)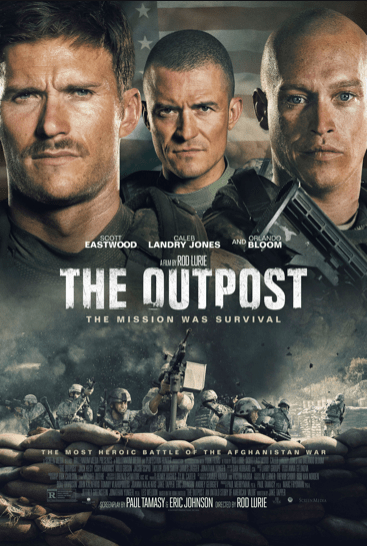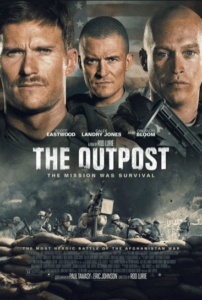 The Outpost, by Rod Lurie
Screenplay by Eric Johnson & Paul Tamasy, adapted from The Outpost: An Untold Story of American Valor by Jake Tapper
Synopsis
2006. In the U.S. Army in Afghanistan, captains come and go at the Kamdesh outpost.
Located at the bottom of a valley, at the mercy of the Taliban, the soldiers are shot at every day.
And three days before the post was to close, 400 Taliban attacked them, even though there were only 53 of them.
The film
The Outpost is a real war film. It shows the absurdities of the army (like the fact of installing military bases as the first targets of the Taliban) and the "outposts" were removed afterwards, finally recognizing the danger they represented for the soldiers who were supposed to pacify with the Afghans and were an easy target for their enemies.
Directed by Tod Lurie, Israeli-American director, we follow these soldiers in their daily life and in their fight. The director dedicated it to his son Hunter Lorie who died at 28 years old of a heart attack.
Filmed undoubtedly from the shoulder, the film is sadly breathless as these men who were being shot at had little chance of survival.
It is a very good movie, with very good actors including Scott Eastwood, Caleb Landry Jones, Orlando Bloom, available since June 4 on Prime Video.
At a time when the Western coalition is literally abandoning this country to the Taliban, this film also reminds us of the fragility of democratic regimes.
To watch now on  Prime Video.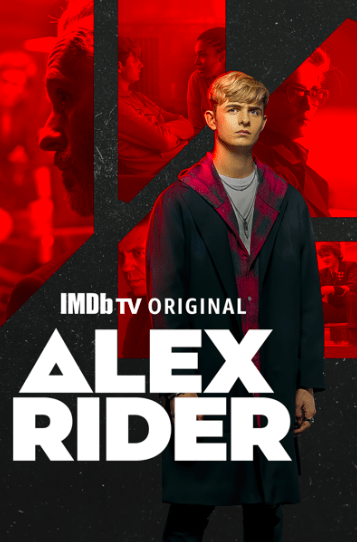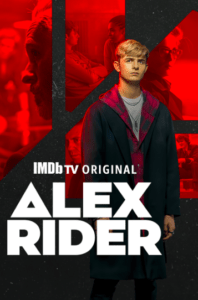 Alex Rider, adapted from Anthony Horowitz's novel, series created by Guy Bert
Synopsis
Alex (Otto Farrant) is resourceful. Raised by his Uncle Ian (Andrew Buchan), he does his best friend, Tom (Brenock O'Connor), every favor he can in high school.
But one night, while returning from a party, he learns that his uncle died, according to the police, in a car accident.
He investigates and discovers that his uncle was an MI6 agent. The MI6 agents realize that Alex is talented and can help them solve Ian's murder.
Driven by a quest for the truth, Alex must pretend to be a rich and rebellious teenager and spend a few months in a kind of punitive school in the Alps: Point Blanc.
The series
Despite a few inconsistencies in the storyline that are easy to live with, Alex Rider is a fast-paced, breathtaking series that hooks us from the very first episode.
The actors are quite good on the whole and the mix between generation loss and espionage is quite good.
The main actor, Otto Farrant is for much in the success of this series.
First three episodes are available on Canal Plus and OCS since June 8.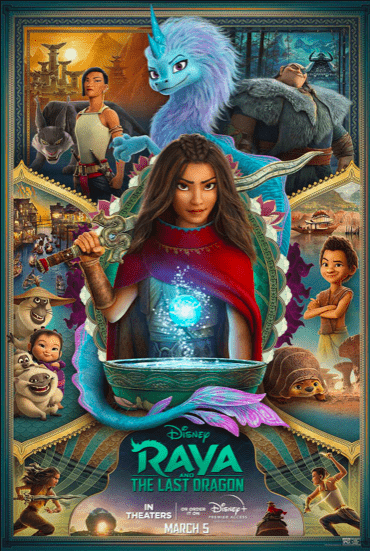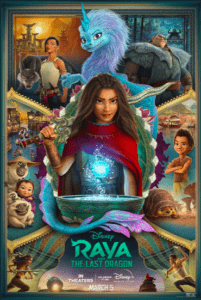 Raya and The Last Dragon, by Don Hall & Carlos López Estrada
Synopsis
While the people of the land of Kumandra lived in harmony with the dragons five hundred years ago, a plague turned men into stones and the dragons sacrificed themselves to save the human beings and created a stone that keeps the Drunn away.
From now on, the people are divided into five tribes. Each of them has a piece of a magic stone that keeps the Drunn away.
One of their chiefs, Benja and father of the young Raya, dreams of bringing them all together to live in peace and summons them for a fraternal meal.
But nothing happens as planned…
The cartoon
If the first twenty minutes are rather classic, the continuation is quite simply grandiose.
We find all the usual Disney characters but also a tasty mixture of adventure to the Indiana Jones, and Game of Thrones (without the violence) with always in the heart, the friendship, the confidence and this time a real turning point already begun with The Snow Queen, in the female empowerment.
The facial expressions are so real that the acting and the story are strengthened.
Raya and The Last Dragon is funny, moving, and dreamy.
Co-directed by Paul Briggs and John Ripa who are making their directorial debut.
Written by Adele Lim and Qui Nguyen from an original story by Paul Briggs, Adele Lim, Kiel Murray, Carlos López Estrada, Dean Wellins, Qui Nguyen, Don Hall and John Ripa.
Raya and The Last Dragon stars Kelly Marie Tran and Awkwafina in the original version.
Available since June 4 on DISNEY PLUS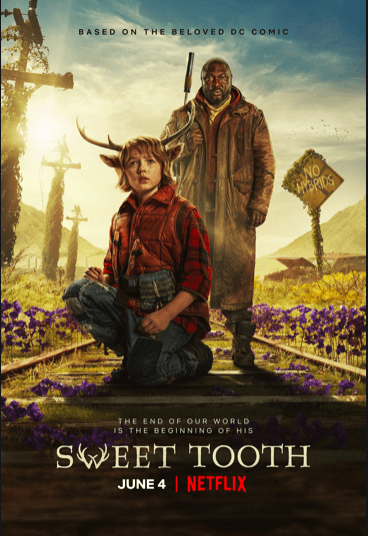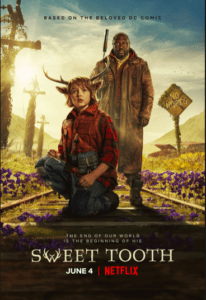 Sweet tooth, created by Jim Mickle, series adapted from  Jeff Lemire's comics.
Synopsis
In a future decimated by a virus and where chaos reigns, babies are born, hybrids, half human half animal.
A father takes his son to live isolated in a park to avoid death and experiments.
The little boy dreams of finding his mother.
The series
Between tale and dystopia, the first two episodes are very successful.
Played by Orville Wills, Nonso Anozie and Christian Convery, Sweet tooth speaks to us of love, tolerance, viruses and cruelty.
So far, thanks to James Brolin's voiceover, this is the most original series I've seen on Netflix in a long time.
Since June 4th on Netflix
2. YOUR SERIES AND YOUR FILMS IN JUNE IN MOVIE THEATERS
In your movie theaters :
June 9th
17 Blocks, by Davy Rothbart
Le Discours, by Laurent Tirard
L'oubli que nous serons, by Fernando Trueba
Reset, documentary
And a horror picture
Conjuring 3, by Michael Chaves
June 16th
Les Deux Alfred, by Benoît Podalydès
A Quiet Place (2), by John Krasinski
June 23rd
June 30th
3.
WEEKLY TIPS & OPINIONS
FROM 

PROFESSIONALS
 WRITERS, SCREENWRITERS, DIRECTORS, COMPOSERS…
5 Movie Scenes That Offer a Master Class in Conversation | by Jason Schwartzman | May, 2021 | Forge
10 Screenwriting Skills and Traits You Need | by Scott Myers | Apr, 2021 | Go Into The Story
Stephen King on Why 'Lisey's Story' Was One He Had to Adapt Himself – The New York Times
Sundays with Stephen King's "On Writing" | by Scott Myers | Jun, 2021 | Go Into The Story
4.
YOUR WEEKLY PROGRAM
June 9th to June 16th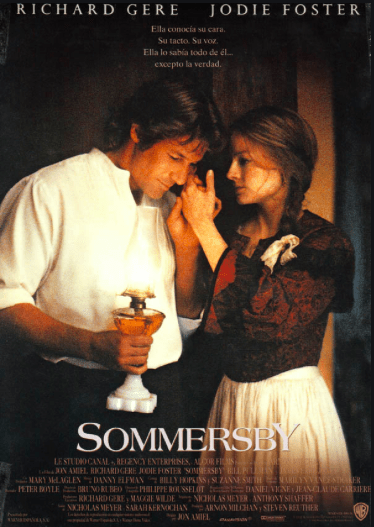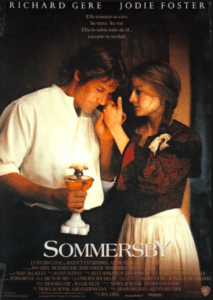 Mercredi – Wednesday
6Ter : Iron man
Jeudi – Thursday
Arte : Affaire-skripal-l-espion-empoisonné
Saul Dibb Dans une petite ville anglaise, l'empoisonnement d'un ex-espion russe et de sa fille provoque une contamination toxique de grande ampleur… Un thriller poignant sur des faits authentiques, mené du point de vue de héros ordinaires.
Canal plus : Effacer l'historique
M6 : Tamara
Chérie 25: 6 jours 7 nuits
Vendredi – Friday
Arte : Noces d'or
Samedi – Saturday
Arte : La-fille-d-egtved – Cassian von Salomon
Dimanche – Sunday
TF1: Bridget Jones Baby
France 2: La cage dorée
C8: Le Magnifique
Lundi – Monday
Arte : Rue-des-prairies Denys de La Patellière et Invasion Los Angeles
TMC: Dirty Dancing
Mardi – Tuesday
Arte : pauvres-poulets-une-geopolitique-de-l-oeuf/
France 2: LOL
Mercredi- Wednesday
Arte:Claude Chabrol : La fleur du mal  
Canal Plus: Énorme
C Star : Didier
5.
ON YOUR PLATFORMS
June 's films and series 
ARTE
DOCUMENTARY
Avortement-les-croises-contre-attaquent/
Michael-cimino-god-bless-america
Jacques-audiard-le-cinema-a-coeur/
the story of a community of "riders" who participate in creating a new cultural and social order in Africa. From Ghana to Rwanda, passing through Senegal and Uganda, these crazy riders tell us the keys to their "playground": dented sidewalks, deserted squares, bumpy roads or sandy tracks… So many obstacles that make these free spirits real warriors on the asphalt as in life.
SERIES
MOVIE 
Kanal, ils aimaient la vie de (by) Andrzej Wajda
La Discrète de Christian Vincent
L'or se barre de Peter Collinson
La Chaîne Parlementaire
LCP offers you a lot of good documentaries: here
La Cinémathèque Française
Carte blanche Le cinéma américain de Bertrand Tavernier – La Cinémathèque française
Rétrospective et exposition Louis de Funès – La Cinémathèque française
On Henri plateform, a cult movie everyday
Tribute to  Wang Bing, Chinese movie maker 
June 's films and series 
 on NETFLIX
(CLICK ON THE LINK TO WATCH THE TRAILER)
Lupin, Part II, by George Kay et François Uzan, on Friday !
Katla, on June 17th, by Baltasar Kormákur
Fatherhood, on June 18th
The Sinner, season 3: on June 20th: created by Derek Simonds, based on the novel of the same name by Petra Hammesfahr, with Bill Pullman as Lieutenant Harry Ambrose
Wonder Boy, Olivier Rousteing, né sous X by Anissa Bonnefont, on June 26
June 's films and series 
on Prime Video
Roland Garros every night
Panic, by Lauren Oliver (adapted from her bestseller)
The Tomorrow war, on July 2nd, by Chris McKay
Dan Forester (Chris Pratt). Determined to save the world for his young daughter, Dan teams up with a brilliant scientist (Yvonne Strahovski) and his estranged father (J.K. Simmons) in a desperate quest to rewrite the fate of the planet.
Solos, 7 stories, by David Weil, with Anne Hathaway Morgan Freeman, Helen Mirren, on June 25th
Dreamland, by Miles Joris-Peyrafitte, with Margot Robbie
June 's films and series 
on Canal+
Pose, by Ryan Murphy
« Une autre idée du monde »,  Bernard Henri Levy  's film will be broadcast on June 22nd.
Schitt's creek saison1 on June 23rd
June 's films and series 
Starzplay
Death and Nightingales, de Allan Cubitt
We are who we are (review here), by Luca Guadagnino.
Blindspotting, by Carlos López Estrada
June 's films and series 
Apple TV
This summer
Charlie Brown
1971: The Year that Music Changed Everything, a series produced by Asif Kapadia and James Gay-Rees
For James Gay-Rees, the year 1971 was also a turning point for fashion, marked in particular by the birth of Ziggy Stardurst, Bowie's double for one album and a glam-rock icon for decades.
Physical, created by Annie Weisman with  Rose Byrne, on June 18th
June 's films and series 
DISNEY PLUS
A 6 minutes short movie : Us again
Aretha, the series
Cruella: on June 23rd  Director : Craig Gillespie
Screenwriter: Tony McNamara, Aline Brosh McKenna, Kelly Marcel, Jez Butterworth, Dana Fox, Steve Zissis avec Emma Stone, Emma Thompson.
Loki, created by Michael Waldron, with Tom Hidelston & Owen Wilson
The Mysterious Benedict Society, on June 25th
Stay safe !
Subscribe to the weekly newsletters to keep up !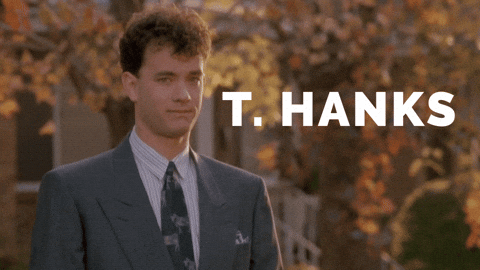 [contact-form to="contact@movieintheair.com" subject="Subscribe to the newsletters"][contact-field label="Subscribe here : Name" type="name"][contact-field label="Email address" type="email"][/contact-form]