Your weekly program as from July 19th
All the best films as from July 19th
NEWS
Free event available by reservation to mk2festivalparadiso.com
Films programme:
Friday, July 21st: Chantons sous la pluie by Gene Kelly & Stanley Donen
Saturday, July 22nd  : Les Parapluies by Cherbourg de Jacques Demy
Sunday, July 23rd : La La Land by Damien Chazelle
Women Make Waves International Film Festival
Created in 1993, the Women Make Waves International Film Festival celebrates its 30th anniversary in France, the cradle of cinema and feminism, at the Forum des images from September 19 to October 8!
30 women directors from different generations are in the spotlight, with fiction, documentary, animation and experimental films.
At a time when the international situation remains tense and Taiwan's place is more crucial than ever in the global geopolitical balance, it's the perfect time to present the diversity of its faces through 30 films directed by women.
Eight of them, along with festival members, will accompany their films and take part in two round-table discussions.
Festival du film Insolite De Rennes le château
August 3 to August 7
Festival Play It Again !
From September 13 to 26, Play It Again! will offer viewers in nearly 300 cinemas the chance to see or re-see on the big screen a selection of the year's finest classics in newly restored versions, a retrospective of "Heroines in the Cinema", outdoor screenings as part of the European Heritage Days, and a variety of other activities.
Expected films
The Creator, Gareth Edwards
In the near future, humans and artificial intelligence (AI) wage a merciless war.
Joshua (John David Washington), an ex-special forces agent weakened by the disappearance of his wife (Gemma Chan), is recruited to track down and neutralize The Creator, the elusive architect of an advanced AI weapon that could end the war… and destroy all of humanity.
With the help of an elite unit of agents, Joshua crosses enemy lines and penetrates the heart of their dangerous territory.
He soon discovers that the deadly weapon he's charged with destroying is none other than a superior artificial intelligence in the guise of a young child…
DUNE 2, DENIS VILLENEUVE
ALL YOU WANT TO KNOW ABOUT  FILMS & SERIES 
IN THEATERS & AT HOME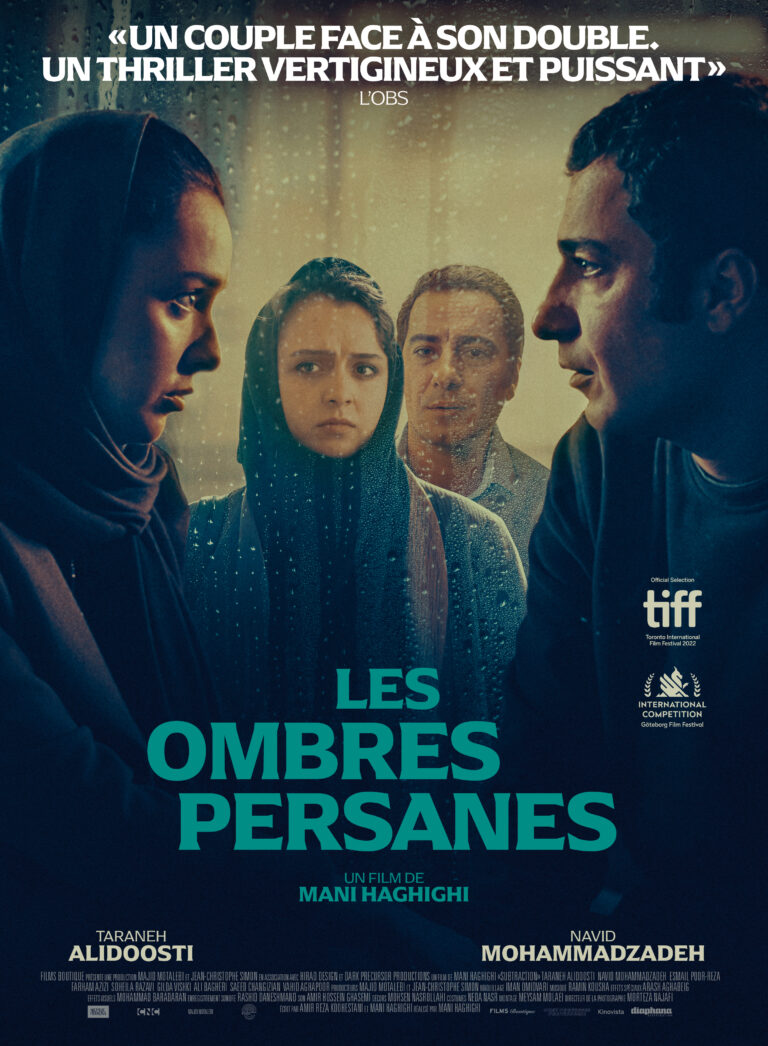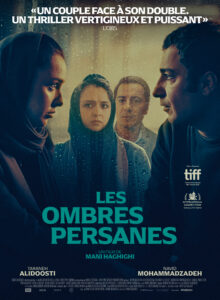 Les ombres persanes, Mani Haghighi
In Teheran, a man and a woman discover by chance that another couple resembles them exactly. Beyond the confusion and misunderstanding, a story of love… and manipulation is born.
Review
A woman follows a man into a hotel, convinced that he is her husband and that he is cheating on her, but her husband is elsewhere…Farzaneh (Taraneh Alidoosti) is unhappy. She's in a relationship with Jalal (Navid Mohammadzadeh), wants a child but can't have one.
Bita is her double. She's married to Jalal's look-alike Mohsen, a violent businessman, and has a little boy.
When the two couples meet, their lives are turned upside down.
With this subject, director Mani Haghighi questions Iranian society  and uses all registers: fantastic, social and realistic.
Indeed, Farzaneh is instructed by the medical staff not to ask questions and to do everything in her power to ensure that the child is born, but she is unhappy. She's looking for answers to questions that don't have any.
Her negative counterpart is Mohsen, Bita's husband, who is jealous, violent and hard on his son.
Bita, on the other hand, is patient and gentle with her son, as is Jalal, gentle and patient with his unhappy wife. The tension of love is palpable every time they meet.
Have they chosen their lives? Can they change those choices?
The little boy is something of a spectator in this film. He doesn't understand what's going on, but he senses that something is wrong, both in his parents' roles and in his everyday life.
And to escape from reality, he plays video games.
As well a thriller and a philosophical film on  Iranian society, Les ombres persanes takes us in strangeness, at the middle of an absurd world which we don't know if it's fantasy of reality.
The rain, is omnipresent throughout the film, and strengthens this feeling that something big is wrong.
Iran is a country of fundamentalist religion, with no question, so "The idea of the double is the idea of the alternative", according to director Mani Haghighi.
This original, subtle and fascinating film opens in cinemas today. A must-see!
In theaters on July 19th.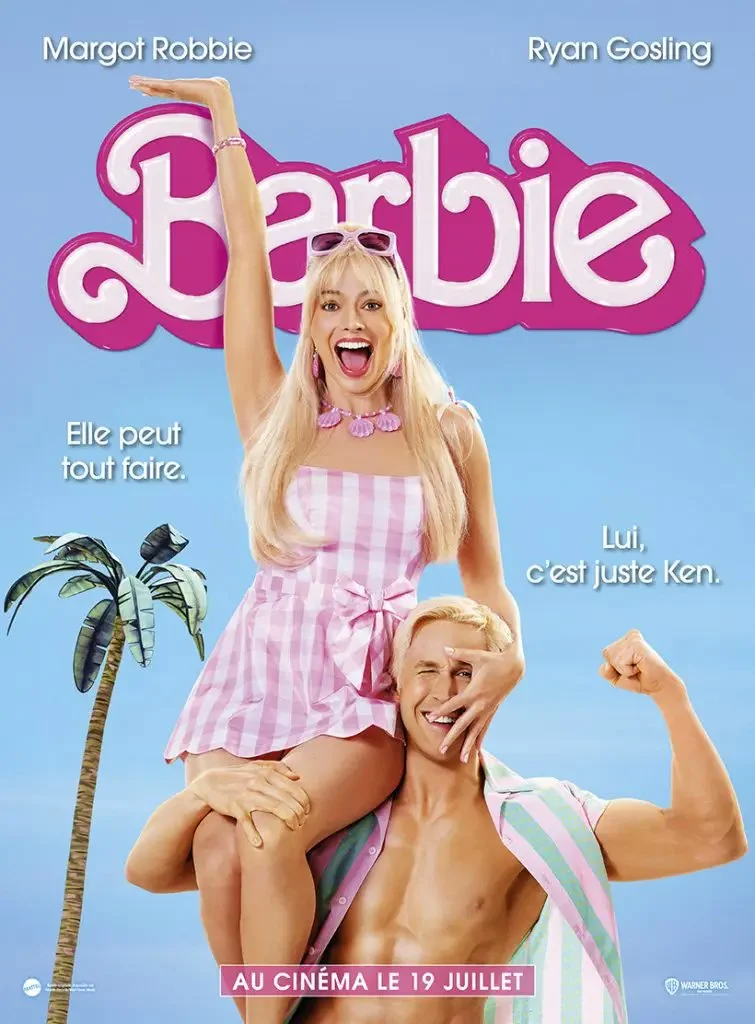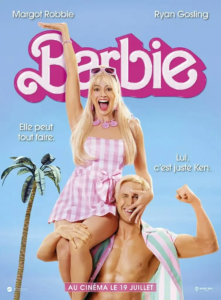 Synopsis
Barbie, who lives in Barbie Land, is expelled from the country for being far from a perfect-looking doll; with nowhere else to go, she sets off for the human world in search of true happiness.
Yes!
One of the four blockbusters of the summer (Indiana Jones and the Dial of Destiny, Asteroid City, Oppenheimer), Barbie was eagerly awaited, given its subject and its implications in terms of the message it conveys to the world.
And it's a complete success.
Barbie is a project initiated by Margot Robbie, the film's producer and lead actress, who acquired the rights and proposed it to Greta Gerwig, whose films she loves.
A delightful comedy, Greta Gerwig uses it as a Trojan Horse to denounce patriarchy and its abuses. And it's exhilarating!
Barbie's journey
Barbie lives in a perfect world, but one day she has morbid thoughts and her body starts to change…She then has to talk to Weird Barbie who lives recluse in a place from which she doesn't come out.
Then she takes a path that closely resembles Dorothy's in The Wizard of Oz, and learns that she must go out into the real world to discover that she is the child who has had these dark thoughts.
In Los Angeles, just when Barbie thinks the real world is ruled by women, she discovers that, on the contrary, it belongs to men, including Mattel… She discovers the feeling of fear without reason and emotion.
As for Ken, non-existent in Barbie's world and frustrated, he discovers the joys of patriarchy, an idea he intends to take with him…
How can we fight this exclusionary system?
In Barbie's world, Barbieland, it turns out to be easier than in the real world, but Greta Gerwig gives us some tips: what if, like the Barbies, we got the word out that women have value, that they exist on their own, that they can be who they want to be without feeling guilty, and still feel legitimate? Then the world could change, slowly but surely.
In any case, at the cinema, this film is a clear message to all little girls and women the world over: don't let yourselves be taken for granted and be who you want to be.
Greta Gerwig says of Barbie's detractors:
"The inanimate object is now in little girls' pockets 100% of the time, and they have absolutely no idea what the difference is between real and fictional life. They don't know whether the women they see are real or not. So to talk about a doll as an ideal seems almost innocent compared to the omnipresence of networks, which make girls misjudge each other."
Casting
Margot Robbie is, as usual, perfect.
The actress revealed in The Wolf of Wall Street, who previously appeared in I, Tonya, Once Upon a Time in Hollywood and Babylon, will be appearing in Ocean's 11 in 2023, and signs her second collaboration with Ryan Gosling.
Ryan Gosling, who has appeared in La La Land, Drive and Blade Runner 2049, plays Ken, the supporting character at the heart of the plot. The actor sings, dances and positions himself as the new man of the era we all wish for, a better world for women.
Margot Robbie and Ryan Gosling are joined by Emma Mackey, the actress of the Sex Education series, singer Dua Lipa, comedian Will Ferrell, America Ferrera, Simu Liu, Kate McKinnon, Dana Greenblatt, Helen Mirren (narrator) and Alexandra Shipp.
Barbie's world
Greta Gerwig has multiplied the references. The opening scene recalls 2001: A Space Odyssey, Ken's desire for absolute power, Donald Trump, and the life that animates the Pinocchio character.
The successful sets, animation and costumes take us even further into Barbie's fairytale world.
A musical comedy, Barbie's choreography is as joyful, funny and catchy as the film itself. The sensational soundtrack is composed by Billie Eilish and Lizzo, among others.
About the score
Pink" by Lizzo
"Dance The Night" by Dua Lipa
"Barbie World (with Aqua)" by Nicki Minaj & Ice Spice
"Speed Drive" by Charli XCX
"WATATI (feat. Aldo Ranks)" by  KAROL G
"Man I Am" by Sam Smith
"Journey To The Real World" by Tame Impala
"I'm Just Ken" by Ryan Gosling
"Hey Blondie" by Dominic Fike
"Home" by HAIM
"What Was I Made For?" by Billie Eilish
"Forever & Again" by The Kid LAROI
"Silver Platter" by Khalid
"Angel" by PinkPantheress
"butterflies" by GAYLE
"Choose Your Fighter" by Ava Max
"Barbie Dreams (feat. Kaliii)" by FIFTY FIFTY
Barbie's history
Barbie was created by Ruth Mosko, an Ashkenazi Jew living in the United States, who had fled the pogroms in Poland.
At the age of 16, she met Elliot Handler, and married him 3 years later. With her husband, and designer Harold Mattson, she created Mattel in 1945, a name formed from Mattson's Matt and Elliot's El.
The first toy she designed was a machine gun for boys. Later, she realized that girls needed something more than a doll. This idea came to her during a family trip to Europe, where she discovered Bild Lilli, a model doll with generous curves.
She realized that girls in the '50s no longer wanted to be housewives, but wanted to be able to work and seduce. And so, in 1959, the Barbie doll was born, a toy of emancipation for young girls who could now imagine themselves as something other than a mother.
Barbie's opulent breasts, slender waist and long legs went totally against the round, asexual style of dolls of the time, and set a bold, realistic milestone in the history of toys for little girls.
Ruth Handler was a revolutionary at heart. In 1970, she was diagnosed with breast cancer and underwent a mastectomy. Following this illness, Ruth found it impossible to find a good prosthesis for reconstruction. With Peyton Massey, she founded a breast prosthesis company, Ruthton Corp, which created prostheses that were more realistic than existing models, the "Almost Me" model.
Barbie sydrom
Little girls starve themselves to look like their models, older women resort to surgery, spending lavishly to achieve their goals. These criticisms made their way to the advent in 2016 of the first Barbie with realistic measurements.
To go further
In theaters, go for it!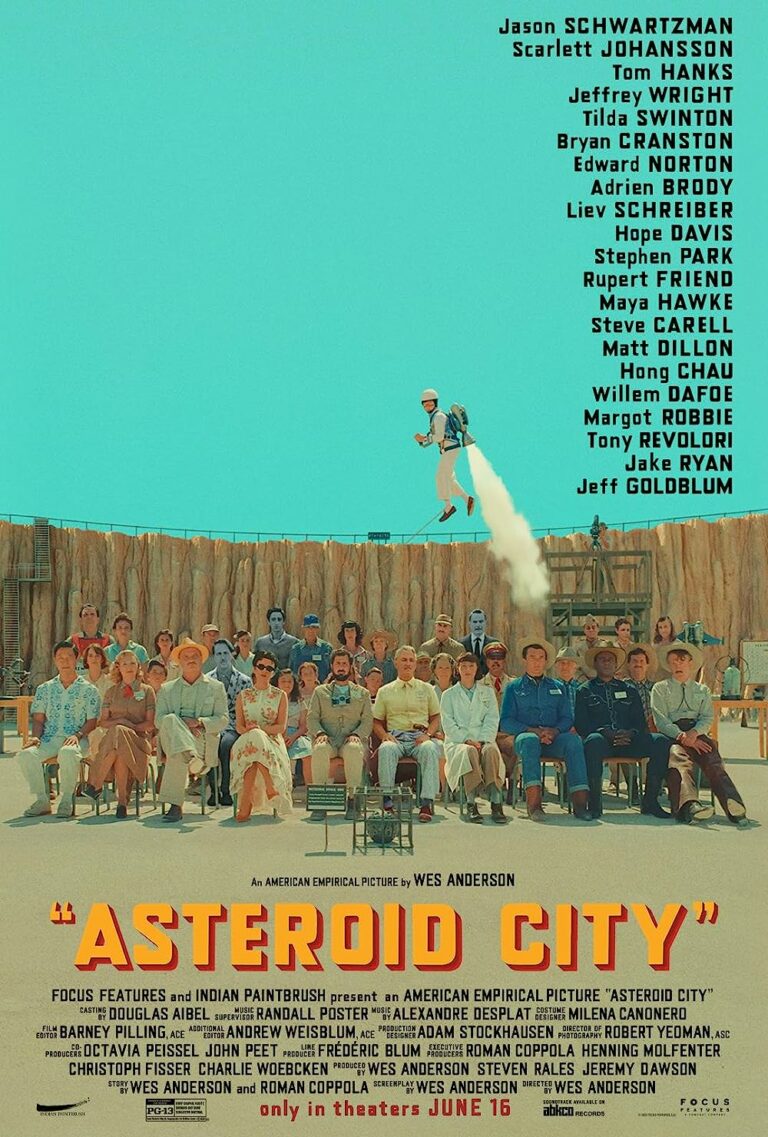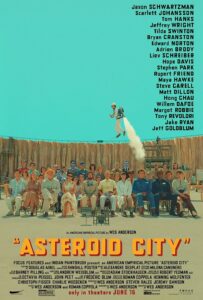 Asteroid City, Wes Anderson
Synopsis
Des événements révolutionnaires bouleversent de façon spectaculaire l'itinéraire d'une conférence de jeunes astronomes et de cadets de l'espace, dans une ville désertique des États-Unis vers 1955.
Reviews
Wes Anderson is always making us dreaming..
Like this week's two films, Barbie and Persian Shadows, Asteroid City takes us on a half-tale, half-reality story set in the heart of the Californian desert.
As with most of Wes Anderson's films, this one is divided into several parts.
A famous writer, Conrad Earp (Edward Norton), writes and edits a play entitled Asteroid City. This part is in black and white and narrated by actor Bryan Cranston (Breaking Bad, Your Honor). The director is played by Adrien Brody.
Asteroid City plot, on the other hand,  is shot in color.
The two actions alternate.
Asteroid City, the tale?
Asteroid City is home to the Junior Stargazer, a conference of America's top astronomers.
Famed actress Midge Campbell (Scarlett Johansson) stops by, accompanied by her daughter Dinah (Grace Edwards), another participant in the competition for young astronomers.
War photographer Augie Steenbeck (Jason Schwartzman), his son Woodrow (Jake Ryan), a contestant in the competition, and his three young daughters stop off in a small town whose only reason for existence is that a meteorite fell there a hundred years ago.
He has to tell them the sad news, but can't bring himself to do it.
A story of love and grief
With color for the imagination, black and white for reality, Wes Anderson tells us about love and grief, longing for elsewhere and the end of the world. 
It's also a declaration of love to actors, writers, screenwriters and directors.
Orson Welles and The War of the Worlds come to mind, and the Tupperware (no spolier) would be his Rosebud (Citizen Kane).
Wes Anderson is well aware of the fragility of the individual, and the pain of life itself. The war photographer reminds us that it exists, and that it's the worst thing of all. 
Asteroid City is beautiful and poetic, and everything fits together perfectly – undoubtedly one of his best films.
Animation, always
Wes Anderson pays homage to Hollywood animated shorts of the 1950s with the character Bip Bip, created by Chuck Jones of the Tex Avery creative team at Warner Bros. Studios, and a chase between a gangster car and the police.
In theaters now. A must see.
IN MOVIE THEATERS
December 1919. The U.S. government expels 249 anarchists and revolutionaries on the "Soviet Ark". A few years later, this same liner becomes the setting for Buster Keaton's slapstick comedy The Navigator Cruise.
Madrid, New Mexico. Caiti Lord has exiled herself to this former ghost town, surrounded by mountains. As madness grips the United States, in the most disturbing absurdity, Caiti feels a growing sense of suffocation. So Caiti sings.
Movies to come (and we are looking forward to it):
Hypnotic, Robert Rodriguez
The Color Purple, Blitz Bazawule ("Black Is King," "The Burial of Kojo") and produced by Oprah Winfrey, Steven Spielberg, Scott Sanders and Quincy Jones. Expected December 25th.
Bottoms, Emma Seligman
Wonka, Paul King, in December.
 TIPS ON MOVIE WRITING 
Scott Myers : Go into the story
FILMS PROGRAM ON TV AS FROM JULY 19TH
Mercredi- Wednesday 19
TF1 : Les visiteurs
Canal + : The resort
Arte : Une histoire d'amour et de désir
Jeudi – Thursday 20
Canal + : Invasion
Arte : Orgueil et préjugés (series)
Vendredi – Friday 21
Arte : À l'abordage
France 5 : La guerre des polices
Samedi – Saturday 22
Canal + : Fatum
Dimanche – Sunday 23
France 2 : Le monde ne suffit pas
Arte : Les Blues Brothers
Lundi – Monday 24
France 3 : Pour quelques dollars de plus
Canal + : 1985
Arte :  Christine
Mercredi- Wednesday 26
Canal + : The resort
Arte : Maria's lovers
 FILMS & SERIES ON ARTE AS FROM JULY 19TH
FILMS
Moka, Frédéric Mermoud
Shattered by the death of her son, a woman sets out to track down the hit-and-run driver… How far will she go to get justice? A troubling face-off between two great actresses, Emmanuelle Devos and Nathalie Baye.
Charlie & Louise
Two twins separated as babies are reunited… Joseph Vilsmaier, director of "Stalingrad" and "Comedian Harmonists", successfully adapts a great German classic of children's literature.
Docs
Toutes musclées, Camille Juza
For women, long forbidden to take part in sport, or to do so only under certain conditions, it's an undeniable conquest, wrested by hard struggle from a world jealously defended by men. But the armies of women devoted to abs and glutes, and the countless restrictions that still govern women's top-level sport, cast a harsh light on a complex reality.
Séries
Pour l'or de Tsilanga (Country queen)
In Kenya, a young founder of an events agency must save her family's land from predation by a mining company. Captivating and moving, the series "Pour l'or de Tsilanga" paints a sensitive picture of Kenya, violently contrasted between rich and poor, towns and villages.
All films as from July 19th

on Netflix
Black Mirror, S6 , now
Nimona, Nick Bruno & Troy Quane
Wham!, George Michael & Andrew Ridgeley, as of July 5th
Polina : danser sa vie, Valérie Müller & Angelin Preljocaj,  as of July 17th.
The deepest breath, Laura McGann, as of July 19th
Love at first sight, on Sept 15th
Tapie (Laurent Lafitte), Tristan Séguela & Olivier Demangel
All films as from 

July 19th

on 
Prime Video
Good Omens S 2, Neil Gaiman, as of July 28th.
The Lost flowers of Alice Hart, Sarah Lambert, as of August 4th.
All films as from July 19th
on Canal+
1985, by Wouter Bouvijn, now.
The Resort, Andy Siara, as of July 12th
All films as from July 19th

on Apple TV & Canal+
Silo, Graham Yost: go for it!
The crowded room, Akiva Goldsman,  with Tom Holland.
Physical, saison 3, Annie Weisman, the finale, as of August 2nd.
Killers of the flower moon, Martin Scorsese, on October 18th.
All films as from July 19th on Disney Plus
Chevalier, Stephen Williams, now
Secret Invasion, Kyle Bradstreet
Great expectations,Brady Hood.
The Bear, season 2, Christopher Storer, as of July 21st.
Ahsoka, Jon Favreau & Dave Filoni, as of August 23rd