Your weekly program as from June 21st
All the best films as from June 21st.
NEWS
The animated film Linda veut du poulet! won the Cristal for Best Feature Film at the Annecy Film Festival on Saturday. Directed by Chiara Malta and Sébastien Laudenbach, it will be released in cinemas on October 18.
The Jury Prize went to Aron Gauder's Four Souls of Coyote, which depicts the opposition of Native American teenagers to an oil pipeline project located just down the hill from their ancestral territory.
Asterix and Obelix Mission Cleopatra, Alain Chabat's cult film released 21 years ago, is getting a makeover for a theatrical re-release on July 5 in a restored 4K version, at the price of 5 euros.
FESTIVALS
Cinéma Paradiso Louvre 2023 – Open air film festival – 06 – July 9, 2023
Lottery opens on June 7, 2023 at 12 noon.
A special guest at this year's festival, echoing the "Naples in Paris" exhibition, Italy will be in the spotlight with a selection of both rare gems and classics to be rediscovered, including Martin Scorsese's Les Affranchis, Federico Fellini's Huit et demi and René Clément's Plein soleil.
Festival des Cultures Juives, from June 14 to 29 
Champs Elysées Film Festival
Soon in theaters
Poor things, Yórgos Lánthimos
Barbie,  Greta Gerwig
ALL YOU WANT TO KNOW ABOUT  FILMS & SERIES 
IN THEATERS & AT HOME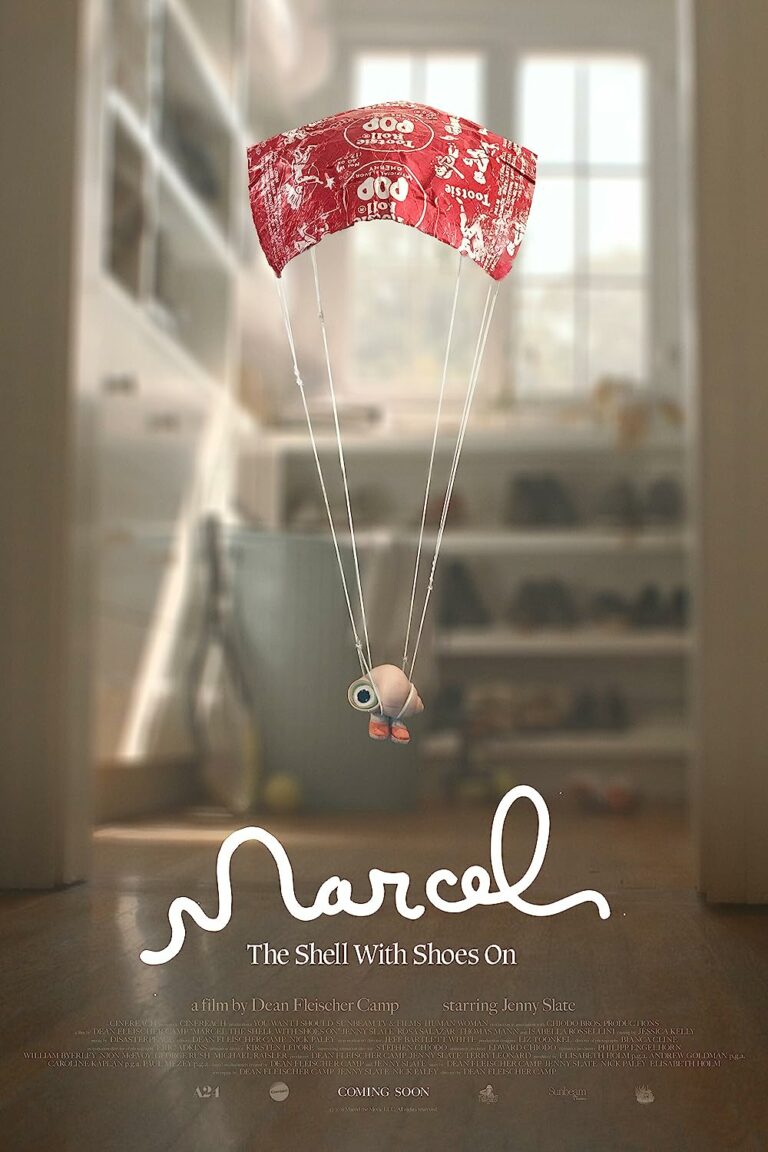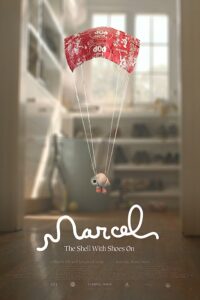 Marcel, the Shell with shoes on, Dean Fleischer-Camp
With Jenny Slate, Dean Fleischer-Camp, Isabella Rossellini
Synopsis
Marcel is an adorable seashell who lives alone with his grandmother, since separating from the rest of their community.
When a documentary filmmaker discovers them in his Airbnb, the video he posts online goes viral.
Why is Marcel one of the 3 best films of the year?
A short film that went viral on YouTube (with over 20 million views, even though it was made for close friends and family), Marcel the Shell with his shoes on has become an original feature-length film, thanks to its characters, its narrative and the technical means used to make it. 
What if you could talk to the characters you invented, and they would materialize before your very eyes?
That's what's happening with Marcel, the shell born from the voice of Jenny Slate and designed by director Dean Flasher-Camp.
In addition to his cute voice, Marcel makes us laugh and moves us, as he evolves in a real world and makes lucid, acerbic remarks about our times.
Marcel takes us back to the fundamentals of our existence: belonging to a community, loving and being loved, and how to survive alone in such a difficult world. The director has added some funny situations, with secondary characters both fictional and real.
This humor also reminds us of certain moments seen in Woody Allen's best films (such as when he addresses the camera in Annie Hall). 
Jenny Slate evokes the Olympic task of playing his voice and finding the right intonations at the right moments. 
Isabella Rossellini, who did the voice of Marcel's grandmother, immersed totally herself into Marcel 's world.
Written as a documentary, that is, in a very free way, the improvisation in the writing brings authenticity and sincerity that's very close to us.  Marcel is small, fragile and is fighting to exist, and in the end it's a very human situation that we're all familiar with.
A technical performance
On the technical side, in addition to the thousands of hours of recorded voices, the storyboard (which took three years) included one frame per shot, and 10s of film were shot per day.
The best hours of exposure were filmed and then used to insert Marcel and the other characters according to the moment in the story.
If you're only going to see one film this week, it has to be Marcel!
The short original movie.
Making-of.
Now in theaters
Trailer.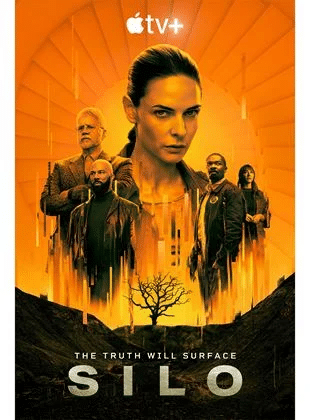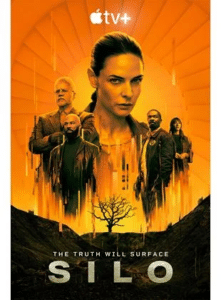 Silo, created and directe by Graham Yost, directed by Morten Tyldum
Synopsis
In a toxic dystopian future where a community of 10,000 lives in a giant 144-story silo underground, men and women live in a society full of regulations they believe are meant to protect them.
Review
Adapted from the eponymous trilogy by American novelist Hugh Howey, Silo starts from a credible presupposition: that we can no longer live in the open air because of the environment. 
A myth is built around Silo. The elders built it for the good of all, and dictatorial rules govern the lives of its inhabitants.
But the machine jams.
People are dying in strange circumstances. And soon Juliette (Rebecca Ferguson, actress and series producer), an expert in repairs (including the main turbine), becomes sheriff alongside Becker (David Oyelowo).
At stake: the relics, vestiges of the ancient world that would jeopardize the history and legitimacy of this way of life where the sole objective is power. 
Thrilling, terrifying and highly realistic, Rebecca Ferguson is also a major contributor to the quality of this series.
She is surrounded by David Oyelowo, Tim Robbins (whom we don't see often enough…), Harriet Walter (The Last duel…), Geraldine James, Common, Iain Glen, Avi Nash (The Walking Dead), Rashida Jones (On the rocks)…
Series finale June 30. 
10 episodes. Currently on AppleTV and Canal +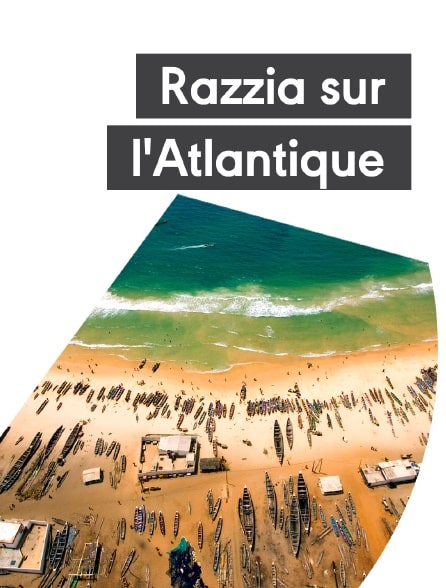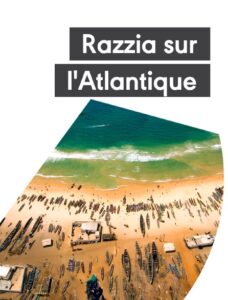 Razzia sur l'Atlantique, Nicolas Van Ingen
Synopsis
The waters of West Africa have long been among the richest on the planet.
But since the 1970s, fishing fleets from Europe, Russia and Asia have been scouring this part of the Atlantic Ocean, often illegally. This competition from foreign trawlers is terrible for local artisanal fishermen. 
Faced with collapsing fish stocks, they and their families are often faced with a terrible dilemma: "Barça or barsack" (Barcelona or death).
But some Senegalese are fighting back. Karim Sall, a fishermen's trade unionist, and Diaba Diop, union leader for women fish processors, are fighting tirelessly to make the voice of the sea's artisans heard by the Senegalese government and international bodies.
The history of a country
In Senegal, fishing provided a livelihood for many indirect trades. With the desertification of the land, many people turned to this sector to get by, as it provided food and employment.
Today, a number of pirogues are for sale.
Why is this?
It all began in the 1970s, when Senegal signed agreements with the European Community. The content of these agreements was never made public, and allowed foreign vessels to establish themselves in the Senegalese maritime zone.
Today, industrial vessels fish in a week what used to take a year.
Despite the suspension of fishing agreements in 2012, a legal loophole has allowed foreign vessels to operate under the Senegalese flag, often with the complicity of the state.
Chinese and other factory ships continue to plunder the oceans, taking advantage of these countries' limited surveillance capacities.
For the country, we're talking about the equivalent of 230 million euros in annual losses.
Both an economic and an ecological disaster, Chinese trawlers continue to work (despite being recognized as environmentally destructive) despite the fact that no fishing agreement has been signed between the two countries.
Indirect effects
The women who used to smoke the fish are forced to work in fishmeal factories.
Senegalese subsidies are used to make fishmeal that feeds Europeans. The labor force is in short supply, as people risk their lives to come to Europe.
And the Atlantic today is a graveyard and the greatest human catastrophe of our time.
This thorough, terrifying and relevant documentary is currently on LCP.
IN MOVIE THEATERS
Asteroid city, Wes Anderson
With Jason Schwartzman, Scarlett Johansson, Tom Hanks
Asteroid City is a tiny town in the middle of the desert in the southwestern United States. The year is 1955. The site is most famous for its gigantic meteorite crater and nearby astronomical observatory.
SISU – De l'Or et du Sang, Jalmari Helander
With Jorma Tommila, Aksel Hennie, Jack Doolan
Finland, 1944. In the hostile wilderness of Nazi-occupied Lapland, a former soldier discovers a gold deposit and will stop at nothing to save his precious booty, even if it means murdering the last SS man in his path.
Elementary, Peter Sohn
With Adèle Exarchopoulos, Leah Lewis, Vincent Lacoste
AGES 6 AND UP
In a town where the inhabitants – fire, water, earth and air – live together, the unlikely couple of Ember – a dynamic and enthusiastic young woman – and Wade – a cool but discreet young man – are about to discover something elementary: what they have in common.
Il Boemo, Petr Vaclav
With Vojtěch Dyk, Barbara Ronchi, Elena Radonicich
1764. In libertine Venice, musician and composer Josef Myslivecek, nicknamed "Il Boemo", fails to break through despite his talent. His affair with a lady of the court enabled him to realize his dream and compose an opera. From then on, his fame grew, but how far would he go?
Nezouh, Soudade Kaadan
With Kinda Aloush, Hala Zein, Samir Almasri
In the midst of the Syrian conflict, 14-year-old Zeina and her parents are among the last people still living in their besieged Damascus neighborhood.
When a missile blows a gaping hole in their house, Zeina discovers a window that opens onto a world of unimaginable possibilities. She loves sleeping under the stars and befriends Amer.
Le Challenge, Gene Stupnitsky
With Jennifer Lawrence, Andrew Barth Feldman, Laura Benanti
On the verge of losing her childhood home, Maddie comes across an intriguing job offer: wealthy parents are looking for someone to take Percy, their introverted 19-year-old son, on a series of "dates" to loosen him up before he leaves for college.
Magnificat; Virginie Sauveur
With Karin Viard, François Berléand, Maxime Bergeron
When a priest dies, the diocesan chancellor is stunned to discover that it was a woman! Against the advice of her bishop, who wants to hush up the affair, she investigates to find out how and with whose complicity such an imposture was possible.
Polaris, Ainara Vera
A ship's captain in the Arctic, Hayat sails far from people and her past in France.
When her younger sister Leila gives birth to a baby girl, their lives are turned upside down. Guided by the North Star, they try to overcome the heavy family destiny that binds them.
Movies to come (and we are looking forward to it):
Mission: Impossible Dead Reckoning Part One
Oppenheimer,  Christopher Nolan, next July 19th
Dune 2, Denis Villeneuve, next November 3rd
Hypnotic, Robert Rodriguez
The Color Purple, Blitz Bazawule ("Black Is King," "The Burial of Kojo") and produced by Oprah Winfrey, Steven Spielberg, Scott Sanders and Quincy Jones. Expected December 25th.
Bottoms, Emma Seligman
 TIPS ON MOVIE WRITING 
Scott Myers : Go into the story
FILMS PROGRAM ON TV AS FROM JUNE 21ST
Mercredi- Wednesday 21
Canal +  : Whitney Houston : I wanna dance with somebody
Arte : Mademoiselle Chambon
France 2 : Fête de la musique
Jeudi – Thursday 22
Canal + : Foundation
Arte : Maîtres et valets
M6 : Indiana Jones et le royaume du crâne de cristal
Vendredi – Friday 23
Arte : Un adversaire inattendu
France 5 : Trois couleurs : Rouge
Dimanche – Sunday 25
France 2 : J'accuse
Arte : Sous le sable

Lundi – Monday 26
Canal + : Gangs of London (série)
Arte :  Rocco et ses frères
France 3 : Petit pays
France 2 : Abysses (série)
Mardi – Tuesday 27
W9 : La La Land
Mercredi- Wednesday 28
Arte : Un flic
L'Équipe : Apollo 13
Star : The lost city of Z
 FILMS & SERIES ON ARTE AS FROM JUNE 21ST
FILMS
Flatland – trois horizons
In South Africa, a policewoman pursues a young murderess on the run in the desert…
At the crossroads of western, road movie and film noir, a work of exceptional visual power from young South African director Jenna Cato Bass.
L'amour à rebours
After an arranged marriage, Mina feels lost in Germany, where she has joined her Iranian husband…
Director Susan Gordanshekan, whose parents were themselves involved in an arranged marriage, paints a sensitive portrait of two people torn between the values of their upbringing and the freedom of the Western way of life.
Docs
Pussy, Pleasure, Power ! Le désir féminin dans la pop culture
As female pleasure takes on an increasingly important role in pop song, how do women receive these messages of "positive sexuality" without taboos? Find out in this documentary that celebrates the intimate.
Series
Maîtres et Valets
An English aristocratic couple takes possession of an elegant London mansion.  To maintain her position, Lady Holland must recruit the finest servants. In the vein of Downton Abbey, the series Maîtres et valets explores the lives of tragi-comic characters against a historical and social backdrop.
Raven, Maciej Pieprzyca
A quiet, tortured investigator struggles between child abduction and corruption in the Polish police force.
Short movies
27 Flóra Anna Buda
At the age of 27, Alice still lives with her parents and has no private life or love life. After falling into a coma following a bicycle accident on the way home from her birthday party, she realizes it's time to leave the nest…
"27" won the Palme d'or for short film at the Cannes 2023 Film Festival.
The forest of Mademoiselle Tang
After "Funan", awarded the Cristal for feature film at the Annecy Festival in 2018, Denis Do sweeps through two centuries of Chinese family history in a superb animated film.
All films as from June 21st

on Netflix
Arnold, Lesley Chilcott (An Inconvenient Truth) & Allen Hughes (The Defiant Ones), now.
Never Have I ever, final & season 4, now !
Black Mirror, S6 , now
All films as from 

June 21st

on 
Prime Video
Good Omens S 2, Neil Gaiman, as of July 28th.
The Lost flowers of Alice Hart, Sarah Lambert, as of August 4th.
All films as from June 21st
on Canal+
Avatar, la voie de l'eau, James Cameron, now.
PLANCHA, Eric Lavaine. June 16th.
I WANNA DANCE WITH SOMEBODY, Kasi Lemmons, June 21st
LE NOUVEAU JOUET, James Huth, June 23rd
LE PARFUM VERT, Nicolas Pariser, June 27th
All films as from June 21st

 

on Apple TV & Canal+
Silo, Graham Yost: go for it!
The crowded room, Akiva Goldsman,  with Tom Holland.
All films as from June 21st on Disney Plus
Chevalier, Stephen Williams, now
Secret Invasion, Kyle Bradstreet, as of June 21st
Great expectations,Brady Hood, as of June 28th.
The Bear, season 2, Christopher Storer, as of July 21st.
Ahsoka, Jon Favreau & Dave Filoni, as of August 23rd