Movie theaters, cult movies and series to watch.
Every week, on the bilingual blog Movie in the air, I choose for you the best of national and international audiovisual news. Here are the new movies of the week, cult films and series to see or watch again in your movie theaters, on television and on your platforms.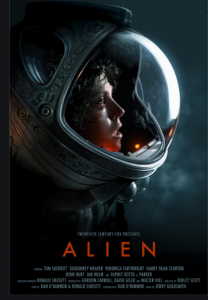 Take your cameras !
Shoot your day of July 25th for a documentary project by Ridley Scott.
MOVIES TO COME OUT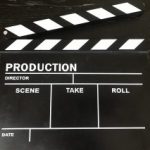 This week
ON JULY 15TH
Now
Two Israeli movies : Chained and Beloved on men and women relationship.
Été 85
L'aventure des Marguerite
Exit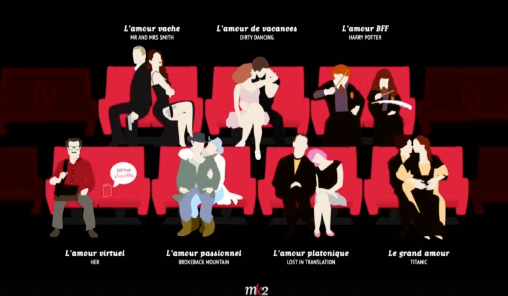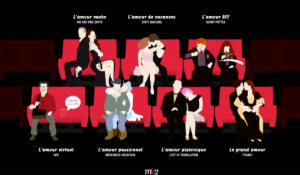 YOUR WEEKLY CULT MOVIES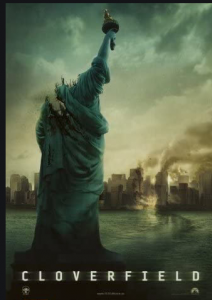 Cloverfield
Written by Drew Goddard & directed by Matt Reeves

Released in 2008, I have missed this movie, which is cult today, produced by J.J. Abrams.
Pitch 
Manhattan. 30-year-old friends organize a surprise party for the departure of their friend, Robert- Rob- Hawkins, to Japan. One of them is in charge of filming the evening and collecting testimonials of friendship to offer him as a gift. Their friend arrives. A few minutes later the earth begins to shake. The skyscrapers fall one after the other. A monster devours the inhabitants of the city.
Tribute and references
Between King Kong, Godzilla, this movie reminds us of the September 11th attack and is also a tribute to Planet of the Apes.
Filmed with the camera in hand throughout the film, as if it were by the actor filming the evening, the spectator goes into apnea and only comes out at the end. The staging of this film distinguishes it from the sequels that were made and which were much less successful.
The non-professional actors are gripping with truth and the director asks us : What is more important, to know the end of the story or that the characters come out of it? He keeps us on tenterhooks until the end.
With:
Michael Stahl-David, Mike Vogel, Odette Yustman
Lizzy Caplan, Jessica Lucas, T. J. Miller
The Thing
Written by Bill Lancaster and directed by John Carpenter

Another horror and science fiction cult movie.
Pitch
Antarctica : A team of researchers find themselves trapped with an alien creature that devours living organisms by taking on their appearance. If the beast escapes, the entire planet is threatened. All are therefore condemned to remain confined to save humanity…
Directed by a master of the genre, John Carpenter, The Thing addresses the issues of difference, proximity and appearance.
The special effects seem obsolete today, but the editing, the script, and the actors – Kurt Russell – manage to take us on this adventure where fear mingles with paranoia.
Very badly received by the critics when it was released in movie theatres, and described as the worst film of all time according to Cinéfantastique magazine, its television and video broadcast made it cult.
John Carpenter remained faithful to the original work of Who goes there ? written in 1938 by John W Campbell and draws a parallel with Agatha Cristie's, And Then there were none, 1939.
With Kurt Russell, Wilford Brimley, Keith David, David Clennon, Donald Moffat
YOUR WEEKLY MOVIE AND SERIES
ON YOUR PLATFORM
NETFLIX
Stateless (series)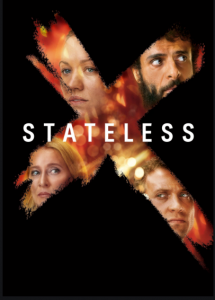 As Adù, and Styx, Stateless tackles the drama of the century, that of migrants. This series, co-created and produced by Cate Blanchett, the Australian actress denounces the detention conditions of migrants in Australia, sometimes locked up for years, and who have lost everything to come to a country that is the opposite of everything they dreamt of.
The story is based on a real-life case, the imprisonment of Cornelia Rau, an Australian woman mistakenly locked up in a refugee camp for several months and who witnessed the violent treatment of migrants.
This series shows us two categories of people: the poor, gullible and gullible, and the second category, those who take advantage of the situation and manipulate them.
Pitch
Sofie is a stewardess. Gullible and fragile, she falls under the control of a couple, owner of a dance club and a sort of cult, played by Dominic West and Cate Blanchett. Little by little she finds herself completely lost, and terrified, denying even her own identity.
Thousands of miles away, a family of Afghans are trying to flee their country where the Taliban reigns to reach Australia…
A young father tries to improve his financial situation and gets hired as a supervisor in a migrant camp…
A young woman arrives at the migrant centre to take over the management of the centre…
To pull through
The fate of these four characters confronts us with a terrible reality. The violence suffered in their host country sometimes destroys hope, but the rage to get out of it, if sometimes stronger, is unfortunately not always enough. Bureaucracy crushes individuals who have sometimes already lost family members. And very few make it through….
This series is played by great actors : Dominic West (The Wire, The Affair, Brassic….), Cate Blanchett (Carol, Blue Jasmine, Aviator), Yvonne Strahovski (The Handmaid's Tale), Jai Courtney, Asher Keddie, Fayssal Bazzi.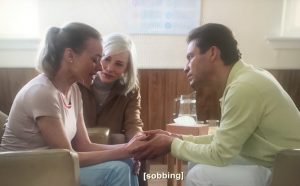 Committed actors
Yvonne Strahovski plays the troubled stewardess. I was so used to watch her playing Serena Waterford (a terrible role in The Handmaid's Tale) that at first, I found it hard to empathize with her character. But once again the actress is exceptional.
Cate Blanchett and Dominic West play the manipulative couple to perfection. Fayssal Bazzi and Helena Sawires move us in the role of locked up migrants who have lost everything.
The image of the old man sitting in the camp with his suitcase and not moving for most of the film sums up the tragedy of this situation.
Today, the camps have been set up on islands around Australia. No one has access to them and cannot denounce their conditions of detention.
The Book of Henry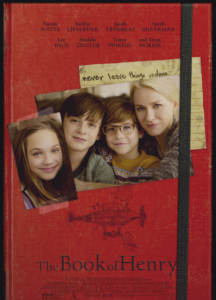 Pitch 
Susan is raising her two sons, Henry and Peter, alone. Henry, a precocious teenager, is in love with their neighbour, Cristina, a teenager who lives alone with her stepfather. One night, Henry realizes that he mistreats her. He decides to work out a plan to rescue her…
The difficulty of raising children as a single mother is beautifully portrayed by Naomi Watts.
Children confronted with violence, whether at school or in their own homes, sometimes come up against adult suspicion which sometimes prove to be destructive. The Book of Henry tells us about their fears and anxieties.
The children played by Jacob Trembley, Jaeden Lieberher and Maddie Ziegler form the trio in this brilliantly filmed drama directed by Colin Trevorrow.
With : Naomi Watts, Jaeden Lieberher, Maddie Ziegler.
Réalisé par Colin Trevorrox, scénario de Greff Hurwitz.
And more:
10 most popular movies according to Forbes
3. GOOD MOVIE ADVICE FROM
THE ACTORS OF THE MOVIE INDUSTRY
3. YOUR EVENING TV PROGRAMS
Wednesday 15
France 2 : L'amie prodigieuse (series)
Arte : La graine et le mulet
France 4 : Ma vie de courgette
Thursday 16
Arte: The Killing (série)
M6 : This is Us
France 4 : Sherlok Holmes
Friday 17
France 3 : documentary on Jean-Jacques Goldman
Arte : Kon Tiki
TCM: Training Day
Saturday 18
TCM : De l'or pour les braves
Sunday 19
TCM: Flight
France 2 : Django
Arte: Mulholland Drive
TFX: Cloud Atlas
Monday 20
Paramount : Rencontres à Manhattan
Arte : Les Bandits
TMC : L'opération Corned-Beef

Tuesday 21

Paramount : Au nom d'Anna
Téva: La guerre est déclarée
Wednesday 22
France 2 : L'amie prodigieuse (série)
LCP : Documentaire sur Bobby Kennedy
4. PLATFORMS
Movies and series to watch
Arte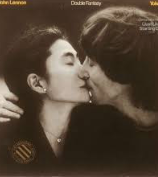 Still on line on the platform:
Movie
Neverland with Johnny Depp and Kate Winslet
Documentary 
Imagine by John Lennon and Yoko Ono
Maurice Béjart, soul of dance
Kate Perry: the concert
La Cinémathèque Française
On Henri, platform a free cult movie every day.
Movies and series
to watch on Netflix
Dunkirk (July 19th), masterpiece of Christopher Nolan,director of the expected TENET (August 12th ?)
The Zookeeper's wife (July 21st)
The Letter Reader (July 22nd)
By Sibusiso Khuzwayo. Avec Andile Gumbi, Bahle Mashinini, Nokuthula Mazibuko, Nomalanga Shabane.

Away with Hilary Swank and Josh Charles,directed Andrew Hinderaker (First episode on September 4th, 2020)
The story of Emma Green, an American astronaut, who was given the mission to go to Mars, and who has to leave her husband and her daughter. 


Movies and series to watch on
Apple TV
For all Mankind
Movies and series to watch on
Amazon Prime Video
The Vast of Night
Movies and series to watch on
Canal+
Movies
Papicha
Doctor's Sleep
Matthias and Maxime
Series 
Perry Mason
Brassic (avec Joseph Gigun, Dominic West)
Movies and series to watch on
Disney +
Soul
Société Secrète de la Royauté
4. NEWS ABOUT MOVIE INDUSTRY
No Man's land : A series on Kurdish fighters in Syria produced by Arte, with Mélanie Thierry, planned for September.
Yakari, the movie trailer (out in a month)
Movie posters to watch at the BNF.
Wes Anderson,his next movie and The New Yorker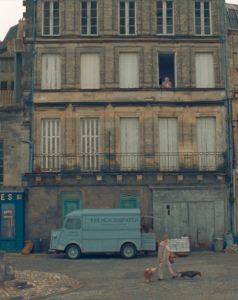 Netflix will do a 6th season of The Crown.
To watch now on the BBC, Normal People, adapted from the eponymous novel written by Sally Rooney.
Light of my Life, a movie directed and played by Casey Affleck, with Elisabeth Moss, which will go out on August 12th in The U.S.
We are who we are, next HBO series, directed by  Luca Guadagnino (Call me by your name):the story of two teenagers who live on a military camp.
5. EVENTS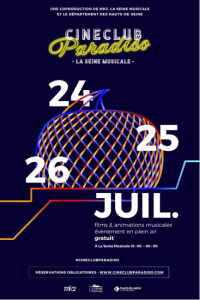 MK2 !
From July 24th to 26th, MK2 and MK2+ invite you to (re)discover musical films that have marked the history of cinema, in exceptional screening conditions at La Seine Musicale. Register here.
The Angoulême Francophone Film Festival will take place from August 28th till September 2nd.
Enjoy and stay safe !