Your weekly program as from May 10th
All the best films as from May 10th:
CANNES FILM FESTIVAL  2023 : 76th edition
The Master of Ceremonies this year will be Chiara Mastroianni during the festival,  that will be held from May 16 to 27.
Six women directors will be in the running for the Palme d'Or.
The Swedish filmmaker Ruben Östlund, two times winner of the Palme d'Or, will be the president of the jury. He was awarded the Palme d'Or in 2017 for "The Square" and in 2022 for "Unfiltered".
The film "Jeanne du Barry", directed by Maïwenn with Johnny Depp, will be presented at the opening of the Festival.
Several giants of the 7th art are expected.
The legendary adventurer, played by Harrison Ford, will make his return with the film "Indiana Jones and the Dial of Destiny" directed by James Mangold. 
Pedro Almodóvar will present his short film "Strange Way of Life" in the presence of Ethan Hawke and Pedro Pascal!
Trailer here:
Finally, Martin Scorsese will present his new feature film Killers of the Flower Moon.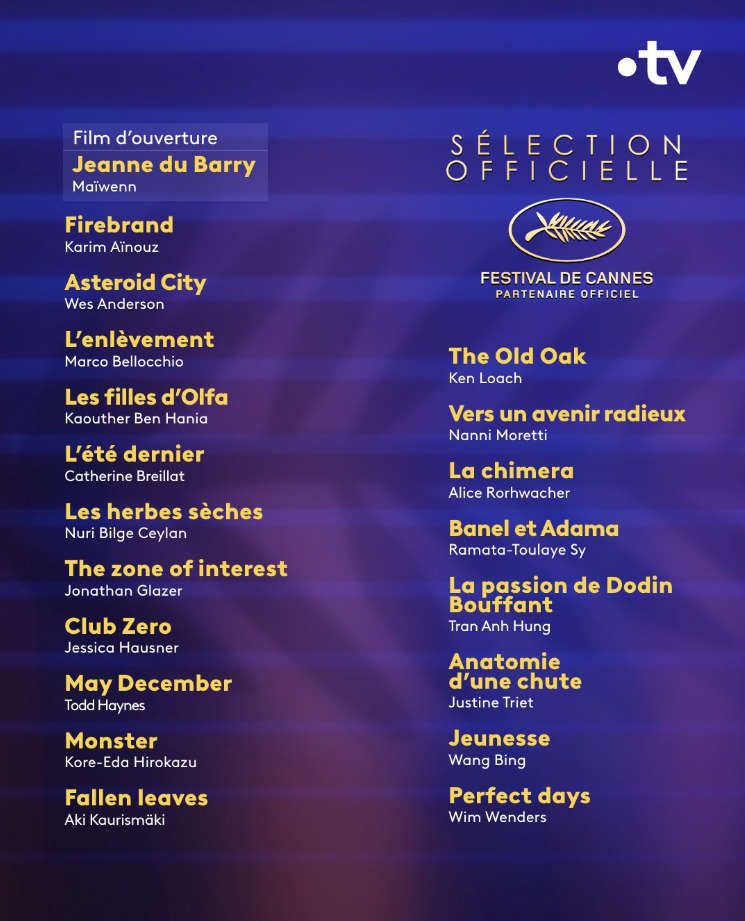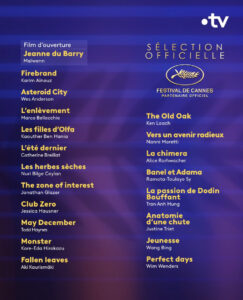 Soon in theaters:
Jodie Foster
She returns in the next season (4) of True Detective, True Detective: Night Country, set in Alaska, alongside Kali Reis. Directed by Issá Lopez. 
Synopsis 
When the long winter night falls in Ennis, Alaska, the eight men who operate the Tsalal Arctic Research Station disappear without a trace. To solve the case, detectives Liz Danvers (Foster) and Evangeline Navarro (Reis) will have to confront the darkness within them and dig into the haunted truths buried beneath the eternal ice.
Barbie, by Greta Gerwig
Asteroid city, Wes Anderson
FESTIVAL
The Forum des images honors one of the most filmed cities in the history of cinema: Los Angeles.
An essential territory of the 7th art, the city of angels feeds multiple imaginations.
A reservoir of dreams and fantasies, between violence and glamour, it is familiar to the moviegoer. But what do we know about the real city?
From April 12 to July 6, 80 films, 9 cinema classes, "pop" screenings and a photo exhibition constitute a temporal and geographical journey to the heart of its myths and the reality of its districts.
Accompanied by numerous guests, including filmmakers David Robert Mitchell and Laura Gabbert (City of Gold), Academy Museum Associate Director K.J. Relth-Miller, storyboarder Sylvain Despretz, and film course instructors, this rich program paints a contrasting and contemporary portrait of Los Angeles, a world city between desert and ocean.
New environmental YouTube channel:
The Living Ocean, by Only One, one episode every Tuesday
ALL YOU WANT TO KNOW ABOUT  FILMS & SERIES 
IN THEATERS & AT HOME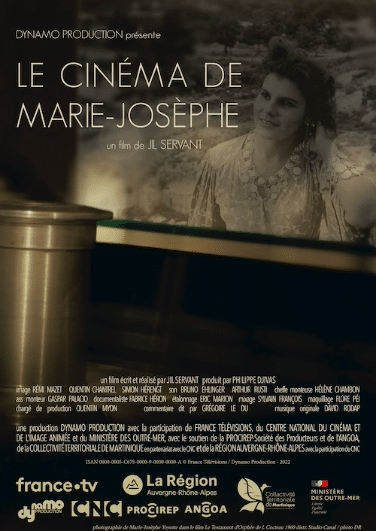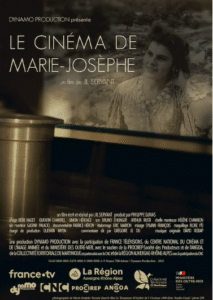 Le cinéma de Marie-Josèphe, Jil Servant
ON FRANCE TELEVISION 
Special programming on the France Télévisions Overseas channels for the 76th edition of the Cannes Film Festival
Le cinéma de Marie-Josèphe – Unpublished – On the channels of the La 1ère Network and La1ere.fr
Marie-Josèphe Yoyotte is a reference in her field, from the 1950s to the 2000s.
She has contributed, through her work as an editor, to the editing of films in our collective memory such as Les Quatre Cents Coups by François Truffaut, Rue Cases-Nègres by Euzhan Palcy or Moi, un Noir by Jean Rouch.
This native of Martinique will have touched all cinematographic genres and will have even known how to adapt to the digital revolution.
With determination and an open mind, she accompanied the beginnings of the New Wave while supporting all the developments of French cinema.
She received three César awards for best editing: in 1977 for Alain Corneau's Police Python 357, in 1997 with Florence Ricard for Microcosmos and in 2002 for Le Peuple migrateur by Jacques Perrin, Jacques Cluzaud and Michel Debats.
Through the testimonies of editors and directors with whom she has worked, and excerpts from the films she has edited, Jil Servant takes us to the heart of the editor's craft, the very essence of film writing.
Although he never met her, because she died in 2017, he manages to convey to us the passion that animated her, her curiosity and her permanent will to learn.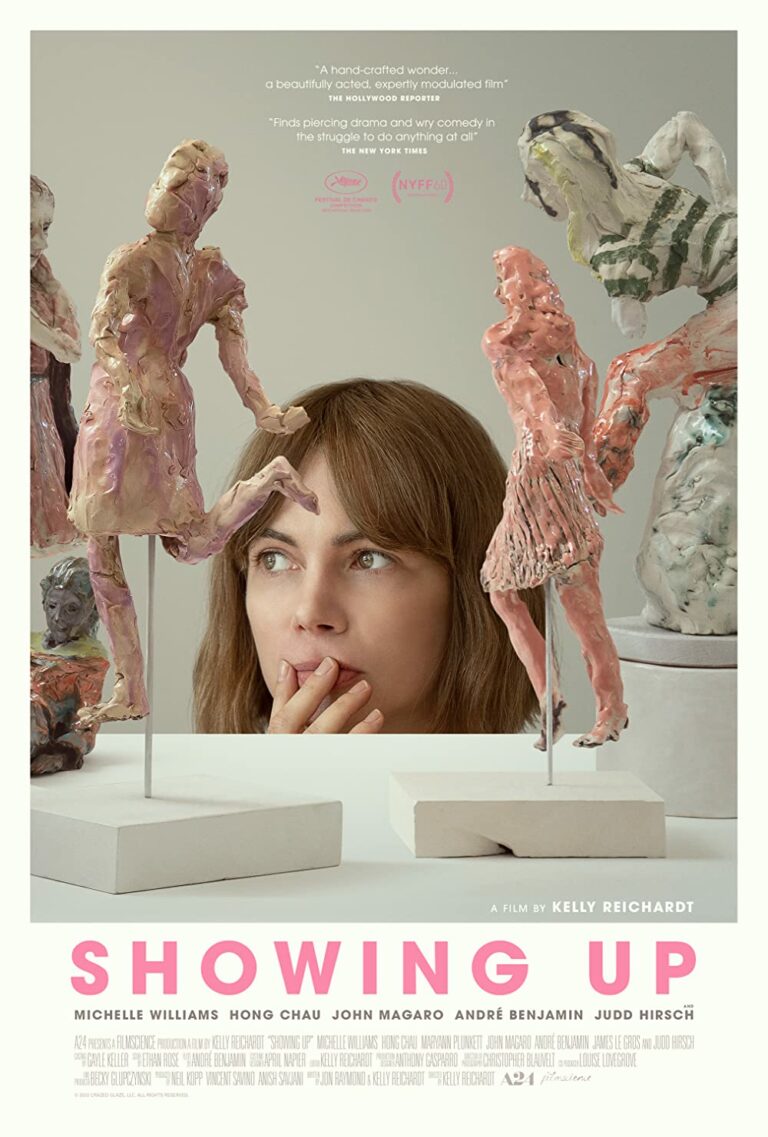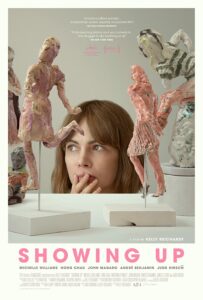 Showing up, Kelly Reichardt
Synopsis
Before the opening of an upcoming exhibition, Lizzie, an artist, finds her daily life and her relationship with others as well as her chaotic life become her inspiration.
Review
This week, I accidentally watched two films in which the heroines were in search of recognition.
In Showing up, Lizzie is totally dedicated to her art – sculpture – and spends hours thinking about creating women who will emerge from the clay for an exhibition. The deadlines are tight, she is stressed. Especially since her neighbor, who is the same age as her and to whom she pays the rent, is also an artist, whose exhibition is much more prestigious.
Lizzie also has a job as a secretary in an artist training school where her mother works and has to deal with her dysfunctional family on a regular basis.
One day, her cat, the only living thing she can stand, brings her an injured pigeon. Just when she thinks she's gotten rid of it, her neighbor picks it up the next day, nurses it back to health and…asks her to take care of it. At first annoyed by the bird, she gradually becomes attached to it…while dealing with her daily life, which must be, at all costs, creative in an efficient way.
Kelly Reichardt wrote this film with Jonathan Raymond (her writing partner) after filming several sculptors at work for five hours.
In this film, the women don't talk about men with each other, nor are the male characters very glorious. All that matters is the creation and how the art market affects the artists and the confidence they can have in their ability.
Lizzie and her neighbor Joe are neighbors, they don't like each other (they don't do the same things at all) but they respect each other as artists.
The beauty of this film lies in its slowness, its poetry, but also in this desire to create which is nourished by repetition and of course everything that revolves around art, the students, the learning, the freedom that it gives and that it takes.
Too bad that, apart from the pigeon, the dramatic stakes are not more developed, the film is original but it lacks tension that Lizzie's arguments with her family do not provide.
In theaters now.

Misanthrope, Damián Szifrón
Synopsis
On New Year's Eve in Baltimore City, a police officer with a troubled past is recruited by the FBI's chief investigator to try to build a psychological profile of the serial killer terrorizing the city. The duo wants to catch the dangerous psychopath before he claims any more victims.
Review
Another film, another woman. In this film co-written with Jonathan Wakeham, it is also about recognition.
Eleanor is an average police agency with the flair of the best profilers you'd see in Mindhunter series (on Netflix) and reminds us of Clarice (played by Jodie Foster), from The Silence of the Lambs.
Eleanor, insecure, fights her demons every night and struggles with the constant stress that consumes her. Her personality and her clairvoyance attract the attention of Lammarck, the federal agent in charge of the investigation.
The first minutes of the movie remind me of "Saving Private Ryan". We are breathless.
Filmed at night, in the city, between the immense towers of Baltimore (the film was mostly shot in Montreal), the classicism of the detective story comes into play, but the action scenes generate a tension that few films of the genre manage.
The main and secondary characters are well constructed and the film is consistent with its time.
Thus evoked, weapons, mass killings (another one recently occurred in Texas), veganism, and politics at the heart of everything, even investigations supposed to protect citizens (we think of Jaws, in the second part, the mayor is still in office 😉 .
Shailene Woodley (also a producer) perfectly embodies this tortured woman, who seeks truth and recognition without compromise.With her played Ben Mendelsohn the role of the agent forced to compromise himself to keep his investigation, and to do justice at all costs.
This film is exciting until the end.
A must see!
About Shailene Woodley
Shailene Woodley began her acting career in 2002, at the age of 11, playing small roles in the series FBI: Missing Persons and Washington Police.
She was revealed in the early 2010s by the independent films The Descendants (2010), The Spectacular Now (2013) and Our Opposite Stars (2014) and the science fiction trilogy Divergent (2014-2016), in the role of Tris Prior. From 2017 to 2019, she played one of the main roles in the series Big Little Lies, alongside Reese Witherspoon and Nicole Kidman.
Also starring Jovan Adepo, Ralph Ineson.
In theaters now.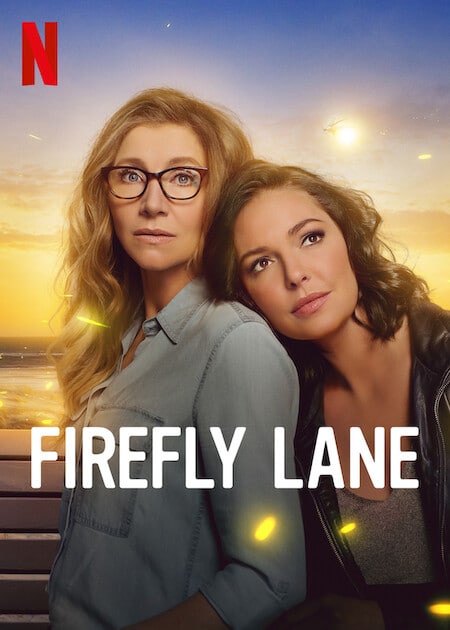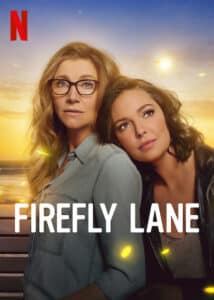 Firefly Lane, Maggie Friedman
Synopsis
Tully Hart (Katherine Heigl), is the famous talk show host of The Girlfriend Hour.
She has been best friends with Kate Mularkey (Sarah Chalke) since they were fourteen.
Kate is going through a divorce and is trying to balance her relationship with her teenage daughter, Marah (Yael Yurman), with her job search.
The series follows their lives, from their teenage years in the 1970s, to their beginnings in the working world as aspiring journalists in the 1980s, to the early 2000s, when Tully became a famous newscaster and Kate gave up her career to be a stay-at-home mom and try to become a writer.
Review
The series based on the novel Firefly Lane by Kristin Hannah takes us for two seasons in a This is Us way (three eras in each episode) into the lives of these two women who swear to be friends for life (Toujours là pour toi, is the title in French) from their teenage years.
Their friendship will be put to the test, life certainly good enough about it, but theirs will remain indestructible. Mix of soap opera and comedy, the series also follows the history of the United States and the development of the media, the evolution of morals and what it is to be a woman at all times. 
It values all women, those who feel guilty for having been "only" mothers and those who have made a career without having children, the good mothers and the bad ones.
This series also highlights friendship, a feeling bigger and stronger than many love stories and is worth watching until the end.
Both seasons are available on Netflix. Get your tissues ready.
IN MOVIE THEATERS
All films as from May 10th
The Wild One, Tessa Louise-Salomé
With Willem Dafoe
A little boy from the Carpathians who survived the Holocaust, a successful director, the lungs of the Actors Studio, a protégé of Hollywood, but also an exile, scorned and forgotten, Jack Garfein has lived many lives. The Wild One gives us the vision of a man whose entire life has been devoted to the idea that artistic creation is an act of survival.
Neptune Frost, Saul Williams, Anisia Uzeyman
With Cheryl Isheja, Elvis Ngabo, Bertrand Ninteretse "Kaya Free
Highlands of Burundi, in the present day. After the death of his brother, Matalusa, a coltan miner, forms a collective of anti-colonialist cyber-pirates. Evolving in an authoritarian society where technology reigns supreme, he meets Neptune, an intersex hacker. From their union will be born a virtual and overpowering insurrection.
Le Prix de la Vérité, L'histoire vraie de Graham Staines, Aneesh Daniel
With Stephen Baldwin, Sharman Joshi, Shari Rigby
In the late 1990s, in the state of Orissa, Manav, an Indian journalist, is assigned to investigate Graham Staines, an Australian missionary suspected of buying the conversion of the poor to Christianity.
Le Principal, Chad Chenouga
With Roschdy Zem, Yolande Moreau, Marina Hands
Sabri Lahlali, the assistant principal of a local high school, is ready to do anything to ensure that his son, who is about to take his high school diploma, has the perfect academic record. But he doesn't know how far his enterprise will take him..
War Pony, Gina Gammell, Riley Keough
With Jojo Bapteise Whiting, LaDainian Crazy Thunder, Ashley Shelton
Two young men from the Oglala Lakota tribe live on the Pine Ridge Reservation in South Dakota. Bill, 23, is trying to make ends meet at any cost. Matho, 12, is eager to become a man. Bound by their quest to belong in a society that is hostile to them, they try to make their own way…
Le Paradis, Zeno Graton
With Khalil Gharbia, Julien De Saint-Jean, Amine Hamidou
Joe, 17, is about to be released from a detention center for juvenile delinquents. If his judge approves his release, he will live independently. But the arrival of a new youth, William, will challenge his desire for freedom.
La Fille d'Albino Rodrigue, Christine Dory
With Emilie Dequenne, Galatea Bellugi, Philippe Duquesne
Rosemay, 16, lives in a foster home and only joins her biological family for the vacations. One day, her father is not there to welcome her as planned. Moreover, he does not reappear and seems to have evaporated. Her questions are met with lies, and Rosemay can only rely on her intuition…
Le Cours de la vie, Frédéric Sojcher
With Agnès Jaoui, Jonathan Zaccaï, Géraldine Nakache
Noémie finds Vincent, her childhood sweetheart, in the film school where he is now the director. Through an extraordinary master class, she will teach Vincent and his students that the art of writing a screenplay is the art of living passionately.
99 Moons, Jan Gassmann
With Valentina Di Pace, Dominik Fellmann, Danny Exnar
Bigna, a 28-year-old seismologist, wants to control everything, even her erotic games where she dominates her partners. Frank, 33, works nights in clubs where he escapes into artificial paradises and one-night stands. Their two contradictory trajectories meet and link to each other, until the obsession of a crazy love.
Movies to come (and we are looking forward to it):
Oppenheimer,  Christopher Nolan, next July 19th
Dune 2, Denis Villeneuve, next November 3rd
 TIPS ON MOVIE WRITING 
Scott Myers : Go into the story
FILMS PROGRAM ON TV AS FROM MAY 10TH
Mercredi- Wednesday 10
Arte : Les 2 Alfred. By the Podalydès brothers, a funny satire of the dehumanization of work, with the amazing Sandrine Kiberlain.
Jeudi – Thursday 11
Arte :Black earth rising
Canal + : The Morning Show (AppleTV series)
Chérie 25 : Le come-back
Vendredi – Friday 12
Arte : Parce que tu m'appartiens
One year after her parents' separation, 8-year-old Anni doesn't want to hear from her father anymore. What happened? With a convincing cast, this tense drama stages a frightening maternal manipulation.    
Dimanche – Sunday 14
Arte : Copland:
A meek sheriff and a police detective join forces to stop corrupt cops… By James Mangold ("Walk the Line"), a good thriller with Sylvester Stallone, Robert De Niro, Harvey Keitel and Ray Liotta. 
France 2 : The Father
W9 : The Impossible
Lundi – Monday 15
Arte : L'Affaire Thomas Crown:
A rich businessman decides to commit a heist to escape boredom… In 1967, Norman Jewison directed this elegant film, enhanced by Michel Legrand's music and by the tense and loving duo of Steve McQueen and Faye Dunaway. 
France 2 : Bardot (série)
CStar : The Operative
Mardi – Tuesday 16
Canal + : Sans Filtre, then La Conspiration du Caire
France TV : Ouverture du Festival de Cannes
France 4 : Les parapluies de Cherbourg
Mercredi- Wednesday 17
Arte : Everybody knows:
Around family secrets and a love badly extinguished, Asghar Farhadi orchestrates under the Castilian sun a tortuous psychological thriller, with Penélope Cruz and Javier Bardem, always imperial. 
France 4 : Rosetta
 FILMS & SERIES ON ARTE AS FROM MAY 10TH
FILMS
Bergman Island
A couple of filmmakers settle for the summer on the island where Ingmar Bergman lived… By Mia Hansen-Love ("A Beautiful Morning"), a solar escapade between reality and fiction, in the form of a tribute to the master of Swedish cinema.
With Vicky Krieps, Tim Roth, Mia Wasikowska and Anders Danielsen Lie.
Monsieur Max
In 1944, the poet Max Jacob is arrested by the Gestapo. Alice, a young orphan whom he had cherished forty years before, will try the impossible to save him… A moving fiction, with Jean-Claude Brialy in his last great role.
Jack
Placed in a foster home, Jack runs away, picks up his little brother and feverishly searches for their mother, who has abandoned them… A poignant child's quest filmed with tremendous vitality by Edward Berger, the director of "Nothing New in the West", which has just won four Oscars
DOC
Javier Bardem, l'acteur aux mille visages
A huge star, the Spaniard has never ceased to metamorphose over the course of a substantial filmography in which the great names of world cinema rub shoulders. This intimate portrait aims to reveal the man under the actor's masks. 
Al Pacino – Le Bronx et la fureur
Between the South Bronx and (New) Hollywood, a portrait of Al Pacino, passionate about theater and mythical actor of the saga of "The Godfather" and "Scarface", who has never stopped battling with his demons.
Pouvons-nous refroidir la planète ?
Are we condemned to cook slowly? Capturing CO2 to recycle it, lightening the clouds to better intercept sunlight, massive reforestation: here is an overview of scientific solutions to fight against global warming that offers a glimpse of hope.leads a team of young elite policemen and will have to find his place within his group while avoiding a gang war between Eric's family and the El Hassani brothers.
Series
Utopia – Season 1 (1/6)
When fans of a dystopian graphic novel get hold of a second volume that is supposed to have never existed, the Network, a conspiracy organization, comes after them. A horrific cult thriller that borrows from Kubrick and Tarantino. Episode 1: Members of a fan community come together after making a sensational discovery… 
Five Years
Five years after high school, Tereza runs into an old classmate she would have preferred to forget… Interweaving points of view and temporalities, Five Years deals with the ambiguities of consent and the importance, after a trauma, of taking control of one's own history.
Lost Luggage 
After the 2016 Brussels bombings, a policewoman assigned to airport security is tasked with returning the victims' belongings to the bereaved families. A poignant drama carried by actress and rocker Lara Chedraoui.
State of Happiness
A sentimental drama coupled with a black gold rush. The lives of the inhabitants of a small Norwegian port are turned upside down by the discovery of an oil field…
Manayek, betrayal in the police, by Alon Zingman director of Shtisel (series available on Netflix : listen to the podcast here
All films as from May 10th

on Netflix
Queen Charlotte, Shonda Rhimes
Queen Cleopatra,Jada Pinkett Smith, on May 10th
Black Knight, Ui-Seok Cho, on May 12th
Fubar,  ARNOLD. IS. BACK. As of May 25
Never Have I ever, final & season 4 as of June 8th.
All films as from 

May 10th

 

on 
Prime Video
The Marvelous Mrs Maisel,  season 5, now!
Salade Grecque, series created by Cédric Klapisch,now.
Air, Ben Affleck, on May 12th
The Idol, Sam Levinson, on June 5th, with Lili Rose-Depp (Pass Warner)
All films as from May 10th
on Canal+
The English, Hugo Blick
The Crash, Michael Leendertse
B.R.I, by Cédric Jimenez
Saïd leads a team of young elite policemen and will have to find his place within his group while avoiding a gang war between Eric's family and the El Hassani brothers.
Don't worry darling, Olivia Wilde
Tonday on Cineplus& tomorrow on myCANAL
New documentary by Frédéric Murarotto & Guillaume Simon : "GÉNÉRATION SPIELBERG" : French who have worked with him talk about their great experience with him.
Triangle of sadness, by Ruben Östlund  (now President of The Cannes Film Festival) with Harris Dickinson, Charli Dean & Woody Harrelson, on May 16th
All films as from May 10th

 

on Apple TV
Les gouttes de Dieu, Tadashi Agi
Tetris, Jon S. Baird.
Silo, Graham Yost
City on Fire, Josh Schwartz & Stephanie Savage, as of May 12th
High Desert, Nancy Fichman, Katie Ford & Jennifer Hoppe-House with Patricia Arquette (Peggy), Matt Dillon (Denny), as of May 17th
All films as from May 10th on Disney Plus
The Good Mothers, Stephen Butchard
Peter Pan & Wendy,David Lowery
The Little Mermaid 2, Rob Marshall, forecast on May 26.
Guardians of the Galaxy, as of May 3rd, in theaters!
Ashoka, in August 2023