What to watch as from June 29th
Your films as from June 29th
Retrospective Djibril Diop Mambety (actor, screenwriter and Senegalese director) 
"Histoires de petites gens", "Le Franc" & "La petite vendeuse de soleil" are going to be released on July 6th.
The Israeli series "The Lesson" with Mia Landsman won  the award for best series at the Berlin International Series Festival.
The prize was awarded to the scriptwriter Dikla Keidar.
This series opens with a poignant political debate between a teacher and a student that gets out of hand – a passionate struggle that will go beyond the classroom. 
It is available in 6 episodes on the Kan Hebrew broadcaster.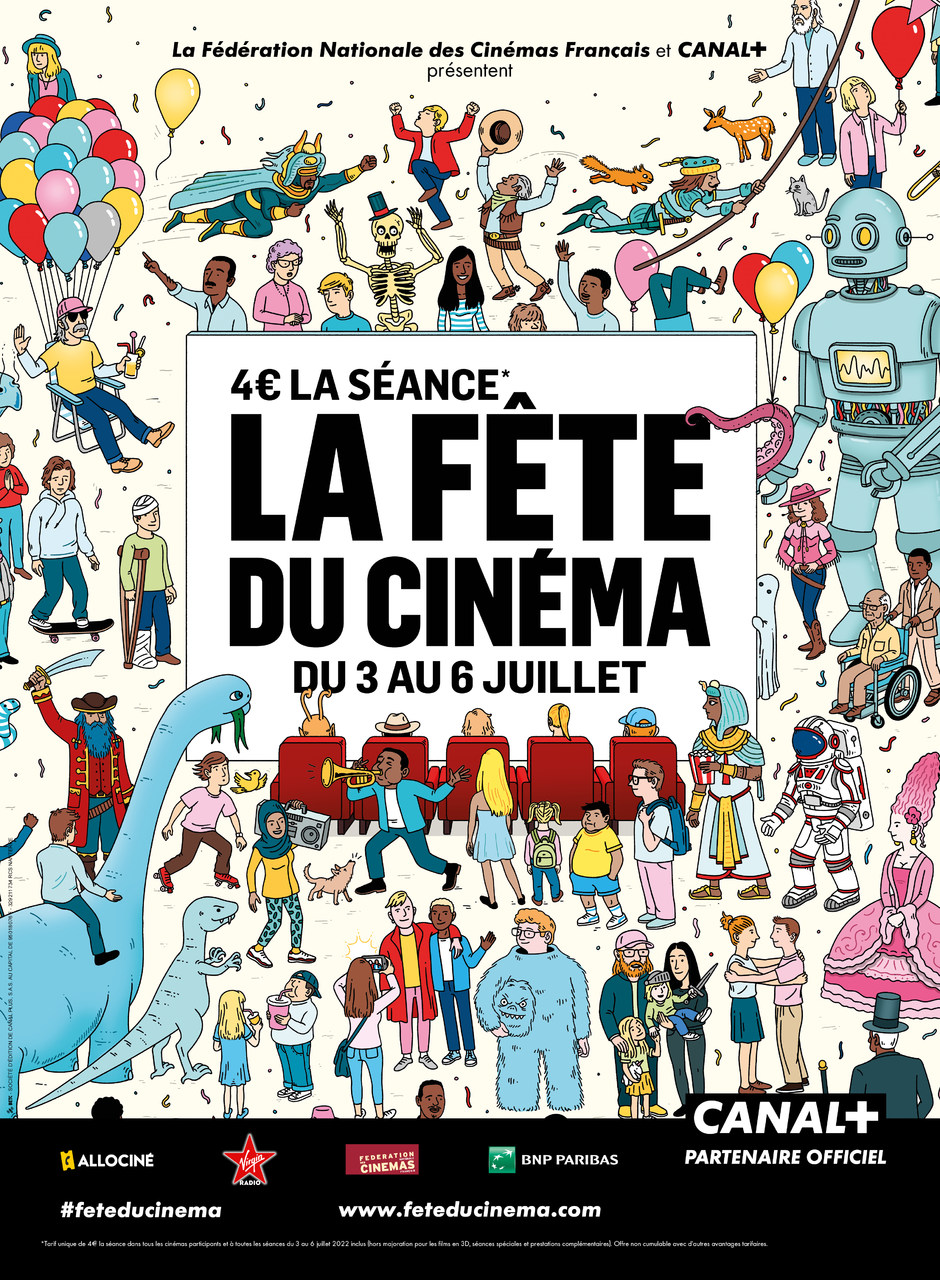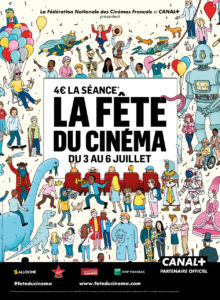 LA FÊTE DU CINÉMA
TO KNOW EVERYTHING IT'S HERE : INFO
From Sunday, July 3rd to Wednesday, July 6th included, go to your local cinema to take advantage of a unique rate of 4 € per screening for all and for all films. 
A good reason to quench your thirst to share emotions together in the dark places! All to the cinema!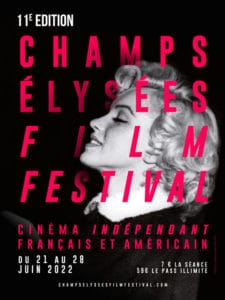 Champs Élysées Film Festival – June 21st to June 28th
Movieintheair was there.
With the jury Emmanuelle Bercot (left) & Rebecca Marder (right)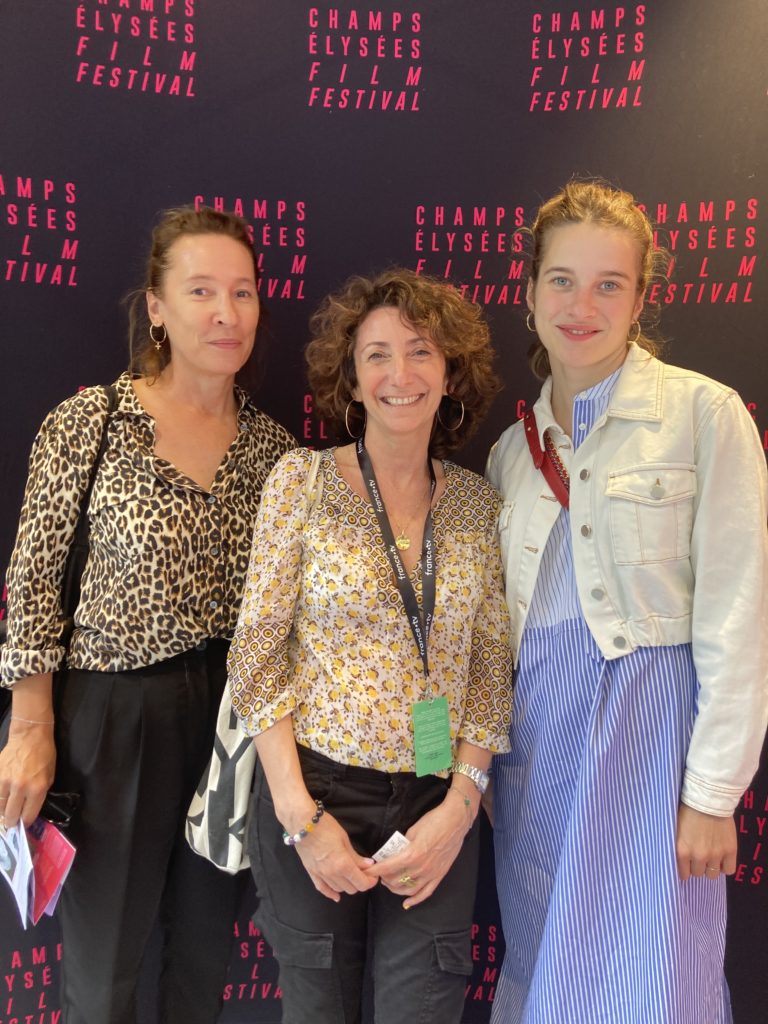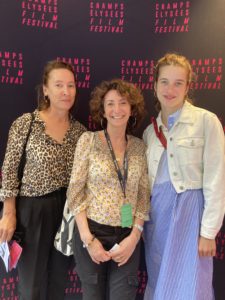 I had the chance to attend the screening of 3 films, a masterclass and a preview.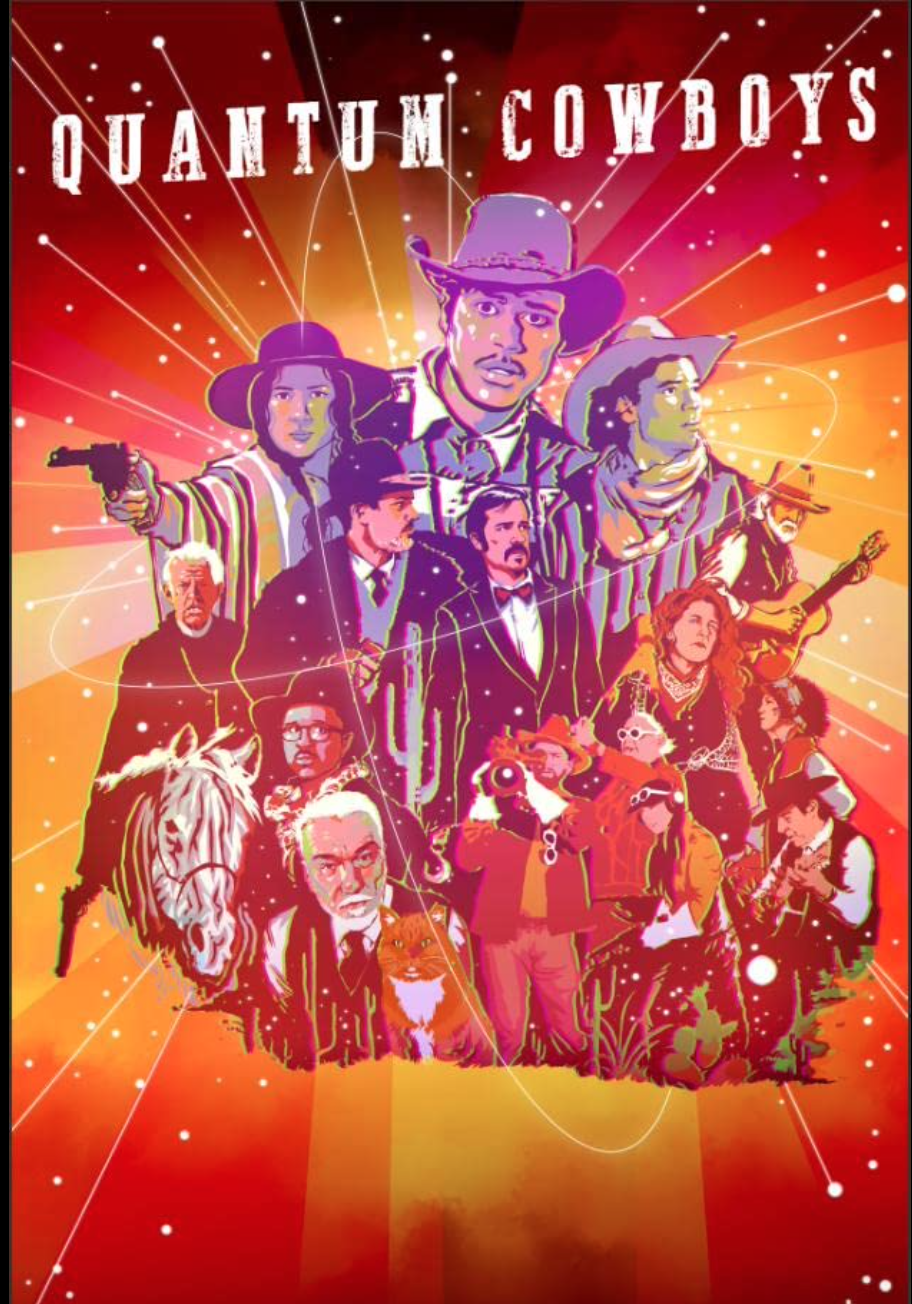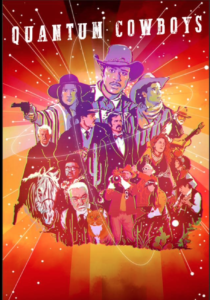 Quantum Cowboys, by Geoff Marslett
Original and complex "Quantum Cowboys" won the Sacem award for best music for a feature film.
Synopsis
As Bruno and Frank wander the late 19th century American West, their path crosses that of Linde, desperate to reclaim her land. Their journey takes on another dimension when the theory of quantum physics is imprinted in the images of the film.
Review
4th American film in competition, Quantum Cowboys is a film directed by Geoff Marslett, a former physicist who wanted to make a film about what the world would be like without real time, through multiple worlds: How to create memories? How these memories lead to the creation of the world.
12 different genres, mixing real images and different animation styles (created by animators from the school that made "Cryptozoo"). The role was written for Lily Gladstone, who is surrounded by Kiowa Gordon and David Arquette.
The actors approached their roles differently.
I obviously got lost during the screening of the film (the multiverse theory) and did not understand everything. This film is freedom-loving, a bit crazy.
The aesthetics is however, very successful and the mix of genres, brilliant.
This film is the first part of two other stories to follow, the one about the bandits and the one about the heroine.
To be seen in theaters soon?
Good News!
The film was awarded Prize of the Public for a feature independent American film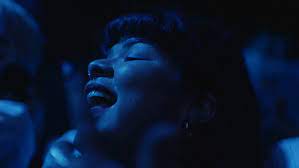 Mija, by Isabel Castro
Synopsis
Doris Muñoz and Jacks Haupt, both daughters of undocumented parents from Mexico, strive to succeed in the music industry.
Desperate to provide for their respective families while fulfilling their dreams, Doris and Jacks grow closer, united by the ongoing guilt of being the first American-born children of undocumented families and by the financial risks involved in pursuing their ambitions.
After the screening
This was my favorite film.
Director Isabel Castro managed to distill emotion throughout the documentary without it lapsing into pathos, and yet the people she filmed are living dramatic situations.
Archival footage of little Doris punctuates the story of her past and present life.
The Pacific Ocean of Mexico symbolizes the love of the country that her family had to leave because they could not cope. Born on American soil, she is the only one to have American nationality while her family risks being sent back to their country at any moment and this is the case of her older brother, separated from the family that the parents will not be able to see for seven years.
As soon as they come of age, Mexican-American women have the mental burden of dealing with the regularization of their parents' papers, which costs a phenomenal amount of money in legal fees and sometimes lasts for years with no guaranteed success.
The same is true for Jacks, a young musician who is discovered in the second part of the film and who endures the constant reproaches of her family about her professional desires.
Doris, a musician's manager, meets Jacks and their lives are so similar, their meeting is so poignant that we cannot imagine one without the other.
The beautiful photography and festive music accompany the story of the lives of these two young women.
Let's hope that it will be broadcast in French theaters.
GREAT NEWS:
The Grand Prize of the Jury for American Independent Feature Film is awarded to Isabel Castro for her film Mija. 11,000 € endowment by Banque Transatlantique to the director to help her with her next feature film.

Haaper's Comet, by Tyler Taormina
Avec Grace Berlino, Michael Gugliamo, Jax Terry, Brendan Burt, Brandon Cassanova
Synopsis
The night covers a silent bustle; as the camera observes the nocturnal activities of several residents, some are seen quietly escaping into the darkness… on roller skates.
My review
After "Ham on Rye", Tyler Taormina filmed during the Covid in the suburb where he grew up with his friend.
This suburb is characterized by its love of "Blue lives matter" (in reference to Black Lives Matter). The police are very present and beloved while there is no crime.
This fiction is a kind of UFO.
At night, everything is quiet and the only movements you can detect are those of the leaves sliding in the wind or the sleepless people. If people are all different during the day, at night they are all alike. There is something transgressive about filming people in their homes at night.
An ear of corn eaten by worms, a train passing by at full speed (a technical feat explained during the interview and shown after the screening: a table with a mirror and curtains, but he couldn't see the train passing behind), someone rollerblading, men embracing in a field, a car driving at full speed…
Fascinating, cinematographic feat (made by only two people), it also plunges us into a bizarre atmosphere, dreamlike with the confinement, it reminds us of horror films and fantasy films, and wants to be anti-conformist.
The writing was done gradually during four months.
Tyler created the sound design in post-prod (there is no dialogue but only animal sounds, nature, door slamming, car…). He says he likes Italian films with sound recorded in post-prod and the artifices of cinema, which allow to create after having filmed.
Let's hope that this dreamlike UFO will find a place on our screens.
​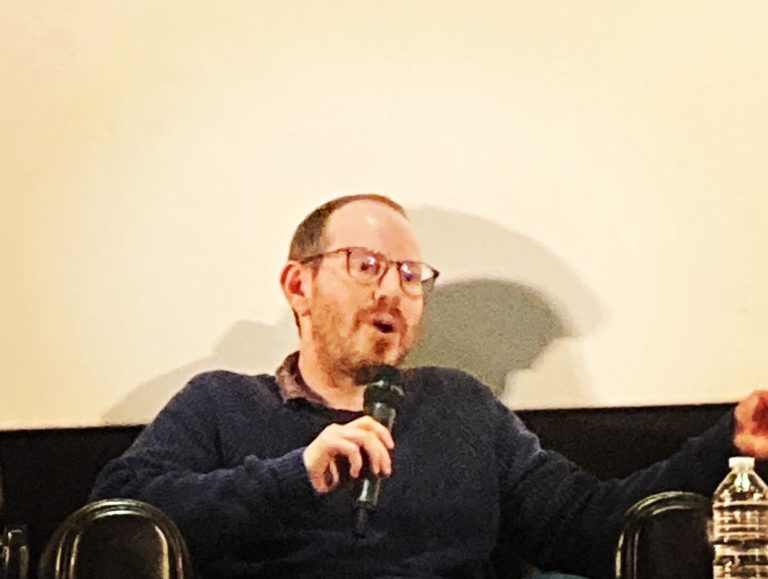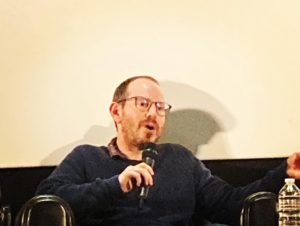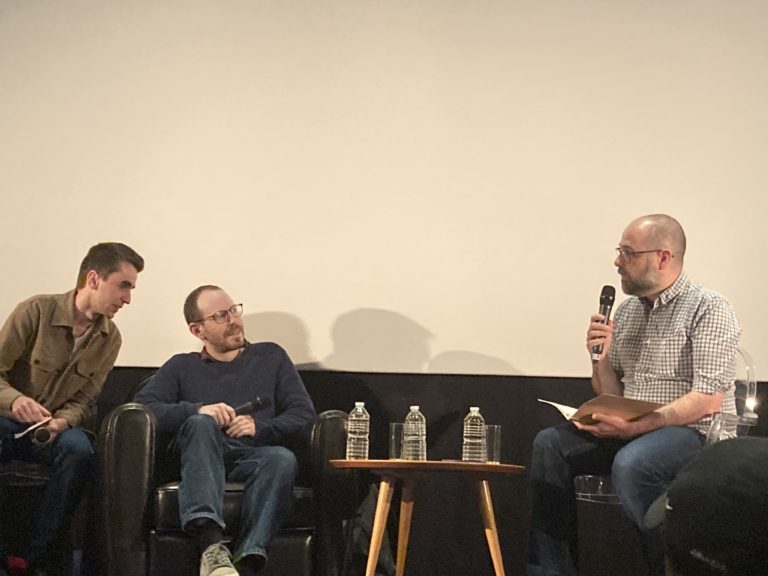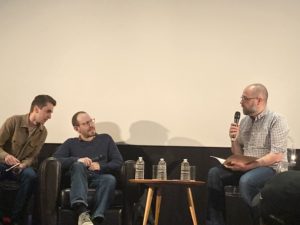 Ari Aster's Masterclass
About Ari Aster
Martin Scorsese spoke about Ari Aster in the press, saying of his cinema: "It's horror, but it's more than that. For me, if you take away the horror, it still works. But the horror elements, how can I put it… shock you in a good way. They shock you by making you aware of the suffering of these people."
Prior to Midsommar, Ari Aster wrote and directed the supernatural thriller Hereditary, his first feature film, starring Toni Collette, Ann Dowd and Alex Wolff.
Ari Aster's next film, Disappointment Blvd. starring Joaquin Phoenix, is scheduled for release in 2022 by A24.
Interview
Arrived in the morning from Los Angeles in full jet lag, fatigue could sometimes be felt in the answers of this gifted, discreet and precise director.
Ari Aster tried to answer as well as possible the questions of Aurélien Allin, his public, fans of the first hour, pointed on the theme of the films of genre.
"Dick Tracy" is his first memory of cinema as a child, he is marked by the greatest, he was fascinated by horror at a very young age before moving away from it and then coming back, Hitchcock, Peter Greenaway, Mizoguchi, Bergman, Fellini …
Before being an director, he wanted to be an actor. When he saw "Goodfellas", he started writing lines from existing film scripts at a very early age.
At a time of standardization of cinema, he likes to denounce clichés and narrative stereotypes.
Today, his inspiration comes from reading. Like many directors, the search for artifice counts a lot. He looks for ways to create a distance between the viewer and the film, so that the viewer can forget where he is and the director can create emotion and a beautiful film.
When he shoots a film, he tries to do it differently from previous films. For the shooting of the next one, he wanted to let go and free himself from the cutting which was obsessing him in the previous films (unlike "Hereditary").
What matters is the freedom of doing a very long film if needed and he only writes about what he feels in his guts
TRAILER FROM MIDSOMMAR
Super 8, by Annie Ernaux & David Ernaux-Briot (preview)
"When I reviewed our Super 8 films taken between 1972 and 1981, I realized that they were not only a family archive but also a testimony to the tastes, leisure activities, lifestyle and aspirations of a social class in the decade following 1968. I wanted to integrate these silent images into a narrative at the crossroads of history, the social and also the intimate, using my personal diary of those years". Annie Ernaux.
Annie Ernaux was born in 1940.
After studying literature in Rouen, she became an associate professor and pursued a teaching career while writing. Her first novel, Les Armoires vides (1974) describes the heartbreak of a class defector.
Starting with La Place (Prix Renaudot 1984), she broke with fiction and began to explore her own life experiences while seeking new forms of autobiography. To date, she has written some twenty books, including "L'événement", adapted for the cinema by Audrey Diwan.
David Ernaux-Briot, son of Annie and Philippe Ernaux, was born in 1968. After studying science, he turned to science journalism and contributed to the programs E=M6 and C'est pas Sorcier. He then wrote and directed the educational mini-series Théâtre des machines, Corpus, Art et Sport for the platforms Universcience and CANOPE. Les Années Super 8 is his first feature documentary.
My Review
The film begins with the first shot taken by her husband with his new Super 8 camera, his wife and children returning from the supermarket.
From the beginning of the 70's to the 80's, Annie tells in a very well written text and with the help of excerpts from her diary, her private life, her travels always in connection with the political context of the time and her commitment to the extreme left.
She declares "At twenty, I swore to write to avenge my race". Her parents, small traders from the world of workers and farmers, encouraged her to continue the social ascent they had begun.
In this documentary made by her film, it is about her, her point of view, her writing (she hides from her husband and her mother that she writes) and her anger.
She also denounces the boredom of the marital life of her time, this gilded cage of which many women are still prisoners. She will put an end to it.
Her novel on abortion, The Happening was later adapted to the cinema.
An anecdote reminded me, if it were necessary, that we are not out of it. While I was waiting in the bathroom, the two women in front of me were talking about who had kept the children so that they could come to this preview while the men were waiting for them.
In theaters on December 14.
Annie Ernaux was absent from the screening because of the Covid.
This film, selected for the Directors' Fortnight, gave rise to a Q&A (question and answers) that follows:
Episode : Ronit Elkabetz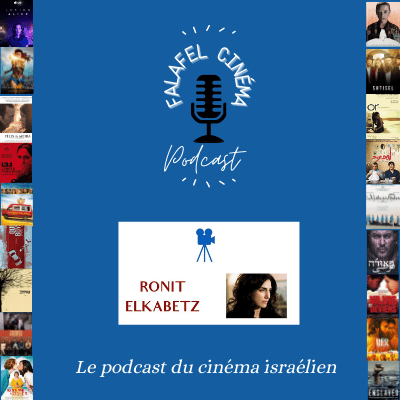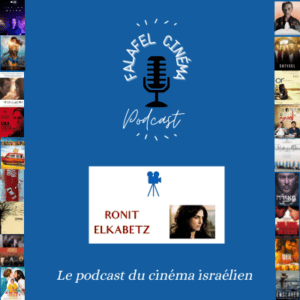 CINÉMA AT THE BALZAC THEATER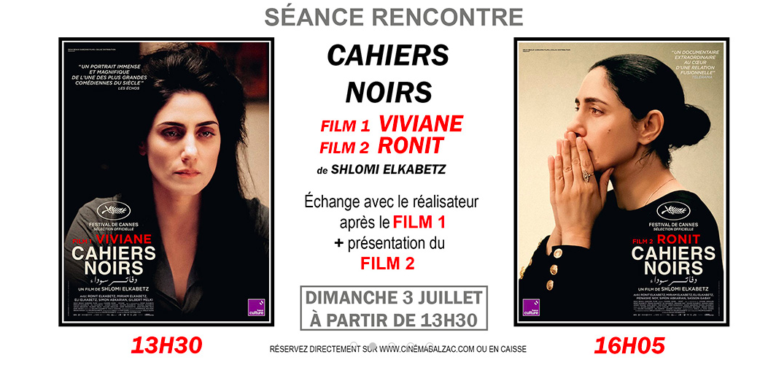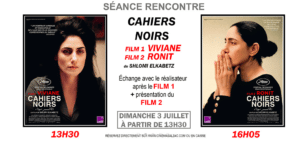 Read my review here on Cultures J website
ALL YOU WANT TO KNOW ABOUT  FILMS & SERIES IN THEATERS & AT HOME
FILMS TO WATCH IN YOUR MOVIE THEATERS AS FROM JUNE 29th
This week :
Decision To Leave, by Park Chan-Wook. Starring Tang Wei, Go Kyung-pyo, Park Yong-Woo
Hae-Joon, a seasoned detective, investigates the suspicious death of a man on a mountaintop. Soon, he begins to suspect Sore, the wife of the deceased, while being unsettled by his attraction to her.
Les Cahiers Noirs I & II. By Shlomi Elkabetz
In a Parisian cab, a man learns from a Moroccan psychic that his sister is about to die. In an attempt to thwart the prediction, the brother embarks on a fictional journey between Morocco, Israel and Paris. 
Goodnight Soldier, Hiner Saleem. With Galyar Nerway, Dilin Doger, Alend Hazim
Despite the hostility of their families who harbor an ancestral hatred, Ziné and Avdal, a young Kurdish soldier, are about to get married. A few weeks before, Avdal is wounded by a bullet from Daech.
On the day of the ceremony, he is unable to consummate the marriage and becomes aware that his injury has caused him to lose his "virility", his honor and that of his family.
If Ziné is convinced that the strength of their love will withstand this ordeal, Avdal cannot stand his condition and decides to leave her in order to give him back his freedom.
The families are torn apart again. Avdal goes back to the front in a suicide mission, until the day when…
As Tears Go By,May 14, 1989 – Re-release date June 29, 2022. By Wong Kar-Wai. With Maggie Cheung, Andy Lau, Jacky Cheung
Wah, a small-time Hong Kong gangster, splits his time between his usual job collecting debts and protecting his sidekick, Fly, who is always borrowing money he can never repay.
Best movies of the summer & later (and we are looking forward to it) : 
Ennio, Giuseppe Tornatore, on July 6th
With Giuseppe Tornatore, Ennio Morricone, Bernardo Bertolucci, Giuliano Montaldo, Marco Bellocchio
At the age of 8, Ennio Morricone dreams of becoming a doctor. But his father decides that he will be a trumpet player, like him. From the music conservatory to the Oscar for best composer, the itinerary of one of the greatest musicians of the 20th century.
After Yang, produced and directed by Kogonada, is an adaptation of the American short story Saying Goodbye to Yang by Alexander Weinstein. On July 6th.
In the near future, where the fashion is marked by domestic androids in human form that are considered nannies, Jake (Colin Farrell) and his daughter try to save Yang (Justin H. Min), their robot that has become inert.
​
Crescendo,  Dror Zahavi, on July 6th
Peter Van Kant, by François Ozon, with Isabelle Adjani, on July 6th
Holy Spider, Ali Abbasi, on July 13th
Le Rapport Auschwitz, on July 27th, Noël Czuczor, Peter Ondrejička, John Hannah
Beast, by Baltasar Kormákur, on August 19th, with Idris Elba
Là où chantent les écrevisses, Olivia Newman, with Daisy Edgar-Jones, on August 17th,
Nope,  Jordan Peele, on August 5th.
With: Daniel Kaluuya , Barbie Ferreira , Michael Wincott , Steven Yeun , Keke Palmer , Brandon Perea, Terry Notary , Andrew Patrick Ralston , Donna Mills , Jennifer Lafleur
Mission Impossible Dead Reckoning, Christopher McQuarrie
Three thousand years of longing, George Miller, on August 24th
WEEKLY TIPS & OPINIONS ABOUT MOVIES 
BY  MOVIE DIRECTORS,  WRITERS, SCREENWRITERS, DIRECTORS, COMPOSERS…
"You are writing the story of your life"  by Scott Myers 
When Women Lose the Right to Choose  by Quintessa 
Screenwriting "Hats". Sometimes when a writer is writing a… by Scott Myers
4. 

BEST SERIES & FILMS ON TV, AS FROM JUNE  29th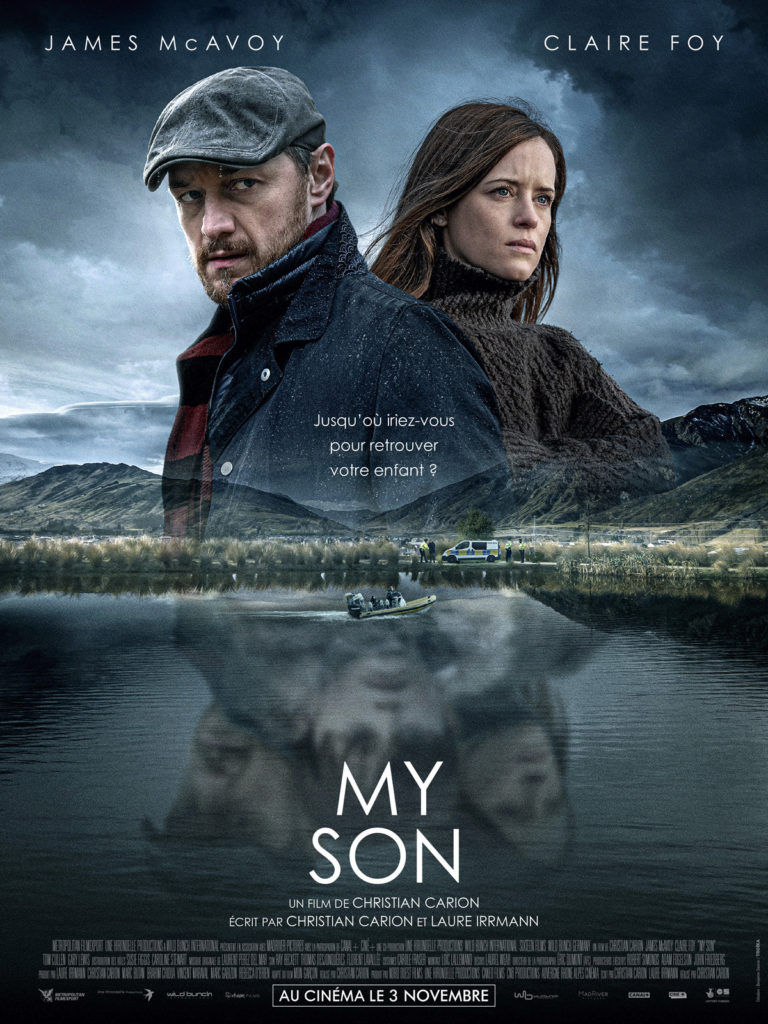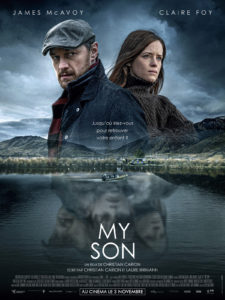 Wednesday – Mercredi
Canal Plus : My Son
Arte : A bigger splash
A star on vacation with his partner sees his rest disturbed by the arrival of an invading ex… Luca Guadagnino signs a baroque remake of Jacques Deray's "The Pool", served by four inspired actors: Matthias Schoenaerts, Dakota Johnson, Ralph Fiennes and Tilda Swinton.
Thursday – Thursday
Canal Plus : L'amie prodigieuse
Arte : Beau Rivage (series)
Friday – Friday
Arte: Parents in Perpetuity
When their son comes back to live with them, Anja and Michael have to give up a freedom they have just acquired… A gratingly realistic comedy about the increasingly widespread phenomenon of "Tanguy", aka "Boomerang kids".
Canal Plus : Shang-Chi and the Legend of The Ten Rings
Sunday – Dimanche
Arte : For Whom the Bell Tolls :
In the middle of the Spanish war, Robert Jordan, an American, joins the Republican fighters… Based on Hemingway's famous novel, a poignant melodrama with Gary Cooper and Ingrid Bergman, against the backdrop of the Spanish Civil War.
TFX: Mama Mia, here we go again
Monday – Lundi
Arte: The Garden of the Finzi-Contini:
In Fascist Italy, the loves of the elusive Micòl Finzi-Contini (Dominique Sanda) dissolve in the twilight of Ferrara's Jewish bourgeoisie… Adapted from the novel by Giorgio Bassani, the most melancholic of Vittorio De Sica's films.
Tuesday – Mardi
Canal Plus : Licorice Pizza
Wednesday – Mercredi
France 4 : Jazz Awards
5. 

BEST DOCUMENTARIES, SERIES & FILMS AS FROM JUNE 29TH ON ARTE
ARTE DOCUMENTARY AS FROM JUNE 29TH
Abortion, the crusaders counter-attack
All over Europe, new, highly organized activists are leading a formidable crusade against abortion and women's freedom to control their own bodies. A fascinating – and disturbing – investigation into these networks of influence.
FILMS FROM JUNE 29
Asako I and II
Asako falls in love with an eccentric and evanescent boy, before meeting his double, more reliable and more mature… The love story passed through the sublime poetic and existential sieve of Ryusuke Hamaguchi ("Drive my Car", "Tales of Chance and other fantasies").
Staying in the Fuchun Mountains
In eastern China, relationships between siblings become strained as their town modernizes… By the very promising Gu Xiaogang, a masterful family fresco, first part of a trilogy announced.
ANIMATION
The one with two souls, by Fabrice Luang-Vija
In the Great North, an Inuit tale about a man with two sensibilities, feminine and masculine…
This short film was awarded the Best Animated Short Film Prize at Flickerfest 2016 and the César for Best Animated Short Film 2017.
SERIES STARTING JUNE 29
Honour, Richard Laxton
After the disappearance of a young woman of Kurdish origin, Chief Inspector Caroline Goode leads the investigation. This breathtaking drama recounts a tragic case that shook Britain in 2006.
Best series & films as from  June 29th 

on 

Netflix
Emma, on July 1st Autumn de Wilde
Harriet, on July 1st, by Kasi Lemmons with Cynthia Erivo, Leslie Odom Jr.

The Gray Man, by Russo brothers, with Ryan Gosling, Ana de Armas & Chris Evans, on July 22nd.
Persuasion, Carrie Cracknell, with Dakota Johnson, on July 15th.
Stranger Things, season 4, vol 2, on July 1st, by the Duffer Brothers
Blondes, with Ana de Armas  by Andrew Dominik.
Mathilda, the musical, Matthew Warchus
Best series & films as from June 29th

 

on 
Prime Video
My Policeman, Michael Grandage with Harry Styles, Emma Corrin (The Crown). This fall.
Chloé season 1 : by Alice Seabright with Erin Doherty, Poppy Gilbert, Billy Howle, now
.
The Lord of the rings, Juan Antonio Bayona, on September 2nd.
Best series & films as from June 29th 

on Canal+
Two summers (series) by Tom Lenaerts & Paul Baeten Gronda
Conversation with friends, directed by Lenny Abrahamson and Leanne Welham, adapted from the novel written by Sally Rooney (Normal People), in August: British series of 12 episodes of 30 minutes –
Adapted for television by Alice Birch, Mark O'Halloran, Meadhbh Mchugh and Susan Soon He Stanton
The French Dispatch, by Wes Anderson, now
Shang Chi,  on July 1st, Destin Daniel Cretton
Licorice pizza, on July 5th Paul Thomas Anderson
Best series & films as from June 29th 

on Apple TV
Physical saison 2 created by Annie Weisman.
Loot – By Alan Yang, Matt Hubbard with Maya Rudolph, MJ Rodriguez, Nat Faxon, now
Black Bird, on July 8th, by Dennis Lehane with  Taron Egerton & Paul Walter Hauser.
Best series & films as from June 29th 

on Disney Plus
Mrs Marvel,Bisha K. Ali,now.
Willow, Jonathan Kasdan & Wendy Mericle, on November 30th.
Pinocchio, Robert Zemeckis, on September 8th.
Best series & films as from June 29th 

on Starzplay
Becoming Elizabeth, now, is created and written by Anya Reiss.
The Girl from Plainville, with Elle Fanning, on July 10th