What to watch as from March 16th?
Your audiovisual weekly news
STAR TREK: Strange New Worlds
Festivals as from March 16th
The Créteil Women's Film Festival : The 44th edition will take place from March 11 to 20, 2022
To be seen: in Créteil at the Maison des Arts et de la Culture and at the Cinéma La Lucarne and in Paris at the Cinéma les 7 Parnassiens but also online on the platform Festival Scope.
Tribute to Susan Sontag : Wednesday March 16 mars morning – Thursday, March 17, 23h59
Printemps du Cinéma : March 20 to 22: program & 4 Euros tickets here
HAWAII
For over 40 years, HIFF has presented the best in international cinema to Hawai'i cineastes. Join HIFF Selects and have the best international and independent films delivered directly to you for a true film festival experience year-round.
For the 2022 edition, La Fête du court métrage has proposed – with the support of L'Agence du court métrage – a catalog of short films available throughout the event.
Festival du cinéma israélien : March 21st to March 28th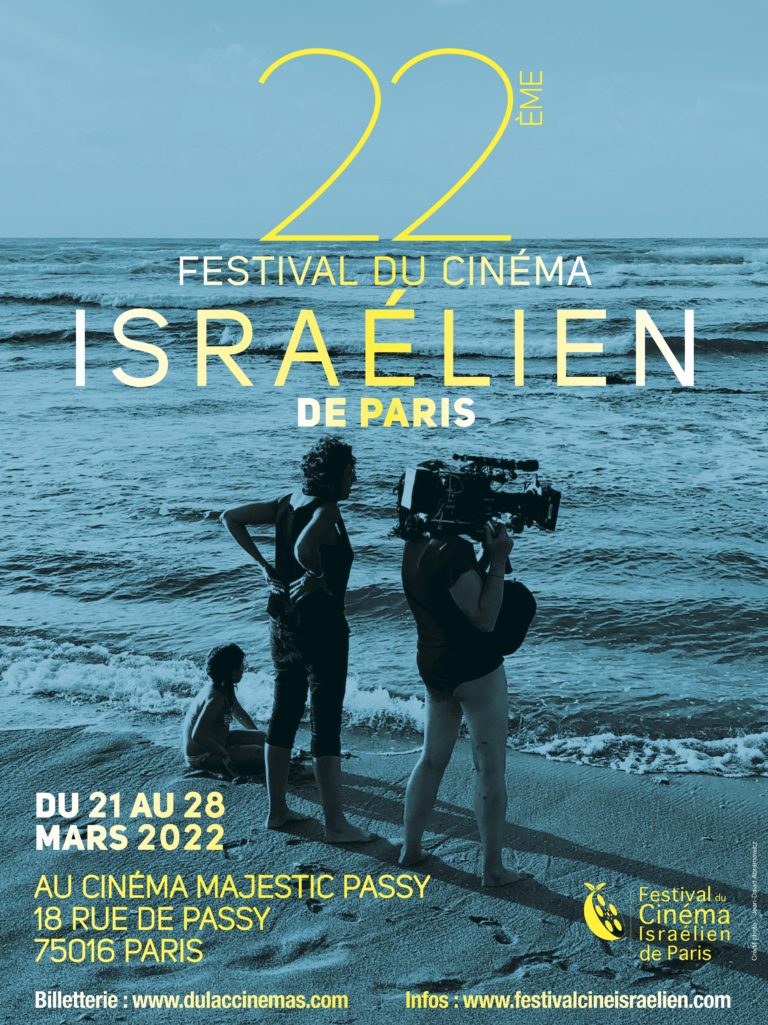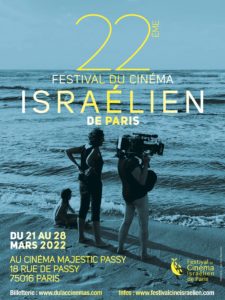 ALL YOU WANT TO KNOW ABOUT  FILMS & SERIES IN THEATERS & AT HOME
REVIEWS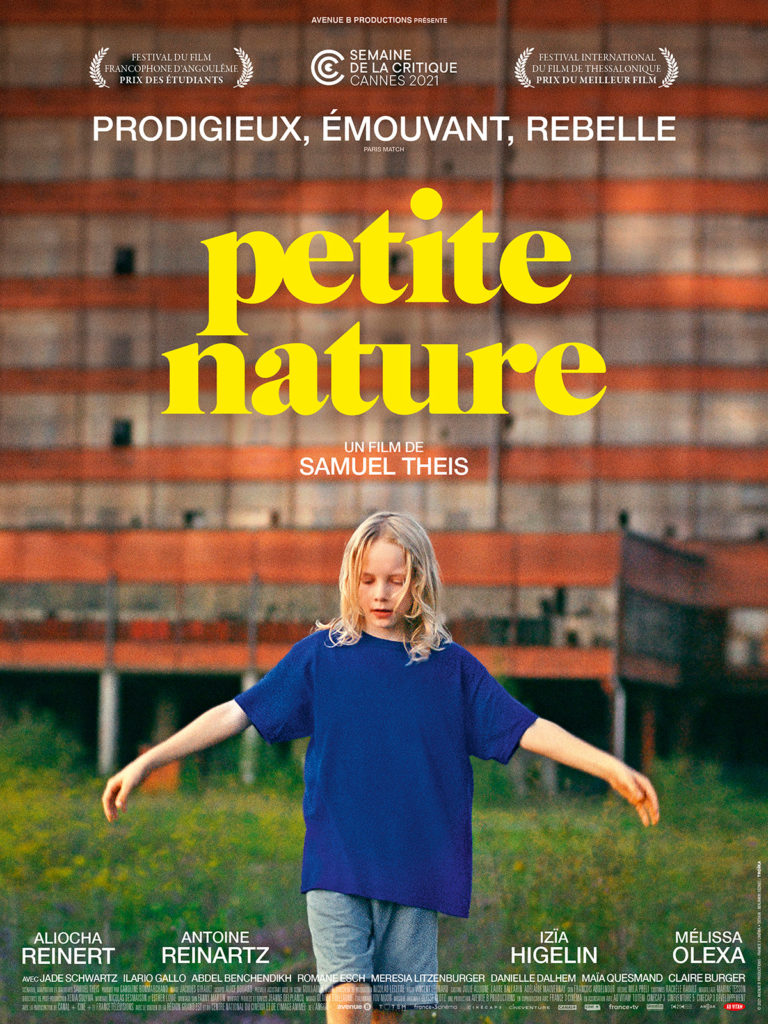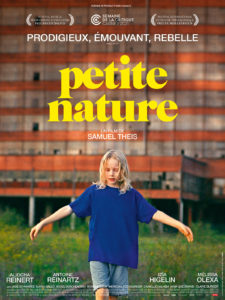 Petite Nature, Samuel Theis
Synopsis
Johnny, a 10-year-old blond boy, stands out from the crowd. He doesn't seem to fit in with his mother, who is courageous and caring but has a troubled love life, or with the new housing project they have just moved into. When Mr. Adamski returns to his class, someone finally recognizes his potential and encourages him.
A true story mixed with fiction
After co-directing "Party Girl" (Caméra d'or at Cannes in which the director cast his family), Samuel Theis returns to Lorraine to tell the captivating story of the complex experiences of a charismatic child.
Since its premiere on the Croisette, "Petite nature" has already won several awards, including best film at the Thessaloniki and Montreal festivals.
In this film inspired by his childhood, the director cleverly studies the different issues of looking at oneself and others, through a mutual contemplation of two worlds, two opposing social classes.
Samuel Theis and his brilliant actor Antoine Reinartz, (120 beats per minute) came to present the film at the cinema Le Balzac.
He remembers his anger as a child and his desire to flee this place, which with the cinema brings him back to this childhood and this territory that he finds today appeased and that he managed to film with a realism neither voyeur nor complacent.
Great actors
In "Petite Nature", it is a matter of social classes but also of the status of the child and that of the adult, and of this notion of responsibility that one acquires afterwards and that separates us from childhood.
The young Alyosha Reinert (who plays Johnny) is sensational. He has been dancing for ten years and it shows so much he already knows how to use his body in front of the camera.
A mixture of professional and non-professional actors, the mother is in reality a cleaning lady and the director shows us courageous women who are not resigned.
This beautiful film took ten years to write, two years to cast, three months to shoot, and three years to post-produce.
Go see it, it is a very beautiful film, true and very accurate on our time.
In theaters.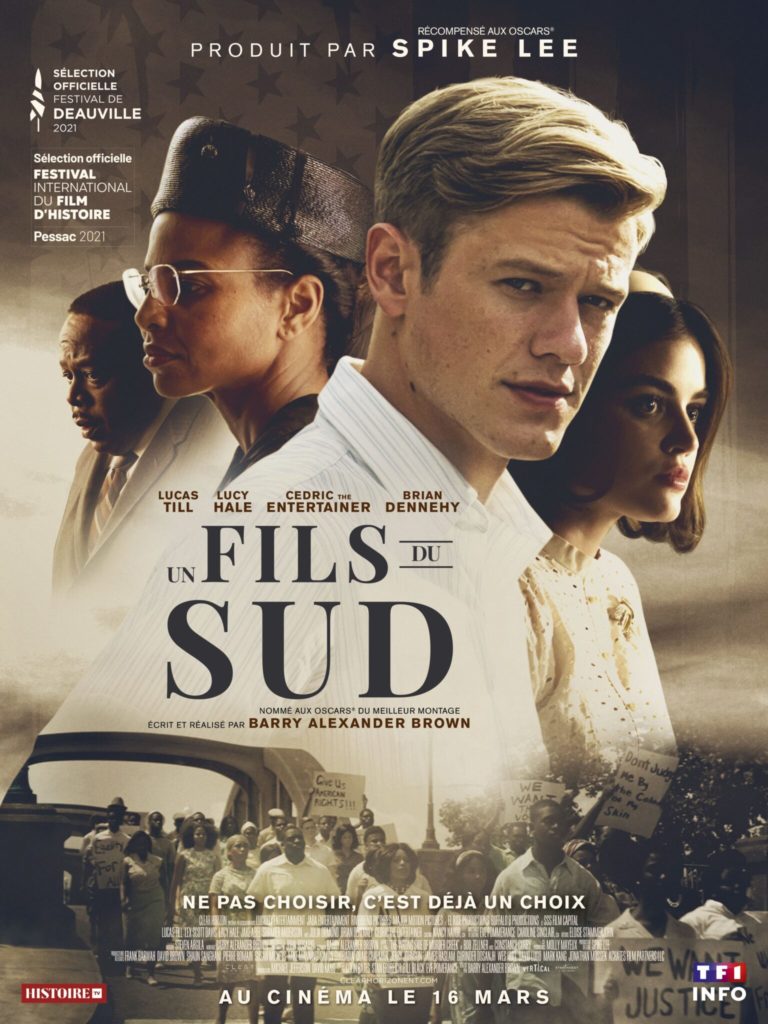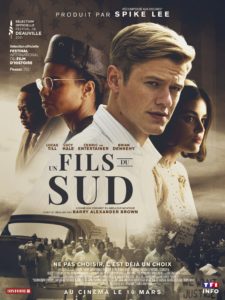 Son of the South,  Barry Alexander Brown
Synopsis
In 1961 Alabama, Bob Zellner, grandson of a Ku Klux Klan member, is confronted with the endemic racism of his own culture. Influenced by the thoughts of the Reverend Martin Luther King Jr. and Rosa Parks, he defies his family and Southern norms to take up the fight for civil rights in the United States.
The film
Barry Alexander Brown is not only the editor of all Spike Lee's films, he is also a documentary filmmaker and this is evident in this adaptation of Bob Zellner's book, "The Wrong Side of Murder Creek: A White Southerner in the Freedom Movement".
Bob Zellner, who is still alive, advised the director on the events he witnessed, and some of the phrases used in the film were actually spoken by the protagonists of that time.
An incredible story, this film shot on the very scene of the events in Montgomery (Alabama) is worth its documentary aspect (everything is filmed and reconstructed in the same way) but it sometimes lacks emotion.
Shot in only twenty-five days, some scenes were made with little means.
For example, during the Freedom Riders riot in 1961 (the crowd rushed on the peace demonstrators to beat them to death without the police intervening), the director had to ask the extras to move because he didn't have enough.
Alas still relevant today, the director invites us to make choices and never remain neutral.
In theaters today. 
With  Lucas Till, Lucy Hale, Brian Dennehy, Shamier Anderson, Sharonne Lannier, Lex Scott Davis, Lucas Till, Cedric The Entertainer.
TO WATCH IN YOUR MOVIE THEATERS AS FROM MARCH 16th
On March 16th
Medusa, De Anita Rocha da Silveira
With Mari Oliveira, Lara Tremouroux, Joana Medeiros
Brazil, today. Mariana, 21, lives in a world where she has to be a pious and perfect woman. At night, she gathers with her gang of girls and, together, hidden behind masks, they hunt and lynch those who have deviated from the straight and narrow.
Notre-Dame brûle, Jean-Jacques Annaud
With Samuel Labarthe, Jean-Paul Bordes, Mikaël Chirinian
Jean-Jacques Annaud's feature film reconstructs hour by hour the incredible reality of the events of April 15, 2019, when the cathedral underwent the most important disaster in its history.
À plein temps, Eric Gravel
With Laure Calamy, Anne Suarez, Geneviève Mnich.
Julie struggles alone to raise her two children in the country and keep her job in a Parisian palace. When she finally gets an interview for a job that matches her aspirations, a general strike breaks out, paralyzing transportation.
L'Empire du silence, Thierry Michel
For twenty-five years, the Democratic Republic of Congo has been torn apart by a war that has been largely ignored by the media and the international community.
The victims are counted in the hundreds of thousands, even millions. The perpetrators of these crimes are innumerable: rebel movements, but also armies, those of the Congo.
Cinq nouvelles du cerveau,  Jean-Stéphane Bron.
Five news from the brain, Jean-Stéphane Bron.
While researchers are gradually discovering the mysteries of the human brain, the race is on between human intelligence and artificial intelligence.
Jean-Stéphane Bron plunges us into the heart of today's science, discovering the work of five scientists, at the crossroads between the brain.
Later (and we are looking forward to it: 
Umma, Iris K. Shim, on March 18th in the US.
Aristocrats, Yukiko Sode, March 30th.
Icare, Carlo Vogele, on March 30th.
After Yang, produced and directed by Kogonada, is an adaptation of the American short story Saying Goodbye to Yang by Alexander Weinstein.
In the near future, where the fashion is marked by domestic androids in human form that are considered nannies, Jake (Colin Farrell) and his daughter try to save Yang (Justin H. Min), their robot that has become inert.
Release date: June 22, 2022.
Jurassic World Dominion, Colin Trevorrow, June 8th.
Bullet Train, by David Leitch, adapted from the novel Maria Beetle by Kōtarō Isaka.
Five hitmen find themselves on a high-speed train traveling between Tokyo and Morioka, making very few stops. The five criminals will discover that they are bound by their mission. They wonder who will make it out alive and what awaits them at Morioka Station.
July 20, 2022.
Starring Lady Gaga, Sandra Bullock, Andrew Koji, Aaron Taylor-Johnson, Joey King, Shinkansen.
Nope,  Jordan Peele, on August 5th.
With: Daniel Kaluuya , Barbie Ferreira , Michael Wincott , Steven Yeun , Keke Palmer , Brandon Perea , Terry Notary , Andrew Patrick Ralston , Donna Mills , Jennifer Lafleur
Downton Abbey a new era, Julian Fellowes , May 20th
WEEKLY TIPS & OPINIONS ABOUT MOVIES 
BY  MOVIE DIRECTORS,  WRITERS, SCREENWRITERS, DIRECTORS, COMPOSERS…
The best recent science fiction, fantasy and horror – reviews roundup | Science fiction books | The
Spec Script Formatting Primers. An amazing resource for TV writers… | by Scott Myers | Mar, 2022 | G
Interview (Part 2): Haley Bartels | by Scott Myers | Feb, 2022 | Go Into The Story
2022 Zero Draft Thirty March Challenge: Day 9 | by Scott Myers | Mar, 2022 | Go Into The Story
4. 

BEST SERIES & MOVIES ON TV, AS FROM MARCH 16th
Mercredi- Wednesday
Arte : Moonlight
6Ter : Mississipi Burning
Jeudi – Thursday
C8 : Guy
Arte : Le tueur de l'ombre : la mort est aveugle :
The Shadow Killer: Death is Blind:
Investigating a crime that has gone unpunished, profiler Louise Bergstein (Natalie Madueno) races against time to stop a ruthless predator. Set in the Danish countryside, the second season is as dark and effective as ever. By Jonas Alexander Arnby
Vendredi – Friday
Canal Plus : Boîte Noire
France 5 : Heat
Arte : Claire Andrieux, de Olivier Jahan
Chérie 25 : Le goût des autres
Samedi – Saturday
Arte : Guillaume Le Grand, de Frédéric Compain
Dimanche – Sunday
Arte : Caché :
Who threatens the famous literary journalist Georges Laurent by sending him anonymous videos?
A diabolical thriller by Michael Haneke, winner of the Cannes Film Festival, with Daniel Auteuil and Juliette Binoche. By Michael Haneke
C8 : La vache et le prisonnier
Lundi – Monday
Arte : La Strada, Federico Fellini :
Zampano, a fairground athlete, buys the young and moody Gelsomina from a mother…
The athlete and the clown, the hercule and the woman-child: unforgettable Anthony Quinn and Giulietta Masina, in this heartbreaking film by Federico Fellini.
Mardi – Tuesday
Arte : Insecticide:
Since 1990, the insect population is said to have fallen by 75% in Europe.
As captivating as it is alarming, this international investigation points to the role of neonicotinoids, neurotoxic insecticides, in the ongoing ecological disaster.  By Sylvain Lepetit Miyuki Droz Aramaki Sébastien Séga.
Mercredi- Wednesday
Arte : Doubles Vies
Two friendly couples from the Parisian intelligentsia love each other, cheat on each other and aspire to fulfill themselves in a changing world…
With Juliette Binoche, Guillaume Canet, Vincent Macaigne and Nora Hamzawi, a jubilant comedy by Olivier Assayas.
5. 

BEST MOVIES & SERIES AS FROM MARCH 16th ON ARTE
Jim-carrey-l-amerique-demasquee : Thibaut Sève & Adrien Dénouette
L-histoire-de-la-street-dance-: Jean-Alexander Ntivyihabwa & Jamo Franz
Naissance-d-un-heros-noir-au-cinema , Catherine Bernstein & Martine Delumeau. :
In 1971, Melvin Van Peebles shook up the figure of the black hero in American cinema with "Sweet Sweetback's Baadasssss Song".
This documentary traces the genesis of this hard-hitting film, which gave birth to the Blaxploitation movement, from Gordon Parks' "Shaft" to "Jackie Brown", Quentin Tarantino's tribute to the genre.
Katarina-witt-doubles-axels-et-rebondissements : Jobst Knigge
Des-femmes-au-salon-aux-sources-de-l-emancipation-feminine: Carole Wrona
Documentary : 24 h in woman's life
Inspired by real facts, a manifesto series that reports on violence against women in everyday life.
Based on an original idea by Nathalie Masduraud and Valérie Urrea, 24 daring short films, based on texts by 24 European women authors, performed by 24 exceptional actresses. A diversity of voices and talents, in a strong and committed collection.
Violences against women : a global plague
Domestic violence, sexual assault, rape, forced marriages… Violence against women remains one of the most widespread human rights violations in the world. ARTE invites you to learn more about this global issu
Five women, five cultures, one story : by Barbara Miller : #Female Pleasure
Gathering the testimony of five women from different religions and cultures who fight against sexual oppression, a powerful defense of the right to female pleasure and equality.
Nun abused  by Eric Quintin & Marie-Pierre Raimbault
Ggipsy-queen, Hüseyin Tabak
A single Roma mother immigrating to Germany fights in life and in the ring for her dignity…
A moving film, carried by the dazzling Romanian actress Alina Serban, who has since been attacked by the neo-fascists in her country
FILM
Le-refuge-du-dernier-president, Jan Josef Liefers:
Shortly after the fall of the Wall, the last leader of the GDR, Erich Honecker, takes refuge with his wife in the home of a pastor and his family, who have been severely affected by the communist regime…
An astonishing closed-door film inspired by little-known true events.
La vie invisible d'Euridice Gusmao, by Karim Aïnouz
In Brazil in the 1950s, a macho father stands between his two daughters. Spanning several decades, a feminist melo as sensitive as it is technically masterful. "Un certain regard" prize at the 2019 Cannes Film Festival.
Winter Sleep, Nuri Bilge Ceylan
ARTE SERIES
Kim Kong, new series: created by Simon Jablonka & Alexis Le Sec, directed by Stephen Cafiero
Sacha, Léa Fazer
Felix Moeller : la-propagande-antisemite
Scenes-de-la-vie-conjugale, by Ingmar Bergman
Les rêves brisés de l'entre deux guerres
ARTE DOCUMENTARY
Robert-Mitchum-le-mauvais-garcon-d-hollywood,  Stéphane Benhamou
Lee Miller, Teresa Griffiths
Le Drame Ouïghour, François Reinhardt
Best movies & series as from March 16th on 

Netflix
Winters on fire, Evgeny Afineevsky, about Ukranian resistance, now.
Adam Project, Shawn Levy, now.
Drôle, Fanny Herrero, on March 18th
Bridgerton saison 2, by Shonda Rhimes, on March 25.
Bubble, Tetsuro Araki, on April 28.
Best movies & series as from 

March 16th 

on 

Prime Video
Upload saison 2, Greg Daniels, now.
Deep Water, Adrian Lyne, avec Ben Affleck, Ana de Armas, Tracy Letts, on March 18th
Master, Mariama Diallo, on March 18.
All the old knives, Janus Metz Pedersen, April 8th
The Lord of the rings, Juan Antonio Bayona, September 2nd.
Best movies & series as from 

March 16th 

on Canal+
Pagan Peak, now, Cyrill Boss & Philipp Stennert.
Kamikaze, by Didier Grousset, on March 16th.
The Tower
Best movies & 

series

 as from 

March 16th on Apple TV
WeCrashed, series created by Lee Eisenberg & Drew Crevello inspired by the podcast WeCrashed : The Rise and Fall of WeWork de Wondery. 
With Jared Leto (Adam Neumann), Anne Hathaway (Rebekah Neumann).
On March 18th.
Tehran season 2, by Moshe Zonder Omri Shenhar, May 6th.
By Daniel Syrkin with Glenn Close
They Call Me Magic, Rick Famuyiwa.
The real story of a legend. This four-part documentary event offers an intimate look at the life and legacy of Earvin "Magic" Johnson, premiering April 22. 
Pachinko 
Based on the New York Times bestseller, Pachinko is a sweeping saga that chronicles the hopes and dreams of a Korean immigrant family across four generations. Starring Academy Award-winner Yuh-Jung Youn, Lee Minho, Jin Ha, and Minha Kim, Pachinko premieres March 25,
Pachinko is written and executive produced by Soo Hugh ("The Terror," "The Killing"), who created the series and serves as showrunner.
The Last Days of Ptolemy Grey, by Ramin Bahrani, with  Samuel L. Jackson, now.
The Shining Girls, series by Silka Luisa with Elisabeth Moss (Kirby), Phillipa Soo (Jin-Sook), as from April 29th.
Best movies & series as from 

March 16th

 

on Disney Plus
Dans les yeux de Tammy Faye, Michael Showalter, on March 23rd.
Moon Knight, de Jeremy Slater avec Oscar Isaac (Marc Spector / Moon Knight), May El Calamawy, on March 30th.
Better Nate than never,  on April 1st, by Tim Federle.
With Aria Brooks, Joshua Bassett, Michelle Federer,  Rueby Wood as Nate, Norbert Leo Butz & Lisa Kudrow.
How I met your father, series by Isaac Aptaker & Elizabeth Berger, postponed in May.
Para/llèles, on March 23rd
Parallèles tells the story of four friends – Bilal, Romane, Samuel and Victor, whose lives are turned upside down when a mysterious event separates them and propels them into parallel dimensions. They will do everything in their power to understand what happened. And try to go back to their world "before".
Created by Quoc Dang Tran (Dix pour cent, Marianne), co-written by Anastasia Heinzl (Au-delà des apparences) and directed by Benjamin Rocher and Jean-Baptiste Saurel with Thomas Chomel.
Obi-Wan Kenobi, on May 25th.
Mrs Marvel, on June 8th
Best movies & series as from 

March 16th 

on Starzplay
Gaslit, TV series by Robbie Pickering with Julia Roberts (Martha Mitchell), Sean Penn (John Mitchell).
On April 24th