What to watch during the holidays
Your new films & series
In theaters & on your platforms
News on movies and series
Canal+ signed an agreement with the film industry on Thursday. This agreement will shorten the time between the release of films in theaters and their broadcast on the encrypted channel, then on the platforms.
French cinema does not represent society. Characters perceived as "non-white" are in a very small minority in French films, according to a study by the 50/50 collective  unveiled Monday, December 6. This is a rare initiative to quantify the phenomenon.
Festivals​
The Créteil Women's Film Festival: send your film. The 44th edition will take place from March 11 to 20, 2022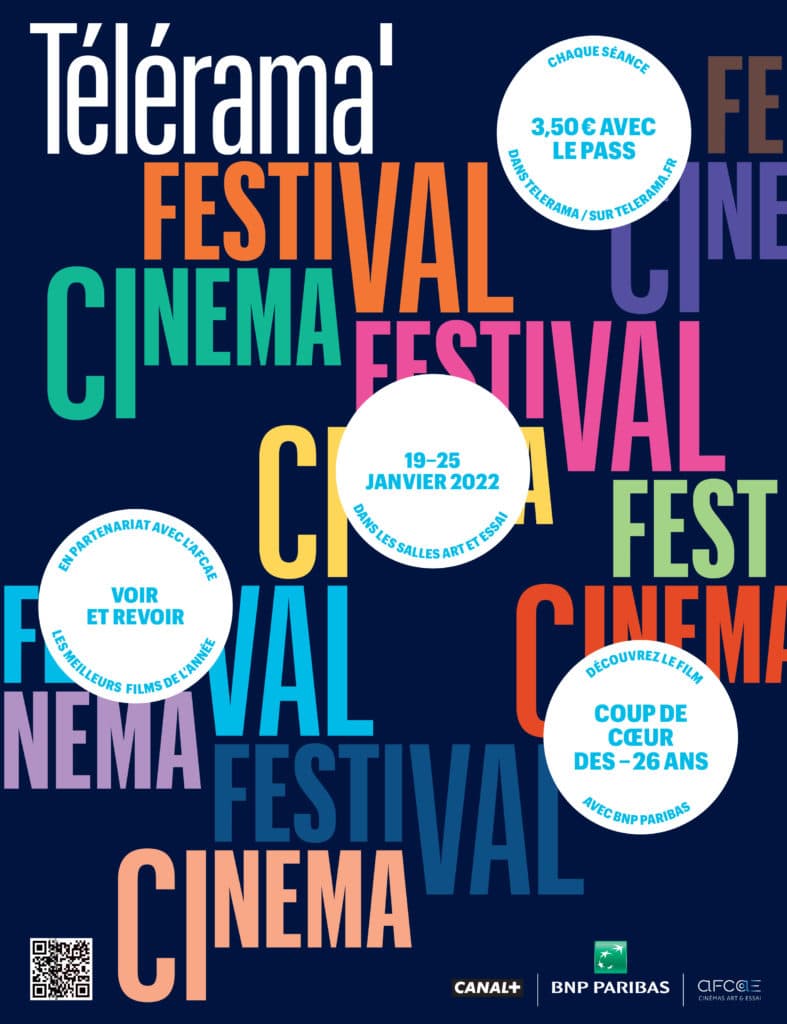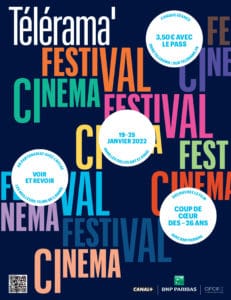 FESTIVAL
From January 19 to 25, 2022 will be held the 24th edition of the Télérama Film Festival, in 450 cinemas throughout France.
With the Télérama pass, which will be found in Télérama and on Télérama.fr readers will be able to see or review 15 films of the year 2021, chosen by the Télérama editorial team – with the support of Afcae, a long-standing partner – as well as a film chosen by the under-26s, supported by BNP Paribas. And for €3.50 each, thanks to the pass valid for 2 people.
THE 15 FILMS OF THE YEAR 2021 :
Annette
Drive my car
Julie (en douze chapitres)
First Cow
La loi de Téhéran
Compartiment n°6
Le diable n'existe pas
Madres Paralelas
Aline
Le sommet des Dieux
Illusions perdues
La fracture
Nomadland
Indes galantes
Les Olympiades
ALL YOU WANT TO KNOW ABOUT CURRENT FILMS & SERIES
IN THEATERS AND AT HOME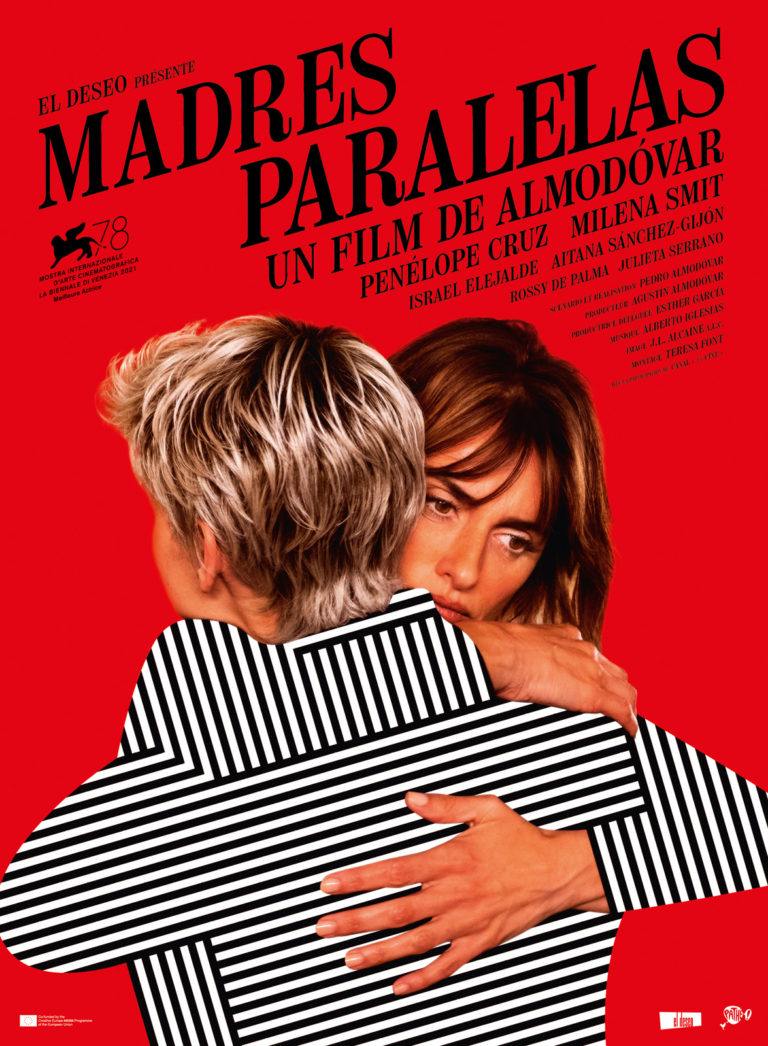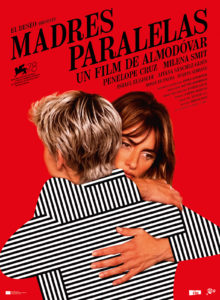 Madres Paralelas, by Pedro Almodovar
Synopsis
Two women, Janis and Ana, meet in a hospital room about to give birth. They are both single and have become pregnant by accident. Janis, a middle-aged woman, has no regrets and in the hours leading up to the birth, she is deliriously happy.
Ana, on the other hand, is a frightened, remorseful and traumatized teenager.
Janis tries to cheer her up as they sleepwalk down the hospital hallway. The few words they exchange during these hours will create a very close bond between them, which chance will complicate in a way that will change both of their lives.
The film
Each film directed by Pedro Almodovar is a rendez-vous. We were longing for Madres Paralelas. 
I loved his last film "Pain & Glory", which was almost autobiographical. This time, the director has returned to his favorite themes, the mother character, the mother-daughter relationship.  But not only.
In Madres Paralelas, the story of two mothers, one young, one older, is the pretext for telling the story of the Spanish war and the resistance to Franco murdered by the thousands during the war and thrown into mass graves.
Thus Janis (Penelope Cruz), a photographer meets Arturo Buendia, an anthropologist, during a shooting. As she takes his portrait, she asks him for help to give her parents' village a proper burial and to ,. And the story follows its course…
It was not easy to mix these two stories and inevitably one takes precedence over the other, which gives an impression of frustration in both cases. But the film is beautiful, the actresses, the music, by Alberto Iglesias (Pedro Almodovar's faithful composer), and the sumptuous settings captivate us throughout the film.
The talent of Penelope Cruz is everywhere.  The actress, in total harmony with her favorite director, received the Volpi Cup for the best female performance at the Venice Film Festival this year.
Currently in theaters.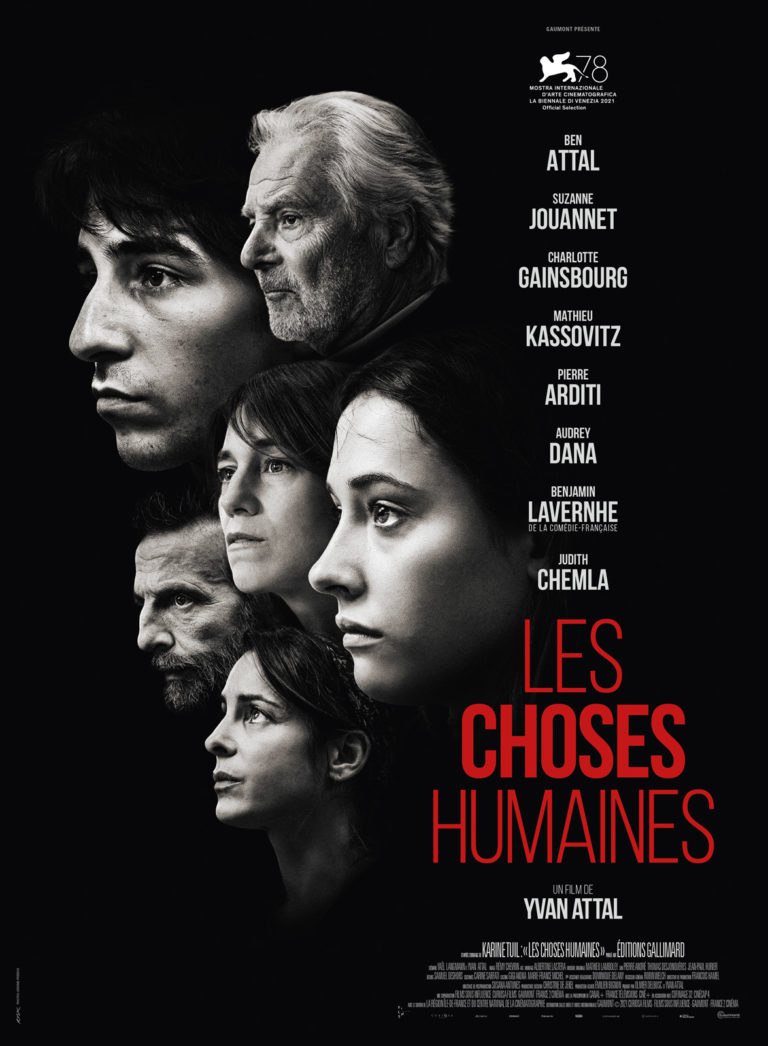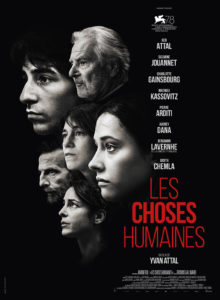 Les choses humaines, by Yvan Attal
Synopsis
A young man is accused of raping a young woman. Who are they? Is he guilty? And is she a victim or does she want revenge? Is the truth unique?
The  film
Yvan Attal wanted to ask the question of guilt during a rape. But is it because he was directing his son (?), he completely missed the point.
Rape is a crime that neither a family, religious or social context excuses.
But this film is a plea for men, who would be victims of the "Me too" movement, condemned before they act, and who, in order for women to be heard, are now obliged to remain silent.
Such is the plea of Alexandre's lawyer (Ben Attal), Maître Célerier played by the excellent Benjamin Lavernhe. There are two versions. Who is right, who is wrong, no one knows, so we can't condemn an innocent man. Except. Except that the victim is destroyed for life, sees a psychologist, and the evidence is overwhelming. 
Jean (Pierre Arditi), Claire's (Charlotte Gainsbourg) ex-husband plays the role of a sexual predator. Claire and Jean are the parents of Alexandre, a brilliant young man in Paris who is studying at Stanford and who will commit the irreparable.
Adam (Mathieu Kassovitz), a traditionalist Jew, is Claire's new partner, with whom she lives. And Mila, Adam's daughter, is raped by Alexandre, Claire's son, a liberal Jew.
Yvan Attal confronts Orthodox Judaism and liberal Judaism in this film, as if this education explains why a girl would be more prone to rape because, in view of her education, she gets laid less than girls who would be part of liberal Judaism and more "delirious. 
Moreover, Mila (great Suzanne Jouannet) did not say "no". That famous "no" that is thrown at the victim. Why is no one surprised that she doesn't say "yes"?
The point of the film is therefore "stop bothering us with your "me too" movement", the men have excuses. 
Well, no, they don't and they never have. 
Even if the victim didn't say "no" or didn't move. She may well have been paralyzed by fear.
To this negative film I would oppose the very great film "The Accused" by Jonathan Kaplan where the victim, played by Jodie Foster, raped by several men could not say no. 
It is not a question of saying no but of respecting the integrity and the body of the other, of women, men and children.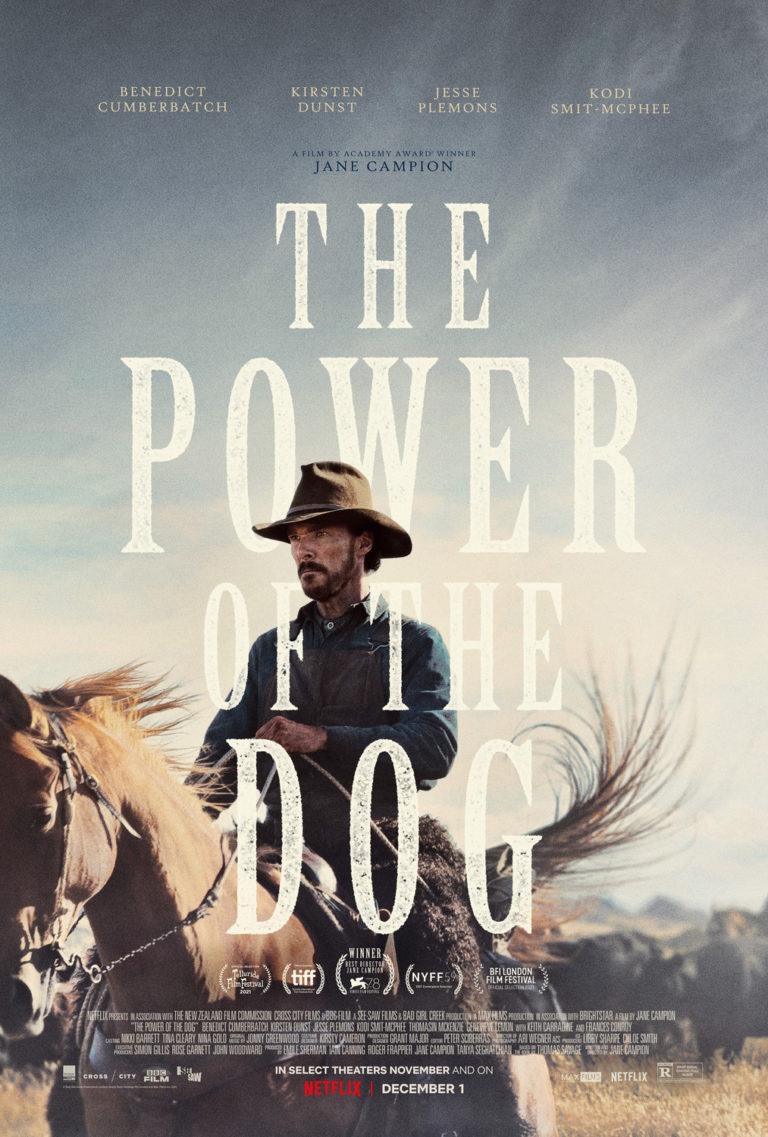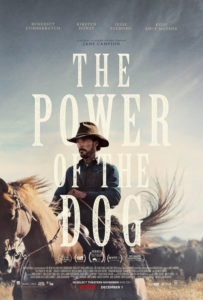 The Power of the dog, by Jane Campion
Synopsis
Montana, 1925. Cold and cruel, Phil is the head of a ranch with his brother George, whom he does not hesitate to humiliate in order to display his virility and establish his authority. But when George decides to secretly marry Rose, a young widow, everything falls apart. Forced to live with her and her son Peter, a boy too sensitive for his taste, Phil tries to regain power by all means.
The film
This film earned Jane Campion the Silver Lion for best director at the Venice Film Festival and if all goes well, an Oscar in Hollywood, an Oscar for Netflix.
By adapting the book by Thomas Savage, the director tackles the western and puts a man at the heart of the story for the first time with the great Benedict Cumberbatch, in his most beautiful part and the great Jesse Plemons.
We will soon see the sublime Kodi Smit-McPhee. Kirsten Dunst is also incomparable.
This extraordinary story where the carnal contact with the land, the determination of the characters, and their love will leave you speechless.
There is nothing I can criticize. My only regret is that I did not see it in theaters.
A must-see!
NOW ON NETFLIX
2. 

TO WATCH DURING THE HOLIDAYS
Today, December 8th
West Side Story, by Steven Spielberg
Au coeur du bois, by Claus Drexel
Where is Anne Frank !  by  Ari Folman
Les amants sacrifiés, by Kiyoshi Kurosawa
Kobe, 1941. Yusaku et sa femme Satoko vivent comme un couple moderne et épanoui, loin de la tension grandissante entre le Japon et l'Occident. Mais après un voyage en Mandchourie, Yusaku commence à agir étrangement… Au point d'attirer les soupçons de sa femme et des autorités. Que leur cache-t-il ? Et jusqu'où Satoko est-elle prête à aller pour le savoir ?
Une femme du monde, by Cécile Ducrocq 
In Strasbourg, Marie has been a prostitute for 20 years. She has her own sidewalk, her regulars, her freedom. And a son, Adrien, 17 years old. To ensure her son's future, Marie wants to pay for his education. She needs money, fast.
With Laure Calamy, Nissim Renard, Béatrice Facquer, Maxence Tual, Romain Brau
Lingui, by Mahamat-Saleh Haroun
On the outskirts of N'djaména in Chad, Amina lives alone with her only 15-year-old daughter Maria. Her already fragile world collapses the day she discovers that her daughter is pregnant. The teenager does not want this pregnancy. In a country where abortion is not only condemned by religion, but also by law, Amina finds herself facing a battle that seems lost in advance…
And Just Like That (Sex and The City), on December 10 on Salto
Later (and we are looking forward to it): 
Spider-man: no way home, by Jon Watts, on December 15
With J.K. Simmons, Tom Holland, Benedict Cumberbatch, Jon Favreau, Tom Hardy, Willem Dafoe, Zendaya, Jamie Fox
 After the events related to the confrontation with Mysterio, Spider-Man's secret identity was revealed. He has also become a fugitive wanted by the government, which accuses him of the murder of Mysterio. Peter Parker asks Doctor Strange to cast a spell so that everyone will forget that he is Spider-Man. But things don't go as planned, as this action has "altered the stability of space-time", plunging the antagonists into the "multiverse", a terrifying concept they know almost nothing about.
TILO KOTO, by Valérie Malek & Sophie Bachelier, on December 15
The recently awarded documentary "Tilo Koto" sheds light on these migrants whose dream of Europe is stranded on the Libyan coast. One of them, Yancouba Badji, embodies this terrible story that he sublimates with his painting.
During the festive holidays
The Matrix Resurrections, by Lana Wachowski, on December 22
The Card Counter, on December 29, by Paul Schrader
In January 
TWIST À BAMAKO, by Robert Guédiguian
Station Eleven, by Mackenzie Davis.
Station Eleven is an upcoming sci-fi miniseries based on the 2014 novel of the same name by Emily St. John Mandel that is scheduled to air on HBO Max on December 16.
Jurassic World: le monde d'après : prologue by Colin Trevorrow avec Chris Pratt, Bryce Dallas Howard, Jeff Goldblum…
L'amour c'est mieux que la vie, by Claude Lelouch on January 19th
Spider-man: no way home, by Jon Watts
Marry me is an American romantic comedy directed by Kat Coiro, with a script by John Rogers, Tami Sagher and Harper Dill, based on the graphic novel of the same name by Bobby Crosby. The film will star Jennifer Lopez, Owen Wilson, Maluma, John Bradley and Sarah Silverman.
Batman, by Matt Reeves. With Robert Pattinson et Zoe Kravitz.
Une jeune fille qui va bien, first movie directed by Sandrine Kiberlain, with Rebecca Marder, Anthony Bajon, Sandrine Kiberlain
Moonfall, by Roland Emmerich.
Licorice Pizza, in January, by Paul Thomas Anderson.
In the San Fernando Valley in the 1970s, various characters cross paths: a young successful high school actor (Cooper Hoffman), politician Joel Wachs running for office (Benny Safdie) and an old school producer and filmmaker (Bradley Cooper).
Lightyear, by Angus MacLane. (2022)
Landscapers, by Ed Sinclair, with Olivia Colman et David Thewlis, on December 6th on HBO
Elvis, by Baz Luhrmann.
Downtown Abbey, a new era, by Simon Curtis.
WEEKLY TIPS & OPINIONS
FROM 

PROFESSIONALS

 WRITERS, SCREENWRITERS,
DIRECTORS, COMPOSERS…
"1917": Scene By Scene Breakdown. The practice of reading scripts is… | by Scott Myers | Nov, 2021 |
One Way to Get Your Foot in the Door in the Movie and TV Business | by Scott Myers | Nov, 2021 | Go
Tweetstorm: Ed Zwick on Screenwriting | by Scott Myers | Dec, 2021 | Go Into The Story
Writing and the Creative Life: "In great attempts, it is glorious even to fail" | by Scott Myers | N
4. AT HOME ON TV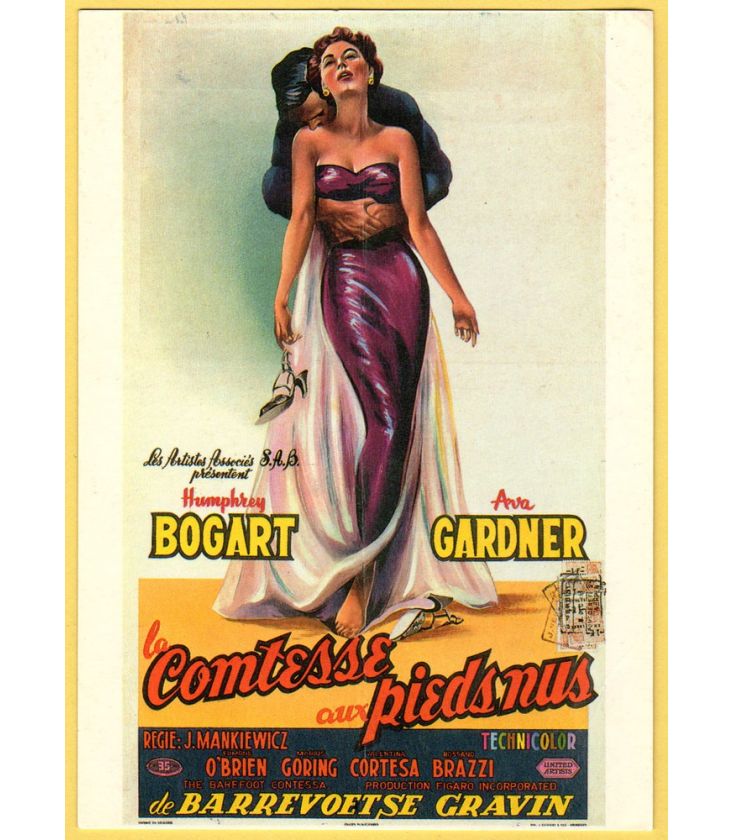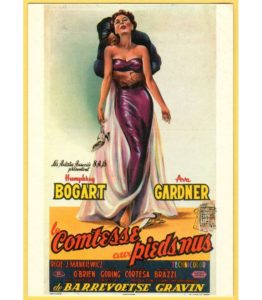 Mercredi- Wednesday
Arte : La ritournelle de Marc Fitoussi
During a trip to Paris, the whimsical wife of a Norman farmer puts her couple's routine to the test… A bittersweet comedy based on a subtly tuned duo: Isabelle Huppert and Jean-Pierre Darroussin.
CStar : O'Brother des Frères Coen
Jeudi – Thursday
Canal Plus : American rust
Arte : Nona et ses filles de Valérie Donzelli
A feminist activist (Miou-Miou), mother of triplets and head of the family planning organization, becomes pregnant at 70. Valérie Donzelli's first series, a joyful and whimsical tale of motherhood and female torment.
France 3 : Midway
Vendredi – Friday
Arte : Paris Brest de Philippe Lioret avec Anthony Bajon (Colin) et Catherine Arditi (Manou)
Le retour douloureux de Colin à Brest, au sein de la famille qu'il a tenté de fuir… Philippe Lioret ("Welcome") signe une adaptation inspirée du roman de Tanguy Viel. Entouré de Catherine Arditi, Kevin Azaïs et Gilles Cohen, le jeune Anthony Bajon insuffle au personnage sa douce mélancolie.
Samedi – Saturday
Arte : Un jour au Moyen Age en 1218 de Sigrun Laste et Arne Peisker
Dimanche – Sunday
TF1 : L'ascension de Skywalker
Arte : la comtesse aux pieds nus de Joseph L. Mankiewicz
W9 : Ghost in the shell
6Ter : À propos d'Henry
Lundi – Monday
France 5 : Harry, un ami qui vous veut du bien
M6 : La La land
Arte : L'héritière de William Wyler
Un père s'oppose au mariage de sa fille, persuadé que son prétendant n'en veut qu'à sa fortune… Avec Olivia de Havilland et Montgomery Clift, un drame psychologique élégant et cruel réalisé en 1949 par William Wyler ("Ben-Hur", "Vacances romaines").
TMC: Harry Potter et le Prisonnier d'Azkaban
Mardi – Tuesday
Canal Plus : The Last Son
Arte : Les bourreaux de Staline de Cédric Tourbe
Mercredi- Wednesday
Arte : La douleur
https://www.arte.tv/fr/videos/100180-000-A/la-douleur/ Emmanuel Finkiel
TFX : Jurassic Park 3
5.
AT HOME, 

ON YOUR PLATFORMS
TO WATCH DURING THE HOLIDAYS
ARTE
FILM
Gens-de-dublin by John Huston
Dublin, January 1904. Aunt Kate and Aunt Julia give their ritual Epiphany party… With his daughter Anjelica in the lead role, John Huston's latest film, adapted from a short story by James Joyce, is a moving meditation on time and death.
L-espion-de-la-derniere-chance, by Werner Klingler
Apocalypse Now Final Cut, by Francis Ford Coppola
Dogman, by Matteo Garrone.
Parole-donnee ,Brazilian drama film directed by Anselmo Duarte, released in 1962, and adapted from the eponymous play by Alfredo Dias Gomes.
The life of an unremarkable mother is turned upside down by her role as a juror in an infanticide trial that radically changes her view of motherhood. A Japanese series as hard as it is poignant, illuminating the blind spots of a patriarchal society corseted by convention.
Lust-caution, by Ang Lee with Tony Leung
SERIES
After being filmed without his knowledge while virulently criticizing the government corrupted by a corrupt elite, an honest history professor becomes president of Ukraine against all odds. Between reality and fiction, there is only one step! Because in 2019, the main actor of the series, Volodymyr Zelensky, becomes in turn the new Ukrainian President.
A cult political series created by Adam Price, Borgen follows the struggle of an ambitious politician, Birgit Nyborg (Sidse Babett Knudsen), to gain and keep power. A dive into the cannibal world of Danish politics alongside a female character of incredible strength and tenacity. Replay in full on arte.tv until October 31, 2022.
A summit of black humor, each episode having its own plot but always marked by the presence of the number 9… Unpublished in France, an acidic series like an afternoon tea gone wrong, rewarded by a string of awards and which made a hit of audience in the UK.
DOCUMENTARY
Olivia-de-havilland-l-insoumise de Daphné Baiwir
Augusta-victoria-derniere-imperatrice-d-allemagne de Annette von der Heyde
Israel-le-sud/ de Michael Gärtner
Israel-le-nord/ de Michael Gärtner
Josephine-baker-premiere-icone-noire Ilana Navaro
Jessye-norman-et-kathleen-battle-chantent-des-spirituals
Conversation-avec-julia-ducournau-autour-du-film-titane
Hanna-schygulla-une-egerie-libre
Guerre-du-donbass-le-drame-ukrainien-1-2 by Claire Walding
Abba-forever, by Chris Hunt
Née-a-auschwitz by Eszter Cseke
L'identite-juive-au-miroir-de-l-art   by Marina Farschid
Kreatur: le magazine des combats féministes
Santé : les femmes sont-elles discriminées ?
Claudia Cardinale de Emmanuelle Nobecourt
La Cinémathèque Française
TO WATCH DURING THE HOLIDAYS
NETFLIX
A castle for Christmas, by Mary Lambert, with Brooke Shield.
THE HAND OF GOD, from December 15
Oscar-winning writer-director Paolo Sorrentino (Il Divo, La grande bellezza, The Young Pope) tells the story of a boy, Fabietto Schisa, in the tumultuous Naples of the 1980s.
The Hand of God contains many unexpected joys, such as the arrival of soccer legend Diego Maradona, but also a tragedy… just as unexpected. Fate plays its part, joy and pain intermingle as Fabietto's future takes shape. Sorrentino returns to his hometown to film his most intimate story, a fable about fate and family, sport and cinema, love and loss.
Emily in Paris season 2, on December 22nd
The Silent Sea, de Choi Hang-yong, on December 24
The Lost Daughter, on December 31st
Written & directed by Maggie Gyllenhaal, with Olivia Colman, Jessie Buckley, Dakota Johnson, Ed Harris, Peter Sarsgaard, Dagmara Dominczyk & Paul Mescal.
Don't Look up, by Adam McKay, on December 24
Ozark,season 4  (January 21, 2022)
Stranger Things, season 4
Inventing Anna, by Shonda Rhimes
TO WATCH DURING THE HOLIDAYS
 Prime Video
Mrs Maisel season 4, by Amy Sherman-Palladino
Encounter by: Michael Pearce, Written by: Joe Barton, Michael Pearce
Starring : Riz Ahmed, Octavia Spencer, Rory Cochrane, Lucian-River Chauhan and Aditya Geddada
Rooney, by Matt Smith
Being the Ricardos, by Aaron Sorkin, with Nicole Kidman,  Javier Bardem & JK Simmons, on December 21.
Lucille Ball (Nicole Kidman) and Desi Arnaz (Javier Bardem) are threatened by shocking personal accusations, a political smear and cultural taboos in.
A revealing glimpse of the couple's complex romantic and professional relationship, the film takes audiences into the writers' room, onto the soundstage and behind closed doors with Ball and Arnaz during one critical production week of their groundbreaking sitcom "I Love Lucy.
Spencer, by Pablo Larrain – On January 17th
TO WATCH DURING THE HOLIDAYS
 Canal+
City of Lies, December 7, by Brad Furman
Alex Rider, season 2, on December 14, by Anthony Horowitz
This is Us, season 6
TO WATCH DURING THE HOLIDAYS
Starzplay
Doctor Death, by Patrick Macmanus with Joshua Jackson, Alec Baldwin & Christian Slater,now
BMF, now
TO WATCH DURING THE HOLIDAYS
Apple TV
Swan Song, by Benjamin Cleay on December 17
The Tragedy of Lady MacBeth, by Joel Coen on December 25.
TO WATCH DURING THE HOLIDAYS
DISNEY PLUS
The Big Leap, now.
This is a drama series about second chances, chasing your dreams and claiming your place. The series follows a motley crew of rather unlucky characters as they attempt to turn their lives around by participating in a reality dance show that may instead ruin them.
With Scott Foley, Simone Recasner, Ser'Darius Blain, Jon Rudnitsky, Raymond Cham Jr, Mallory Jansen
By: Liz Heldens
The Beatles get back, by Peter Jackson
The Book of Boba Fett, by Dave Filoni et Jon Favreau, on December 29
And The Mandalorian season 3, by Jon Favreau
Encanto by Byron Howard, Jared Bush & Charise Castro Smith.
Para/llèles
Parallèles tells the story of four friends – Bilal, Romane, Samuel and Victor, whose lives are turned upside down when a mysterious event separates them and propels them into parallel dimensions. They will do everything in their power to understand what happened. And try to go back to their world "before".
Created by Quoc Dang Tran (Dix pour cent, Marianne), co-written by Anastasia Heinzl (Au-delà des apparences) and directed by Benjamin Rocher and Jean-Baptiste Saurel with Thomas Chomel.