Ladies night, by Claus Drexel, screened at The Champs Elysées Film Festival.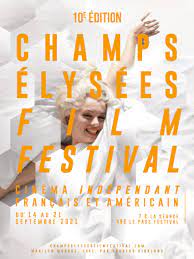 Synopsis
Once upon a time, there was a wood surrounded by the city. This wood was once a forest, but who remembers?
Today, circulating in its veins, strange people trade their bodies there.
They who have become Them, tell us about their life in the wood.
The film
"Ladies Night deals with prostitution in the Bois de Boulogne through the theme of a tale.
Both beautiful and disturbing, this fifth film by Claus Drexel, served by a sublime image of the Bois de Boulogne directed by Sylvain Leser, is a collection of testimonies that are often very hard but always very lucid about their work.
If the film makes a statement, that of the catastrophic economic situation of prostitutes today, we become aware of the difficult, if not impossible, situation of transgender people, often rejected in their work, or by their families, who find themselves subjected to prostitution.
We also question the very nature of prostitution. Indeed, more and more clients ask for services that refer to pedophilia and prostitutes, they say, are doing a service to society because these men would otherwise rape little girls.
These reflections heard from the prostitutes who came to testify at the film's release and who declare that they have no regrets, make us aware of a terrible phenomenon: the increase of pedocriminality.
These women do not say they are exploited because they are autonomous and yet live, unfortunately, on the fringe of any social or economic protection.
They all agree that the penalization of clients by socialist feminists is a catastrophe. It has created misery among prostitutes because clients now set their own prices. But they affirm that they found in prostitution real human relations and recognition, which they had never known before. How do we have value in the eyes of others? Who values us? Who loves us?
All these stories, some poignant, others almost funny, make us discover a world that is all but ignored by the prism of morality or voyeurism. The sublime images of the wood filmed during all the seasons are pauses between two testimonies.
But we must not forget that without patriarchy, there is no prostitution.
Released in theaters on December 8.