Current films and series to watch and to stream..
On the bilingual Movieintheair blog, I do for you a press review every Wednesday and keep the best of national and international audiovisual news.
What to watch this week ?

I watched for you these current films and series
ENTERTAINMENT NEWS
At Séries Mania, the OCS series "Jeune et Golri" (The Film TV, 6Bony) was distinguished in the French competition, which also rewarded Ariane Lebed ("L'Opéra") and Daniel Njo Lobé ("Le Code"). In the international series category, "Blackport", an Icelandic series, was crowned best series.
All the series:
First pictures of  Une femme du monde, which premiere at the  Deauville American Film Festival.
Directed by Cécile Ducrocq, withLaure Calamy et Nissim Renard.
Moonfall , the new film by Roland Emmerich (Independence Day, 2012, Midway...) In theaters on February 9, 2022.
Synopsis:
A mysterious force has propelled the Moon out of its orbit and is hurtling towards the Earth. The impact will take place in a few weeks, involving the annihilation of all life on our planet.
Jo Fowler (Halle Berry), a former astronaut who works for NASA, is convinced that she has the solution to save us all, but only two people believe her: an astronaut she once knew, Brian Harper (Patrick Wilson), and a conspiracy theorist, K.C. Houseman (John Bradley).
These three unlikely heroes will attempt an impossible mission into space… and discover that our Moon is not what we think it is.
With HALLE BERRY, PATRICK WILSON, JOHN BRADLEY, MICHAEL PEÑA, CHARLIE PLUMMER, KELLY YU & DONALD SUTHERLAND.
A Son of the South
Produced by Spike Lee.
Written and directed by Barry Alexander Brown based on Bob Zellner's autobiography "The Wrong Side of Murder Creek" is screening at the Deauville Film Festival today. Theatrical release date not given.
Synopsis:
In 1961, Bob Zellner, the grandson of a Ku Klux Klan member from Montgomery, Alabama, is confronted with the endemic racism of his own culture.
Influenced by the thoughts of the Reverend Martin Luther King Jr. and Rosa Parks, he defied his family and Southern norms to take up the fight for civil rights in the United States.
FESTIVALS
The 32nd edition of the Dinard British Film Festival, which will take place from September 29 to October 3, 2021, is revealed with part of the jury and 54 films selected.
FESTIVAL  DU FILM AMERICAIN DE DEAUVILLE: 3rd to 12 September
FESTIVAL DE LA FICTION TV DE LA ROCHELLE FROM SEPTEMBER 14 TO SEPTEMBER 19
CHAMPS ÉLYSEES FILM FESTIVAL FROM SEPTEMBER 14 TO SEPTEMBER 21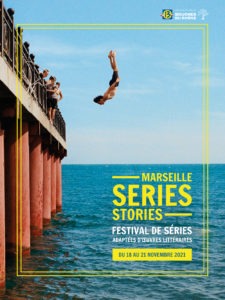 The second edition of Marseille Series Stories, the first festival of series adapted from literary works, will be held from November 18 to 21, 2021.
TRIBUTE TO  
JEAN-PAUL BELMONDO
By Arte : Blow-up
MICHAEL KENNETH  WILLIAMS
MIKIS THEODORAKIS
Mikis Theodorakis, composer of the score of « Zorba le Grec ».
NINO CASTELNUOVO
ALL YOU WANT TO KNOW ABOUT CURRENT FILMS & SERIES
IN THEATERS AND AT HOME
REVIEWS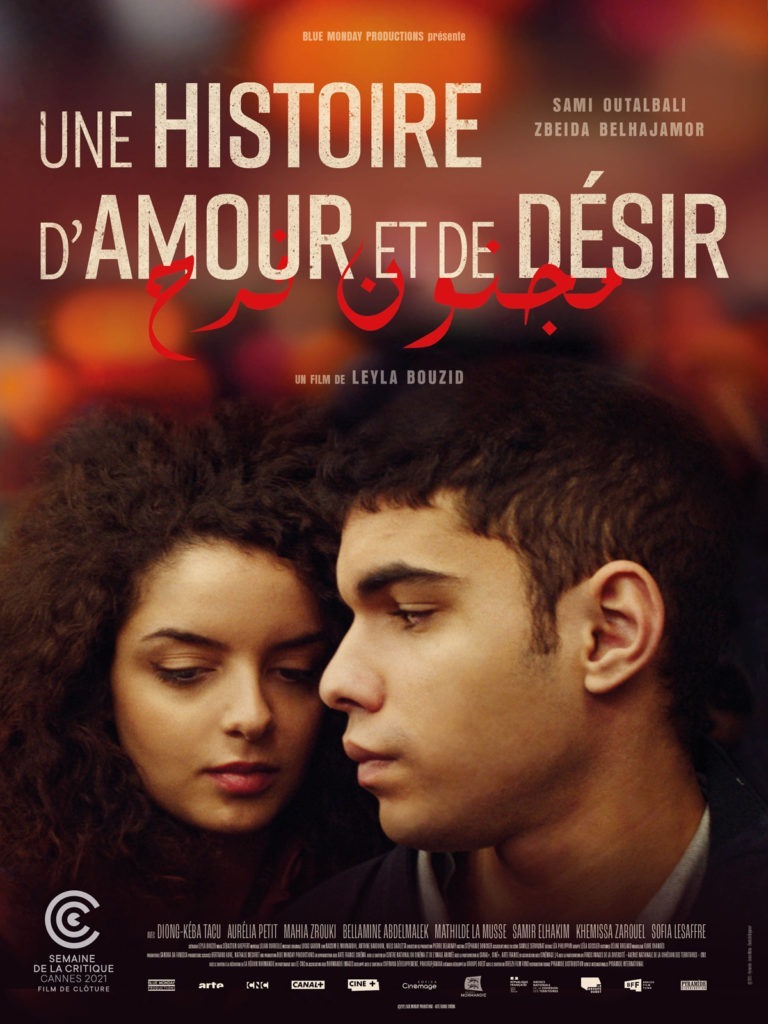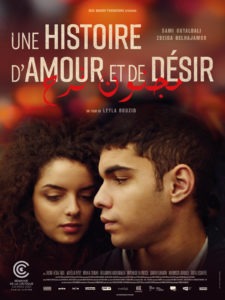 Une histoire d'amour et de désir, by Leyla Bouzid
Synopsis
Ahmed, 18 years old, is French of Algerian origin. He grew up in the Parisian suburbs. On the benches of the university, he meets Farah, a young Tunisian woman full of energy freshly arrived from Tunis. While discovering a body of sensual and erotic Arabic literature that he did not know existed, Ahmed falls very much in love with this girl, and although literally overwhelmed by the desire, he will try to resist it.
The film
The first scene is a scene of naked body. Does Ahmed accept his body? Does he accept his desires? Is water synonymous of purification?
The desire is free in Farah, it is expressed, whereas in Ahmed, it is blocked. As a spectator, we try to understand. Is it a question of shyness on the part of the young man, of the fear of the "when will they say it" very present in the city where he lives, or is it guilt linked to his religion? Can one make love before being married?
Ahmed and Farah, both enrolled in Arabic poetry classes, discover Arabic erotic literature, The Perfumed Prairie by Sheikh Nafzaoui (15th century), One Thousand and One Nights, excerpts from The Song of Ardent Desire by Ibn Arabi (12th century) or The Fool of Leyla (8th century).
Ahmed is embarrassed by this discovery while Farah is delighted. The prohibitions that Ahmed imposes on himself are however rejected by his father, an unemployed former journalist who fled Algeria and its dictatorial regime.
All the problems of youth are tackled here, the freedom of young women today, the integration in college, the machismo that reigns in the cities and the social divisions in Paris. We see it clearly when Ahmed and his friend Saidou are helping people to move on weekends.
For his love relationship to work, Ahmed must open himself to the world and beyond sex, it is also about freedom of thought and freedom of action.
Culture and religion are at the heart of this film which won the Golden Valois at the Angoulême Francophone Film Festival.
Currently in theaters.
With Sami Outalbali, Zbeida Belhajamor, and Diong-Kéba Tacu.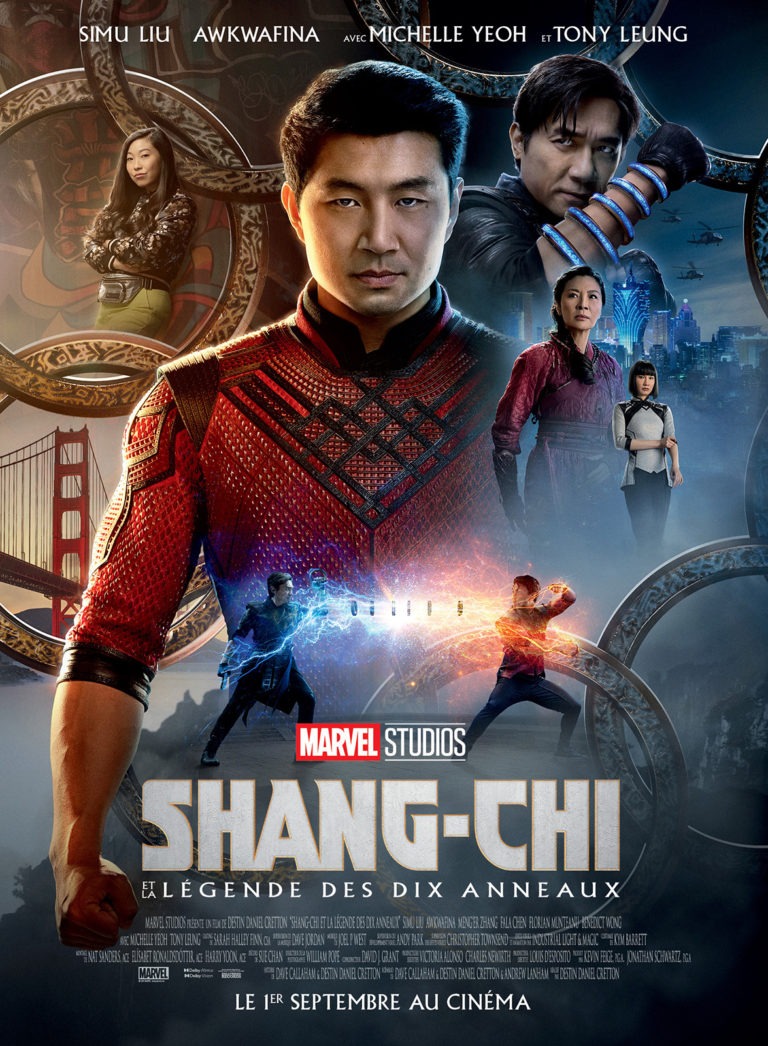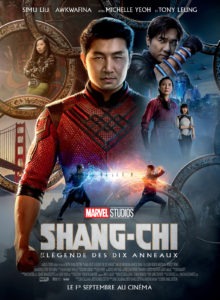 Shang-Chi and the Legend of the Ten Rings, 
by
Destin Daniel Cretton 
Synopsis
While he has left his father in China, heir to the ten rings with the powers of absolute conquest, to make himself forgotten in the United States, men suddenly attack him to steal his medallion.
The film
It is a film adaptation of the character of Shang-Chi, from the Marvel Comics, created in the 1970s by the writer Steve Englehart and the artists Al Milgrom and Jim Starlin.
Twenty-fifth film in the Marvel Cinematic Universe and second in Phase IV, it stars Simu Liu as the main character and Tony Leung as the Mandarin.
In the classic Marvel register, Shang Chi mixes genres, alternating scenes of kung-fu with comical dialogues between Katy (Akwafina cf The Farewell) and Shang-Chi.
The best fighters find strength in the mastery of their inner, physical and emotional balance.
And the settings, the beauty of the landscapes, the poetry and the mysticism of this story contribute to the charm of this Marvel, moving at times, because finally it is a family story.
The cast is perfect, composed of Tony Leung (the magnificent hero of Wong Kar Waï's In the Mood for Love), Simu Liu, Akawafina, and Fala Chen.
If you like dragons, magic and laughter, go ahead and stay until the end of the credits.
Currently in theaters.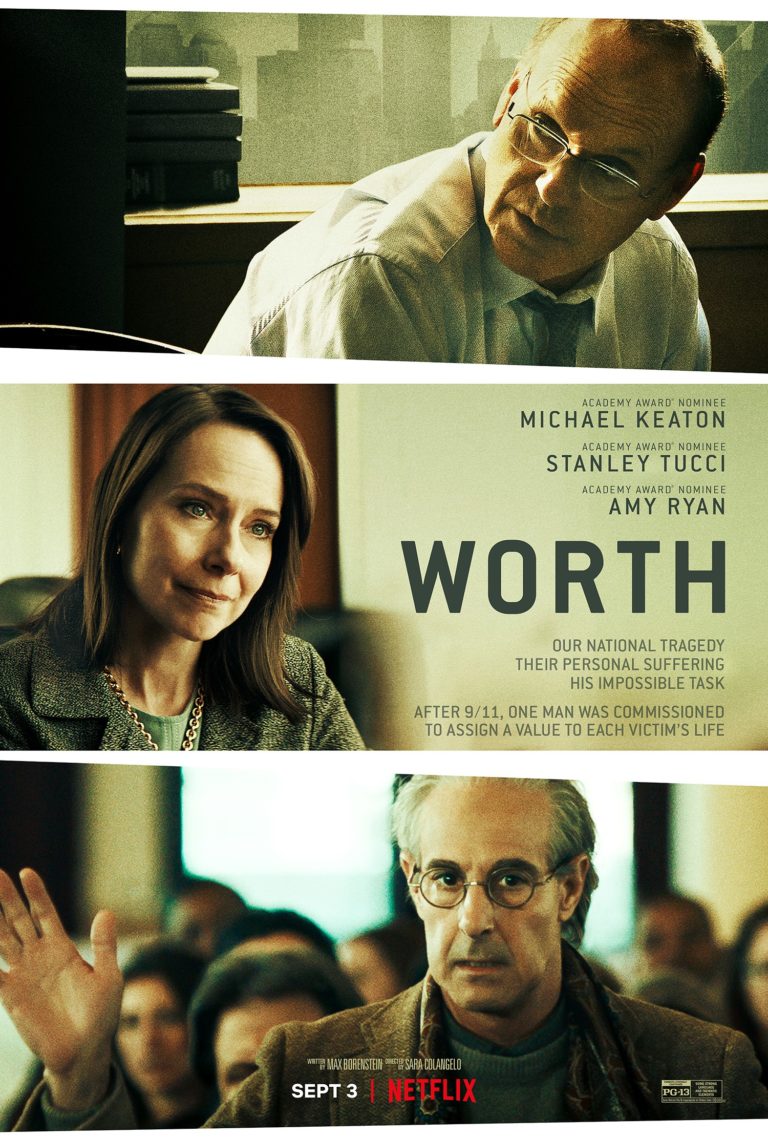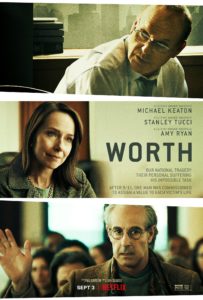 Worth, by Sara Colangelo
Synopsis
Kenneth Feinberg (Michael Keaton), a lawyer close to retirement, chooses to take on the difficult case of compensation for the families of the victims of September 11.
Based on his experience, he proves to be cold and very pragmatic and his attitude stirs up the families' discontent. Charles Wolf (Stanley Tucci), widower since September 11, confronts him about his methods.
The film
Produced by the producers of Spotlight and 12 Years a Slave, Worth raises the complicated issue of a person's "lost economic value" in an attack.
Adapted from Kenneth Feinberg's book "What Is Life Worth?: The Unprecedented Effort to Compensate the Victims of 9/11", Sara Colangelo, director of The Kindergarten Teacher, a remake of Nadav Lapid's Israeli film The Teacher, and film Little Accidents, succeeds in the difficult task of making a film that is both moving and sober.
Actors who played the witnesses and families of the victims in the roles of only a few minutes are extraordinary.
The only thing I regretted was not seeing Worth in theaters.
Michael Keaton is still exceptional.  Stanley Tucci, also a great actor, is in theaters this week in Harry Macqueen's film Supernova alongside Colin Firth.
With Michael Keaton, Stanley Tucci, Amy Ryan.
NOW ON NETFLIX.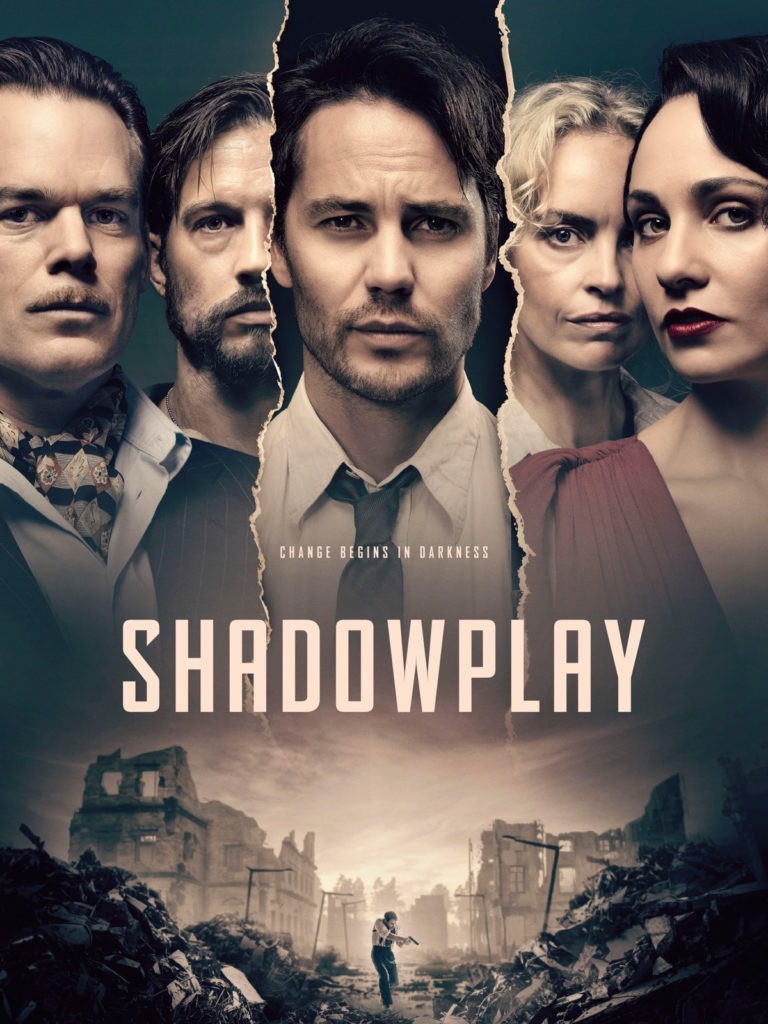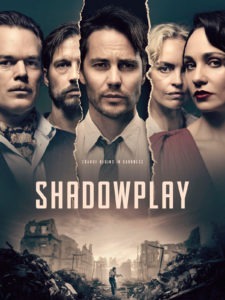 Shadowplay, by Måns Mårlind (series)
Synopsis
In the aftermath of World War II, an American policeman, Max McLaughlin, arrives in West Berlin to help create a police force. At the same time, he sets out to find his brother, Moritz.
The series
1946. Berlin is in ruins. The British and the French in the northwest, the Americans in the south and the Soviets in the east. Everyone knows that whoever gets Berlin will get Europe. While each country is trying to gain power, 200,000 rapes are reported that year.
Max McLaughlin, played by Taylor Kitsch, must work with a German woman, Elsie, played by Nina Hoss, who is the head of a police force made up of volunteers who have survived the war and are amateurs.
While Max is searching for his brother, two Americans are murdered. Between the investigation and the struggles of power and survival, Måns Mårlind, the Swedish creator of the series The Bridge mixes the small and the great story.
The cinematography is magnificent and the cast impeccable.
Taylor Kitsch and Nina Hoss, seen in the excellent Phoenix, form a perfect duo in this hard and cold series, just like the city.
With Taylor Kitsch (Max McLaughlin), Michael C. Hall (Tom Franklin).
NOW ON CANAL PLUS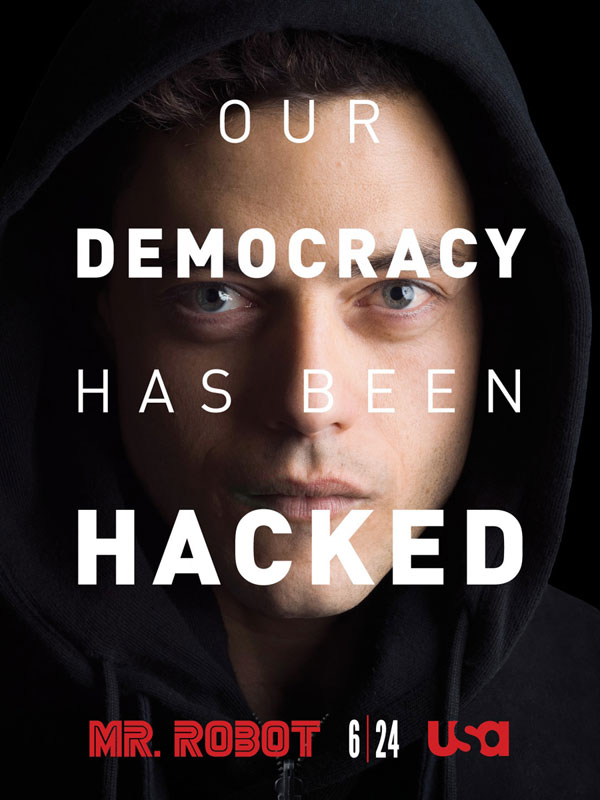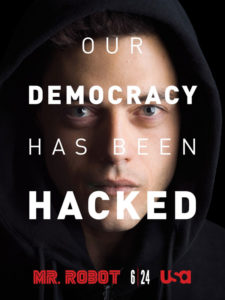 Mr Robot, by Sam Esmail
Synopsis
One day, Elliot meets "Mr. Robot", a mysterious anarchist who wants to recruit him into his hacker group known as "Fsociety". Their goal is to restore balance to society by destroying the infrastructures of the world's largest banks and corporations, including the E Corp. (nicknamed "Evil Corp." by Elliot), which as a client accounts for 80% of Allsafe Security's revenue.
A genius hacker, Elliot has to choose between continuing his routine life or going illegal.
The series
Played by Rami Malek, the first season of Mr Robot is a treat and is strikingly reminiscent of David Fincher's Fight Club, on the theme of denouncing the consumer society and a beautiful photography.
Between the police and virtual intrigue, the story of this lonely and depressive man who seeks justice through hacking, everything is fascinating in the Mr Robot series.
The denunciation of the multiplicity of screens and cybercrime are fascinating (the hacking moments!) and still relevant. But then we lose the thread of the plot, it becomes heavy and I did not manage to go to the end of the second season. But it is necessary, it seems, to hang on…
Rami Maleck who played the role of Freddie Mercury in Queen received an Emmy Award for this series released in 2015. He is in the poster, in the role of the antagonist of the next James Bond No Time To Die.
Christian Slater is also sensational. His performance earned him a Golden Globe and a Satellite Award in 2016.
Created by Egyptian-born Sam Esmail, he is put on academic probation following an incident that takes place in his computer lab. This will then give rise to stories inspired by his history.
He is preparing a horrific thriller for Netflix, adapted from the novel Leave the World Behind with Julia Roberts and Denzel Washington and a crime series Acts of Crime.
ON NETFLIX. 4 SEASONS.
2. New films 
In movie theaters
STILL IN THEATERS
Ride your wave, by Masaaki Yuasa
Gogo, by Pascal Plisson.
As from September 8
Boîte noire, by Yann Gozlan
Respect, by Liesl Tommy
Supernova, by Harry Macqueen
La nuit des rois, by Philippe Lacôte
When tomatoes met Wagner, by Marianna Economou
As from September 15.
L'Affaire collective, by Alexander Nanau
Le Genou d'Ahed, by Nadav Lapid.
Dune, by Denis Villeneuve.
Blue Bayou, by Justin Chon.
As from September 22
Notturno, by Gianfranco Rosi.
Stillwater, by Tom McCarthy.
La Troisième guerre, by Giovanni Aloi.
Léo has just finished his classes and for his first assignment, he is sent on a Sentinel mission. Here he is, pacing the streets of the capital, with nothing to do but keep an eye out for a possible threat…
With ANTHONY BAJON , KARIM LEKLOU , LEÏLA BEKHTI
As from September 29
I am Greta, by Nathan Grossman.
IN OCTOBER
Delphine et Carole, insoumuses , by Callisto Mc Nulty.
Pleasure, by Ninja Thyberg.
The Translator, by Rana Kazkaz, Anas Khalaf,on October 13
Synopsis : 
In 2000, Sami was the translator for the Syrian Olympic team in Sydney. A slip of the tongue while translating forced him to stay in Australia, where he was granted political refugee status. In 2011, the Syrian revolution broke out and Sami's brother was arrested during a peaceful demonstration. Despite the dangers, he decides to risk everything and return to Syria to free him.
With Ziad Bakri, Yumna Marwan, David Field
3.
WEEKLY TIPS & OPINIONS
FROM 

PROFESSIONALS

 WRITERS, SCREENWRITERS, DIRECTORS, COMPOSERS…
"Star Wars" and the Question of Identity  by Scott Myers 
Make Words Your Friend. "Putting one right word after another"… by Scott Myers 
Reader Question: Where do you go for inspiration when the words just aren't coming?  by Scott Myers
Six of The Strangest Movies Made By Musical Groups  by Hogan Torah
Sundays with Stephen King's "On Writing"  by Scott Myers 
Ten Classic Westerns You Absolutely Must See Before You Die  by Paul Combs 
4. AT HOME ON TV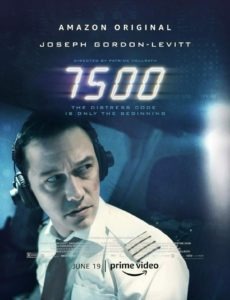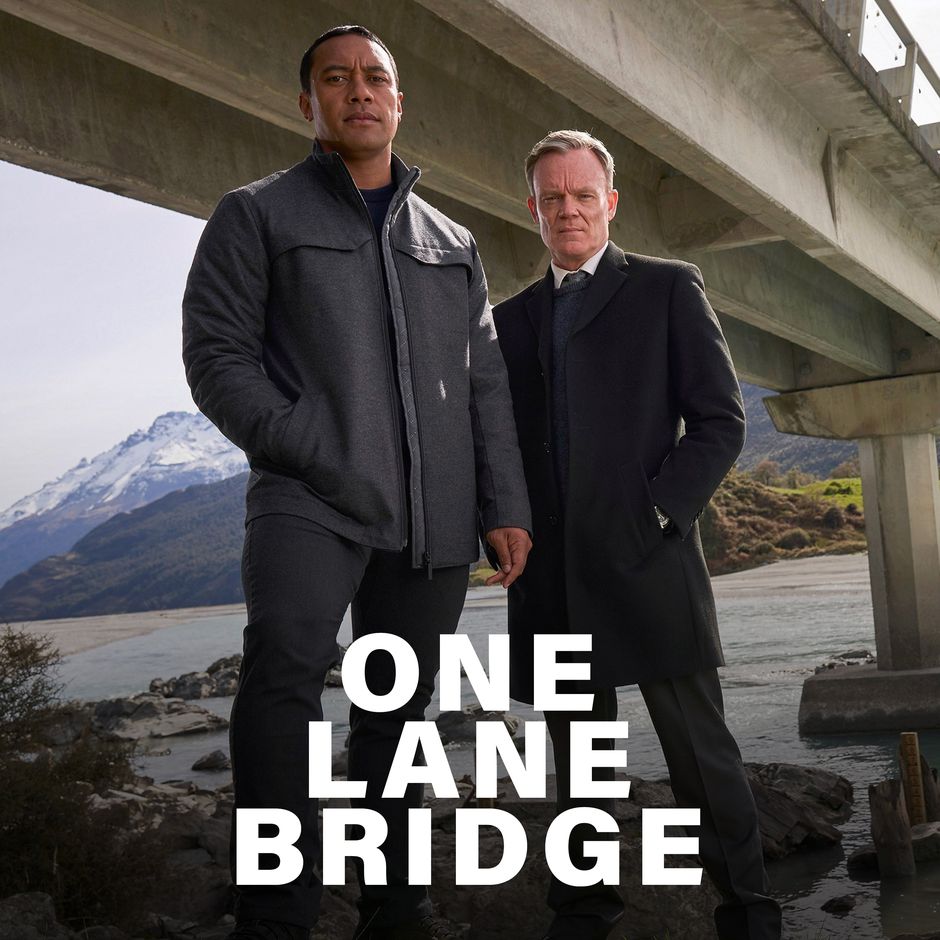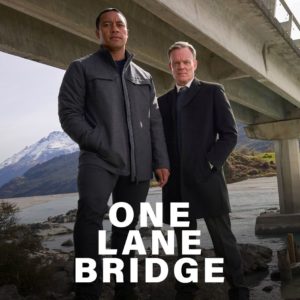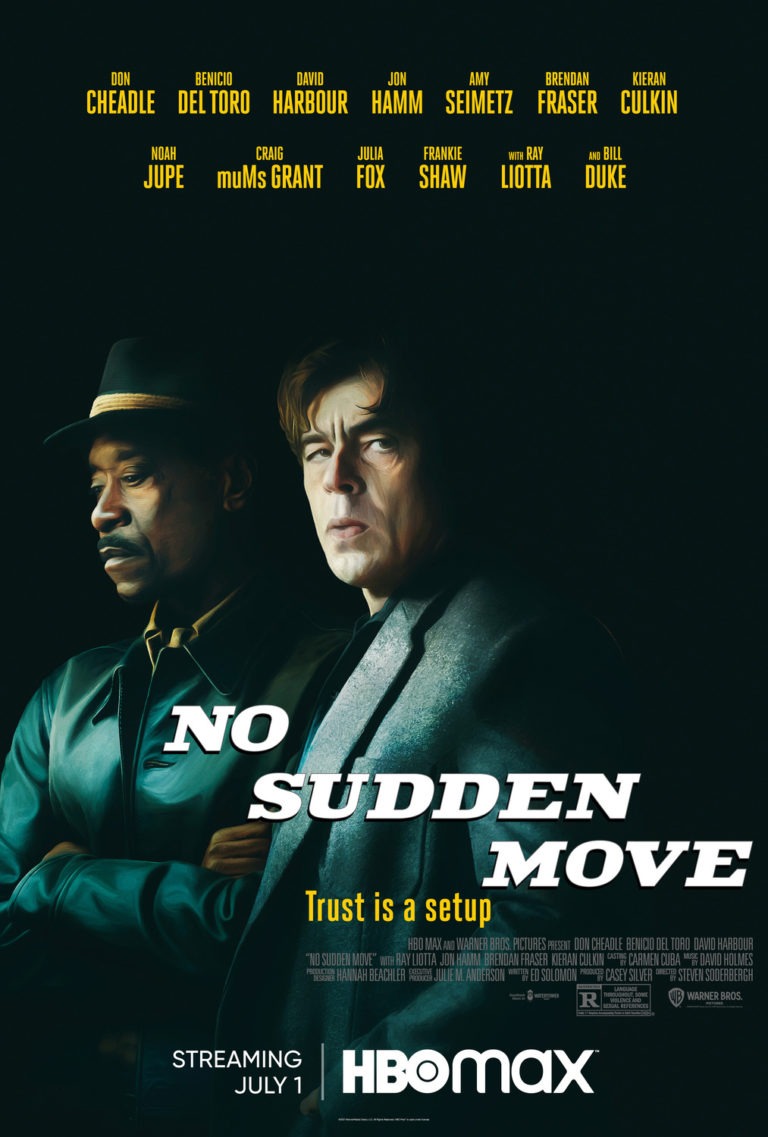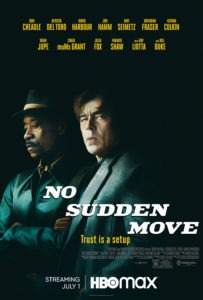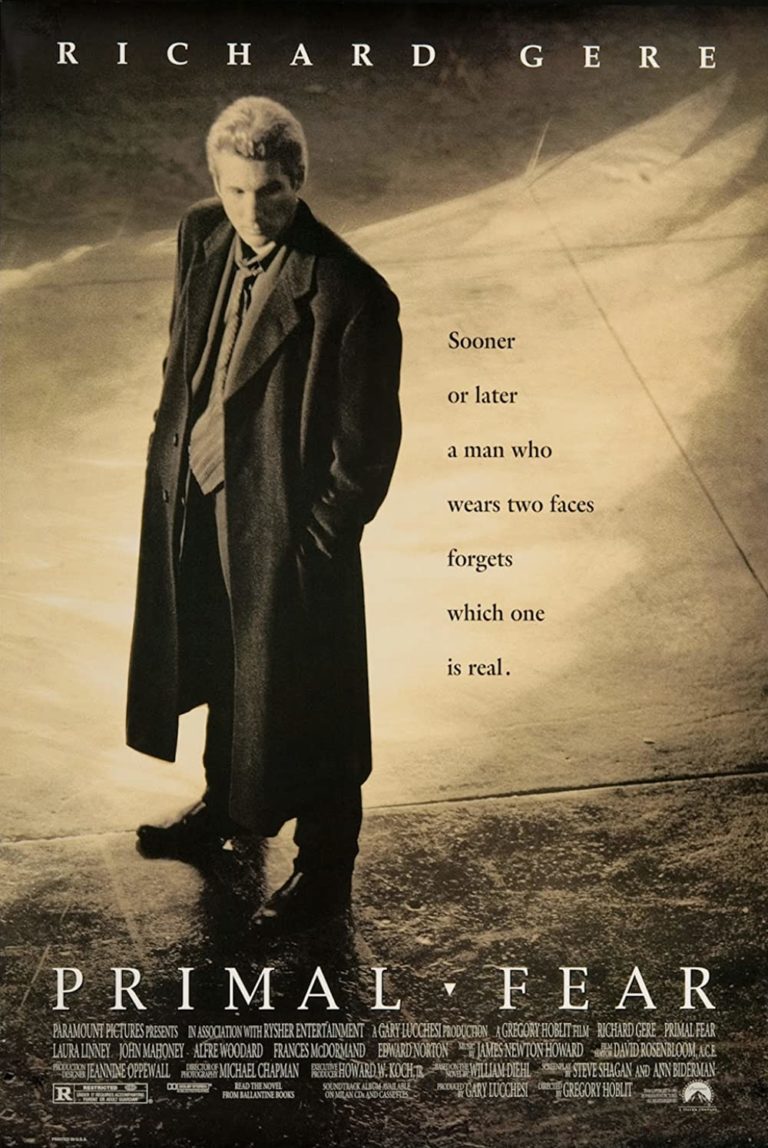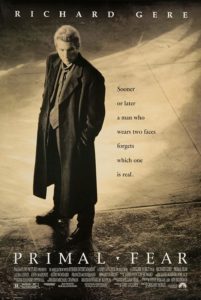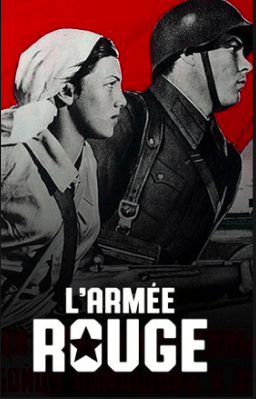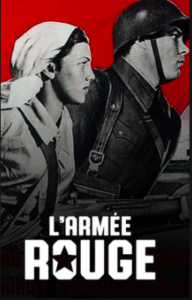 Mercredi- Wednesday
Canal Plus : No sudden move, by Steven Soderbergh.
Arte: Portrait de la jeune fille en feu, by Céline Sciamma.
Jeudi – Thursday
Canal Plus : Shadow Play, series by Måns Mårlind with Taylor Kitsch (Max McLaughlin), Michael C. Hall (Tom Franklin).
Arte : One Lane Bridge de Peter Burger
In a small New Zealand town, a young Maori detective investigates a suspicious death that tears the population apart. Against a backdrop of wilderness and spiritual forces, a dark series that reveals a society riven by racism and sexism.
Vendredi – Friday
Arte : Code-7500-un-avion-en-detresse by Patrick Vollrath.
TMC: Vol 93
France 3 : Demain ne meurt jamais
Chérie 25: Le cercle littéraire de Guernesey
Samedi – Saturday
Arte: Le-cosmos-selon-kepler by Christian Twente
LCP: 9h59, New York 20 ans après,  by Olivier Ponthus
Dimanche – Sunday
France 2 : Médecin de campagne
Arte: Le-cercle-rouge by Jean-Pierre Melville
C8: L'animal
W9: The Impossible
Lundi – Monday
Arte : Peur Primale by Gregory Hoblit. With Richard Gere: A difficult role that revealed him to the general public and earned him an Oscar nomination and a Golden Globe in 1997.
Canal Plus : On the verge
TF1 : Une mère parfaite
France 3 : Robert Badinter la vie avant tout
W9 : 58 mn pour vivre
France 4: Soirée brésilienne
Mardi – Tuesday
C8: La mort était au rendez-vous
Arte: L-armee-rouge-1-2 by Michael Prazan
Mercredi- Wednesday
Arte : La-fille-inconnue by Jean-Pierre Dardenne
5.
AT HOME, 

ON YOUR PLATFORMS
CURRENT FILMS AND

 SERIES
ARTE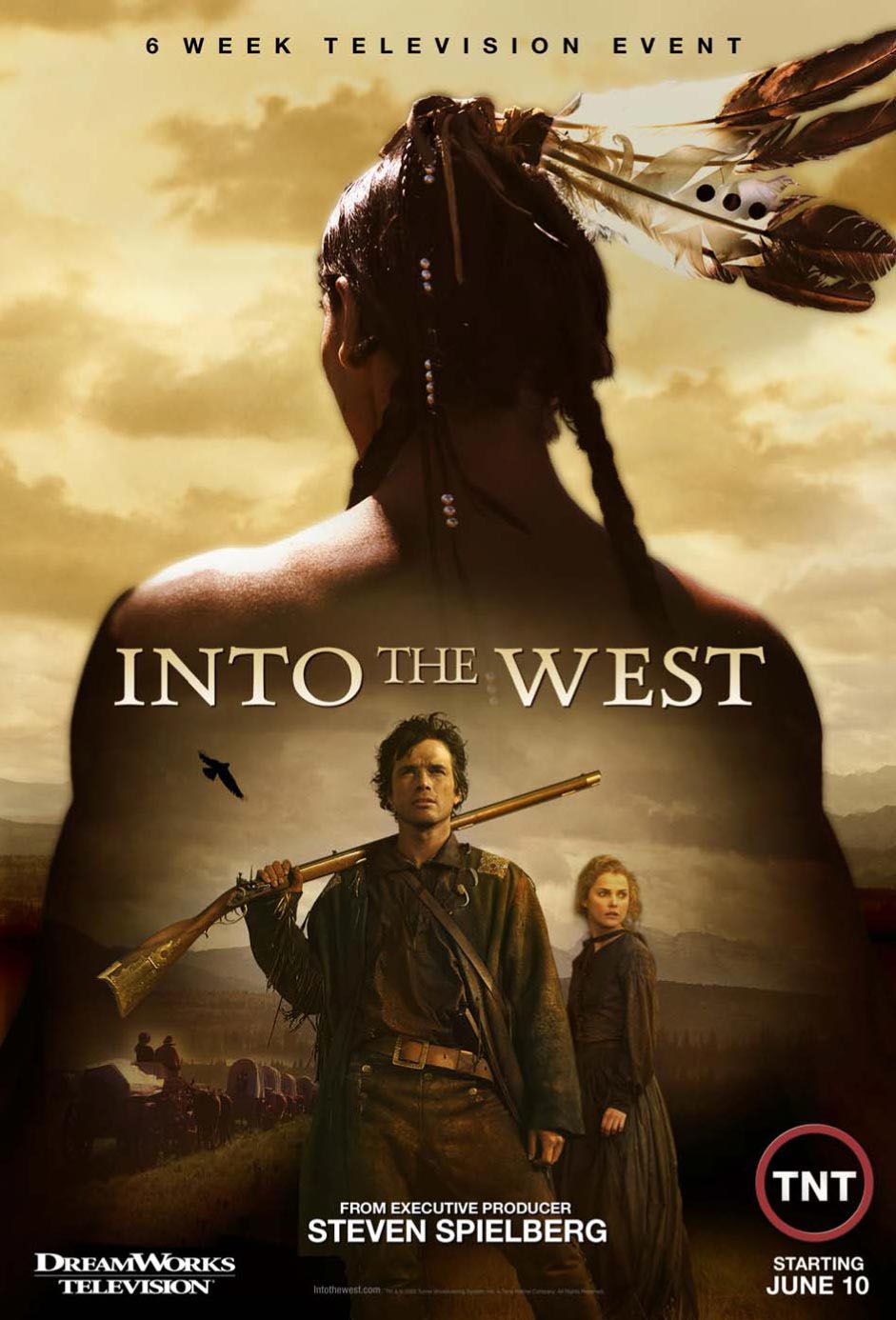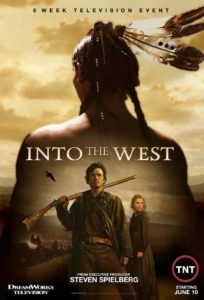 FILM
Coeur de tonnerre, by Michael Apted avec Val Kilmer (Ray Levoi), Sam Shepard (Frank Coutelle), Graham Greene (Walter Crow Horse)
Danse avec les loups, by and with Kevin Costner
MAKALA, by Emmanuel Gras,  Grand Prix de la semaine de la critique au Festival de Cannes en 2017.
SERIES
Into the West, by Robert Dornhelm, traces the conquest of the West in the United States from 1825 to 1890 and will keep you on the edge of your seat.
Follow the story of two families over several generations: the Wheelers, white wagoners, and a family of Native Americans from the Lakota Nation.
A series produced by Steven Spielberg and Dreamworks, where fiction and reality merge.
DOCUMENTARY
Melville-le-dernier-samourai de Cyril Leuthy
Dante-voyage-au-bout-de-l-enfer-et-du-paradis by Adolfo Conti
Elvis-that-s-the-way-it-is by Denis Sanders
CONCERT
La Cinémathèque Française
 Dino Risi exhibition from September 2 to October 27 
La Chaîne Parlementaire
LCP offers you a lot of good documentaries: here
CURRENT FILMS AND 

SERIES
 on NETFLIX
(CLICK ON THE LINK TO WATCH THE TRAILER)
Worth, by Sara Colangelo , with Michael Keaton, Stanley Tucci, Amy Ryan, on September 3rd
Schumacher, the upcoming documentary film co-directed by Hanns-Bruno Kammertöns, Vanessa Nöcker and Michael Wech, about German Formula 1 driver Michael Schumacher.
The film will be released on September 15 coinciding with Schumacher's entry into Formula 1 30 years ago.
Sex education season 3, on September 17th
Squid Game, by Hwang Dong-hyuk. On September 17
The Starling, on September 17, by Theodore Melfi, screenplay by Matt Harris.
Starring Melissa McCarthy, Chris O'Dowd, Kevin Kline, Timothy Olyphant, Daveed Diggs, Skyler Gisondo, Laura Harrier and Loretta Devine.
JAGUAR, by Ramón Campos with Blanca Suárez (Las Chicas del Cable) on September 22.
OCTOBER
All Seinfeld, on October 1st.
Maid, starting October 1, based on Stephanie Land's memoir : Maid: Hard Work, Low Pay, and a Mother's Will to Survive, created by Molly Smith Metzler and starring The Letfovers star Margaret Qualley, Nick Robins and Andie MacDowell.
You, season 3, by Greg Berlanti, opens October 15.
Red Notice, by Rawson Marshall Thurber, with Dwayne Johnson, Gal Gadot & Ryan Reynolds.
On November 12.
The Power of the Dog, by Jane Campion, December 1. With Benedict Cumberbatch, Kirsten Dunst, Jesse Plemons and Kodi Smit-McPhee.
The Hand of God, by Paolo Sorrentino on Dec. 15: The director recounts the Naples of his childhood, featuring Diego Maradona.
Maya and the three, created by Jorge R. Gutiérrez.
CURRENT FILMS AND 

SERIES
on Prime Video
Capone, by Josh Trank with Tom Hardy, Linda Cardellini. Now.
Everybody is talking about Jamie, by Jonathan Butterell, on September 17.
The wheel of the time, inspired by the novels of the American writer Robert Jordan.
Created by Rafe Judkins with Rosamund Pike. Starting November 19.
The Wheel of Time follows Moiraine, a member of the powerful female channeling organization called the Aes Sedai, who takes in a group of five young people from a small village following an attack by the forces of the Dark One, a malevolent evil entity that seeks to destroy the Frame (existence).
Of these five, she believes that one may be the reincarnation of the Dragon, an ancient hero and powerful channeler who is prophesied to save the world or destroy it.
CURRENT FILMS AND

 SERIES
on SALTO
Germinal, from September 1st.
Series created by Julien Lilti and directed by David Hourrègue. With Louis Peres, Guillaume de Tonquédec, Thierry Godard, Alix Poisson, Sami Bouajila
6 épisodes.
CURRENT FILMS AND

 SERIES
on Canal+
On the Verge, now, by Julie Delpy.
L'Opéra (series), now.
Created by Cécile Ducrocq, screenwriter of "Bureau des légendes" and "Dix pour cent", and Benjamin Adam, it features Raphaël Personnaz in the role of the institution's new dance director. Ariane Labed and Suzy Bemba play two dancers with different profiles: Zoé, 35 years old, who will fight to keep her place, and Flora, 19 years old, a young black dancer who will have to prove herself to fit in.
No sudden move, by Steven Soderbergh with Don Cheadle, Benicio del Toro, David Harbour, Ray Liotta, Jon Hamm, Brendan Fraser, Kieran Culkin, Amy Seimetz & Julia Fox, today.
Scenes from a marriage, HBO series, with  Oscar Isaac & Jessica Chastain, by Hagai Levi ! (The Affair, Be Tipul-En Thérapie-Our Boys) 
On September 13th.
CURRENT FILMS AND

 SERIES
Starzplay
BMF, on September 26th.
The great saison 2, from November 19.
CURRENT FILMS AND

 SERIES
Apple TV
The Morning Show,  saison 2, from September 17.
Foundation, created by David S. Goyer et Josh Friedman, from September 24.
Inside the President's War Room: documentaire 9/11: the backstage of the event on the side of the presidential cell of George W. Bush, from September 17.
CURRENT FILMS AND

 SERIES
DISNEY PLUS
Doogie Kamealoha, M.D. 
Créé par Kourtney Kang et basé sur la série télévisée ABC de 1989-93 Doogie Howser, MD.
As from today.
Y THE LAST MAN, by Michael Green & Aida Croal, from September 22
Encanto, from November 24
Stay safe !
Subscribe to the weekly newsletters to keep up !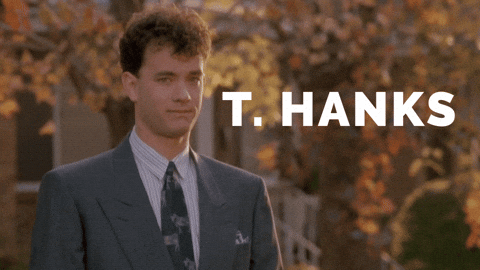 [contact-form to="contact@movieintheair.com" subject="Subscribe to the newsletters"][contact-field label="Subscribe here : Name" type="name"][contact-field label="Email address" type="email"][/contact-form]