Your weekly program as from May 3rd
All the best films as from May 3rd:
CANNES FILM FESTIVAL  2023 : 76th edition
The Master of Ceremonies this year will be Chiara Mastroianni during the festival,  that will be held from May 16 to 27.
Six women directors will be in the running for the Palme d'Or.
The Swedish filmmaker Ruben Östlund, two times winner of the Palme d'Or, will be the president of the jury. He was awarded the Palme d'Or in 2017 for "The Square" and in 2022 for "Unfiltered".
The film "Jeanne du Barry", directed by Maïwenn with Johnny Depp, will be presented at the opening of the Festival.
Several giants of the 7th art are expected.
The legendary adventurer, played by Harrison Ford, will make his return with the film "Indiana Jones and the Dial of Destiny" directed by James Mangold. 
Pedro Almodóvar will present his short film "Strange Way of Life" in the presence of Ethan Hawke and Pedro Pascal!
Trailer here:
Finally, Martin Scorsese will present his new feature film Killers of the Flower Moon.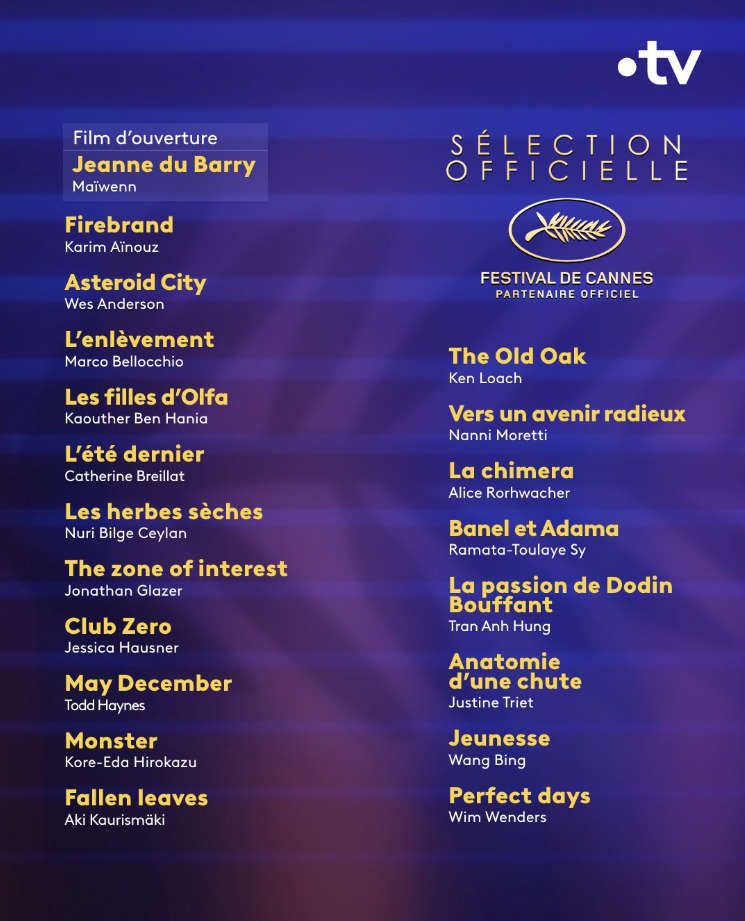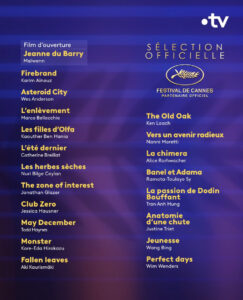 Soon in theaters:
Jodie Foster
She returns in the next season (4) of True Detective, True Detective: Night Country, set in Alaska, alongside Kali Reis. Directed by Issá Lopez. 
Synopsis 
When the long winter night falls in Ennis, Alaska, the eight men who operate the Tsalal Arctic Research Station disappear without a trace. To solve the case, detectives Liz Danvers (Foster) and Evangeline Navarro (Reis) will have to confront the darkness within them and dig into the haunted truths buried beneath the eternal ice.
Barbie, by Greta Gerwig
Asteroid city, Wes Anderson
FESTIVAL
The Forum des images honors one of the most filmed cities in the history of cinema: Los Angeles.
An essential territory of the 7th art, the city of angels feeds multiple imaginations.
A reservoir of dreams and fantasies, between violence and glamour, it is familiar to the moviegoer. But what do we know about the real city?
From April 12 to July 6, 80 films, 9 cinema classes, "pop" screenings and a photo exhibition constitute a temporal and geographical journey to the heart of its myths and the reality of its districts.
Accompanied by numerous guests, including filmmakers David Robert Mitchell and Laura Gabbert (City of Gold), Academy Museum Associate Director K.J. Relth-Miller, storyboarder Sylvain Despretz, and film course instructors, this rich program paints a contrasting and contemporary portrait of Los Angeles, a world city between desert and ocean.
ALL YOU WANT TO KNOW ABOUT  FILMS & SERIES 
IN THEATERS & AT HOME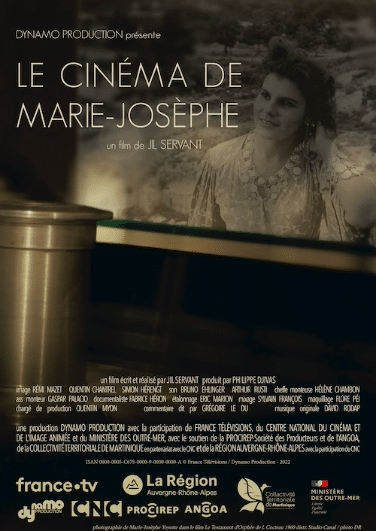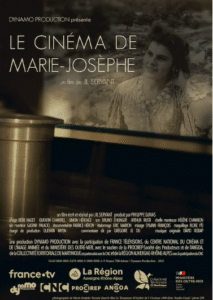 Le cinéma de Marie-Josèphe, Jil Servant
ON FRANCE TELEVISION 
Special programming on the France Télévisions Overseas channels for the 76th edition of the Cannes Film Festival
Le cinéma de Marie-Josèphe – Unpublished – On the channels of the La 1ère Network and La1ere.fr
Marie-Josèphe Yoyotte is a reference in her field, from the 1950s to the 2000s.
She has contributed, through her work as an editor, to the editing of films in our collective memory such as Les Quatre Cents Coups by François Truffaut, Rue Cases-Nègres by Euzhan Palcy or Moi, un Noir by Jean Rouch.
This native of Martinique will have touched all cinematographic genres and will have even known how to adapt to the digital revolution.
With determination and an open mind, she accompanied the beginnings of the New Wave while supporting all the developments of French cinema.
She received three César awards for best editing: in 1977 for Alain Corneau's Police Python 357, in 1997 with Florence Ricard for Microcosmos and in 2002 for Le Peuple migrateur by Jacques Perrin, Jacques Cluzaud and Michel Debats.
Through the testimonies of editors and directors with whom she has worked, and excerpts from the films she has edited, Jil Servant takes us to the heart of the editor's craft, the very essence of film writing.
Although he never met her, because she died in 2017, he manages to convey to us the passion that animated her, her curiosity and her permanent will to learn.
IN MOVIE THEATERS
All films as from May 3rd
Showing up, Kelly Reichardt
Before the opening of an upcoming exhibition, Lizzie, an artist, finds her daily life and her relationship with others as well as her chaotic life become her inspiration.
Nos cérémonies, Simon Rieth
With Simon Baur, Raymond Baur, Maïra Villena
Royan, 2011. Two young brothers, Tony and Noé, play the game of death and chance… Until the accident that will change their lives forever. Ten years later, they meet Cassandre, their childhood sweetheart. But the brothers have been hiding a secret all this time… 
Les Ames perdues, Stéphane Malterre, Garance Le Caisne
In 2014, a mysterious deserter, code-named César, leaks tens of thousands of photos of victims of the Syrian regime who died under torture. As the tortured sink into oblivion and thousands of civilians disappear, their families, their lawyers and a small group of activists attempt to file complaints in European courts.
This film recounts the twists and turns of the investigations and proceedings that will lead to the issuance of arrest warrants against the highest officials of Bashar al Assad's administration, for crimes against humanity. 
La Marginale, Franck Cimière
With Corinne Masiero, Vincent Chalambert, Karina Marimon
Michèle, a homeless woman, lives at Orly airport, wandering between the different halls. She regularly crosses paths with Theo, a young airport sweeper. 
Mentally handicapped, he lives with his "Auntie" who overprotects him. One day, Michèle makes a most unexpected discovery, which leads her to convince Theo to drive her in his unlicensed car to Lisbon to find his son. They then embark on a road trip full of twists and turns on the country roads.
Pour l'honneur, Philippe Guillard
Trocpont-sur-Tescou and Tourtour-les-Bains, two villages in the south of France, are engaged in a ruthless war between their neighbours, symbolized by a strong derby between the two rugby clubs. While Trocpont has undoubtedly taken the lead, the unexpected arrival of asylum seekers will change the situation.
Will Tourtour be able to beat its sworn enemy in the year of the most important derby in its history, that of the centenary?
Disco Boy, Giacomo Abbruzzese
With Franz Rogowski, Morr N'Diaye, Laetitia Ky
Ready to do anything to escape from Belarus, Aleksei goes to Paris and joins the Foreign Legion. He is sent to fight in the Niger Delta where Jomo, a young revolutionary, fights against the oil companies that have devastated his village.
If Aleksei is looking for a new family in the Legion, Jomo imagines himself as a dancer, a disco boy. In the jungle, their dreams and destinies will cross. 
La Gravité, Cédric Ido
With Max Gomis, Jean-Baptiste Anoumon, Steve Tientcheu 
A mysterious alignment of the planets sets the sky ablaze and worries everyone in the city. A band of teenagers, The Ronins, rule the city and see this planetary event as the possibility of a new era.
Temps Mort, Eve Duchemin
With Karim Leklou, Issaka Sawadogo, Jarod Cousyns
For the first time in a long time, three prisoners are granted a weekend leave. 48 hours to be aware of this new situation, 48 hours to reconnect with their loved ones, 48 hours to try to make up for lost time.
Un an, une nuit, Isaki Lacuesta
With Nahuel Perez Biscayart, Noémie Merlant, Quim Gutiérrez
On the evening of November 13, 2015, Ramón and Celine, a young couple, attend the Bataclan concert. They escape the terrorist attack, but are unable to resume their normal lives. 
Les Gardiens de la Galaxie 3, James Gunn
With Chris Pratt, Zoe Saldana, Dave Bautista
Our favorite band of misfits has changed a bit. Peter Quill, still mourning the loss of Gamora, must gather his team to defend the universe and protect one of his own. If he fails, this mission could mean the end of the Guardians as we know them.
Movies to come (and we are looking forward to it):
The Wild One, Tessa Louise-Salomé, on May 10th
 TIPS ON MOVIE WRITING 
Scott Myers : Go into the story
FILMS PROGRAM ON TV AS FROM May 3rd
Mercredi- Wednesday 3
6Ter : Mary à tout prix
Arte : Elizabeth : Surrounded by a procession of glamorous supporting actors (Joseph Fiennes, Fanny Ardant, Daniel Craig…), Cate Blanchett plays a luminous and moving Elizabeth I of England, who discovers the trials and tribulations of power, between courting intrigues, political conspiracies and sacrificed love affairs By Shekhar Kapur.
Jeudi – Thursday 4
Arte :Black earth rising
Canal + : The Morning Show (AppleTV series)
TMC : Rogue One : A star war story
Vendredi – Friday 5
Arte : Le carré noir : A delightful contemporary slapstick comedy about the theft of an iconic painting by painter Kasimir Malevich.
Dimanche – Sunday 7
Arte : L'express du colonel von Ryan : In 1943, British and American soldiers plan to escape from a prison camp in Italy. With Frank Sinatra.
TF1 : Les gardiens de la galaxie vol 2
France 5 : Taiwan, nation interdite
W9 : Le discours d'un roi
Lundi – Monday 8
Arte : Le pont : 1945.
Shortly before the end of the war, some teenagers receive their draft order… In 1959, Bernhard Wicki adapts Manfred Gregor's autobiographical novel, which had a profound effect on German public opinion. One of the most moving pacifist films of German cinema.
TF1 : Marie Francine
France 2 : Bardot (série)
TMC : Dunkerque
Mardi – Tuesday 9
Canal + : L'Innocent
Mercredi- Wednesday 10
Arte : Les 2 Alfred. By the Podalydès brothers, a funny satire of the dehumanization of work, with the amazing Sandrine Kiberlain.
 FILMS & SERIES ON ARTE AS FROM MAY 3rd
FILMS
Michelangelo (from April 26)
Torn between his clients, the tormented Michelangelo struggles to give substance to his artistic visions… Andrei Konchalovsky composes a feverish portrait of the genius of the Italian Renaissance, in a sumptuous fresco.
Mona Lisa
George, a virtuous mobster, discovers vice when he comes into contact with a beautiful black call girl… Under the guise of a thriller, a sharp and moving moral tale, directed by Neil Jordan ("The Crying Games") and served by remarkable actors, Bob Hoskins in the lead.
My Left Foot
The painful struggle of a man trapped in his body to emancipate himself… Retracing the life of the painter Christy Brown, Jim Sheridan ("In the name of the father") delivers a moving plea in favor of the difference, served by Daniel Day-Lewis, masterly.
Jack
Placed in a foster home, Jack runs away, picks up his little brother and feverishly searches for their mother, who has abandoned them… A poignant child's quest filmed with tremendous vitality by Edward Berger, the director of "Nothing New in the West", which has just won four Oscars
DOC
Pouvons-nous refroidir la planète ?
Are we condemned to cook slowly? Capturing CO2 to recycle it, lightening the clouds to better intercept sunlight, massive reforestation: here is an overview of scientific solutions to fight against global warming that offers a glimpse of hope.leads a team of young elite policemen and will have to find his place within his group while avoiding a gang war between Eric's family and the El Hassani brothers.
Series
Lost Luggage (as of April 20th)
After the 2016 Brussels bombings, a policewoman assigned to airport security is tasked with returning the victims' belongings to the bereaved families. A poignant drama carried by actress and rocker Lara Chedraoui.
State of Happiness: A sentimental drama coupled with a black gold rush. The lives of the inhabitants of a small Norwegian port are turned upside down by the discovery of an oil field…
Manayek, betrayal in the police, by Alon Zingman director of Shtisel (series available on Netflix : listen to the podcast here
Blackport, Gísli Örn Garðarsson et Björn Hlynur Haraldsson
All films as from May3rd

 

on Netflix
Transatlantic, Anna Winger & Daniel Hendler
Florida Man, Donald Todd (Ugly Betty, This Is Us),now.
Firefly Lane, as of April 27th
Fubar,  ARNOLD. IS. BACK. As of May 25
Never Have I ever, final & season 4 as of June 8th.
All films as from 

May 3rd

 

on 
Prime Video
The Marvelous Mrs Maisel,  season 5, now!
Salade Grecque, series created by Cédric Klapisch,now.
20 years after l'Auberge Espagnole, the story goes on.
Citadel, David Weil, as of April 28th
All films as from May 3rd
on Canal+
The English, Hugo Blick
The Crash series, Michael Leendertse
B.R.I, by Cédric Jimenez
Saïd leads a team of young elite policemen and will have to find his place within his group while avoiding a gang war between Eric's family and the El Hassani brothers.
Moonfall, Roland Emmerich, on April 28th
Buzz l'Eclair, on April 29th
Don't worry darling, Olivia Wilde, as of May 3rd
All films as from May 3rd

 

on Apple TV
Les gouttes de Dieu, Tadashi Agi
Tetris, Jon S. Baird.
Ghosted, Dexter Fletcher, Chris Evans & Ana de Armas, as of April 21st
Silo, Graham Yost, as of May 5th
City on Fire, Josh Schwartz & Stephanie Savage, as of May 12th
All films as from May 3rd on Disney Plus
The Good Mothers, Stephen Butchard
Peter Pan & Wendy, as of April 28th.
The Little Mermaid 2, Rob Marshall, forecast on May 26.
Guardians of the Galaxy, as of May 3rd, in theaters!
Ashoka, in August 2023