What to watch as from June 1st
Your audiovisual weekly news
For you, the best films to watch as from June 1st
News as from June 1st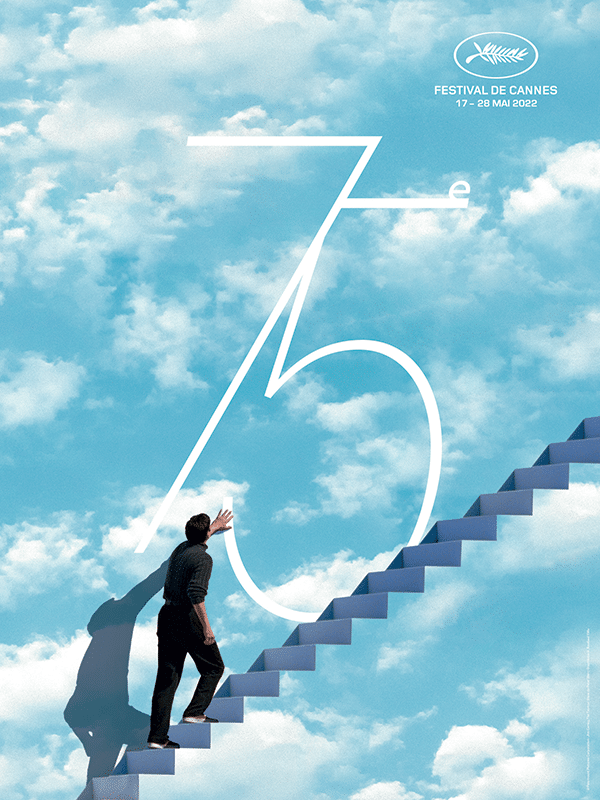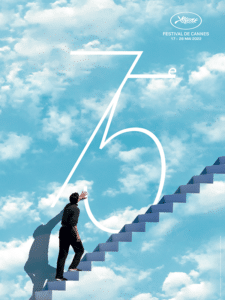 Caméra d'Or : War Pony by Riley Keough, Gina Gammell  
At 23, Bill is trying to make ends meet. Whether it's siphoning gas, making deliveries or raising poodles, he's determined to make his way towards the "American Dream". As for 12-year-old Matho, he can't wait to become a man.
Best Actress Award  : Zar AMIR EBRAHIMI – Rahimi
Holy Spider by Ali Abbasi : Swedish-French-German-Danish thriller
A father embarks on his own religious quest, seeking to "cleanse" the city of Mashhad of prostitution. After murdering several women, he becomes increasingly desperate at the lack of public interest in his divine mission. 
A journalist goes deep into the underbelly of the Iranian holy city of Mashhad to investigate the serial murders of prostitutes by the "Spider Killer", who believes he is cleansing the streets of sinners.
Release date: July 12
Screenplay award : Tarik Saleh also director of  "Boy from heaven"
Adam, a simple fisherman's son, joins the prestigious Al-Azhar University in Cairo, the epicenter of power in Sunni Islam. On the first day of classes, the Grand Imam at the head of the institution dies suddenly.
Release date November.
Best Actor Award : Song Sang Ho for Broker by Hirokazu Kore-eda
In a place where newborns can be anonymously abandoned, Sang-hyun finds a baby and entrusts it to a couple with whom he has made a deal.
December 7th
Jury Prize : E-Ho (Hi-Han)" by Jerzy Skolimowski, on May 2023.
The film, inspired by Robert Bresson's Au hasard Balthazar (1966), tells the story of an uprooted donkey.
Synopsis:
The world is a mysterious place, especially seen through the eyes of an animal. On his way, EO, a gray donkey with melancholy eyes, meets good and bad people, experiences joy and sorrow, and the wheel of fortune turns his luck into disaster and his despair into unexpected happiness. But never, at any time, does he lose his innocence.
Le Otto Montagne, by Felix Van Groeningen & Charlotte Vandermeersch
Pietro is a city boy, Bruno is the last child to live in a forgotten village in the Aosta Valley. They become friends in this hidden corner of the Alps that serves as their kingdom. Life takes them apart without being able to separate them completely. While Bruno remains faithful to his mountain, Pietro travels the world.
Release date December 21
Special Palm for the 75 birthday of the Cannes Film Festival for the Dardenne brothers, Tori et Lokita
Special Palm for the Dardenne brothers.
On September 27 in theaters
Story : Today in Belgium, a young boy and a teenage girl who have come alone from Africa oppose their invincible friendship to the difficult conditions of their exile.
Director Prize : Decision to leave, Chan-Wook Park with Tang Wei, Park Hae-il.
A detective investigating a man's death in the mountains meets the dead man's mysterious wife in the course of his dogged sleuthing.
On June 29th in theaters.
Grand Prix – Ex-aequo : Close, Lucas Dhont, at only 31 years
A movie on tenderness
Léo and Rémi, 13, have been friends forever. Their attachment arouses suspicion from some of the students at their school, and Léo wants to assert his virility by distancing himself from Rémi. A tragic and irreparable event turns the lives of two families upside down, and Leo tries to find a way out of his consuming guilt.
Stars at noon, by Claire Denis : adapted from Denis Johnson'novel
A young American journalist stranded without a passport in modern-day Nicaragua in the middle of an election period meets an English traveler in a hotel bar. He seems like the perfect man to help her flee the country.
With Margaret Qualley, Danny Ramirez, Joe Alwyn , Benny Safdie 
Palme d'Or : Director : Ruben Östlund
With Har­ris Dick­in­son, Charl­bi Dean, Woody Har­rel­son
Triangle of sadness, Ruben Östlund
After Fashion Week, Carl and Yaya, a couple of models and influencers, are invited on a yacht for a luxury cruise. While the crew takes care of the guests, the captain refuses to leave his cabin as the famous gala dinner approaches.
Events take an unexpected turn and the balance of power is reversed when a storm hits and endangers the comfort of the passengers. 
New episode : Cinq films à la plage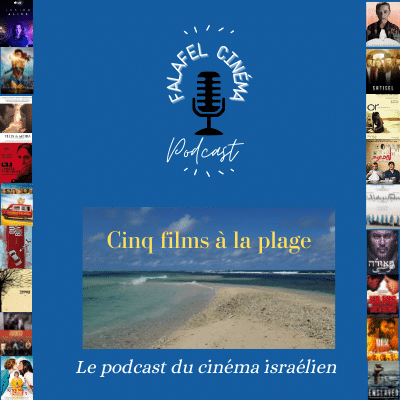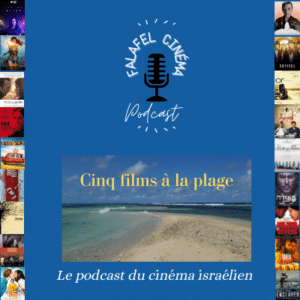 Music & Theater
New ACOUSTIQUE event at the BALZAC THEATER
This Thursday, June 2nd at 8.30 pm, you will have the opportunity to meet Gabriel Yared –
Academy Award winner and composer of The English Patient, , L'Amant, The Talented Mr Ripley, 37°2 le matin, Juste la fin du monde or  La Vie des autres, he will review his most beautiful piano scores during an exceptiona
ALL YOU WANT TO KNOW ABOUT  FILMS & SERIES IN THEATERS & AT HOME
REVIEWS ON JUNE 1ST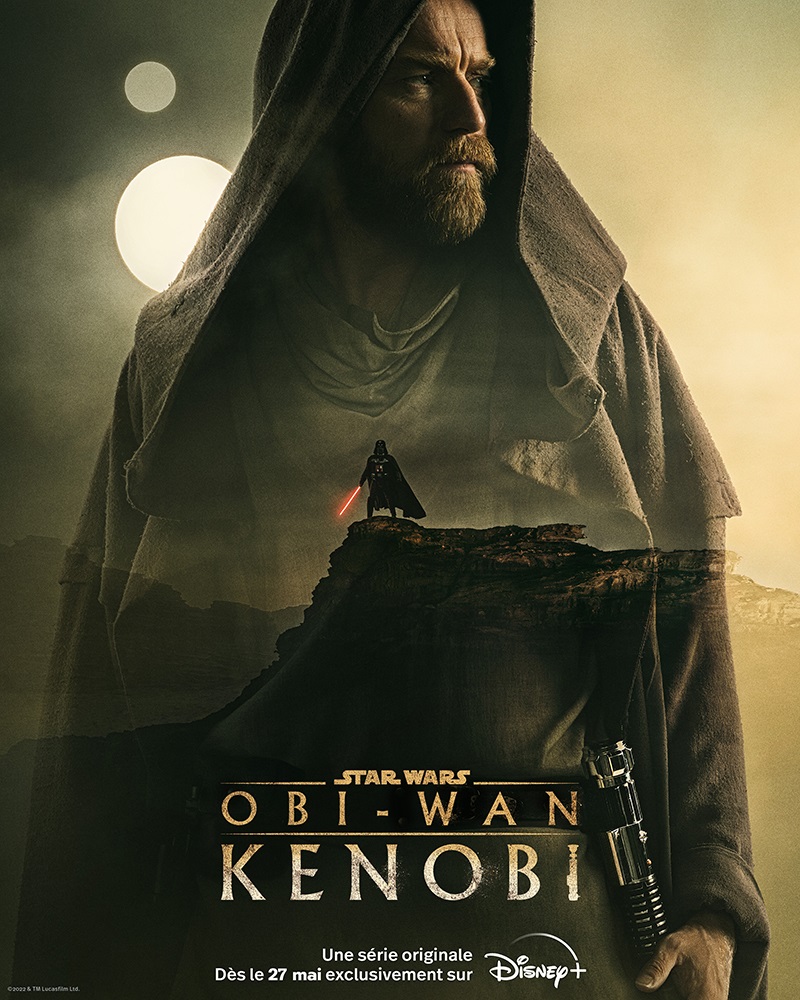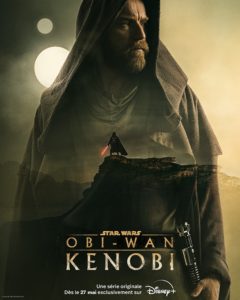 Obi Wan Kenobi, Hossein Amini, Joby Harold
Direction : Deborah Chow
Synopsis
The Jedi Order has been destroyed and a Sith-led Galactic Empire has taken the place of the Republic.
One of the last surviving Jedi, Obi-Wan Kenobi is hiding on the desert planet Tatooine to watch over young Luke Skywalker, son of his former friend Anakin.
About the series
Spin-off of the Star Wars saga, this series shows us the facet of this discreet hero, played by Ewan McGregor, but with a crucial role in the development of the Jedis' potential.
In charge of looking after Luke Skywalker, who has been placed in a family on Tatooine, and indirectly of Leia, adopted by the Organa royal family, he is plagued by the guilt of having failed Anakin, whom he believes to be dead during their last battle.
So he lives, works on the line and tries to be forgotten.
This is of course without counting on a bounty hunter, the fearsome Reva Sevander (known as the Third Sister) played by Moses Ingram seen previously in The Queen's Gambit and nominated for a Primetime Emmy Award for Best Supporting Actress.
The young princess Leia, played by the young actress Vivien Lyra Blair, who is to be reckoned with from now on, is kidnapped during one of her multiple escapades and used as bait to capture Obi Wan Kenobi.
The adventures can then begin. After "The Mandalorian", "Obi Wan Kenobi", played by the great actor Ewan MGregor, is a good omen!
ON DISNEY PLUS NOW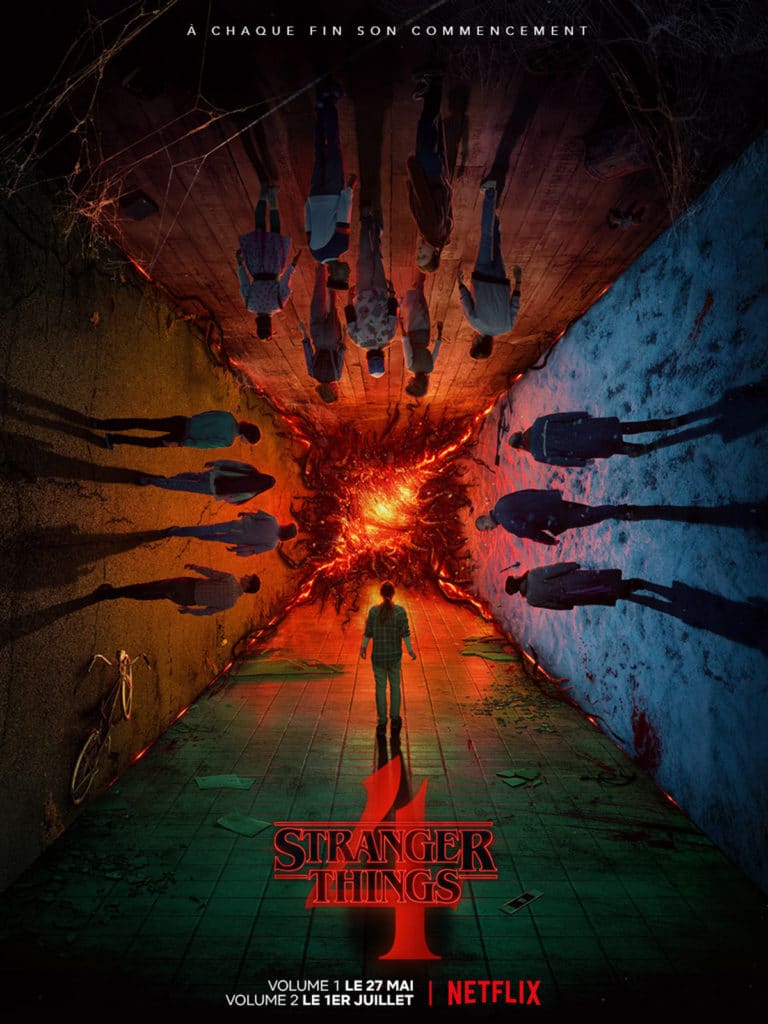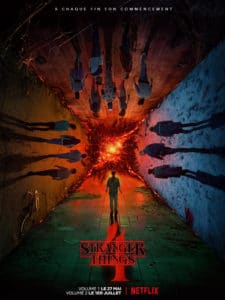 Stranger Things season 4, by the Duffer brothers
Synopsis
It's been six months since the battle of Starcourt that brought terror and destruction to Hawkins. Still reeling, our friends find themselves separated for the first time – and high school life isn't helping. It's at this vulnerable moment that a new supernatural threat emerges, and with it, a terrible mystery that could be the key to ending the horrors of the upside-down world.
Season 4 / Part I
Remember the name of the DUFFERS brothers. In just a few days, since the launch of their fourth season on May 27, they have generated over 235 million views worldwide.
The longer episodes are real tributes to the 80's, (and indirectly to Spielberg's adventure films), to horror films (we think of Stephen King, of "The Exorcist"), and plunges us into the difficult world of adolescence, and of reconstruction after a drama.
It is about love, resilience, sexual quest, brotherhood/sorority but also about violence and the cold war (finally always current).
This final season is even more successful than the others because of its choral narrative and its meticulous editing.
The characters are more fleshed out and, this is the magic of sagas, we see them evolve, change, a bit like the heroes of the novel "Harry Potter", a real success of adaptation with great characters .
To see then!
First part of the season 4 right now on Netflix. Second part on July 1st!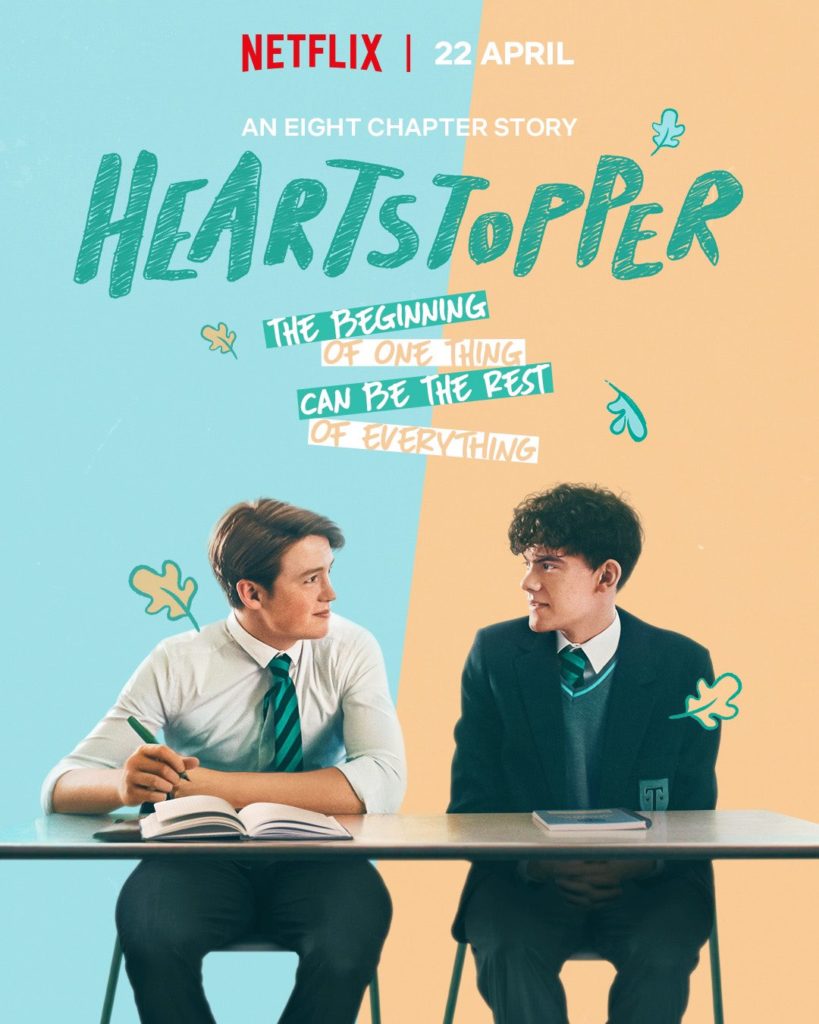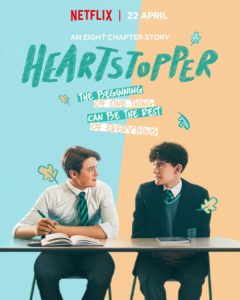 Heartstopper, Euros Lyn
Synopsis
On the first day of school, Charlie Spring (Joe Locke), a reserved young boy, falls in love with his tablemate, jock Nick Nelson (Kit Connor). If Charlie is openly gay, everyone thinks Nick is straight. But the friendship he develops with Charlie leads him to question his sexual orientation.
A committed director
From episode to episode, this series gradually breaks away from the clichés of the teenage love story that it foreshadowed.
Behind the rather expected scenes of first meeting and misunderstandings, "Heartstopper" draws a realistic and fair representation of what it is to be 15 years old in the England of 2021, when you are a boy, and you love a boy.
No strong dramatic intensity, no great declaration of love or violent scene.
The plot is based on a series of micro-dramas that seem all the more powerful because they stand out against a rather peaceful daily life.
Thus, if homosexuality is apparently accepted by everyone, there are still less visible and more insidious forms of harassment, micro-aggressions that the characters suffer from but which they can also talk about.
A young girl making her gender transition and having to change high schools, the violence of a homophobic comment on social networks, the feeling of abandonment when a group of friends is reunited, or the anxious wait when the chosen one of our heart "is writing…" on Instagram,… so many events with different stakes but to which the director Euros Lyn confers a strong emotional charge by filming them at the level of teenagers.
Very good young actors until then little known carry dialogues sometimes a little demonstrative. Olivia Colman, Nick's mother in the series, is excellent, as usual, despite her three scenes and ten lines.
A series that goes far beyond the simple tenderness to shake up some of the codes of the genre.
Let's hope that it is the precursor of more complex and accurate romances.
By Deborah.
On Netflix now.
FILMS TO WATCH IN YOUR MOVIE THEATERS AS FROM JUNE 1ST
This week :
C'est magnifique ! By Clovis Cornillac  – With Clovis Cornillac, Alice Pol, Manon Lemoine.
Pierre, in his forties, has always lived far from the world's disorder, between his bees and his hibiscus. When his parents disappear, his whole world is turned upside down: he discovers that he has been adopted and must learn to survive in a modern society that he has never known.
Compétition officielle, by Mariano Cohn, Gastón Duprat. With Penélope Cruz, Antonio Banderas, Oscar Martinez.
Oscar Martinez A billionaire businessman decides to make a film to leave a mark on history. He hires the best: the famous filmmaker Lola Cuevas, the Hollywood star Félix Rivero and the radical theater actor Iván Torres. But if their talent is great… their ego is even greater!
La Ruche, by Blerta Basholli
 

– With Yllka Gashi, Cun Lajci, Aurita Agushi.

Fahrije's husband has been missing since the Kosovo war. In addition to this grief, her family is also facing important financial difficulties. In order to support themselves, Fahrije has started a small farming business.

Clara Sola, by Nathalie Álvarez Mesén.
Starring Wendy Chinchilla Araya, Daniel Castañeda Rincón, Ana Julia Porras Espinoza

In a remote Costa Rican village, a withdrawn 40-year-old woman sets out to break free from the repressive religious and social conventions that have dominated her life, leading her to a sexual and spiritual awakening.

Firestarter, by Keith Thomas (II)  – With Michael Greyeyes, Zac Efron, Gloria Reuben.

A young girl with the extraordinary power of pyrokinesis attempts to protect her family from dark forces that seek to capture her and exploit her abilities.

Broadway, by Christos Massalas  – With Elsa Lekakou, Foivos Papadopoulos, Stathis Apostolou

Nelly, a young runaway dancer, takes refuge in Broadway, an abandoned Athens entertainment complex squatted by a gang of pickpockets. She joins their group and they devise a new scheme: Nelly gives a street performance, while the others steal wallets and cell phones.

Elizabeth, Regard(s) Singulier(s), by Roger Michell.

Elizabeth, Regard(s) Singulier(s) is a unique, modern and exhilarating film portrait of an extraordinary queen, but also of a woman who was a member of the family.

Juste avant la nuit – Michel Bouquet by Jean-Pierre Larcher – With Michel Bouquet

At the rhythm of the tides, isolated in a hotel facing the sea. Michel Bouquet sees the works and thoughts of the greatest theater and film authors of the 20th century resurface. People who have marked his life and forged his thoughts.

Major, by Sashi Kiran Tikka – With  Sobhita Dhulipala, Prakash Raj, Adivi Sesh

Based on a true story. On November 26, 2008, the young Major Sandeep is on a mission to free the hostages of the Taj Mahal Palace Hotel in Mumbai. He has only one obsession in mind: the nation must emerge victorious.
Later (and we are looking forward to it: 
MRS. HARRIS GOES TO PARIS, July 15, Anthony Fabian
Set in 1950s London, a widowed cleaning lady becomes obsessed with a couture Dior dress and embarks on an adventure to Paris. 
GEORGE MICHAEL FREEDOM UNCUT: an introspective story told by George Michael himself.
The singer had indeed started working on this film before his death in late 2016.
So many events told in this exceptional document in which participates an impressive list of artists from Stevie Wonder to Elton John, through top models, Naomi Campbell, Cindy Crawford or Linda Evangelista honored in the famous clip "Freedom! '90". Unmissable.
After Yang, produced and directed by Kogonada, is an adaptation of the American short story Saying Goodbye to Yang by Alexander Weinstein.
In the near future, where the fashion is marked by domestic androids in human form that are considered nannies, Jake (Colin Farrell) and his daughter try to save Yang (Justin H. Min), their robot that has become inert.
Release date: June 22, 2022.
Jurassic World Dominion, Colin Trevorrow, June 8th.
Bullet Train, by David Leitch, adapted from the novel Maria Beetle by Kōtarō Isaka. On July 20, 2022.
Starring Lady Gaga, Sandra Bullock, Andrew Koji, Aaron Taylor-Johnson, Joey King, Shinkansen.
Nope,  Jordan Peele, on August 5th.
With: Daniel Kaluuya , Barbie Ferreira , Michael Wincott , Steven Yeun , Keke Palmer , Brandon Perea , Terry Notary , Andrew Patrick Ralston , Donna Mills , Jennifer Lafleur
Don't worry darling, Olivia Wilde.
Mission Impossible Dead Reckoning, Christopher McQuarrie
Three thousand years of longing, George Miller, on August 24th
WEEKLY TIPS & OPINIONS ABOUT MOVIES 
BY  MOVIE DIRECTORS,  WRITERS, SCREENWRITERS, DIRECTORS, COMPOSERS…
Go Into The Story Resource: Sixty Second Screenwriter  by Scott Myers 
Go Into The Story Resource: Page One  by Scott Myers
4. 

BEST SERIES & FILMS ON TV, AS FROM JUNE 1ST
Mercredi- Wednesday
Arte : Van Gogh
Thursday – Thursday
Arte : La Montagne aux secrets by Markus Goller :
After a tragedy in the high mountains, a group of reintegrated young people organize themselves to survive independently. Between thriller and social psychology experiment, a breathtaking series that questions the strength of determinism.
France 3 : L'armée des ombres
M6 : The Queen
Friday – Vendredi
Canal Plus : House of Gucci
Arte : Sur les traces du passé
Sunday – Dimanche
Arte : L'interprète
6Ter : Le Terminal
Monday – Lundi
Arte : The Others
W9 : Pretty Woman
Tuesday – Mardi 
Canal Plus : Déliceux
France 4 : Sabine Weiss, une vie de photographe
Wednesday- Mercredi
Arte : Birth
5. 

BEST DOCUMENTARIES, SERIES & FILMS AS FROM JUNE 1ST ON ARTE
ARTE DOCUMENTARY AS FROM JUNE 1ST
Making Waves, the magic of sound in cinema by Midge Costin:
Nourished by interviews with Spielberg, Lynch or Lucas, a revelation of the powers of sound in cinema. This immersion in the Hollywood studios tells the story of the most outstanding sound designers: Walter Murch ("Apocalypse Now"), Ben Burtt ("Star Wars") and Gary Rydstrom ("Saving Private Ryan").
Barbra Streisand, birth of a diva, by Nicolas Maupied
With an incredible pugnacity, Barbra Streisand has had all the successes without ever denying herself. From her difficult childhood in Brooklyn to the Broadway musicals, from "Funny Girl" to "Yentl", this is the story of her irresistible rise.
Monk-pannonica-une-histoire-americaine : Jacques Goldstein
How, in a segregated America, Baroness Pannonica de Koenigswarter accompanied Thelonious Monk and other jazz musicians in their fight to impose their art. The story of a fruitful encounter.
FILMS AS FROM JUNE 1ST
Parasite, by Bong Joon-ho ("The Host", "Snowpiercer"), 4 Oscars and 1 Palme d'Or in Cannes.
May 30th : Flee, 3 times nominated for the Academy Awards.
SERIES AS FROM JUNE 1ST
Norway, 1969. In the small coastal town of Stavanger, four young people from very different backgrounds find their lives turned upside down by the discovery of a gigantic oil field. A sentimental drama with a folk-pop soundtrack and elegant direction with an irresistible Mad Men flavour.
Best series & films as from  June 1st 

on 

Netflix
The beauty queen of  Jerusalem, Sarit Yishai-Levi, now.
Demain, by Cyril Dion & Mélanie Laurent, on June 6th.

The Gray Man, by Russo brothers, with Ryan Gosling, Ana de Armas & Chris Evans, on July 22
Best series & films as from June 1st

on 
Prime Video
The Lord of the rings, Juan Antonio Bayona, on September 2nd.
Best series & films as from June 1st

 

on Canal+
Promising Young Woman, by Emerald Fennell, now.
The desperate Hour, Phillip Noyce, on June 1st
Super Pumped : la face cachée d'Uber, Joseph Gordon-Levitt, on June 2nd
House of Gucci, Ridley Scott, on June 3rd
Des gens bien ordinaires,by Ovidie, on June 6th
Best series & films as from June 1st

 on Apple TV
Physical saison 2, as from June 3rd, created by Annie Weisman.
Sheila Rubin (Rose Byrne) has successfully launched her first fitness video, but she encounters new and bigger obstacles along the way. She's torn between her loyalty to her husband (Rory Scovel) and the values he represents, and a dangerous attraction to someone else.
A new episode every Friday,10 episodes.
Best series & films as from June 1st 

on Disney Plus
Mrs Marvel,Bisha K. Ali,on June 8th.
Willow, Jonathan Kasdan & Wendy Mericle, on November 30th.
Best series & films as from  June 1st

 

on Starzplay
Becoming Elizabeth, starting June 12.
"Becoming Elizabeth" is created and written by Anya Reiss, award-winning television writer and playwright ("Spur of the Moment," The Acid Test), who is also executive producing, with George Ormond ("National Treasure," "Great Expectations") and George Faber ("Shameless," "The White Queen" on STARZ) of The Forge, and Lisa Osborne ("Little Dorrit," "Man in an Orange Shirt") producing.
The Girl from Plainville, with Elle Fanning, on July 10th