What to watch in October: your theatrical releases and your series to see on all platforms.
No Time To Die
&
your new films & series
News on movies and series
As an object of our contemporary culture, what does James Bond tell us about our society and its evolution?
(France Culture)
The exhibition "Cinema at last!", which opens its doors at the Musée d'Orsay in Paris, is interested in the primitive subjects of the seventh art. By mixing paintings, antiques and 19th century films, it shows how urban culture created cinema. An exhibition to be seen until January 16, 2022.
Catel Muller and José-Louis Bocquet pay tribute to the pioneer of the seventh art in a biography published on September 22.
Festivals
Korean Film Festival, From October 26 to November 2 with the screening of  Introduction by Hong Sangsoo, Agent's Bear for Best Screenplay at the Berlinale.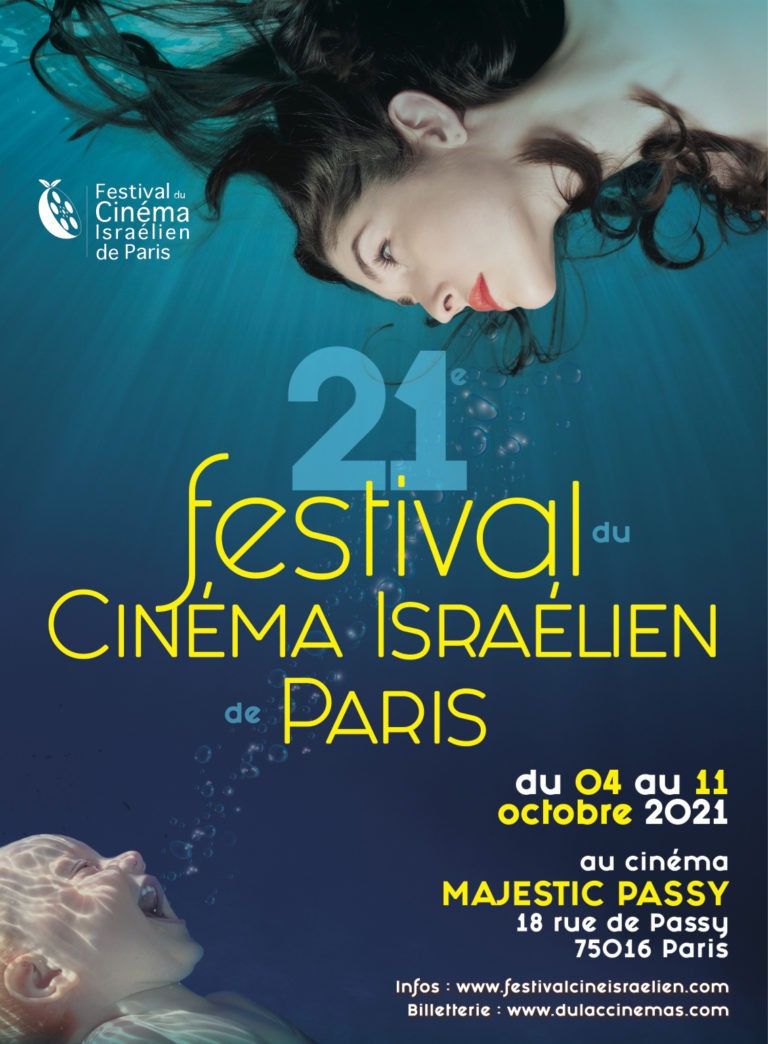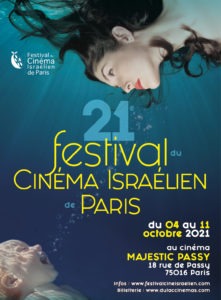 FESTIVAL DU CINÉMA ISRAÉLIEN DE PARIS :OCTOBER 4 TO 11.
The second edition of Marseille Series Stories, the first festival of series adapted from literary works, will be held from November 18 to 21, 2021.
ALL YOU WANT TO KNOW ABOUT CURRENT FILMS & SERIES
IN THEATERS AND AT HOME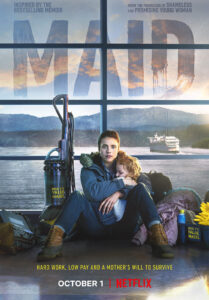 Maid, by Molly Smith Metzler
Synopsis
Fleeing an abusive relationship, a young mother becomes a housekeeper and struggles to provide for her daughter in hopes of a better future.
The series
Based on Stephanie Land's best-selling memoir Maid: Hard Work, Low Pay, and a Mother's Will to Survive.
Alex and his daughter have a song to cheer them up when the mood strikes. That night, Alex and her daughter Maddy flee in the middle of the night after yet another outburst from her abusive and violent partner, Sean. But the song goes off the rails.
Like many emotionally abused women, Alex is in denial. Sean didn't beat her and she doesn't feel legitimate to file a complaint. She seeks help from her mother, Paula, who lives in another reality, and her father, whom she never knew….
There follows a long series of ordeals to survive, and to offer a home to her daughter.
Domestic violence takes many forms and very often some women leave their partners for good after the fourth or fifth time they leave the marital home. The shelters allow this, to help women in distress. This series shows a young mother, in distress, who makes mistakes, because psychological abuse is destructive and therefore mistakes are repeated.
The writing saves Alex, played by Margaret Qualley, touching in this role and who confirms her talent as an actress, she played in the series The Leftovers the role of Jill Garvey.
Her mother, on screen and in life, is played by Andie MacDowell, who had not been seen on screen for a long time.
To see now on Netflix.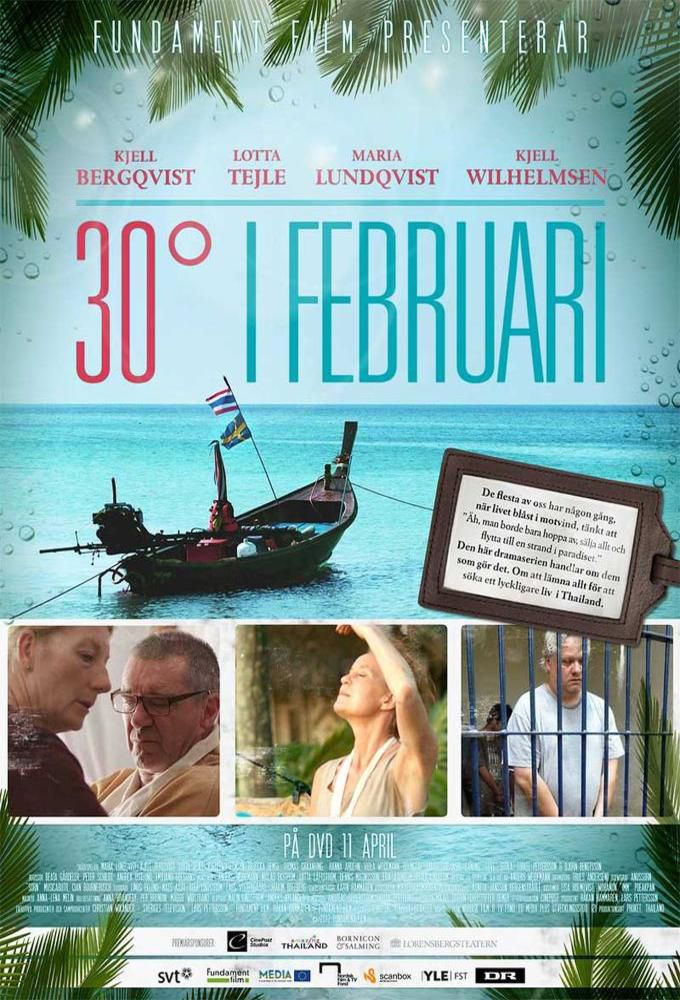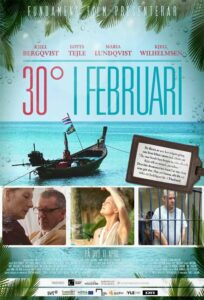 30 Degrees in February, by Anders Weidemann
Synopsis
Four unique stories of Swedes who decide to leave the snow and cold of Scandinavia for the paradisiacal beaches of Phuket Island, in Thailand. The beginning of an adventure that will change the life of each of them forever… A Nordic series full of humor and finesse, unpublished in France.
The series
A woman abused by a handicapped dictator husband, a Thai father who returns to his roots, a workaholic single mother, a man in search of love who finds himself confronted with Thai prostitution, all these characters are looking for a meaning to their lives in a tropical country but a dictatorial regime.
Each episode teaches us a little more about their story and this Swedish series directed by Anders Weidemann is worth a look on the Franco-German channel.
To be seen at the moment on Arte.TV.
2. MY SUGGESTIONS OF FILMS TO SEE
IN YOUR THEATERS
October 6:
James Bond, No Time to Die, by Cary Foji Fukunaga
Sept jours, by Yuta Murano
Delphine et Carole, insoumuses , by Callisto Mc Nulty.
Petite soeur, (Schwesterlein), by Stéphanie Chuat & Véronique Reymond
Lisa is a German playwright who has abandoned her artistic ambitions to follow her husband to Switzerland and devote herself to her family. When her twin brother Sven, a famous Berlin theater actor, falls ill, Lisa moves heaven and earth to get him back on stage. This intense sibling relationship brings Lisa back to her deepest aspirations and rekindles her desire to create, to feel alive.
Septet : The story of Hong Kong, by Ann Hui
Tralala, by Jean-Marie Larrieu
Mon légionnaire, by Rachel Lang,  with Louis Garrel, Camille Cottin.
Later (and we are looking forward to it)
House of The Dragon, Prequel of GOT, by Ryan J. Condal, George R.R. Martin.
Licorice Pizza,  on November 26, by Paul Thomas Anderson.
In the San Fernando Valley in the 1970s, various characters cross paths: a young successful high school actor (Cooper Hoffman), politician Joel Wachs running for office (Benny Safdie) and an old school producer and filmmaker (Bradley Cooper).
Le dernier duel, by Ridley Scott
Screenplay: Ben Affleck, Matt Damon and Nicole Holofcener, based on the novel The Last Duel: Paris, December 29, 1386 by Eric Jager.
Adaptation of the book Le Dernier Duel : Paris, 29 décembre 1386 by Eric Jager about the Carrouges-Legris duel of 1386, one of the last judicial duels in France.
With Matt Damon, Adam Driver , Jodie Comer, Ben Affleck
And Just Like That (in December, on HBO
WEEKLY TIPS & OPINIONS
FROM 

PROFESSIONALS

 WRITERS, SCREENWRITERS, DIRECTORS, COMPOSERS…
« Sankara avait un franc-parler qui tranchait avec la langue de bois habituelle » – Le Point
2021 Scene-Writing Challenge. Write some scenes. Win a great prize.by Scott Myers 
Page One: "Tootsie" (1982). Screenplay by Larry Gelbart and Murray… by Scott Myers 
4. AT HOME ON TV
WHAT TO WATCH IN OCTOBER & STREAM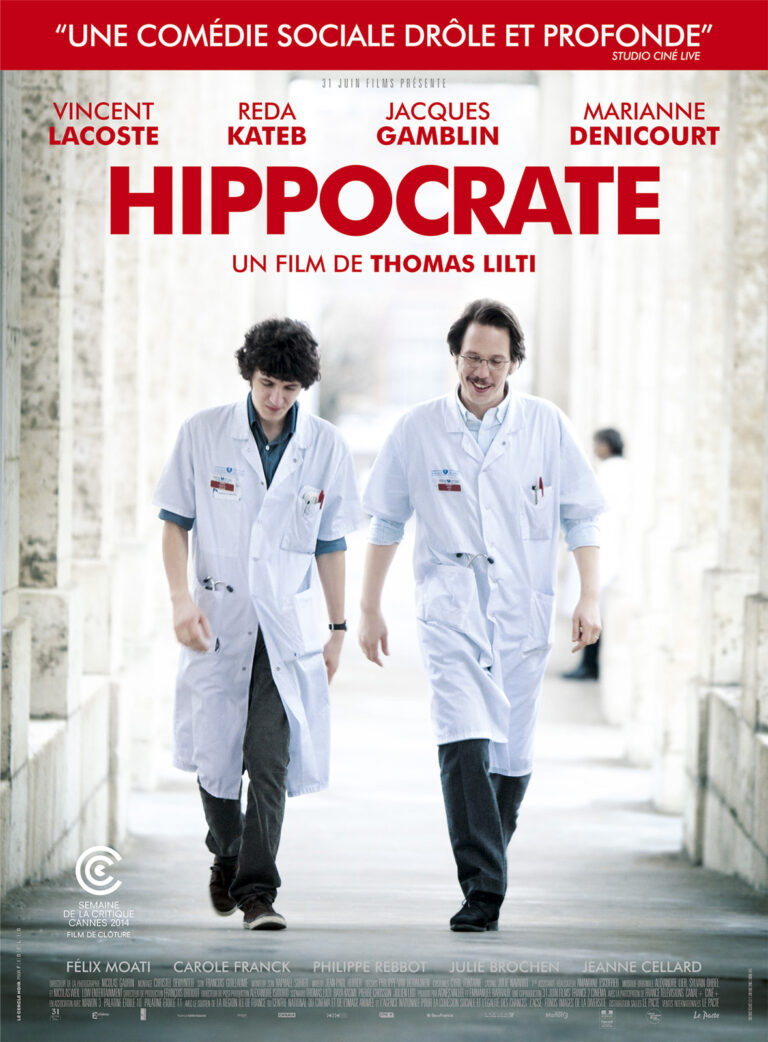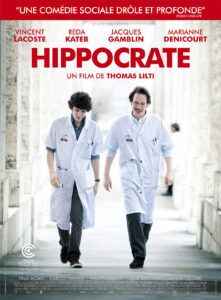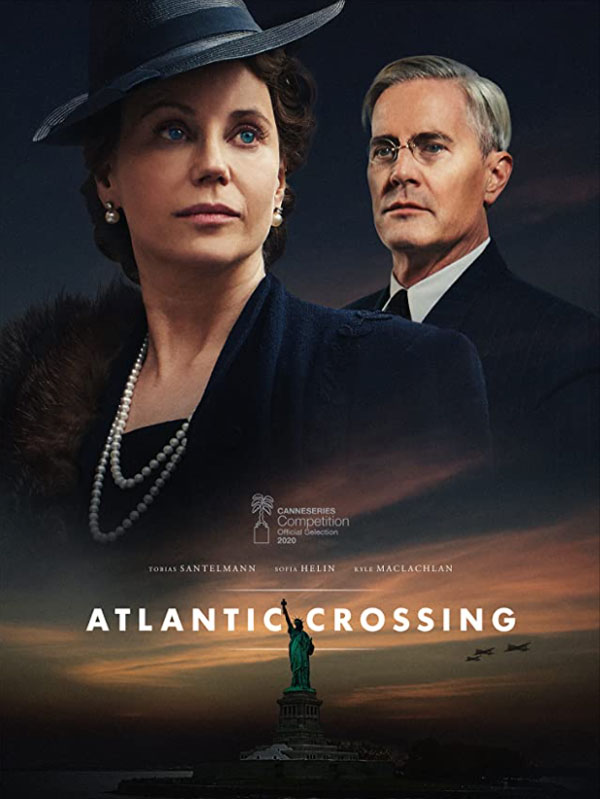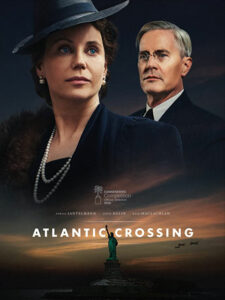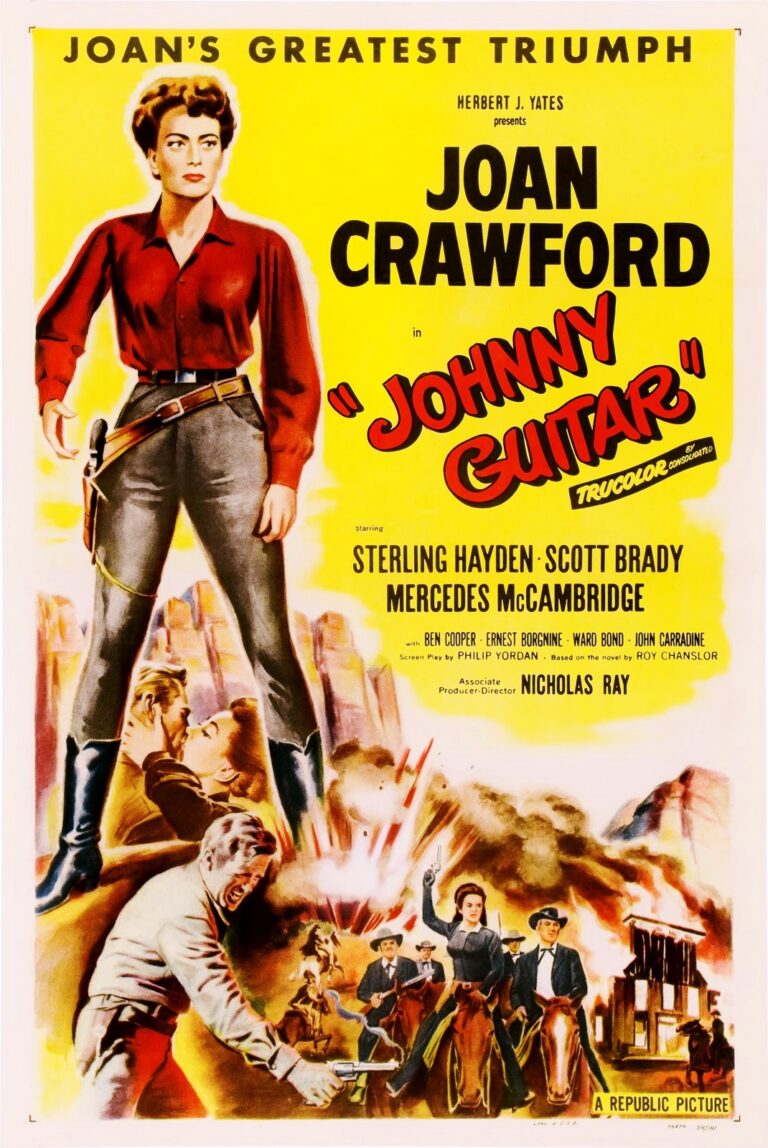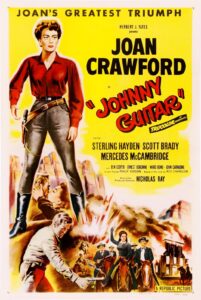 Mercredi- Wednesday
Jeudi – Thursday
France 5: Les dessous de la Statue de la Liberté
TFX : Le Labyrinthe
Vendredi – Friday
A fortune upsets the destiny of two united couples… Emily Atef ("3 days in Quiberon") signs an intense and dark thriller about the destructive power of money.
France 3 : Open Range
Chérie 25: The Wife
Samedi – Saturday
Arte : German actress Florence Kasumba investigates mysterious criminal cases that have marked history. In this episode: who is behind the assassination attempt on the Medici family in 1478
Chérie 25: Atlantic Crossing: Liaison Royale
Dimanche – Sunday
France 2 : Le Brio
Arte : Johnny Guitar de Nicholas Ray
With Joan Crawford (Vienna), Mercedes McCambridge (Emma Small), Sterling Hayden (Johnny Guitar)
Lundi – Monday
Arte : Un Flic de Jean-Pierre Melville
Mardi – Tuesday
Arte : Hypermarchés, la chute de l'empire de Rémi Delescluse
Canal Plus: Les filles du docteur March
TFX : Coup de foudre à Notting Hill
Mercredi- Wednesday
Canal Plus : Canicule
Gulli : La gloire de mon père
Arte : Hippocrate de Thomas Lilti,  with Vincent Lacoste (Benjamin), Reda Kateb (Abdel), Jacques Gamblin (Barois), Marianne Denicourt (Denormandy)
5.
AT HOME, 

ON YOUR PLATFORMS
WHAT TO WATCH IN OCTOBER & STREAM ON
ARTE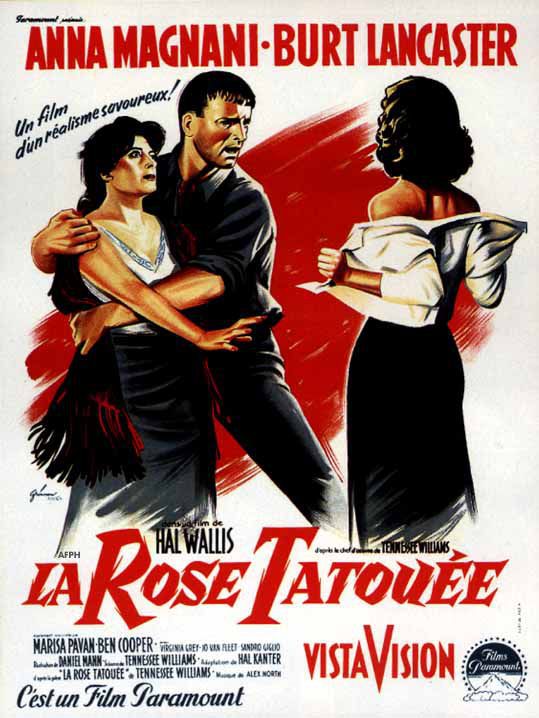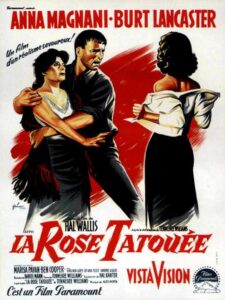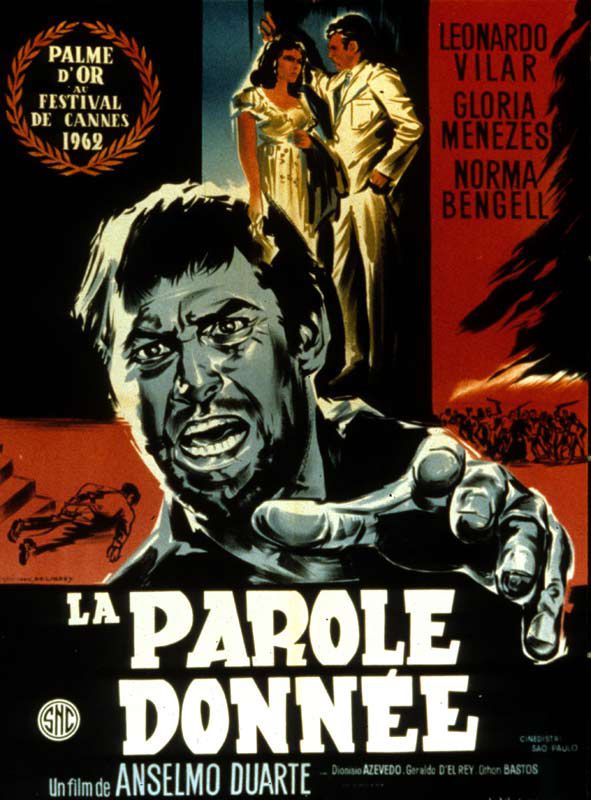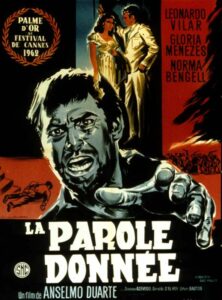 FILM
A-fish-swimming-upside-down by Eliza Petkova.
Parole-donnee Brazilian drama film directed by Anselmo Duarte, released in 1962, and adapted from the eponymous play by Alfredo Dias Gomes.
La-rose-tatouee by Daniel Mann, with Anna Magnani (Serafina Delle Rose), Burt Lancaster (Alvaro Mangiacavallo), Marisa Pavan (Rosa Delle Rose), Ben Cooper (Jack Hunter).
SERIES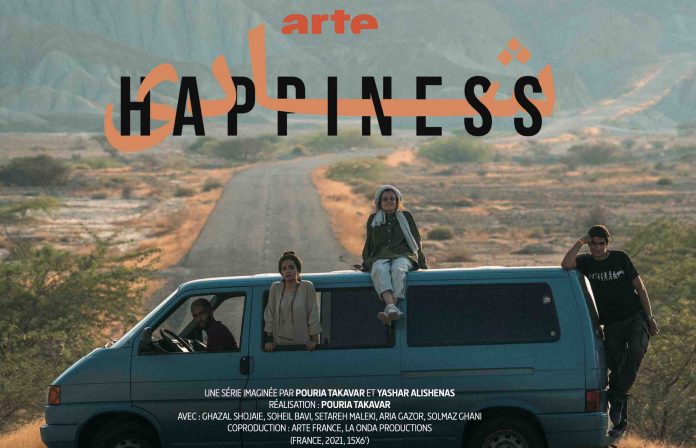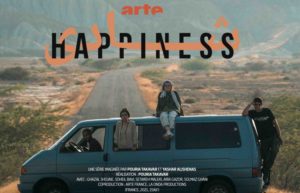 Tehran, today. Shadi is 17 years old. In life, Shadi enjoys listening to music down the block with her best friend Ferial. Except that soon, she has to move to France, far from everything she has ever known. Shadi begins to wonder, is this immigration really what she wants? To find out, she sets out to meet Iran.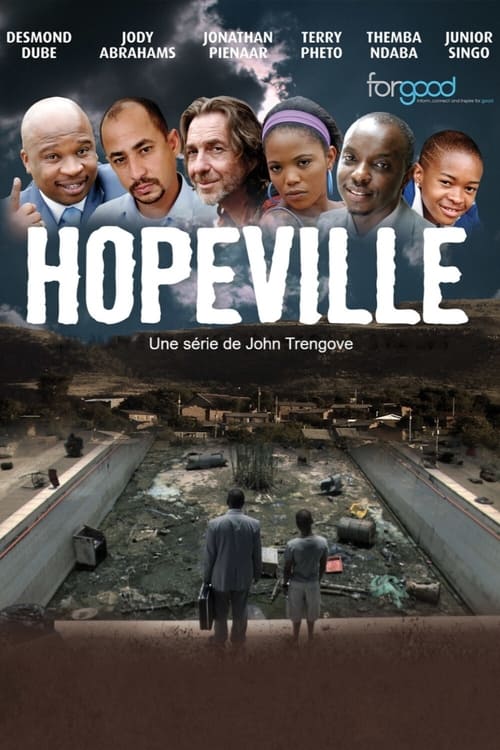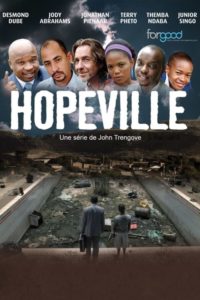 In a small dusty town in South Africa, a man in search of redemption tries to rebuild a relationship with his son, whom he had abandoned, while restoring an abandoned municipal swimming pool. A feel good series with corrosive humor that denounces the ills of South African society as much as it demonstrates its capacity for resistance.
& FROM OCTOBER 23
Inspired by real events, H24 – 24 hours in the life of a woman is a manifesto series that reports on violence against women in everyday life. Based on an original idea by Nathalie Masduraud and Valérie Urrea (Focus Iran – L'audace au premier plan, Pornotropic – Marguerite Duras et l'illusion coloniale…), who are composing their first fiction, the series offers 24 daring short films, based on the texts of 24 European women authors, performed by 24 exceptional actresses. A diversity of voices and talents, in a strong and committed collection. 
WHAT TO WACH : DOCUMENTARY
Claudia Cardinale by Emmanuelle Nobecourt
L'influence dans la communication, by Diana Neille et Richard Poplak
Taiwan-une-democratie-a-l-ombre-de-la-chine by Alain LEWKOWICZ
Libye-l-heritage-de-kadhafi by Sacchetti  Emiliano
Auu-gabon-simenon-hors-des-sentiers-battus/
Le-gabon-a-l-assaut-des-pilleurs-de-la-mer/
La Cinémathèque Française
 Dino Risi exhibition from September 2 to October 27 
WHAT TO SEE IN OCTOBER & STREAM ON
NETFLIX
Operation Hyacinth, by Piotr Domalewski with Tomasz Zietek, Hubert Milkowski. October 13.
The story of a serial killer who preys on homosexuals and a young policeman, Robert, who tries to catch him. While investigating these murders, Robert meets Arek and wants to make him his informant…
You, season 3, by Greg Berlanti, opens October 15.
& News trailers
Ozark,season 4
Stranger Things, season 4
Emily in Paris season 2, in December
Cowboy Bebop, on November 19
Bridgerton saison 2 : 2022
WHAT TO SEE IN OCTOBER & STREAM ON
 Prime Video
Orelsan, Montre jamais ça à personne, on October 15th
Devious Maids, as from October 5th
The wheel of the time, inspired by the novels of the American writer Robert Jordan.
Created by Rafe Judkins with Rosamund Pike. Starting November 19.
The Wheel of Time follows Moiraine, a member of the powerful female channeling organization called the Aes Sedai, who takes in a group of five young people from a small village following an attack by the forces of the Dark One, a malevolent evil entity that seeks to destroy the Frame (existence).
Of these five, she believes that one may be the reincarnation of the Dragon, an ancient hero and powerful channeler who is prophesied to save the world or destroy it.
The Electrical Life of Louis Wain, on November 5. By Will Sharpe, with story by Simon Stephenson, and screenplay by Stephenson and Sharpe.
It stars Benedict Cumberbatch, Claire Foy, Andrea Riseborough, Sharon Rooney, and Toby Jones.
The film depicts the life of artist Louis Wain.
WHAT TO WATCH IN OCTOBER & STREAM ON
 Canal+
Little Women, by Greta Gerwig  on October 12
Séjour dans les monts Funchun, by Gu Xiaogang
Deceit, by Emilia di Girolamo  & Niall MacCormick with Niamh Algar (Sadie Byrne / Lizzie James), Eddie Marsan (Paul Britton).
Mary Shelley, by Haifaa Al Mansour with Elle Fanning, Maisie Williams
Succession, season 3  on October 17
WHAT TO SEE IN OCTOBER & STREAM ON
Starzplay
Doctor Death, by  Patrick Macmanus with Joshua Jackson, Alec Baldwin & Christian Slater, on September 22.
BMF, on September 26th.
WHAT TO WATCH IN OCTOBER & STREAM ON
Apple TV
The Morning Show,  saison 2
Foundation, created by David S. Goyer et Josh Friedman,now.
Invasion, de Simon Kingberg, le 22 octobre
Finch, by Miguel Sapochnik, expected November 5, with Tom Hanks.
The Tragedy of Lady MacBeth, by Joel Coen
WHAT TO WATCH IN OCTOBER & STREAM ON
DISNEY PLUS
Welcome to Earth, by Darren Aronofsky, with Will Smith.