This week, in your movie theaters, many great films to watch !
On the bilingual Movieintheair blog, I do for you a press review every Wednesday and keep the best of national and international audiovisual news.
What are your new series ?
What's new in the theaters ?
NEWS
Jodie Foster Special Guest of Cérémonie d'ouverture & Palme d'or d'honneur of 74e Festival de Cannes
Internet giant Amazon has bought the Hollywood studio Metro-Goldwyn-Mayer (MGM) for $8.45 billion.
Atypical 4th season is coming on NETFLIX on July 9th!
EVENTS AND ONLINE FESTIVAL
Today !! How to dance like Rabbi Jacob, organized by La Cinémathèque, online: more information 
Out of nine very uneven films in competition, the jurors promoted two Iranian features: The Law of Tehran, by Saeed Roustaee, This is Saeed Roustaee's second feature film after Life and a Day in 2016. (to be released on July 28), is awarded the Grand Prize and the Critics' Prize, while The Slaughterhouse, by Abbas Amini, wins the Jury Prize.
The Law of Tehran will be released in theaters on July 28 
The only French film in competition, Boîte noire, by Yann Gozlan (to be released on September 8), starring Pierre Niney, won the Audience Award. It follows the journey of Mathieu Vasseur, a technician from the Bureau of Investigation and Analysis (BEA) in charge of investigating the crash of a Dubai-Paris flight in the Alps. 
Pierre Niney had already shot with Yann Gozlan in 2014. In An Ideal Man, he played an apprentice author also named … Mathieu Vasseur.
The selection for the Cannes Film Festival will be announced on June 3rd.
TRIBUTE
GAVIN MACLEOD
YOUR SERIES & YOUR FILMS
ALL YOU WANT TO KNOW THIS WEEK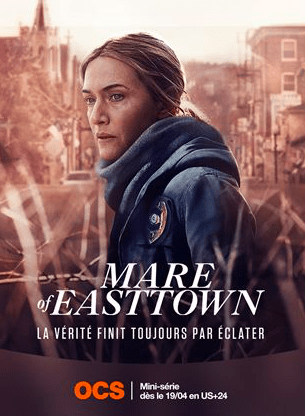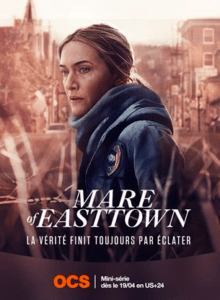 Mare of Easttown, by Brad Ingelsby, directed by Craig Zobel
Synopsis
She comes limping in. Nicknamed Lady Hawk because of a basketball hoop that won the city a championship, Mare is a battered female cop. She couldn't solve an investigation into the disappearance of a teenage girl ten years earlier and in her personal life, she's a broken woman.
Mare lives with her alcoholic mother, talks very little to her daughter and gets angry with everyone.
At the request of the girl's mother, the investigation resumes, aided by a police officer with a good reputation.
Your series
I had already started to write about this series but it ended yesterday and until the end is worth watching.
It is the series of the moment.
Broadcast on HBO in the US, and in France on Canal Plus and OCS, Mare of Easttown is about grief, reconstruction and truth.
Kate Winslet, who co-produced the series, plays the title role and it's a pleasure to rediscover her in this leading role, that of a woman for whom nothing is of interest except her grandson and her work. She throws herself into it to forget the drama she has lived through.
The actress will certainly receive awards this year. The script, the dialogues, the direction, everything fits perfectly with the universe of this story of filial love (whatever the characters), violence and despair.
If all the actors are sensational, I discovered an extraordinary actress, Julianne Nicholson, (who is not Jack's daughter as I thought).
About a season 2, Kate Winslet told TV Line (source CNews):
" I feel like I'm in mourning. It was an absolutely wonderful role… There's something very addictive about Mare, because she's so vulgar and touching and brilliant and so real at the same time. You know what I mean? I loved being in her shoes (…) . Mare is a middle-aged woman, I will be 46 in October. I think that's why people connected with this character the way they did, because she's unfiltered. She's a flawed woman with a body and a face that moves like a body and a face should move at her age. We all need that. "
Indeed, the actress insisted that there would be no visual retouching, whether it was her stomach or her wrinkles.
Go for it !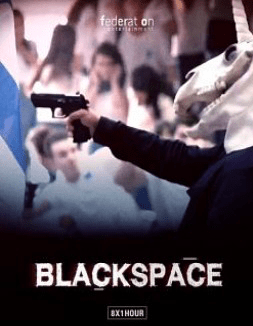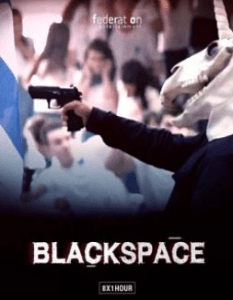 BLACKSPACE, BY ANAT GAFN & SAHAR SHAVIT
Synopsis
In a small town in Israel, on the day of Yom Hazmaut (Independence Day) while the high school seniors are attending the ceremony, four unicorn-masked individuals burst in and start shooting at random at the students and four of them are found dead.
A policeman, a former student of the school, goes to the scene. After the intervention, three Palestinians are found on the roofs and are immediately accused. But the weapons have disappeared. The investigation then turns to the students.
Your series (8 episodes)
A breathtaking and thrilling Israeli series, Blackspace will not let go of you once you start it.
The hero, Rami Davidi, incredible Guri Alfi, is a man who lost an eye when he was harassed by the students of the same high school twenty-five years earlier. His past resurfaces as he leads the investigation and he works day and night to find the culprits of this massacre, which is reminiscent of those perpetrated in the United States.
Post-traumatic symptoms plunge him back into this traumatic event, and Rami Davidi no longer knows how to live outside of his work.
This series allows its authors to address violence, bullying, injustice and misogyny present in Israeli society.
Blackspace can be seen now on NETFLIX.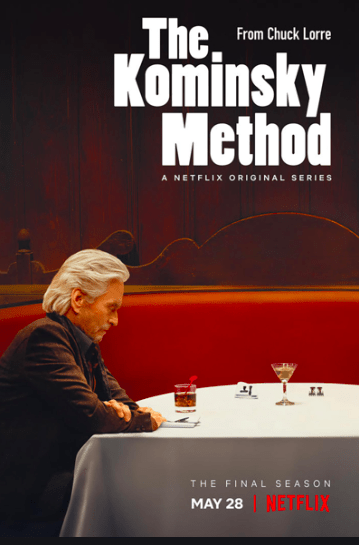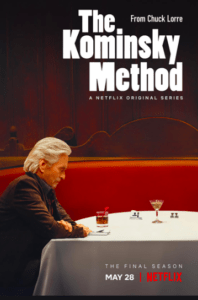 THE KOMINSKY METHOD, BY CHUCK LORRE
Synopsis
Sandy Kominsky and Norman Newslander are two inseparable friends. But Norman dies and Sandy has to learn to live without him.
Her daughter Mindy, who helps her in her acting school, has met Martin, a man a little bit younger than her father, and she decides to marry him.
Sandy's ex-wife then arrives.
Your series
Without Alan Arkin, the actor who played Norman Newlander in the first two seasons, I expected the worst.
Norman was my favorite character. The dialogues full of Woody Allen humor hit the spot every time in this feel-good series.
But Michael Douglas rose to the challenge. This time, he carries alone this season, more moving than the two previous ones, which tells us, as always, about the dream of becoming an actor, of being chosen for a movie, of living from his passion and of reaching fame.
This season is the last one and despite the heaviness of some scenes, it is worth the detour.
Currently on NETFLIX.
With Kathleen Turner, as well as Sarah Baker and Lisa Edelstein, Emily Osment, Graham Rogers, Ann-Margret, Jay Leno, Patti LaBelle, Ashleigh LaThorpe, as well as Jane Seymour and Paul Reiser.
2. YOUR SERIES AND YOUR FILMS
 IN YOUR MOVIE THEATERS 
On June 2nd in your movie theaters :
Playlist de Nine Antico, Avec Sara Forestier et Laetitia Dosch
Suzanna Andler, by Benoît Jacquot, from Marguerite Duras's novel
Villa Caprice, by Bernard Stora
Petite Maman, by Celine Sciamma
All my life, by Marc Angels
Mission Paradis, by Richard Wong
Billie Holiday, une affaire d'État, by Lee Daniels
Playlist, by Nine Autico
Ride your wave, by Masaaki Yuasa
Later
June 9th
Nomadland, by Chloé Zhao
June 16th
Sans un bruit (2), by John Krasinski
June 30th
Présidents, by Anne Fontaine
July 21st
Old, by Night Shyamalan
3.
WEEKLY TIPS & OPINIONS
FROM 

PROFESSIONALS
 WRITERS, SCREENWRITERS, DIRECTORS, COMPOSERS…
"How to Write Photoplays" by John Emerson and Anita Loos | by Scott Myers 
10 Screenwriting Skills and Traits You Need | by Scott Myers | Apr, 2021
Sundays with Stephen King's "On Writing" | by Scott Myers | May, 2021
The Nemesis as the Protagonist's 'Shadow' | by Scott Myers | May, 2021 
BOB DYLAN  IN MOVIES : a biopic is forecast with Timothée Chalamet in Bob Dylan 's part.
4.
YOUR WEEKLY PROGRAM
 June 2nd to June 9th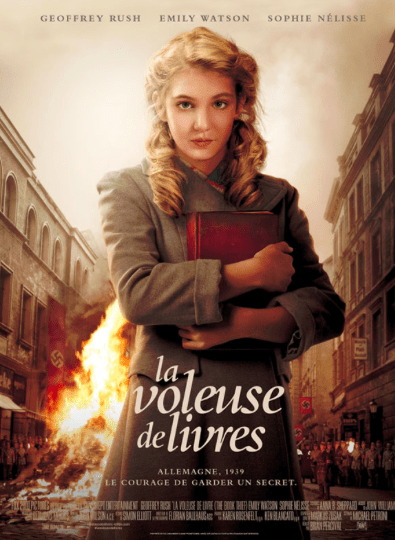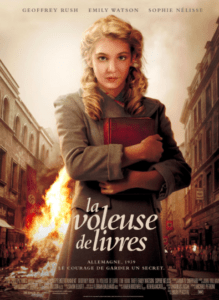 Wednesday 2nd
C8: Ben Hur
LCP: Sugar Man
Arte : Amin, de Philippe Faucon, avec Emmanuelle Devos
Jeudi – Thursday
M6 : Chernobyl
France 3 : Il faut sauver le soldat Ryan
Canal Plus : La daronne
TMC: Les visiteurs
Star : Instinct de survie
Vendredi – Friday
France 5 : Fanny et Alexandre
6Ter : Dans l'ombre de Mary, la promesse de Walt Disney
Samedi – Saturday
Arte : Les trésors de la cité des dieux
Dimanche – Sunday
France 2: Yao
TF1 Séries : La voleuse de livres
Arte : Beethoven symphonie n 8
Lundi – Monday
TMC : Ocean's 8
Mardi – Tuesday
6Ter : L'arnacoeur
Mercredi- Wednesday
5.
ON YOUR PLATFORMS
ARTE

DOCUMENTARY
Jersey, the orphenage of shame
Alcool, the global intoxication 
SERIES
MOVIE 
Kanal, ils aimaient la vie de (by) Andrzej Wajda
La Discrète de Christian Vincent
L'or se barre de Peter Collinson
La Chaîne Parlementaire
LCP offers you a lot of good documentaries: here
La Cinémathèque Française
Carte blanche Le cinéma américain de Bertrand Tavernier – La Cinémathèque française
Rétrospective et exposition Louis de Funès – La Cinémathèque française
On Henri plateform, a cult movie everyday
Your movies and series 

to watch
 on NETFLIX
(CLICK ON THE LINK TO WATCH THE TRAILER)
Hit and run: A new series from "Fauda" star Lior Raz and his co-creator and co-writer Avi Issacharoff of "Times of Israel" .
Carnaval: After a breakup, an influencer takes her friends on a free trip to Bahia's vibrant Carnival, where she learns life's not just about social media likes. On June 2nd.
Skater Girl, on June 11th, by Manjari Makijany
Katla, on June 17th, by Baltasar Kormákur
Fatherhood, on June 18th
Your movies and series

to watch
on Prime Video
Roland Garros every night
Panic, by Lauren Oliver (adapted from her bestseller)
The Outpost, by Rod Lurie, with Eastwood, Caleb Landry Jones, Orlando Bloom, dès le 4 juin
True story of the battle of Kamdesh in Afghanistan, which raged on October 3, 2009. 53 American soldiers and nearly 400 Taliban. The film recounts the moment when 53 American soldiers were surrounded by 400 Taliban rebels at the world's deadliest military outpost
The Tomorrow war, on July 2nd, by Chris McKay
Dan Forester (Chris Pratt). Determined to save the world for his young daughter, Dan teams up with a brilliant scientist (Yvonne Strahovski) and his estranged father (J.K. Simmons) in a desperate quest to rewrite the fate of the planet.
Solos, 7 stories, by David Weil, with Anne Hathaway Morgan Freeman, Helen Mirren, on June 25th
Dreamland, by Miles Joris-Peyrafitte, with Margot Robbie
Your movies and series

to watch
on Canal+
Alex Rider, on June 8th (series), adapted from Anthony Horowitz's novel , created by  Guy Burt, with Otto Ferrant
« Une autre idée du monde »,  Bernard Henri Levy  's film will be broadcast on June 22nd.
Schitt's creek saison1 on June 23rd
Your movies and series  to watch on

 
Starzplay
Death and Nightingales, de Allan Cubitt
We are who we are (review here), by Luca Guadagnino.
Your movies and series

 to watch on
Apple Tv
1971: The Year that Music Changed Everything, a series produced by Asif Kapadia and James Gay-Rees
For James Gay-Rees, the year 1971 was also a turning point for fashion, marked in particular by the birth of Ziggy Stardurst, Bowie's double for one album and a glam-rock icon for decades.
Physical, created by Annie Weisman with  Rose Byrne, on June 18th
Fathom, by Dr Ellen Garland & Dr Michelle Fournet
Lisey's Story, adapted from the novel by Stephen King. The story of a woman, recently widowed, who becomes the object of a stalker obsessed with her husband's work.
On June 4. Directed by Pablo Larrain (Jackie) with Julianne Moore, Clive Owen, Jennifer Jason Leigh…
Your m

ovies and series on 
DISNEY PLUS
Cruella: on June 23rd  Director : Craig Gillespie
Screenwriter: Tony McNamara, Aline Brosh McKenna, Kelly Marcel, Jez Butterworth, Dana Fox, Steve Zissis avec Emma Stone, Emma Thompson.
Raya and The Last Dragon, on June 4th
Loki, created by Michael Waldron, with Tom Hidelston & Owen Wilson on June 6th
The Mysterious Benedict Society, on June 25th
Stay safe !
Subscribe to the weekly newsletters to keep up !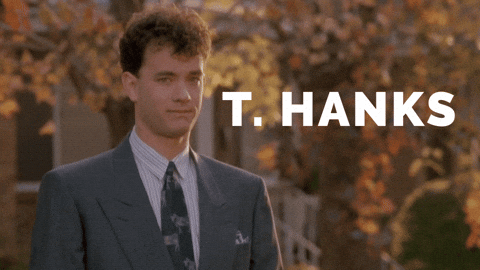 [contact-form to="contact@movieintheair.com" subject="Subscribe to the newsletters"][contact-field label="Subscribe here : Name" type="name"][contact-field label="Email address" type="email"][/contact-form]