In theaters and at home on your platforms : what to watch ?
On the bilingual Movieintheair blog, I do for you a press review every Wednesday and keep the best of national and international audiovisual news.
What's new in the theaters ?

What are you going to watch at home ?
NEWS
A biopic starring Carey Mulligan will tell the story of the investigation that led to Harvey Weinstein's downfall.
Studiocanal will produce the spy thriller Europa (8×60′), based on the best-selling novel series The Fractured Europe Sequence by British author Dave Hutchinson published since 2014 by Solaris Publishing.

 
Canal+ has just announced that actress Doria Tillier will be the master of ceremonies for the opening and closing ceremonies of the Cannes Film Festival, which will be broadcast respectively on July 6 and 17 free-to-air and live on the encrypted channel.
The Cannes Festival completed its Official Selection on June 10

, announcing 9 additional films in the different sections.
In Out of Competition will be presented Where is Anne Frank? by Ari Folman (Le Pacte); it is the only animated feature film of the Official Selection.
Vortex by Gaspard Noé will be screened in the "Cannes Première" section and Mes Frères Et Moi by Yohan Manca (Ad Vitam) in the Un Certain Regard section.
The Midnight Sessions are completed by Arnaud and Jean-Marie Larrieu's musical Tralala (Pyramid), and Audrey Estrougo's biopic on NTM, Suprêmes (Sony).
The Special Sessions will also feature Bill Murray's Party: New Worlds, The Cradle of a Civilisation by Andrew Muscato;
Mi iubta mon amour by Noémie Merlant; Les Héroïques by Maxime Roy (Pyramide); and Are You Lonesome Tonight? by Wen Shipei.
Finally, the opening film of Un certain regard, on July 7, will be Onoda – 10,000 Nights in the Jungle by Arthur Harari. 
THE ACID CANNES 2021 PROGRAMME:
EVENTS AND ONLINE FESTIVAL IN THEATERS AND AT HOME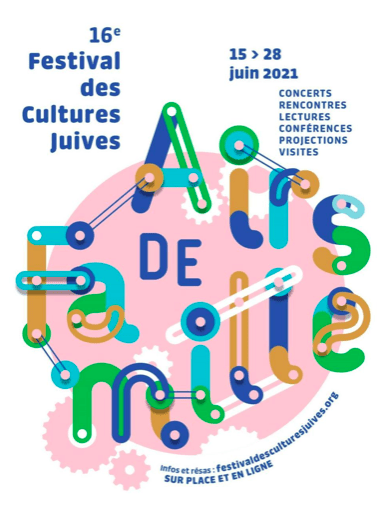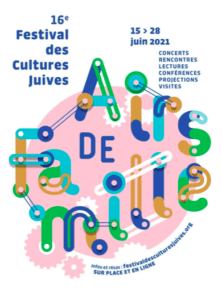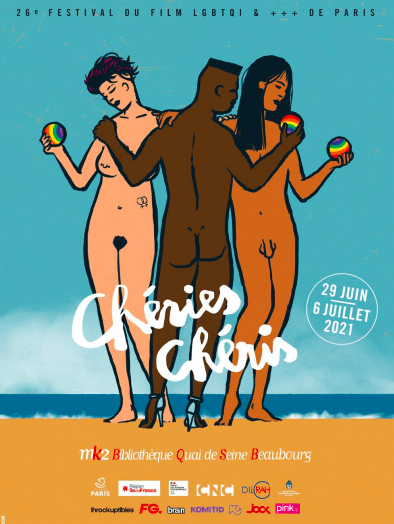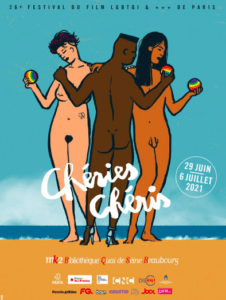 The temporary cinema Cinéma Paradiso Louvre is back at the Louvre, with the majestic Cour Carrée as its setting.
Some 1,500 seats are available each day, with reservations required. A musical program and a range of catering services will round out this exceptional year, organized with the strictest respect for sanitary conditions.
TRIBUTE
NED BEATTY
YOUR SERIES & YOUR FILMS
ALL YOU WANT TO KNOW IN THEATERS AND AT HOME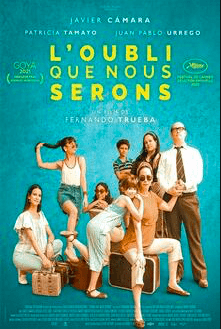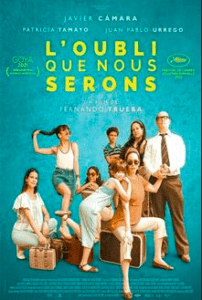 IN THEATERS
L'oubli que nous serons, by Fernando Trueba
Synopsis
Colombia in the 1980s.
Dr. Hector Abad Gomez, father of a family of six children, including five daughters and a son he adores, fights to get the inhabitants of Medellin out of poverty and questions the government about its inaction.
Despite the threats against him, he refuses to be silenced.
His son remembers their lives.
The film
Adapted from the novel written by Hector Abad Gomez's son, Hector Abad Faciolince, his novel El olvido que seremos translated into several languages, is considered one of the most important novels of Colombian literature and best seller in Colombia.
It was therefore not easy, as with any adaptation, to make a success of this film, which is at the same time intimate (the adoration of a father and his son), family and historical fresco. Colombian producers had to propose it to the director and he hesitated a long time before accepting.
The director Fernando Trueba has Billy Wilder as a mentor and wanted to finally show on screen, not the mafia bosses and the killers (who have had their share of cinema) but the victims of injustice, the everyday heroes.
The oblivion that we will be is a moving film, beautiful (this alternation of black and white and color) and wonderfully played by the hero of this story, Javier Camara who also plays in the series The New Pope and Narcos and in many films by Pedro Almodovar. He said in an interview "This film was more than a film, it was a common cause".
To see urgently in the cinema!
With also Nicolas Reyes Cano and Patricia Tamayo.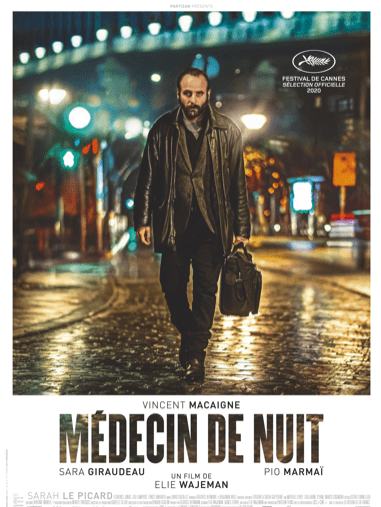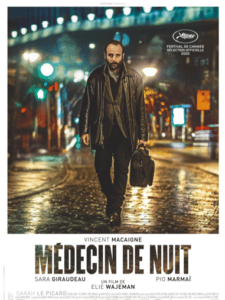 IN THEATERS
Médecin de nuit, by Élie Wajeman
Synopsis
Mikael is a night doctor who helps drug addicts. He does everyone a favor and at the same time is completely lost.  Married with a family, every night he finds his mistress, and his cousin to whom he provides false prescriptions until an investigation threatens to have him removed from the Order of Physicians.
Mikael wants to stop everything but it is not so simple…
The film
Élie Wajeman plunges us into a world that few of us know. It is about the violent, gloomy, and hard daily life of a doctor played by a brilliant Vincent Macaigne. Pio Marmaï plays wonderfully the role of the cousin who is both a crook and a party animal.
Like Jacques Audiard in De Battre mon coeur s'est arrêté, Élie Wajeman alternates moments of brutality and almost poetic pauses in the life of this man who wants to regain control over his life while being addicted to it. We follow him in this breathless race, wondering how it will all end…
This French thriller is a must-see in theaters this week.
Also starring Sara Giraudeau, a very good actress (also seen in Le Discours that I moderately appreciated).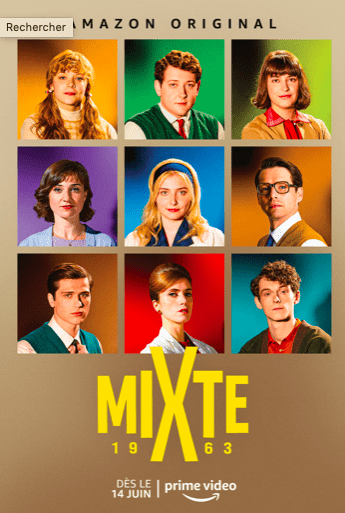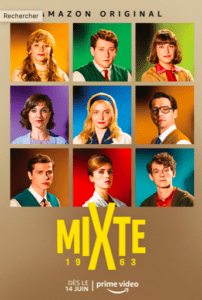 AT HOME
Mixte, by Élie Wajeman
Synopsis
In 1963, the Voltaire high school in Saint Jean, in the Charentes Maritime region, which is not coeducational, welcomes girls for the first time, eleven in all.
The arrival of these girls will upset the daily life of everyone, theirs but also that of the teachers and the boys.
The series
Created by Marie Roussin,, this series shows us a not-so-distant France where people wondered if girls should really be sent to school.
Prejudices, machismo and misogyny have shaped French society and Mixte shows us this with a lot of humor but also a real lucidity on the education given to girls and boys which then has consequences on their whole life.
Brilliantly played by Pierre Deladonchamps, (seen in the role of the predator in Les Chatouiles), Anne Le Ny, Léonie Souchaud, Nina Meurisse, Vassili Schneider, Maud Wyler, this intelligent series sometimes makes us uncomfortable, makes us laugh and breaks the myth of the 60's nostalgia.
To see at home on Prime Video (two times four episodes)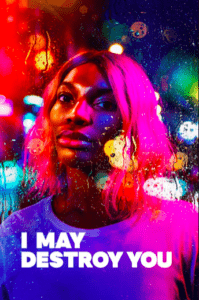 AT HOME
I may destroy you, by Michaela Coel
Synopsis
Arabella returns from Italy, where she has been having a good time thanks to the advance on her novel's publication. In New York, she goes out one night and meets up with friends.
The next day, she wakes up with a head injury and can't remember anything except the face of a man standing over her.
The series
Over twelve episodes, we follow the journey of deconstruction and reconstruction of the author, drugged without her knowledge and raped at a party in a bar.
Arabella files a complaint, is listened to, but that is not enough. What can she do to feel better?
A search for herself and an investigation of the people she has seen to try to reconstruct the facts follows.
Arabella, played by Michaela Coel, is surrounded by friends including actors Weruche Opia (Bad Education) as Terry, the heroine's best friend, Paapa Essiedu  (Murder on the Orient Express) as Kwame, her other best friend, and Aml Ameen (Sense8) as Simon, a character close to her.
They have also had traumatic experiences without sometimes resulting in complaints.
Little by little her memories will come back. How to rebuild oneself then?
Michaela Coel delivers an autobiographical story, and the characters are all rich and complex.
"The series explores different themes: love, sex, responsibilities, friendship, what society perceives as taboos – with a lot of nuance," Aml Asheen told the BBC a few days ago. "It's also the first time I've seen Black British characters so fleshed out, highlighting the variety of our experiences. I really admire that."
The Bafta Awards, the British television awards on Sunday night, June 6, crowned the British series I May Destroy You and its director Michaela Coel for her performance as Arabella.
This series is unique in its kind by the dry, fast, jerky writing it generates in each episode.
A must-see on Canal Plus and OCS. 
2. YOUR SERIES AND YOUR FILMS
IN JUNE IN MOVIE THEATERS
In your  theaters :
Still
17 Blocks, by Davy Rothbart
June 16th
La Nuée, Just Philippot
Sound of Metal, Darius Marder
Les Deux Alfred, by Bruno Podalydès
A Quiet Place (2), by John Krasinski
June 23rd
Gagarine, by Fanny Liatard and Jeremy Troulh
June 30th
In October
First Cow, by Kelly Reichardt
3.
WEEKLY TIPS & OPINIONS
FROM 

PROFESSIONALS
 WRITERS, SCREENWRITERS, DIRECTORS, COMPOSERS…
Barry Jenkins: I Want To Unpack The Generational Trauma of Slavery | by Nadine Drummond 
Fernando Trueba – Portraits – Cinespagne.com
Resource: Great Scenes | by Scott Myers | May, 2021 
How to Write Tight. Everything I learned about concision I… | by Yi Shun Lai 
Rencontre avec Fernando Trueba – « Je pense que j'ai plus de projets que de temps à vivre » – Maze
Trimming Tricks of the Trade: Cut Transitions | by Scott Myers | Jun, 2021
We're on the road to… somewhere.. A really long-ass bridge… story… | by Scott Myers | Jun, 2021
Writing a Logline for a Character Driven Drama | by Scott Myers | Jun, 2021 |
"How to Write Photoplays" by John Emerson and Anita Loos | by Scott Myers
4. AT HOME
YOUR WEEKLY PROGRAM 
 June 16th to June 23rd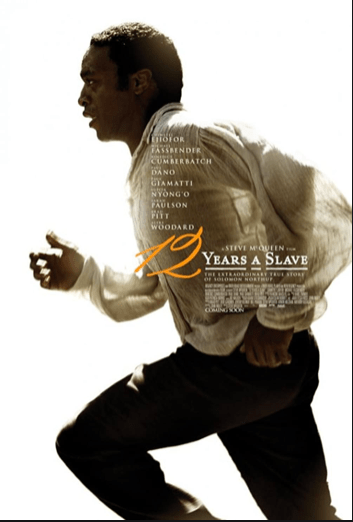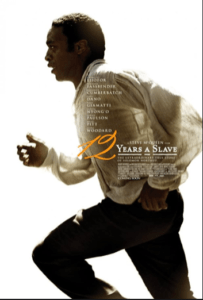 Mercredi- Wednesday
Arte:Claude Chabrol : La fleur du mal  
Canal Plus: Énorme
C Star : Didier
Jeudi – Thursday
Arte.tv/fr/videos/075161-001-A/coincoin-et-les-z-inhumains-1-4/ 
Bruno Dumont has imagined an even crazier season 2. After the discovery of an extraterrestrial magma, Quinquin, who is now called Coincoin, and the police officers Roger Van der Weyden and Rudy Carpentier, find themselves embarked on a crazy police and existential adventure.
Chérie 25 : L'échange
Vendredi – Friday
Arte.tv: Les-indesirables-l-errance-du-saint-louis/ 
In 1939, nearly a thousand German Jews embarked on the "Saint-Louis" to find refuge in Cuba. But the outcome of their journey will turn out to be tragic… Based on real facts, a moving historical fiction.  By Raphael Beinder
Samedi – Saturday
Arte: Narbonne-la-seconde-rome/ 
Narbonne was one of the greatest metropolises of the Roman Empire in Gaul. Recent discoveries and scientific advances inform about the crucial role of this flourishing city that was rightly called "the second Rome".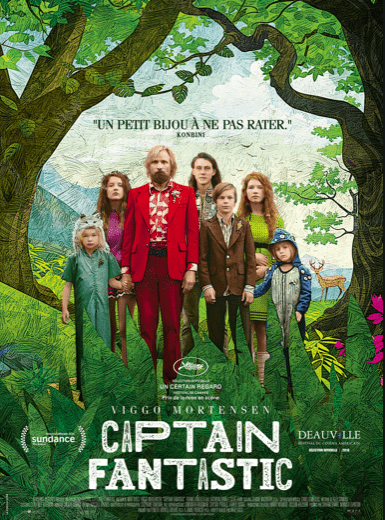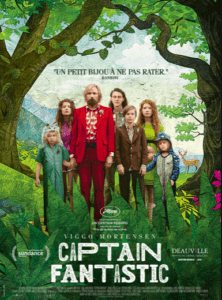 Dimanche – Sunday
A father lives in autarky with his six children in an American forest. But after a tragedy, the family must confront the world… With Viggo Mortensen, a deep and moving fable about the parental bond and American values.
C8 : Une étrange affaire
Lundi – Monday
France 5 : 12 Years a slave
W9: La proposition
Mardi – Tuesday
Arte : De-la-farine-au-four-quel-pain/
TF1 : Le diable s'habille en Prada
6TER: Catch me if you can
Mercredi- Wednesday
Arte: Juste la fin du monde – Xavier Dolan
5.
AT HOME
ON YOUR PLATFORMS
June 's films and series 
ARTE
DOCUMENTARY
Avortement-les-croises-contre-attaquent
The story of a community of "riders" who participate in creating a new cultural and social order in Africa. From Ghana to Rwanda, passing through Senegal and Uganda, these crazy riders tell us the keys to their "playground": dented sidewalks, deserted squares, bumpy roads or sandy tracks… So many obstacles that make these free spirits real warriors on the asphalt as in life.
Bougainville-le-voyage-a-tahiti
CONCERT
melody-gardot-au-chateau-d-herouville
SERIES
MOVIE 
Kanal, ils aimaient la vie de (by) Andrzej Wajda
La Discrète de Christian Vincent
La Meute – La Jauria from July 17 to 23 rd
La Chaîne Parlementaire
LCP offers you a lot of good documentaries: here
La Cinémathèque Française
Tribute to  Wang Bing, Chinese movie maker 
AT HOME
 on NETFLIX
(CLICK ON THE LINK TO WATCH THE TRAILER)
Katla, on June 17th, by Baltasar Kormákur
Fatherhood, on June 18th
The Sinner, season 3: on June 20th: created by Derek Simonds, based on the novel of the same name by Petra Hammesfahr, with Bill Pullman as Lieutenant Harry Ambrose
Wonder Boy, Olivier Rousteing, né sous X by Anissa Bonnefont, on June 26
LA CASA DE LAS FLORES,JUNE 23RD
ATYPICAL SEASON 4, JULY 9TH
AT HOME
on Prime Video
The education of Frederick Fitzell, by Christopher Macbride
Harry Bosch, la saison 7
Created by Michael Connelly and produced by Amazon Studios, starting June 25
Developed for Amazon by Eric Overmyer, it is based on three novels by Michael Connelly: Wonderland Avenue, Echo Park and The Concrete Blonde.
Starring Titus Welliver as Detective Harry Bosch and Jamie Hector as Detective Jerry Edgar
The Tomorrow war, on July 2nd, by Chris McKay
Dan Forester (Chris Pratt). Determined to save the world for his young daughter, Dan teams up with a brilliant scientist (Yvonne Strahovski) and his estranged father (J.K. Simmons) in a desperate quest to rewrite the fate of the planet.
Solos, 7 stories, by David Weil, with Anne Hathaway Morgan Freeman, Helen Mirren, on June 25th
Dreamland, by Miles Joris-Peyrafitte, with Margot Robbie
AT HOME
on Canal+
Man in an orange shirt now, by Patrick Gale
Pose, by Ryan Murphy
« Une autre idée du monde »,  Bernard Henri Levy  's film will be broadcast on June 22nd.
Schitt's creek saison1 on June 23rd
June 's films and series 
Starzplay
Death and Nightingales, de Allan Cubitt
We are who we are (review here), by Luca Guadagnino.
Blindspotting, by Carlos López Estrada
June 's films and series 
Apple TV
This summer
Physical, created by Annie Weisman with  Rose Byrne, on June 18th
The Morning Show, season 2, September 17
June 's films and series 
DISNEY PLUS
A 6 minutes short movie : Us again
Aretha, the series
Cruella: on June 23rd  Director : Craig Gillespie
Screenwriter: Tony McNamara, Aline Brosh McKenna, Kelly Marcel, Jez Butterworth, Dana Fox, Steve Zissis avec Emma Stone, Emma Thompson.
The Mysterious Benedict Society, on June 25th
Stay safe !
Subscribe to the weekly newsletters to keep up !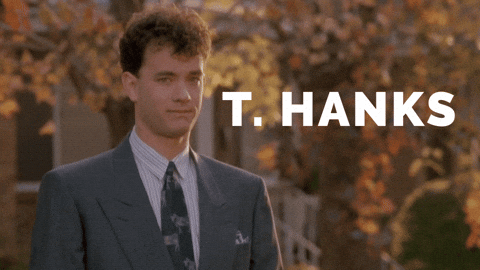 [contact-form to="contact@movieintheair.com" subject="Subscribe to the newsletters"][contact-field label="Subscribe here : Name" type="name"][contact-field label="Email address" type="email"][/contact-form]