This week, I wanted to speak of recognition and respect in your movies and series.
On the bilingual Movieintheair blog, I do for you a press review every Wednesday and keep the best of national and international audiovisual news.
Your movies and series to watch this week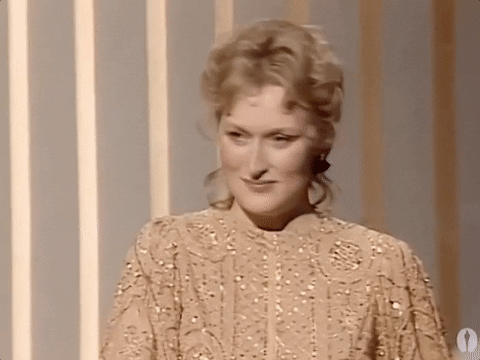 YOUR WEEKLY NEWS
Arte made a film about our desire to return to the cinema:
From the beginning of April, Arte will extend its offer by taking over channel 77 of the TNT. The cultural channel will broadcast its entire digital offer, which has been available until now on its platform arte.tv.

An animated short film shot in Creuse nominated for an Oscar. Genius Loci by Adrien Mérigeau with comic book author Brecht Evens and graphic designer Céline Devaux. His parents made the entire soundtrack in Jarnage.
To watch: this short movie, selected by  The New York Times which takes place in Columbia
Dulce: A Mother Guides Her Daughter Through a Rite of Passage  (10′)
James Cameron has embarked on another major project: a 4-part documentary series about some of the ocean's most impressive inhabitants.
Cameron is the executive producer of Secrets of the Whales, a National Geographic series that will premiere on the Disney + streaming platform on April 22.
"It's the kind of difficult and intimidating subject matter that I enjoy," Cameron explained during a SXSW conference panel Thursday titled "Ocean Storytelling." "It's also very important for people to understand and for this film to illuminate how these creatures think, how they feel, what their emotions look like, what their society looks like, because we won't protect what we don't like. This documentary is told by Sigourney Weaver.
Ringo Starr approves new version of Peter Jackson's Beatles documentary. From the rushes of The Beatles: Get Back, the New Zealand director proposes another version of this film that focused on the tensions between the Fab Four. A story closer to reality according to the drummer, but also his former colleague, Paul McCartney.
While a documentary on Takeshi Kitano is coming soon on Arte ("Citizen Kitano", March 31 at 10:45 pm),  LaCinetek platform adds to its catalog "Sonatine", the film that revealed the filmmaker to European moviegoers. Twenty-eight years later, this stylized crime thriller is still breathtakingly beautiful.
ONLINE FESTIVALS
43rd edition of the International Women's Film Festival of Créteil to be held from 2 to 11 April 2021.
TRIBUTE TO
BERTRAND TAVERNIER
The great filmamaker Bertrand Tavernier is entitled to retrospectives on all platforms.
Martin Scorsese has paid tribute to him. Bertrand Tavernier directed him in Around Midnight.
His career by the CNC
France Info: five unforgettable films
A look back at some interviews and a great career.
GEORGE SEGAL
The American actor George Segal, who had worked with Sidney Lumet, Stanley Kramer, Robert Altman, died at the age of 87.
MOVIES AND SERIES
ALL YOU WANT TO KNOW
ABOUT
YOUR FIVE MOVIES AND SERIES
ABOUT RECOGNITION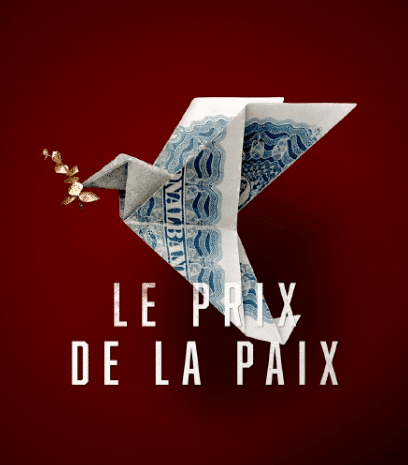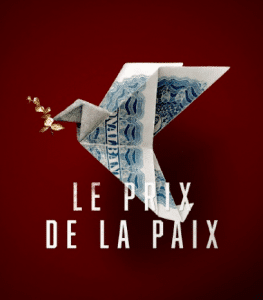 LE PRIX DE LA PAIX
Synopsis
Switzerland, 1945. 
When peace returns to Europe, Egon Leutenegger (Dimitri Stapfer) joins the office in charge of extraditing fugitive Nazis for the Swiss prosecutor's office at the request of the Americans. He was stationed at the border in Ticino, where he had to refuse entry to the country to the Jews who searched for protection.
Johann (Max Hubacher), his younger brother, is about to marry Klara (Annina Walt), Alfred Tobler's daughter, a textile industrialist whose right-hand man he has become. He is in search of recognition and success.
Egon, on the other hand, seeks to ensure that the truth comes out and that the guilt of the Nazis and their Swiss accomplices is recognized.
Despite her mother's objections, Klara joins the staff of a Red Cross shelter for young Polish Jews repatriated from the Buchenwald camp. 
On the day of Klara and Johann's wedding, Alfred falls ill. Johann hopes to take his father-in-law's place, but his mother-in-law is not keen to it.
The series
"The older ones on the right, the younger ones on the left". 
This is how the Jewish survivors of Buchenwald are received in the refuge run by the Red Cross, an organization whose silence during the Holocaust and its inaction and assistance to the Nazis in their flight, including Eichmann and Mengele, are historically proven.
Petra Volpe has succeeded in creating a series that is both moving and terrifying because of the lucidity of her view of her country's history.
Rarely seen on the screen – except for a few documentaries – Le Prix de la Paix shows us how Switzerland became rich during World War II at the expense of the Jews of all Europe, including Swiss Jews, and other victims of the war, by allying itself with Germany for financial reasons (just as Monaco did, by the way).
The story of Klara, Max and Egon highlights the hypocrisy of Switzerland and its involvement up to the highest level of the state in protecting Nazi criminals and its propensity to recycle Germany's money, the money of the dead.
The actors are all perfect in their roles.  And one realizes that doing good is not a matter of generation but a matter of person and ethics.
A must-see series. 
To watch Le Prix de la Paix on Arte

COLLATERAL
Synopsis
Kip Glaspie (Carey Mulligan) sleeps. The phone rings. A pizza delivery man, Asif, has been murdered.
The last person to see him was his client, the ex-wife of an opposition Labour MP in England.
For four days, without going home or taking time to sleep, Kip will try to solve this investigation, with his teammate Major Nathan Bilk played by Nathaniel Martello-White. A young woman has witnessed the murder.
A former top athlete who took a fall that everyone still laughs at – and that she keeps on her phone – she is looking for recognition, to prove that she can fulfill her role as a police captain.
The series
This breathtaking series with Carey Mulligan as heroine, about which I spoke to you last week, deals with several very current themes: British politics, the fate of refugees in Great Britain, the Church, the army.
David Hare, award-winning screenwriter of The Hours and The Reader, wrote and created this series. 
S.J. Clarkson directed it (Heroes, House, Dexter, and Ugly Betty), and she knew how to film all the nuances of the mostly female characters.  
She is currently directing the adaptation of the novel Anatomy of a Scandal, by Sarah Vaughan, for Netflix, with Melissa James Gibson and David E. Kelley as writers and played by Sienna Miller, Michelle Dockery, Rupert Friend.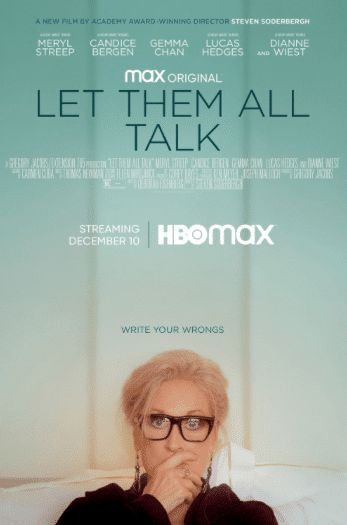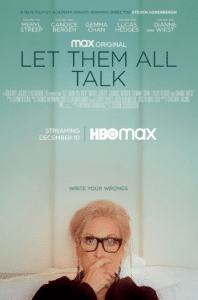 LET THEM ALL TALK
Synopsis
Alice Hughes, played by Meryl Streep, a successful Pulitzer Prize-winning writer, has a novel due to her publisher and is out of inspiration.
To encourage her to write, Karen, her agent and editor, tells her about the literary prize she is to receive in London.
She could not fly. Her agent encourages her to go to England on a cruise with her friends Roberta (played by Candice Bergen), Susan (Diane Wiest) and her nephew Tyler (Luca Hedges). 
But she hasn't seen her friends in thirty years….
The film
Steven Soderbergh, is the director of very good films such as – among others – Sex Lies and Videos, Out of Sight, Erin Brockovich, and the recent The Laundromat: The Panama Papers Affair, a little less good and released on Netflix. 
Let them all talk is wonderfully played by three actresses, legends of the cinema: Alice, played by Meryl Streep, an egocentric author, Roberta played by Candice Bergen, a bitter and ruined woman in search of a rich man and finally Susan, the sweet Diane Wiest seen in many Woody Allen films who tries to reconcile everyone.
Tyler, the nephew, played by Luca Hedges, tries to escape these encounters and has secret discussions with Karen, the young editor played by Gemma Chan, who has secretly come aboard to make sure Alice is writing. 
The time of a crossing, doubts, the need for recognition, talent, mistakes, past, arise in the heart of each character.
This film resembles a mixture of Robert Altman and Woody Allen, the dialogue written by Deborah Eisenberg, was partly improvised and most of the film was shot in eight days on the luxurieux Queen Mary 2.
And the three actresses are at the height of their talent. Meryl Streep does nothing to be sympathetic, (that hand gesture when she doesn't want to answer and is annoyed) Candice Bergen almost steals the show and Diane Wiest as always calm and reassuring. The scrabble game is memorable.
The light, dear to the director, is sumptuous (those oranges!) and the framing, often a little tilted, seems to take us on board the liner. 
To note, the superb soundtrack by John Beasley that we would think stolen from a Woody Allen.
To be seen in April on Canal Plus.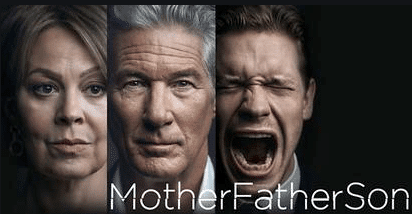 MOTHER FATHER SON
Synopsis
Max Finch (Richard Gere) steps off his private jet.
He's a prime minister dore on the eve of a general election, a press mogul and the owner of a newspaper run by his son Caden, (Billy Howle) and rules his empire like a dictatore.
Caden's mother, Kathryn, (Helen McCrory), serves hot meals to the homeless and befriends one of them.
Caden is ill at ease with himself, pale, submissive to his father, and represses the anger within him that destroys him, until he has a serious stroke.
Kathryn and Max then fight – often against each other – for their son to regain a taste for life.
The series
If Richard Gere had been somewhat forgotten since his first role in Paul Schrader's film American Gigolo, and Terrence Malick's film, Days of Heaven, and Garry Marshall's film, Pretty Woman, where his roles were often those of seducers (like Hugh Grant), Tom Rob Smith gave him a role that he embodies like noone.
Like the series Succession, but here there is only one heir, the three characters have a vital need for recognition.
Caden has always sought recognition from his father, Max, his father, from his own dead father, and his wife, from everyone.
The son is in search of love, a love that can only be given to him if he is a strong person, which he is not, or if he was once, was destroyed by his education.
His mother is trying to make up for it with her son, a son who was taken from her by her ex-husband to make him an outstanding businessman, a kind of killer.
As for Max, he wants to rule the world.
The reference to Citizen Kane is of course obvious, Max is like him, solitary but in search of love and recognition at every second and that must pass by the acquisition, the power and the love of others, often by money.
Great actors
To do so, he uses his network of investigators, an immense power of manipulation and an infallible instinct, telling others what they want to hear, making the right promises at the right time. He doesn't let any emotion slip through and Richard Gere is very strong in this type of role. 
Billy Howle is a real revelation in this role of a young, broken man who must learn everything again.
Helen McCrory as a woman, mother and ex-wife who never finds her place no matter what she does is deeply moving.
Despite their differences, the links between the three characters, unfailing, hold the series like a mesh that no matter what happens, does not break.
If the first two episodes are particularly hard to follow, because we don't immediately understand what it's all about, but the next episodes are thrilling and some scenes are totally moving. 
The mother-father-son trio puts at the heart the essence of what binds us, love, but for that it is necessary to go through the war, a war without mercy, Shakespearian, like the series Succession but treated in a much less cynical and much deeper way. 
 This excellent series is available on Starzplay and Canal Plus. 

Shtisel, Season 3
Shtisel written by Ori Elon, Yehonatan Indursky, produced by Yonatan Aroch and Dikla Barkai, is a production of Yes Studio (the source of the best Israeli series such as Fauda and Hatufim) and directed by Alon Zingman.
The series centers on the relationship between a father (Shulem Shtisel, played by Dov Glickman) and his youngest son (Akiva Shtisel, played by Michael Aloni), and tells the story of a contemporary family of haredim Jews living in the Geula neighborhood in Jerusalem.
Synopsis
The first season
Shulem, a widowed rabbi, despairs of seeing his youngest son, Akiva, get married and find an honorable profession. Shulem is dating Mrs. Gvili, the establishment's secretary, who expects much more from this relationship than just friendly dinners.
Akiva, the son, played by Michael Aloni, a dreamy young man with a talent for painting, is torn between two worlds: the ultra-Orthodox Jewish neighborhood where he grew up, marked by age-old rituals and moral prohibitions, and modern society.
Akiva falls in love with Elisheva (Ayelet Zurer), the mother of one of his students, twice widowed and older than him.
Giti, played by Neta Riskin, a mother of five and married to Lippe, spends most of the year alone, her husband working in Argentina. But one day, he stops giving her news. To support her family, the young woman does housework and soon starts an underground currency exchange.
Finally, there is Malka, played by Hanna Rieber, the octogenarian grandmother who l'on has been placed in a nursing home, starts smoking under the influence of rabbanite Shoshana Erblich, her next-door neighbor, and who acquires a television set where she discovers for the first time the television series that she follows assiduously, much to the chagrin of her son Shulem.
Season 3, spoiler alert
The new season picks up four years after the events of the previous season, revealing the changes and evolutions of the ultra-Orthodox Shtisel family in Jerusalem over the course of nine episodes.
Patriarch Shulem Shtisel is searching for a mate seven years after his wife's death.
He and his brother Nuchem (Sasson Gabai) are still fighting, while Akiva (Michael Aloni), as widower, is discovering fatherhood. Akiva does not seek recognition, unlike other artists, and does not wish to sell his paintings.
Ruchami (Shira Haas, "Unorthodox") and Hanina Tonik (Yoav Rotman) want to have a child but can't, while her parents, Giti (Neta Riskin) and Lippe (Zohar Strauss), continue to argue in their complicated marriage.
And Ruchami's brother, Yosa'le does not fall in love with the person his mother chooses for him.
The series
Whether it's the first, second or third season, Shtisel is still a joy to watch.
This series mixes art with religion and Akiva's creative moments are the ones I look forward to the most.
If the men have a social status, like Shulem, director of a religious school and who almost gets fired, he is the only character looking for recognition, his children live their lives without needing recognition but on the contrary hiding as much as possible everything that can give rise to recognition in society.
The atmosphere is often funny and melancholic. The bias has been debated, but Shtisel does not take a moral view of these characters and their way of life.
She does not intend to take them out of it to make them secular. With the general public and, more comically, in ultra-Orthodox circles that passed on the episodes under the cloak, Shtisel was a hit.
"It was the very first time that lay people were able to observe the daily life of the haredim up close, and through a different prism than that of television reports, in which we see them, for example, throwing stones at cars driving on Shabbat," says Dganit Atias-Gigi, director of the fiction unit of the Yes channel (which broadcasts the series).
This third season is as beautiful as ever, a vibrant tribute to the living and the dead.
Listen to the French podcastt Falafel Cinéma on the Shtisel family
2. 
YOUR MOVIES
AND SERIES TO COME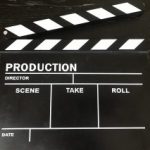 In VOD on Prime US
A movie on salsa : Strictly Salsa, The Beginning, by Taraq Qureshi. A story of friendship and dance on an island
TRAILERS
The Virtuoso, by Nick Stagliano, with Anthony Hopkins
Chains of fools, by Susan Lori-Parks, with Cynthia Erivo
Exterminate all the brutes, by Raoul Peck
Edge of the world, by Michael Haussman, with Jonathan Rhys Meyers
Finding you, by Brian Baugh, with Katherine McNamara & Vanessa Redgrave
3.
WEEKLY TIPS & OPINIONS
FROM 

PROFESSIONALS
 WRITERS, SCREENWRITERS, DIRECTORS, COMPOSERS…
Cinéma : Le cinéaste Amos Gitaï offre ses archives sur Yitzhak Rabin 
Sundays with Stephen King's "On Writing"  by Scott Myers  Mar, 2021 
Page One: 'Django Unchained' (2012) | by Scott Myers  Mar, 2021 
4.
YOUR WEEKLY PROGRAM
 MARCH 31st TO APRIL 7th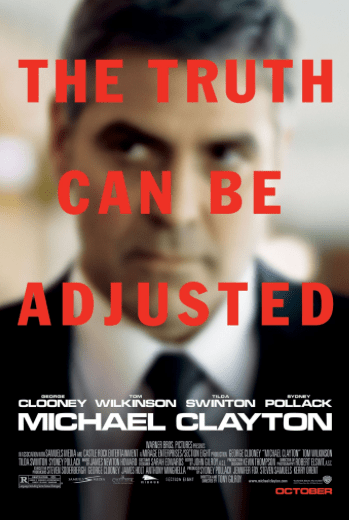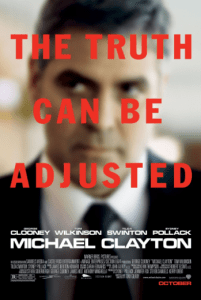 Wednesday 31
Canal+ : The Spy
CStar : The Place beyond the Pines, Derek Cianfrance
France 2 : Les ombres du passé
Thursday , April 1st
Arte : Le Prix de la paix:
France 3 : Les Gardiennes
W9 : Le Monde de Narnia chapitre 2
TMC: Ocean's Twelve
TF1 Series : Man of Steel
Chérie 25 : Perfect Mothers
Friday 2
Arte : Sous le poirier – Uli Edel
TMC : L'arme fatale
LCP: Sugar Man
6Ter : Le grand chemin
Chérie 25 : Le gout des merveilles
Saturday 3
Sunday 4
TF1 : Jumanji
France 2 : Mon bébé
6Ter : Rain Man
Monday 5
Arte : Niagara, de Henry Hathaway, avec Marilyn Monroe et Joseph Cotten
France  3 : L'incroyable histoire du facteur cheval
France 5 : Le dernier métro
W9: Pearl Harbor
TMC : Rogue One: A star Wars story
Star : Billy Elliot
Tuesday 6
W9 : La vérité si je mens
6Ter : Ce que veulent les femmes
Wedenesday 7
C8: Nous nous sommes tant aimés
Star : Alien : Covenant
6Ter : Michael Clayton
5.
ON YOUR PLATFORMS
ARTE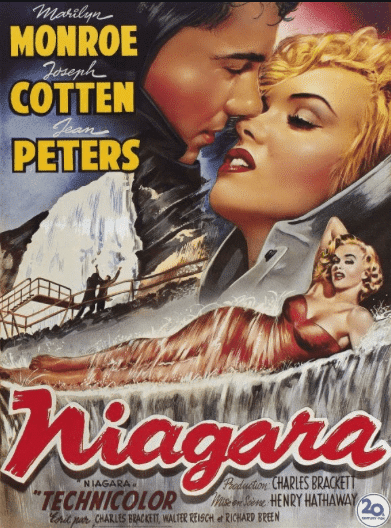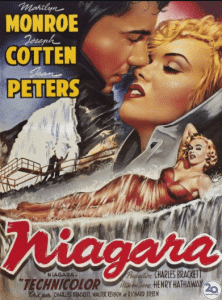 DOCUMENTARY
Libres : une série sur les femmes
SERIES
Baghdad Central– With Waleed Zuaiter (Homeland, Omar) & Corey Stoll (House of Cards).
Fluide , short love stories,created by Thomas Cadène & Joseph Safieddine.
MOVIE 
Comment voler un million de dollars, de William Wyler, avec Audrey Hepburn, musique de John Williams
Niagara de Henry Hathaway avec Marilyn Monroe et Joseph Cotten
La Chaîne Parlementaire
LCP offers you a lot of good documentaries: here
La Cinémathèque Française
All retrospectives are postponed.
On Henri plateform, a cult movie everyday
Your movies and series
to watch

 on 

NETFLIX
(CLICK ON THE LINK TO WATCH THE TRAILER)
The Irregulars, by Tom Bidwel
Mon Roi, de Maïwenn, on April 1st
Run, on April 2nd, de Aneesh Chaganty avec Sarah Paulson
Madame Claude, on Friday, by Sylvie Verheyde, with Karole Rocher, Roschdy Zem, Garance Marillier, Pierre Deladonchamps & Annabelle Belmondo.
Concrete Cowboy, on Friday
The Fisherman's diary, next Sunday
Night in paradise,on April 9th
Blade Runner 2049, by Denis Villeneuve, April 14th
Shadow and bone, on April 23rd
Stowayway, by Joe Penna, with Anna Kendrick, Toni Colette, on April 22nd
Professor Marston and the wonder women, on April 2Oth, de Angela Robinson
Your movies and series
to watch on 

Prime Video
Them, by Lena Waithe, April 9th
Frank of Ireland, on April 16th with Domhnall Gleeson
Without remorse, by Stefano Sollima, with Michael B. Jordan, on April 30th
Your movies and series
 to watch on 

Canal+
It's a sin, by Russel T Davies.
City on a hill (now)
Qu'un sang impur, on April 7th
HBO series The Nevers,  on April 12th
A teacher , by Hannah Fidell
Mare of East Town, April 19th, with Kate Winslet (HBO's "Mildred Pierce"), by Brad Ingelsby ("The Way Back"), directed by Craig Zobel (HBO's "The Leftovers")
The Black Messiah, by Shaka King,the betrayal and assassination of Fred Hampton, chairman of the Black Panther Party. With Daniel Kaluuya (Get Out) & LaKeith Stanfield.
Your movies and series
 to watch on

 

Starzplay
We are who we are (review here), by Luca Guadagnino.
The Luminaries, adapted from the eponymous novel by Eleanor Catton with Eva Green
Your movies and series
 to watch 

on 

Apple Tv
The year earth changed, by David Attenborough, directed by Tom Beard
The Banker, by George Nolfi
Your m

ovies and series 
to watch on
SALTO
The Grave
Cellule de crise
Your m

ovies and series 
to watch on
DISNEY+ 
Big Shot, created by David E Kelley (The Big Sky, Pretty Little Liars…) with John Stamos, on April 16th
Sweetbitter , created by Stephanie Danler (now and an expected season 2)
Cruella, by Craig Gillespie, with Emma Stone
The Falcon and the winter soldier, by Kari Skogland (now)
Stay safe !
Subscribe to the weekly newsletters to keep up !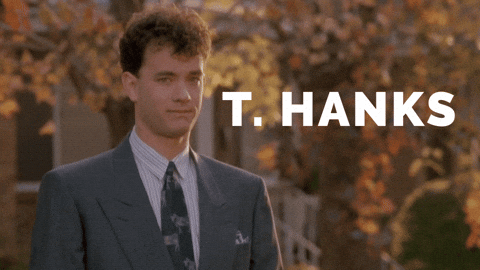 [contact-form to="contact@movieintheair.com" subject="Subscribe to the newsletters"][contact-field label="Subscribe here : Name" type="name"][contact-field label="Email address" type="email"][/contact-form]