This week, your January movie and series program, to watch safely home.
I wish you a happy new year.
On the bilingual Movieintheair blog, I do for you a press review every Wednesday and keep the best of national and international audiovisual news.
What's new in January 2021 ?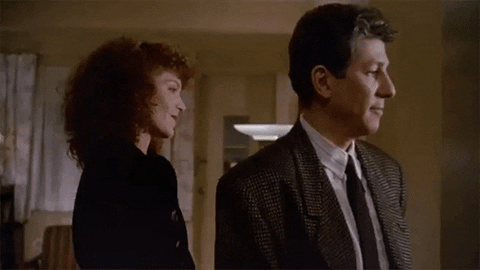 NEWS
A short movie for Yves SAINT LAURENT by  Gaspard Noé, collection Anthony Vaccarello: SUMMER OF '21, with Charlotte Rampling
Two expected series: one on NETFLIX, by Shonda Rhimes: Inventing Anna:the story of Anna Delvey which has been revealed by the reporter Jessica Pressier .

& Lisey's Story, which will be broadcast on APPLE TV, adapted from the novel written by Stephen King and whose script will be adapted by himself & J.J. Abrams, and directed by Pablo Larrain (Jackie, Ema)

Contest by the Göteborg Film Festival : the winner will go on the island of Hamneskär and will watch 60 alone on a headlight from January 30 to February 6th 2021.
ONLINE FESTIVALS
An online festival of short movies: programme
Take date: January 19th will be broadcasted in clear on Canal+. All about this ceremony equivalent to the Golden Globes in France,, here.
French Jewish Film Festival from January 19th to February 1st: a film online every day.
TRIBUTE TO
Robert Hossein
Les Misérables
Pierre Cardin
Interviewed with the great CLAUDE LANZMANN
Joan Micklin Silver
Pioneer of independent American cinema whose first film, Hester Street, a film about the immigration of Russian Jews to the United States, (which no one wanted to produce and which brought in 5 million dollars or 14 times its initial budget) was nominated for the Oscars for its actress Carol Kane in 1976. Here is the trailer:
Between the Lines
Crossing Delancey
Big girls don't cry, they get even
A fish in the bathtub (with young Mark Ruffalo!)
In an interview
ALL YOU WANT TO KNOW
ABOUT 
Your January movie program
THE BRIDE WHO WORE BLACK
FRANÇOIS TRUFFAUT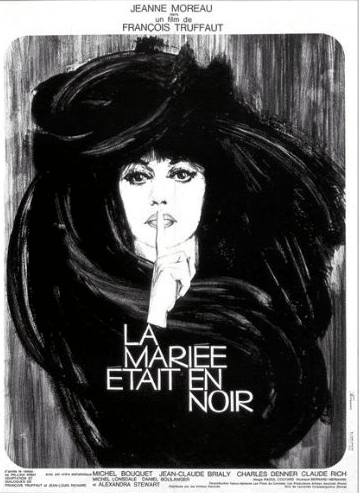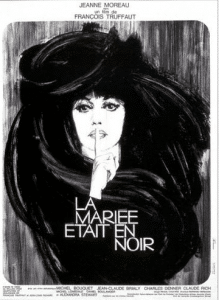 The music of Bernard Herrmann, the composer of Alfred Hitchcock's film scores, immerses us from the outset in The Bride who wore black directed by François Truffaut, which was released in 1968 and starred Jeanne Moreau surrounded by Michel Bouquet, Jean-Claude Brialy, Charles Denner, Claude Rich, Michael Lonsdale and Daniel Boulanger. 
This film is adapted from the eponymous novel by William Irish, a writer of detective novels and fantasy profile stories, many of whose novels have been adapted for the cinema. The Bride who wore black has all the hallmarks of a French Hitchcock: little dialogue, an enigmatic woman whose actions are not understood, colorful symbols (the black, white and then white and black dress) and of course the music.
François Truffaut has just published his book on cinema, (1966), Entretiens avec Alfred Hitchcock.
Three other novels by William Irish have inspired Truffaut and Hitchcock: The Rear Window (Hitchcock) and La sirène du Mississipi (Truffaut). The actors all have a very strong characterization but it is especially Fergus (the artist played by Charles Denner) that will be remembered.
Jeanne Moreau
A cold film as is its main character, Julie Kohler, who declares to be dead on her wedding day.
The bride in black would have inspired Quentin Tarantino's movie, Kill Bill.
And to close this article, Jeanne Moreau was dressed by Pierre Cardin in The Bride who wore black . She then directed Lumière in 1976 encouraged by Orson Wells for whom she played in Falstaff.
In this interview with James Lipton in 2002 ('30) Jeanne Moreau compares her character Julie Kohler (anger in French) to Medea and Medusa, angry women who want revenge against men, fickle, carefree, who do not answer for their actions. "If she could kill them with her eyes, she would," she tells James Lipton in English. 
TRAILER
DOCUMENTARY ABOUT FRANÇOIS TRUFFAUT ON ARTE
The Wilds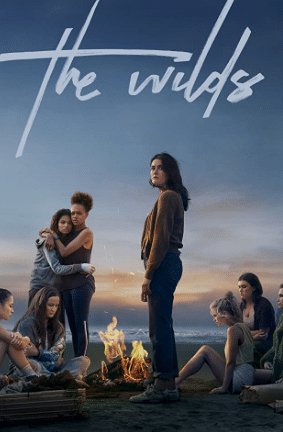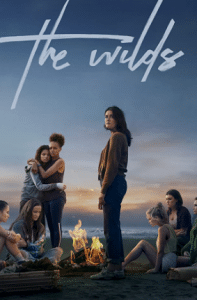 This series available on Amazon Prime tells the story of nine teenage girls shipwrecked on an island. They will have to learn to live together to survive…
But this series is anything but a Koh-Lanta.
Feminist above all, The Wilds is the pretext to address a major topic of our society: the importance of patriarchy and its influence on our lives and the education of young girls.
In The Wilds, a female researcher seeks to prove that female leadership is safer and better than male leadership, and to do so, she carries her experience through to the end, no matter what the cost.
Unfortunately, the tenth episode is not finished because the producers have chosen to do several seasons.
But it deserves to be seen for two reasons: its theme, and the choice of its actresses, each one more charismatic than the other.
Created by Sarah Streicher.
With
Sophia Taylor Ali (en) : Fatin Jadmani
Rachel Griffiths (VF : Anne Massoteau) : Gretchen Klein
Shannon Berry (VF : Camille Donda) : Dot Campbell
Sarah Pidgeon (VF : Zina Khakhoulia) : Leah Rilke
Jenna Clause (VF : Cécile Gatto) : Martha Blackburn
Erana James : Toni Shalifoe
Helena Howard (en) : Nora Reid
Reign Edwards : Rachel Reid
Mia Healey : Shelby Goodkind
Self Made: D'après la vie de Madam C.J. Walker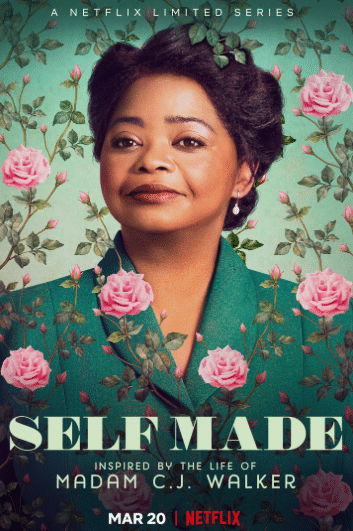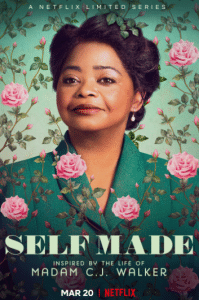 This time, we again stay with a feminist theme, inspired by the true story of C.J. Walker, the first African-American woman to create her beauty brand from hair products.
Self-Made indeed because this woman started from nothing, had no education, and fought with wrist strength against white people but also against African-American men who preferred their women to stay in the kitchen.
She sold her story before she sold her products, and that is the art of storytelling on which all good communication is based.
This series is obviously good for us, although, realistically, fighting for success as a woman and as an African-American woman is still going on.
Octavia Spencer literally carries the series on her shoulders.
On Netflix.
Directed by Kasi Lemmons- With Octavia Spencer, Tiffany Haddish, Blair Underwood
2. 
Your Movies and series of 2021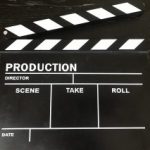 Few trailers : 
The Flight Attendant,  HBO series by Steve Yockey, adaptated from the eponymous novel by Chris Bohjalian, with Kaley Cuoco, Michiel Huisman
Minari, by Lee Isaac Chung, with Steven Yeun
Bipolar, by Queena Li, selected at the  Rotterdam Film Festival
The Investigation, HBO series, origially Danish, directed by Tobias Lindholm (Mindhunter): the story of the murder of the Swedish journalist Kim Wall, who was killed after boarding a homemade submarine. With Soren Malling, Pilou Asbaek (GOT, Borgen), Pernilla August & Rolf Lassgard.
Run, Hide, Fight, written and directed by Kyle Rankin, with Thomas Jane, Radha Mitchell and Isabel May.
Locked Down, by Doug Liman, script by Steven Knight, with Anne Hathaway, Chiwethel Ejiofor
3.

GOOD TIPS FROM MOVIE 

PROFESSIONALS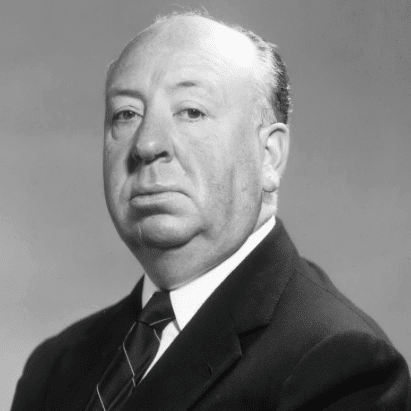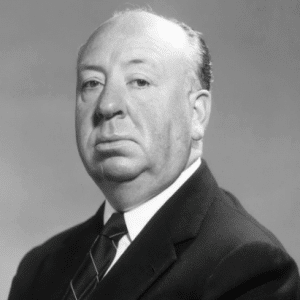 A masterclass with Hitchcock 
Joan Micklin Silver story: Joan Micklin Silver
 Where to listen to good jazz on your platforms by The New Yorker
Skating: fighting the climate change
A school to learn how to make movies in Sénégal
4. YOUR EVENING TV PROGRAMS

Wednesday 6
France 3 : Soirée Charlie Chaplin par Yves Jeuland et François Aymé
Arte: La piscine
France 5 : De Gaulle
6Ter : Mission impossible
TCM: Corridor of Blood
Thursday 7
Arte : A Mystery Road
TCM: The Social Network
Paramount : Johnny Guitare
France 3 : Danse avec les loups
C+ : The Good Lord Bird (voir plus bas rubrique CANAL+)
M6: Piège de cristal
Friday 8
TCM: Tootsie
Paramount : jeux de guerre
France 4: L'ascension
RTL9: King Kong
Arte: Empreinte des tueurs de Urs Egger
Saturday 9
TCM: Aux frontières de l'aube
Paramount : Le fantôme du Bengale
Sunday 10

TCM : Les Goonies
Paramount : Ray
TF1 : Seul sur mars
France 2 : 3 Billboard : les panneaux de la vengeance
6Ter : Downsizing
RTL9: Gone baby gone
Arte: Arlington Road de Mark Pellington, avec Tim Robbins et Jeff Bridges
Monday 11
TCM : Le jour le plus long
France 5 : Et au milieu coule une rivière
RTL9 : Seul au monde
Arte: Mr Klein, de Joseph Losey, avec Alain Delon
Tuesday 12
France 3 : Quelque chose a changé
Canal+ : La bonne épouse
TFX: Man of steel
TCM: Payback: Straight up
Wednesday 13
C+: Brothers in  arms
6ter : Mission impossible II
Arte : Les innocentes
5. PLATFORMS
Arte 

DOCUMENTARY
Livraison de chansons à domicile
La femme est l'avenir de l'homme
Née à Auschwitz: réalisation Eszter Cseke
La légalisation de l'avortement dans le monde
Le Royaume Uni se rêve en nouvel Hollywood
Série de documentaires sur la danse classique: Graines d'Etoiles
MOVIE 
Le dossier Mona Lina: Eran Riklis- Avec Golshifteh Farahani (Mona), Neta Riskin (Naomi)
Les Nuits de Cabiria, de Fellini
Atanarjuat, la légende de l'homme rapide.
SERIES
Série
Mystery Road: série policière as from January 7th, 2021:
By Warwick Thornton and Wayne Blair; Screenplay: Steven McGregor, Blake Ayshford, Kodie Bedford, Danielle MacLean, Timothy Lee.
With Aaron Pedersen, Sofia Helin, Jada Alberts, Callan Mulvey. The story of two police officers who are at odds with each other in rural Australia.
En thérapie, adapted from Be Tipul  as from February 4th, 2021
La Chaîne Parlementaire
LCP offers you a lot of good documentaries: here
La Cinémathèque Française
All retrospectives are postponed.
On Henri plateform, a cult movie everyday
To watch a magical light show here
Movies and series
of
January 
2021 to watch
 on
NETFLIX
Of course, the closure of movie theaters is benefiting platforms, the most powerful of which is still Netflix. Numerous series and films are expected to be released in 2021, bringing together all of the greatest talents in cinema.
Ryan Murphy (Ratched, Hollywood…) is developing a series called Halston about Roy Halston Frowick and played by Ewan McGregor. 
Anne Delvey, a series produced by Shonda Rhimes will telle the story about a con artist in New York in the years 2010.
The creator of Casa de Papel will tell the story of three prostitutes on the run with Sky Rojo.
With Don't look up! Adam McKay will tell the story of two astronomers. A hallucinating casting : Leonardo DiCaprio, Jennifer Lawrence, Rob Morgan, Meryl Streep, Cate Blanchett, Jonah Hill, Timothée Chalamet, Ariana Grande, Kid Cudi, Matthew Perry, Tomer Sisley.
A horror film, A Woman at the  Window, by Joe Wright, with Jennifer Lawrence, Meryl Streep, Cate Blanchett, Jonah Hill, Timothée Chalamet, Mattew Perry, Ariana Grande…
Jane Campion (The Piano but also Top of the Lake broadcasted a few years ago on Arte) will realize an adaptation of Thomas Savage's book, The Power of the Dog, a western with Benedict Cumberbatch, Jesse Plemons, Kirsten Dunst...
Meanwhile, you may watch n

ow:
Asphalt Burning, avec Hallvard Bræin
LUPIN, as from January 8th.
Four movies directed by Claude Sautet, as from January 1st, 2021
Les choses de la vie, César et Rosalie, Nelly et M. Arnaud, Max et Les Ferrailleurs
Churchill, as from January 15th, 2021
Pieces of a woman, Kornel Mundruczo, as from January 7, 2021
Outside the Wire, Michael Hafstrom, as from January 15th, 2021
As from January 8: FRAN LEBOWITZ : Pretend it's the City
Fran Lebowitz speaks about the change of New York city.
Directed by Martin Scorsese.
The White Tiger, as from January 22nd
Movies and series
of
January 
2021 to watch on
Prime Video
Now:
Many French films added on the platform in January: The trilogy La Boum, La Boum 2, L'Étudiante, Léon, Subway…
The films of two great directors are available on the platform: Maurice Pialat (Police, Nous ne vieillirons pas ensemble, A nos amours…) and Yves Robert (Un éléphant ça trompe énormément, Le Grand Blond, Courage Fuyons).
Ode to Joy, by Jason Winer, with Martin Freeman.
McMafia, by Hossein Amini & James Watkins, with James Norton & Juliet Rylance.
Sylvie's love: a romance which reminds us The Way we Were, a must-see movie. 
By Eugene Ashe, with Tessa Thompson, Nnamdi Asomugha & René-Jean Page (Bridgerton)
The Wilds:a never ending series about nine teenagers lost on an island, a feminist series though.
Palm Springs, by Max Barbakow (date of release unknown)
One Night in Miami, by Regina King: the story of a fictional encounter between Malcolm X and Mohamed Ali, Jim Brown and Sam Cooke in Miami to celebrate the boxer's victory over Sonny Liston. With Kingsley Ben Adir, Leslie Odom Jr, Elli Goree, Jim Brown, Lance Reddick (Harry Bosh)
Movies and series
of
January 
2021 to watch on
Canal+
Now:
Moonbase 8.
La Belle époque, on January 1st,  2021.
A rainy day in New York , as from January 5th, 2021
The Good Lord Bird, John Brown 'story, with Ethan Hawke, by  Albert Hughes, as from January 7th 2021  (série)
OVNI, as from January 11th.
Here & Now, with Tim Robbins & Holly Hunter
Movies and series
of
January 
2021 to watch
on
Starzplay
Brave New World , as from December 20th, an adaptation from the novel 1984 written by Aldous Huxley, created by David Wiener (Homecoming) 
Two first episodes directed by Owen Harris. With Alden Ehrenreich, Jessica Brown Findlay
The Stand, adapted from Le Fléau by Stephen King, directed by Josh Boone &  Benjamin Cavell, with James Marsden, Amber Heard
Movies and series
of January 
2021 to watch on
Apple TV
Little America, 8 épisodes about true stories published by EPIC, stories of American immigrants.
The Banker: directed by George Nolfi with Samuel Jackson & Anthony Mackie
Servant, by Night Shyamalan
Billie Ellish
Palmer, by  Fisher Stevens,  29 January 2021,  Justin Timberlake, Juno Temple, Alisha Wainwirght
The Morning Show,  Steve Carell, Jennifer Aniston
Movies and series
of 
January 
2021 on
DISNEY+ 
Burrow 
On Pointe
In January 2021
Hidden Figures, on January 8th
Coco, on January 15th
Wandavision, on January 15th
Stay safe !