This week, I have chosen five Christmas movies to watch before the holidays, at home, staying safe before the reopening of movie theaters and theaters on December 15th.
On the bilingual Movieintheair blog, I do for you a press review every Wednesday and keep the best of national and international audiovisual news.
Five Christmas movies
to watch before the holidays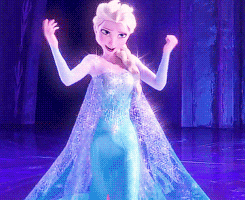 News of the week
Actress and director Agnès Jaoui, member of the Association 50·50  talked at the Assises pour l'égalité, la parité et la diversité dans le cinéma et l'audiovisuel:
The Shoah Memorial put some documentaries online. The guests: Frederick Wiseman, Arnaud des Pallières, Martine Robert, Ruth Beckermann: 
Ellen Page announced being transgenre and changed her identity for Elliot Page.
Initiatives
CNC, Arte & Youtube created a Youtube channel : Savoirs et Culture.
MK2 created  MK2 Curiosity,  and adds five free online movies every Wednesday on its platform.
Projects
Netflix is to produce a movie about young director Takeshi Kitano. 
Thierry Ardisson created his own Youtube channel with INA, INA ARTITUDE
Online festival
European Films Award. On line event from December 8 to December 12
Here are five Christmas movies to watch before the holidays, new series, advice from film professionals and the best of your TV programs.
A short movie produced by Amazon Prime to feel like Christmas.
TRIBUTE 
David Prowse, the man who played Darth Vader died aged 85.
Interview
Becoming Darth Vader:
ALL YOU WANT TO KNOW
ABOUT YOUR
FIVE CHRISTMAS MOVIES

Of course there will be the movies: Home Alone , Coco, Gone with the wind, From Here to Eternity, Spartacus, Lawrence Of Arabia...
And regarding the actress , Audrey Hepburn , Marilyn Monroe, Lauren Bacall, Katharin Hepburn, Gene Tierney, Ingrid Bergman and actors, Clark Gable, Cary Grant, James Stewart, Kirk Douglas, Fred Astaire, Gene Kelly, Kirk Douglas, Gary Cooper…
Georges Cukor, Charlie Chaplin, Stanley Donen, James Cameron, Rob Reiner… But also Isabelle Huppert, Catherine Deneuve, Cate Blanchett, Nicole Kidman, Julia Roberts, Meryl Streep, Tom Cruise, Jean Rochefort, Louis de Funès, Alain Delon, Jean-Paul Belmondo, Pierce Brosnan, Robert Redford, Sean Connery, Paul Newman, Jim Carrey…
 At one point in their careers, these artists were featured in a cult Christmas movie.
But before we get to the twenty days that pass so quickly and that some people wait for all year round, there is this somewhat transitional period between depression and euphoria. 
So here is a first choice before offering you the movies to see during the festive season, my five Christmas movies.
EDWARD SISSORHANDS
BY TIM BURTON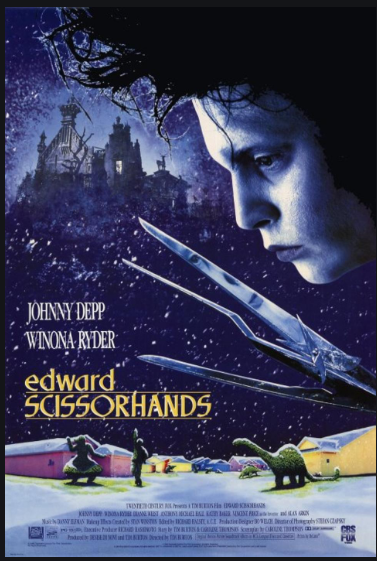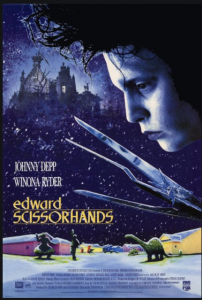 Everyone remembers that magical film directed by Tim Burton about the character Edward, whose inventor dies prematurely and leaves him with scissors for hands.
Johnny Depp, the snow, Winona Ryder all contribute to the magic of Christmas in this wonderful Christmas tale. 
We can highlight the last appearance of Vincent Price, a legendary horror movie actor that Tim Burton admired and the presence of the warm actress Diane Wiest, often found in Woody Allen's films and who we will see in Steven Soderbergh's next film Let them All talk, alongside Meryl Streep and Candice Bergen.
My number one choice.
FROZEN
BY JENNIFER LEE & CHRIS BUCK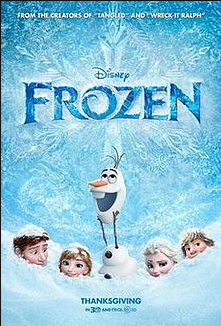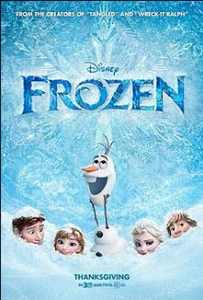 Inspired by Andersen's tale of the same name, the songs Let it go by Idina Menzel (Libérée , délivrée by Anaïs Delva) made the celebrity of this cartoon feel good to see before or during the holidays. 
The dialogues, the snow and the love of two sisters, Elsa and Anna, the characters of Sven the reindeer, Olaf the snowman and Kristoff the mountain man put us in the Christmas mood.
Directed by Jennifer Lee and Chris Buck, the sequel was also a huge success. A must-see for young and old alike.
It is my number 2 choice. 
Two films directed by Stanley Donen are included in this list of five Christmas movies. He is simply one of the greatest musical theatre directors of all time, as we owe him Singin' in the rain. 
FUNNY FACE
BY STANLEY DONEN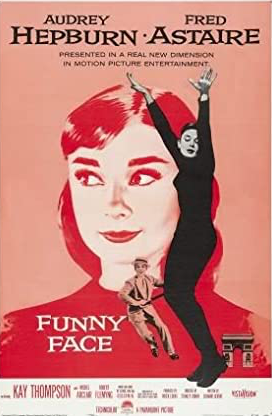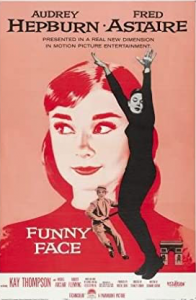 The first film I chose was Funny Face, with Audrey Hepburn and Fred Astaire in the title roles.
Jo Stockton is a young bookseller, Dick Avery is a much older fashion photographer and Dick has a crush on the beautiful Jo's face, more attracted to philosophy than dance.
Funny Face would be inspired by the life of Richard Avedon, a great fashion and portrait photographer, with model Suzy Parker.
In this Christmas film, one of my favorite dance scenes is with Audrey Hepburn, a former ballet dancer, when she is dressed in black and dancing in a Parisian café.
And this scene where pink is everywhere, she's doing good at the moment.
Below are the two scenes I'm talking about plus the trailer.
My choice number 3 then.
INDISCREET
BY STANLEY DONEN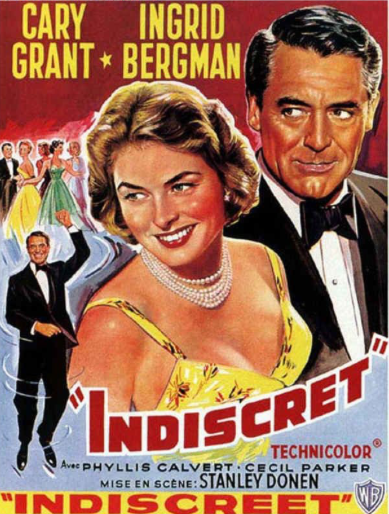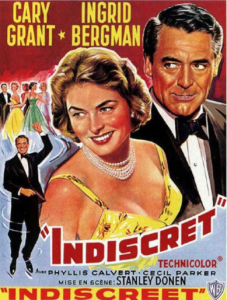 This Christmas movie is above all a comedy and even if in all the stories of this period, women are only objects of desire and have only one goal: to get married (!!!) Indiscreet is one of the Christmas movies that I cherish. 
Indiscreet tells the unlikely meeting of an actress, Anna Kalman, played by Ingrid Bergman and Philip Adams, a NATO diplomat played by Cary Grant. They fall in love but Philip refuses to commit and makes Anna believe he is married. 
The screenplay is written by Norman Krasna, who worked with Herman J. Mankiewiecz on Meet the Baron (don't miss Mank soon on Netflix), then on The devil and Miss Jones and on White Christmas with Bing Crosby by Michael Curtiz.
The hilarious and subtle dialogues and the on-screen complicity of Ingrid Bergman and Cary Grant make this film a perfect romantic comedy to watch before Christmas. Cary Grant's dancing in this film is absolutely incredible, a real dancer. In 1959, Indiscreet won three Golden Globes, two for its actors and one for the film.
Selected excerpt of Cary Grant's dance and trailer.
My choice number 4.
FORGET PARIS
BY BILLY CRYSTAL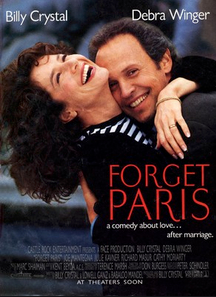 This pure romantic comedy is a jewel. Unfortunately, we don't see it often on the screen. Directed by Billy Crystal, the main actor of When Harry Met Sally, Forget Paris tells the story of the meeting between Mickey Gordon, an NBA referee, played by Billy Crystal and Ellen Andrews, an airline employee, played by Debra Winger. 
Yet realistic, Billy Crystal talks about the difficulties of life together, the careers of each, and the sacrifices, the director has achieved a tender comedy that is good to see before Christmas.
2. YOUR NEXT CHRISTMAS MOVIES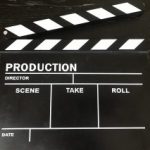 A few trailers : 
Our Friends, Gabriela Cowperthwaite, with Dakota Johnson, Jason Segel, and Casey Affleck, expected in January 2021
The Mauritanian, Kevin McDonald, with Benedict Cumberbatch, Jodie Foster
Little Fish, by Chad Hartigan, with Olivia Cooke and Jack O'Connell
Let them all talk on HBO directed by Steven Soderbergh with Meryl Streep, Candice Bergen, Diane Wiest, Lucas Hedges, Gemma Chan
3.

GOOD TIPS FROM MOVIE 

PROFESSIONALS
Alexandre Desplat, great score composer and an interview by  "Video Club"
La Guilde des Scénaristes added a document on contract for hire:
Writing and the Creative Life: The Magic of Ambient Noise | by Scott Myers
Reader Question: Where to start when developing a story? | by Scott Myers | Go Into The Story
4. YOUR EVENING TV PROGRAMS

On Salto platform: two cult series The Office et Person of Interest
Wednesday 2
Arte : Petite fille , a documentary by  Sébastien Lifshitz on a little girl who wants to be a boy
France 2: L'étudiante et M. Henri
6Ter : Rush Hour II
TCM: La Lance brisée
Chérie 25: The Good Wife
Thursday 3
TCM : Barry Lyndon
Paramount : Sept hommes à abattre
Chérie 25 : Il n'est jamais trop tard, suivi de  N'oublie jamais
TFX: Le Seigneur des Anneaux
Arte:  No Man's Land 
M6 : 9_1_1_ Lone Star , with Rob Lowe 
Friday 4
LCP : Maradona par Kusturica

Saturday 5

TCM: King Kong
LCP : Che Guevara suivi de Accusé Mendès France
Arte : L'invention du luxe à la française
Sunday 6

France 2 : Spectre
6Ter : Joy
Arte : La Grande Évasion then a documentary about Charles Bronson
Monday 7
France 5 : Chinatown, by Roman Polanski : a must see movie
W9: Ghost in the Shell
TMC: Star Wars Episode VI: le Retour du Jedi
Arte : Jeunes filles en uniforme
Tuesday 8
TF1: Retour vers le futur
Canal+ : Les Éblouis
C8 : Au nom de ma fille
NRJ : Super 8
6Ter :Une hirondelle a fait le printemps
Wednesday 9
Canal+ : The Singing Club (film qui devait initialement sortir au cinéma)
TMC: two documentaries: one about Queen then one on fashion by Loïc Prigent
5. PLATFORMS
Arte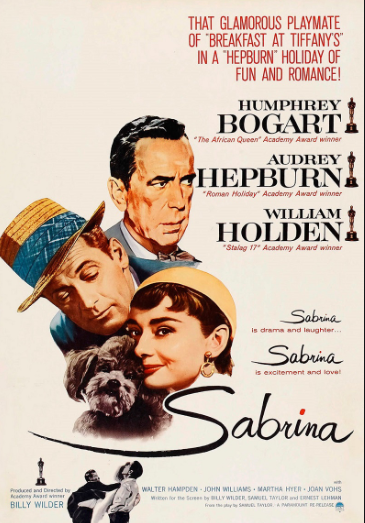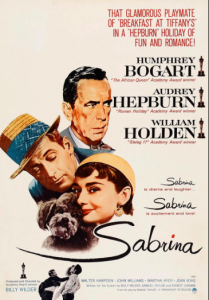 Festival : Artekino festival.com: vote for your favorite movie during the month of December .
Documentary
Charlie Siem, violoniste moderne
Rabbi Wolff, un rabbin au parcours atypique
Film
Sabrina, le chef d'oeuvre avec Audrey Hepburn et Gary Cooper
Une étoile est née de William A. Wellman
Series
Detectories, deux chasseurs au trésor dans la campagne anglaise.
La Chaîne Parlementaire
LCP offers you a lot of good documentaries: here
La Cinémathèque Française
All retrospectives are postponed.
On Henri plateform, a cult movie everyday
To watch a magical light show here
Christmas
movies and series to watch 
on

NETFLIX
Now 
 Alien worlds (series), as from December 2nd
The Call. By Lee Chung-Hyun, with Park Shin-Hye, Jun Jong-Seo…
Much Loved, Nabil Ayouch, as from December 1st
Finding Agnes. By Maria Ancheta, with Jelson Bay, Sue Ramirez
Le Noël rêvé d'Angela, de Damien O'Connor
Crossroads by Walter Hill with Ralph Macchio, Joe Seneca etJami Gertz
And later in December:
Mank, by David Fincher, as from December 4th
 DSK case as from December 7th 
L'incroyable histoire de l' île de la rose. By Sidney Sibilia, with Elio Germano…..As from December 9th
The Prom, by Ryan Murphy, with Meryl Streep & Nicole Kidman, as from December 11th
Canvas as from December 11th, by  Franck E. Abney III
Tiny pretty things, as from December 14th. Created by Michael MacLennan, with  Lauren Holly, Kylie Jefferson…
Home for Christmas (season 2). A feel-good series as from December 18th. 
Ma Rainey's Black Bottom , as from December 18th   with last performance of Chadwick Boseman, produced by Denzel Washington
The Midnight sky, with and by George Clooney, with Felicity Jones, as from December 23rd
 A Ghost story by  David Lowery, as from December 24th
On December 25th
Bridgerton, created by Chris Van Dusen and produced by Shonda Rhimes.
With Julie Andrews as voice of  Lady Whistledown, Golda Rosheuvel, Jonathan Bailey, Luke Newton, Luke Thompson, Claudia Jessie, Nicola Coughlan, Ruby Barker, Sabrina Bartlett, Ruth Gemmell, Adjoa Andoh, Polly Walker, Bessie Carter et Harriet Cains.
Christmas 
movies, series & documentaries
on  
Prime Video
Now:
Saison 3 Marvelous Mrs Maisel: this season looks amazing !
The snowy day, by Ezra Jack Keats
Uncle Franck, by Alan Ball
Taekwondo, by Marco Berger &  Martin Farina
Motherland for Salem, by  Eliot Laurence
Small Axe by Steve McQueen (Shame, Twelve years a slave)
Chi-raq de Spike Lee
The Wilds, by Sarah Streicher: a teenage story who looks like the series Lost, as from December 11th and with Rachel Griffiths from Six Feet Under .
Palm Springs by Max Barbakow in January 2021
Christmas movies & series 
by 
Canal+
Now:
Port Authority, Danielle Lessovitz
The Traitor by Marco Bellochio
Cheyenne et Lola, by Eshref Reybrouck
Nurses, a Canadian series about five years, by Adam Pettle
Mulan, as from December 4th
Frozen II, as from December 18th
Patria, by Aitor Gabilondo
Raised  by Wolves, produced by Ridley Scott and written by Aaron Guzikowski, as from December 7th
The Call of the Wild, by Chris Sanders, from Jack London' novel, with  Harrison Ford & Omar Sy.
Christmas movies and series to watch 
on Starzplay
Brave New World , as from December 20th, an adaptation from the novel 1984 written by Aldous Huxley, created by David Wiener (Homecoming) 
Two first episodes directed by Owen Harris. With Alden Ehrenreich, Jessica Brown Findlay
The great, by Tony Mcamara
Mother, father son, by Tom Rob Smith
Normal People, by Lenny Abrahamson & Hettie Macdonald
Christmas movies and series
to watch on Apple TV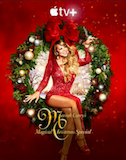 Mariah Carey's Magical Christmas Spécial as from December 4th: to feel good on Christmas.
Stillwater , adapted from the famous novels  "Zen Shorts", by Jon J.Muth, as from December 4th
Dads, de Bryce Dallas Howard (now)
Wolfwalkers, by Tomm Moore & Ross Stewart, as from December 16th
Christmas movies and series to watch 
on Disney+
Black Beauty, de Daniel Zirilli
Hamilton, de Thomas Kail
Elliot Le Dragon (David Lowery)
The Mandalorian, season 2: Great series !
For Christmas
Soul, by Pete Docter et Kemp Powers with Jamie Foxx, Tina Fey 's voices
Stay safe !