18 Presents...18 Regali….Inspired by the story of Elisa Girotto, directed by Francesco Amato.
This beautiful Italian movie tells the story of a mother who knows that she is seek and leaves her unborn daughter eighteen presents for each of her birthdays.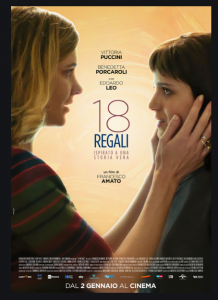 18 Presents
The little girl, Anna, grows up, nourished by anger against her father, Alessio, and Elisa, her mother whom she never knew. She rejects her presents that remind her of her mother's death. On her eighteenth birthday, she runs away and gets hit by a car. When she opens her eyes, her mother helps her to get up…
This film, a time loop, is both beautiful and touching. Anna dreams of meeting her mother, Elisa. Elisa dreams of seeing the girl she will never watch growing.
The strength of a relationship between a mother and her daughter, the discovery of the other and the love that emerges from it give us beautiful moments of emotion throughout the film.
Everything is successful: the acting, the photography, the music and especially the editing which allows this beautiful shift between sweet and harsh moments.
I warmly recommend it to you.
With Edoardo Leo (To Rome with Love by Woody Allen), Benedetta Porcaroli, Vittoria Puccini (actress in Il Processo on Netflix). Music by Andrea Farri.