TV, streaming movies and Vod, March 27th till April 2sd
TV, streaming movies, and Vod,
on your own, with your family, or your boy, girl friend
On ARTE.TV, each week, new smart contents, funny and moving.
Documentaries :  Louis de Funès, 

Goscinny, Basquiat, Miro

 , 

Christian Louboutin,

 Betty Boop  & a 

tribute

 to Manu Dibango who passed away. 
The red 

shoes,

The man who knew too much.
ON TV
Sunday March, 29th, on Arte: Le deuxième souffle by J.P. Melville
Monday, March 30th on Arte : Arizona Junior, Coen Brothers
Tuesday, March 31st on TFX :  No reservations  : a romance with Catherine Zeta Jones & Aaron Eckhart.
On Univerciné : more than  200 films at 0,99 € MK2 et Trois couleurs add on line movies each week.
On Netflix – Unorthodox In addition to the script, well written and subtle -inspired by  Deborah Feldman true story -, this mini-series is masterful in its editing, its actors and the finesse of its direction by Maria Schrader. We are completely caught up in the story of this woman in search of freedom, who flees the Hasidic community in which she grew up. The actress, Shira Haas (Shtisel, Foxtrot...) is exceptional. outre le scénario, bien écrit et subtil -inspiré d'une histoire vraie, celle de Deborah Feldman-, cette mini série est magistrale par son montage, ses acteurs et la finesse de sa réalisation par Maria Schrader. Nous sommes complètement happés par l'histoire de cette femme en quête de liberté, qui fuit la communauté hassidique dans laquelle elle a grandi. L'actrice, Shira Haas (Shtisel, Foxtrot…) est exceptionnelle.
Self Made : the story of the first Afro American woman,  C.J. Walker with Octavia Spencer.
The Sinner, with Bill Pullman.
 NETFLIX PARTIES : two friends 

look

 a series from distance. Below, my daughter with a friend in  Las chics del cable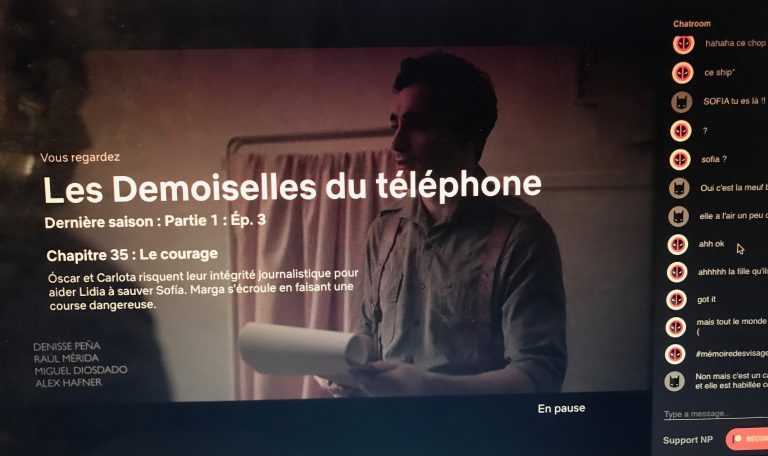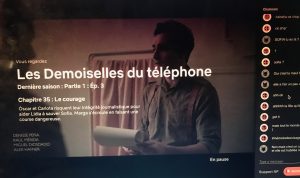 CANAL +
Chernobyl: one of the best series I've seen so far: it sheds light on the disaster with such strong characters. This series reminds me of Breaking Bad in the way it develops and approaches its characters.


Zero Zero Zero, or cocaïne (double zero flour), adapted- as Gomorra – written by the great writer and journalist,  Roberto Saviano. This series on the mafia is very different from what you are used to. But the people from the logistics (shipping) and the mafia will find themselves there…and all the others. Extremely violent, incredibly played and filmed by Stefano Sollima. Also play Gabriel Byrne, Tchéky Karyo, Dane De Haan. Harold Torres is inhabited. The editing is extraordinary, directed by a Hervé Schneid (editor of the films of Jean-Pierre Jeunet and Alejandro
Brodersohn). 




L'amie prodigieuse  : for the fan of the novel written by Elena Ferrante
Music :  Rye Cooder did the documentary on the Buena Vista Social Club 
The incredible story of Carlos Acosta, principal dancer,  in Cuba: Yuli.
Coco: the great cartoon that won an Oscar in 2018 : the story of a young boy who wants to be a musician
 VoD : Les Misérables, Ernest & Celestine.
& : CAMILLE, PARASITE, JOKER, DOWNTOWN ABBEY, A RAINY DAY IN NEW YORK 
Amazon Prime Video
The Man in the High Castle : if Germany & Japan had won WWII, adapted from the novel of Philip Roth
Homecoming with Julia Roberts
The Marvelous Mrs Maisel,a great first season
The Nanny, our family series.
Good evenings & take care !