Your weekly program as from June 14th
All the best films as from June 14th.
FESTIVALS
LA QUINZAINE DES CINÉASTES AT REFLET MÉDICIS

May 7 to June 18, 2023 at Reflet Médicis
A parallel section of the Cannes Film Festival, the Quinzaine des Cinéastes aims to showcase a broad spectrum of films, highlighting the most singular and visionary practices in contemporary cinema.
Cinéma Paradiso Louvre 2023 – Open air film festival – 06 – July 9, 2023
Lottery opens on June 7, 2023 at 12 noon.
In co-production with MK2, the Louvre invites the public to the cinema, with free outdoor screenings of films on giant screens.
A special guest at this year's festival, echoing the "Naples in Paris" exhibition, Italy will be in the spotlight with a selection of both rare gems and classics to be rediscovered, including Martin Scorsese's Les Affranchis, Federico Fellini's Huit et demi and René Clément's Plein soleil.
Annecy animation festival, from June 11 to 17
Festival des Cultures Juives, from June 14 to 29 
Soon in theaters
Poor things, Yórgos Lánthimos
Barbie,  Greta Gerwig
ALL YOU WANT TO KNOW ABOUT  FILMS & SERIES 
IN THEATERS & AT HOME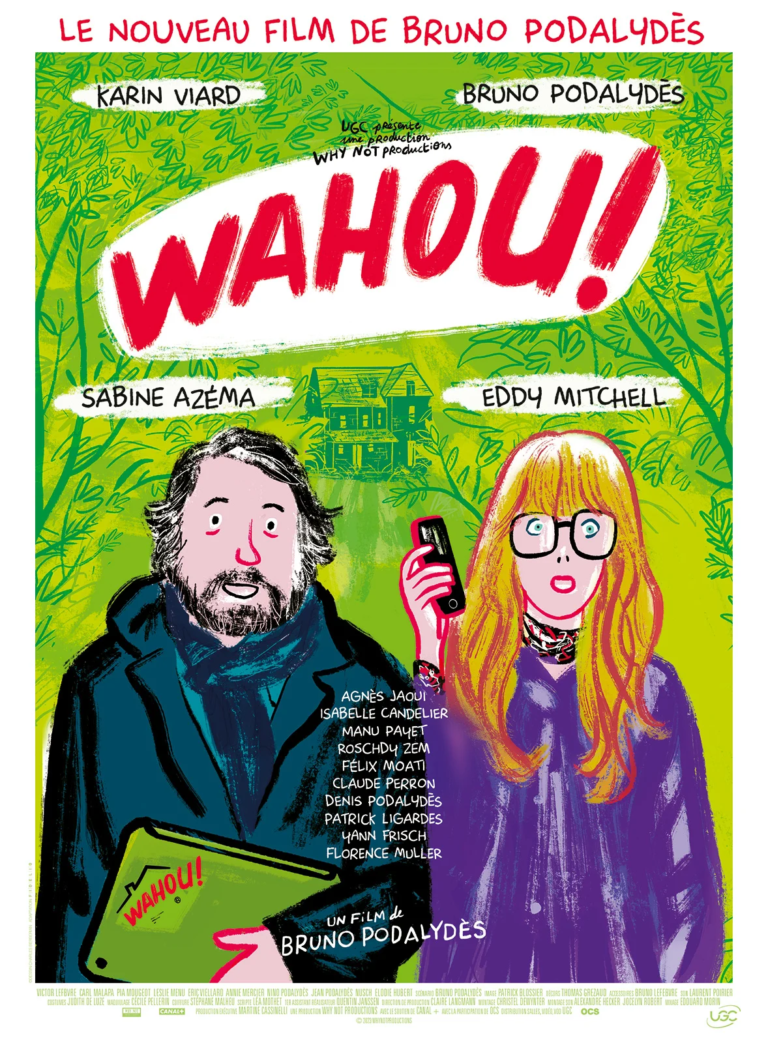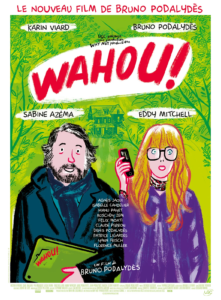 Wahou ! Bruno Podalydès
With Karin Viard, Bruno Podalydès, Sabine Azéma, Eddy Mitchell
Catherine (Karin Viard) and Oracio (Bruno Podalydès) are real estate advisors visiting two properties in quick succession: a large bourgeois house with a swimming pool and RER view, and a small modern apartment in Bougival's golden triangle.
Despite the hectic pace of the visits, they never lose sight of their objective: to win over potential buyers, the real thing, the one that will make them forget all their faults. The one that will make them say "Wow!
Review
Bruno Podalydès and his brother Denis make both funny and touching films. Their characters are original, a little offbeat but believable.
In Whaou ! director Bruno Podalydès is no exception to the rule.
This time, it's about real estate and all that goes with it: real estate agents, homeowners who want to sell their house but at the same time want to keep it or not sell it to just anyone, difficult future buyers who are looking for the rare pearl, a bit like in love.
The film unfolds like a series of sketches performed by some excellent actors, at once tender, funny and lucid. The multiplicity of these genres means that, alas, it makes less of an impression than a film like The Two Alfreds.
But it's a good film, even more so if you care about the subject!
Now in theaters.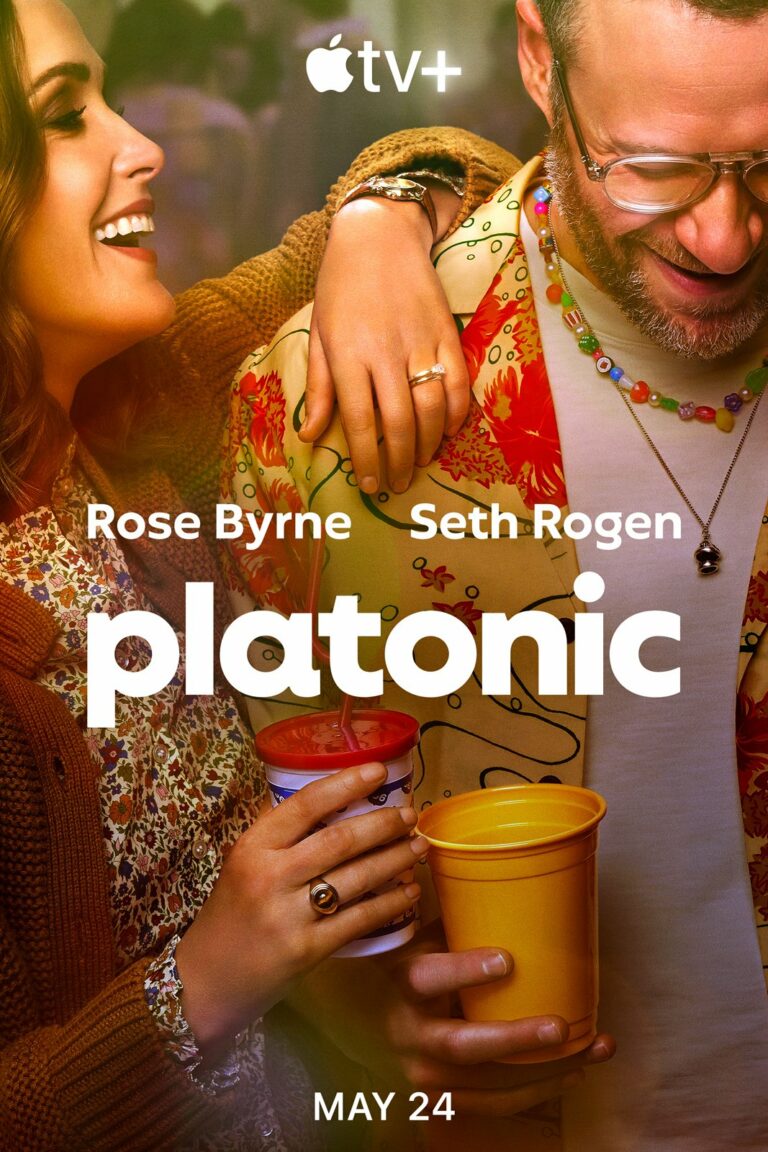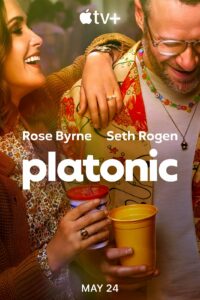 Platonic, Nick Stoller & Francesca Delbanco
Synopsis
Former best friends from their youth reunite in adulthood. They try to remember and repair what led to their break-up.
Review
Can a man and a woman be friends? That was the theme of one of my favorite films, When Harry met Sally.
Here, it's just the opposite.
In the Platonic series, created by Nick Stoller and Francesca Delbanco, two college friends, Sylvia (Rose Byrne, a genius who starred in the Physical series) and Will (Seth Rogen, a brilliant actor with a passion for ceramics #his Instagram account), meet up again just as Will is getting divorced.
Sylvia, a bored stay-at-home mom, reconnects with Will, a part of her youth and former life. Both struggle to feel a little more alive every day.
This funny, touching series takes us to the heart of the problems in everyone's lives, with a zest, a lucidity and a desire to live that feels good.
The two actors give it their all for our great pleasure!
Currently on Canal + and AppleTV.
IN MOVIE THEATERS
Le Processus de paix, Ilan Klipper
With Camille Chamoux, Damien Bonnard, Ariane Ascaride
When you love each other but can't stand each other, what do you do?
To avoid splitting up, Marie and Simon embark on a crazy adventure: draw up a list of rules they call the Universal Charter of Couples' Rights.
Stars At Noon, Claire Denis
With Margaret Qualley, Joe Alwyn, Benny Safdie
A distressed young American journalist stranded without a passport in modern-day Nicaragua at election time meets an English traveler in a hotel bar.
He seems the perfect man to help her flee the country.
Love Life, Kôji Fukada
With Fumino Kimura, Tomorowo Taguchi, Tetta Shimada
Taeko lives with her husband Jiro and son Keita across the street from her in-laws. As she discovers the existence of her husband's former fiancée, Keita's biological father resurfaces.
It's the start of a cruel game of musical chairs, from which no one will emerge unscathed.
Carmen, Benjamin Millepied
With Paul Mescal, Melissa Barrera, Rossy de Palma
Carmen, a young Mexican woman trying to cross the border, stumbles upon an American patrol.
Aidan, a young ex-Marine, saves her life by killing one of his own. Forever linked by that tragic night, and now pursued by the forces of law and order, they make their way together to the City of Angels.
Sexygénaires, Robin Sykes
With Thierry Lhermitte, Patrick Timsit, Marie Bunel
At sixty years of age, two friends in the throes of financial difficulties are going to make the most of their image in the world of fashion and advertising.
One is still handsome, the other never was. But beyond the game of appearances, what does it really mean to be of retirement age today?
La Nuit du verre d'eau, Carlos Chahine
With Marilyne Naaman, Antoine Merheb Harb, Nathalie Baye
Lebanon, summer 1958. Three sisters from Christian society are vacationing in the Lebanese mountains.
The quiet village life is disrupted by the echoes of a revolution rumbling in Beirut and the arrival of two French holidaymakers.
But the upheaval comes from within the family.
Marcel le Coquillage (with his shoes on), Dean Fleischer-Camp
With Jenny Slate, Dean Fleischer-Camp, Isabella Rossellini
Marcel is an adorable seashell who lives alone with his grandmother, since separating from the rest of their community.
When a documentary filmmaker discovers them in his Airbnb, the video he posts online goes viral.
Giulia, Ciro De Caro
With Rosa Palasciano, Valerio Di Benedetto, Fabrizio Ciavoni
During a scorching summer in Rome, Giulia searches for a new meaning in her life. Without a job or a permanent home, she balances her need for freedom with her illusory desires, which lead her to new, unlikely and unexpected encounters.
The Flash, Andy Muschietti
With Ezra Miller, Michael Keaton, Ben Affleck
Realities collide in THE FLASH when Barry uses his superpowers to turn back time and alter his past.
But his efforts to save his family are not without consequences for the future, and Barry finds himself trapped in a reality where General Zod has returned, threatening to wipe out the planet.
Movies to come (and we are looking forward to it):
Asteroid city, Wes Anderson
Mission: Impossible Dead Reckoning Part One
Oppenheimer,  Christopher Nolan, next July 19th
Dune 2, Denis Villeneuve, next November 3rd
Hypnotic, Robert Rodriguez
The Color Purple, Blitz Bazawule ("Black Is King," "The Burial of Kojo") and produced by Oprah Winfrey, Steven Spielberg, Scott Sanders and Quincy Jones. Expected December 25th.
Bottoms, Emma Seligman
 TIPS ON MOVIE WRITING 
Scott Myers : Go into the story
FILMS PROGRAM ON TV AS FROM JUNE 14TH
Mercredi- Wednesday 14
Canal +  : Avatar, la voie de l'eau
Star : Captain Fantastic
Arte : Music Queens. Cette série raconte 20 tubes sur lesquels nous avons chanté et dansé.
Mais en avons-nous bien saisi le sens et l'impact ? Comment Girls Just Want To Have Fun de Cindy Lauper est-il devenu un hymne féministe ? Comment Beth Ditto de Gossip a-t-elle imposé un nouveau modèle féminin ?
Rebecca Manzoni porte le récit et interagit avec les héroïnes, incarnées par Izïa Higelin et Aïssa Maïga.
Suivi de Casa Susanna (doc)
Jeudi – Thursday 15
France 5 : Tootsie
Canal + : Yellowjackets S2
Arte : Maîtres et valets
M6 : Indiana Jones et la dernière croisade
Vendredi – Friday 16
Arte : L'ange de la mort
Dimanche – Sunday 18
France 2 : Envole-moi
Arte : Hombre
Lundi – Monday 19
Canal + : Gangs of London (série)
Arte :  La rivière rouge
France 2 : Abysses (série)
Mercredi- Wednesday 21
Canal +  : Whitney Houston : I wanna dance with somebody
Arte : Mademoiselle Chambon
 FILMS & SERIES ON ARTE AS FROM JUNE 14TH
FILMS
Flatland – trois horizons
In South Africa, a policewoman pursues a young murderess on the run in the desert…
At the crossroads of western, road movie and film noir, a work of exceptional visual power from young South African director Jenna Cato Bass.
L'amour à rebours
After an arranged marriage, Mina feels lost in Germany, where she has joined her Iranian husband…
Director Susan Gordanshekan, whose parents were themselves involved in an arranged marriage, paints a sensitive portrait of two people torn between the values of their upbringing and the freedom of the Western way of life.
Docs
Pussy, Pleasure, Power ! Le désir féminin dans la pop culture
As female pleasure takes on an increasingly important role in pop song, how do women receive these messages of "positive sexuality" without taboos? Find out in this documentary that celebrates the intimate.
Series
Maîtres et Valets
An English aristocratic couple takes possession of an elegant London mansion.  To maintain her position, Lady Holland must recruit the finest servants. In the vein of Downton Abbey, the series Maîtres et valets explores the lives of tragi-comic characters against a historical and social backdrop.
Raven, Maciej Pieprzyca
A quiet, tortured investigator struggles between child abduction and corruption in the Polish police force.
Short movies
27 Flóra Anna Buda
At the age of 27, Alice still lives with her parents and has no private life or love life. After falling into a coma following a bicycle accident on the way home from her birthday party, she realizes it's time to leave the nest…
"27" won the Palme d'or for short film at the Cannes 2023 Film Festival.
The forest of Mademoiselle Tang
After "Funan", awarded the Cristal for feature film at the Annecy Festival in 2018, Denis Do sweeps through two centuries of Chinese family history in a superb animated film.
All films as from June 14th

on Netflix
Wim Wenders, Story of my early days, Marcel Wehn
The Days, Jun Masumoto, now.
Arnold, Lesley Chilcott (An Inconvenient Truth) & Allen Hughes (The Defiant Ones), now.
Never Have I ever, final & season 4, now !
Black Mirror, S6 , as of June 15th.
All films as from 

June 14th

 

on 
Prime Video
Deadloch, Kate McCartney, Kate McLennan,now : go for it!
Good Omens S 2, Neil Gaiman, as of July 28th.
The Lost flowers of Alice Hart, Sarah Lambert, as of August 4th.
All films as from June 14th
on Canal+
Reste un peu, by & with Gad Elmaleh, now
Avatar, la voie de l'eau, James Cameron, as of June 14th
PLANCHA, Eric Lavaine. June 16th.
I WANNA DANCE WITH SOMEBODY, Kasi Lemmons, , June 21st
LE NOUVEAU JOUET, James Huth, June 23rd
LE PARFUM VERT, Nicolas Pariser, June 27th
All films as from June 14th

 

on Apple TV
Silo, Graham Yost: go for it!
High Desert, Nancy Fichman, Katie Ford & Jennifer Hoppe-House with Patricia Arquette (Peggy), Matt Dillon (Denny)
The crowded room, Akiva Goldsman, dès le 9 juin, avec Tom Holland.
All films as from June 14th on Disney Plus
Flaming Hot, as of June 9th
Chevalier, Stephen Williams, as of June 16th
Secret Invasion, Kyle Bradstreet, as of June 21st
Great expectations,Brady Hood, as of June 28th.
The Bear, season 2, Christopher Storer, as of July 21st.
Ahsoka, Jon Favreau & Dave Filoni, as of August 23rd