Your weekly program as from May 31th
All the best films as from May 31th:
CANNES FILM FESTIVAL  2023 : 76th edition
Grand Prix awarded to  "The Zone of Interest" by Jonathan Glazer adapted from the novel written by Martin Amis, deceased during the Festival.
The film portrays Auschwitz extermination camp commandant Rudolf Höss and his wife Hedwig, tied to their home near the camp, unaware of the hell they were living next door to.
Palme d'Or 
Justine Triet : Anatomy of a fall
With Sandra Hüller , also starring in The Zone of Interest. 
Price of the Jury : Finnish director Aki Kaurismäki, for his film Les Feuilles mortes.
Tran Anh Hùng received the Director's Prize for La Passion de Dodin Bouffant.
The feature film, which adapts Marcel Rouff's novel La Vie et la passion de Dodin-Bouffant (Serpent à plumes publisher), delves into 19th-century French gastronomy with French duo Benoît Magimel and Juliette Binoche.
No trailer yet
Sakomoto Yugi won the Best Screenplay award for Monster, by Japan's Hirokazu Kore-Eda.
The film had already won the Queer Palm, an alternative award for films dealing with LGBT and feminist themes.
The Best Actor prize was won by Koji Yakusho, the actor in Wim Wenders' film Perfect Days.
Turkish actress Merve Dizdar won the Best Actress Award for her role in Nuri Bilge-Ceylan's Les herbes sèches.
Sum-up
Palme d'or : Anatomie d'une chute, Justine Triet
Grand prix : The Zone of Interest, Jonathan Glazer
Prix du jury : Les Feuilles mortes, Aki Kaurismäki
Prix de la mise en scène : Tran Anh Hung (La Passion de Dodin Bouffant)
Prix du scénario : Sakomoto Yugi (Monster)
Prix d'interprétation masculine : Koji Yakusho (Perfect Days)
Prix d'interprétation féminine : Merve Dizdar (Les Herbes sèches)
Caméra d'or : L'Arbre aux papillons d'or, Pham Thien An
Palme d'or of short-movies :
27, Flora Ana Buda
Special mention for Fár by Gunnur Martinsdottir Schlüter
Soon in theaters:
Jodie Foster
She returns in the next season (4) of True Detective, True Detective: Night Country, set in Alaska, alongside Kali Reis. Directed by Issá Lopez. 
Barbie, by Greta Gerwig
Asteroid city, Wes Anderson
ALL YOU WANT TO KNOW ABOUT  FILMS & SERIES 
IN THEATERS & AT HOME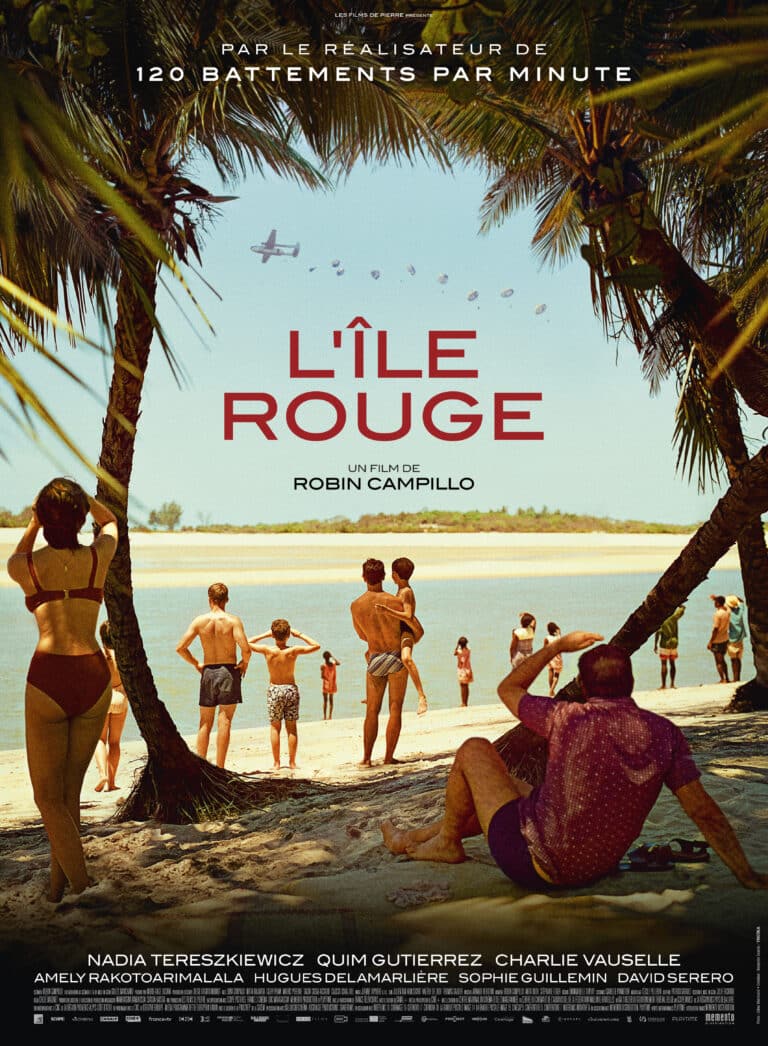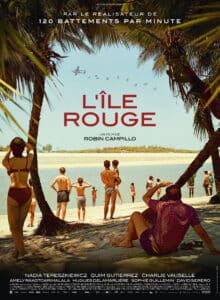 L'Ile rouge, Robin Campillo
Synopsis
In the early 70s, on a French army base in Madagascar, soldiers and their families are living out the last illusions of colonialism.
Souvenirs, souvenirs
Inspired by his childhood memories, Robin Campillo takes us to Madagascar, six years after 120 Beats per Minute which won the Grand Prix of the Jury at the Cannes Film Festival in 2017.
Later, he realized that the nostalgia of his childhood was connected with something that didn't feel right.
Robin Campillo grew up on a military base between 1970 and 1972, ten years after the island's independence, where the French army still maintained a base, on this laterite-colored island. The whole story is filmed from an eight-nine-year-old boy'point of view, Thomas.
Fascinated by Fantômette novels (by Georges Chaulet), Thomas watches the people around him and all the events that take place. Hidden in a box with his friend Suzanne, who is also a Fantômette fan, they invent stories and spies on adults.
Thomas projects himself into Fantomette, this female character, whereas he lives in a very masculine environment, and at night, his mask and this costume allow him to investigate adults life. The director uses a very theatrical effect in this film, a symbol of reflection of a life that was just as illusional.
A colonial fairytale
In a closed world, the soldiers and their families live in the illusion of a happiness threatened by the possibility of a return to France, a decision they have no control over and which generates permanent tension.
How do you make a film that talks about politics and social issues through sensations?
The film, before being implicitly and then explicitly political, is above all sensory: the colors of Madagascar, nature, the sound of gravel, the sea… In adulthood, your memories are mostly sensory before remembering events. 
All the actors, some of whom are appearing for the first time in a feature film – especially Amely Rakotoarimalala and Hugues Delamarlière – takes us into a journey through time and space, and then through history, French colonization, rarely tackled in French cinema.
Preview at the Balzac with Robin Campillo (director), Corinne Honlassio (with the mic on the right) an on the left, Nadia Tereszkiewicz, Amely Rakotoarimalala, Hugues Delamarlière & David Serero
This beautiful film will be presented in the coming months in Madagascar, depending on local constraints (price of a place vs. standard of living), and perhaps at the French Institute.
Madagascar is one of the five poorest countries in the world, with 75% of the population living below the poverty line, i.e. on less than $1.9 a day.
In theaters as of May 31th. 
IN MOVIE THEATERS
Los Colonos, Felipe Galvez, as of June 3rd (Un certain regard selection in Dulac theaters)
A Chilean Métis is part of an expedition led by MacLenan, a former English captain, and Bill, an American mercenary, to surround lands granted to José Menéndez, a Spanish landowner.
Sick Of Myself, Kristoffer Borgli
With Kristine Kujath Thorp, Eirik Sæther, Fanny Vaager
Signe lives in the shadow of her successful boyfriend Thomas. Desperate for attention, she decides to pretend to those around her that she has a rare disease. But the lie works a little too well, and she's soon caught in her own trap.
.
Mon père et moi, Laura Terruso
With Sebastian Maniscalco, Robert De Niro, Kim Cattrall
Encouraged by his fiancée, Sebastian invites his father Salvo, a modest Italian-American hairdresser, to meet his very rich and eccentric in-laws during an extended weekend.
L'Improbable voyage d'Harold Fry, Hettie MacDonald
With Jim Broadbent, Penelope Wilton, Linda Bassett
Just retired, Harold Fry leads a dull life with his wife Maureen. When he learns that his old friend Queenie is dying, he leaves the house to mail her a letter… but he decides to keep walking to get to her bedside.
Aux Masques Citoyennes, Florent Lacaze
Spring 2020. The population is confined. Libéro, a small business owner, is recruiting 250 seamstresses to make the masks that will liberate his region. But he knows nothing about sewing, the fabric doesn't arrive and most of these women have never seen a machine.
Lynch/Oz, Alexandre O. Philippe
With Rodney Ascher, Justin Benson, Karyn Kusama
Alexandre O. Philippe invited six American film critics and filmmakers and gave them carte blanche to explore their own theories on the relationship between Lynch and Oz.
Spider-Man : Across The Spider-Verse, Joaquim Dos Santos, Kemp Powers, Justin Thompson
With Shameik Moore, Hailee Steinfeld, Issa Rae
After reuniting with Gwen Stacy, Brooklyn's friendly full-time neighborhood Spider-Man is catapulted across the multiverse, where he encounters a team of Spider-People charged with protecting his very existence.
Movies to come (and we are looking forward to it):
Mission: Impossible Dead Reckoning Part One
Oppenheimer,  Christopher Nolan, next July 19th
Dune 2, Denis Villeneuve, next November 3rd
Hypnotic, Robert Rodriguez
The Color Purple, Blitz Bazawule ("Black Is King," "The Burial of Kojo") and produced by Oprah Winfrey, Steven Spielberg, Scott Sanders and Quincy Jones. Expected December 25th.
 TIPS ON MOVIE WRITING 
Scott Myers : Go into the story
FILMS PROGRAM ON TV AS FROM MAY 31TH
Mercredi- Wednesday 31
Arte : Médecin de nuit
Jeudi – Thursday 1er
M6 : Les aventuriers de l'Arche perdu suivi d'un documentaire sur Harrison Ford
Canal + : Yellowjackets S2
Arte : La meute (série) S2
Chérie 25 : Gone baby gone
Vendredi – Friday 2 juin
France 5 : Un mauvais fils
Arte : Le horla
Chérie 25 : Hippocrate
Dimanche – Sunday 4 juin
Arte : American gangster suivi de L'extravagant Mr Deeds
C8 : Les trois jours du Condor
Lundi – Monday 5 juin
Canal + : Gangs of London (série)
France 3 : Le mur de l'Atlantique
Arte : Les grands espaces
TF1 series : Banzaï
Mardi – Tuesday 6 juin
Canal + : Annie colère
Mercredi- Wednesday 7 juin
Canal + : Reste un peu
 FILMS & SERIES ON ARTE AS FROM MAY 31TH
FILMS
Secrets and Lies
After the death of her adoptive mother, Hortense, a young black woman, goes in search of her biological mother. The mother turns out to be Cynthia, a white working-class woman living in a working-class area of London… A Palme d'Or for Mike Leigh, who plays a virtuoso of laughter and emotion.
Monsieur Max
In 1944, the poet Max Jacob is arrested by the Gestapo. Alice, a young orphan whom he had cherished forty years before, will try the impossible to save him… A moving fiction, with Jean-Claude Brialy in his last great role.
Jack
Placed in a foster home, Jack runs away, picks up his little brother and feverishly searches for their mother, who has abandoned them… A poignant child's quest filmed with tremendous vitality by Edward Berger, the director of "Nothing New in the West", which has just won four Oscars
DOC
Billy Wilder – Hollywood perfection
How the genial provocateur Billy Wilder rose to the top of Hollywood without compromising himself. Through excerpts from his transgressive films and irresistibly mischievous interviews, a journey through the work of this film legend.
Series
Back to Life
After eighteen years in prison, Miri tries to pick up her life where she left it, in the stifling town of her adolescence. From and with the amazing Daisy Haggard, the tragicomic chronicle of a thwarted reintegration, quintessential English absurdist humor.
Lost Luggage 
After the 2016 Brussels bombings, a policewoman assigned to airport security is tasked with returning the victims' belongings to the bereaved families. A poignant drama carried by actress and rocker Lara Chedraoui.
All films as from May 31th

on Netflix
Wim Wenders, Story of my early days, Marcel Wehn
A beautiful life, Mehdi Avaz, as of June 1st
The Days, Jun Masumoto, as of June 1st.
Arnold, Lesley Chilcott (An Inconvenient Truth) & Allen Hughes (The Defiant Ones), as of June 7th
Never Have I ever, final & season 4 as of June 8th.
All films as from 

May 31th

 

on 
Prime Video
The Marvelous Mrs Maisel,  season 5, now!
Deadloch, Kate McCartney, Kate McLennan, as of June 1st
The Idol, Sam Levinson, on June 5th, with Lili Rose-Depp (Pass Warner)
All films as from May 31th
on Canal+
Triangle of sadness, by Ruben Östlund  (now President of The Cannes Film Festival) with Harris Dickinson, Charli Dean & Woody Harrelson, now.
Armaggedon Time , James Gray, now.
Reste un peu, by & with Gad Elmaleh, as of June 6th
All films as from May 31th

 

on Apple TV
Silo, Graham Yost: go for it!
High Desert, Nancy Fichman, Katie Ford & Jennifer Hoppe-House with Patricia Arquette (Peggy), Matt Dillon (Denny)
The crowded room, Akiva Goldsman, dès le 9 juin, avec Tom Holland.
All films as from May 31th on Disney Plus
The Good Mothers, Stephen Butchard
Peter Pan & Wendy,David Lowery
Flaming Hot, as of June 9th
Chevalier, Stephen Williams, as of June 16th
Ashoka, in August 2023